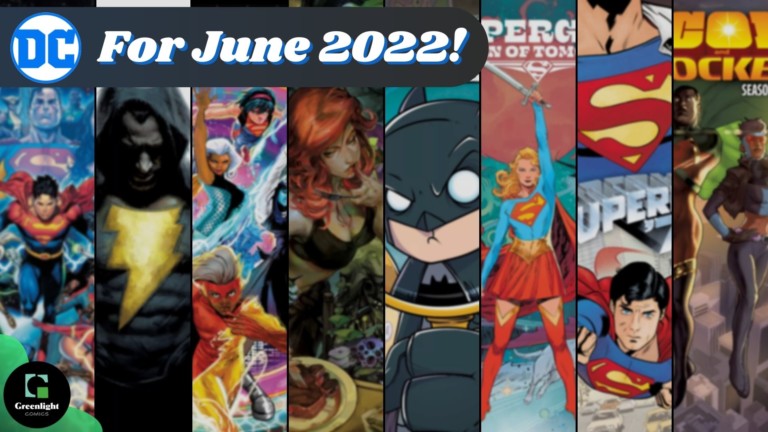 The new issue of DC Comics Preview catalog DC Connect has arrived! Here is our breakdown of the new comics series to jump on, plus what collected editions are arriving from June 2022! You can find the rest of our Previews Picks for other Comics & Manga, as well as Marvel Comics future releases over on the blog!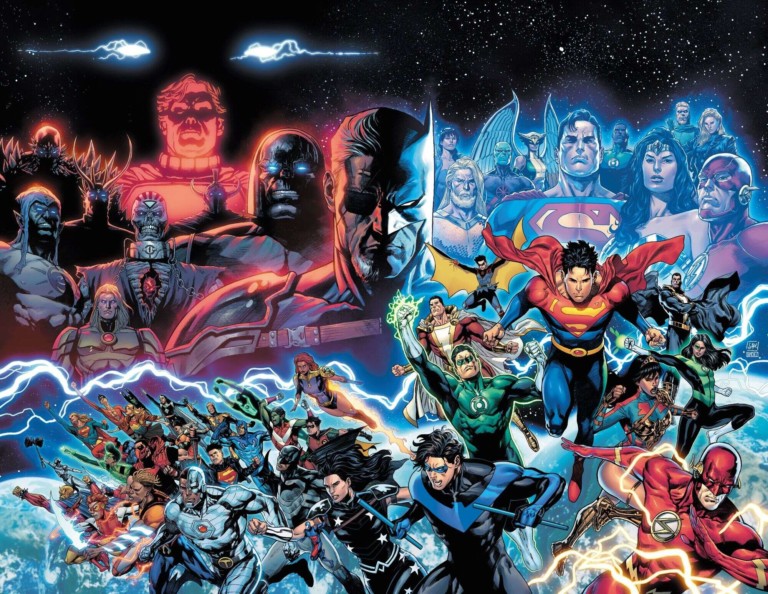 Crisis on Infinite Earths. Infinite Crisis. Final Crisis.
And now… Dark Crisis!
The epic event years in the making is finally here! Superman, Batman, Wonder Woman, and the rest of the Justice League are dead. The remaining heroes are left to protect the world from an onslaught of violent attacks by DC's greatest villains! Can the legacy heroes step out of the shadows of the classic heroes to form a new Justice League? And will that be enough to stop a darkness greater than anything they've ever faced from destroying everything?
Also shout out to Dark Crisis: Young Justice #1 which sees Tim Drake, Impulse, and Superboy go missing during the Justice League's funeral. The only person concerned enough to find them? Cassie Sandsmark, a.k.a Wonder Girl. But…the three boys of Young Justice aren't on this Earth anymore…they're on the world of their dreams, one they may never want to leave!
There is no forgiveness for Black Adam. This is the reality Teth-Adam, immortal man of indomitable will, must face when he discovers he has been infected with an incurable plague destroying his immortality. Haunted by the specter of centuries of dark deeds, Black Adam transfers his powers to a worthy successor who will redeem Adam's legacy and defend their ancestral homeland of Kahndaq, only to subsequently become mystically "handcuffed" to him when Adam's plague is arrested, giving birth to perhaps the most volatile and dysfunctional super-team in DC history!
Powered by stunning art by Rafa Sandoval (Justice League) and breathtaking painted covers by Irvin Rodriguez (Detective Comics), writer Christopher Priest (Deathstroke, Justice League) brings his trademark wit and skill for character deconstruction to an entirely fresh examination of the man you love to hate! Get ready to ride the lightning!
Multiversity: Teen Justice #1
Kid Quick—the Future State Flash—and their fellow heroes Supergirl, Robin, Aquagirl, Klarienne the Witch Girl, and Troy take center stage in a miniseries that rocks Earth-11 to its core!
Co-writers Ivan Cohen (The Batman & Scooby-Doo Mysteries) and Danny Lore (DC Pride, Champions) join rising-star artist Marco Failla (DCeased: Hope at World's End) for the incredible debut issue, which begins with an attack by the H.I.V.E. and ends in the Church of Blood! What is Sister Blood's true mission among the lost souls of New York City? Can Teen Justice get through their growing pains fast enough to learn the answer in time to stop it? And what role will the mysterious Raven, the brooding hero who has refused to join the team in the past, play in the ultimate battle? The secrets of Earth-11's newest heroes and villains unfold in DC's most exciting new team title!
DC's 2022 celebration kicks off with more stories, more characters, and more pride than ever before! This anthology features 13 all-new stories spotlighting LGBTQIA+ fan-favorites new and old including Superman (Jon Kent), Nubia, Tim Drake, Kid Quick, Aquaman (Jackson Hyde), Green Lantern (Jo Mullein), Alysia Yeoh, the Ray, Harley Quinn, Poison Ivy, Batwoman, and more!
This special also includes: A 'Multiversity: Teen Justice' kickoff story spotlighting Kid Quick and written by the miniseries team, Danny Lore and Ivan Cohen, an introduction by activist, actress, and real-life superhero Nicole Maines that will include a teaser for her upcoming Dreamer project and pinups by P. Craig Russell, J.J. Kirby, and more!
Pamela Isley has been a lot of things in her life. A living god, a super-villain, an activist, a scientist, and dead. In a new body that she didn't ask for and with a renewed sense of purpose, Ivy leaves Gotham and sets out to complete her greatest work—a gift to the world that will heal the damage dealt to it…by ending humanity.
Spinning out of the pages of Batman, DC is proud to present the unbelievable next chapter in Poison Ivy's life by the incredible creative team of G. Willow Wilson and Marcio Takara. Featuring a stunning cast of variant cover artists, including Warren Louw, Frank Cho, Dan Mora, Nick Robles… and introducing main cover artist Jessica Fong!
Nubia: Queen of the Amazons #1
Nubia may be queen, but not all Amazons call Themyscira home, which prompts the new monarch to leave Themyscira for the first time in decades to serve her people in a way Hippolyta never had the opportunity to. A villain from Nubia's mysterious past has been waiting for the day the queen joined the outside world again, and they're ready to make her wish she never left the paradise!
Taking place right after the Nubia: Coronation Special, a second miniseries for the fan-favorite Amazon begins! You won't want to miss the exciting new adventures of the one true queen, brought to you by the creative team behind Nubia & the Amazons, writer Stephanie Williams and artist Alitha Martinez!
Graphic Novels & Collected Editions
Batman's Mystery Casebook GN
Batman is a great detective, but he rarely works alone. His sidekicks Robin and Batgirl, his butler Alfred, and the police of Gotham City all play a role in helping him keep his city safe. You can too!
Look for clues! Analyze evidence! Solve riddles! Learn history! Help the Batman as he goes on his adventures and see if you can spot the answers to these mysteries before he logs them into his casebook.
Icon & Rocket: Season 01 HC
When Raquel Ervin discovered a centuries-old alien living in her city, she had no idea she would be awakening a power that would make the world tremble…and transform the pair of them into the superheroes Icon and Rocket! When they declare all-out war on the drug trade, their actions topple a chain of dominoes that nearly unravels the global economy, and brings a sadistic extraterrestrial killer into their own homes!
Collects Milestone Returns: Infinite Edition #0 and Icon & Rocket: Season One #1-6.
Andy, like a lot of kids, feels a little lost and out of place when he moves to Gotham. Unlike most kids, he's less excited about the idea of meeting Batman than he is about seeing his childhood hero, the wrestler Waylon Jones… a.k.a. Killer Croc! If Andy can find him and ask for some wrestling tips, he can have it all. Trouble is, Batman is looking for Andy's childhood hero, too.
In My Buddy, Killer Croc, Sara Farizan and Nicoletta Baldari unite to tell a charming tale of a boy in a new school, his new friends and enemies, and the super-villain who teaches him how to put the bullies in their place.
Fly into director Richard Donner's Superman once more in Superman '78! Written by Robert Venditti (Superman: Man of Tomorrow) and drawn by Wilfredo Torres (Batman '66), Superman '78 tells a brand-new adventure in the world of the beloved film.
This looks like a job for Superman! Where did the metallic menace come from and who is Brainiac? Superman must make a life-changing sacrifice and leave Earth once and for all. But once aboard Brainiac's ship, the Man of Steel finds he might not be the last son of Krypton as he believed.
This volume collects issues #1-6 of the hit miniseries Superman '78!
SUPERGIRL: WOMAN OF TOMORROW TP
Kara Zor-El can no longer find any meaning or purpose in her life. But all that changes when an alien girl seeks her out to help her take revenge on the bad guys who destroyed her world. Now a Kryptonian, a dog, and an angry, heartbroken child head into space on a journey that will shake them to their very core. 
It's Supergirl like you've never seen her before in a character-defining sci-fi/fantasy masterpiece!
Collects the entire miniseries Supergirl: Woman of Tomorrow #1-8.
Batman and Detective Comics scribes James Tynion IV and Mariko Tamaki are joined by a cadre of incredible collaborators to tell the heretofore-untold origin stories of some of Batman's greatest allies and archrivals.
Discover the mysteries of breakout characters from Fear State and Joker War such as Miracle Molly, Clownhunter, and the Gardener! 
Collects Batman Secret Files: The Signal #1, Batman Secret Files: Huntress #1, Batman Secret Files: Clownhunter #1, Batman Secret Files: Peacekeeper-01 #1, Batman Secret Files: Miracle Molly #1, and Batman Secret Files: The Gardener #1!
Black Manta is dying.
After unearthing a rare and powerful metal at the bottom of the ocean, Manta finds himself plagued by excruciating pain. But the hunt for his salvation puts Manta in the crosshairs of Devil Ray, a dangerous new rival who aims to become the new Scourge of the Seven Seas!
Collects the Black Manta short from Aquaman 80th Anniversary 100-Page Super Spectacular #1 and Black Manta #1-6.
Batman: Earth One Complete Collection TP
In a Gotham City where friend and foe are indistinguishable, Bruce Wayne's path toward becoming the Dark Knight is riddled with more obstacles than ever before. Focused on punishing his parents' true killers and the corrupt police who allowed them to go free, Bruce Wayne's thirst for vengeance fuels his mad crusade, and no one, not even Alfred, can stop him.
Geoff Johns and Gary Frank reimagine a new mythology for the Dark Knight, where the familiar is no longer the expected.
Collects Batman: Earth One Vols. 1-3.
INJUSTICE: GODS AMONG US: YEAR ZERO THE COMPLETE COLLECTION TP
The beloved, fan-favorite series Injustice is back! And this time, with a prequel…Year Zero: "The Fall of the Old Gods"! 
Before Superman, Batman, or the Justice League were household heroes, there was the JSA! But when a secret begins to unravel within the JSA, will it lead to the unraveling of the heroes we know today? Is there a traitor within the ranks of our heroes? Or is someone hiding something that could ruin every DCU superhero forever? No one is safe in Injustice: Year Zero! 
Collects Injustice: Year Zero #1-14.
Teen Titans Academy Vol 01: X Marks The Spot TP
The original New Teen Titans have reteamed and formed the Titans Academy to teach the next generation of super-powered teens… if the students can survive the training. Nightwing, Starfire, Raven, Beast Boy, Cyborg, and Donna Troy are the teachers at the school and will pass along their knowledge to the young recruits looking to learn how to use their powers to reach their full potential.
Collects Suicide Squad #3, Teen Titans Academy #1-5, Infinite Frontier #0, and Teen Titans Academy 2021 Yearbook #1.
Legends of the Dark Knight TP
The iconic series Legends of the Dark Knight is back! Comics legends and rising stars alike tell iconic stories across the Batman mythos. Anchored by a three-part story by Darick Robertson (co-creator of The Boys), this is a can't-miss collection of Gotham City sagas.
This collection's villains include The Joker, the Scarecrow, the Penguin, the Riddler, Solomon Grundy, Killer Croc, and brand-new antagonists who will change the Batman mythos forever!
BRIGHTEST DAY OMNIBUS (2022 EDITION) HC
In this follow-up to Blackest Night, 12 heroes and villains were resurrected by a white light expelled from deep within the center of the earth. Now Aquaman, Martian Manhunter, Firestorm, Hawkman, Hawkgirl, Deadman, Jade, Osiris, Hawk, Captain Boomerang, and Zoom must discover the mysterious reason behind their return and uncover the secret that binds them all in this massive hardcover!
Collecting issues #0-24 of the hit series!
If anything jumped out to you, remember to message us or let us know next time you're in the shop! You get a text the second it arrives in the shop and we place a copy aside just for you so you don't miss out!
We do these each month so keep an eye out for the next post!
Have a great month and happy reading 💚