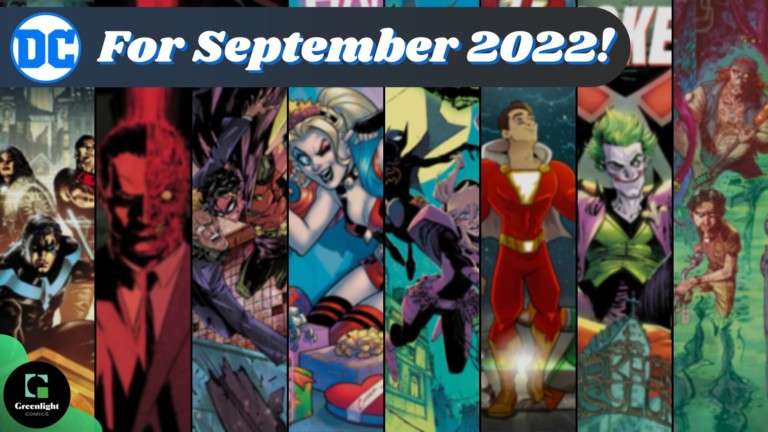 The new issue of DC Comics Preview catalog DC Connect has arrived! Here is our breakdown of the new comics series to jump on, plus what collected editions are arriving from September 2022! You can find the rest of our Previews Picks for other Comics & Manga, as well as Marvel Comics future releases over on the blog!
BATMAN - ONE BAD DAY: Two-Face #1
Two-Face has always been viewed as Batman's most tragic villain. If only Harvey Dent hadn't been scarred by acid, he could have continued his good work as D.A. in Gotham City and been Batman's greatest ally and friend…right? Or has Batman extended Harvey Dent too much grace in his multiple attempts at reform? He'll question himself as Harvey Dent is free once more, scarred but seemingly free of Two-Face's influence. But…when it's revealed Harvey Dent's father has been threatened to be murdered on his 88th birthday, will Two-Face be able to resist joining the party? From the bestselling creative team of Mariko Tamaki (Detective Comics, Crush & Lobo) and Javier Fernandez (Nightwing, King Spawn)!
DC HORROR PRESENTS: SGT. ROCK VS. THE ARMY OF THE DEAD #1
Horror icon Bruce Campbell and comics legend Eduardo Risso bring you a terror-soaked Sgt. Rock tale like no other!
Berlin, 1944. The Nazis are besieged on all fronts by the Allied forces. Defeat is inevitable. But Hitler and his team of evil scientists attempt a last-ditch effort that may turn the tide of the war and rewrite history itself: a serum that resurrects their dead soldiers, stronger than they were in life, and sends them back into the battlefield. Now Sgt. Frank Rock and Easy Company have been dispatched into enemy territory to face off against the strangest, most horrific enemies they've ever encountered: Nazi zombies!
HARLEY QUINN 30TH ANNIVERSARY SPECIAL #1
You are cordially invited to an oversize extravaganza celebrating the Clown Princess of Crime's 30th birthday in this fantabulous special! That's right—Harley Quinn turns 30 in absolute style and has invited a squad of her old creative pals to join her with a killer lineup of amazing stories! And the reviews are in—it's guaranteed AWESOME:
"Last chance, Quinn. Don't make me do this." —Amanda Waller
"Wait…you're not going back to…" —Red Tool
"Sigh." —Poison Ivy
Deep in the heart of Lazarus Island, the demonic legacy of the al Ghul family line has at last been freed, and the Devil Nezha is out for blood. To reclaim his total domination over planet Earth, Nezha has supercharged magic—anyone who dares use it is overcome by a demonic evil that supercharges their abilities to dangerous, unpredictable, and in some cases deadly levels! With Damian in Nezha's clutches and Bruce haunted by the return of an old friend, the Dark Knight and the Boy Wonder are pitted against one another in the battle of the century! Legendary writer Mark Waid helms the next epic saga in Batman history, while superstar artist Mahmud Asrar makes his triumphant return to DC!
Step aside, Damian—the world's favorite Robin has got this! That's right, after years away, Tim Drake is taking center stage in a brand-spanking-new Robin series of his very own!
A mystery over a year in the making takes shape, as a new villain who's been hounding Tim from afar decides to take things up close and personal, putting Bernard and everyone else Tim cares about in peril as things go from bad to worse for the world's oldest and canonically tallest Robin [no, I will not be fact-checking that]. All that and Tim finally carves out a corner of Gotham City just for himself, and sets up shop in his very own…murder shack boat? Fan-favorite writer Meghan Fitzmartin teams up with beloved Harley Quinn artist Riley Rossmo to define the next chapter in Tim's life. and as if that wasn't enough, break out your skateboards and motorcycles cuz we've assembled a murderer's row of artists to draw the 1990s' One True Robin™ in his various looks from over the years!
TITANS UNITED: BLOODPACT #1
The Titans are back, united against a common foe…aren't they? All seems lost when Tim Drake wakes, out of uniform and seemingly out of time. Surely he was just fighting alongside Nightwing, Superboy, Starfire, Beast Boy, and Donna Troy? But where is Raven and what links her to the Fearsome Five? A blood sacrifice is coming that will change the world forever.
SUPERMAN: WARWORLD APOCALYPSE #1
It has all led to this: the final battle between Superman and Mongul, and between the Authority and Mongul's Unmade Champions! The identity of the hooded stranger has been revealed, uncovering a shocking betrayal that threatens to crush Superman's rebellion forever! But as the fate of Warworld relies on Superman, the last chance to return his powers now lies with Natasha and John Henry Irons. From the visionary creative team of Phillip Kennedy Johnson, Brandon Peterson, and Will Conrad, empires fall and rise and the fourth world is reborn in this jaw-dropping final chapter!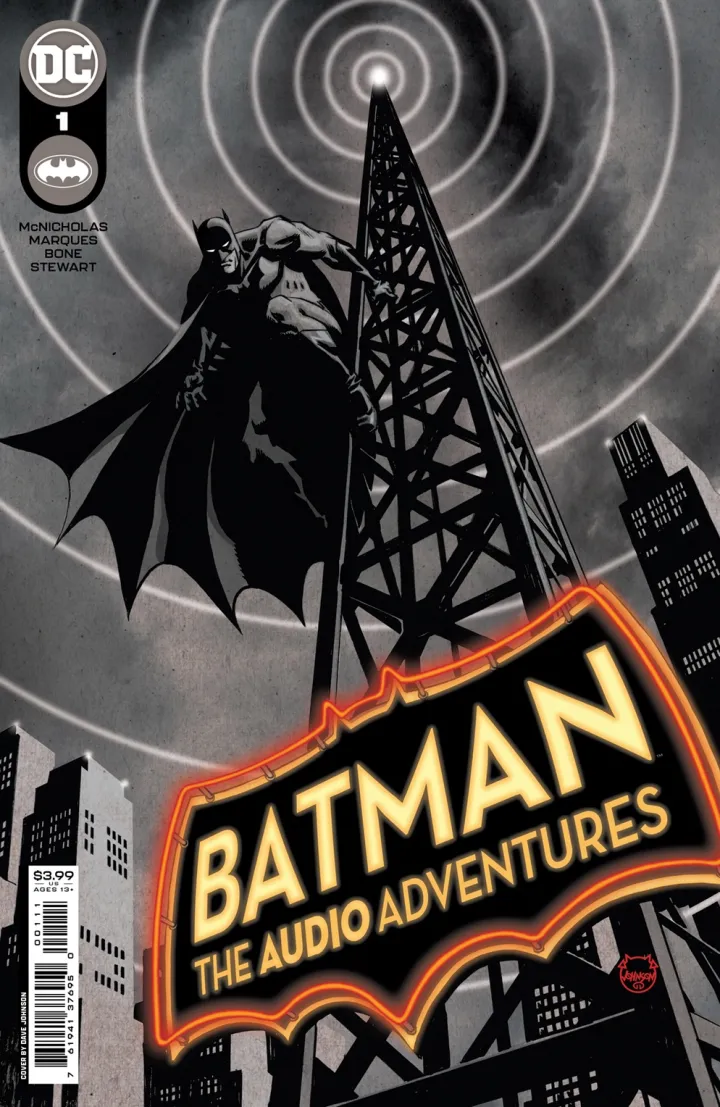 BATMAN: THE AUDIO ADVENTURES #1
Don't touch that dial! Picking up right after the season finale of the award-winning podcast, Batman: The Audio Adventures continues in this new seven-issue miniseries! A string of attacks has plagued Gotham's seedy underbelly, sending criminals into a panic. But it's not Batman who is striking at the heart of the city, it's a group of mysterious assailants on the hunt for an ancient artifact. As Batman hunts down these assassins, he finds clues that keep drawing him to their true goal: the sword of King Scimitar!
Graphic Novels & Collected Editions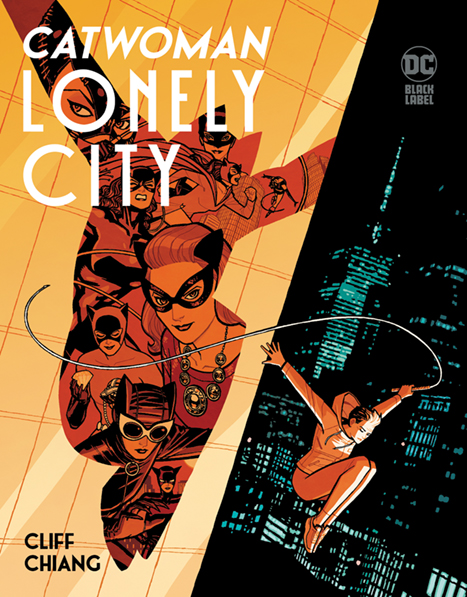 Ten years ago, the massacre known as Fool's Night claimed the lives of Batman, The Joker, Nightwing, and Commissioner Gordon…and sent Selina Kyle, the Catwoman, to prison. A decade later, Gotham has grown up—it's put away costumed heroism and villainy as childish things. The new Gotham is cleaner, safer…and a lot less free under the watchful eye of Mayor Harvey Dent and his Batcops. It's to this new city that Selina Kyle returns, a changed woman…with her mind on one last big score: the secrets hidden inside the Batcave! She doesn't need the money—she just needs to know…who is"Orpheus"? Visionary creator Cliff Chiang (Wonder Woman, Paper Girls) writes, draws, colors, and letters the story of a world without Batman, where one woman's wounds threaten to tear apart an entire city! It's an unmissable artistic statement that will change the way you see Gotham's heroes and villains forever!
Collects Catwoman: Lonely City #1-4.
DC HORROR PRESENTS: SOUL PLUMBER HC
From the creators of The Last Podcast on the Left, exorcism just got a whole lot easier. After attending a seminar hosted in a hotel conference room by a mysterious group called the Soul Plumbers, Edgar Wiggin discovers what he thinks is the secret to delivering souls from the thrall of Satan. But after stealing the blueprints and building the machine himself, out of whatever he can afford from his salary as a gas station attendant, Edgar misses the demon and instead pulls out an interdimensional alien, with dire consequences for all humankind.
Collects DC Horror Presents: Soul Plumber #1-6.
Billy Batson's never been a team player, and becoming the superhero Shazam didn't seem to change that much. But his new strength and stamina will make football a breeze—which is good, because his school needs a new quarterback!
Between football practice and superhero training, Billy's muscles are getting bigger, but so is his ego. Will foster dad Victor's wise counsel and memories of his own football triumphs help keep young Shazam grounded?
Shazam! Thundercrack is set within the movie timeline, showing Freddy's vlog filled with superhero training montages, family pranks, and the new gig he took to monitor Billy's football practices (the cheerleading squad really needed a new mascot!).
Following the events of Infinite Frontier #0 and the Joker War, The Joker gets targeted as the most wanted man in the world! But the Clown Prince of Crime is several steps ahead of law enforcement—and he's on the run overseas. James Gordon, facing retirement, realizes this is the pursuit of his life and the last piece of a storied career…but what mysterious and deadly forces are also hunting The Joker?
Collects The Joker #1-5 and other short stories.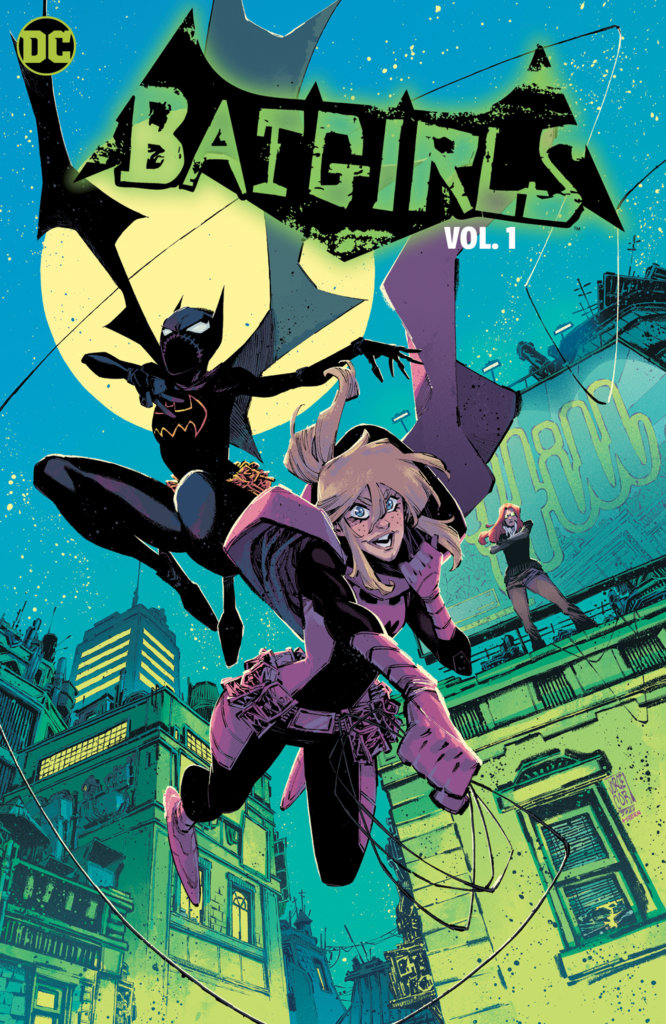 Meet Batgirls Cassandra Cain and Stephanie Brown, who are only able to navigate the dark, gritty, and oftentimes scary Gotham City by leaning on each other's friendship. Steph may be too rash sometimes, and Cass doesn't speak much—but what they lack in similarities they make up for with their mutual respect and love for each other…and what makes them stronger together as Batgirls! This rebellious group of Super Heroes team up to kick ass, and try to make it as normal teenagers in this pizza slumber party of a series!
Collects Batgirls #1-6 and backup stories from Batman #115-117.
When Deathstroke assassinates Ra's al Ghul, Talia al Ghul demands revenge and sends her League of Shadows to kill Deathstroke and Deathstroke Inc.! Batman and Robin must team up to track down Deathstroke and bring him to justice…or do they? Over-the-top fights, action, mystery, and betrayal unfold as this crossover event makes a major impact on the DCU!
This epic hardcover collects each installment of the Shadow War saga: Shadow War: Alpha #1, Batman #122-123, Deathstroke Inc. #8-9, Robin #13-14, Shadow War Zone #1, and Shadow War: Omega #1!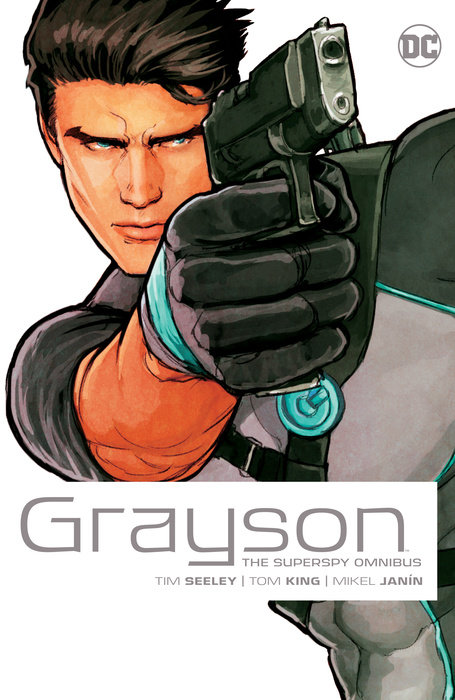 GRAYSON THE SUPERSPY OMNIBUS (2022 EDITION) HC
To the heroes, villains, and ordinary citizens of Earth, Dick Grayson is dead—but death is the perfect cover story for an agent of Spyral. Now, as Batman's man on the inside, Dick must learn Spyral's secrets as they strive to uncover the secret identity of every superhero on the globe.
Collects Grayson #1-20, Grayson: Futures End #1, Secret Origins #8, Grayson Annual #1-3, Robin War #1-2, and Nightwing: Rebirth #1.
DC POSTER PORTFOLIO: GEORGE PÉREZ TP
DC Comics is proud to present this poster portfolio of covers celebrating the prolific career of renowned artist George Pérez. Featuring artwork from The New Teen Titans, Wonder Woman, Crisis on Infinite Earths, and more, this collection spotlights George's penchant for crafting some of the most iconic and unforgettable images in comics.
The posters in this volume present but a fraction of the work by this beloved illustrator whose art has touched the hearts of comics fans around the world for generations.
If anything jumped out to you, remember to message us or let us know next time you're in the shop! You get a text the second it arrives in the shop and we place a copy aside just for you so you don't miss out!
We do these each month so keep an eye out for the next post!
Have a great month and happy reading 💚