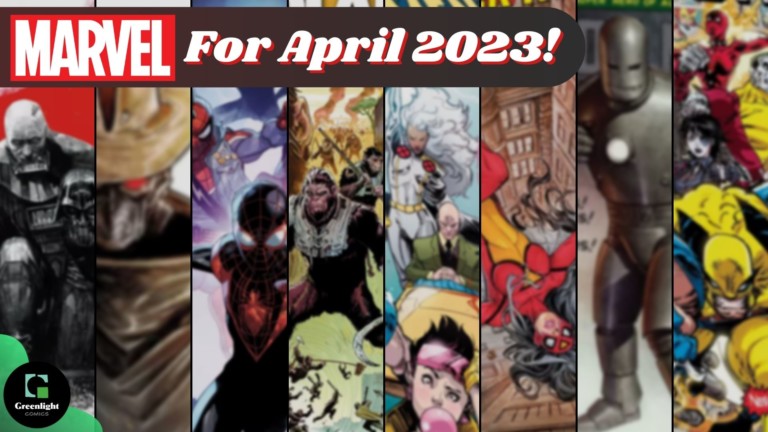 The February issue of Marvel Comics Previews has arrived! Here is our breakdown of the new comics series to jump on, plus what collected editions are arriving from April 2023! You can find the rest of our Previews Picks for other DC Comics, Indies & Manga titles here!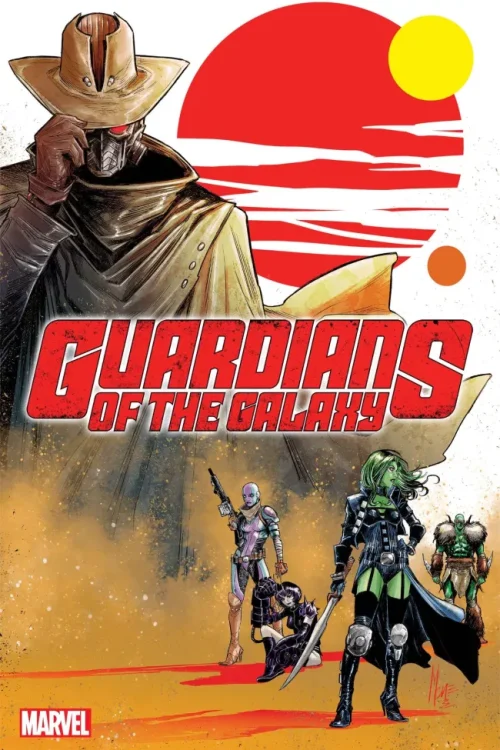 GUARDIANS OF THE GALAXY #1
WHO ARE THE GUARDIANS OF THE GALAXY?
One year ago, the Guardians of the Galaxy were destroyed. Their optimistic future shattered by the betrayal of one of their own. Now they ride the space lanes of a lawless corner of the galaxy, trying to outrun their tragedy. Can they rediscover their heroism and humanity on the bleakest frontier? Can they forgive the failures of their past? Or will they fade into the dark, eternally unforgiven? Writers JACKSON LANZING and COLLIN KELLY (CAPTAIN AMERICA: SENTINEL OF LIBERTY) team up with artist KEV WALKER (PREDATOR) for a Guardians story like no other!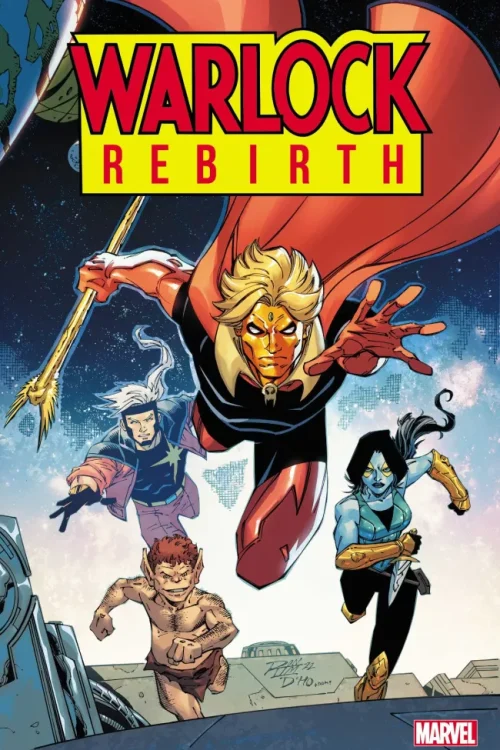 WARLOCK: REBIRTH #1 (OF 5)
BRAND SYNERGY!
Adam Warlock was created to be the perfect human specimen. Since then, Adam has gone on to be a cosmic savior, defending the galaxy from the likes of Thanos, the Universal Church of Truth and the Magus. But what will happen when the next evolution of Warlock emerges? Someone who is stronger, faster and smarter than Adam? Don't miss this untold story of Adam Warlock and the Infinity Watch as Ron Marz and Ron Lim (SILVER SURFER: REBIRTH) introduce a new character that will forever impact Warlock's legacy!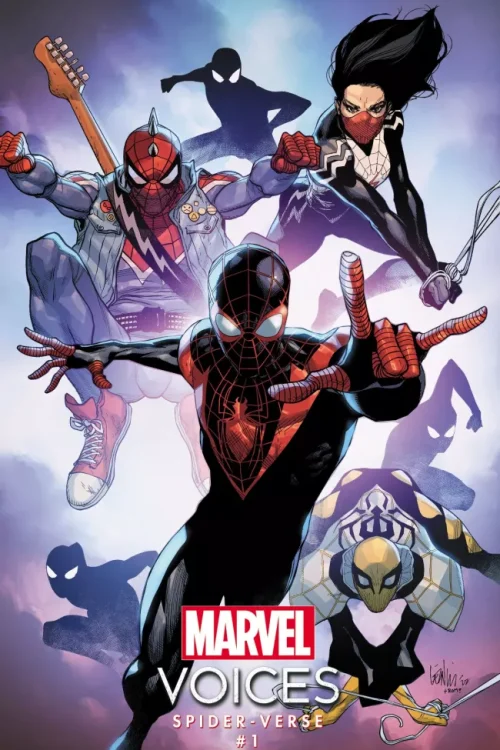 MARVEL'S VOICES: SPIDER-VERSE #1
AN AWESOME ASSEMBLY OF MARVEL'S MIGHTIEST!
An all-new selection of interdimensional adventures from some of Marvel's freshest and finest creators, each bringing their own unique perspectives and stylings to the Web of Life and Destiny! What new spiders will find their way to the Marvel Multiverse, and what familiar faces will join them for this titanic and oversized issue?!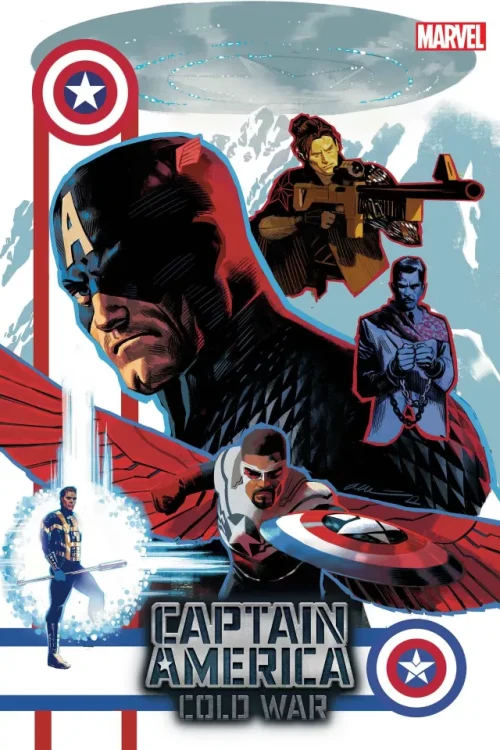 CAPTAIN AMERICA: COLD WAR ALPHA #1
THE REVOLUTION STARTS HERE: COLD WAR – PART ONE!
Bucky Barnes is the Outer Circle's New Revolution, and he has enacted his deadliest move yet — an alliance with Sam Wilson's nemesis, the White Wolf. When Steve Rogers' adopted son, Ian, A.K.A. Nomad, is abducted by someone Steve thought was a friend, he suspects Bucky's hand at work and calls upon the people who know Ian best — Sam Wilson, Sharon Carter and Misty Knight — to help him get to the bottom of the attack. Has Bucky finally gone too far? Why has Nomad been taken, and what does it have to do with a portal to Dimension Z opening over a secret battleground in Alaska? The Symbol of Truth and the Sentinel of Liberty reunite for a pulse-pounding crossover event that will make them question everything they believe in… and each other.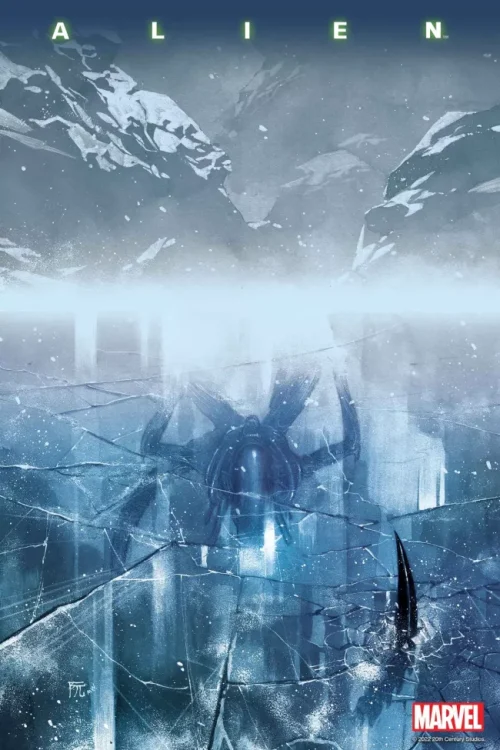 SUPERSTARS DECLAN SHALVEY & Andrea Broccardo TAKE ALIEN TO BONE-CHILLING NEW DEPTHS!
Scientist Batya Zahn will do just about anything to get her family off the icy moon where they've been conducting research on water conservation. But there's more than glacial springs to find in this forgotten corner of the galaxy. When they discover an extraordinary organism buried in the ice, it won't take long for tensions to heat up. What is hidden in the snow comes forth in the thaw… and no one will be welcoming this spring. A new era of Alien starts here!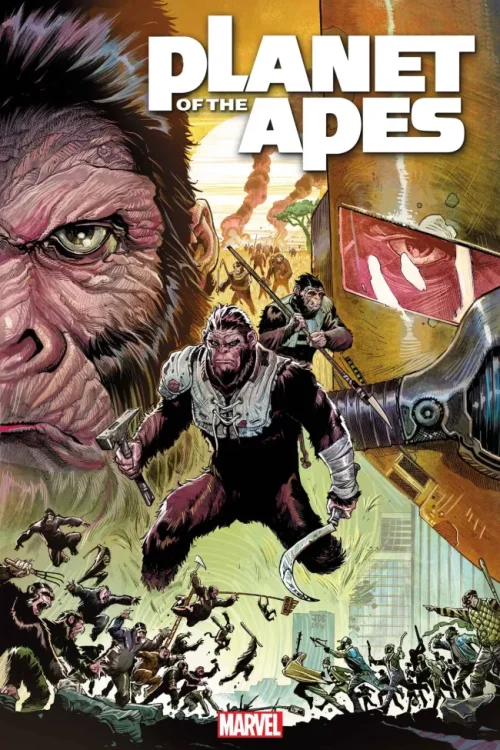 DAVID F. WALKER & DAVE WACHTER BRING PLANET OF THE APES BACK TO MARVEL COMICS IN SPECTACULAR STYLE!
A new era of apes kicks off with part 1 of "Devolution"! The ALZ-113 virus has rampaged across planet Earth, and humanity is crumbling. While well-meaning researchers hunt for a cure, a fanatical group of humans has their own solution: Kill all apes. Peacekeeper Juliana Tobon is one of the few willing to stand against them, but the crisis is spreading, and soon apes will witness the true depths of human cruelty… Eisner-winning writer David F. Walker (Luke Cage, Bitter Root) joins forces with artist Dave Wachter (Iron Fist: Heart of the Dragon, Star Wars: The High Republic – Trail of Shadows) on one of the most beloved sci-fi franchises in history!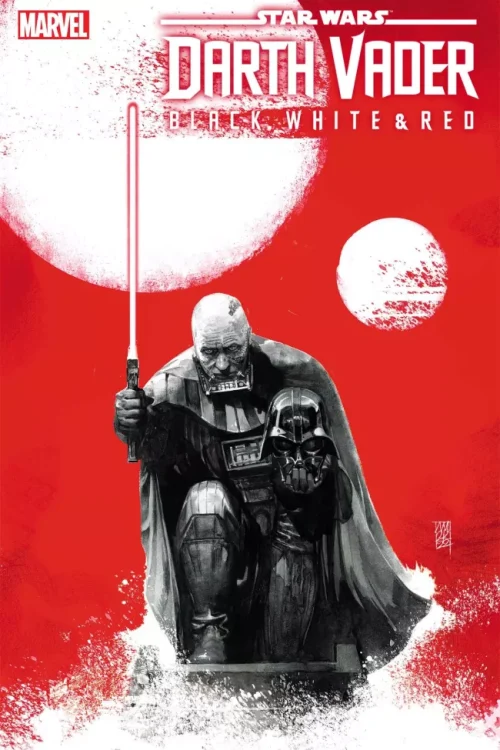 STAR WARS: DARTH VADER - BLACK, WHITE AND RED #1
THE DARK LORD OF THE SITH LIKE YOU'VE NEVER SEEN HIM BEFORE!
Following the successful black, white and red series produced by Marvel Comics, DARTH VADER now takes the spotlight for tales of terror by some of the industries most talented creators! PEACH MOMOKO will spin a story only she can bring to life! PLUS, the return of JASON AARON to the world of STAR WARS with Part One of his Vader tale spanning all four issues!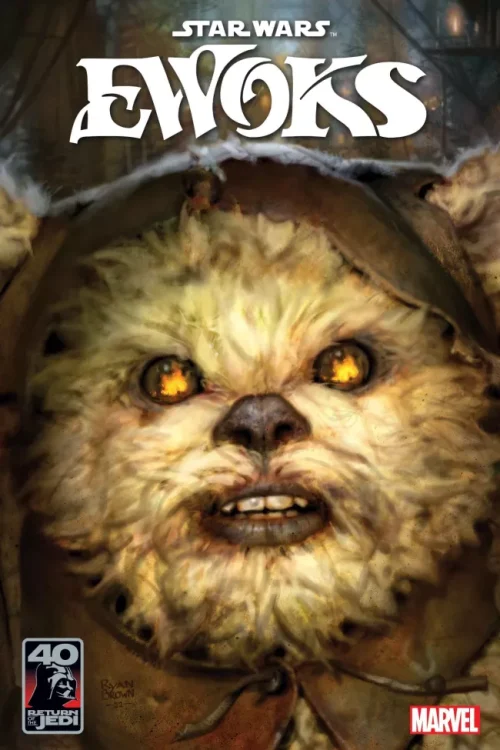 STAR WARS: RETURN OF THE JEDI - EWOKS #1
TALES OF THE EWOKS!
On the moon of Endor occupied by the species called Ewoks, a group of these stout creatures has gathered around the fire to recount tales of triumph, defeat… and horror! In the art-forward manner of storytelling, watch an eclectic group of artists interpret the stories from the unique minds of Ewoks in a manner only they can envision! This can't-miss issue for Star Wars fans of mirth, merriment and artistry is the book you've been craving!
Graphic Novels & Collected Editions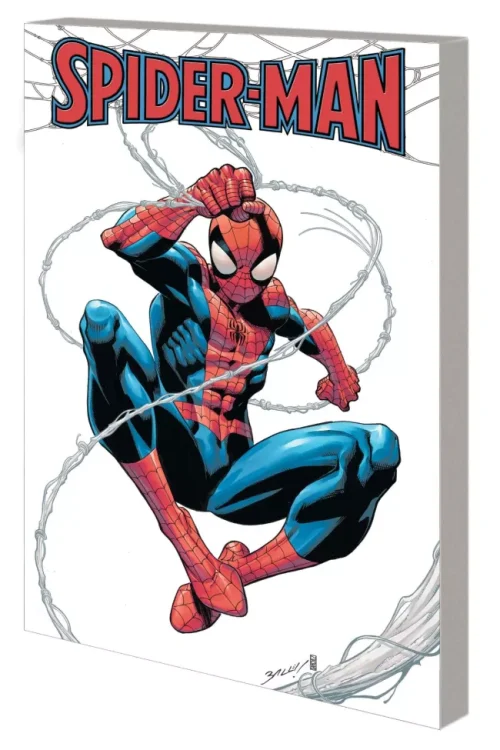 SPIDER-MAN VOL. 1: END OF THE SPIDER-VERSE TP
The end of the Spider-Verse! Morlun is back — and he's not alone. Allied with one of the most powerful beings known to the Spider-Verse, the scariest villain of all time is making his biggest play — and no Spider is safe. Especially not the "chosen" Spider himself, Peter Parker! But as webbed heroes make their stand — and one by one, begin to fall — Morlun isn't their only problem. Shathra is back, even more powerful than the last time she nearly killed Peter and Ezekiel! And since then, she's had plenty of time to plot the death of all Spiders! Spidey's 60th Anniversary is no joke as writer Dan Slott and artist Mark Bagley — two of the most legendary Spider-Creators of all — collaborate on a Spider-Title for the first time! This will be one for the record books!
Collecting SPIDER-MAN (2022) #1-7.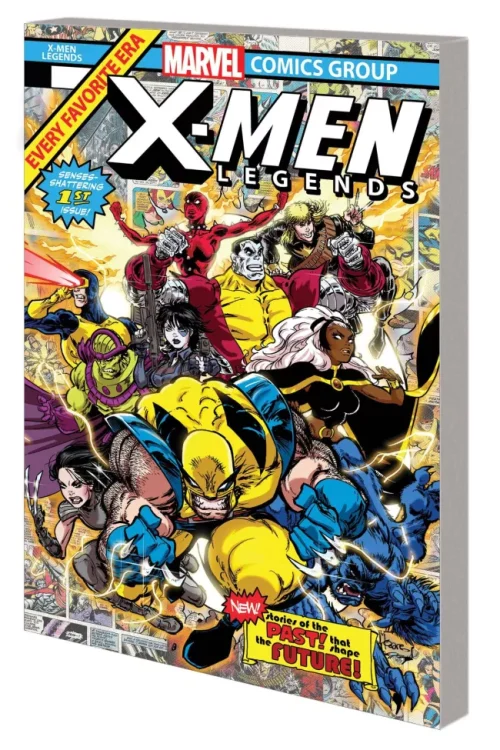 X-MEN LEGENDS: PAST MEETS FUTURE TP
More all-new, in-continuity tales set in the X-Men's legendary past! First, writer Roy Thomas returns to bridge the gap between his 1960s run and the team-redefining GIANT-SIZE X-MEN #1! Discover Wolverine's government missions before his recruitment by Professor X — including unrevealed details of his battle with the Hulk, an early encounter with the X-Men and a secret behind his iconic costume! Then, Ann Nocenti takes the X-Men back to Mojoworld for an adventure set after her sensational LONGSHOT limited series! Will Longshot, Wolverine and Shadowcat be able to escape the pull of Mojoworld before things Spiral out of control? And the future is now as superstar Whilce Portacio returns to his iconic co-creation Bishop in a time-traveling tale that finally reveals the genesis of the X.S.E.'s ill-fated final mission back to the X-Men's present day!
Collecting X-MEN LEGENDS (2022) #1-6.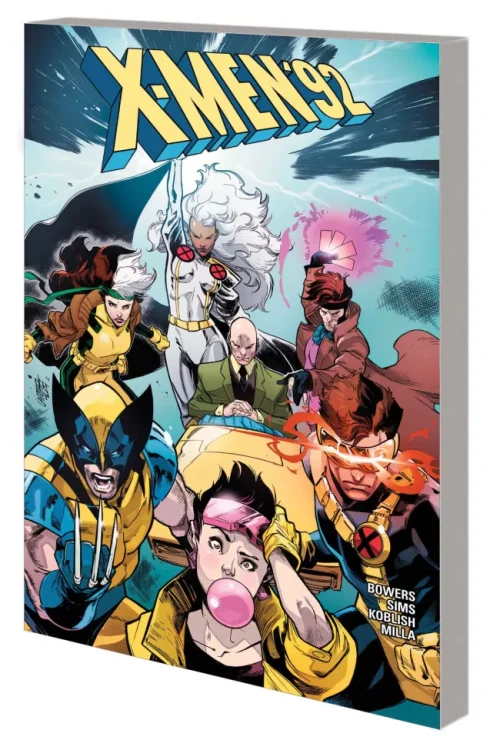 X-MEN '92: THE SAGA CONTINUES TP
Revisit a beloved X-Men era in this series inspired by the classic cartoon! The 1990s roll call is as uncanny as ever: Professor X, Cyclops, Storm, Wolverine, Rogue, Gambit and Jubilee! And they're facing off against their decade's fiercest foes, both on Battleworld and at a newly expanded Xavier's School! But who are the Shadow Queen and Alpha Red?! And with the X-Men under siege, can X-Force '92 save them? New mutants arrive at the school, Lila Cheney teleports in for Westchester's biggest music festival, and deadly menaces threaten mutantkind — including the Brood and Apocalypse! But when the X-Men found their own nation on the island of Krakoa, will they finally find peace? And which mysteriously long-lived mutant is guiding them from the shadows?
Collecting X-MEN '92 (2015) #1-4, X-MEN '92 (2016) #1-10 and X-MEN '92: HOUSE OF XCII #1-5.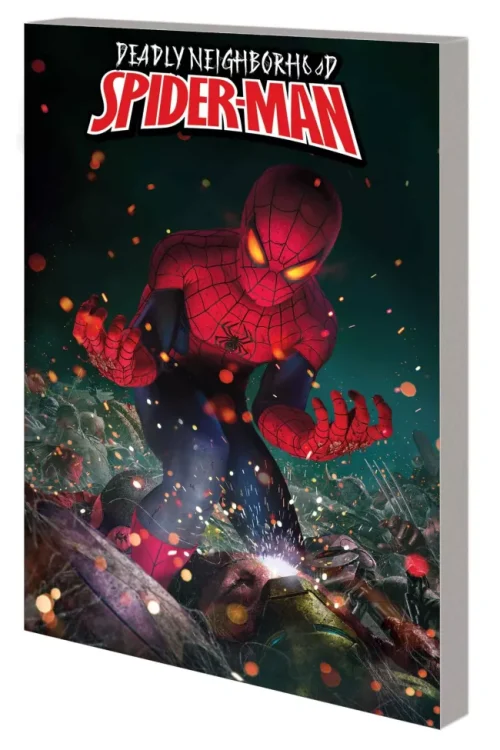 DEADLY NEIGHBORHOOD SPIDER-MAN TP
A revolutionary dark take on Spider-Man! What is reality and what is dream? What is science and what is magic? At the intersection of these crossroads stands the Deadly Neighborhood Spider-Man. Peter Parker travels to Los Angeles, but what he finds are definitely not angels. The demons waiting there will test him like never before. And one demon in particular — a very famous one for Marvel and X-fans — might just eat Spider-Man alive! Beset by nightmares whenever he falls asleep — and sometimes even when he's awake — a weary Peter is in no condition to face… the Demon Bear! But with no rest in sight, the web-slinger will have little choice but to dig in and hang on — unless he wants to meet a grizzly end!
Collecting DEADLY NEIGHBORHOOD SPIDER-MAN #1-5.
Ready. Set. Die! Hundreds are killed every year in an elaborate secret tournament run by a sadistic lunatic with nearly limitless resources at his fingertips. It's not an urban legend. It's not a myth. Murderworld is real! It's online, and the gruesome truth has been hidden from everyone except its victims — until now! This is the wildly violent ride you've been waiting for. Gut-wrenching twists, unbelievable deaths and the Avengers bloodier than you've ever seen them before as the twisted minds of Jim Zub (CONAN THE BARBARIAN, AVENGERS: NO SURRENDER), Ray Fawkes (WOLVERINES) and a murderers' row of talented artists deliver the must-have story of the year! Featuring Spider-Man, Moon Knight, Wolverine, Black Widow and the gamesmaster himself, Arcade — who's putting the murder back into Murderworld!
Collecting MURDERWORLD: AVENGERS, MURDERWORLD: SPIDER-MAN, MURDERWORLD: WOLVERINE, MURDERWORLD: MOON KNIGHT and MURDERWORLD: GAME OVER.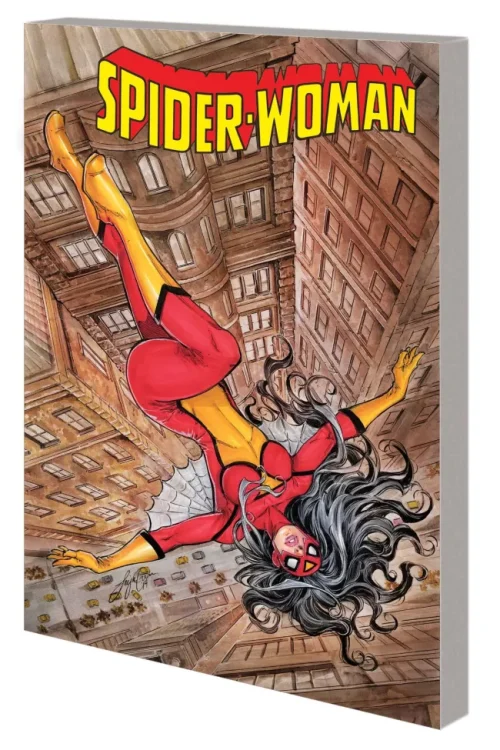 SPIDER-WOMAN by DENNIS HOPELESS TP
The mother of all Spider-Woman sagas! Writer Dennis Hopeless takes Jessica Drew on a life-transforming journey — beginning by embroiling her in the multidimensional insanity of SPIDER-VERSE! Then, Jess heads back into the investigating business with reporter Ben Urich at her side. And their first case is a doozy: Someone is kidnapping super villains' loved ones! Get ready for a new nemesis in Lady Caterpillar — and a prickly Silver Age bad guy joins Team Spider-Woman! But he isn't the only addition to the cast: Jess is a mother-to-be! What a terrible time to be abducted by Skrulls! And just as Jess' baby arrives, the Marvel Universe erupts in a second superhuman Civil War! Will new mom Spider-Woman stand against her best friend, Captain Marvel?
Collecting SPIDER-WOMAN (2014) #1-10, SPIDER-WOMAN (2015) #1-5 and #8-17, and material from AMAZING SPIDER-MAN (2015) #1.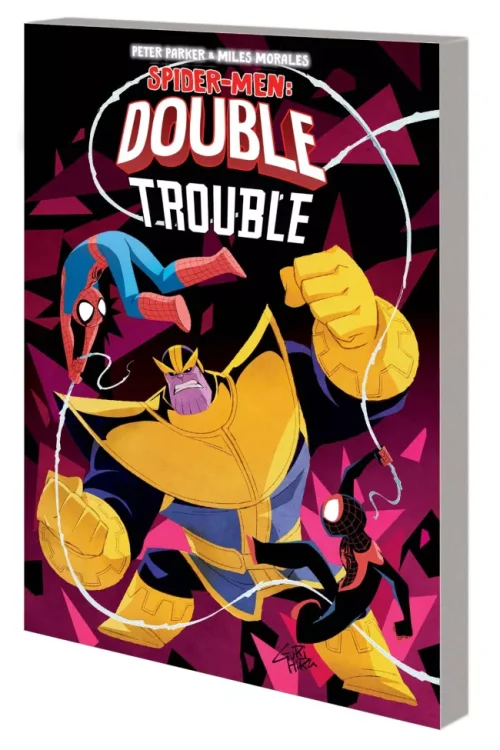 PETER PARKER & MILES MORALES: SPIDER-MEN DOUBLE TROUBLE GN
Miles Morales is Peter Parker's friend, super-hero namesake, crimefighting ally and… sidekick?! No way! Peter has dragged Miles to "Take Your Sidekick to Work Day," and Miles is not amused — they're both Spider-Man! So when Peter makes a mistake that unleashes villainous shenanigans on New York City, it's up to Miles to save the day — and prove exactly which Spider-Man is the true sidekick! Writer Vita Ayala joins the fan-favorite team that brought you SPIDER-MAN & VENOM: DOUBLE TROUBLE and THOR & LOKI: DOUBLE TROUBLE for a brand-new adventure! Plus: Look back at another case of double trouble as the best of frenemies, Spider-Man and Venom, get inside each other's heads… literally!
Collecting PETER PARKER & MILES MORALES: SPIDER-MEN DOUBLE TROUBLE #1-4 and SPIDER-MAN & VENOM: DOUBLE TROUBLE #1.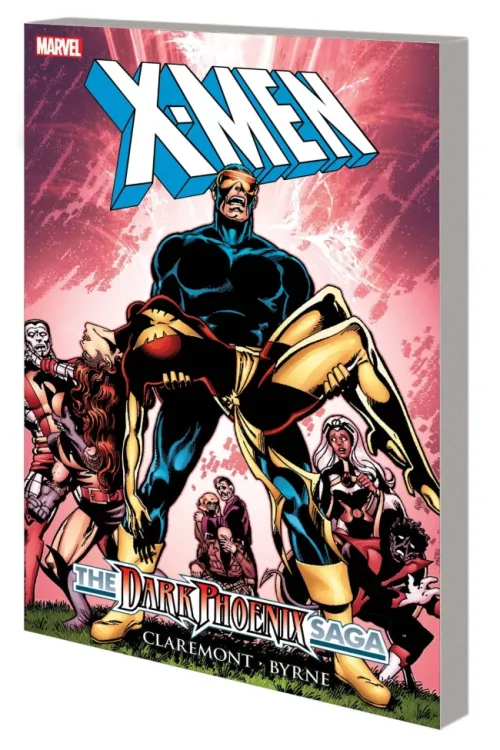 X-MEN: DARK PHOENIX SAGA TP
NEW PRINTING!
An epic tale of triumph and tragedy! The X-Men have fought many battles, been on galaxy-spanning adventures and defeated enemies of limitless might — but none of it prepared them for the most shocking struggle they would ever face. One of their own, Jean Grey, has gained cosmic power beyond all comprehension — and that power has corrupted her absolutely! Now, the X-Men must decide whether the life of the friend they cherish is worth the possible destruction of the entire universe! This touching tale of ultimate power and the triumph of the human spirit has been a cornerstone of the X-Men mythos for decades. Relive the saga that changed everything!
Collecting X-MEN (1963) #129-137.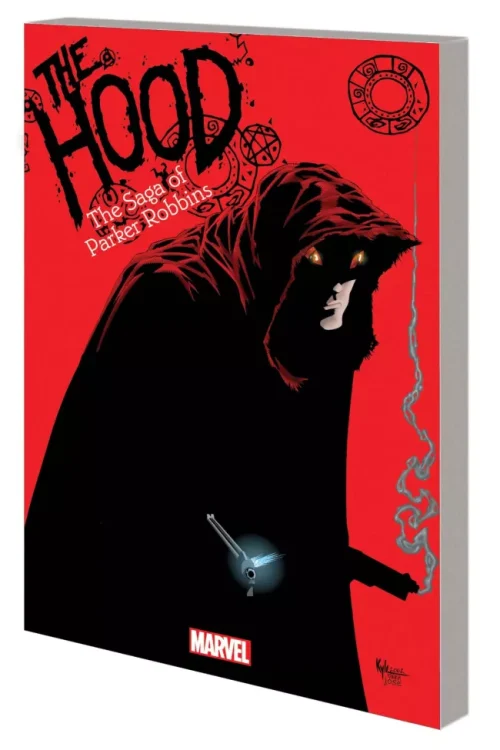 THE HOOD: THE SAGA OF PARKER ROBBINS TP
With great power… comes great opportunity. With a pregnant girlfriend, a demanding mistress and an institutionalized mother to care for, Parker Robbins can barely make ends meet. So when the smalltime crook finds mystical apparel that grants him strange powers, he decides to forgo organized crime for the more prestigious and financially rewarding world of costumed villainy. Is the Marvel Universe ready to meet… the Hood?! Norman Osborn sure is — and when his Dark Reign begins, Parker has a major role to play as a tough-talking crime boss organizing NYC's super villains — while wheeling and dealing with the likes of Loki and Doctor Doom! But what price is Parker paying for his rapid climb up the ladder of infamy? And what terrible secret lies behind the source of his powers?
Collecting THE HOOD #1-6, DARK REIGN: THE HOOD #1-5 and material from DARK REIGN: THE CABAL.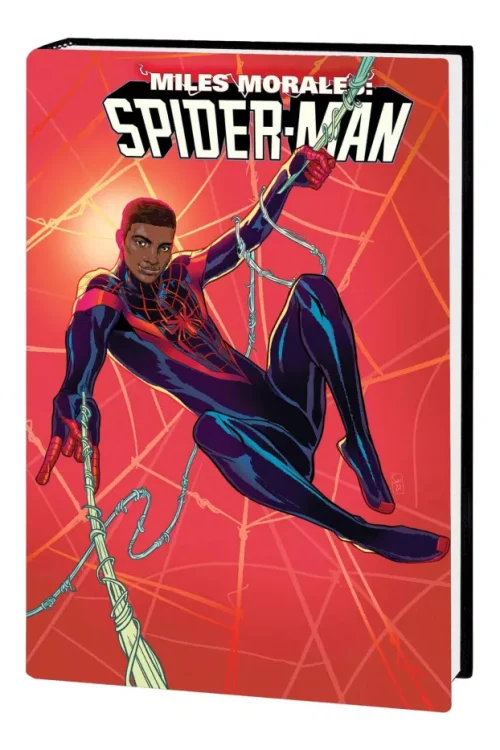 MILES MORALES: SPIDER-MAN BY SALADIN AHMED OMNIBUS HC
Saladin Ahmed shakes up the world of Miles Morales! The young Spider-Man has his hands full with adversaries including the Rhino, Tombstone and…Vice Principal Drutcher?! But is the high-flying Starling friend or foe? When an unknown assailant captures Miles, it sets in motion a series of events that will change his life — while an oddly familiar villain named Ultimatum threatens to destroy it! Meanwhile, the Morales family has a new arrival, the nation threatens to outlaw teen vigilantes, and Miles is about to face his own clone saga! But there are even bigger problems lurking — both in a dark future and out in the Multiverse!
Collecting MILES MORALES: SPIDER-MAN (2018) #1-42, ABSOLUTE CARNAGE: MILES MORALES #1-3, AMAZING SPIDER-MAN (2018) #81 and MILES MORALES: THE END — plus material from FREE COMIC BOOK DAY 2019 (SPIDER-MAN/VENOM) #1, INCOMING! #1, AMAZING SPIDER-MAN (2018) #49 and MILES MORALES: SPIDER-MAN ANNUAL #1.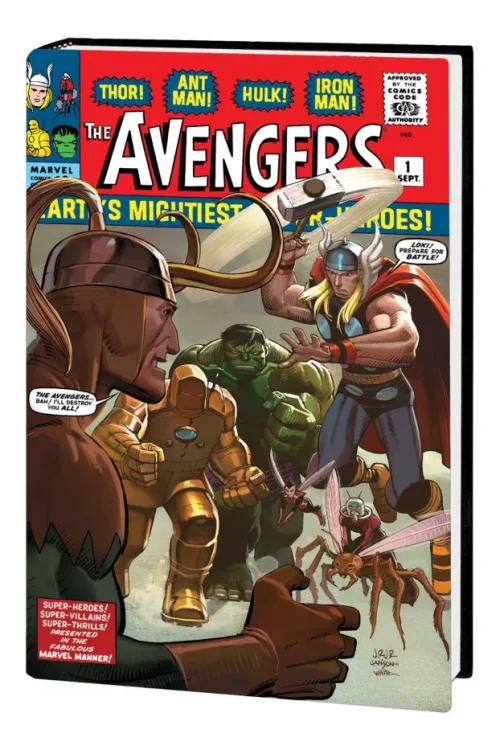 THE AVENGERS OMNIBUS VOL. 1 HC NEW PTG
The Avengers comics' greatest super team, burst onto the scene in 1963 at the forefront of revolutionary Marvel Age of Comics. Iron Man, Thor, the Incredible Hulk, Ant-Man and the Wasp joined together to face the menace of Loki – and set off a streak of tales that nearly 50 years later still sets the trend for super-hero epics. From Captain America's return from the icy depths of the Atlantic to the first appearances of classic enemies like Kang the Conqueror to the game-changing introduction of a trio of former villains into their ranks – Avengers was a bona-fide comic-book blockbuster! And you'll experience every story, every villain, even every letters page in this painstakingly restored Omnibus collection – written by Stan "The Man" Lee, and illustrated by Jack Kirby and Don Heck. It's a must-have for every Marvel fan's collections – so reserve your copy today, True Believer!
Collecting AVENGERS (1963) #1-30.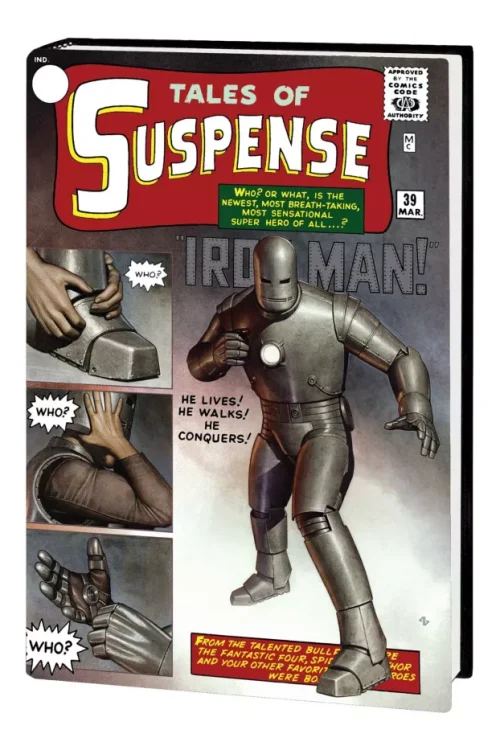 THE INVINCIBLE IRON MAN OMNIBUS VOL. 1 HC NEW PTG
As the Marvel Age of Comics exploded on the pop-culture scene, super hero after super hero that redefined the genre leaped forth from the imagination of the Marvel Bullpen. Adventurers and innovators, scientists and high-school bookworms, they were amazing men and women with all the failings and foibles of you and me. And there are none that touch both adventurer ideal and human reality as Tony Stark, the Invincible Iron Man. A jet-setter, playboy, and brilliant scientist, Tony is cut down to Earth when a battlefield explosion rips into his heart. Only by creating the amazing Iron Man armor can he stay alive! Packed with debonair and debutantes, Cold War monsters and sultry super-spies, the Iron Man Omnibus presents the stories of one of comics' most intriguing characters from the very beginning! Featuring the first appearances of such classic Marvel characters as the Mandarin, the Black Widow, Hawkeye, the Crimson Dynamo and the Titanium Man in lushly-illustrated stories by "Dazzling" Don Heck, Gene "The Dean" Colan and scripted by no less than Stan "The Man" Lee himself, this is the go-to volume for every Iron Man fan. Including every page, every pinup, and every letters column. Not to mention unused covers, critical essays, and bonuses galore!
Collecting MATERIAL FROM TALES OF SUSPENSE (1959) #39-83, TALES TO ASTONISH (1959) #82.
If anything jumped out to you, remember to message us or let us know next time you're in the shop! You get a text the second it arrives in the shop and we place a copy aside just for you so you don't miss out!
We do these each month so keep an eye out for the next post!
Have a great month and happy reading 💚