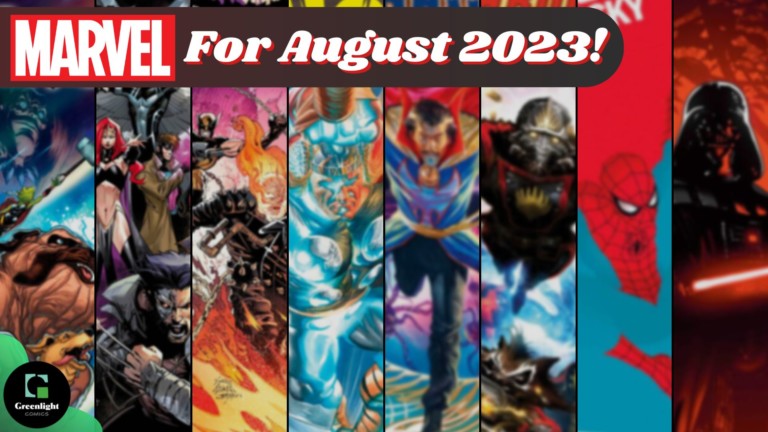 The June issue of Marvel Comics Previews has arrived! Here is our breakdown of the new comics series to jump on, plus what collected editions are arriving from August 2023! You can find the rest of our Previews Picks for other DC Comics, Indies & Manga titles here! 
Stay tuned for more information (including the actual title) in July!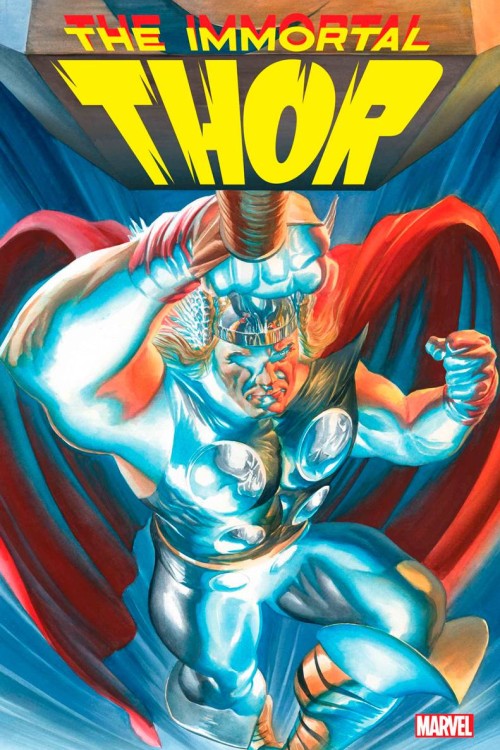 (W) AL EWING (A) MARTÍN CÓCCOLO (CA) ALEX ROSS
AL EWING, MARTÍN CÓCCOLO & ALEX ROSS GIVE THE GOD OF THUNDER THE "IMMORTAL" TREATMENT! In Norse myths, they called him Thunderer. Vuer has he been called, and Hloriddi. The Gods know him as Asgard's King, keeper of Mjolnir, hero of the tales. When injustice grips the Earth and ancient powers bring down the sky, he fights for those who cannot – and when the tale is done, we will know what that cost him. This is the story of THE IMMORTAL THOR.
PLUS: A bonus page written by Jonathan Hickman – WHO ARE THE G.O.D.S.?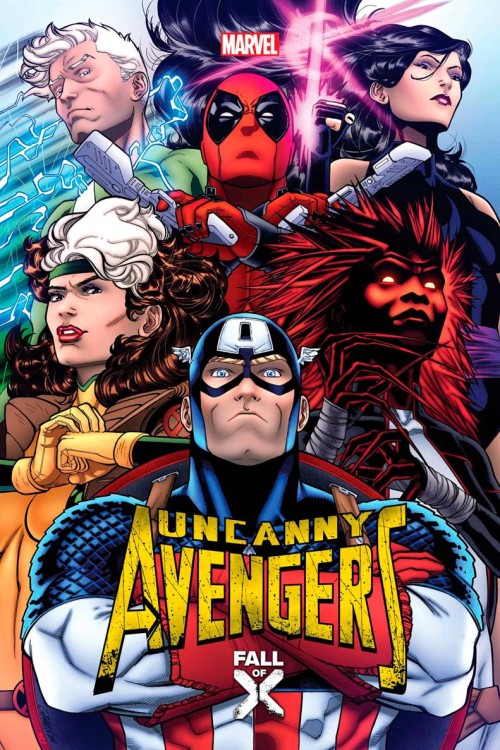 UNCANNY AVENGERS #1 (OF 5)
(W) GERRY DUGGAN (A/CA) JAVIER GARRÓN 
The FALL OF X calls for the return of the Avengers' Unity Squad! Innocent people and world leaders are dead after simultaneous attacks on the U.S. and Krakoan governments, and that means one thing: It's time for a new squad of Avengers. False-flag attacks meant to whip up anti-mutant hysteria are unfolding, and hey, some of Steve Rogers' best friends are mutants. Your new unity squad is: Captain America, Rogue, Deadpool, Quicksilver, Psylocke and Monet. They must solve the mystery of who the new, murderous Captain Krakoa is – and stop his team of killers from igniting the fires of a new world war.
PLUS: A bonus page written by Jonathan Hickman – WHO ARE THE G.O.D.S.?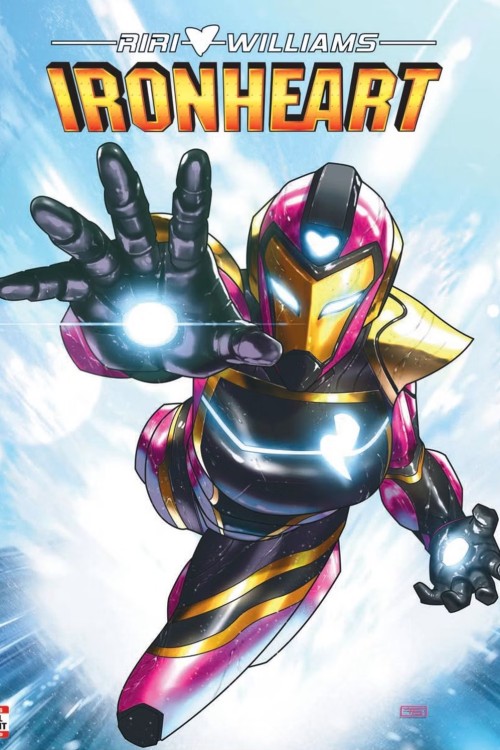 RIRI WILLIAMS THE INVINCIBLE IRONHEART #1 (OF 4)
(W) STEPHANIE WILLIAMS (A) JIM TOWE (CA) TAURIN CLARKE
Riri Williams, A.K.A. Ironheart, super-genius and Tony Stark's young protege is back! How does this teenage hero manage a super hero work-life balance? And will the newly obtained Mandarin's Rings prove to be more of a burden than a gift? Join Stephanie Williams (WAKANDA, SCARLET WITCH) and Jim Towe (THE AMAZING SPIDER-MAN, AVENGERS FOREVER) as they blast Ironheart into new heights!
MARVEL UNLEASHED #1 (OF 4)
(W) KYLE STARKS (A) JESÚS HERVÁS (CA) DAVID BALDEÓN
KRAVEN UNLEASHES THE BEASTS! When Kraven abducts Lockjaw at the same time a local scientist mixed up with A.I.M. goes missing, it's up to Throg the Frog of Thunder, Redwing the Falcon, Chewie the Cat Flerken, Lucky the Pizza Dog, Bats the Ghost Dog and their scrappy new ally D-Dog to save the day. But there's more to this case than meets the eye, and something infernal lurks in the shadows. Can feathers, fangs and claws stand against one of the deadliest foes in the Marvel Universe?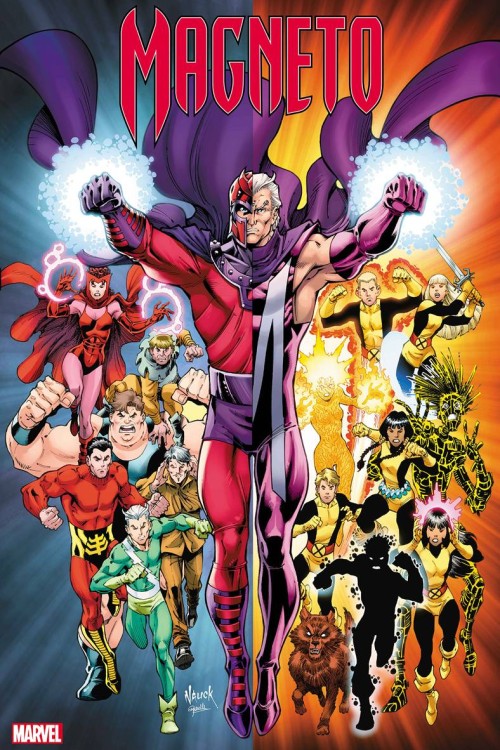 (W) J.M. DEMATTEIS (A/CA) TODD NAUCK 
There are two sides to every story, and J.M. DeMatteis and Todd Nauck weave a tale that will show how Magneto Was Right… from a certain point of view. In fact, one mutant, known as IRAE, in her FIRST EVER APPEARANCE, has taken Magneto's lessons to heart in a way that will upend even the Master of Magnetism's best strategies! Get ready for an all-new saga set during Magneto's tenure as Headmaster of the NEW MUTANTS, and learn how the once die-hard villain emerged as a conflicted figure in the saga of the X-MEN!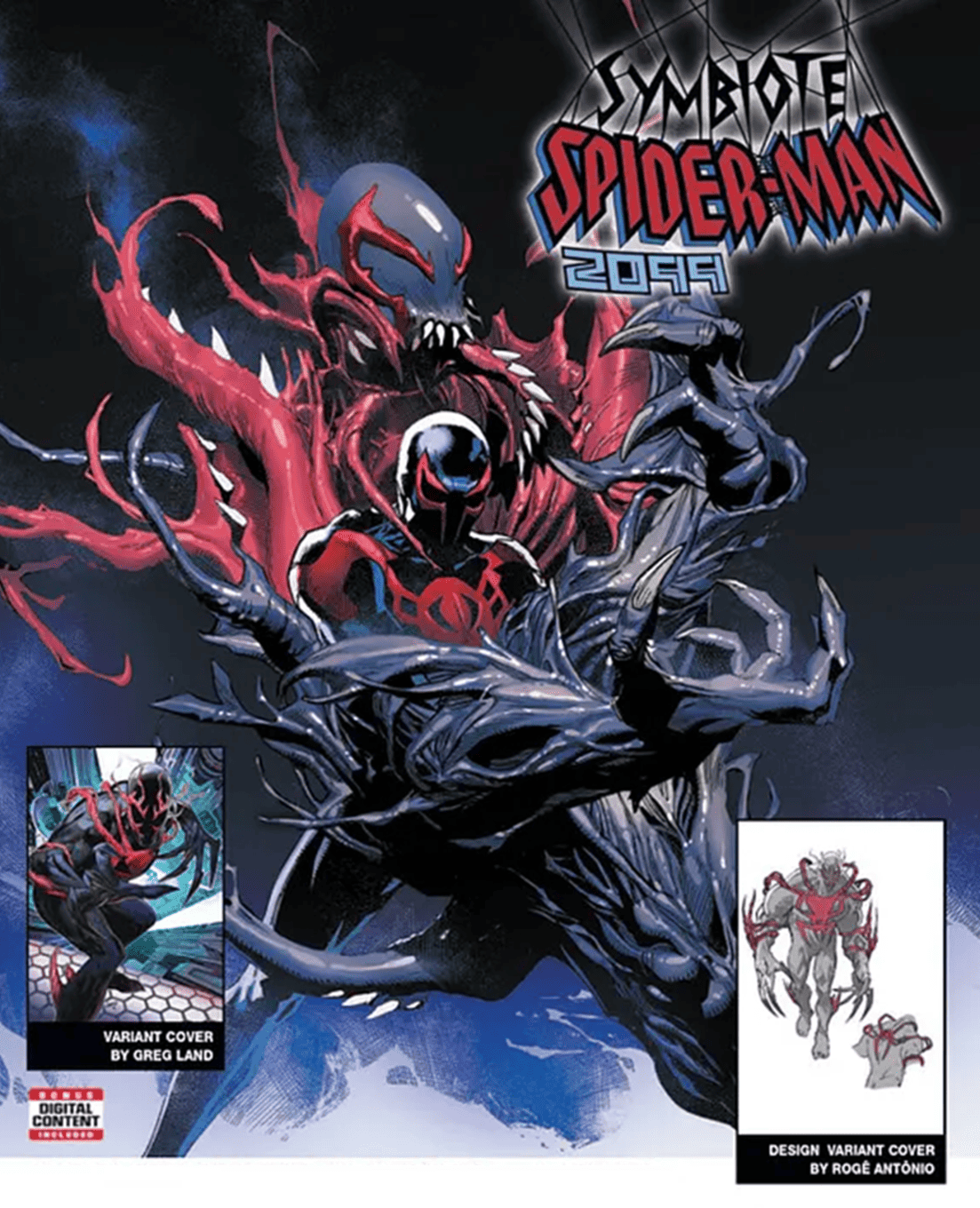 SYMBIOTE SPIDER-MAN 2099 #1 (OF 5)
(W) PETER DAVID (A) ROGÊ ANTÔNIO (CA) LEINIL FRANCIS YU
THERE WILL BE A NEW SYMBIOTE ON THE LOOSE! Comic legend PETER DAVID (THE INCREDIBLE HULK, SPIDER-MAN 2099) triumphantly returns to pen the next epic chapter in the Symbiote Saga alongside artist ROGE ANTONIO (CARNAGE). THIS TIME, set your time circuits ahead to the techno-dystopian future of 2099! Miguel O'Hara, A.K.A. SPIDER-MAN 2099, is facing a hostile takeover – of his own body! Kron Stone, the VENOM of 2099, wages an all-out assault on Alchemax, and the only hope of stopping him lies with the power awakened by a top-secret project gone terribly wrong. What must Miguel sacrifice to seal the bond with his new symbiote – his body? His mind? His very soul?!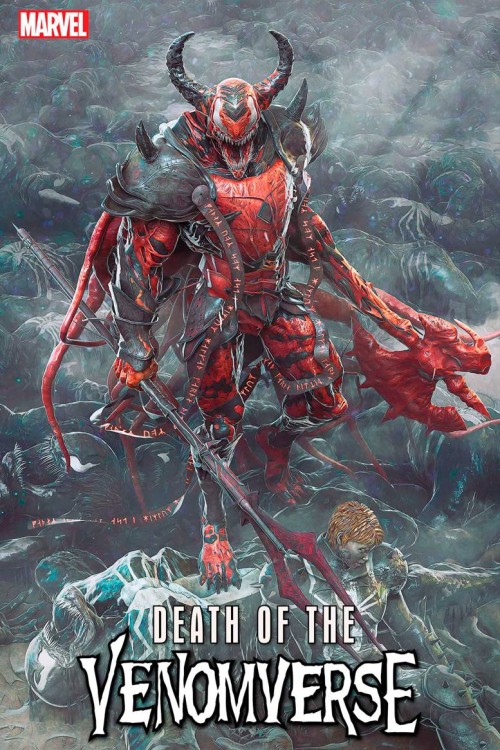 DEATH OF THE VENOMVERSE #1 (OF 5)
(W) CULLEN BUNN (A) GERARDO SANDOVAL (CA) BJÖRN BARENDS
THE END OF THE VENOMVERSE IS HERE! CULLEN BUNN and GERARDO SANDOVAL reunite to bring the symbiotic ax down on the VENOMVERSE! CARNAGE has been building his powers up, extracting unique abilities from many villains throughout the MARVEL UNIVERSE to the point of traversing the Multiverse with ONE GOAL: KILL ANY AND ALL VENOMS!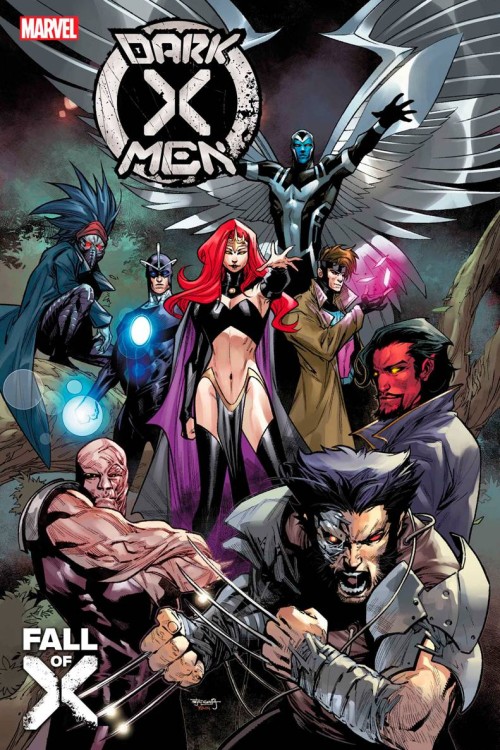 (W) STEVE FOXE (A) JONAS SCHARF (CA) STEPHEN SEGOVIA
WELCOME TO THE DARK X-MEN… HOPE THE WORLD SURVIVES THE EXPERIENCE! Following the explosive events of the Hellfire Gala, MADELYNE PRYOR realizes the world needs the X-Men now more than ever. HAVOK and GAMBIT have served on the team before… but never one that looks like this! And how does GIMMICK, breakout star of MARVEL'S VOICES: PRIDE, fall under the Goblin Queen's sway? Find out in the most horrific installment of the X-Men saga yet!
GHOST RIDER/WOLVERINE: WEAPONS OF VENGEANCE ALPHA #1 (OF 4)
(W) BENJAMIN PERCY (W) • GEOFF SHAW (A) • Cover by RYAN STEGMAN
LOGAN's the best there is at what he does – and what he does as the deadly WOLVERINE isn't very nice. When innocent blood is spilled, JOHNNY BLAZE becomes the GHOST RIDER, equipped to deal punishment with the power of hellfire! A demonic serial killer is murdering innocent mutants. But what is it about this deadly new villain that forces our two heroes to team up? And what buried secret does he share with Wolverine and Ghost Rider's never-before-seen very first meeting in the past? Get ready for claws, chains and violence as only Benjamin Percy (WOLVERINE, GHOST RIDER) and Geoff Shaw (THANOS, GUARDIANS OF THE GALAXY) can bring in this four-part epic!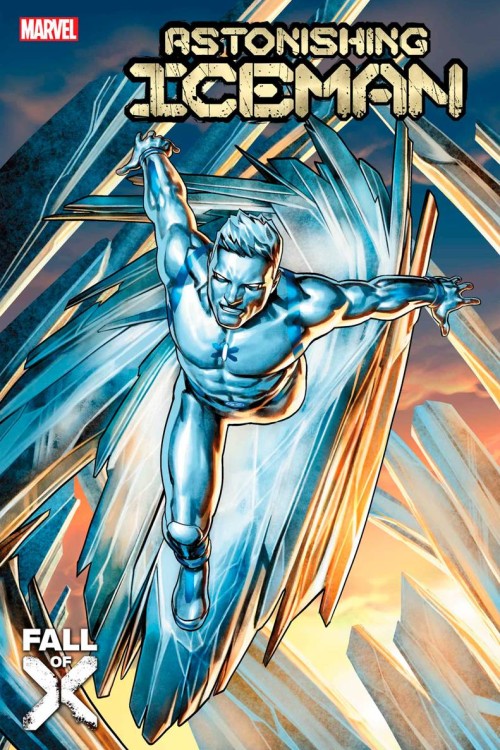 ASTONISHING ICEMAN #1 (OF 5)
STEVE ORLANDO (W) • VINCENZO CARRATÙ (A) • Cover by JESÚS SAIZ
THE OMEGA-LEVEL MUTANT AS YOU'VE NEVER SEEN HIM BEFORE! After the events of this year's can't-miss HELLFIRE GALA, BOBBY DRAKE, A.K.A. ICEMAN, sets his sights on heroic deeds like never before. But as a new situation develops that links Iceman to his Antarctic ice palace, he'll have to be slicker than ever to accomplish his mission before ORCHIS knows what hit them! An all-new adventure that'll push Iceman to the limits of his powers…and beyond!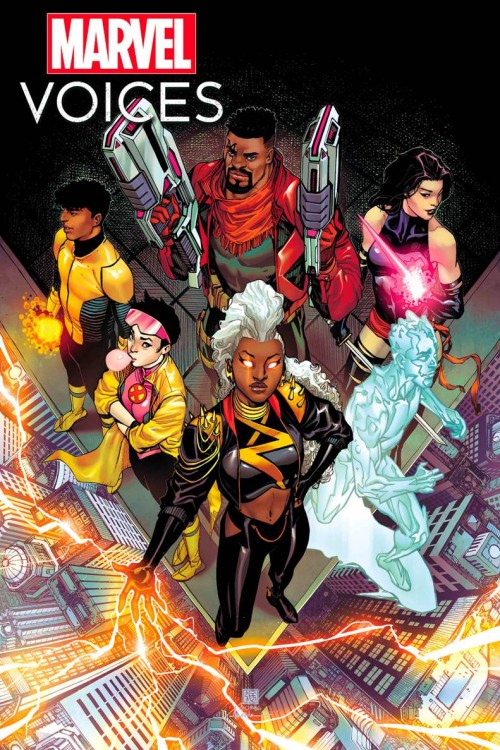 MARVEL'S VOICES: X-MEN #1
(W/A) VARIOUS (CA) BERNARD CHANG
MARVEL'S VOICES continues with this stunning anthology of all new stories celebrating Marvel's mightiest mutants! From the exhilarating days of Xavier's School for Gifted Youngsters to the current halcyon days of Krakoa, these stories span the gamut of the X-Men's history – delving into the past of some of your favorite X-Men as well as looking toward their future. With an exciting lineup of fan-favorite creators and fresh new talent, you won't want to miss out on this issue!
Graphic Novels & Collected Editions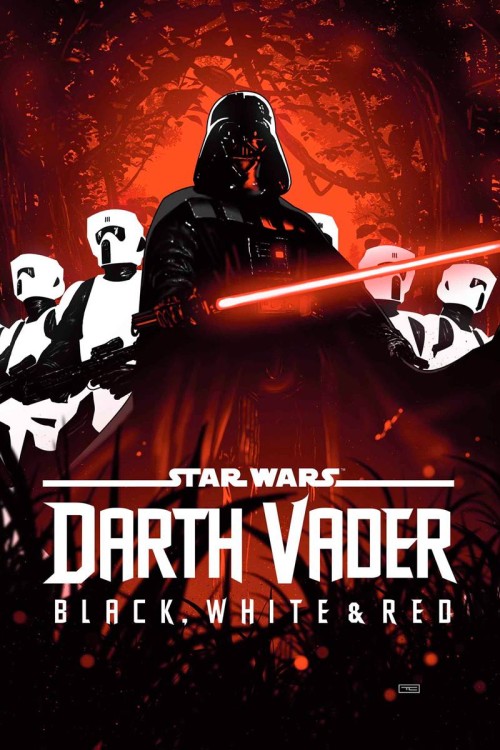 STAR WARS: DARTH VADER – BLACK, WHITE & RED TREASURY EDITION TP
(W) VARIOUS (A) VARIOUS (CA) TAURIN CLARKE
Exciting tales from a galaxy of talents featuring the Dark Lord of the Sith! Jason Aaron returns to the world of Star Wars, teaming with artist Leonard Kirk to present a new tale of terror! Peach Momoko spins a story in her signature style! Daniel Warren Johnson brings Vader to life like never before! David Pepose makes his Star Wars debut! Marc Bernardin takes Vader on a mission you won't soon forget! Frank Tieri sends the Sith lord to the planet Hoth! And Steve Orlando goes cerebral with the corruption of Darth Vader's mind! And more chilling tales of evil told in stark black and white – and the crimson glow of a lightsaber!
Collecting STAR WARS: DARTH VADER – BLACK, WHITE & RED #1-4.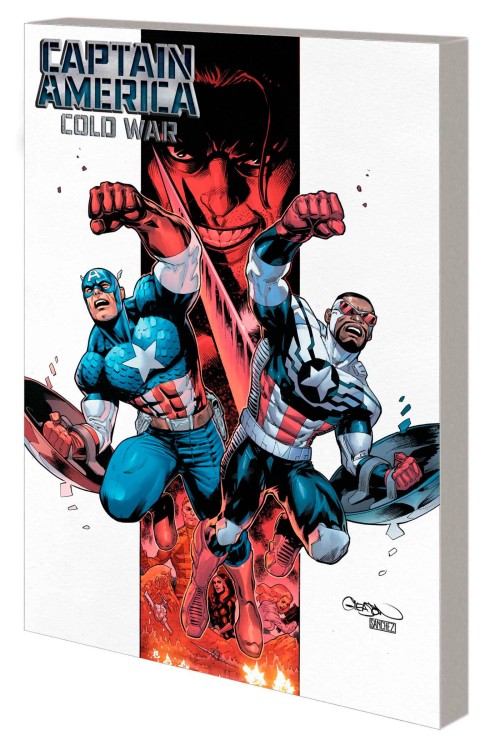 CAPTAIN AMERICA: COLD WAR TP
(W) JACKSON LANZING, COLLIN KELLY, TOCHI ONYEBUCHI (A/CA) TBA
A Captain America crossover years in the making, with both Sam Wilson and Steve Rogers wearing the flag! Bucky Barnes, the newest player in a nefarious game that spans all of civilization, makes his most deadly move yet X teaming up with Sam Wilson's nemesis, Hunter, the White Wolf! When Steve Rogers' adoptive son Ian, A.K.A. Nomad, is abducted by someone Steve thought a friend, he suspects Bucky's hand at work, and calls upon the people who know Ian best X Sam, Sharon Carter and Misty Knight X to help him get to the bottom of the attack. Why has Nomad been taken, and what does it have to do with a portal to Dimension Z opening over a secret battleground in Alaska? Has Bucky finally gone too far? And when Black Widow joins the fray, whose side is she on?
COLLECTING: Captain America: Cold War Alpha (2023) 1, Captain America: Symbol of Truth (2022) 12-13, Captain America: Sentinel of Liberty (2022) 12-13, Captain America: Cold War Omega (2023) 1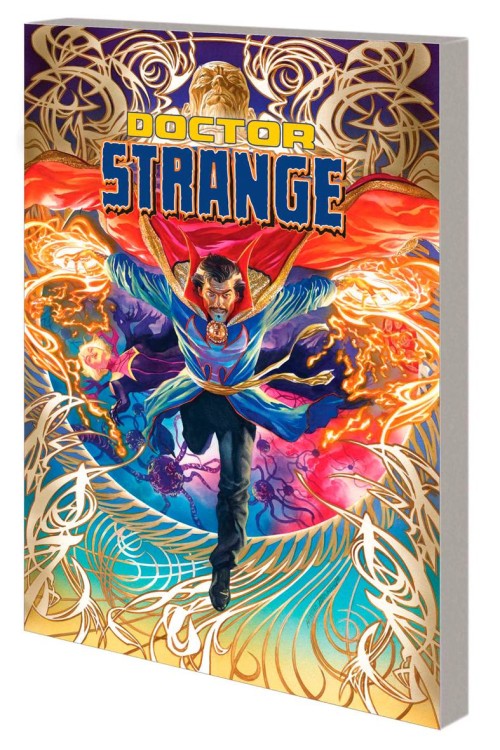 DOCTOR STRANGE BY JED MACKAY VOL. 1: THE LIFE OF DOCTOR STRANGE TP
(W) JED MACKAY, VARIOUS (A) PASQUAL FERRY, TOKITOKORO & ANDY MACDONALD (CA) ALEX ROSS
Stephen Strange is alive! Reunited with Clea and Wong, it's back to business for the Sorcerer Supreme when an unending sleeping sickness strikes the children of Bleecker Street! There can only be one culprit behind this attack — and now it's up to Doctor Strange and Clea to travel into the Dream Dimension to confront their old foe, Nightmare. But all is not what it seems, and what they discover will shock them! Then, when a cult summons the Dread Dormammu to New York, Stephen must risk everything in order to defeat his most dangerous foe! Plus: Wong takes on a new role — as an Agent of W.A.N.D.! Dark wedding bells are ringing for Clea's mother, Umar the Unrelenting — but who is she marrying?! And Doctor Strange shares a magical adventure with Sister Grimm of the Runaways!
Collecting DOCTOR STRANGE (2023) #1-5.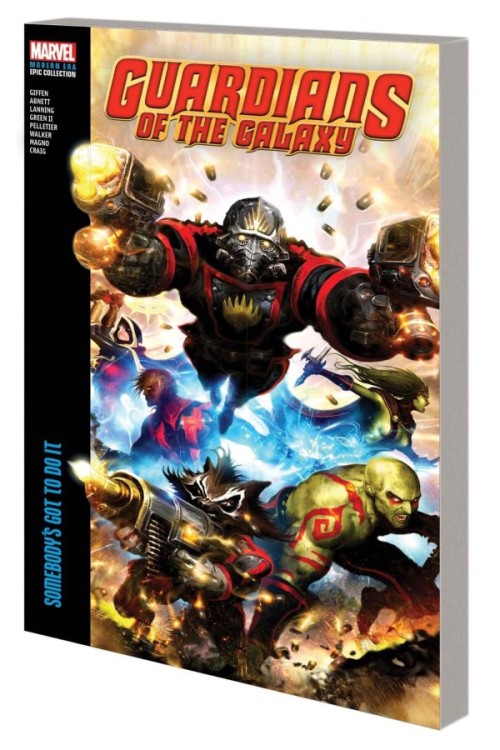 GUARDIANS OF THE GALAXY MODERN ERA EPIC COLLECTION: SOMEBODY'S GOT TO DO IT TP
(W) VARIOUS (A) VARIOUS (CA) CLINT LANGLEY
The galaxy needs guardians! As the Marvel Universe is rocked by another Annihilation event, Peter Quill suits up as Star-Lord – and joins the fight alongside a motley crew including Mantis, Groot and Rocket Raccoon. And with the boundaries of our reality weakened by cosmic conflicts, and dark gods and monsters seeping through the cracks, heavy hitters like Gamora, Drax and Adam Warlock join this offbeat squad of butt-kickers… to become the modern-day Guardians of the Galaxy! They're a dysfunctional team with a big future ahead of them – unless the Universal Church of Truth has its way! But why are the 31st-century Guardians, Major Victory and Starhawk, here too? A fresh war looms in the exciting and action-packed story that revitalized the Guardians for a blockbuster new era!
Collecting ANNIHILATION: CONQUEST – STARLORD #1-4 and GUARDIANS OF THE GALAXY (2008) #1-12.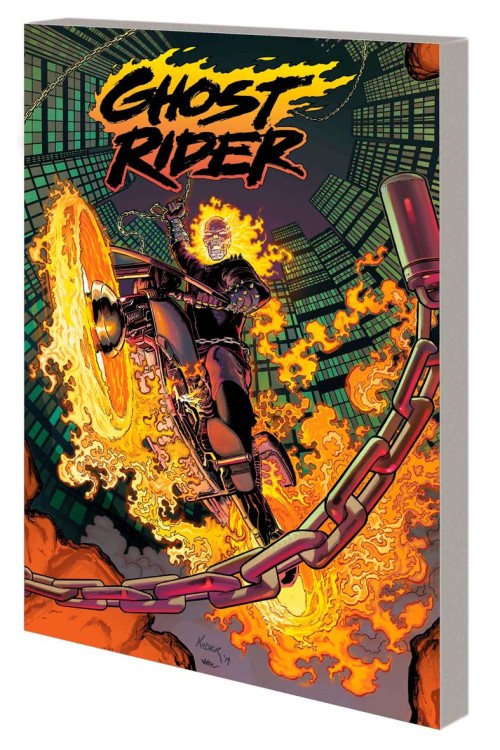 GHOST RIDER BY ED BRISSON TP
(W) ED BRISSON (A) VARIOUS (CA) AARON KRUDER
All hell breaks loose as writer Ed Brisson unleashes the brothers Ghost Rider! Johnny Blaze is the king of Hell, struggling to keep the lords of the other infernal regions from making a play for his new throne! Meanwhile, with Blaze in charge downstairs, Danny Ketch must become Earth's Spirit of Vengeance full-time – no matter how much he'd rather be doing anything else. But when the inevitable happens and Rider battles Rider, who does Mephisto have his money on? And how will it change Ketch's path? Plus: Since the dawn of man, they have cursed her name – Lilith! And on the far-out streets of Transverse City, meet the Ghost Rider of 2099!
Collecting GHOST RIDER (2019) #1-7, ABSOLUTE CARNAGE: SYMBIOTE OF VENGEANCE, SPIRITS OF GHOST RIDER: MOTHER OF DEMONS, KING IN BLACK: GHOST RIDER, GHOST RIDER 2099 (2019) #1, and material from INCOMING #1 and MARVEL COMICS PRESENTS (2019) #6.
X-23: DEADLY REGENESIS TP
(W) ERICA SCHULTZ (A) EDGAR SALAZAR (CA) KALMAN ANDRASOFSZKY
Assassin or X-Man? Revisit the deadly days of X-23! Laura Kinney was cloned from Logan and trained by the Facility to be a deadly killer. But even as she attempts to put that life behind her, forces will try to drag her back – and she must fight them tooth and claw! X-23 is beset by enemies both new and old in this tale set during her days as a member of the X-Men and X-Force, when she walked away from the island of Utopia to find where she truly belongs. Kimura once commanded X-23 for the Facility, and now she's back to pull the strings once again! But what is her master plan, and how far will X-23 have to go to save the innocent people caught in her sadistic nemesis' scheme?
Collecting X-23: DEADLY REGENESIS #1-5.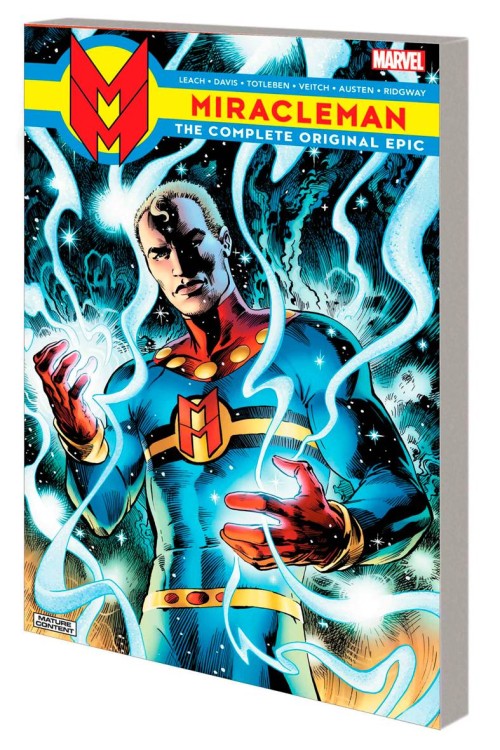 MIRACLEMAN: THE ORIGINAL EPIC TP
(W) VARIOUS (A) VARIOUS (CA) ALAN DAVIS
Middle-aged reporter Michael Moran always knew he was meant for something more. And when an unexpected event leads him to reclaim his destiny, Miracleman is reborn! But the hero's emergence prompts the return of an old friend who, beneath his success and smile, has become something terrifying. Disturbing secrets about their origins will lead to actions that fundamentally change humankind, leaving Moran to question the value of his own life. After all, what is the worth of a man when his other self is a god? MIRACLEMAN is nothing short of a revelation. The series reinvented the super hero, and forty years later stands as one of the single most influential works in the comic-book artform. This edition collects the complete original epic (A Dream of Flying, The Red King Syndrome and Olympus) – plus tales of the Warpsmiths and rare Miracleman stories!
Collecting MIRACLEMAN (1985) #1, #3 and #6-16; and material from WARRIOR #1-18 and #20-21; MARVELMAN SPECIAL #1 and A1 (1989) #1 [as presented in MIRACLEMAN (2014) #1-16] – plus ALL-NEW MIRACLEMAN ANNUAL #1.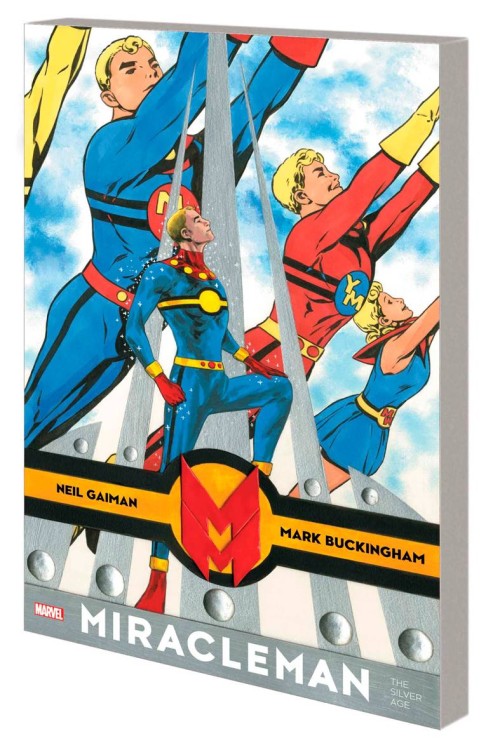 MIRACLEMAN BY GAIMAN & BUCKINGHAM: THE SILVER AGE TP
(W) NEIL GAIMAN & MARK BUCKINGHAM, MICK ANGLO (A) MARK BUCKINGHAM & GEORGE PARLETT (CA) MARK BUCKINGHAM
The wait is over! Decades in the making, Neil Gaiman (Sandman) and Mark Buckingham's (Fables) MIRACLEMAN continues the groundbreaking saga touted as the greatest super-hero story of all time! In THE SILVER AGE, Miracleman has created a utopia on Earth where gods walk among men and men have become gods. But when his long-dead friend Young Miracleman is resurrected, Miracleman finds that not everyone is ready for his brave new world! The story that ensues fractures the Miracleman family and sends Young Miracleman on a stirring quest to understand this world — and himself. It's a touching exploration of the hero's journey that ranges from the top of the Himalayas to the realm of the towering Black Warpsmiths — and into the secret past of the Miracleman family!
Collecting MIRACLEMAN BY GAIMAN & BUCKINGHAM: THE SILVER AGE #1-7 and material from MIRACLEMAN BY GAIMAN & BUCKINGHAM #1-6.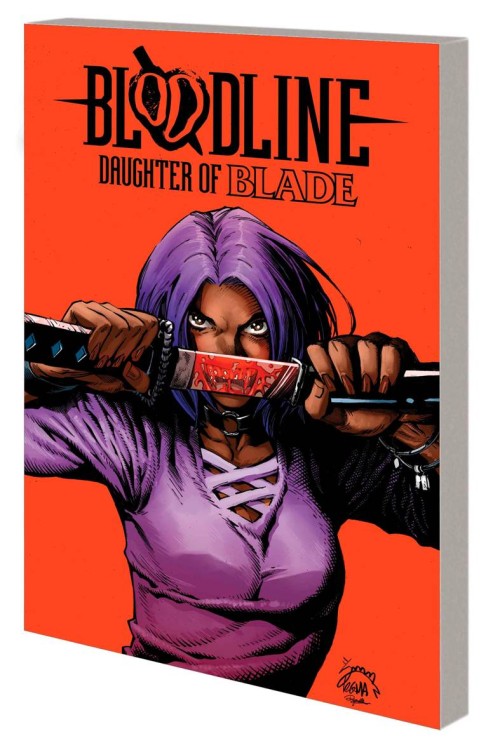 BLOODLINE: DAUGHTER OF BLADE TP
(W) DANNY LORE (A) KAREN S. DARBOE (CA) KAREN S. DARBOE
It's in her blood! Brielle Brooks is a good kid, no matter what her teachers say – it's not her fault she's developing vampiric super-powers and the undead want to brawl! And, as if her problems at school aren't enough, Bri's got a wild ride ahead of her: She's about to discover she's the daughter of an infamous vampire hunter, the Daywalker called Blade! Meanwhile, it turns out that her classmate Whitney may not be the BFF Brielle was hoping for – but that's the least of her concerns as she discovers that her powers come with a dangerous hunger! And the Daywalker himself arrives on the scene at the worst possible time! Plus: Brielle has a ghostly encounter on Halloween!
Collecting BLOODLINE: DAUGHTER OF BLADE #1-5, and material from FREE COMIC BOOK DAY 2022: AVENGERS/X-MEN and CRYPT OF SHADOWS (2022) #1.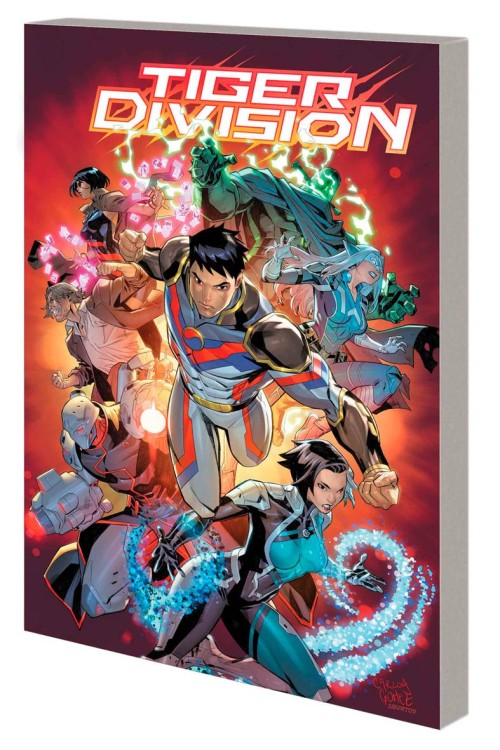 (W) EMILY KIM (A) CREEES LEE & CRAIG YEUNG (CA) Carlos Gomez
South Korea's preeminent super-team takes center stage! Taegukgi, a powerhouse with a heart of gold! Lady Bright, a card-wielding sorceress! Mr. Enigma, a street-brawling demigod! The General, a living totem! Gun-R II, an android with an attitude! They're joined by fan-favorites White Fox and Luna Snow to form an unstoppable team! And when a powerful artifact goes missing from Tiger Division HQ, the squad must retrieve it before it falls into the wrong hands. But their fearless leader, Taegukgi, is being haunted by ghosts from his past – and his secrets might just tear Tiger Division apart! And when a dangerous new villain emerges at the worst possible time, will the squad have what it takes to stop him before it's too late? Plus: Taegukgi is rocked by a shocking revelation about the origin of his incredible powers!
Collecting TIGER DIVISION #1-5.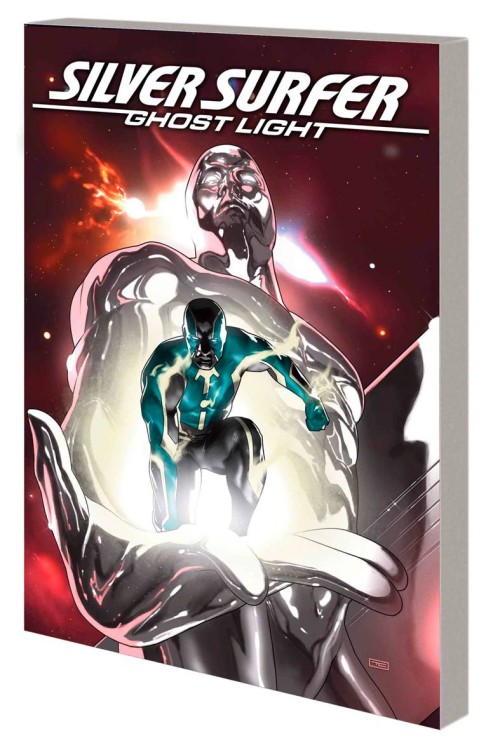 SILVER SURFER: GHOST LIGHT TP
(W) JOHN JENNINGS (A) VALENTINE DE LANDRO (CA) TAURIN CLARKE
A ghost from the past, returned to haunt Norrin Radd! Toni Brooks and her family have moved into the quiet town of Sweetwater. But nothing is quite what it seems with their new home. What mystery did Toni and her family unravel that would summon the Sentinel of the Spaceways, the Silver Surfer?! The Surfer thought he buried his friend, the human named Al Harper, years ago – but he thought wrong! Can the Surfer save Al from succumbing to his newfound cosmic abilities? And who – or what – transformed Al into the otherworldly Ghost Light? Eisner Award winner John Jennings and acclaimed artist Valentine De Landro introduce a new Marvel super hero, 54 years in the making! But can even two cosmic powerhouses save the town of Sweetwater?!
Collecting SILVER SURFER: GHOST LIGHT #1-5.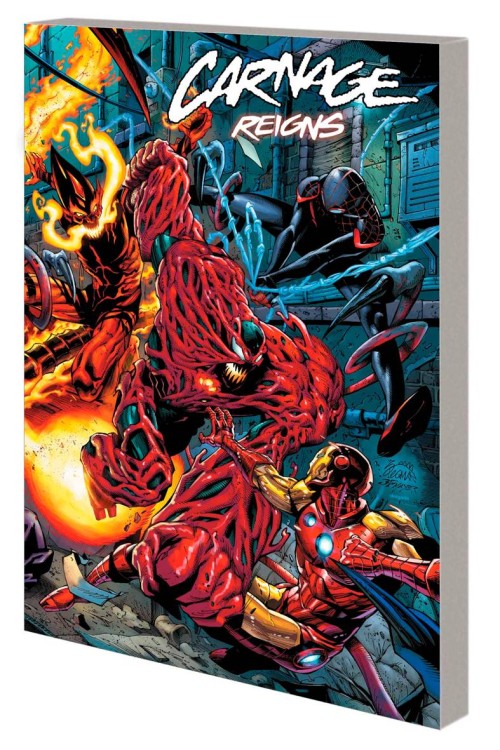 (W) ALEX PAKNADEL & CODY ZIGLAR (A) VARIOUS (CA) RYAN STEGMAN
Carnage vs. Miles Morales! Cletus Kasady is back — and badder than ever. With his soul trapped inside the Extrembiote Armor created by Tony Stark during KING IN BLACK, Cletus now has the means to level an untold amount of chaos on New York City — and the entire Marvel Universe! But like any good Tony Stark invention, the Extremis coursing through Cletus' symbiotic veins needs power — and that means Cletus is hungry. Good thing Brooklyn's very own Spider-Man is there to stand in his way! If Miles survives their first encounter, that is. But where will the young would-be hero known as the Red Goblin stand in this fight? And now that Cletus has scored himself an upgrade, can Miles level up to match?!
Collecting CARNAGE REIGNS ALPHA, MILES MORALES: SPIDER-MAN (2022) #6-7, CARNAGE (2022) #13-14, RED GOBLIN #5 and CARNAGE REIGNS OMEGA.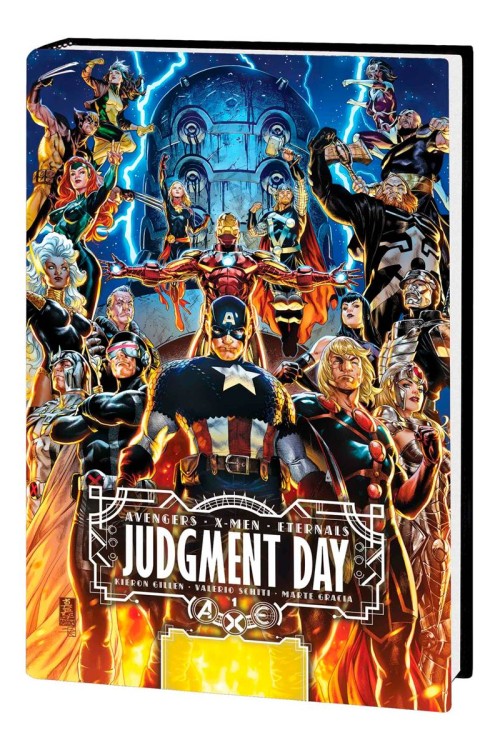 (W) VARIOUS (A) VARIOUS (CA) MARK BROOKS
The complete A.X.E. epic in one Celestial-sized package! The battle for the planet is here. The X-Men claim they're Earth's new gods. The Eternals know that position is already filled. And the Avengers are about to realize exactly how many secrets their so-called friends have been keeping from them! Years of tension lead to a volcanic eruption — and Earth will face a Celestial judgment day! As Spider-Man, the Fantastic Four and many more are weighed in the cosmic balance, who will pass, who will fail… and what will the final tally mean for the world? The clock is ticking. Midnight looms. But it's not too late…
Collecting A.X.E.: EVE OF JUDGMENT, A.X.E.: JUDGMENT DAY #1-6, IMMORTAL X-MEN #5-7, X-MEN RED (2022) #5-7, A.X.E.: DEATH TO THE MUTANTS #1-3, X-FORCE (2020) #30-33, X-MEN (2021) #13-14, WOLVERINE (2020) #24 and #25 (A STORY), MARAUDERS (2022) #6, FANTASTIC FOUR (2018) #47-48, AVENGERS (2018) #60, A.X.E.: AVENGERS, AMAZING SPIDER-MAN (2022) #10, A.X.E.: X-MEN, A.X.E.: IRON FIST, A.X.E.: STARFOX, CAPTAIN MARVEL (2019) #42, A.X.E.: ETERNALS and A.X.E.: JUDGMENT DAY OMEGA.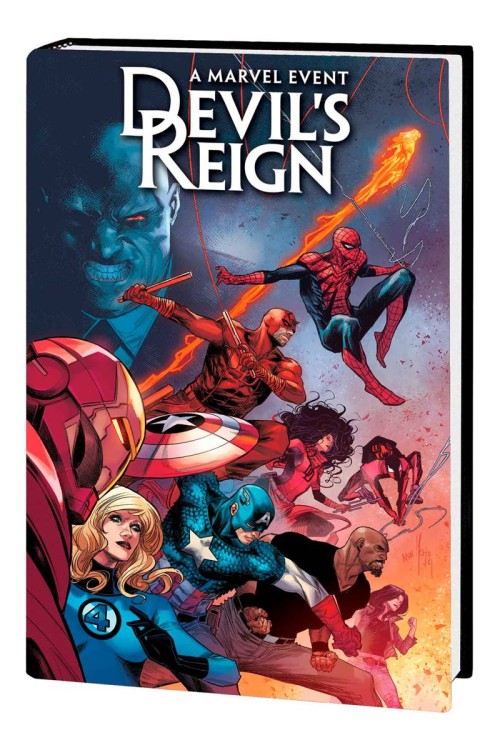 (W) VARIOUS (A) VARIOUS (CA) MARCO CHECCHETTO
Wilson Fisk has risen from the Kingpin of Crime to mayor of New York City. And now he brings his full criminal and political powers to bear on the super heroes who call NYC home! The man who once destroyed Daredevil targets the Fantastic Four, Iron Man, Captain America, Spider-Man, Jessica Jones, Luke Cage and more! And with the legal clout of the mayor's office behind him, the heroes will have a much harder time fighting back than they expect! To make matters worse, Fisk has an army of super villains at his command. But he isn't the only one with dark ambitions — and you know what they say about honor among thieves…
Collecting DEVIL'S REIGN #1-6, SPIDER-WOMAN (2020) #18-19, DAREDEVIL: WOMAN WITHOUT FEAR #1-3, DEVIL'S REIGN: SUPERIOR FOUR #1-3, DEVIL'S REIGN: VILLAINS FOR HIRE #1-3, DEVIL'S REIGN: WINTER SOLDIER, DEVIL'S REIGN: X-MEN #1-3, DEVIL'S REIGN: SPIDER-MAN, MOON KNIGHT (2021) #8, DEVIL'S REIGN: MOON KNIGHT and DEVIL'S REIGN: OMEGA.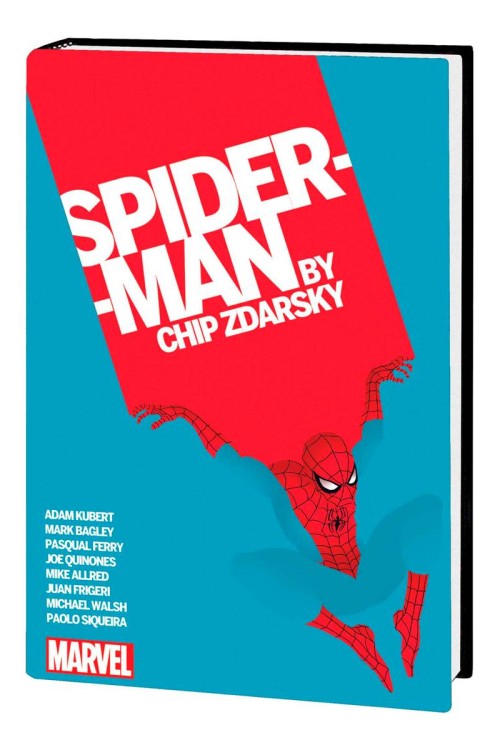 SPIDER-MAN BY CHIP ZDARSKY OMNIBUS HC
(W) CHIP ZDARSKY & MIKE DRUCKER (A) VARIOUS (CA) CHIP ZDARSKY
Celebrated writer Chip Zdarsky puts Peter Parker front and center as all of his unmissable SPIDER-MAN stories are collected in one package! Spidey and his ol' pal the Human Torch learn that the Kingpin is still a force to be reckoned with! The webslinger lands right in the middle of the Tinkerer's family feud! Peter's "sister" returns, J. Jonah Jameson makes a shocking discovery, and they all end up in a world without a Spider-Man — where Norman Osborn reigns supreme! Plus, Zdarsky teams with legend Mark Bagley to tell Peter's life story as if he aged in real time! And what if Spidey never took off the symbiote suit?
Collecting PETER PARKER: THE SPECTACULAR SPIDER-MAN (2017) #1-6 and #297-310, PETER PARKER: THE SPECTACULAR SPIDER-MAN ANNUAL (2018) #1, SPIDER-MAN: LIFE STORY #1-6, SPIDER-MAN: LIFE STORY ANNUAL #1, SPIDER-MAN: SPIDER'S SHADOW #1-5 and material from FREE COMIC BOOK DAY 2017 (SECRET EMPIRE).
If anything jumped out to you, remember to message us or let us know next time you're in the shop! You get a text the second it arrives in the shop and we place a copy aside just for you so you don't miss out!
We do these each month so keep an eye out for the next post!
Have a great month and happy reading 💚