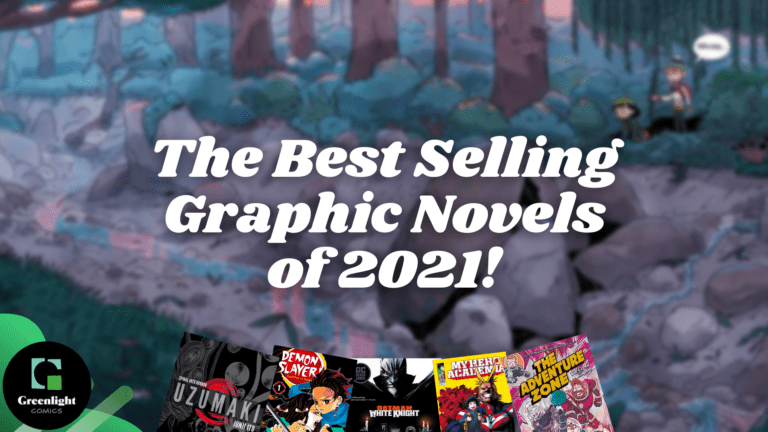 Well 2021 certainly had ups and downs for us here in South Australia. We somehow managed to be handling things so well that we could have a big local book launch! Only to later in the year be fearing lockdown again. Wild times!
But most importantly as we begin the adventure of 2022, we wanted to know what the biggest graphic novels were for our customers here at Greenlight Comics!
Below are our TOP 10 BESTSELLERS OF 2021! (How's that for a headline? Our SEO on this post should skyrocket cause that is some serious key word stuff right there, IGN eat your heart out)
*It should be noted that due to supply chain issues, paper shortages and the all-around mess that has been these last two years, our best sellers list is… interesting. If we were able to get our hands on 200 copies of 'Berserk Deluxe Edition HC Vol 01' then that would have easily been our #1 book. Closely followed by all of 'Chainsaw Man', 'Jujutsu Kaisen', 'Demon Slayer: Kimetsu no Yaiba' and so on.
The Adventure Zone GN Vol 04 - The Crystal Kingdom
Well well well, looks like you just can't keep a McElroy down. The McElroy Brothers, their father Clint and the always wonderful artist Carey Pietsch have nailed it once again in their continued adaptation of their smash hit genre-shifting D&D podcast of the same name!
With each arc of the 'Balance' campaign we are delighted by a new genre, whether that be Vol 2's Agatha Christie-esque murder mystery by way of choo choo train or Vol 3's mad max (or fast and furious) racing. This time we are flung into a sci-fi adjacent adventure where you must keep your hand(s) and legs away from the pretty crystals. And yes, elevators are the best.
Carey Pietsch knocks it out of the park as always and really captures everything that The Adventure Zone has to offer: goofs, laughter, tears… oh and of course that Dungeons & Dragons fantasy adventure that we all know and love. There's even dice rolling occasionally!
The Korean webcomic adaptation of a fantasy novel is now in full colour print in English! After arriving in February, we have absolutely loved seeing the look on peoples faces when they see that it's now in book form.
With plenty more volumes to come in the future, this is an incredibly fast growing series for subscription orders for our customers. That means if you want the new books in this series to get put aside for you so you never miss a volume, you GOTTA put your name down cause they will sell out otherwise (especially manga).
We're super excited to see how the series continues with Vol 04 arriving in March 2022.
Demon Slayer: Kimetsu no Yaiba GN Vol 01
Look let us be brutally honest here… if we had more copies of this book, if it wasn't constantly selling out at our suppliers, if paper shortages and supply chain issues weren't a thing, this would have been our #1 bestseller by far.
The sheer amount of people who jumped on (or at least wanted to jump on) 'Demon Slayer: Kimetsu no Yaiba' in 2021 is mind boggling.
The fact that in terms of worldwide sales 'Demon Slayer' is the 2nd best selling manga since 2008 behind 'One Piece', which you should remember has existed since 1997 (that's when our staff member Brayden [who is writing this blog post] was BORN) and has had many years to build up. AND ONE PIECE IS STILL ONGOING, DEMON SLAYER IS COMPLETE AND DONE!
The sheer success of the film 'Demon Slayer: Mugen Train' is a true testament to how massive Demon Slayer really is, considering the film released in the midst of a global pandemic and still managed to be the highest-grossing film of 2020.
If you haven't yet read it you have gotta check it out, besides it is way less intimidating cause it's just 23 volumes (not like One Piece, which is nearing its 100th).
Lovesickness HC by Junji Ito
You are going to notice a trend in our best sellers list, and that trend is JUNJI ITO.
Japan's master of horror continues his reign over our readers, with 'Horror' becoming one of (if not THE) biggest section(s) of our shop.
'Lovesickness' is a collection of ten stories that released in April of 2021. It continues the print style of gorgeous (and haunting) hardcovers of Ito's works so that the collection demands attention with it's striking presence on your bookshelf.
We won't talk too much more about Junji Ito's affect on the store in this section… because spoiler alert we will most certainly be talking about him more below!
DC Comics is here with the ONLY book from the 'Superheroes' section in our Top 10, which is great because I think if there wasn't one we could have some very angry "keepers of gates" if you catch my drift.
With the incredible take over of Manga in the last decade we've seen a boom in more and more readers venturing out from what can sometimes be the safety blanket of Marvel & DC (this is hilarious coming from the fact that Brayden is writing this).
But to the surprise of nobody, Batman manages to always sell. DC's Black Label imprint has definitely been one of the strongest points coming from the publisher as of late and none better represent this than 'Batman: White Knight'.
It's exactly the type of Batman book that you want to read if you love everything Batman, but it also manages to be just different enough from the normal that once we tell people the premise they are intrigued enough to check it out! 
Sean Murphy even gets to continue this in what is now a corner of the DC Universe called the "Murphyverse". The sequel 'Curse of the White Knight' as well as a Harley Quinn focussed spin-off are available now, while a third book 'Beyond the White Knight' starts up in March of 2022.
What. You thought we could go a single year without 'Saga' being in our Top 10 Bestselling Graphic Novels? Not a chance.
The sci-fi epic from Brian K Vaughan & Fiona Staples has been on hiatus since 2018 after reaching it's half way point. BUT IT'S BACK IN 2022 BABY!
The series returns with issue #55 in January 2022 and Vol 10 of the trade paperbacks later in the year!
If you or someone you know still hasn't given 'Saga' a go, now is THE time to get on board. The wait is over!
I would put a description of the series here but let's be honest… you've heard of 'Saga'. We recommend it to everyone.
It's a must read of modern comic books and is an instant classic.
CAN'T BELIEVE IT'S BACK AHHHHHH!
For the 2nd time in our Top 10 it's the one and only harbinger of haunts, Junji Ito!
This one is actually quite interesting, since 'Sensor' only released in August of 2021! With it's intriguing gold foil cover it draws you into Junji's newest foray in the ever expanding abyss of horror, the Cosmic Horror!
Polygon.com put it best when they said "Junji Ito does Lovecraft better than Lovecraft in Sensor". Plus, Junji isn't a massive racist like Hate Pile Lovecraft!
The new Junji horrors just don't stop, with a new collection arriving over the New Year! 'Deserter' showcases a dozen of Ito's earliest works, with a gross as hell cover to boot!
My Hero Academia GN Vol 01
With Manga constantly growing and growing in popularity, it just meant more and more new readers to check out some of the biggest series' of the last two decades!
My Hero Academia was absurdly popular in both its Manga and Anime and it continues to be an excellent jumping in point! Only ever read Marvel & DC? This manga is all about superheroes! Only just trying out manga because someone at school said they really loved some obscure series that you've never even heard of and can't even find in stores? This is the manga for you!
It's a best-selling book for a reason.
Vol 30 arrives in stores March 2022.
Uzumaki 3-in-1 Deluxe Edition HC by Junji Ito
It had to be here.
Uzumaki.
Junji Ito's biggest work has consistently been a best seller and will continue to be as more and more readers turn to manga and horror.
The sheer appeal of this critically acclaimed book bound in its entirety in a beautiful hardcover format, which not only stands out on its own due to its sheer size but also has matching cover designs with two more of Junji Ito's best selling works 'Gyo' and 'Tomie'. 
Junji Ito gets an entire shelf in our Horror section and understandably so. Whether it's a nightmarish original concept from the twisted mind of the truly lovely human Junji Ito actually is, to an Eisner award winning take on Mary Shelley's 'Frankenstein', or just a fever dream of what it's like living with two cats, there is always something to expect from the king of the unexpected.
Treasure in the Lake by Jason Pamment
Well with the rollercoaster that is the current world climate, we never would have expected that we would be able to have an actual event in store again! But thankfully Adelaide, South Australia was doing super well and it lined up perfectly with the release date for an amazing local creator's debut graphic novel!
Jason Pamment, while managing being an award winning short film animator, has produced a truly beautiful and fun adventure for the whole family!
Ten years ago Jason began doodling some initial ideas for characters and what grew from that initial drawing a decade ago is truly impressive. It's cinematic, heartfelt and wonderful.
We had an incredible time holding the book launch in September of 2021! There was a massive outpouring of support for the local creator, with South Australian school's and libraries leading the charge on what would become our bestselling book of the year! 
Below is a little message from Jason!
"I'm so thrilled to hear that Treasure in the Lake was the number one selling book for 2021, at Adelaide's number one comic store! The result is in no small part thanks to Greenlight's passion and support of local creators like myself, and I couldn't be more appreciative. And of course, thank you to Allen & Unwin, and to everyone that bought a copy! I hope you enjoyed the book and I can't wait to tell more stories in the years ahead 🙂"
That's it for 2021! Here's to a happy, safe, healthy and positive 2022! Thanks as always for supporting local businesses and keeping comic book shops alive through what has been an incredibly difficult two years. There is SO MUCH to look forward to this year and we can't wait to share our passions with you all for another year. 💚