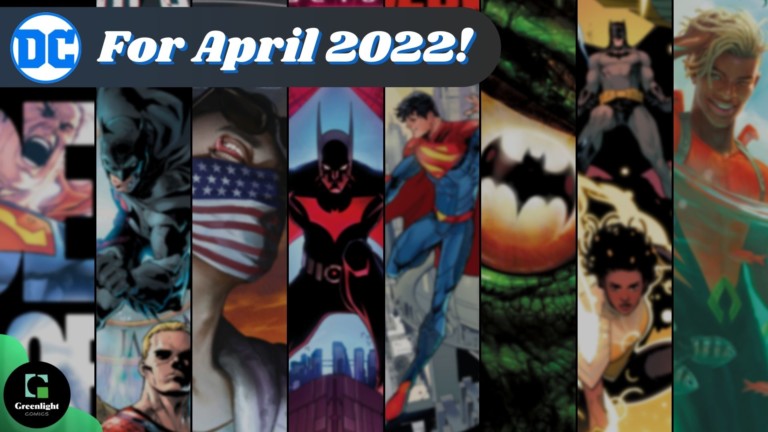 The new issue of DC Comics Preview catalog DC Connect has arrived! Here is our breakdown of the new comics series to jump on, plus what collected editions are arriving from April 2022! You can find the rest of our Previews Picks for other Comics & Manga, as well as Marvel Comics future releases over on the blog!
Oversize special issue! Superstar writer Joshua Williamson pens the beginning of the next big DCU event! It all starts here!
A new Dark Army made up of the DCU's greatest villains has formed on the edges of the Multiverse! The DCU's best and most powerful heroes are pulled together in an epic war to push the darkness back! But in the end, they are no match for it! That's right, you heard it here first: the Justice League are killed by the Dark Army, with only one survivor to warn the remaining heroes of Earth about what is coming for them!
FINAL ISSUE! Which means you can pick this up to see how they die and then jump on the inevitable #1 in coming months.
The world of Flashpoint returns! After sacrificing everything to help the Flash put the universe back together and save Bruce Wayne's life, Thomas Wayne wakes up in a world he thought was no more. Forced to don the cowl once again, Batman prowls the streets of Gotham searching for answers to how this world still exists, but what he starts to uncover will send him hurtling around the globe. The hunt for the Clockwork Killer starts here!
Writer Geoff Johns comes back to the alternate world he created, partnering with prolific artist Eduardo Risso as he returns to the Flashpoint Batman! 
The Sandman Universe: Nightmare Country #1
Sometimes, nightmares walk the Earth. Every night when you sleep, the Lord of Dreams chooses the path you'll follow…into a sylvan Elysium, or down the hallways of your darkest fears. And sometimes, if it is Dream's will, those nightmares escape those halls, and go out into the world. But it is not a choice he makes lightly. Today the Corinthian walks the Earth again. The most feared of all Dream's nightmares, his ravenous mouths have made him a legend among serial killers. Letting the Corinthian out among mortals is the most dangerous thing Dream could possibly do. But he has no choice—because there is another nightmare walking the Earth, one that must be hunted…and this monster is one that Dream, lord of all nightmares, did not make.
Horror-comics superstar James Tynion IV has waited his whole career to pay tribute to the mythos of The Sandman, the work that made him the writer he is today—and that time has come! Designed to welcome new readers into one of the greatest worlds in DC's library, The Sandman Universe: Nightmare Country is a terrifying travelogue through a nation recognizable and obscene, which will show you things seen in no Sandman series ever before—with spectacular art by Lisandro Estherren (Redneck, Strange Skies Over East Berlin) and "nightmare" sequences by comics art all-stars, starting with the incredible Yanick Paquette!
Batman Beyond: Neo Year #1
Neo-Gotham is alive and has killed Bruce Wayne. It's rejected Terry McGinnis as Batman and offered him the chance to escape. Terry turned it down—he is the city's protector, and he will uphold the legacy of Batman. Now Neo-Gotham will do everything in its power to destroy Terry, including creating brand-new villains to fight him. Terry's first year without Bruce Wayne begins…does he have a fighting chance?
From the rising-star creative team of Collin Kelly and Jackson Lanzing (Kang the Conqueror) and Max Dunbar (Batman: Urban Legends, Robin), a new future for Batman Beyond has begun!
Graphic Novels & Collected Editions
Superman: Son of Kal-El Vol 1 HC
Jonathan Kent has experienced a lot in his young life. He's traveled the galaxies with his Kryptonian grandfather and lived in the future with the Legion of Super-Heroes, who were intent on training him for the day his father, Clark Kent, could no longer be Superman. There is a hole in the Legion's history that prevents Jon from knowing exactly when that will happen, but all signs point to it being very soon. It's time for the son to wear the cape of his father and bear the symbol of hope that has told the world who Superman really is.
Join writer Tom Taylor (Nightwing, DCeased) and artist John Timms (Infinite Frontier) as they usher in a whole new era for the House of El! Who's the mastermind behind the mysterious organization known as the Truth? What sinister secrets await Jon in the labs of President Bendix? And…could Jonathan Kent have at last found love? All this and more awaits you in this historic first volume in a new chapter of the Superman family legacy. Collects Superman: Son of Kal-El #1-6.
The critically acclaimed miniseries that graduates Jackson Hyde from Aqualad to Aquaman is now available in one volume! Jackson Hyde finally has it all. Mentors who support him, a community that loves him, an honest relationship with his mother, and access to Aquaman's private training facility in Atlantis. Well, he had it all—until that training facility and half the Atlantean palace got blown to kingdom come with Jackson inside. Now Jackson stands accused of wrecking the life he worked so hard to build as a mysterious new villain stalks him from the shadows. Aqualad's going to need all his skills, wit, and cunning just to prove his own innocence, let alone inherit the name Aquaman!
Plus—revisit Jackson Hyde's first appearance as Aquaman on an adventure with Arthur Curry's daughter in DC's not-so-distant future! Collects Aquaman: The Becoming #1-6 and Future State: Aquaman #1-2.
Writer Brian Michael Bendis reunites with artist David Marquez (Miles Morales, Iron Man, Batman/Superman) for a new, star-studded Justice League featuring Superman, Batman, the Flash, Hawkgirl, Aquaman, Hippolyta, Naomi, and… Black Adam?! Superman is leading the charge to reinvent the Justice League, and at the same time, a new, cosmic-powered threat arrives from Naomi's homeworld to rule the Earth! This special hardcover edition collects the entire epic opening saga of this all-new era for the Justice League!
From the mind of writer Garth Ennis (The Boys & Preacher) with art by Liam Sharp! What strikes fear into the hearts of those who terrorize Gotham? It used to be Batman, but something far more frightening stalks the shadows—and it's after Gotham's villains, leaving a trail of carnage through the underworld. Now, with Riddler, Penguin, Two-Face, and many more left bloodied and broken in its wake, Batman opens the case on this mysterious reptilian menace and finds himself vexed by one very important question: What on Earth is it?
The DC Universe and the world of RWBY collide! Team RWBY comes face to face with new versions of DC's paragons of justice. New Grimm have been popping up around Remnant as well as people disappearing without a trace. As Team RWBY investigates these mysterious happenings, they encounter new friends along the way. But will these new "heroes" help our intrepid huntresses turn the tide and find the cause of all this madness, or will a long-hidden beast's plan finally mean doom for Remnant?
The thrilling and chaotic fan-favorite miniseries from Detective Comics dream team Mariko Tamaki and Amancay Nahuelpan collected for the first time! In case anyone was wondering, Crush is doing just fine, actually. Sure, she effectively quit being a Teen Titan. And okay, her relationship with her girlfriend, Katie, is kind of on the rocks, if you want to get all technical about it. Oh, and she recently found out her dad, Lobo, is in space jail. But that's cool, because he's the worst. Okay, so maybe Crush has some stuff. But that doesn't mean she's gonna do anything about it, like run away from all her problems by going to space to confront her dad…right? Collects Crush & Lobo #1-8.
Teen Titans GO!: Undead?! TP
Jump City is full of strange, shambling creatures muttering about sales and dead set on brains. The Teen Titans saw a comet fall from the sky and can think of nowhere better to hang out and see what happens than the mall. If their theory is correct and people start turning into zombies, they want to be prepared—and we all know zombies love the mall!
Robin and his team take to the streets, trying to save the city from the bargain-hungry undead. But these zombies really bite: the cemetery isn't safe, the H.I.V.E. Five are not alive, and Robin's teammates are about to succumb to shopping fever! Can Robin keep it together long enough to cancel this apocalypse? 
Midnighter: The Complete Collection TP
From GLAAD-nominated writer Steve Orlando come the action-packed adventures of Midnighter, the hero who can predict your every move. This volume collects all 12 issues of the vigilante's 2015 series, as well as his reunion with his ex, Apollo, in the Midnighter and Apollo miniseries, where Midnighter goes to Hell to rescue his partner—plus stories from DC Cybernetic Summer and DC Pride 2021! 
If anything jumped out to you, remember to message us or let us know next time you're in the shop! You get a text the second it arrives in the shop and we place a copy aside just for you so you don't miss out!
We do these each month so keep an eye out for the next post!
Have a great month and happy reading 💚