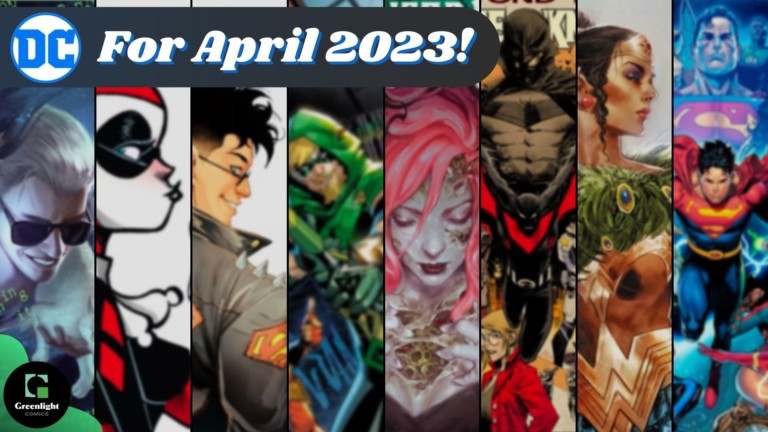 The new issue of DC Comics Preview catalog DC Connect has arrived! Here is our breakdown of the new comics series to jump on, plus what collected editions are arriving from April 2023! You can find the rest of our Previews Picks for other Comics & Manga, as well as Marvel Comics future releases over on the blog!
It's a pretty quiet month on the single issues front but there are more than enough collected editions to make up for it!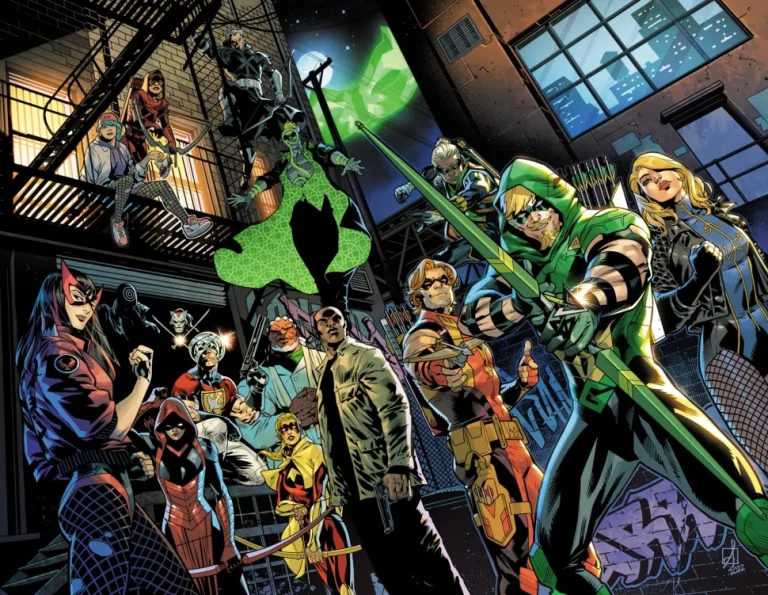 The Emerald Archer is lost, and it will take Oliver Queen's whole family to find him! But dangerous forces are determined to keep them apart at any cost! Spinning out of Dark Crisis on Infinite Earths, Green Arrow by DC architect Joshua Williamson (Dark Crisis on Infinite Earths, Superman) and artist Sean Izaakse (Thunderbolts) is an action-packed adventure across the DCU that sets the stage for major stories in 2023!
SUPERBOY: THE MAN OF TOMORROW #1
Conner Kent takes center stage! After the events of Dark Crisis, Conner feels out of place with the rest of the hero community. He doesn't fit in with the rest of the Superman Family, and the rest of the world doesn't really need him with so many Supers in Metropolis. He doesn't want to rely on Tim, Cassie, and Bart, so Conner looks to the stars as a place he might be able to call his own and carve out his own path. But what lurks in the great unknown? Are bravado and swagger enough to help Superboy find his new calling? This is the 2022 Round Robin winner—picked by you, the fans!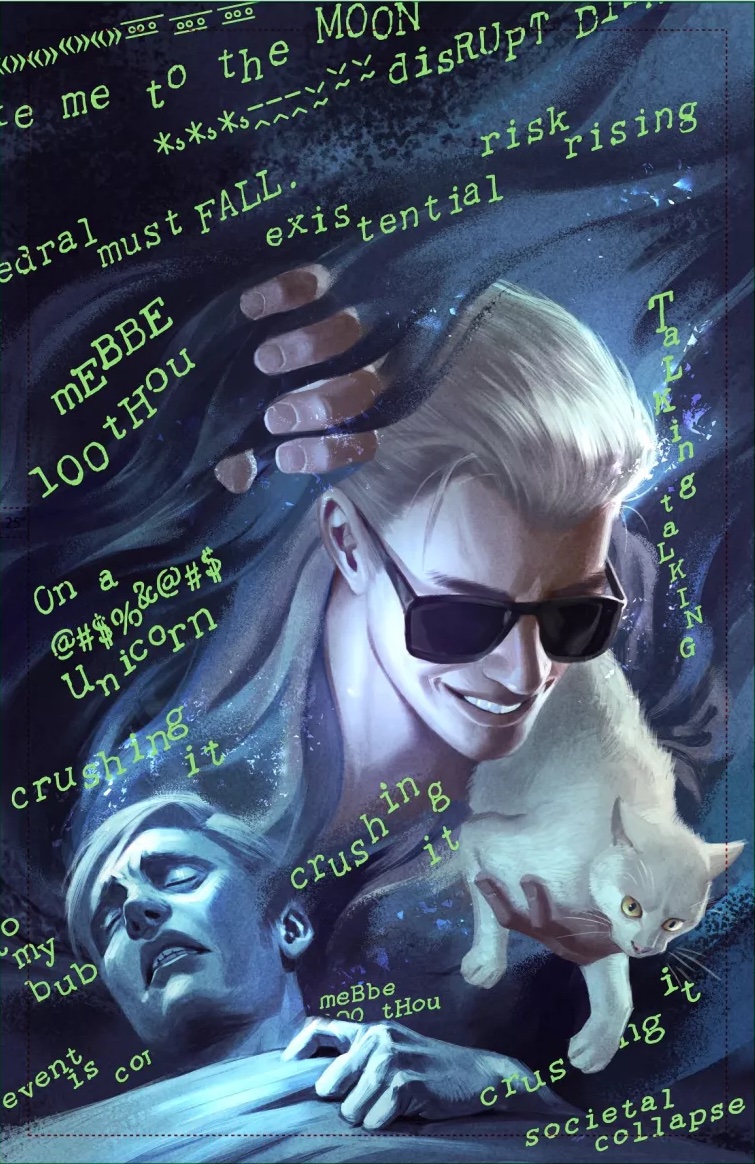 THE SANDMAN UNIVERSE: NIGHTMARE COUNTRY – THE GLASS HOUSE #1
The Corinthian has been turned loose on our realm once more, and this time he sets his sights on the very root of rapacious American capitalism—Silicon Valley. His relentless pursuit of the Smiling Man will carve a bloody path from the C-suite of Prophet Capital to the bowels of a demonic nightclub, and no one will be safe from his reach. Not Ken, living large in the Bay Area since parting ways with Barbie all those years ago. Not Max, a nervous hedge fund manager on the rise who's never quite fit anywhere. Not anyone.
Multiple Eisner Award-winning writer James Tynion IV reunites with superstar horror artist Lisandro Estherren to bring you the nightmare-fueled follow-up you've been craving, a tale that will plumb the bottomless depths of our yearning for more at the heart of the American dream.
Gustavo Duarte brings his style of humor to the DC Universe in six short stories featuring funny moments in your favorite superheroes' lives! Where does Harley buy her mallets? What happens to Superman's radioactive clothes? What's a day off like for Cyborg? Be sure to check out this entirely silent comic!
Graphic Novels & Collected Editions
DARK CRISIS ON INFINITE EARTHS HC
Crisis on Infinite Earths. Infinite Crisis. Final Crisis. And now… Dark Crisis on Infinite Earths! The epic event years in the making is finally here.
Superman, Batman, Wonder Woman, and the rest of the Justice League are dead. The remaining heroes are left to protect the world from an onslaught of violent attacks by DC's greatest villains! Can the legacy heroes step out of the shadows of the classic heroes to form a new Justice League? And will that be enough to stop a darkness greater than anything they've ever faced from destroying everything? Don't miss out on the blockbuster event of the year, now collected in a hardcover edition!
Collects Justice League #75 and Dark Crisis on Infinite Earths #0-7.
POISON IVY VOL. 1: THE VIRTUOUS CYCLE HC
Pamela Isley has been a lot of things in her life: a living god, a super-villain, an activist, a scientist, and dead. In a new body that she didn't ask for and with a renewed sense of purpose, Ivy leaves Gotham and sets out to complete her greatest work: a gift to the world that will heal the damage dealt to it… by ending humanity. But plans have a tendency of changing, and Ivy realizes life isn't just black-and-white and all humans aren't evil—except for the ones destroying the Earth with corporate greed. And Ivy will make. Them. Pay.
This volume collects issues #1-6 of the bestselling Poison Ivy series brought to you by the dynamic duo of G. Willow Wilson and Marcio Takara.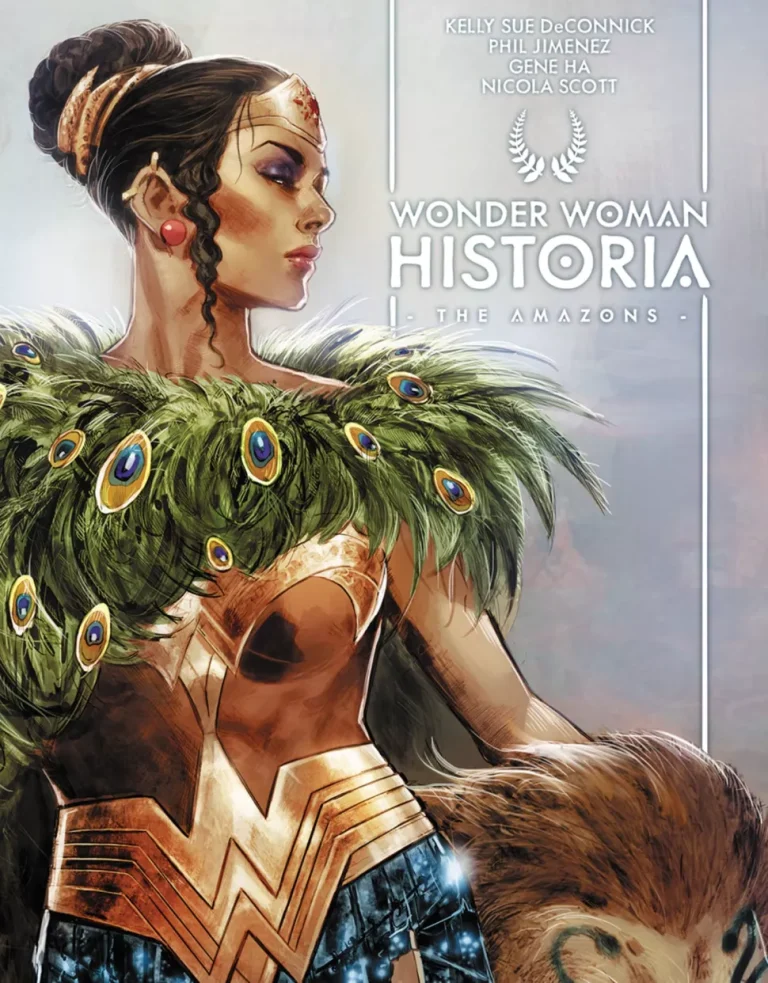 WONDER WOMAN HISTORIA: THE AMAZONS HC
Millennia ago, Queen Hera and the goddesses of the Olympian pantheon grew greatly dissatisfied with their male counterparts… and far from their sight, they put a plan into action. A new society was born, one never before seen on Earth, capable of wondrous and terrible things… but their existence could not stay secret for long. When a despairing woman named Hippolyta crossed the Amazons' path, a series of events was set in motion that would lead to an outright war across heaven and Earth, and the creation of Earth's greatest guardian! Legendary talents Kelly Sue DeConnick, Phil Jimenez, Gene Ha, and Nicola Scott unleash a critically lauded and Eisner Award-winning reading experience the likes of which you've never seen, with unbelievably sumptuous art and a story that will haunt you.
Collects Wonder Woman Historia: The Amazons #1-3.
BATMAN: BEYOND THE WHITE KNIGHT HC
With Bruce Wayne behind bars, a new Batman arrives on the scene. But will he be the last Dark Knight? Gotham Motors CEO Derek Powers has seized control of the Wayne family's assets, using them to transform the Gotham Terror Oppression unit, and with it, the city it's supposed to protect! With the crime rate down, only the original Batman, Bruce Wayne, is fully aware of the true danger the city is in. The time has come to destroy the mantle once and for all!
Collects Batman: Beyond the White Knight #1-8 and Batman: White Knight Presents: Red Hood #1-2!
BATMAN – ONE BAD DAY: TWO-FACE HC
HEADS OR TAILS, BATMAN WILL LOSE. Two-Face has always been viewed as Batman's most tragic villain. If only Harvey Dent hadn't been scarred by acid, he could have continued his good work as D.A. in Gotham City and been Batman's greatest ally and friend… right? Or has Batman extended him too much grace in his multiple attempts at reform? Batman will question himself as Dent is free once more, still scarred but seemingly free of Two-Face's influence. But when it's revealed that Harvey's father has been threatened to be murdered on his 88th birthday, will Two-Face be able to resist joining the party?
Collecting Batman – One Bad Day: Two-Face #1, from the bestselling creative team of Mariko Tamaki (Detective Comics, Crush & Lobo) and Javier Fernandez (Nightwing, King Spawn).
BATMAN – ONE BAD DAY: PENGUIN HC
BUILD YOUR EMPIRE BACK. The Penguin's criminal enterprise and the Iceberg Lounge have been stolen out from under him by his former associate the Umbrella Man. The Umbrella Man has removed all the rules for crime in Gotham City that the Penguin put in place, and the city is in chaos. The Penguin is a broken man, and he'll have to travel through the burning streets of Gotham with a gun and a single bullet putting together a new crew to take back what he's built. Will Batman help the devil he knows or face the devil he doesn't in the form of the Umbrella Man?
Collecting the crime epic Batman – One Bad Day: Penguin #1, from the critically acclaimed creative team of John Ridley (I Am Batman, The Other History of the DC Universe) and Giuseppe Camuncoli (The Joker, The Other History of the DC Universe).
THE NEW CHAMPION OF SHAZAM! HC
When everyone in your family is a superhero, it's hard to define yourself. But when you're suddenly the only superhero in the family… it's even harder! When the power of Shazam vanishes without a trace, Mary Bromfield takes the opportunity to prepare for her freshman year of college and a "normal" life at last. But before she can truly get started, yet another opportunity beckons as she becomes… the new champion of Shazam?
Can she balance her new life and this even newer role? And even if she can, how will she contend against the powerful magical forces rising to take over the world?
Collects The New Champion of Shazam! #1-4 and a story from Lazarus Planet: We Once Were Gods #1!
BLACK ADAM VOL. 1: THEOGONY TP
There is no forgiveness for Black Adam. This is the reality Teth-Adam, immortal man of indomitable will, must face when he discovers he has been infected with an incurable plague destroying his immortality. Haunted by the specter of centuries of dark deeds, Black Adam transfers his powers to a worthy successor who will redeem Adam's legacy and defend their ancestral homeland of Kahndaq, only to subsequently become mystically "handcuffed" to him when Adam's plague is arrested, giving birth to perhaps the most volatile and dysfunctional super-team in DC history! Powered by stunning art by Rafa Sandoval (Justice League) and breathtaking painted covers by Irvin Rodriguez (Detective Comics), writer Christopher Priest (Deathstroke, Justice League) brings his trademark wit and skill for character deconstruction to an entirely fresh examination of the man you love to hate! Get ready to ride the lightning!
Collects Black Adam #1-6.
NIGHTWING VOL. 1: LEAPING INTO THE LIGHT TP
FINALLY IN PAPERBACK! Nightwing is back in Blüdhaven, and his drive to keep his adopted city safe has never been stronger! But protecting Blüdhaven is no small task, especially now that it's being menaced by Nightwing's most terrifying foe yet: a mysterious and murderous villain with a penchant for stealing his victims' hearts… known only as Heartless. The city Nightwing has sworn to defend has also appointed a new mayor… with the last name Zucco. When Dick investigates the politician bearing the same name as the man who murdered his parents, he discovers details that
will shock and fundamentally change the hero forever.
Tom Taylor (DCeased, Injustice) and Bruno Redondo (Injustice, Suicide Squad) bring Nightwing out of the shadow of the Bat and into the light!
DC PRIDE: THE NEW GENERATION HC
DC celebrates Pride Month with more stories, more characters, and more pride than ever before! This gorgeous hardcover collects for the very first time: Thirteen thrilling tales spotlighting LGBTQIA+ fan-favorites new and old including Superman (Jon Kent), Nubia, Kid Quick, Connor Hawke, Aquaman (Jackson Hyde), Green Lantern (Jo Mullein), Alysia Yeoh, the Ray, Harley Quinn, Poison Ivy, and Batwoman. "Finding Batman," an autobiographical comic written by the late Kevin Conroy and drawn by J. Bone that details how Kevin's personal experiences from childhood to Hollywood ultimately informed his universally beloved performance as the iconic voice of Batman. All five parts of Tim Drake's coming-out story across Batman: Urban Legends #4-6, #10, and DC Pride: Tim Drake Special #1. An introduction by activist, actress, and real-life superhero Nicole Maines. Gorgeous art from across the complete DC Pride 2022 celebration!
When an unknown alien ship enters Earth's atmosphere, disrupting global power and communications and plunging the planet into chaos, the world is left wondering… where is Superman when he is needed most? In the mysterious absence of the Last Son of Krypton, Batman must form a team to infiltrate the Fortress of Solitude to find the key to unlocking this brutal mystery! This adventure-filled Elseworlds-type story will leave you breathless! Gary Whitta (Rogue One: A Star Wars Story) and Darick Robertson (The Boys) have joined forces to tell a brutal and shocking adventure that will turn everything you think you know about Superman upside down!
Collects Batman: Fortress #1-8.
Struggling with understanding why his parents demand he hide his amazing superpowers, Clark has no problem using a bit of super-speed or super-strength to give himself that extra edge as quarterback of the football team or while doing his chores around the farm. And when LuthorCorp holds a competition to find the best and brightest for a summer internship in Metropolis, Clark decides to use his X-ray vision in order to cheat his way in, especially since it might provide the means of getting out of Smallville. Amazingly, Clark is not the only competitor with special abilities… just ask his newfound friend, Lex Luthor. But as the kids go missing one by one, the boys realize the competition may not be all it seems. Can Clark put aside his pride for the sake of the team and become the friend and leader they will need to overcome LuthorCorp's ambitions?
From New York Times bestselling author Brendan Reichs and artist Jerry Gaylord comes a fresh twist to a familiar face that is sure to keep you on the edge of your seat!
Maps Mizoguchi is new to Gotham Academy, but she's found the perfect mentor: Olive Silverlock (her brother's ex, which isn't awkward at all). Olive's had some problems recently, but amnesia pales beside a school that's haunted by ghosts, secret societies, and bats. How bad can it be, showing her ex's kid sister the ropes? How about when another prominent member of Gotham's elite shows up, and she has to deal with Damian Wayne?
Becky Cloonan, Brenden Fletcher, and Karl Kerschl welcome you back to school in this volume that collects Gotham Academy #1-18 and Gotham Academy Annual #1!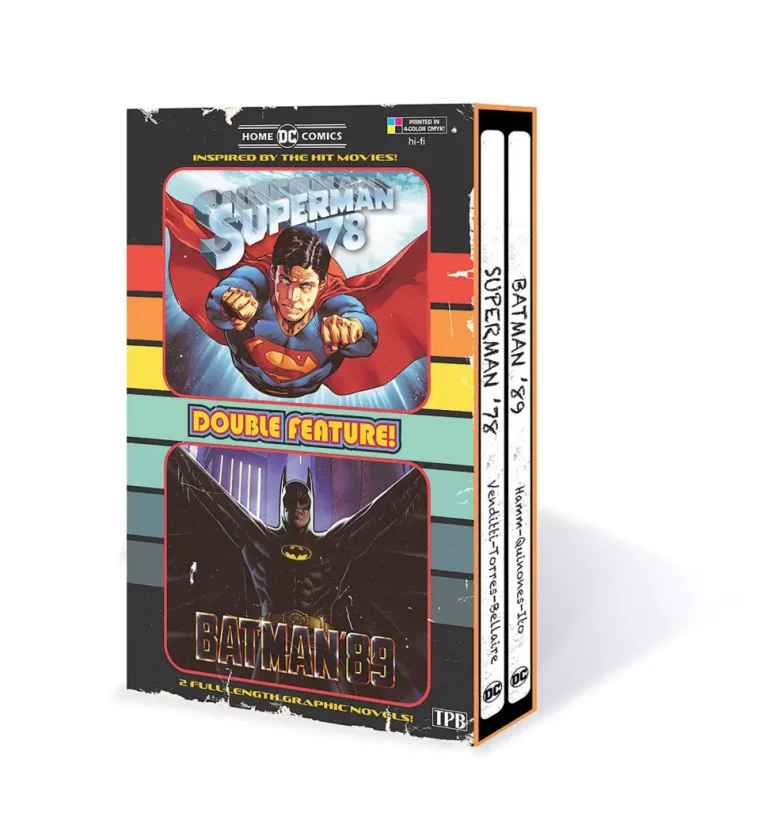 SUPERMAN '78/BATMAN '89 HC BOX SET
You will believe that a man can fly and that a Dark Knight has returned in this box set collecting two spin-off graphic novels based on Richard Donner's Superman: The Movie and Tim Burton's Batman. Superman '78 by Robert Venditti and Wilfredo Torres pits the Man of Steel against the alien menace of Brainiac, forcing Superman to make a life-changing sacrifice: leave the planet that he has come to call home in order to save it. Then, in Batman '89, original Batman screenwriter Sam Hamm and artist Joe Quinones pick up where the 1989 film left off by introducing the villainous Two-Face to the Tim Burton movie universe.
This box set is a must-have for fans of the original motion pictures who want to "rewatch" the adventures of their favorite DC heroes again and again.
Watchmen writer Alan Moore and Legionnaires artist Chris Sprouse pay tribute to the pulp heroes of the Golden Age of comics in this adventure-filled collection chronicling the exploits of science hero Tom Strong! Together with his family and an entourage of eccentric sidekicks, Tom protects Millennium City from the villainous Paul Saveen and other bizarre threats to the universe.
Collects Tom Strong #1-36.
If anything jumped out to you, remember to message us or let us know next time you're in the shop! You get a text the second it arrives in the shop and we place a copy aside just for you so you don't miss out!
We do these each month so keep an eye out for the next post!
Have a great month and happy reading 💚