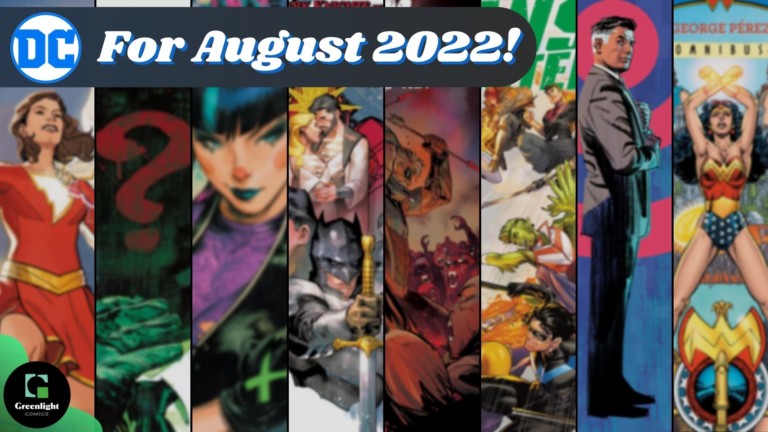 The new issue of DC Comics Preview catalog DC Connect has arrived! Here is our breakdown of the new comics series to jump on, plus what collected editions are arriving from August 2022! You can find the rest of our Previews Picks for other Comics & Manga, as well as Marvel Comics future releases over on the blog!
BATMAN - ONE BAD DAY: THE RIDDLER #1
The Dark Knight's greatest villains get their greatest stories yet! The Riddler, Two-Face, the Penguin, Mr. Freeze, Catwoman, Bane, Clayface, and Ra's al Ghul — Batman's most iconic villains are all given 64-page Prestige format specials that show why they are the greatest villains in all of comics, spearheaded by today's top talent.
We begin with Batman – One Bad Day: The Riddler! Tom King and Mitch Gerads, the Eisner Award–winning duo behind Mister Miracle, The Sheriff of Babylon, and Strange Adventures, reunite to dive deep into the mind of Batman's most intellectual foe… the Riddler. The Riddler has killed a man in broad daylight for seemingly no reason, but… there's always a reason. The Riddler is always playing a game, there are always rules. Batman will reach his wits' end trying to figure out the Riddler's true motivation in this epic psychological thriller; this is not to be missed!
DCEASED: WAR OF THE UNDEAD GODS #1
What began as a battle for Earth has become a war for the galaxy as the epic final chapter in the massive DCeased franchise is here!
The emergence of a reborn, undead Darkseid in DCeased: Dead Planet sets the stage for the most devastating conflict yet for Batman, Superman, and Wonder Woman! As the Anti-Life Equation spreads into the cosmos, the survivors of Earth prepare for the coming apocalypse and realize their only hope could lie in the most powerful surviving hero from the first DCeased series…
The bestselling creative team of Tom Taylor and Trevor Hairsine return for their third and final installment in War of the Undead Gods!
DC SAVED BY THE BELLE REVE #1
School's back in session, and we just know you're waiting for the BELLE to give you some REVElief… all right, you can't say we didn't try! DC Saved by the Belle Reve's halls are packed with eight tales of schooltime fun from around the DC Universe!
The Suicide Squad is sent to an international prep school to protect a dignitary's son! Jean-Paul Valley returns to the school that made him into Azrael! Plus, a return to Tiny Titans by Art Baltazar and Franco, and a new school year starts at Gotham Academy! So grab your pencils and notebooks and get educated!
BATMAN: DEAR DETECTIVE #1
BERMEJO AND BATMAN: AN ICON DRAWS AN ICON.
What happens when a comics art powerhouse meets one of the greatest, most exciting heroes of all time?
One part prestige art book, one part compelling noir tale, this one-of-a-kind edition collects some of Lee Bermejo's most jaw-dropping Batman covers woven together to tell a story that strikes right at the heart of the Dark Knight's never-ending crusade.
The warrior angel of St. Dumas returns! Jean-Paul Valley does not want to be Azrael ever again. All it has brought him is pain, violence, and misery. He has sequestered himself away at a monastery in Europe to find peace. But when a young woman who claims to have the same System programming that made Jean-Paul into Azrael arrives at the monastery, he won't have a choice but to don his violent mantle of Azrael once more to protect her from the deadly assassins who wish her harm.
From the rising star creative team of Dan Watters (Arkham City: The Order of the World, Lucifer) and Nikola Čižmešija (Batman: Urban Legends, Future State: Gotham) this miniseries will redefine one of the Batman world's most iconic and fierce characters.
THE NEW CHAMPION OF SHAZAM! #1
Mary Bromfield has always struggled to determine who she is outside her family… kinda hard to do when you're all superheroes! Now, after Billy Batson's heroic sacrifice, the power of Shazam has vanished, and she's been left powerless. Most heroes would be distraught, but not Mary. It's finally time for a voyage of self-discovery as she prepares for her freshman year of college and a civilian life. But nothing is ever truly normal for this young hero, because she's just been chosen as the new champion of Shazam! (At least according to a talking rabbit sent by her estranged brother Billy.) Will she embrace the power?
Find out in Mary's first solo miniseries, brought to you by up-and-coming comics writer Josie Campbell (Future State: Green Lantern) and fan-favorite Shazam artist Evan "Doc" Shaner (Strange Adventures, Convergence: Shazam!)!
Graphic Novels & Collected Editions
THE HUMAN TARGET BOOK ONE HC
Christopher Chance has made a living out of being a human target — a man hired to disguise himself as his client to invite would-be assassins to attempt his murder. He's had a remarkable career until his latest case protecting Lex Luthor, when things go sideways. An assassination attempt Chance didn't see coming leaves him vulnerable and left trying to solve his own murder… as he has 12 days to discover just who in the DCU hated Luthor enough to want him dead.
The much anticipated and highly praised next book from writer Tom King & artist Greg Smallwood!
Collects: The Human Target #1-6.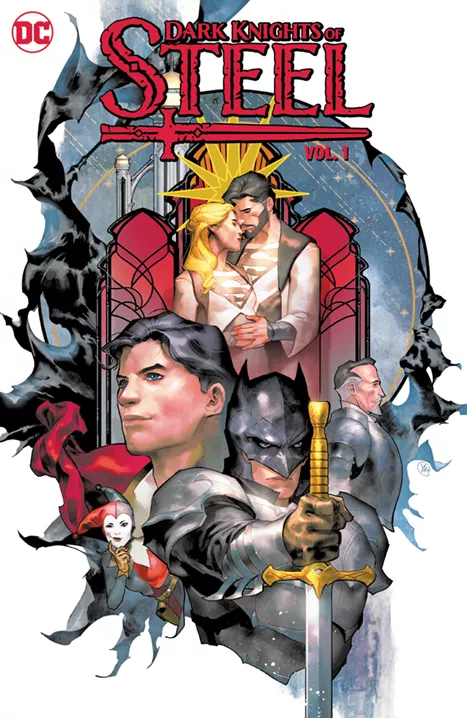 DC DARK KNIGHTS OF STEEL VOL. 1 HC
An entire medieval world will be forever changed when a spaceship crash-lands from a doomed planet. Monarchs will die, kingdoms will rise, and what seemed the end of the world for many… was only the beginning! An epic high-fantasy story set in a DC Universe where nothing is what it seems…
From worldwide bestselling writer Tom Taylor (DCeased, Superman: Son of Kal-El) and acclaimed artist Yasmine Putri comes a generational tale of good and evil within a brand-new DCU!
Collects: Dark Knights of Steel #1-6.
DC VS. VAMPIRES VOL. 1 HC
The Justice League has long protected Earth from all manner of alien invaders over the years, always keeping a vigilant eye to the skies for the next threat.
But what if the threat was already walking the Earth…hiding in plain sight… watching… waiting for their moment to strike…
In the tradition of DCeased comes a terrifying new series that begins from the twisted minds of James Tynion IV (The Nice House on the Lake, Something Is Killing the Children), Matthew Rosenberg (The Joker Presents: A Puzzlebox, 4 Kids Walk into a Bank, Hawkeye), and Otto Schmidt (Green Arrow) that will tear the Justice League apart in their war with the undead!
Collects: DC vs. Vampires #1-6.
The world is simple. There's good. There's evil. And there's still… Batman Black & White!
This Eisner Award–winning anthology series returns with all-new tales of mystery, mayhem, and madness from some of the finest and most innovative storytellers to explore the Batman mythos in stark black-and-white!
The five heroes to have donned the Robin cape and mask find themselves at a crossroads in their lives. Dick Grayson, Jason Todd, Tim Drake, Stephanie Brown, and Damian Wayne come together to discuss the big thing that binds them: Was being Robin, and Batman's sidekick, the best choice they could've made? But before they can get to the heart of the matter, they're ambushed by an unknown assailant. She claims to have been the first Robin, and she's out to prove Batman should've never trained any of them.
Collects Robins #1-6, the Winner of DC's Round Robin 2021 tournament, as chosen by you, the readers!
The Titans face their greatest challenge—their own powers! Nightwing, Donna Troy, Superboy, Starfire, Raven, Beast Boy, and Red Hood kick off a thrilling new case that
will lead one of their own to question not only their place on the team, but their very existence.
Collects: Titans United #1-7
PUNCHLINE: THE TRIAL OF ALEXIS KAYE HC
Alexis Kaye a.k.a. Punchline was the Joker's top general during the Joker War that tore Gotham City apart. The Joker got away, but Punchline didn't, and now she'll have to stand trial for her crimes. But as Leslie Thompkins and Harper Rowe quickly discover, Punchline is even more dangerous behind bars.
Collecting stories from the Joker's 80th anniversary and Joker #1-15, this story shows the rise to power of Gotham City's next queen of the Royal Flush Gang!
Nubia has been crowned queen of Themyscira, but the new title also brings challenges.
With the unexpected arrival of new Amazons, our hero is forced to reckon with her past and forge a new path forward for her sisters. Little does she know, a great evil grows beneath the island and it's up to this former guardian of Doom's Doorway to unite her tribe before paradise is lost forever!
Collects: Nubia & the Amazons #1-6, along with pages from Infinite Frontier #0.
JUSTICE LEAGUE INCARNATE HC
The Superman of Earth-23 leads a team of superheroes from a myriad of worlds that includes Flashpoint Batman, China's Flash from Earth-0, Captain Carrot from Earth-26, and the brand-new superhero Dr. Multiverse from Earth-8 in a last-ditch effort to stop the end of every possible universe as we know it! Written by Joshua Williamson and Dennis Culver with first-issue art by Brandon Peterson and Andrei Bressan and a rotating cast of artists exploring the many different worlds of the DC Multiverse, this can't-miss series is the next thrilling chapter in the Infinite Frontier saga!
Collects: Justice League Incarnate #1-5.
Desperate to regain the spotlight, Booster Gold looks to attract attention the same way any washed-up, second-rate hero would—social media. The hero from the 25th century enlists the help of his best friend, Blue Beetle, who possesses both the money and the brains to help his old pal navigate the scary world of internet influencers. Don't miss Dan Jurgens's triumphant return to Booster Gold with the help of all-star artist Ryan Sook (Legion of Super-Heroes), telling a tale filled with heart and maybe even redemption for DC's two favorite underdogs!
Collects: Blue & Gold #1-8.
DC Comics proudly presents the first Wonder Woman crossover of its kind, brought to you by the writers behind Wonder Woman, Nubia and the Amazons, and Wonder Girl and some of the best and brightest artists in the industry. This monumental story brings together all the Wonder Woman titles and characters and will change the future of the Amazons forever!
Collects: Trial of the Amazons #1-2; Nubia and the Amazons #6; Wonder Woman #785- 786; and Trial of the Amazons: Wonder Girl #1-2.
WONDER WOMAN BY GEORGE PÉREZ OMNIBUS HC (2022 EDITION)
Offered again! The World's Greatest Heroine was reimagined in 1986 by legendary comics creator George Pérez — and this new incarnation rose to unprecedented levels of popular and critical acclaim. In collaboration with co-writer Len Wein and inker Bruce Patterson, Pérez went on to craft Wonder Woman's adventures for years, and his masterful stories ranged from heart-stopping battles with the Titans of myth to heartwarming interludes with Diana's trusted network of friends.
Collects: Wonder Woman #1-24 and Wonder Woman Annual #1.
If anything jumped out to you, remember to message us or let us know next time you're in the shop! You get a text the second it arrives in the shop and we place a copy aside just for you so you don't miss out!
We do these each month so keep an eye out for the next post!
Have a great month and happy reading 💚