The new issue of DC Comics Preview catalog DC Connect has arrived! Here is our breakdown of the new comics series to jump on, plus what collected editions are arriving from August 2023! You can find the rest of our Previews Picks for other Comics & Manga, as well as Marvel Comics future releases over on the blog!
(W) TOM KING (A) RAFAEL DE LATORRE (CA) SCORPIO STEELE & STEFANO GAUDIANO
REVENGE IS FOR THE BIRDS. After retiring to Metropolis following his "death," Oswald Cobblepot finds himself forced back into the unpredictable and violent Gotham City underworld as a pawn of the United States intelligence community! Gotham's criminal element has been evolving since he was last in the city, with his bastard twin children ruling the Iceberg Lounge. And what of the man he framed for his death—Batman? Is the Penguin walking into a death sentence?
From award-winning and bestselling writer Tom King (Batman, The Human Target) and artist Rafael de Latorre (Daredevil) comes a bloody, hard-boiled tale of redemption and revenge!
(W) CHIP ZDARSKY (A/CA) BELÉN ORTEGA
CATCH UP ON WHAT YOU NEED TO KNOW BEFORE JUMPING INTO TOM KING'S 'THE PENGUIN'!
Following the Penguin's death in the landmark Batman #125, the mysterious Executor has enlisted Catwoman to carry out the departed's last wishes and track down his next of kin. But when the Penguin's heirs start getting murdered, Catwoman will have to find the killer and discover what truly became of Oswald Cobblepot.
Collects the Batman #125-127 backup stories by the red-hot creative team of Chip Zdarsky and Belén Ortega!
ACTION COMICS PRESENTS: DOOMSDAY SPECIAL #1
(W) DAN WATTERS (A) EDDY BARROWS (CA) BJÖRN BARENDS
It is a creature beyond reason—and the only force in the universe strong enough to kill Superman. It's Doomsday, the living embodiment of death, destruction, and evolution! In the wake of Dark Crisis and Lazarus Planet, King Doomsday now sits on a throne of skulls across a river of blood, holding court over the demons that swarm in the depths of Hell… and he may have just found a way back to the land of the living. It's now up to Supergirl and Martian Manhunter to drive the beast back and see that he never again returns to our earthly plane—even if they must die to do it! Plus: the return of Bloodwynd, the debut of the Doomhounds, and a clue to the next big Superman event!
Graphic Novels & Collected Editions
THE NICE HOUSE ON THE LAKE - THE DELUXE EDITION HC
(W) JAMES TYNION IV (A/CA) ÁLVARO MARTÍNEZ BUENO
From Eisner Award-winning horror maestro James Tynion IV and his artistic collaborator Álvaro Martínez Bueno comes a tale of psychological terror that plays on the anxieties of the 21st century. Walter has always seemed a little strange. But after he invites 10 friends to a weekend getaway at a secluded house on a lake, they discover just how different he is when he reveals his true face and announces that life as they knew it will never be the same again.
This deluxe edition hardcover collects the entire 12-issue first cycle and features a brand-new cover, original character outlines, and a gallery of development art and behind-the-scenes extras.
(W) LEAH WILLIAMS (A) MARGUERITE SAUVAGE (CA) STANLEY "ARTGERM" LAU
Power Girl takes center stage! With new powers and a new mission, Power Girl faces a challenge unlike any she's experienced before! With Omen's guidance, she now strives to battle the demons—literal and figurative—lurking within the minds of some of the greatest superheroes in the DC Universe. But the nefarious Johnny Sorrow has been searching for a connection to Earth-0, and the superheroines' work may unwittingly give him the means to make their world his personal stage! Can Power Girl and her estranged Super-Family bring down the curtain on Sorrow's evil plans? And at what cost?
Collects stories from Lazarus Planet: Assault on Krypton #1, Action Comics #1051-1053, and Power Girl Special #1.
ZATANNA & THE RIPPER GN VOL 01
(W) SARAH DEALY (A) RACHEL KOO & SYRO (CA) VASCO GEORGIEV
On her 21st birthday, Zatanna Zatara is attacked and bested by a mysterious sorceress. Before the final blow is dealt, her father, Giovanni, casts a spell of his own, warping the magic of his attacker and sending Zatanna out of the frying pan and into ye olde garbage bin. Zatanna arrives in Whitechapel, London, in the year 1888. She soon discovers a serial killer plaguing the streets of the city—Jack the Ripper. Unable to return home and certain that the supernatural killer has answers, Zatanna sets out in pursuit of the Ripper alongside the denizens of Whitechapel and one John Constantine.
Collecting the first 11 episodes of Webtoon's smash-hit series, optimized for a brand-new reading experience in print.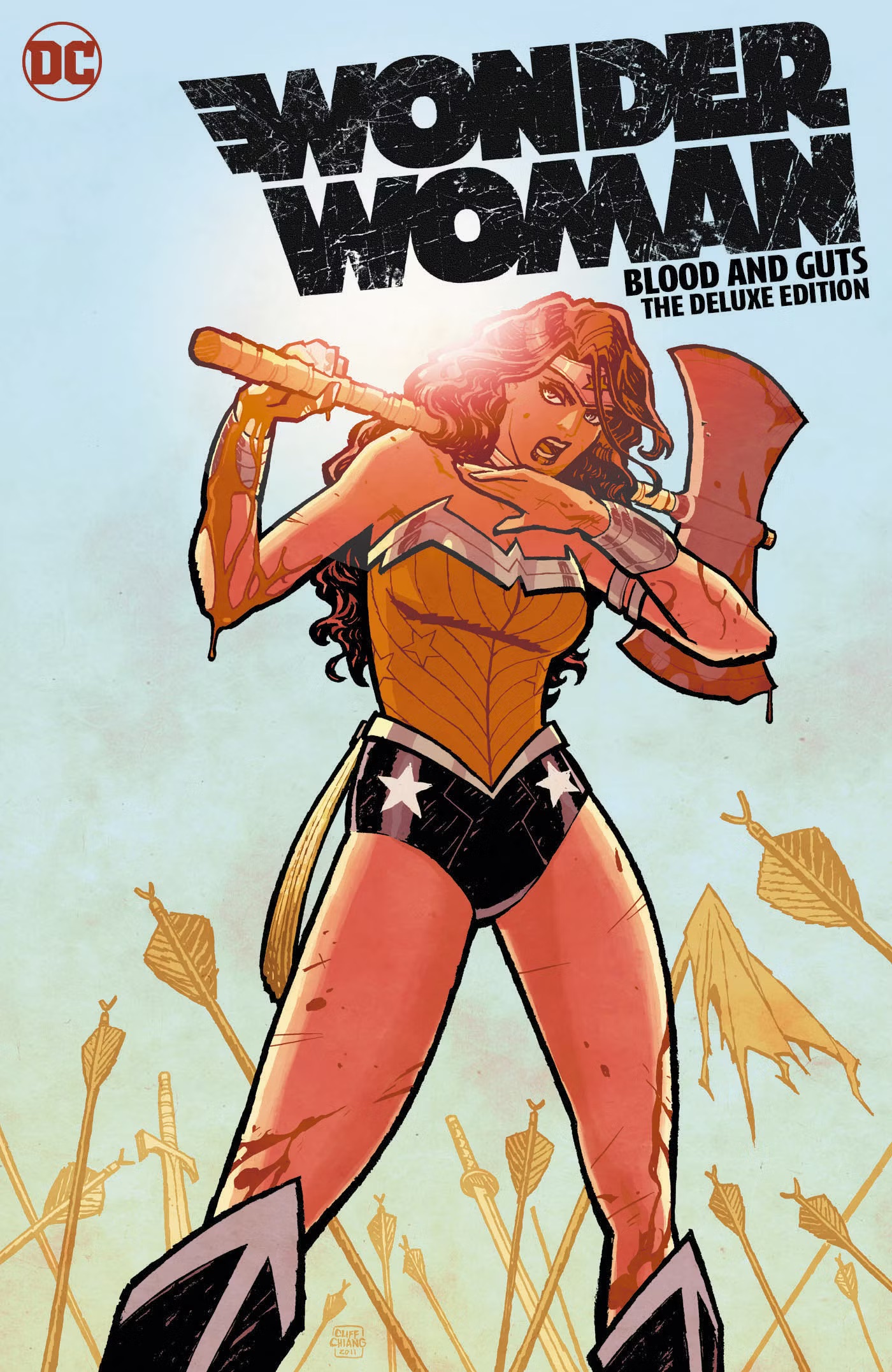 WONDER WOMAN: BLOOD AND GUTS - THE DELUXE EDITION HC
(W) BRIAN AZZARELLO (A/CA) CLIFF CHIANG
When Wonder Woman is willing to take a stand against Hera, queen of the gods, she makes herself an enemy. But Hera isn't the one Wonder Woman should be worried about… Hera's daughter, Eris, has a secret that will shatter Wonder Woman's life. Plus, Hades and Poseidon need to settle who will be king of the gods, and Wonder Woman can't let their turf war decimate the realm of man! And what true story of the gods is complete without a little trip to hell?
Read all this and more in Wonder Woman: Blood and Guts: The Deluxe Edition, collecting Wonder Woman #0-12 and featuring a brand-new wraparound cover by Cliff Chiang!
TIM DRAKE: ROBIN TP VOL 1 - MYSTERY AT THE MARINA
(W) MEGHAN FITZMARTIN (A) RILEY ROSSMO, VARIOUS (CA) RICARDO LÓPEZ ORTIZ
A mystery over a year in the making takes shape. A new villain who's been hounding Tim from afar decides to take things up close and personal, putting Bernard and everyone else Tim cares about in peril, and things go from bad to worse for the world's oldest and canonically tallest Robin (no, I will not be fact-checking that). All that as Tim finally carves out a corner of Gotham City just for himself and sets up shop in his very own… murder-shack boat? Fan-favorite writer Meghan Fitzmartin teams up with beloved Harley Quinn artist Riley Rossmo to define the next chapter in Tim's life.
Collecting DC Pride: Tim Drake Special #1 and Tim Drake: Robin #1-6.
(W) LAMAR GILES (A/CA) PARIS ALLEYNE & YANCEY LABAT
What happens when The New York Times bestselling writer Lamar Giles and illustrator Paris Alleyne take their heroes on an epic night that goes from bad… to worst? When Virgil Hawkins revealed his secret identity as Static to his girlfriend, Daisy, he thought that was going to make their relationship a lot easier. But Daisy is tired of all the super-heroics interrupting their date nights on a regular basis. Now, just as Virgil is about to invite her to the big Dakota music festival for her birthday, she's calling it quits and breaking up with him. What follows is a night that nobody was ready for: a blackout, some super-villains, and a rapper in disguise are just the start. And even worse, there's Daisy with a new guy… Virgil is about to learn not even superpowers can conquer a broken heart.
DC HORROR PRESENTS: SGT. ROCK VS. THE ARMY OF THE DEAD HC
(W) BRUCE CAMPBELL (A) EDUARDO RISSO (CA) GARY FRANK
Berlin, 1944. The Nazis are besieged on all fronts by the Allied forces. Defeat is inevitable. But Hitler and his team of evil scientists attempt a last-ditch effort that may turn the tide of the war and rewrite history itself—a serum that allows them to resurrect their dead soldiers, stronger than they were in life, and send them back onto the battlefield. Now Sgt. Frank Rock and Easy Company have been dispatched into enemy territory to face off against the strangest, most horrific enemies they've ever encountered: Nazi zombies! Horror icon Bruce Campbell and comics legend Eduardo Risso bring you a terror-soaked Sgt. Rock tale like no other!
Collects issues #1-6 of the bad-guy-eschewing, Nazi-smashing series.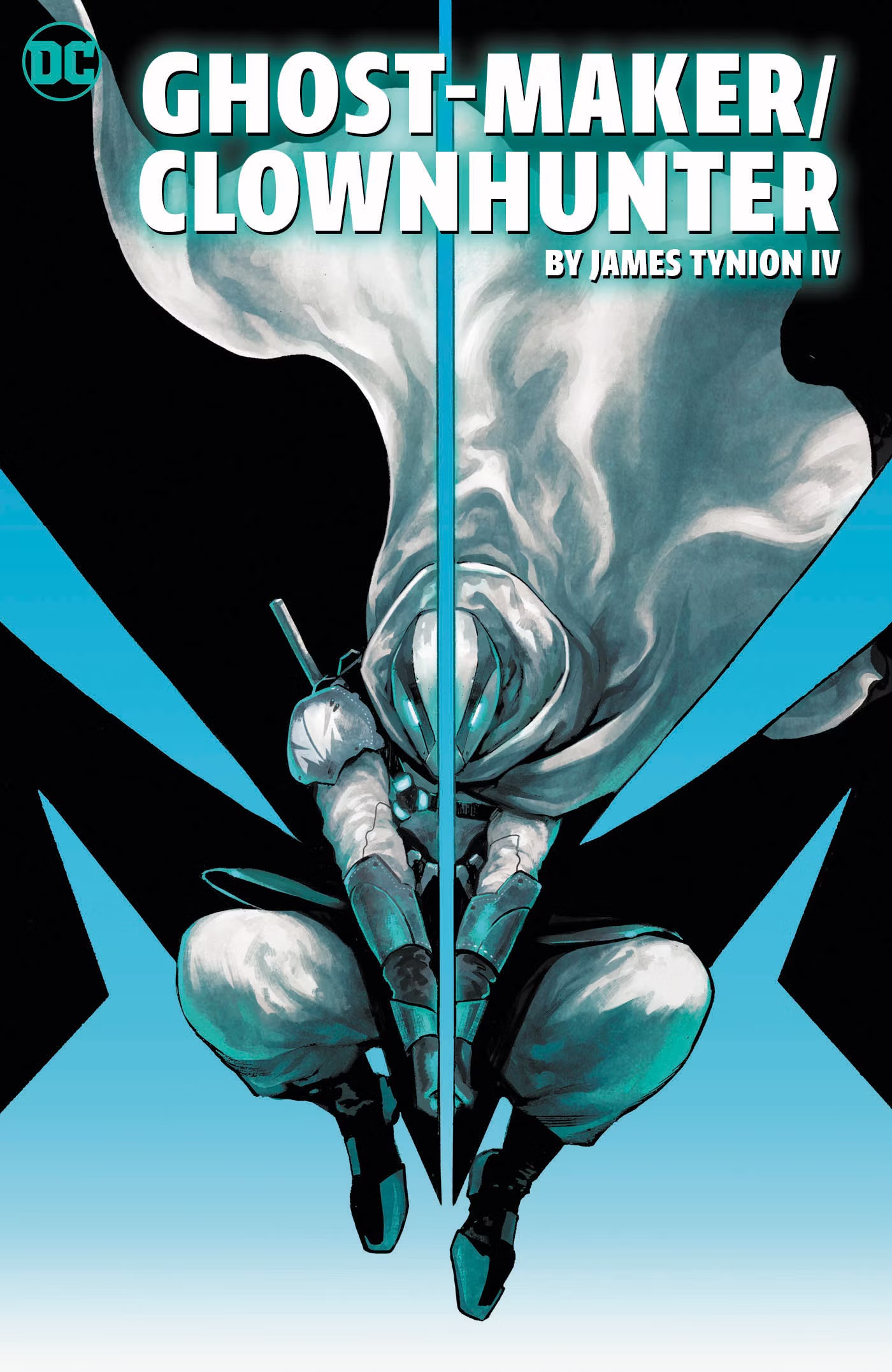 GHOST-MAKER/CLOWNHUNTER BY JAMES TYNION IV TP
(W) JAMES TYNION IV (A) JAMES STOKOE & RICCARDO FEDERICI (CA) KAMOME SHIRAHAMA
Ghost-Maker is the ultimate rival to Batman, trained by the same teachers to harness the power of the mind and body with one goal: become the ultimate weapon against crime! Unlike Batman, his approach is much deadlier, and he's about to go head-to-head with the Dark Knight! Also, Clownhunter's brutal mission to hunt down all the clowns from the Joker War continues! The untrained but focused vigilante stalks a boss-level clown, but his luck might be running out as he walks into an ambush set by Punchline! In a horrific parallel to his days at Gotham Academy, Clownhunter finds himself overwhelmed and outgunned… just the type of odds he likes!
Collects Batman backups #107-111, Batman Secret Files: Clownhunter #1, Batman: The Joker War Zone #1, and stories from Batman 2022 Annual and Batman Annual #5.
BATGIRL: YEAR ONE TP (2023 EDITION)
(W) SCOTT BEATTY & CHUCK DIXON (A/CA) MARCOS MARTIN & ÁLVARO LÓPEZ
Meet Gotham's newest Batling! Batgirl may be untested, but she doesn't take orders from anyone and is determined to make a name for herself—one way or another. From writers Scott Beatty and Chuck Dixon and illustrators Marcos Martin and Álvaro López, Batgirl: Year One chronicles the early days of Batgirl as she slowly shapes her legacy.
Collects Batgirl: Year One #1-9 as well as extensive character and cover sketches from Martin and a brand-new introduction from Scott Beatty.
THE FELLSPYRE CHRONICLES TP BOOK 1
(W) PHILLIP KENNEDY JOHNSON (A) RICCARDO FEDERICI (CA) KAI CARPENTER
Two fellowships of heroes struggle with the same threat… thirty years apart. One group will doom their world. The other must try to save it. Thirty years ago, a band of heroes traveled beyond the borders of creation to kill the last living god and save the realm of Cain Anuun. But when the foul legions of the Last God march again and begin to destroy all of Cain Anuun, it will be revealed that the aging fellowship may not be the great heroes they claimed to be. With the world burning down around them, a new group of unlikely champions will come together to try to bring peace to their world. They'll have to kill the Last God, once and for all.
Collecting the complete Fellspyre Chronicles: Book 1 saga along with Songs of Lost Children and Tales from the Book of Ages.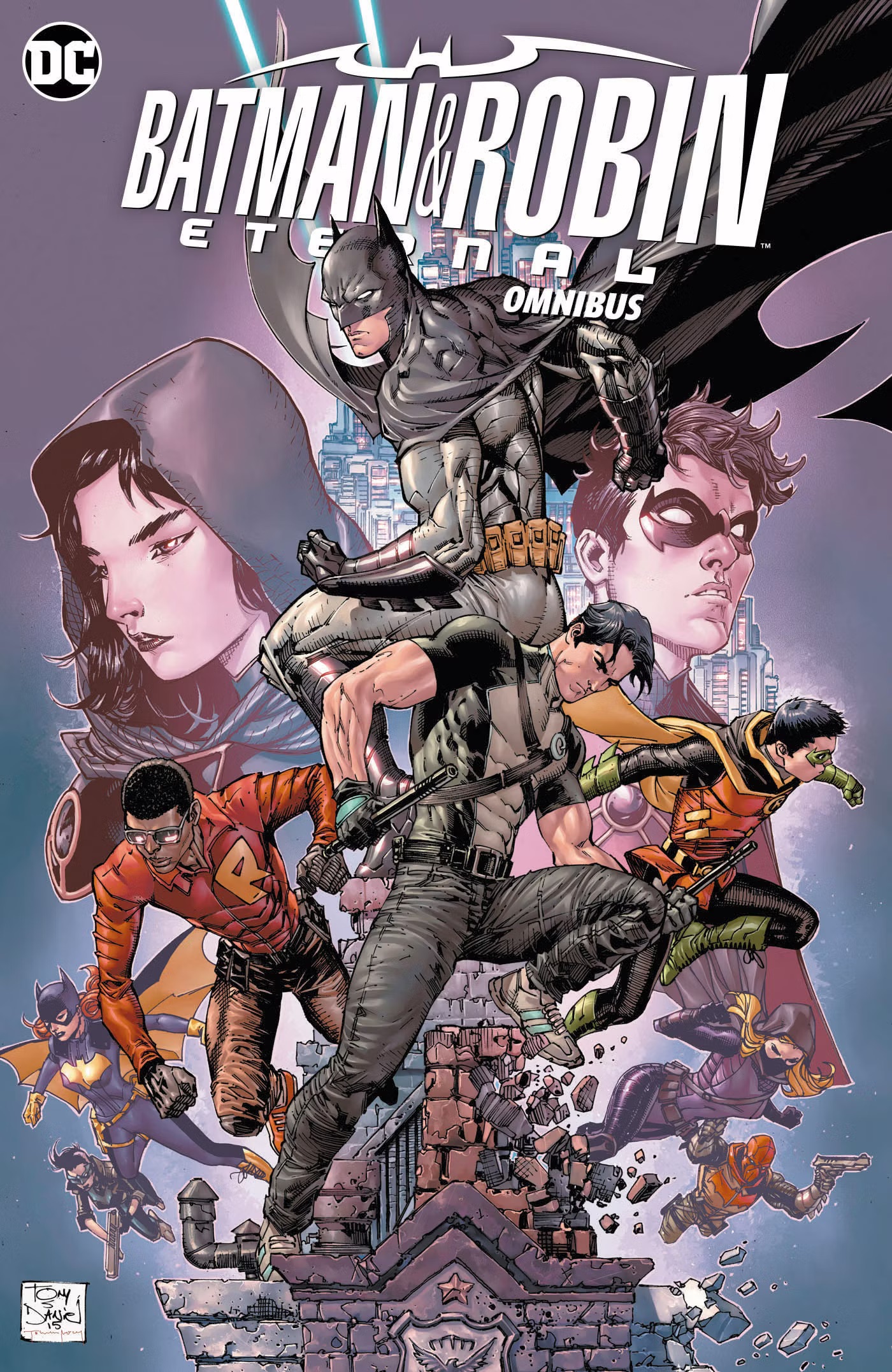 BATMAN & ROBIN ETERNAL OMNIBUS HC
(W) VARIOUS (A) VARIOUS (CA) TONY S. DANIEL
Taking place after Batman Eternal, Batman & Robin Eternal follows former Boy Wonder Dick Grayson rallying together Red Hood, Red Robin, Robin, Bluebird, Cassandra Cain, and the rest of the Bat-Family as they strive to maintain order in a Gotham without Batman. With no Dark Knight to guide them, do they stand any chance of defeating a long-forgotten foe named Mother, whose specialty is turning trafficked humans into weapons?
Join the all-star creative team of James Tynion IV, Scott Snyder, Tim Seeley, Tony S. Daniel, and more in this complete volume collecting Batman & Robin Eternal #1-26 and Batman: Endgame Special Edition #1. Features a brand-new cover by Tony S. Daniel!
iZOMBIE: THE COMPLETE SERIES OMNIBUS HC (2023 EDITION)
(W) CHRIS ROBERSON (A) MICHAEL ALLRED, VARIOUS (CA) MICHAEL ALLRED
Gwen Dylan doesn't remember too much about her life before she died, but she does know that she'll lose what little memory she has left if she doesn't consume fresh brains at least once a month. So after landing a job as a gravedigger in her hometown of Eugene, Oregon, she makes herself at home in one of its crypts, where she can live her afterlife in peace… or so she thinks! From Chris Roberson, Michael Allred, and Laura Allred comes the complete quirky collection that inspired the hit show.
Collects iZombie #1-28.
If anything jumped out to you, remember to message us or let us know next time you're in the shop! You get a text the second it arrives in the shop and we place a copy aside just for you so you don't miss out!
We do these each month so keep an eye out for the next post!
Have a great month and happy reading 💚