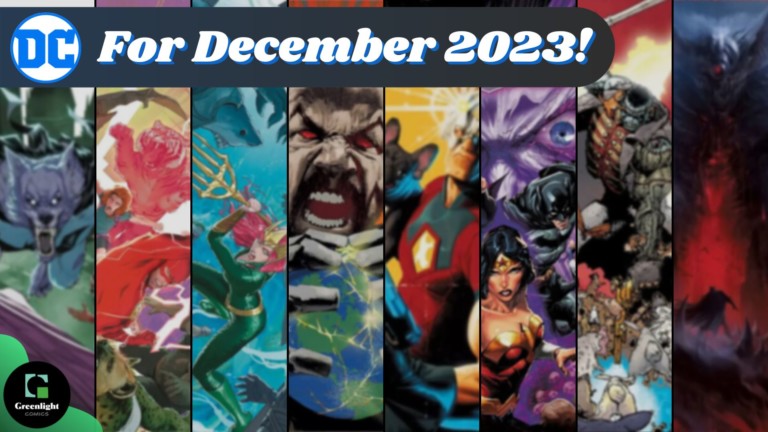 The new issue of DC Comics Preview catalog DC Connect has arrived! Here is our breakdown of the new comics series to jump on, plus what collected editions are arriving from December 2023! You can find the rest of our Previews Picks for other Comics & Manga, as well as Marvel Comics future releases over on the blog!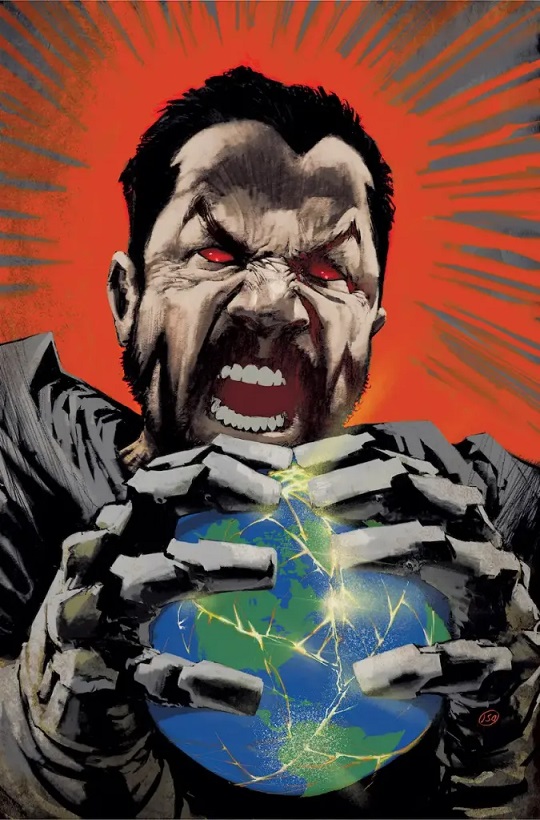 (W) JOE CASEY (A) DAN McDAID (CA) JASON SHAWN ALEXANDER
General Zod was Krypton's most notorious criminal. Now he has an entire planet to rule—but what happens when the most dangerous individual in the universe gets everything he ever wanted? Obviously, he wants more— and he'll stop at nothing to get it—in the most brutal series you'll read this year! This is not a hero's journey. This is a dark ride, brought to you by the sick and twisted minds of Adventures of Superman writer Joe Casey and artist Dan McDaid in his monumental main-line DC debut. For General Zod and his family, the descent into hell has just begun.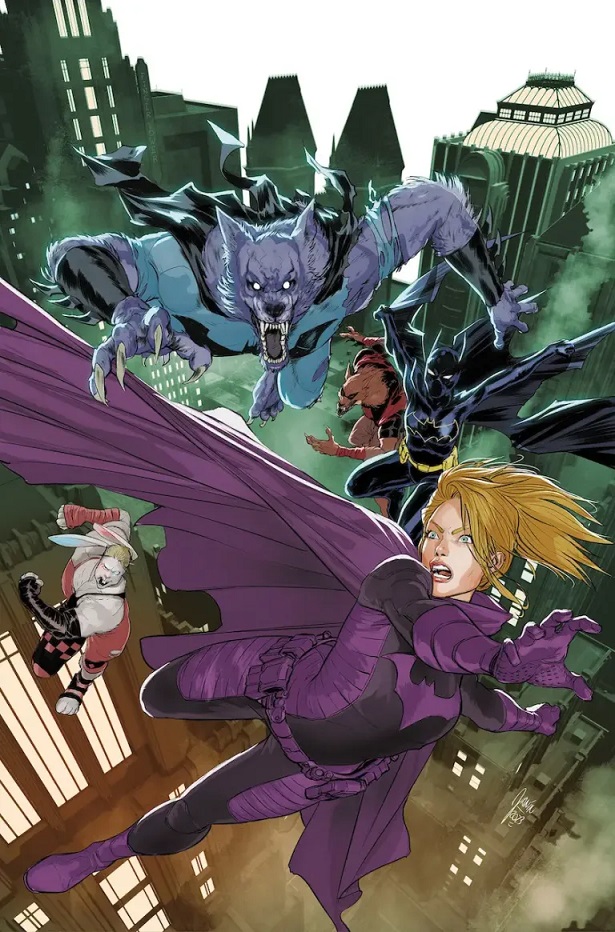 TITANS: BEAST WORLD TOUR: GOTHAM #1
(W/A) VARIOUS (CA) MIKEL JANÍN
As the bestial infection spreads all over Earth, the shape-shifting spores finally start to take root in Gotham City! Follow the feral tales of your favorite heroes and villains as they lose themselves to their more beastly nature. With stories by Eisner winners Chip Zdarsky, Grace Ellis, and so many more, it's sure to leave you hooting and howling in delight!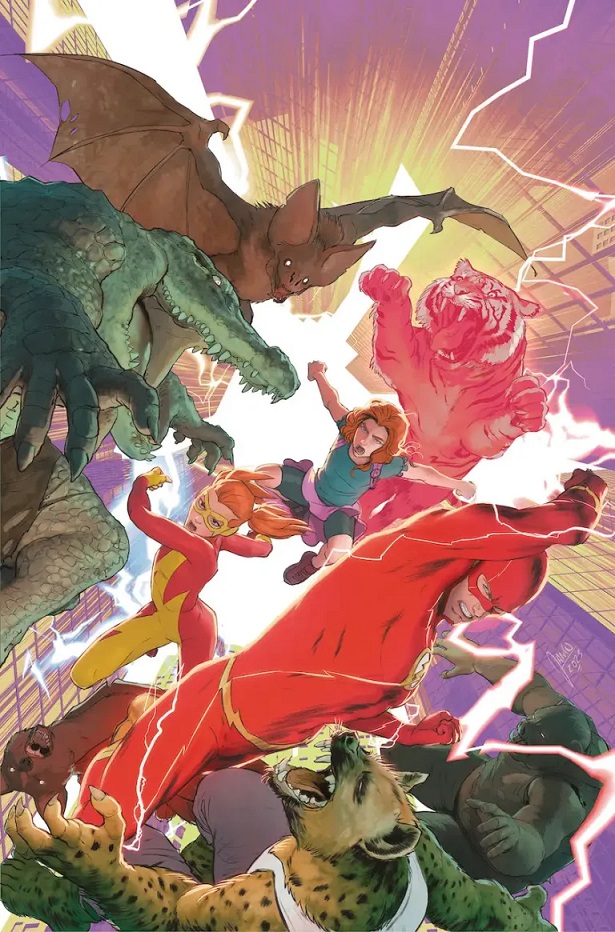 TITANS: BEAST WORLD TOUR: CENTRAL CITY #1
(W/A) VARIOUS (CA) MIKEL JANÍN
Speedsters infected! The home of the Flash is not immune from the Starro spores, and as a member of the Flash Family is infected, it's all hands on deck across both Central and Keystone City. Irey West has a plan that requires the help of her BFF Maxine Baker, while Avery Ho, Wallace West, and fan-favorite Circuit Breaker will all be working together with the entire clan to contain the infected speedsters causing chaos across the city. Oh, and the recent issues within the Speed Force haven't gone away… This key chapter of the Beast World saga also contains important revelations for the Scarlet Speedster's next steps as The Flash writer Si Spurrier is joined by Speed Force writer Jarrett WIlliams, Circuit Breaker scribe A.L. Kaplan, and Knight Terrors: The Flash writer Alex Paknadel!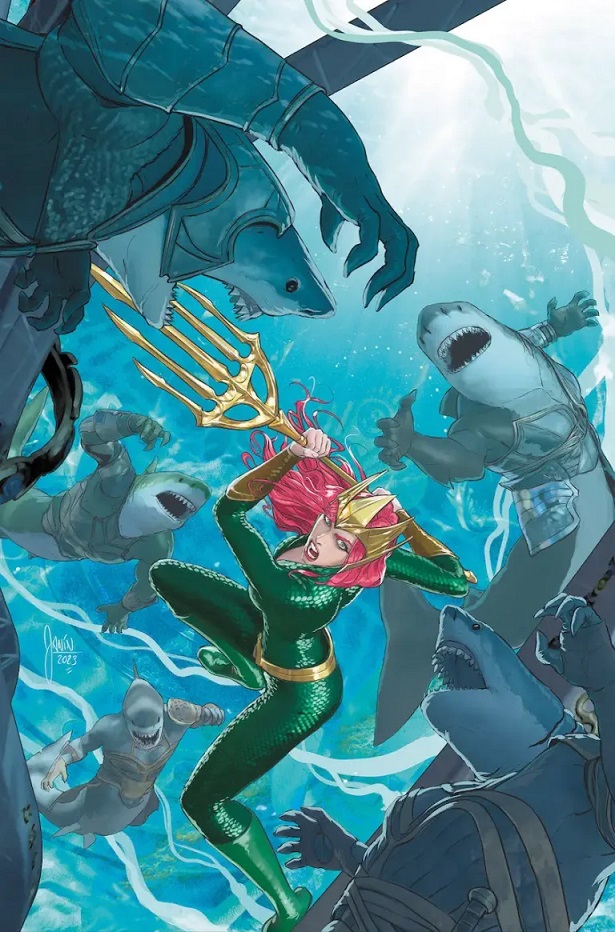 TITANS: BEAST WORLD TOUR: ATLANTIS #1
(W/A) VARIOUS (CA) MIKEL JANÍN
Beast World plunges into the deep! As Garth reacts to the crisis amongst his former Titans teammates, all hell breaks loose in the depths of Atlantis! It's a clash of Aquaman and Tempest in a deep-sea battle royale that points the way to new horizons ahead. Plus, megalodons versus Mera and Jackson Hyde, and Black Manta channels his inner manta in this exciting next installment of "Beast World"!
Graphic Novels & Collected Editions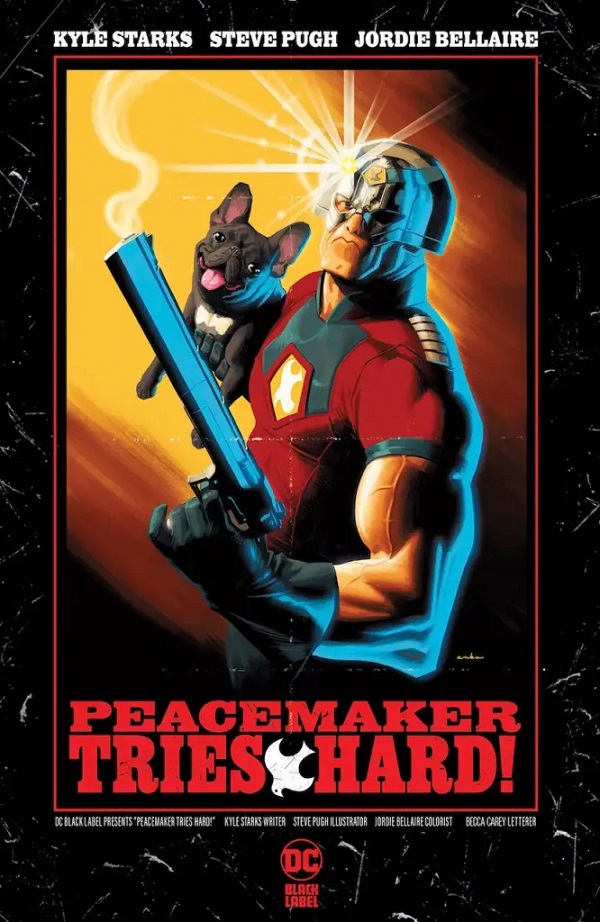 PEACEMAKER TRIES HARD! HC
(W) KYLE STARKS (A) STEVE PUGH (CA) KRIS ANKA
Having earned his release from the Suicide Squad, Peacemaker wants to try to do normal superhero stuff for a change. Unfortunately everyone, including the bad guys, thinks he sucks at superhero stuff. But when busting up a terrorist ring introduces Christopher Smith to the cutest puppy to ever walk (awkwardly) on four legs, he finds the unconditional love he's been de­nied his whole life… until the dog is kidnapped by a super-villain with some very un-super-heroic plans for Peacemaker's brand of ultraviolence. Will he help an unstable criminal steal the world's most valuable—and dangerous— DNA? Honestly, Christopher's pretty lonely, so it probably just depends on how nicely they ask…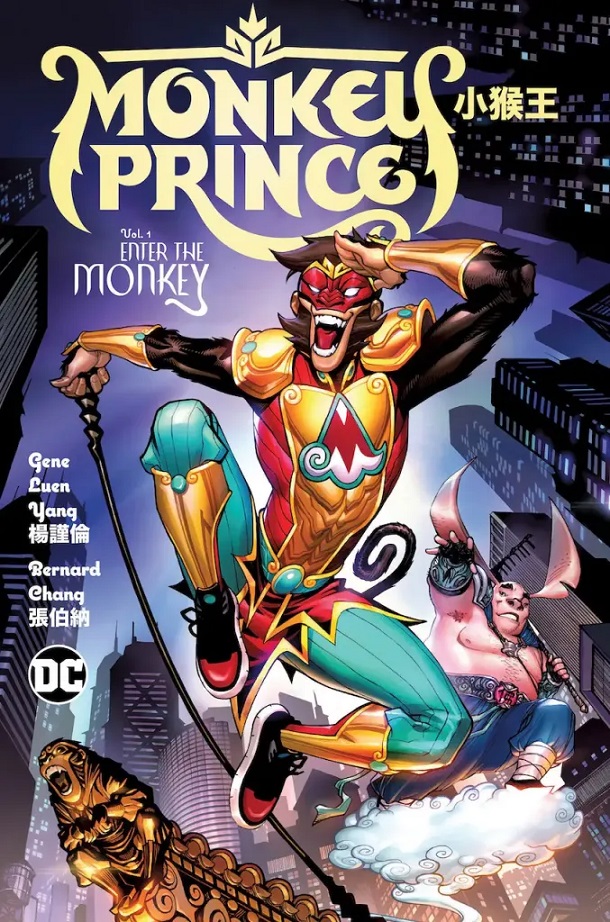 MONKEY PRINCE VOL. 1: ENTER THE MONKEY TP
(W) GENE LUEN YANG (A/CA) BERNARD CHANG
Marcus Shugel-Shen moves around a lot because his adoptive parents are freelance henchpeople, so join him as he travels through the DC Universe, from confronting Batman in Gotham City all the way to Amnesty Bay and Aquaman's kingdom of Atlantis! Marcus finds himself the new kid at Gotham City High School, where a mysterious man with pig features asks him to walk through a water curtain to reveal who Marcus really is: someone who has adventured through the Journey to the West, can transform into 72 different formations, can clone himself using his hairs, and is called… the Monkey Prince!
Collects Monkey Prince #1-6.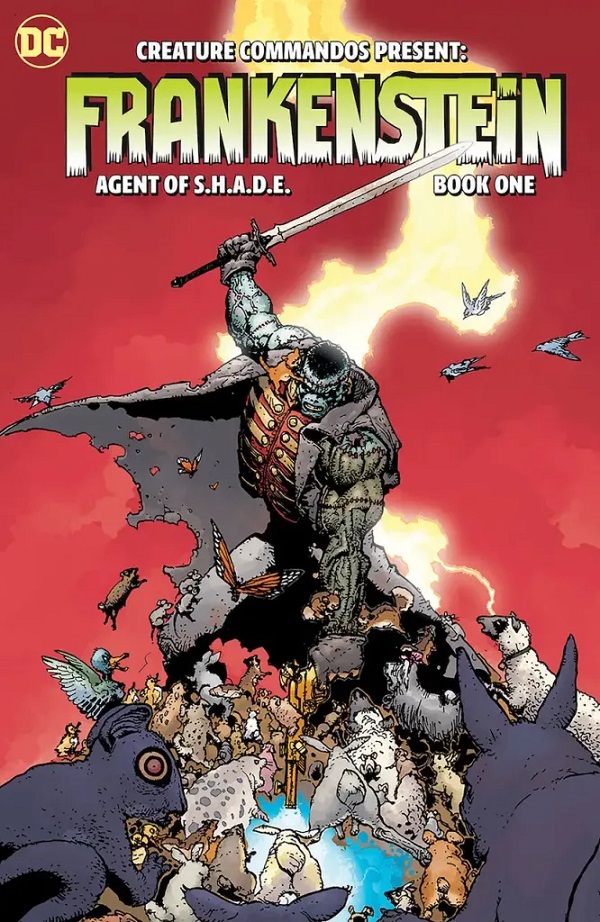 CREATURE COMMANDOS PRESENT: FRANKENSTEIN, AGENT OF S.H.A.D.E. BOOK ONE TP
(W) GRANT MORRISON & JEFF LEMIRE (A) DOUG MAHNKE, ALBERTO PONTICELLI, & WALDEN WONG (CA) DOUG MAHNKE
Before James Gunn's highly anticipated Creature Commandos animated series debuts, get to know the team's resident undead, sword-swinging power hitter, Frankenstein, in this collection of stories from comics all-stars Grant Morrison, Jeff Lemire, Doug Mahnke, and Alberto Ponticelli!
Book one of this two-volume collection reprints the entire Seven Soldiers: Frankenstein limited series plus Frankenstein, Agent of S.H.A.D.E. #1-7.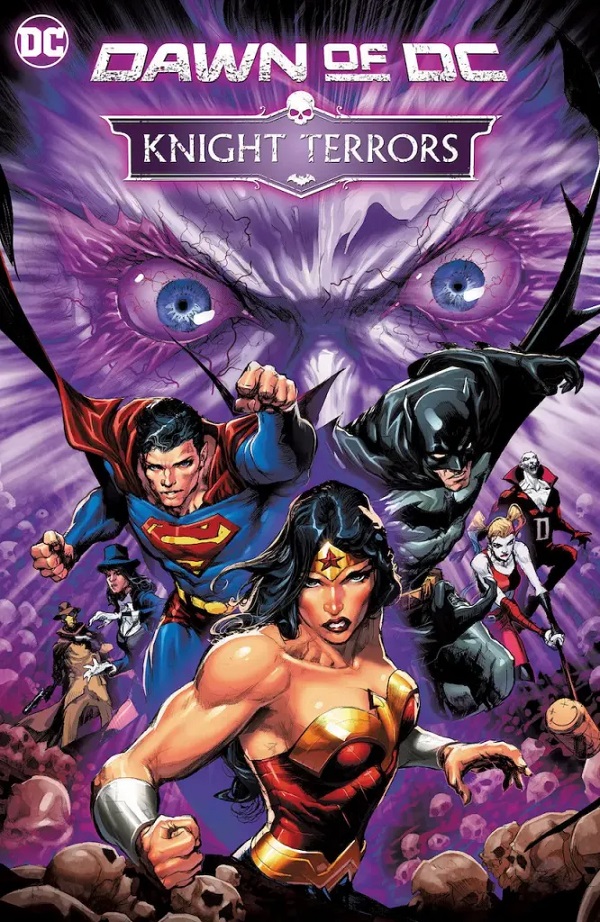 (W) JOSHUA WILLIAMSON (A) VARIOUS (CA) HOWARD PORTER
The death of a longtime enemy at the Hall of Justice leads to terrifying events across the DC Universe! Batman, Superman, and Wonder Woman—along with reluctant hero Deadman—take on villainous new foe Insomnia and his Sleepless Knights as the world is engulfed in horror! Who will survive as our heroes venture past the land of the living, beyond the land of the dead, and into a realm of nightmares?
Collects Knight Terrors #1-4, Knight Terrors: First Blood #1, Knight Terrors: Night's End #1, and a story from the Dawn of DC Knight Terrors 2023 FCBD Special Edition.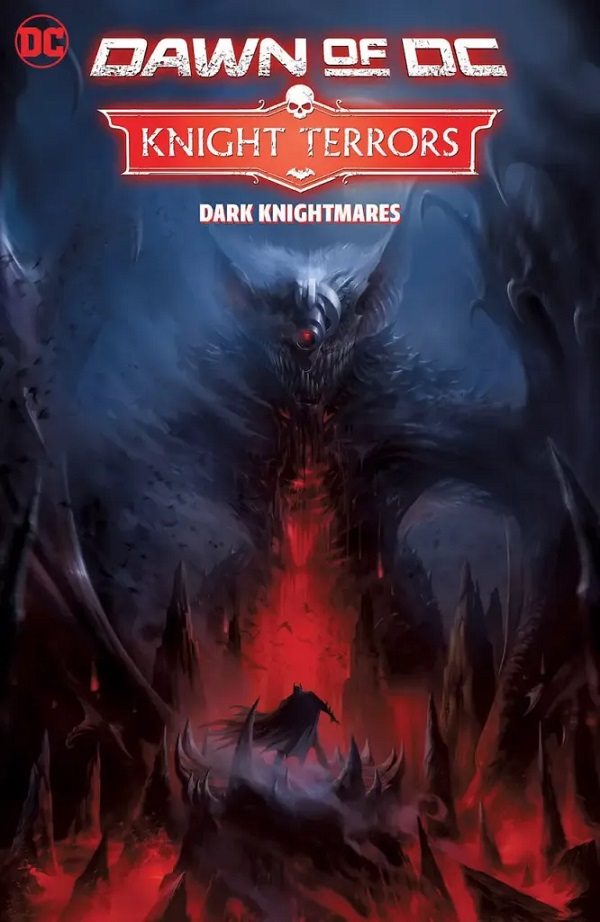 KNIGHT TERRORS: DARK KNIGHTMARES HC
(W/A) VARIOUS (CA) FRANCESCO MATTINA
Prepare yourself for a barrage of terrifying tales as Gotham's heroes are trapped in the Nightmare Realm, besieged by their own greatest fears! Can the Caped Crusader, Nightwing, and Jim Gordon regain control of their minds long enough to break free of this evil? Plus, Bat-brothers Jason Todd and Tim Drake are forced to battle their worst fears—and each other—while Sister Zero causes chaos for her sibling, Catwoman. Also, what horrors have Arsenal and Black Canary confronted in this dark despair? Be warned, this collection is not for the faint of heart!
Collects Knight Terrors: Batman #1-2, Knight Terrors: Catwoman #1-2, Knight Terrors: Detective Comics #1-2, Knight Terrors: Nightwing #1-2, and Knight Terrors: Robin #1-2.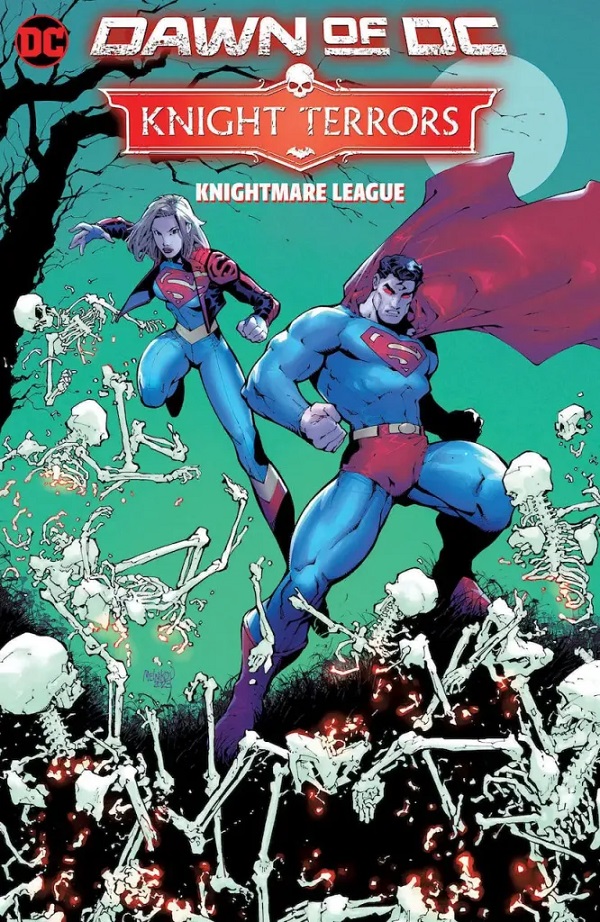 KNIGHT TERRORS: KNIGHTMARE LEAGUE HC
(W/A) VARIOUS (CA) GLEB MELNIKOV
As dread roils the universe, DC's most powerful heroes navigate the terror of the Nightmare Realm in these fearful fables! Power Girl searches for a tangible foe in her dream state while Superman and Supergirl are horrified by a hideously transformed Cyborg Superman, who is devouring the Super-Family! Meanwhile, the Justice League Dark find themselves trapped in a labyrinth of horror, as Wonder Woman grapples with her deepest fears and insecurities! Also, see how Green Lantern, the Flash, Queen Nubia, and Sinestro resist the nefarious threat invading their dreams. Dare to peek inside the subconscious minds of the World's Greatest Heroes!
Collects Knight Terrors: Action Comics #1-2, Knight Terrors: Green Lantern #1-2, Knight Terrors: Superman #1-2, Knight Terrors: The Flash #1-2, and Knight Terrors: Wonder Woman #1-2.
If anything jumped out to you, remember to message us or let us know next time you're in the shop! You get a text the second it arrives in the shop and we place a copy aside just for you so you don't miss out!
We do these each month so keep an eye out for the next post!
Have a great month and happy reading 💚