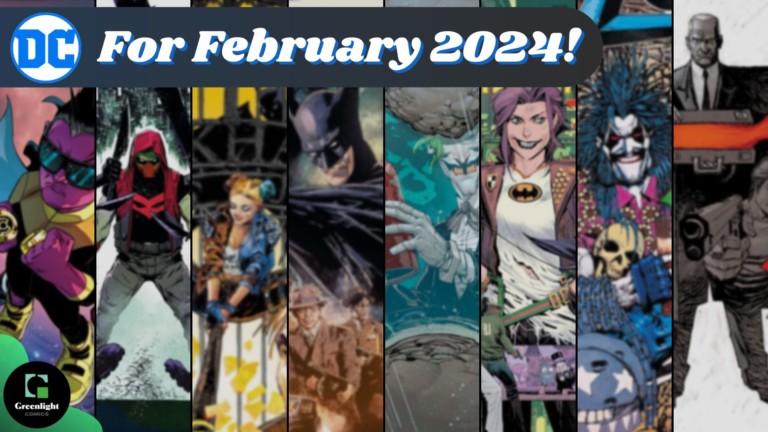 The new issue of DC Comics Preview catalog DC Connect has arrived! Here is our breakdown of the new comics series to jump on, plus what collected editions are arriving from February 2024! You can find the rest of our Previews Picks for other Comics & Manga, as well as Marvel Comics future releases over on the blog!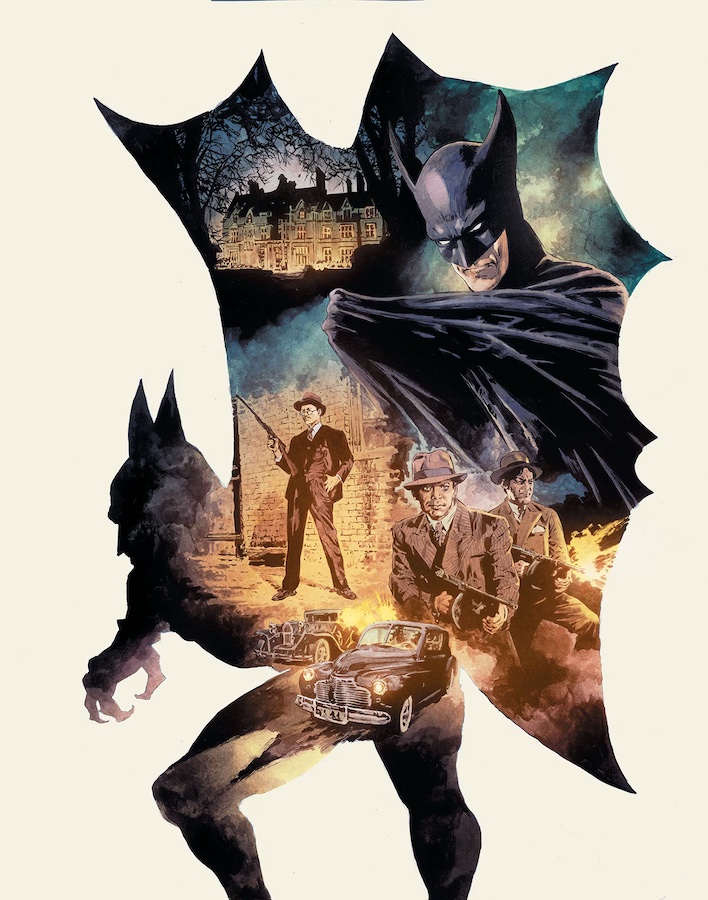 THE BAT-MAN: FIRST KNIGHT #1
(W) DAN JURGENS (A/CA) MIKE PERKINS
The year is 1939. The world, still reeling from the horrors of the First World War, is on the brink of tipping into an even more gruesome conflict, as fascism is on the march—and gathering strength in America's darkest corners. Against this backdrop, a series of violent murders has begun in Gotham, and the recent emergence of the mysterious vigilante known as The Bat-Man has the power brokers of the city living in fear of institutional collapse. Legendary writer Dan Jurgens and superstar artist Mike Perkins return to the earliest days of the Dark Knight, retelling one of his most infamous cases through an acutely modern lens, depicting a world paralyzed by anxiety and a desperate populace crying out for release!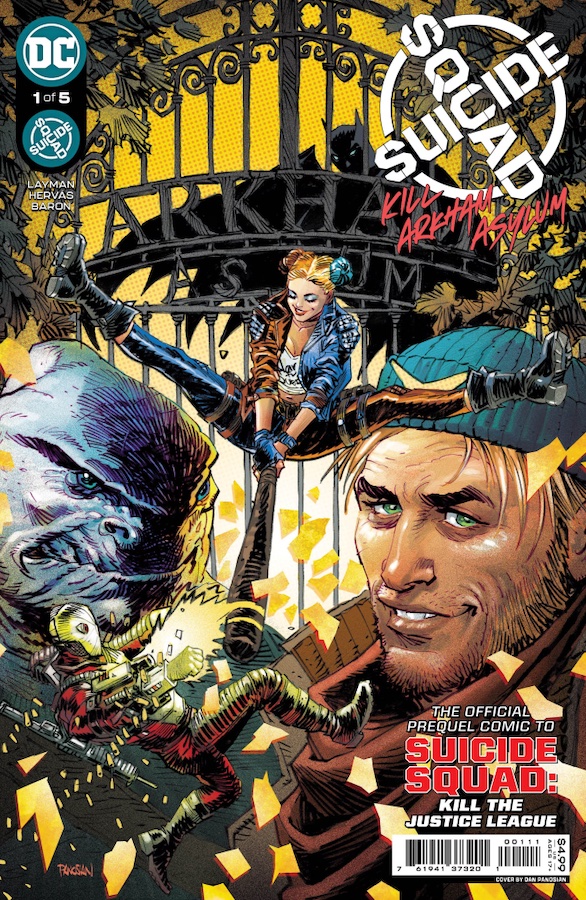 SUICIDE SQUAD: KILL ARKHAM ASYLUM #1
(W) JOHN LAYMAN (A) JESUS HERVAS (CA) DAN PANOSIAN
Join us for this thrilling prequel to the upcoming videogame Suicide Squad: Kill the Justice League, and witness them kill Arkham Asylum! Amanda Waller has taken control of the recently rebuilt Arkham, and her brutal tactics and merciless methods have led to the most secure asylum Gotham has ever known. But when the cell doors open, and the inmates are left in a freefor-all deathmatch, Waller's true intentions reveal themselves: identify the strongest, smartest, and most brutal to serve her on Task Force X. Each issue includes a code for a bonus digital token in Suicide Squad: Kill the Justice League inspired by the comic.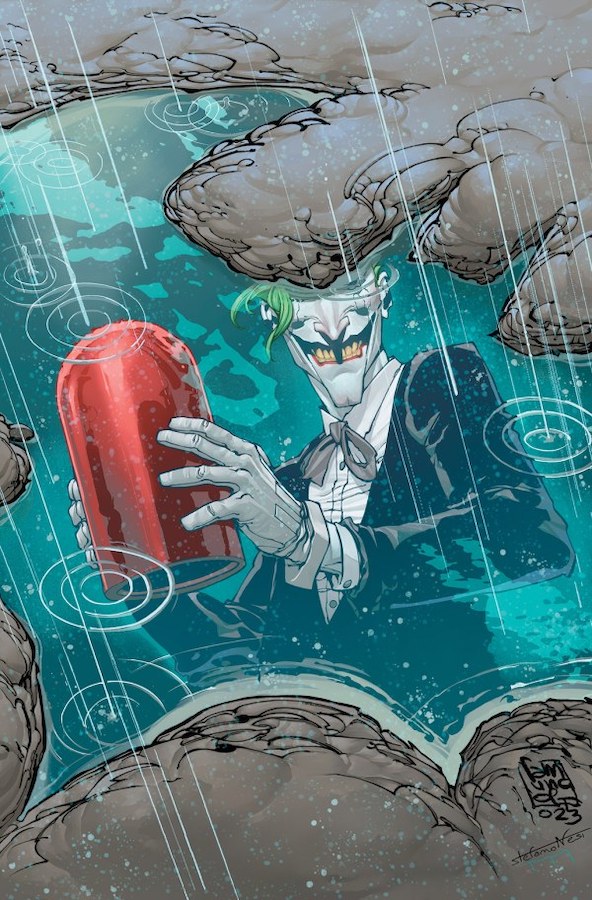 (W) CHIP ZDARSKY (A) GIUSEPPE CAMUNCOLI, STEFANO NESI & ANDREA SORRENTINO (CA) GIUSEPPE CAMUNCOLI & STEFANO NESI
The tragic "death" of the leader of the Red Hood Gang in a vat of chemicals has become the subject of myth… but what is the heartbreaking and gruesome tale of the monster who walked away from that violent birth? And how does it affect Batman's distant future? A Three-Part Weekly Event unfolding in February 2024. "The Joker Year One" begins here!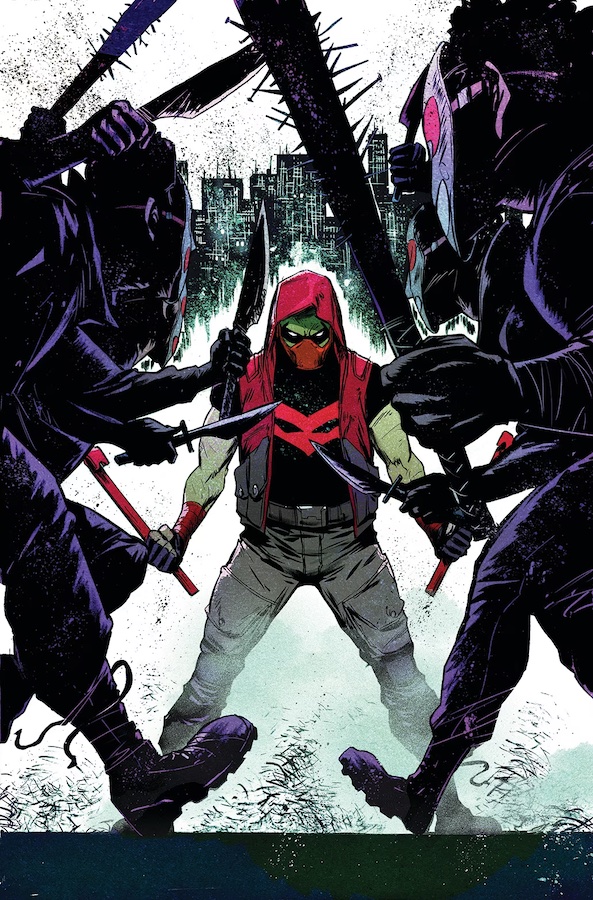 (W) SHAWN MARTINBROUGH (A/CA) SANFORD GREENE
Welcome to the Hill, formerly one of Gotham's most dangerous suburbs, a place that required its residents to band together to keep themselves safe when the police, and sometimes even Batman, wouldn't. Now, as the Hill finds itself gentrifying, old habits die hard as the vigilante known only as Strike works with her team to keep the town safe… but she's not alone. Jason Todd, one of the Hill's newest residents, is more than happy to don the visage of Red Hood to help Strike keep his new home safe. But a new villain is emerging from the shadows. Will Red Hood, Strike and the Hill's small militia of vigilantes be able to keep their home safe? Check out Red Hood's return to find out!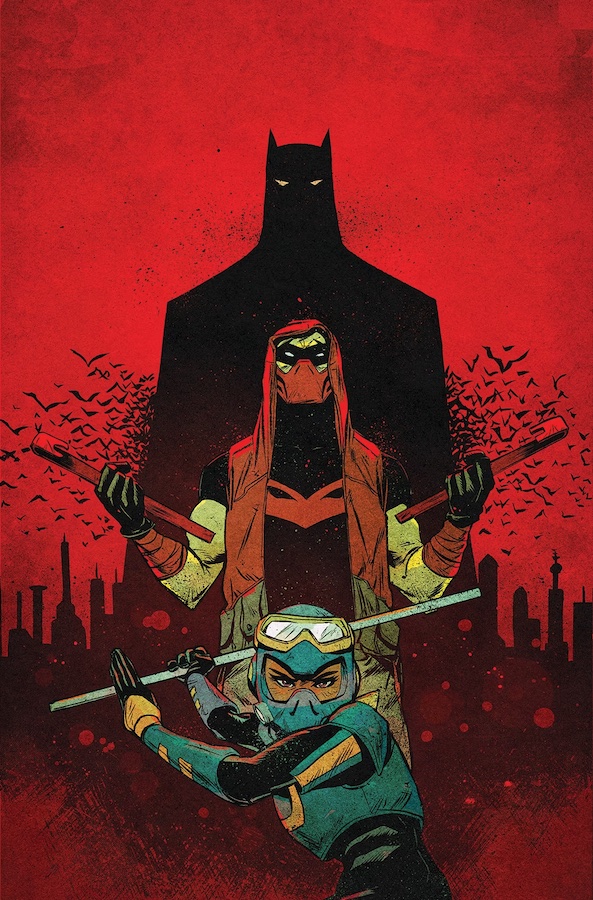 (W) SHAWN MARTINBROUGH (A) TONY AKINS & MORITAT (CA) SANFORD GREENE
Before you embark on Red Hood's newest adventure in the Hill, experience the story that introduced Jason to his new home! As The Joker War ravages Gotham, a new vigilante group has formed to protect their turf, and Red Hood finds himself caught in the crossfire! This thrilling tale collects Red Hood: Outlaw #51 and #52, and is essential reading to get you ready for all hell to come to the Hill in Red Hood: The Hill!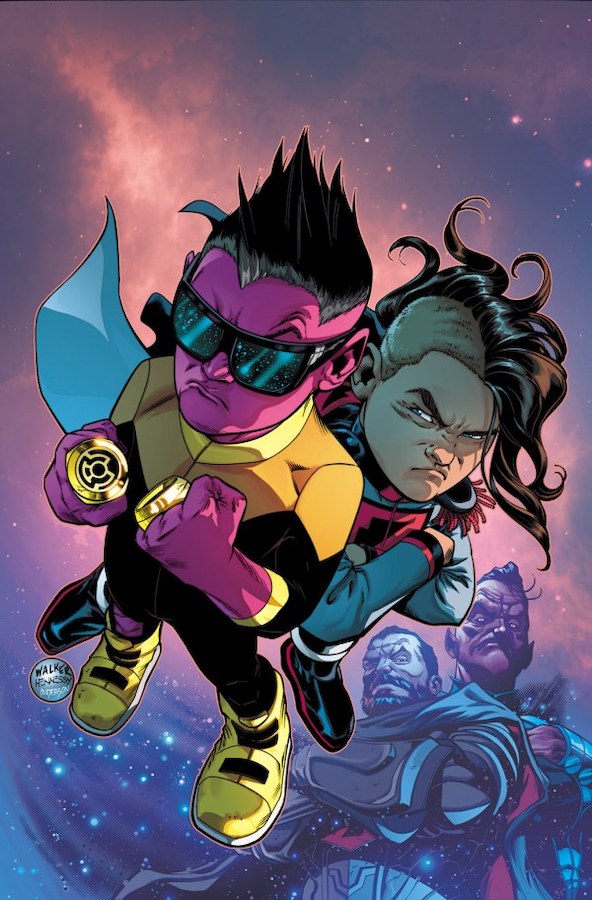 (W) PETER J. TOMASI (A) DAVID LAFUENTE (CA) BRAD WALKER & ANDREW HENNESSY
They're bad to the bone, ready to brawl, and the sons of two of the deadliest villains in the galaxy: they're the Sinister Sons and the DC Universe will never be the same! When the son of General Zod was cast off of his adopted homeworld of New Kandor, Lor-Zod runs afoul of a kid on a mission: Sinson is out to prove he's got what it takes to live up to the family name of Sinestro! But all is not as it seems, and the sons' journeys will take them into the heart of darkness in this sensational first issue! Superstar Super Sons scribe Peter J. Tomasi returns to the world of DC youth once again, joined by fan-favorite artist David Lafuente, to craft one of the most dynamic debuts of a duo in DCU history!
Graphic Novels & Collected Editions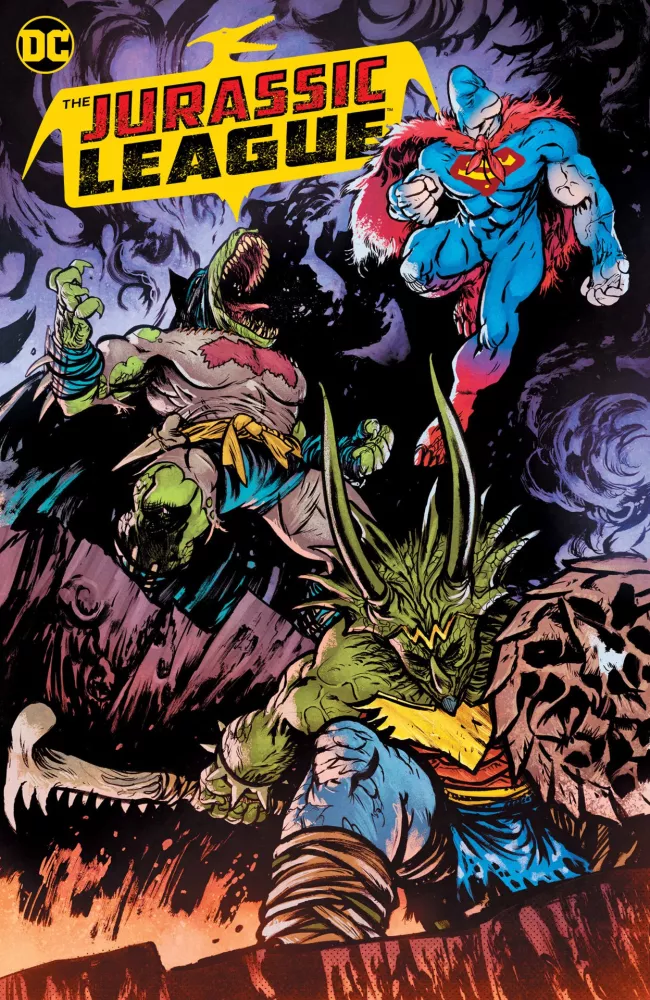 (W) JUAN GEDEON & DANIEL WARREN JOHNSON (A) JUAN GEDEON, RAFA GARRES & JON MIKEL (CA) DANIEL WARREN JOHNSON & MIKE SPICER
You know the story: an infant escapes the destruction of its home planet and is deposited on Earth to be raised by human parents. A goddess from a lost city defends truth. A Tyrannosaurus rex dons the visage of a bat to strike fear into evildoers' hearts. This heroic trinity, alongside a league of other super-powered dinosaurs, join forces to save a prehistoric Earth from the sinister machinations of Darkyloseid. Wait… what? Okay, maybe you don't know the story. Witness this brand-new, yet older-than-time, adventure and experience the Justice League as you've never seen them before!
Collects The Jurassic League #1-6.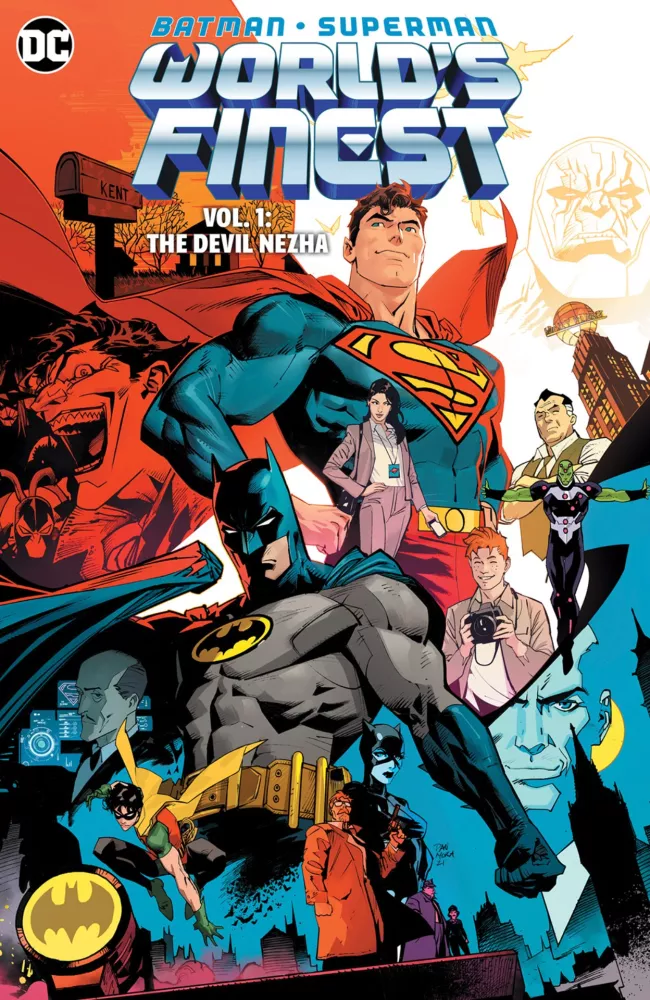 BATMAN/SUPERMAN: WORLD'S FINEST VOL. 1: THE DEVIL NEZHA TP
(W) MARK WAID (A/CA) DAN MORA
In the not-too-distant past, Superman's powers are supercharged from a devastating chemical attack by the villain Metallo… and the only ally that the ultra-powerful Man of Tomorrow can turn to in this turbulent hour is Gotham's vengeful dynamic duo: Batman and Robin! A nearly fatal burst of power drives Bruce Wayne to his own extreme measures to help his friend… enlisting none other than the Doom Patrol for aid.
Collects Batman/Superman: World's Finest #1-5 and the critically acclaimed World's Finest prelude story from Detective Comics #1050.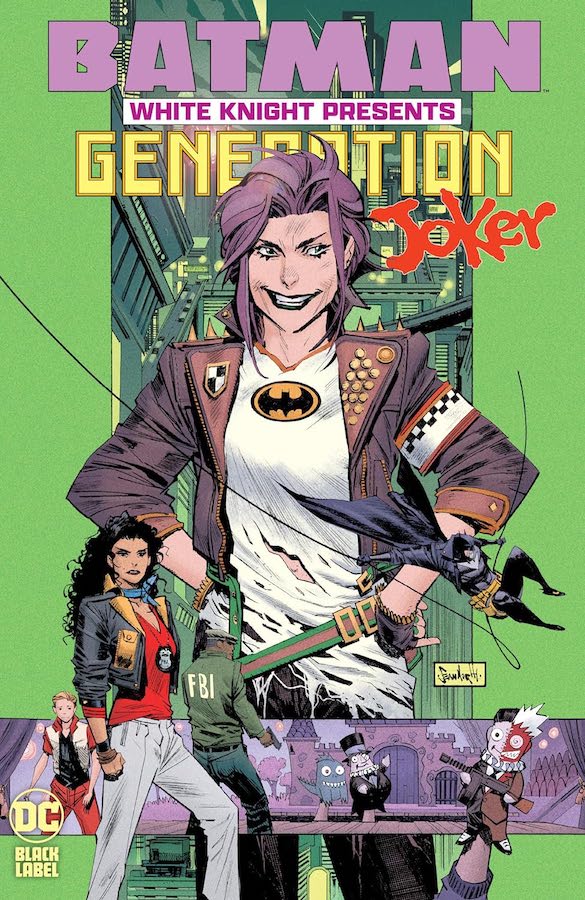 BATMAN: WHITE KNIGHT PRESENTS: GENERATION JOKER HC
(W) KATANA COLLINS, CLAY McCORMACK, & SEAN MURPHY (A) MIRKA ANDOLFO (CA) SEAN MURPHY
Spinning out of the runaway hit Batman: Beyond the White Knight comes an unforgettable coming-of-age super villain tale starring the children of Harley Quinn and The Joker! When the rebellious twins run away in a stolen Batmobile, only Joker Jack Napier's quickly fading hologram has any hope of getting them home safely and keeping them out of the family business. But a life of crime isn't the only temptation they are facing: the kids uncover a dark secret that could bring their dad back to life for good! With a wild array of Batman's former enemies and allies on their tails, will the kids succeed in reviving the Dark Knight's greatest foe? Find out as Jackie and Bryce take center stage in the White Knight Universe!
Collects BATMAN: WHITE KNIGHT PRESENTS: GENERATION JOKER#1-6.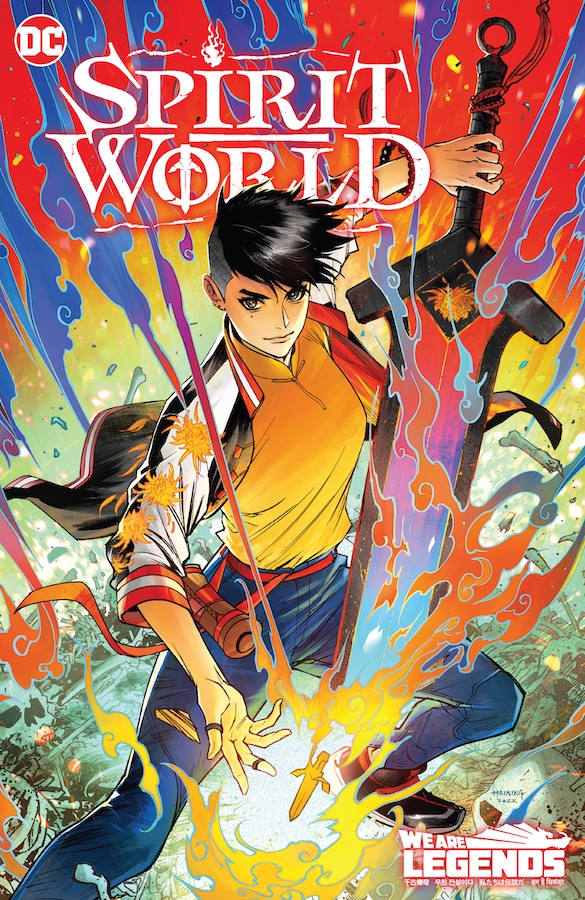 (W) ALYSSA WONG (A/CA) HAINING
Follow the adventures of Xanthe Zhou, a non-binary Chinese hero with the ability to travel between the land of the living and the realm of the dead! Xanthe possesses the ability to burn items folded from ceremonial joss paper and turn them into real objects. Their weapon of choice? A magical broadsword, because who doesn't love a big sword when you can choose to wield a big sword?! With Batgirl trapped in the Spirit World, Xanthe forms a reluctant alliance with DC's bad boy of the mystic arts, John Constantine, to embark on a search and rescue mission! Will Xanthe, Cassandra Cain & Constantine become permanent residents of the land of the dead? Spirit World comes to life in the hands of beloved comics and sci-fi author Alyssa Wong and rising star illustrator Haining! 
Collects Spirit World #1-6 as well as Xanthe's stories from Lazarus Planet: Dark Fate #1 and DC Pride 2023!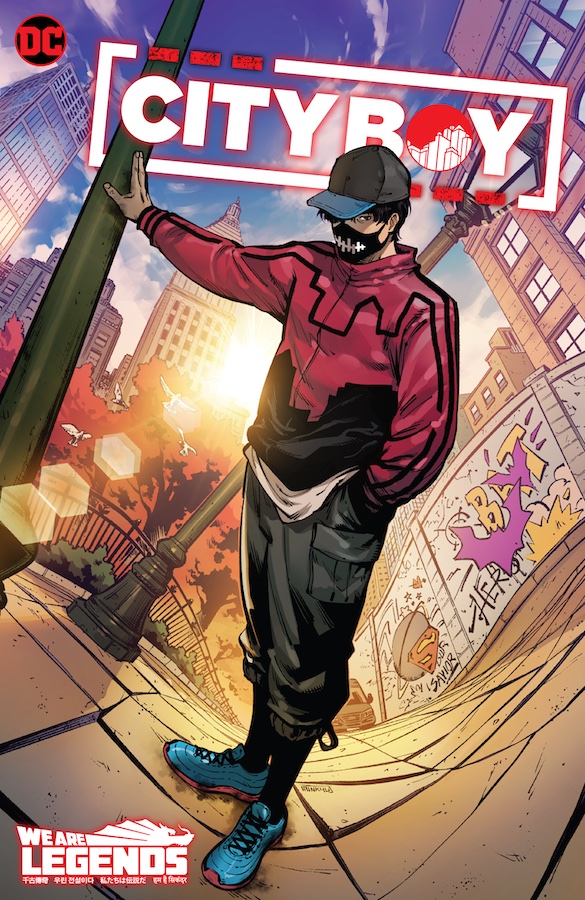 (W) GREG PAK (A) MINKYU JUNG (CA) MINKYU JUNG & SUNNY GHO
Meet a new Korean hero named… City Boy! Or at least, that's the best translation of what the cities call him. City Boy, a.k.a. Cameron Kim, is just getting by, using the powers the cities have offered him to find the lost, the missing, the valuable. But when the cities speak, it can be overwhelming. Especially when powerful human forces aligned with one of the DC Universe's greatest threats try to take control! He meets the dragon of Metropolis, the rat of Gotham, and the bat of Blüdhaven (along with some more familiar faces from those cities). City Boy is written by comics superstar Greg Pak and illustrated by Minkyu Jung, featuring Nightwing, Superman, and Swamp Thing!
Collects City Boy #1-6, plus Cameron's earliest appearances in Lazarus Planet: Legends Reborn #1 and the WildStorm 30th Anniversary Special.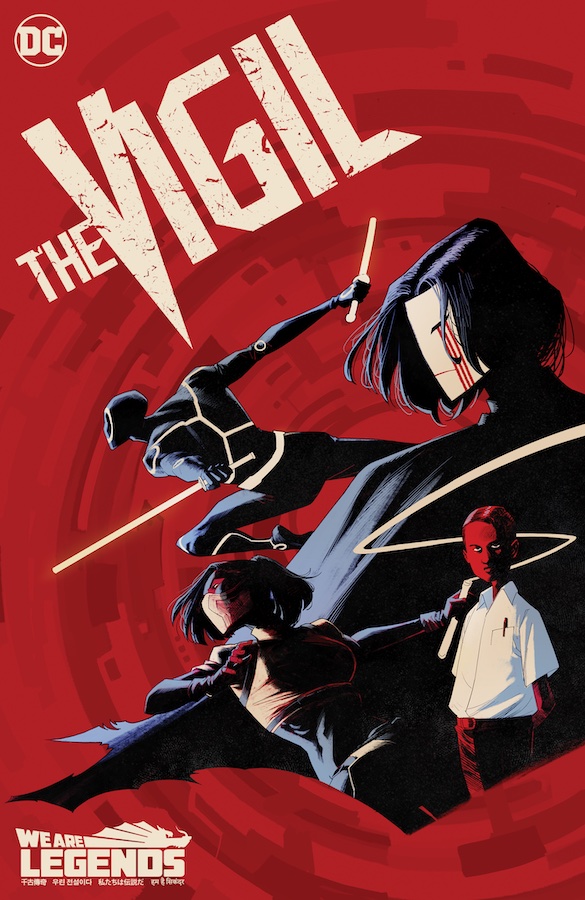 (W) RAM V (A) VARIOUS (CA) SUMIT KUMAR
Meet a mysterious new South Asian superteam operating in the shadows. Given powers they didn't want, determined to shut down metahuman research and weaponized illegal technology created for military applications at any cost. They'll encounter strange individuals that could be allies or enemies and clean up the mess before any hero or villain arrives, as if both the crime and the Vigil were never there. Written by Ram V (the acclaimed writer of Detective Comics, Catwoman, The Many Deaths of Laila Starr) and powerfully illustrated by Lalit Kumar Sharma (Daredevil, Firefly) and Devmalya Pramanik (Paradiso, Vampire: The Masquerade – Winter's Teeth)! Uncover a top-secret metahuman conspiracy in this enigmatic, reality-altering new adventure!
Collects The Vigil #1-6.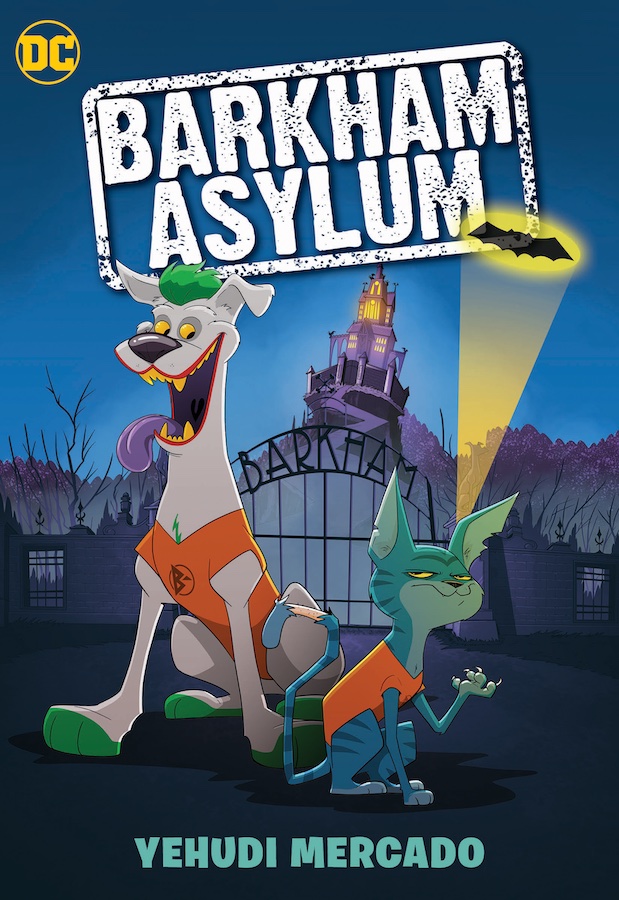 Who's a good boy? Jester is. Well, he wants to be. Maybe he is? He's The Joker's dog, so of course he's funny, but his sense of humor is about to be put to the test. Because when the super-villains of Gotham get thrown into Arkham, their henchpets go to the maximum-security pound known as Barkham Asylum. Being the Clown Prince of Crime's dog doesn't win Jester any friends behind bars, especially after he gets a tough-talking stray cat named Penny tossed into lockup with him. But they'll have to work together to figure out what the evil Warden Shar Pei's helper, Dr. Hugo Mange, is up to. And the only way to stop this terrifying team-up is to win the talent show and get visitation with their masters at Arkham on the hill. Because The Joker is sure to help! What could go wrong with that plan? And where does Gotham's premier playboy Bruce Wayne's butler, Alfred, fit in?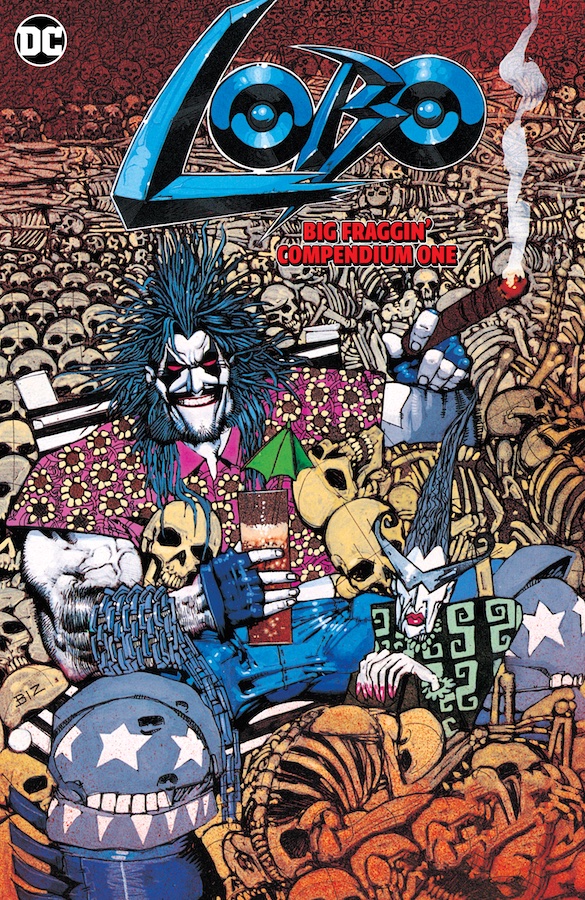 LOBO: BIG FRAGGIN' COMPENDIUM ONE TP
(W) VARIOUS (A) VARIOUS (CA) SIMON BISLEY
Everyone's favorite bastich gets his own series of fraggin' compendiums that are just as big and bombastic as the Main Man himself!
Collects Lobo #1-4, Lobo #0-9, Lobo Annual #1-2, Lobo Paramilitary Christmas Special #1, Lobo's Back #1-4, Lobo: Blazing Chain of Love #1, Lobo: Infanticide #1-4, Lobo: Portrait of a Victim #1, Lobo: Unamerican Gladiators #1-4, Lobo Convention Special #1, Lobo: A Contract on Gawd #1-4, Lobo: In the Chair #1, Green Lantern Corps Quarterly #8, Superman: The Man of Steel #30, The Demon #11-15, The Omega Men #3, profile pages from Who's Who #8, and the Lobocop #1 parody!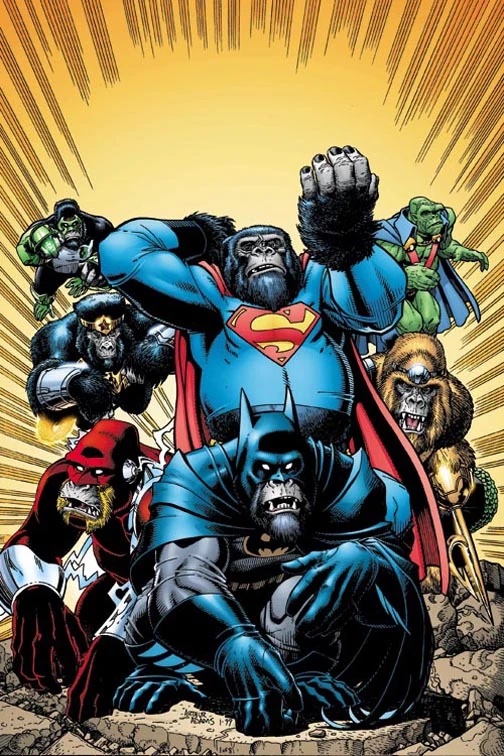 JLAPE: THE COMPLETE COLLECTION TP
(W) VARIOUS (A) VARIOUS (CA) ARTHUR ADAMS
Apes alive! When Solovar, leader of Gorilla City, is apparently assassinated by pro-human extremists, Gorilla City's new government declares war on humanity. Part of their plot involves turning the JLA into human-hating gorillas to help carry out their bidding. Now it's up to Batman (the only member who wasn't transformed, of course) and Martian Manhunter to find a cure for their banana-loving buddies and prevent all-out gorilla warfare from encompassing every civilization from Atlantis to Themyscira.
JLApe: The Complete Collection reprints the entire crossover from Legends of the DC Universe #19, JLA Annual #3, Batman Annual #23, Aquaman Annual #5, Wonder Woman Annual #8, The Flash Annual #12, Superman Annual #11, Green Lantern Annual #8, and Martian Manhunter Annual #2.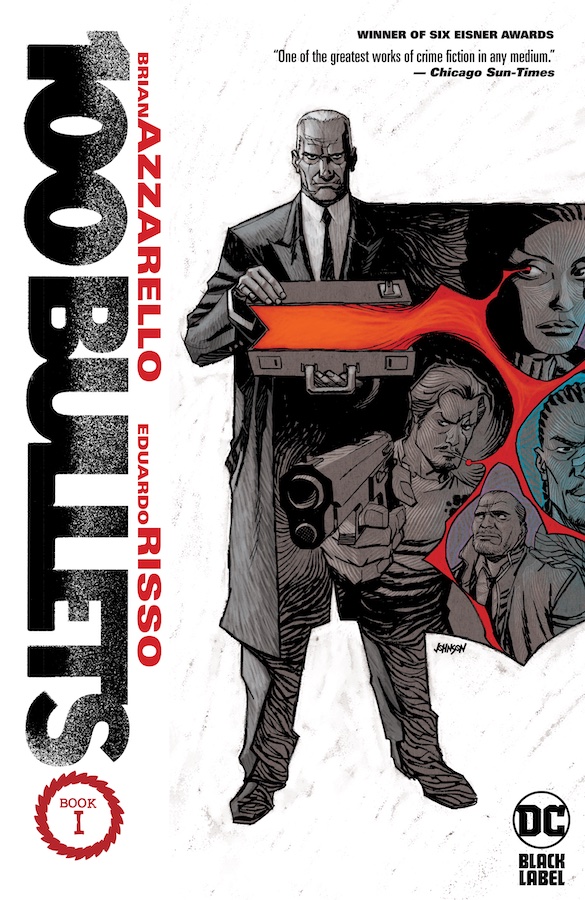 100 BULLETS BOOK ONE (2024 EDITION) TP
(W) BRIAN AZZARELLO (A/CA) EDUARDO RISSO
How far would you go for revenge? If you were given a chance at deadly retribution with a guarantee that the law could not touch you—in the form of a special briefcase containing an untraceable gun and 100 rounds of ammunition… would you take it? To the damaged and downtrodden, the offer is a once-in-a-lifetime chance to even their scores. But beyond the dilemma of whether to pull the trigger lies a deeper and even more troubling concern: just who is making these actions possible… and why?
Collects 100 Bullets #1-19 and a short story from Vertigo: Winter's Edge #3.
THE FLASH BY JOSHUA WILLIAMSON OMNIBUS VOL. 1 HC
(W) JOSHUA WILLIAMSON, TOM KING, MICHAEL MORECI & ROBERT VENDITTI (A) VARIOUS (CA) KARL KERSCHL
Superstar writer Joshua Williamson, along with artists Carmine Di Giandomenico and Howard Porter, sends Barry Allen, a.k.a. the Flash, on some of the wildest adventures of the modern age in this series spinning out of the DC Rebirth event. In a changed DC Universe, the Flash must face off against threats like he's never encountered before. His legendary Rogues Gallery of villains, Captain Cold, Mirror Master, Weather Wizard, and Heat Wave, have new surprises in store for him, while enemies old and new threaten at every turn.
This first volume in a new omnibus series collects The Flash: Rebirth #1, The Flash #1-35, Batman #21-22, Hal Jordan and the Green Lantern Corps #32, Justice League #32-33, and a story from DC Holiday Special 2017 #1 and features an introduction from Williamson and dozens of pages of behind-the scenes development art.
JUSTICE LEAGUE DARK: REBIRTH OMNIBUS HC
(W) JAMES TYNION IV & RAM V (A) VARIOUS (CA) ALVARO MARTINEZ BUENO
The last age of magic is upon us! Wonder Woman has gathered the DC Universe's greatest and strangest to form a new Justice League Dark to protect the world at any cost. But is it too late?
Collecting Justice League Dark #1-29; Justice League Dark Annual #1; Justice League Dark 2021 Annual; Justice League Dark/Wonder Woman: The Witching Hour #1; Aquaman #66; Black Adam: Endless Winter Special #1; The Flash #767, #777-779; Justice League #58, #72-74; Justice League: Endless Winter #1-2; Superman: Endless Winter Special #1; Teen Titans: Endless Winter Special #1; Wonder Woman #56-57; Wonder Woman/Justice League Dark: The Witching Hour #1; and stories from Justice League #59-71, Future State: Justice League #1-2, and Secrets of Sinister House #1.
If anything jumped out to you, remember to message us or let us know next time you're in the shop! You get a text the second it arrives in the shop and we place a copy aside just for you so you don't miss out!
We do these each month so keep an eye out for the next post!
Have a great month and happy reading 💚