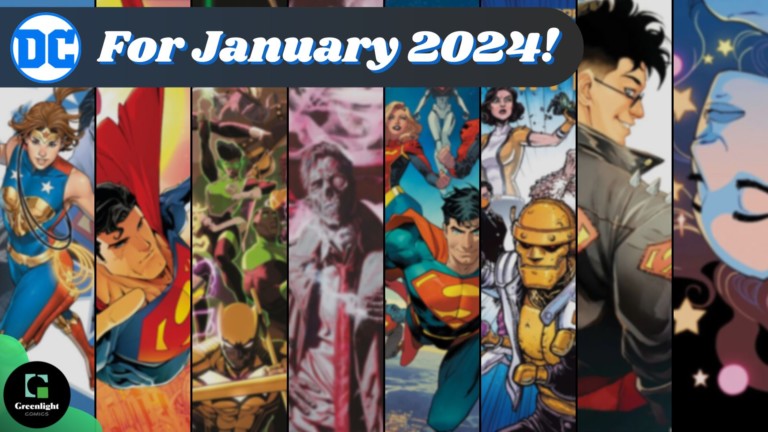 The new issue of DC Comics Preview catalog DC Connect has arrived! Here is our breakdown of the new comics series to jump on, plus what collected editions are arriving from January 2024! You can find the rest of our Previews Picks for other Comics & Manga, as well as Marvel Comics future releases over on the blog!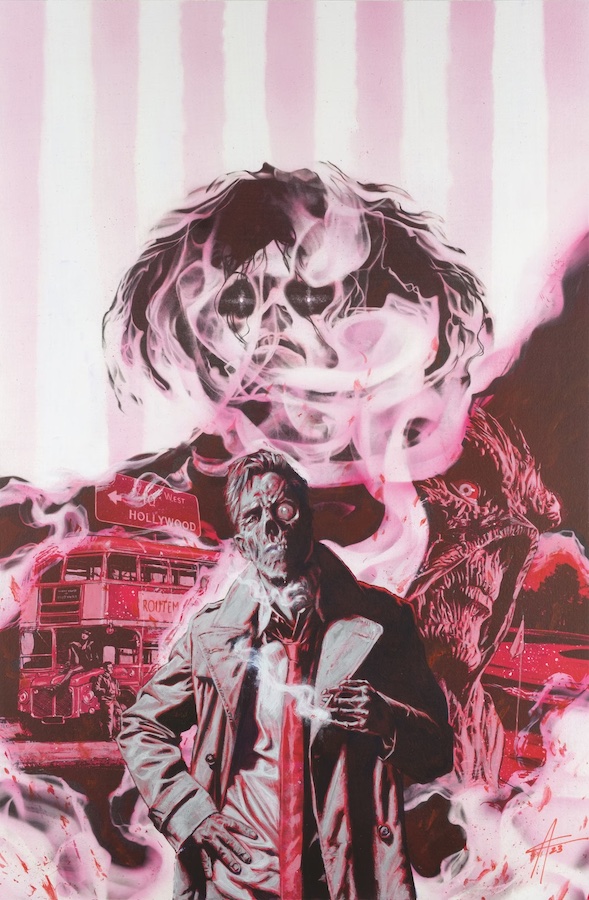 JOHN CONSTANTINE, HELLBLAZER: DEAD IN AMERICA #1
(W) Si Spurrier (A/CA) Aaron Campbell
John Constantine has cheated death once again—but his heart's not beating, his body is decaying, and he, his friend Nat, and his son Noah are on the run in America, wanted for murder. Naturally, it's all John's fault—it always is. But as it turns out, Dream himself needs John's help. Something terrible has taken root in America, and it's using the sand from Dream's pouch to impose its will. If John can put a stop to it, he might be able to parlay that favor into a chance to save all their lives—but he's going to need help from someone he hasn't spoken to in years. Someone he wasn't always… all that kind to. Someone… or some… Thing? Spurrier and Campbell's first run on Hellblazer was the best-reviewed comic of 2020, reintroducing the character to a new generation, and their second act, told in extra-length 28-page issues, is ambitious and unmissable!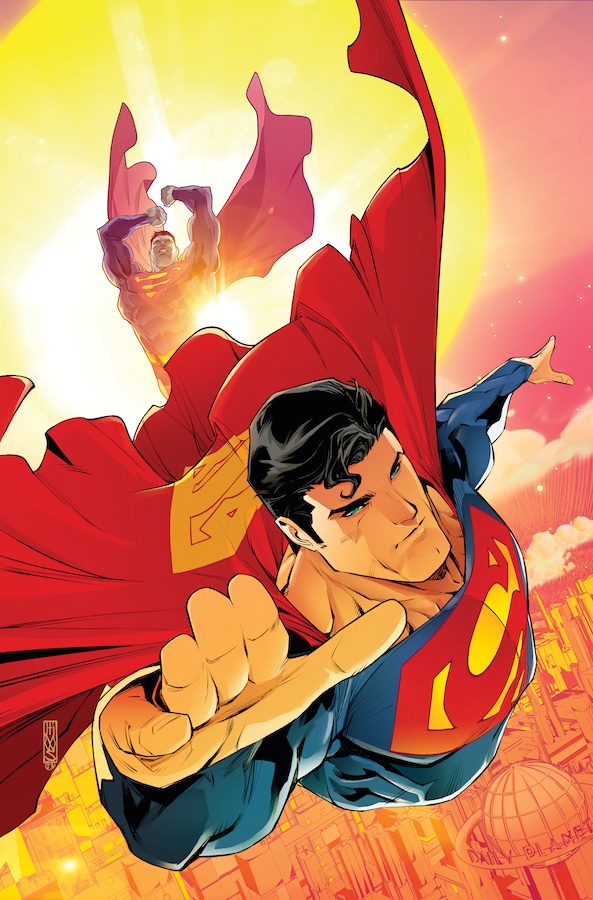 (W) Jason Aaron (A/CA) John Timms
THE WIZARD, BIZARRO! Jason Aaron writes Superman for the very first time, teaming up with all-star artist John Timms to present a startling new vision of the Man of Steel's strangest foe. When Superman's doppelgänger discovers a dark secret about himself, it unleashes the most dangerous version of Bizarro the world has ever seen.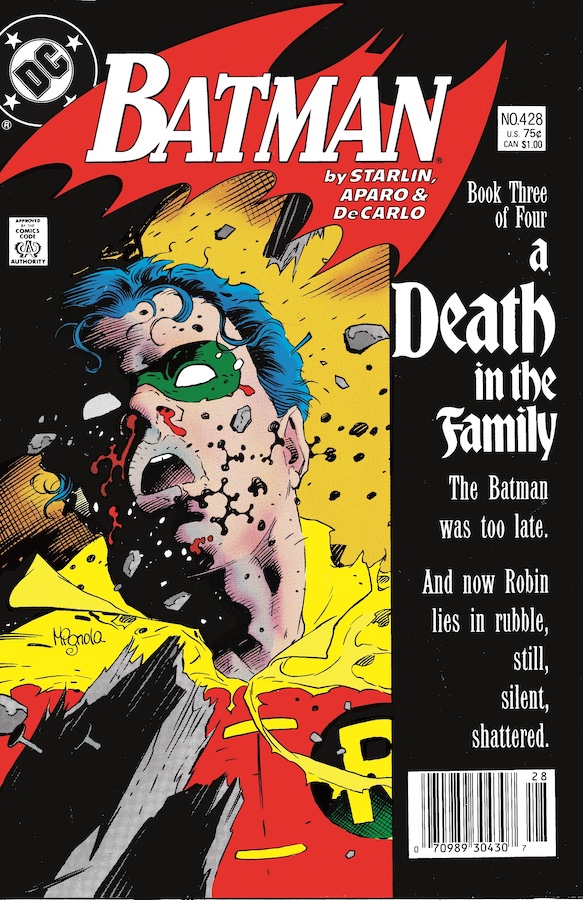 BATMAN #428: ROBIN LIVES!
(W) Jim Starlin (A) Jim Aparo & Mike DeCarlo (CA) Mike Mignola
Thirty-five years ago, fans voted on Jason Todd's fate after his brutal encounter with The Joker. But suppose fans had voted differently… DC Comics transports you back in time with this special "faux-simile" edition of Batman #428 in which Robin lives! Featuring pages reconstructed from artist Jim Aparo's alternate art boards, which have been plucked from the DC vault and fully restored and remastered, this reedited version of "A Death in the Family, Book Three" turns the Dark Knight's greatest tragedy into a moment of triumph. Adding to the immersive authenticity of this alternate-history comic book, this version includes all the ads from the original 1988 edition plus a rewritten letters column.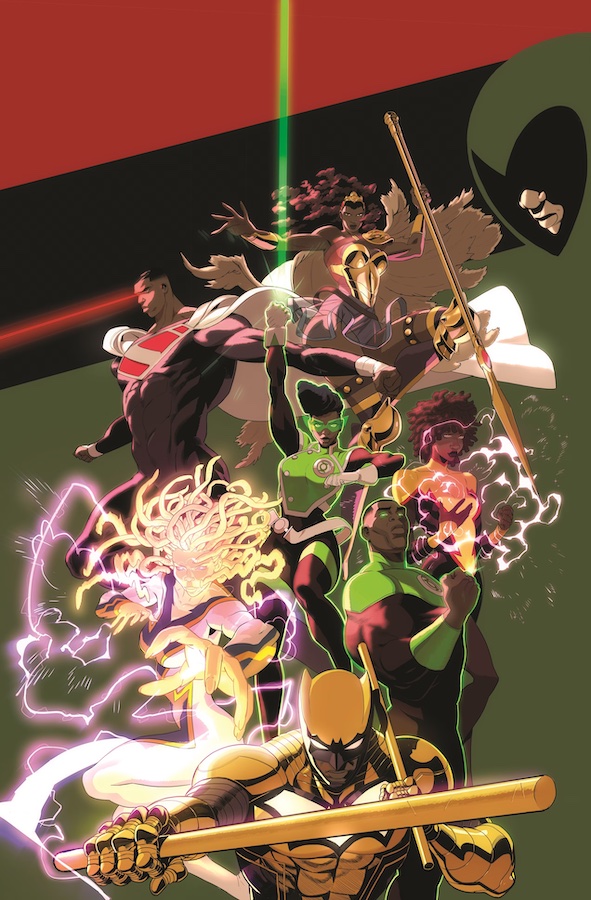 (W/A) Various (CA) Chase Conley
DC Power returns for round two with brand-new stories spotlighting Black characters from across the DC Universe by an all-star cast of writers and artists! N.K. Jemisin and Jamal Campbell return to the Hugo Award–winning world of Far Sector for an epilogue featuring the first meeting between Jo Mullein and John Stewart! The Signal, Duke Thomas, finds inspiration from an unlikely ally. Crispus Allen searches for purpose outside of being the Spectre—and goes to Renee Montoya for guidance! Thunder and Lighting (Anissa and Jennifer Pierce), cause sparks to fly at a community event crashed by the Condiment King; Raphael Arce learns the secret origin of the original Bloodwynd; Val-Zod, Earth-2's Superman, contemplates the balance between his pacifist philosophy and protecting the people of his universe; and Nubia teams up with… Mr. Mxyzptlk?! All these stories and more, just in time for Black History Month!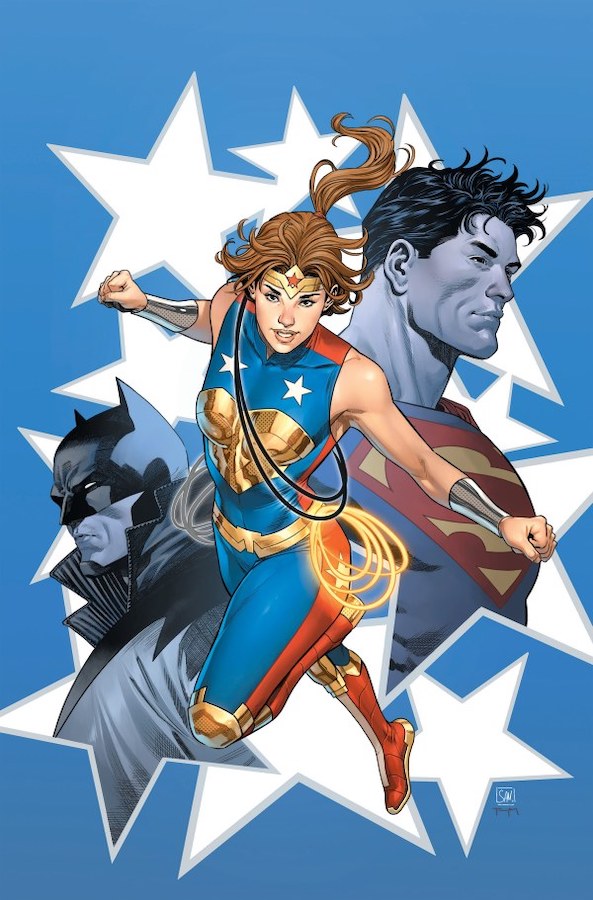 (W) Tom King (A) Belen Ortega & Daniel Sampere (CA) Daniel Sampere
Featuring DC's brightest new star, Trinity! Discover Lizzie's earliest adventures as she takes the world of heroes by storm! Reprinting the character's first appearance alongside hilarious tales of the little Amazon and her Super Son babysitters, this special will be an instant classic for fans old and new. Plus, a brand-new story from the all-star creative team behind Wonder Woman that will tease the future of Diana's daughter!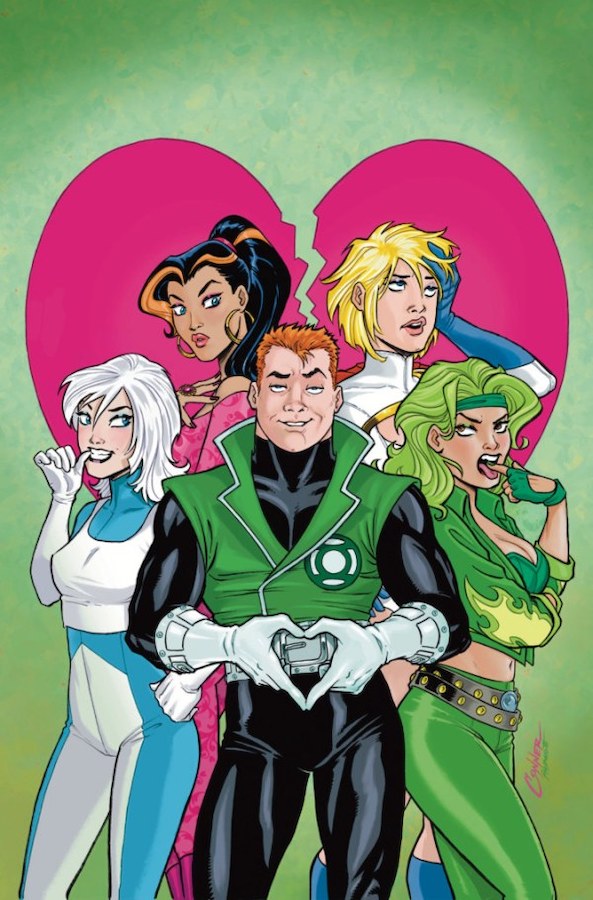 DC'S HOW TO LOSE A GUY GARDNER IN 10 DAYS
(W/A) Various (CA) Amanda Conner
Romance is rarely a simple affair—love is almost always followed by some sort of conflict. Whether you're Plastic Man twisting yourself into knots trying to please someone, or the Flash traveling back in time to make a catastrophic 50 first dates perfect, or even a lonely robot who just can't seem to find love unless it's mail from a computer screen, like Red Tornado, love actually is… a pain in the 27 dresses. So in the grand tradition of these dating conundrums a la rom-coms of the '90s and '00s, we are proud to present eight new stories about love and trying to find it in this zany world.
Graphic Novels & Collected Editions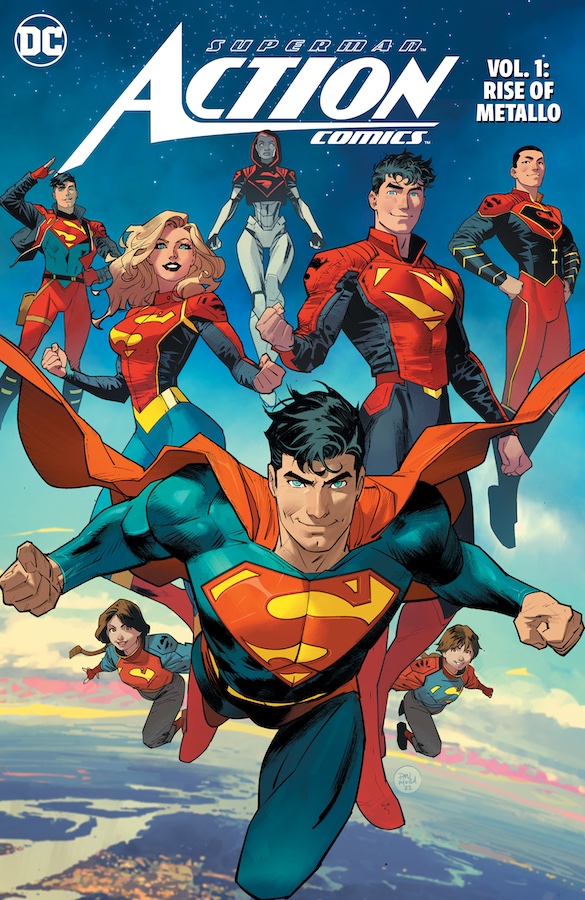 SUPERMAN: ACTION COMICS TP VOL. 1 - RISE OF METALLO
(W) Phillip Kennedy Johnson (A) Rafa Sandoval & Max Raynor (CA) Dan Mora
In a critical time for Metropolis, the increasingly violent Blue Earth movement is keeping the entire Super-Family on their toes. The opening of the new Steelworks tower—meant to be a bastion of scientific innovation—has drawn unwelcome attention from a supercharged Metallo. Where did he get this newfound super-strength, and why does he seem hell-bent on revenge? Is Lex Luthor's jealousy to blame for this assault on the city, or are there other factors at play? And when the Super-Twins find themselves alone against Metallo's undead army, the Necrohive, it's an epic rematch for the ages.
Collects the lead stories from Action Comics #1051-1056.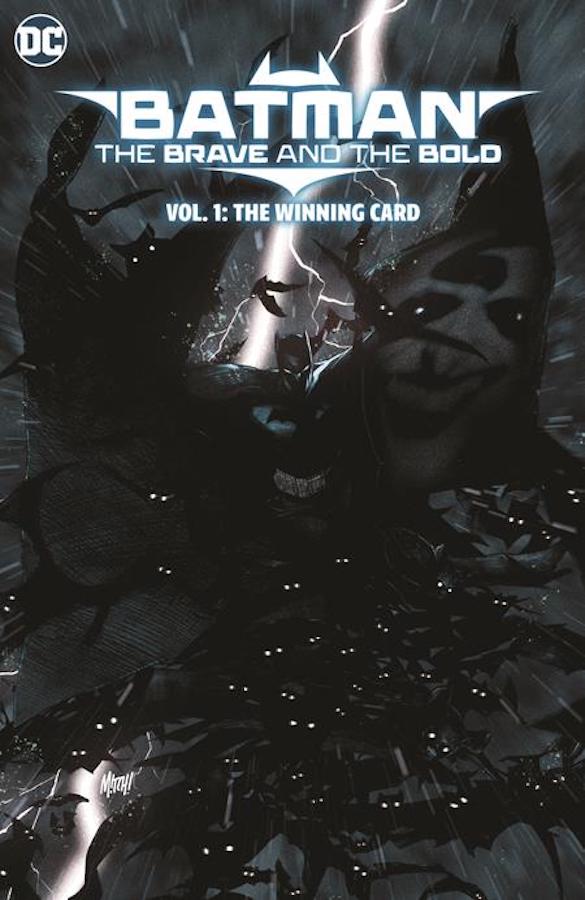 BATMAN: THE BRAVE AND THE BOLD TP VOL. 1 - THE WINNING CARD
(W) Tom King (A/CA) Mitch Gerads
Prepare yourself for a shockingly brutal retelling of the first bloody clash between The Joker and the Batman! Detective Jim Gordon must call on the mysterious Dark Knight to help investigate the latest string of murder and mayhem terrorizing Gotham City. But what will it take to find the culprit behind these darkly comedic antics, and what will the repercussions be for everyone involved? The Eisner Award-winning team of Tom King and Mitch Gerads reunite to give life to what may be the most frightening Joker story in a generation!
Collects King and Gerads's The Winning Card storyline from Batman: The Brave and the Bold #1-2, #5, and #9.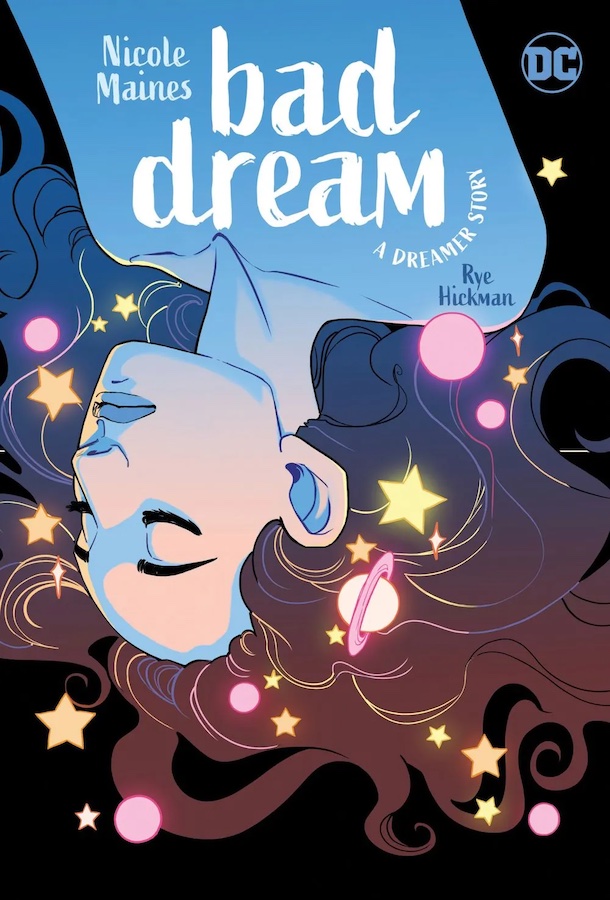 BAD DREAM: A DREAMER STORY GN
(W) Nicole Maines (A/CA) Rye Hickman
Dreamer's origin story has finally arrived, featuring characters from Galaxy: The Prettiest Star in DC's first YA crossover!! Nia Nal's spent her whole life taking a back seat to her older sister, Maeve, who's expected to inherit their mother's Naltorian powers—the ability to see the future through dreams. But when Nia starts having visions of the future, she must suppress her powers to protect her relationship with her sister. There's only one problem: Nia can't stay awake forever… From actress, activist, and writer Nicole Maines, who originated the role of Dreamer—the first trans superhero on TV—and artist Rye Hickman comes the highly anticipated origin story of a girl who must accept her destiny to discover she's more powerful than she could ever dream of.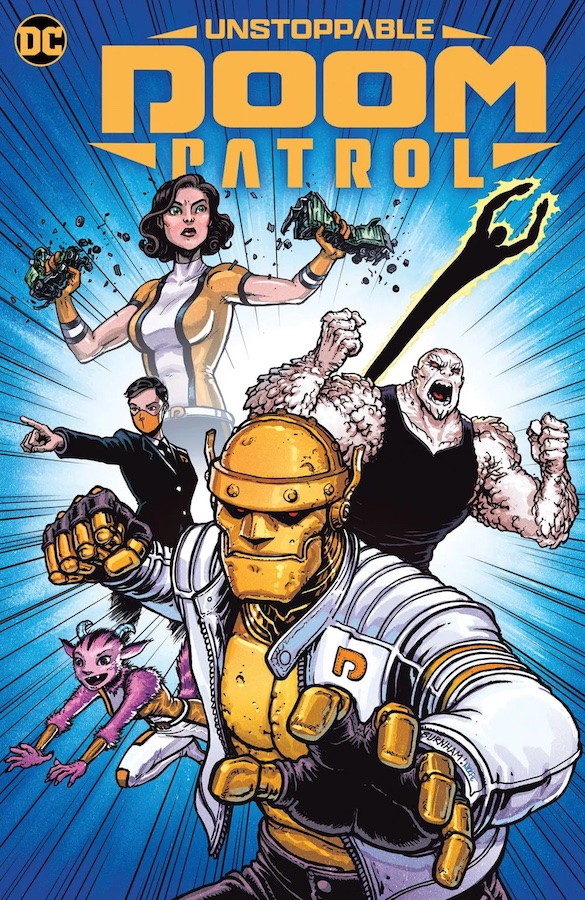 UNSTOPPABLE DOOM PATROL TP
(W) Dennis Culver (A) Chris Burnham & David Lafuente (CA) Chris Burnham & Nick Filardi
The World's Strangest Heroes are back! After the events of Lazarus Planet, more people than ever have active metagenes! Most of these new metahumans have become misfits, shunned and imprisoned by a fearful society. They are hidden away in the dark, lost to a system that only sees them as weapons or guinea pigs—ticking time bombs that can only be defused by the Unstoppable Doom Patrol! Led by Crazy Jane's mysterious new alter known as the Chief, Robotman, Elasti-Woman, and Negative Man are joined by their brand-new teammates Beast Girl and Degenerate on a mission to save the world—by saving the monsters!
Collects Unstoppable Doom Patrol #1-7 and the Doom Patrol story from Lazarus Planet: Dark Fate #1.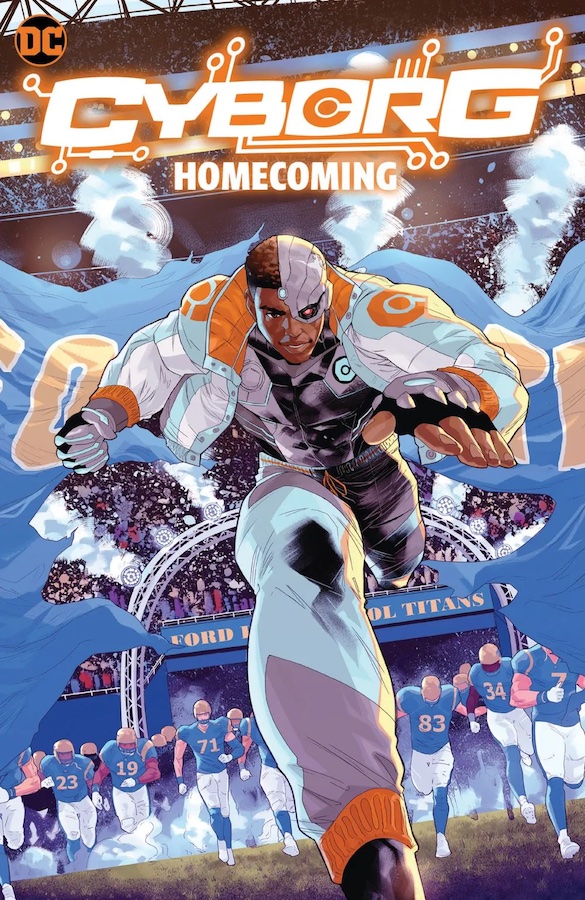 (W) Morgan Hampton (A) Various (CA) Edwin Galmon
When the death of his father, Silas Stone, brings Cyborg back home to Detroit, Victor Stone finds he enjoys returning to the simpler life—where everybody sees him for who he really is, rather than as a larger-than-life superhero. But in his absence, much has changed, including the introduction of a revolutionary artificial intelligence spearheaded by the suspicious new corporation Solace… and no one knows better than Cyborg that technological transformation always comes at a steep price! To make matters worse, familiar foes like Gizmo, Mammoth, and A.T.L.A.S. keep popping up across the city. Victor must work with an A.I. claiming to be his deceased father to resolve this mayhem in the Motor City! Milestone Initiative writer Morgan Hampton joins forces with veteran star artist Tom Raney to give Cyborg the Teen Titans animated series–inspired Dawn of DC epic he deserves!
Collects Cyborg #1-6 and the Cyborg story from DC Power: A Celebration.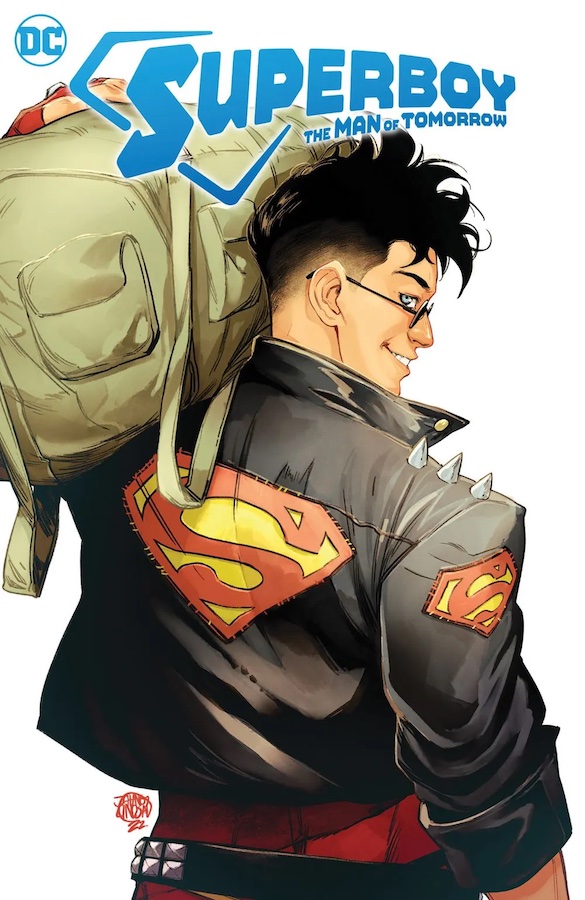 SUPERBOY: THE MAN OF TOMORROW TP
(W) Kenny Porter (A/CA) Jahnoy Lindsay
Conner Kent is back in the DC Universe! However, following the events of Dark Crisis, he feels like he doesn't fit in with the rest of the Superman Family—or the hero community at large—so what's a superhero to do? Take the fight for truth and justice to the stars, that's what! Using his bravado and swagger, Superboy sets out on the journey of a lifetime to carve his own path as a hero. What unexpected threats await as Conner discovers his new calling? And will an alliance with the Cosmoteers be enough to stop Dominator X when he unleashes his most monstrous creation yet… the hulking Infinity?!
Collects Superboy: The Man of Tomorrow #1-6.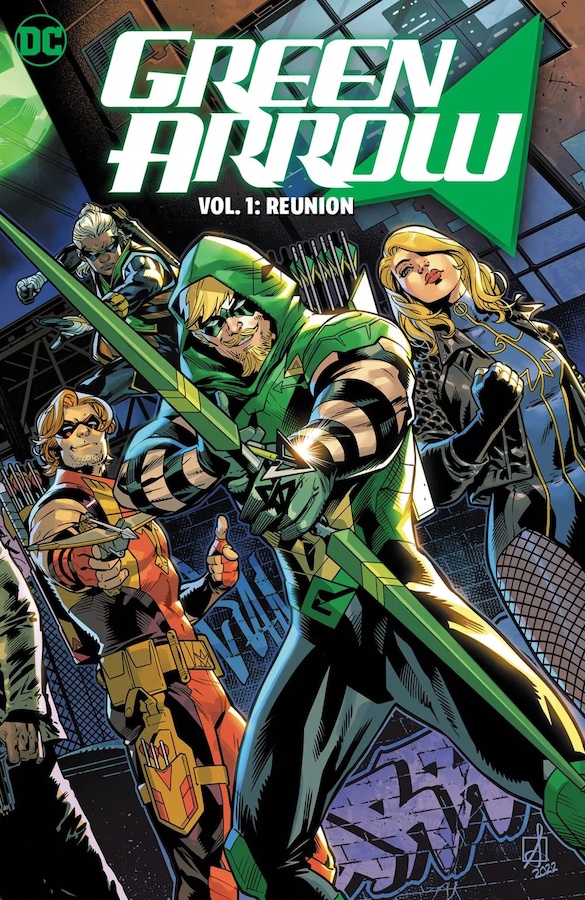 GREEN ARROW TP VOL. 1 - REUNION
(W) Joshua Williamson (A) Sean Izaakse (CA) Sean Izaakse & Romulo Fajardo Jr.
The Emerald Archer is lost, and Oliver Queen's whole family joins in on the search-and-rescue mission! Arsenal and Black Canary journey into the bowels of Belle Reve Prison and discover dangerous forces are determined to keep them apart at any cost. While the hunt is on, Oliver desperately tries to find his way back and is joined by some very unexpected old friends. Spinning out of Dark Crisis on Infinite Earths, Green Arrow by DC architect Joshua Williamson and artist Sean Izaakse is an action-packed adventure and a pivotal chapter in the Dawn of DC!
Collects Green Arrow #1-6.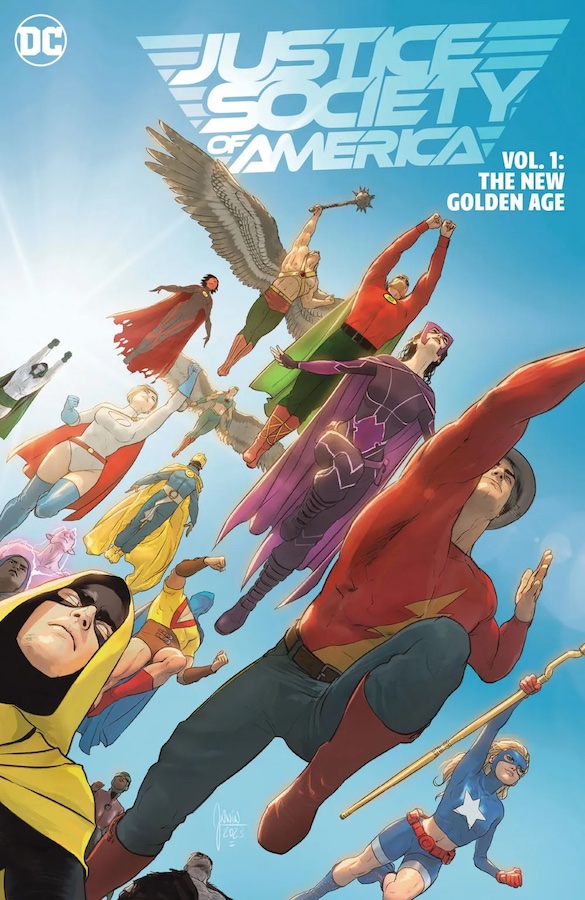 JUSTICE SOCIETY OF AMERICA TP VOL. 1 - THE NEW GOLDEN AGE
(W) Geoff Johns (A) Various (CA) Mikel Janín
The Justice Society of America is back, and the New Golden Age begins! The world's first and greatest superheroes return… or do they? A mysterious and malevolent enemy has invaded the entire history of the JSA, and an all-new team must come together to defeat it. But when the Huntress and the JSA team up with Stargirl and the lost children, how will they handle coming face-to-face with sidekicks they didn't realize existed?! Can the two groups come together and find their rhythm, or will it be curtains for both? What happens here has massive ramifications for the next stage of the New Golden Age! Comics legend Geoff Johns returns to DC's original superhero team in this new series.
Collects The New Golden Age #1 and Justice Society of America #1-7.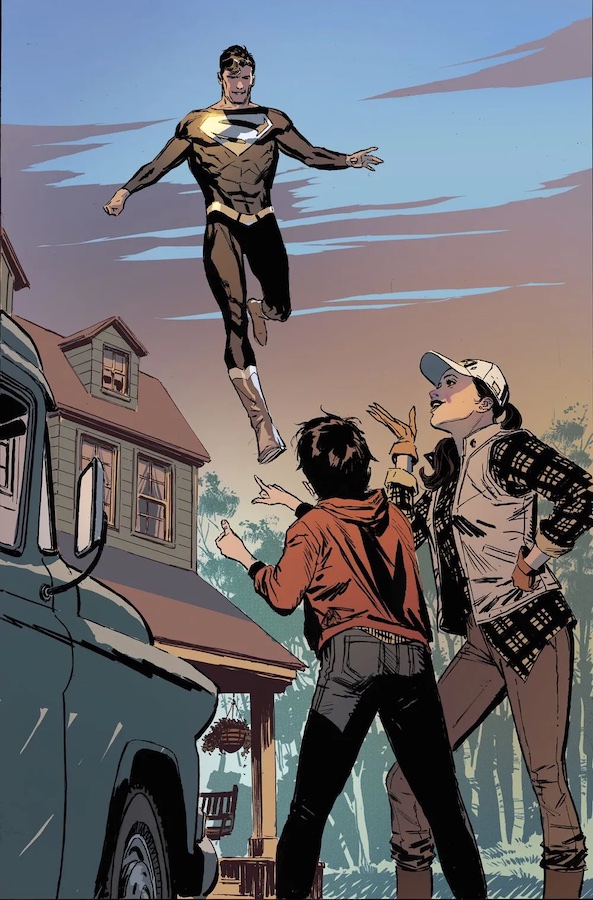 SUPERMAN: LOIS AND CLARK TP - DOOM RISING
(W) Dan Jurgens (A) Lee Weeks, Dan Jurgens, Brett Breeding, & Norm Rapmund (CA) Lee Weeks & Elizabeth Breitweiser
Picking up where Superman: Lois & Clark left off, young Jon Kent is growing into his powers on the Kent farm when an otherworldly princess crash-lands in search of Superman's help. Will the two escape after suddenly being imprisoned and whisked across the galaxy? Plus, Lois and Clark are met with a villain connected to Doomsday called Doombreaker! Can Superman put down this new threat and save his son in time?
Collects stories from Action Comics #1051-1057 and The Death of Superman 30th Anniversary Special #1 that display a family dynamic unlike anything else!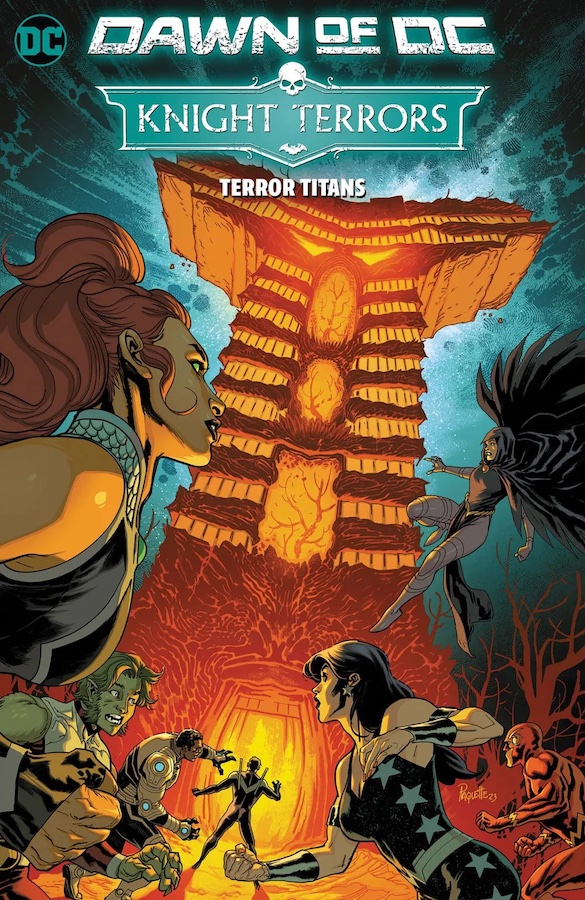 KNIGHT TERRORS: TERROR TITANS HC
(W/A) Various (CA) Yanick Paquette & Dave Mccaig
This frightening companion collection reveals how the Titans, Shazam, Black Adam, Angel Breaker, and Ravager navigate the terror of the Nightmare Realm! Join a perilous and dangerous journey into the Nightmare Realm with a powerless Black Adam. Then, it's double danger for Billy Batson because he and the Captain are each haunted by their own set of nightmares! And Mary Marvel won't emerge from her dreamscape the way she entered it… at least not if the Nightmare Captain has anything to say about it! The Titans come face-to-face with… the Terror Titans?! With nowhere left to turn, Ravager finds herself up against the Murder Man and his merciless Slaughter Squadron. And as heroes across the world succumb to nightmares, Angel Breaker might be the final girl still awake! Can she trust Raptor—a professional thief—to help her put an end to this never-ending nightmare?
This volume collects Knight Terrors: Titans #1-2, Knight Terrors: Shazam! #1-2, Knight Terrors: Black Adam #1-2, Knight Terrors: Angel Breaker #1-2, and Knight Terrors: Ravager #1-2.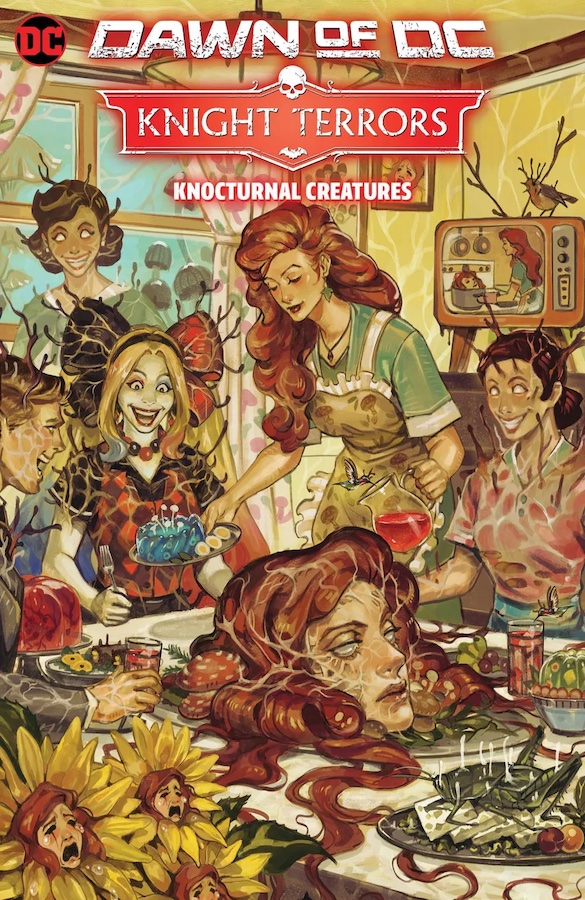 KNIGHT TERRORS: KNOCTURNAL CREATURES HC
(W/A) Various (CA) Jessica Lui Fong
This frightening companion collection reveals the bleakest horrors in the minds of Harley Quinn, Poison Ivy, The Joker, Punchline, and Zatanna! Enter the Harley Quinn Zone as Harley is confronted with the surreal and unsettling consequences of her choices! It's a suburban nightmare as Poison Ivy wakes up in the life that she never wanted! The Joker's worst fear becomes a reality: he's got a day job! Punchline confronts her long-suppressed fears in true horror-movie fashion! And Zatanna teams with Robotman of the Doom Patrol to defend the world from Insomnia's Sleepless Knights!
Collects Knight Terrors: Harley Quinn #1-2, Knight Terrors: Poison Ivy #1-2, Knight Terrors: The Joker #1-2, Knight Terrors: Punchline #1-2, and Knight Terrors: Zatanna #1-2.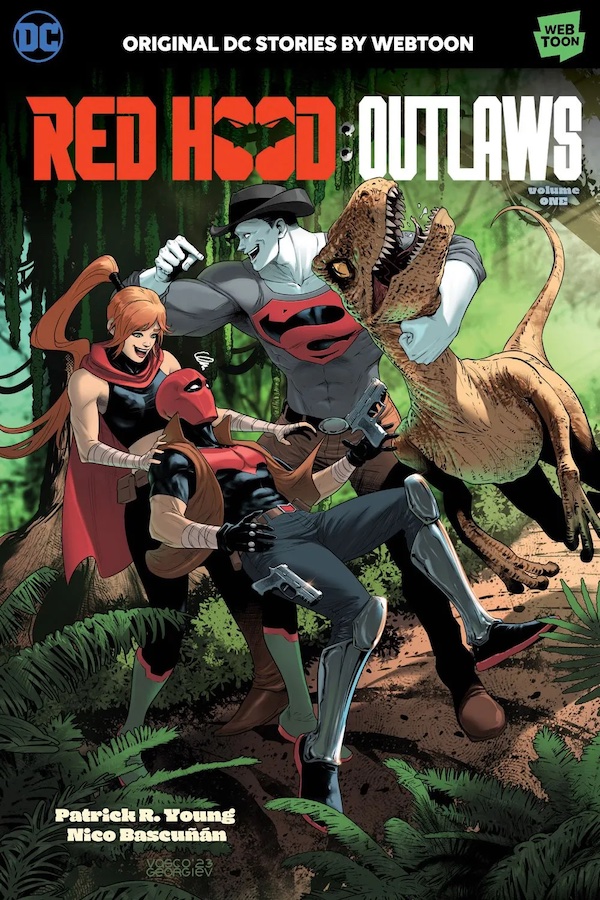 RED HOOD: OUTLAWS GN VOL. 01
(W) Patrick R. Young (A) Nico Bascuñán, Javier Rodríguez Véjares, & Sebastián Franchini (CA) Vasco Georgiev
As a former Robin, a former Wonder Woman, and, well, a bizarre Superman, Jason Todd, Artemis Grace, and Bizarro have always felt second best. That's why they formed the Outlaws: a skilled trio of heroes for hire. But when collecting an ancient idol from Dinosaur Island lands the Outlaws in hot water with the Justice League, Red Hood will have to lead his team to get it back and prove they're more than second-stringers.
Collecting episodes 1-10 of WEBTOON's smash-hit series, optimized for a brand-new reading experience in print.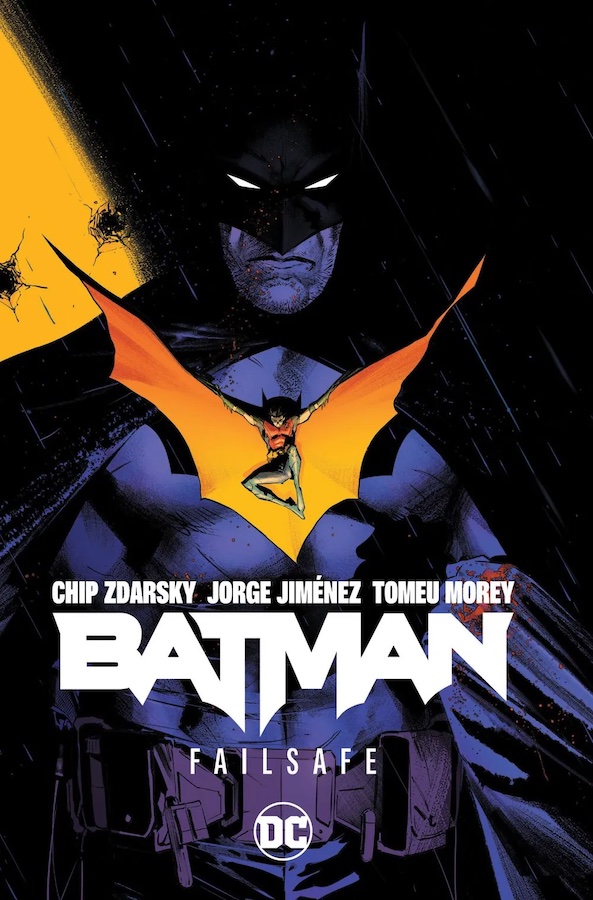 BATMAN BY CHIP ZDARSKY TP VOL. 01 - FAILSAFE
(W) Chip Zdarsky (A) Jorge Jiménez, Belén Ortega, & Leonardo Romero (CA) Jorge Jiménez
Superstar writer Chip Zdarsky joins red-hot artist Jorge Jiménez to define a new era in Batman with their critically acclaimed and bestselling Failsafe arc! Batman has battled all manner of criminals, monsters, and super-villains, but nothing could have prepared him for what's coming with Failsafe, an unstoppable foe that can outfight and outthink the Dark Knight. Could this all be connected to a dark secret in Bruce Wayne's past?
Collects Batman #125-130.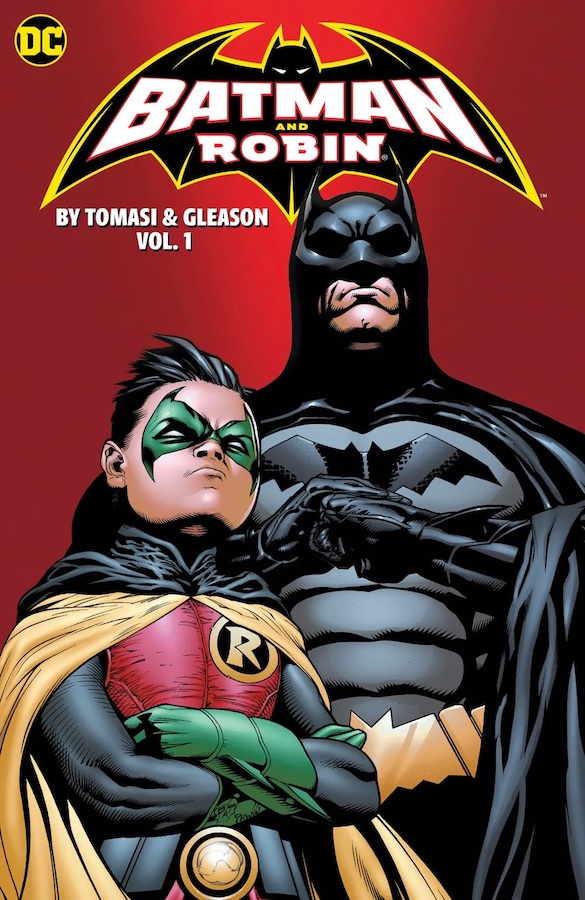 BATMAN AND ROBIN BY PETER J. TOMASI & PATRICK GLEASON TP BOOK ONE
(W) Peter J. Tomasi (A/CA) Patrick Gleason
Damian Wayne, the secret child of Bruce Wayne and his sworn enemy Talia al Ghul, was trained from birth to kill and raised to rule the world. At the age of 10, however, Damian turned his back on his mother's megalomaniacal ambitions and joined his father's crusade against crime. Since then, the precocious new Robin has chafed under the unfamiliar restraints imposed by Batman's strict moral code—and struggled to accept the unique comforts of his strange new family!
This first oversize softcover collects Batman and Robin (vol. 1) #20-22 and Batman and Robin (vol. 2) #0-14.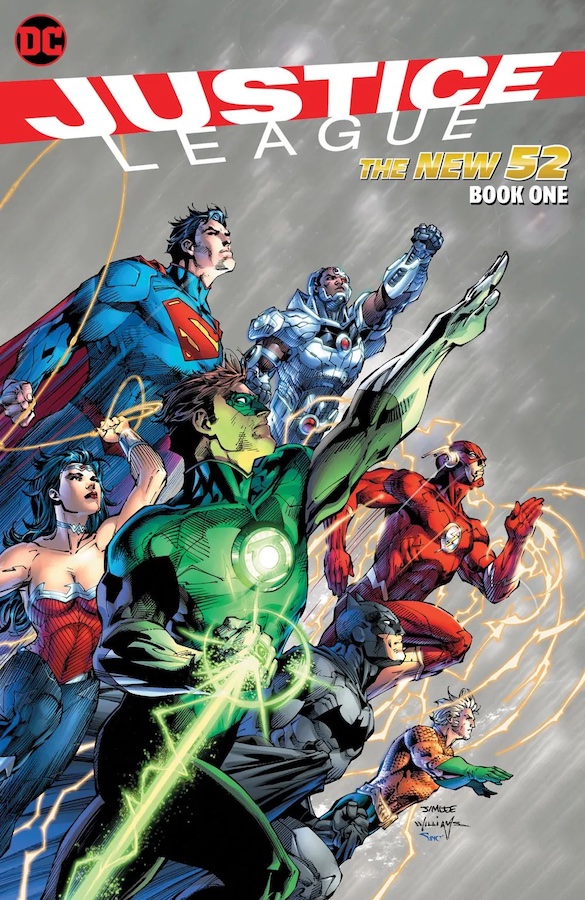 JUSTICE LEAGUE: THE NEW 52 TP BOOK ONE
(W) Geoff Johns (A) Various (CA) Jim Lee & Scott Williams
In a world where inexperienced superheroes operate under a cloud of suspicion from the public, loner vigilante Batman has stumbled upon a dark evil that threatens to destroy the Earth. Now, faced with a threat far beyond anything he can handle on his own, the Dark Knight must trust an alien, a scarlet speedster, an accidental teenage hero, a space cop, an Amazon princess, and an undersea monarch. Will this motley team be able to put aside their differences and come together to save the world?
Collects Justice League (2011) #1-17 and Aquaman #14-16.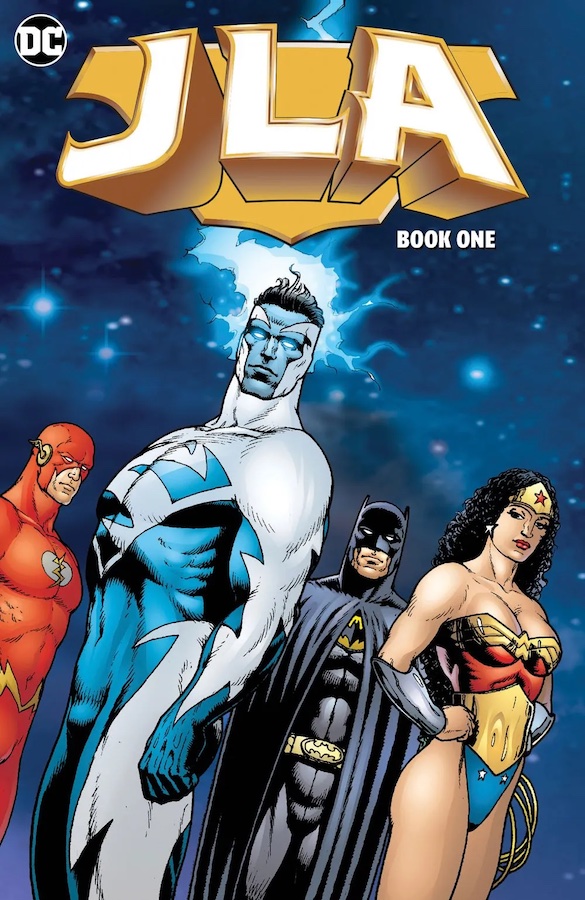 (W/A) Various (CA) Frank Quitely
DC Comics presents the legendary 1990s series, collected for the first time with all accompanying JLA mini-series and one-shots! Experience the complete epic, launched by Grant Morrison and Howard Porter, that changed the DC Universe forever.
Collecting JLA #1-9, JLA Secret Files & Origins #1, JLA/WildC.A.T.s #1, and the never-before-collected JLA: Tomorrow Woman #1, JLA 80-Page Giant #1, JLA Annual #1, JLA: Paradise Lost #1-3, and JLA Gallery.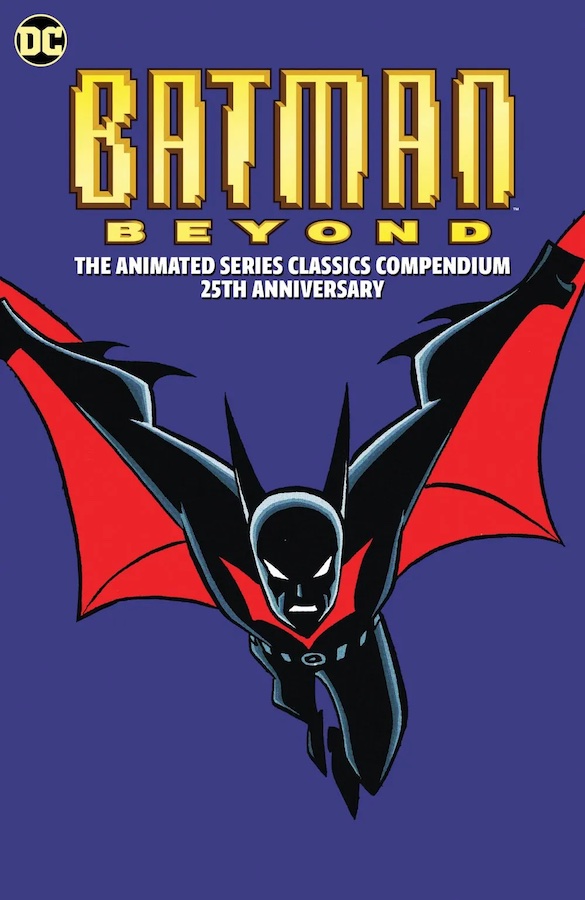 BATMAN BEYOND: THE ANIMATED SERIES CLASSICS TP COMPENDIUM – 25TH ANNIVERSARY
(W/A) Various (CA) Bruce Timm
The year is 2039 and it's been decades since anyone last spotted the Batman. Gotham has prospered into a megalopolis of neon and steel. But for all its glitz and advanced tech, it is still one of the most dangerous cities on the planet. When fate brings teenager Terry McGinnis into the life of reclusive billionaire Bruce Wayne, the time will come for a new Dark Knight to rise.
This compendium collects Batman Beyond (vol. 1) #1-6, Batman Beyond (vol. 2) #1-24—which has never been collected in its entirety—and a guest appearance in Superman Adventures #64.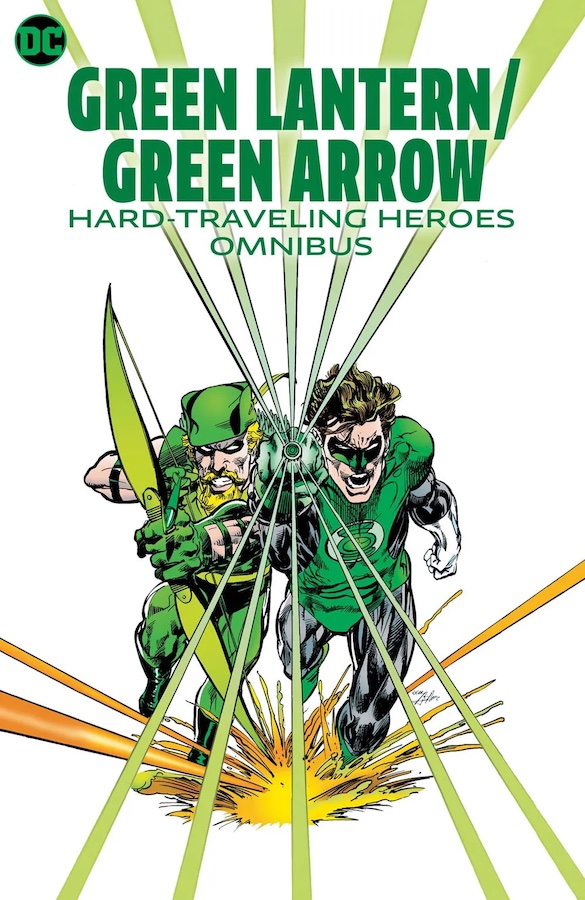 GREEN LANTERN/GREEN ARROW: HARD-TRAVELING HEROES OMNIBUS HC
(W) Dennis O'neil (A) Various (CA) Neal Adams
The renowned Hard-Traveling Heroes saga is collected in its entirety for the first time ever, with over two dozen never-before-collected stories, and nearly as many never-before-collected in color!
Collects Green Lantern #76-87, 89-123, Worlds Finest Comics #201, and stories from Brave and the Bold #100, DC Special-Series #1, DC Super-Stars #17, The Flash #218-224, #226-228, #230-231, #233-234, #237-238, #240-246, Green Lantern 80th Anniversary 100-Page Super Spectacular #1, and Worlds Finest Comics #210, #255, with a brand-new introduction by Mike Grell.
If anything jumped out to you, remember to message us or let us know next time you're in the shop! You get a text the second it arrives in the shop and we place a copy aside just for you so you don't miss out!
We do these each month so keep an eye out for the next post!
Have a great month and happy reading 💚