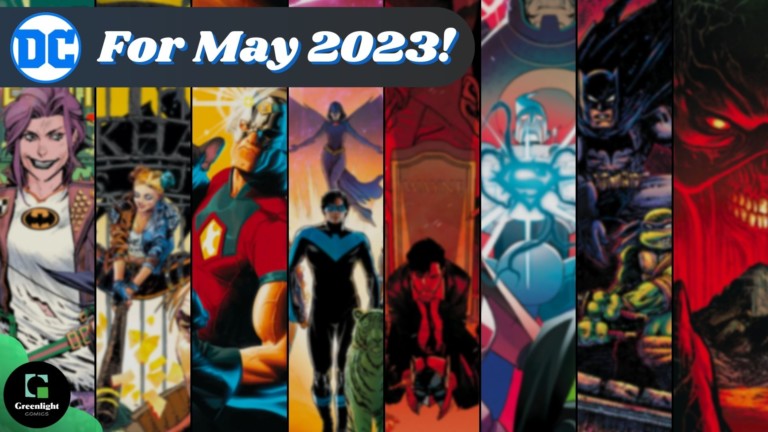 The new issue of DC Comics Preview catalog DC Connect has arrived! Here is our breakdown of the new comics series to jump on, plus what collected editions are arriving from May 2023! You can find the rest of our Previews Picks for other Comics & Manga, as well as Marvel Comics future releases over on the blog!
The Dark Crisis is over, and the Justice League is no more. Now, a new team must rise and protect the Earth… Titans, go! The Teen Titans are ready to grow up. Each member joined as a much younger hero, certain that one day they'd be invited to join the Justice League. But the time has come for them not to join the League… but to replace it!
Are the no-longer-teen heroes ready for the big leagues? Danger lurks around every corner as heroes and villains alike challenge the new team before they've even begun. Will the DCU ever be the same? Find out in this landmark first issue brought you by the all-star creative team of Tom Taylor (Nightwing, DCeased) and Nicola Scott (Wonder Woman Historia, Earth 2)!
PEACEMAKER TRIES HARD! #1
Having earned his release from the Suicide Squad, Peacemaker wants to try and do normal superhero stuff for a change. Unfortunately everyone, including the bad guys, thinks he sucks at superhero stuff. But when busting up a terrorist ring introduces Christopher Smith to the cutest thing to ever walk (awkwardly) on four legs, he finds the unconditional love he's been denied his whole life. That is, until the dog is kidnapped right out from under him. Will he help an infamously unstable super-powered criminal steal the world's most valuable—and dangerous—DNA? Honestly, Christopher's pretty lonely, so it probably just depends on how nicely they ask…
Kyle Starks (I Hate This Place, Old Head) and Steve Pugh (Harley Quinn: Breaking Glass) deliver a brutal and hilarious take on DC's biggest P.O.S. that will bust guts, break bones, and melt hearts!
Spinning out of the events of Dark Crisis, the Guardians of Oa at the heart of the Green Lantern Corps have quarantined Sector 2814, home of the planet Earth—and its champion along with it! A heartbreaking defeat has sent Hal reeling, returning home to rediscover his roots… and find the man responsible for ruining his life: Sinestro.
From the visionary team of Jeremy Adams and Xermánico (who brought you the epic Flashpoint Beyond) comes a tale of redemption, loss, and finding out that maybe… just maybe… you can go home again. At least if you're willing to hot-wire a power ring to do it. Also featuring part one of John Stewart: War Journal from writer Phillip Kennedy Johnson and artist Montos!
BATMAN: WHITE KNIGHT PRESENTS: GENERATION JOKER #1
Youth in revolt! Continuing from Batman: Beyond the White Knight comes a coming-of-age super villain tale starring the children of Harley Quinn and The Joker! The rebellious twins run away in a stolen Batmobile! But a life of crime isn't the only temptation young Bryce and Jackie are facing: the kids uncover a dark secret that could bring their dad back to life for good! With a wild array of Batman's former enemies and allies on their tails, will the kids succeed in reviving the Dark Knight's greatest foe?
Sean Murphy reunites with co-writers Katana Collins and Clay McCormack to bring fans the latest chapter of the White Knight story with the help of rising-star artist Mirka Andolfo (Sweet Paprika).
When a family emergency brings Cyborg back home to Detroit, Victor Stone surprisingly finds himself enjoying his return to the simpler life. It's been a while since Vic's been able to lower his guard and seek a purpose outside of being Cyborg 24/7. But a lot has changed in Detroit while Victor's been away. An aggressive new company is turning the Motor City into an overclocked engine for revolutionary A.I., and no one knows better than Cyborg how that always comes at a steep human price!
Milestone Initiative writer Morgan Hampton (DC Power: A Celebration) joins forces with veteran star artist Tom Raney (Green Lantern, Uncanny X-Men) to give Cyborg the Dawn of DC epic he deserves!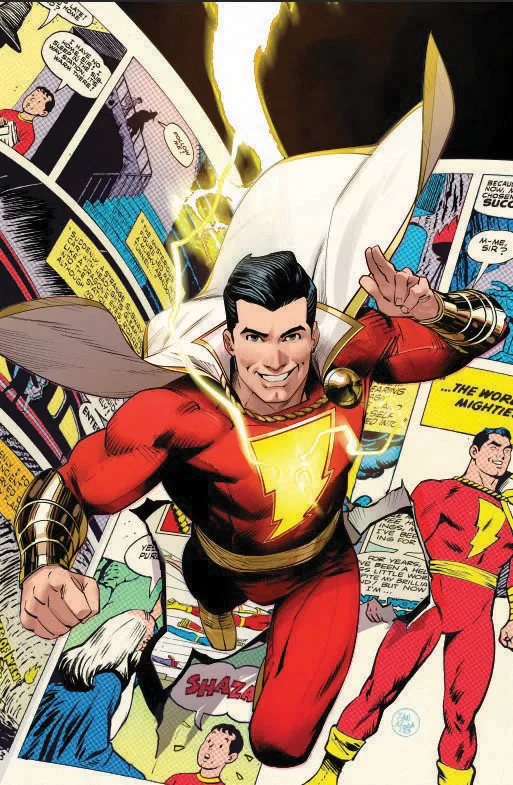 The World's Finest creators present the World's Mightiest Mortal in a dazzling solo series!
Dinosaurs from space! The Clubhouse of Eternity! Homicidal worms and talking tigers! Atomic robots, alien worlds, mad scientists, sinister curses, and villains from throughout the DC Universe—welcome to the wild adventures of Billy Batson, whose big red alter ego defends the Earth from its weirdest and wildest threats! Want to stop Lex Luthor and The Joker? Call Superman and Batman! International crises? Page Wonder Woman! But when Garguax, Emperor of the Moon, sets his sights on Gorilla City, that's when you shout "Shazam!" The fan-favorite team of Mark Waid and Dan Mora (Batman/Superman: World's Finest) brings the magic!
SUICIDE SQUAD: KILL ARKHAM ASYLUM #1
Before the Suicide Squad kills your favorite heroes in the upcoming video game, Suicide Squad: Kill the Justice League, join us for this thrilling prequel and witness them kill Arkham Asylum!
Amanda Waller has taken control of the recently rebuilt Arkham Asylum, and her brutal tactics and merciless methods have led to the most secure asylum Gotham has ever known.
But when the cell doors open and the inmates are left in a free-for-all deathmatch, Waller's true intentions reveal themselves: identify the strongest, smartest, and most brutal inmates of the asylum to serve her on Task Force X.
Things are gonna get messy in this prequel to Rocksteady's Suicide Squad: Kill the Justice League!
BATMAN: THE BRAVE AND THE BOLD #1
Tom King and Mitch Gerads reunite for a horrifying four-part retelling of the first bloody clash between The Joker and the Batman. A tale of loathing, lies, and laughter, this may be the most frightening Joker story in a generation. 
Ed Brisson and Jeff Spokes have StormWatch travel the globe on black-ops missions, while Dan Mora (Batman/Superman: World's Finest, Detective Comics) makes his writing debut kicking off a new series of Batman Black & White short stories.
Finally, Christopher Cantwell and Javier Rodríguez have Superman find a secret message, which sends him on a quest to solve a mystery with ties to the Man of Steel's past.
Power Girl takes center stage!
With new powers and a new mission, Power Girl faces a challenge unlike any she's experienced before in this shocking one-shot rising from the events of Lazarus Planet and Action Comics!
With Omen's guidance, Power Girl now strives to battle the demons—literal and figurative—lurking within the minds of some of the greatest superheroes in the DC Universe! But the nefarious Johnny Sorrow has been searching for a connection to Earth-0, and the superheroines' work may unwittingly give him the means to make their world his personal stage! Can Power Girl and her estranged Super-Family bring down the curtain on Sorrow's evil plans? And at what cost?
From the pages of Lazarus Planet: Dark Fate, a new Chinese hero emerges who's able to travel to and from the Spirit World, the realm of the dead, and that of the living. Their name is Xanthe, and their superpower is being able to burn items folded from joss paper and immediately turn them into real objects, based on the East Asian practice of burning joss paper at graveyards in order to send resources to ancestors in the Spirit World…except Xanthe can retrieve those items in the world of the living! Their weapon of choice is a large broadsword (because who doesn't love a big sword when you can choose to use a big sword?!).
Xanthe is a master of the dark arts who's here to give Constantine a run for his money… literally. When Constantine shows up saying Xanthe scammed him into buying something, he finds them and Batgirl Cass Cain fighting an abnormal influx of jiangshi (Chinese hopping vampires) and joins in to help. But when a portal opens up that drags Batgirl into the Spirit World, it's up to Xanthe and Constantine to travel to the land of the spirits to rescue her! Who knows what other spirits we'll find in the Spirit World—like that skateboarding boy wearing hanfu with some headphones and a gaping hole in his chest?!
/…/
/Who Are The Vigil?
The shipping vessel Eastwind was taken captive by pirates off the coast of Thailand. 24 hours after the crew had been taken hostage, before communications had been established or any demands made, the crew reported an intervention by a group of unknown individuals. Amid other bizarre claims by the crew, are reports of an individual who changed his appearance at will and a woman who seemingly dodged bullets. Once the pirates were taken out, no attempts were made at rescuing the crew.
There have long been rumors rogue metahumans targeting weaponized illegal technology. With some hinting that they call themselves The Vigil. What were they after? Why did they intervene? Are there metas among us?
Stay tuned for more/
/…/
/you are being watched./
First seen in Wildstorm 30th Anniversary Special and Lazarus Planet: Legends Reborn, there's a new Korean hero named… City Boy! Or at least, that's the best translation of what the cities call him. City Boy, a.k.a. Cameron Kim, is just trying to make a living by using his powers of being able to speak to cities to find lost and hidden goods to pawn, and it's only just enough to get by. And those abilities mean he hears everything everywhere all the time, including each city's histories and the truths behind them. (It's very loud in his head and something he has to live with.)
As his powers get stronger, the cities start forming animal avatars from scraps in order to physically travel alongside him on his adventures. Of course, Gotham is a rat avatar made of city scraps, but what about Metropolis, Blüdhaven, Amnesty Bay, or even Themyscira? And not all cities are so kind…
Graphic Novels & Collected Editions
How did an angry, damaged young man grow into the most accomplished detective and crime-fighter the world has ever known? How did the Dark Knight… begin?
On Bruce Wayne's journey toward becoming the Dark Knight, he has many hard lessons to learn before his education is complete. His adventure begins in the City of Lights, Paris, where he'll train with a world-renowned cat burglar and come into contact with a horrifying serial killer stalking the city's wealthy elite. Will this "first test" for the young Batman prove deadly?
Collects Batman: The Knight #1-10.
Spinning out of the events of both Batman/Superman: World's Finest and Shadow War, father and son will do battle in one of the most Earth-shattering tales ever told! Deep in the heart of Lazarus Island, the demonic legacy of the al Ghul family line has at last been freed, and the Devil Nezha is out for blood. To reclaim his total domination over planet Earth, Nezha has supercharged all magic—anyone who dares use it is overcome by a demonic evil that boosts their abilities to dangerous, unpredictable, and in some cases deadly levels! With Damian in Nezha's clutches and Bruce haunted by the return of an old friend, the Dark Knight and the Boy Wonder are pitted against one another in the battle of the century!
Legendary writer Mark Waid helms the next epic saga in Batman history, while superstar artist Mahmud Asrar makes his triumphant return to DC!
ABSOLUTE BATMAN: THE COURT OF OWLS (2023 EDITION)
Offered again! A brutal assassin is sinking his razor-sharp talons into Gotham City's best and brightest, as well as its most dangerous and deadly. If the dark legends are true, his masters are more powerful predators than the Batman could ever imagine—and their nests are everywhere. From the superstar team of writer Scott Snyder (American Vampire) and artist Greg Capullo (Batman/Spawn), Batman: The Court of Owls is a soaring saga of mystery and terror that kicked off one of the decade's most successful comic book runs!
This stunning Absolute edition collects Batman #1-11 as well as character sketches, the full script and pencils to Batman #1, and an introduction by Scott Snyder.
BATMAN: GOTHAM KNIGHTS – GILDED CITY HC
INCLUDES SIX DIGITAL CODES FOR EXCLUSIVE IN-GAME ITEMS!
Batman and his Gotham Knights struggle to keep a strange virus contained while investigating its origins. But this is not the first time this unusual illness has overtaken the city. Flashback to the mid-1800s and meet the city's first masked vigilante as they, too, find themselves mired in the mystery of this infection!
This thrilling and horrific tale, split between modern-day Gotham and the Gotham of 1847 and revealing a Court of Owls plot that runs across centuries, leads directly into the video game Gotham Knights!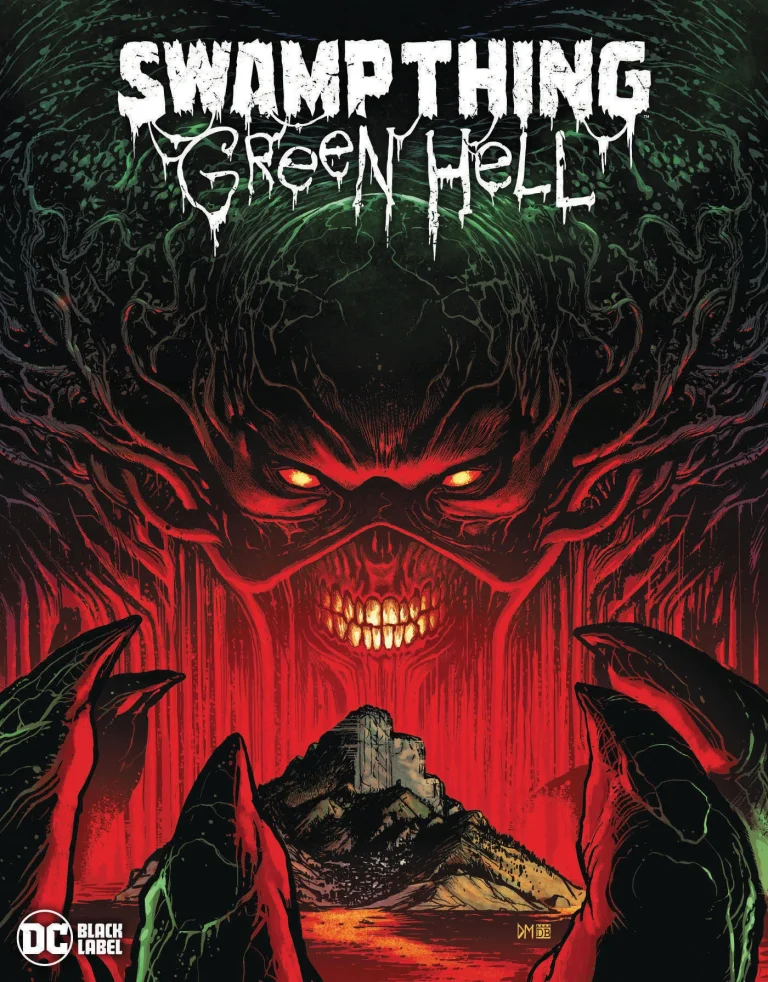 SWAMP THING: GREEN HELL HC
Sweet Tooth creator Jeff Lemire and superstar artist Doug Mahnke deliver a stunning dystopian nightmare! The Earth is all but done. The last remnants of humanity cling to a mountaintop island lost in endless floodwater. The parliaments of the Green, the Red, and the Rot have united their powers to summon an avatar—a horrific, humanity-killing monster who could only be stopped by Alec Holland. Shame he's been dead for decades…
Collects the complete miniseries Swamp Thing: Green Hell #1-3.
PUNCHLINE: THE GOTHAM GAME HC
Punchline is out of jail and back on the streets of Gotham City. And she's not coming back for some of what Gotham has to offer—she's coming back for all of it. She wants to be the queen of crime, and with the help of her Royal Flush Gang, no one will stand in her way. But Punchline created a lot of angry enemies in Gotham before she was incarcerated, and they all want payback. Presenting a story that will redefine the criminal landscape of Gotham City from the bestselling creative team of Tini Howard (Catwoman, Knights of X), Blake Howard (Batman: Urban Legends), Gleb Melnikov (Robin, Wonder Woman), and Max Raynor (Detective Comics).
Collects Punchline: The Gotham Game #1-6.
JUSTICE GETS AN UPGRADE! The age of the superhero ended after World War II, when an invasion from Darkseid and his parademons ushered in the age of the mech. The world has stockpiled colossal battle suits piloted by elite warriors waiting for another invasion, and it's finally here. The Earth's greatest mech pilots—Batman, The Flash, the Green Lanterns, Wonder Woman, and the last son of a dying world named Kal-El—must suit up and join forces.
Collecting DC: Mech #1-6.
YOUNG JUSTICE: TARGETS TP
Queen Perdita has been kidnapped! Mysterious armored assailants have snatched the Vlatavan royal out from beneath Bowhunter Security, leaving Green Arrow and Black Canary poisoned and comatose in the process! Now a rallying cry echoes around the globe, and across super-teams, to band together and rescue Perdita!
Spinning directly out of the hit HBO Max show, this collection is a must-read for every Young Justice fan! 
YOUNG ALFRED: PAIN IN THE BUTLER GN
When Alfred attends Gotham Servants School, he is a clumsy and nervous boy going to fulfill his father's last wish—he will become… a butler. But when he suspects that his new school may be involved in a criminal plot, Alfred must look within himself to see if he has what it takes to be not only a butler, but a hero.
From New York Times bestselling writer Michael Northrop (TombQuest, Dear Justice League), with striking visuals from artist Sam Lotfi (Mosely), comes the story of a scrappy kid who becomes a legend.
BATMAN – ONE BAD DAY: CATWOMAN HC
Selina Kyle, a.k.a. Catwoman, is the greatest thief that Gotham City has ever seen. She's effortlessly stolen countless items of immense value over the years and successfully evaded the GCPD and Batman. But when Catwoman finds out an item from her past is being sold for way more than it used to be worth, it sends her into a spiral, and she'll do everything in her power to steal it back. Batman tries to stop her before she goes too far, and a mysterious figure known as the Forger will change Catwoman's life forever. The all-star creative team of G. Willow Wilson (Poison Ivy, Ms. Marvel) and Jamie Mckelvie (The Wicked & The Divine, Young Avengers) unite for this epic story!
BATMAN – ONE BAD DAY: MR. FREEZE HC
Going back to the Dark Knight's early days in Gotham City: Batman and Robin, Dick Grayson, face down the coldest winter Gotham City has ever seen. A winter so cold that Mr. Freeze, Victor Fries, no longer needs his containment
suit to survive; he is in an element where he can thrive. Robin empathizes with Mr. Freeze—all Freeze wants to do is save his wife, Nora—but Batman warns Robin not to give his empathy to Victor Fries. He's a man who decided his own fate a long time ago and he deserves none of our warmth. And this winter… he will show his true wickedness and power. The powerhouse creative team of bestselling writer Gerry Duggan (X-Men, Deadpool, Arkham Manor) and Matteo Scalera (White Knight Presents: Harley Quinn, Black Science) brings you Mr. Freeze's most frigid story yet.
BATMAN – ONE BAD DAY: BANE HC
A PAST, PRESENT, AND FUTURE DESTROYED BY VENOM!
Bane broke the Bat—he's one of the only villains to ever truly vanquish the Dark Knight—but is that all he's ever accomplished? Decades from now, Bane is a washed-up wrestler reliving his glory days in the ring, defeating someone dressed like Batman every day. But when he discovers that there's a new source of Venom in the world, he'll do everything he can to shut down the facility it's coming from for good and make sure that no one takes the poison that ruined his life. An epic saga set throughout Bane's life, expanding on the hopes, dreams, regrets, and failures of one of DC's most legendary villains, brought to you by the iconic creative team of Joshua Williamson (Dark Crisis on Infinite Earths, The Flash) and Howard Porter (The Flash, Justice League).
BATMAN – ONE BAD DAY: CLAYFACE HC
All Basil Karlo ever wanted to be was an actor… no… one of the greatest actors there's ever been. However, his life went off course when he became the shape-shifting monster known as Clayface. After years of doing battle with Batman in Gotham City and distancing himself from his dream, Clayface goes out west to Los Angeles. Creating a new identity, he pursues his dream of acting only to find that Gotham City isn't the only place with an overwhelming sense of dread to it, and that he might not have what it takes to make it in the City of Angels. So he'll reshape the city to fit his needs in a deadly pursuit of stardom. From the rising-star creative team of Collin Kelly and Jackson Lanzing (Batman Beyond: Neo-Year, Captain America: Sentinel of Liberty) and Xermánico (Flashpoint Beyond), this is an epic tragedy not to be missed!
BATMAN – ONE BAD DAY: RA'S AL GHUL HC
WHY WON'T BATMAN SAVE THE WORLD?!
For centuries Ra's al Ghul has wanted to save the Earth from the worst of humankind, and for centuries he has failed. Recently his greatest obstacle has been the Dark Knight Detective, Batman. Ra's offered Batman a chance to be a part of his new world order, but Batman refused. For years their cold war has raged, but Ra's will have no more. Ra's will remove Batman from the equation and save the world, re-creating it in his image and bringing the peace and prosperity all the good-hearted souls of this Earth deserve. Don't miss this epic tragedy from the all-star creative team of Tom Taylor (Nightwing, Superman: Son of Kal-El, DCeased) and Ivan Reis (Detective Comics, Blackest Night): the last of the One Bad Day specials, and one of the most epic to date.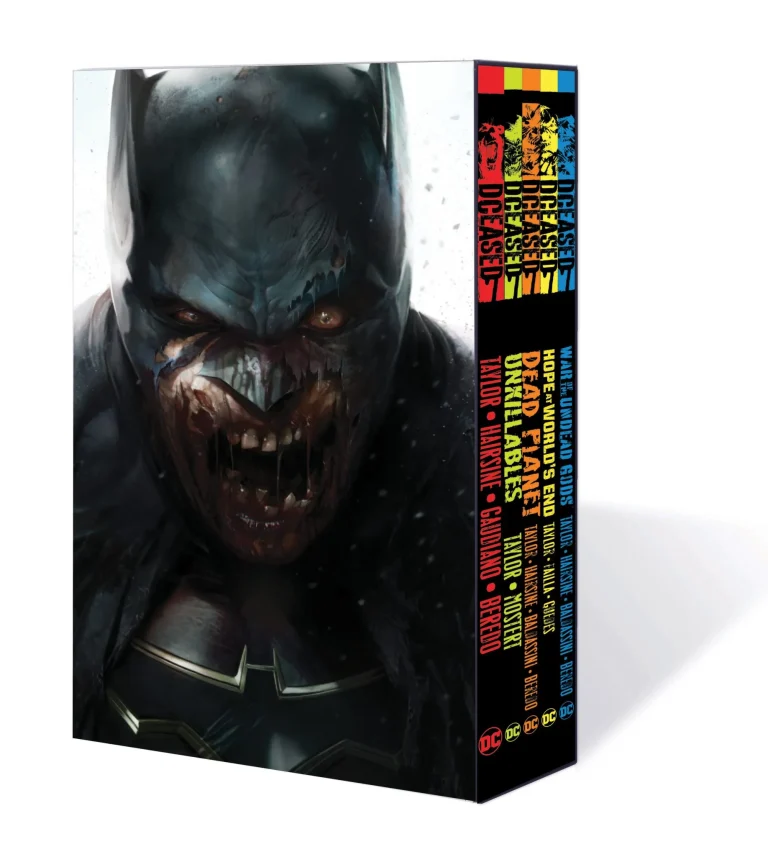 When Darkseid's plan to use Cyborg to spread the Anti-Life Equation goes horribly awry, it results in the creation of a modified virus that is capable of spreading through technology. Those afflicted by the plague are not only robbed of their free will but are left with an insatiable desire to attack every living creature!
With the fate of all of humanity now at risk, the lines between heroes and villains no longer exist. There are only survivors and the infected. This five-book set features softcover editions of DCeased, DCeased: Unkillables, DCeased: Dead Planet, DCeased: Hope at World's End, and DCeased: War of the Undead Gods.
BATMAN/TEENAGE MUTANT NINJA TURTLES OMNIBUS HC
New York City's Heroes in a Half Shell and Gotham's Caped Crusader join forces against their greatest enemies—Krang, the Shredder, The Joker, and more—in a trio of tales that mash up the dimensions of the Turtles and Batman… putting all of reality in jeopardy!
This massive omnibus collects Batman/Teenage Mutant Ninja Turtles #1-6, Batman/Teenage Mutant Ninja Turtles II #1-6, and Batman/Teenage Mutant Ninja Turtles III #1-6, plus hundreds of pages of behind-the-scenes material from artist Freddie E. Williams II and a brand-new introduction by Teenage Mutant Ninja Turtles co-creator Kevin Eastman!
THE UNWRITTEN COMPENDIUM ONE TP
Boy wizard Tommy Taylor is the main character in a series of fantasy novels by author Wilson Taylor that have become a cultural phenomenon. However, as a result of Tommy's success, the real Tom Taylor—the son Wilson long abandoned—is worshiped worldwide as a literary legend made flesh. As Tom's life begins to take on eerie and
deadly parallels with Tommy's, he's drawn into a strange literary underworld where the power of storytelling is as strong as any spell.
This first book in a series of two compendiums collects The Unwritten #1-30 plus the original graphic novel The Unwritten: Tommy Taylor and the Ship That Sank Twice.
THE SANDMAN: MORPHEUS HELM MASTERPIECE EDITION Box Set
DO YOU HATE HAVING MONEY? WISH THERE WAS A WAY TO SPEND EVEN MORE MONEY ON THE SANDMAN SERIES? THEN GREAT NEWS! COMING IN AT 2,872 PAGES, YOU CAN PAY $1,000 AUD TO HAVE MORPHEUS' HELM LOOMING OVER YOUR SHELVES!
Now you can own a piece of the Dreaming in the waking world with this Masterpiece Edition book set, comprising six exclusive leather-bound, foil-embossed hardcovers and a custom sculpted book stand resembling Morpheus's helm.
These six volumes collect stories from the entire Sandman saga—including The Sandman #1-75, the comics and prose editions of The Sandman: The Dream Hunters, The Sandman: Endless Nights, and The Sandman: Overture. They are designed to fit perfectly in the intricately carved book stand that features a highly detailed bone snout and riveted exterior. Also included is a set of art prints from legendary illustrator Michael Wm. Kaluta and an original piece of epistolary fiction from the world of The Sandman–written by Neil Gaiman himself, and exclusive to this set!
If anything jumped out to you, remember to message us or let us know next time you're in the shop! You get a text the second it arrives in the shop and we place a copy aside just for you so you don't miss out!
We do these each month so keep an eye out for the next post!
Have a great month and happy reading 💚