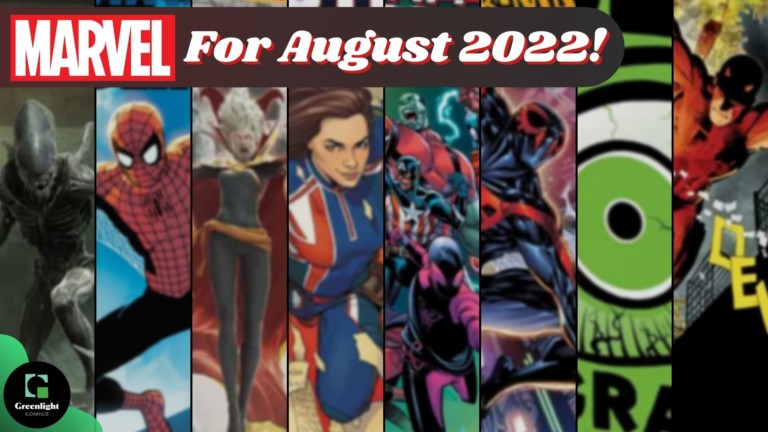 The June issue of Marvel Comics Previews has arrived! Here is our breakdown of the new comics series to jump on, plus what collected editions are arriving from August 2022! You can find the rest of our Previews Picks for other DC Comics, Indies & Manga titles here! 
This month some seriously good collected editions, trades and omnibuses (omnibus'? omnibusi?) so make sure to scroll down and check them all out!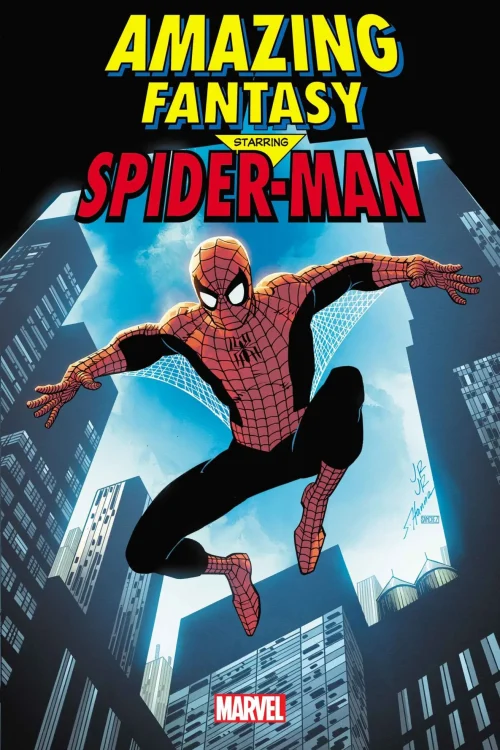 The comic that brought you SPIDER-MAN hits issue #1000! We're going big to celebrate in this, our thousandth issue of AMAZING FANTASY! An ALL-STAR roster of creators are coming together to celebrate Peter Parker and Spider-Man's birthdays! NEIL GAIMAN, ARMANDO IANNUCCI, JONATHAN HICKMAN, DAN SLOTT, HO CHE ANDERSON, KURT BUSIEK, ANTHONY FALCONE, RAINBOW ROWELL AND MORE!
Note: "Brayden here. Look don't question whether or not Amazing Fantasy is actually up to issue #1000, Marvel Math works in mysterious ways…"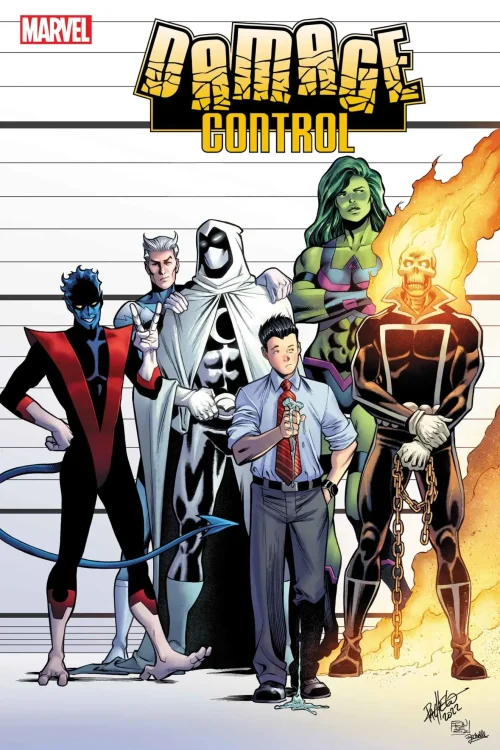 Marvel's Unsung Heroes finally get sung! After the mega-powered battles and Hulk-level catastrophes, Damage Control is always there to clean up the mess and get things back to normal. But Damage Control is much more than just a glorified cleanup crew, and this new series will pull back the curtain and reveal the secret inner workings that were previously only available to people with Clearance Level Eight. And we'll witness it all through the eyes of Gus: a fresh-faced, eager newcomer to the company who has no idea how chaotic his life is about to become.
Plus: A second story by DAMAGE CONTROL creator Dwayne McDuffie's McSpouse, Charlotte Fullerton, as the Damage Control crew must clean up after the Infinity Gauntlet!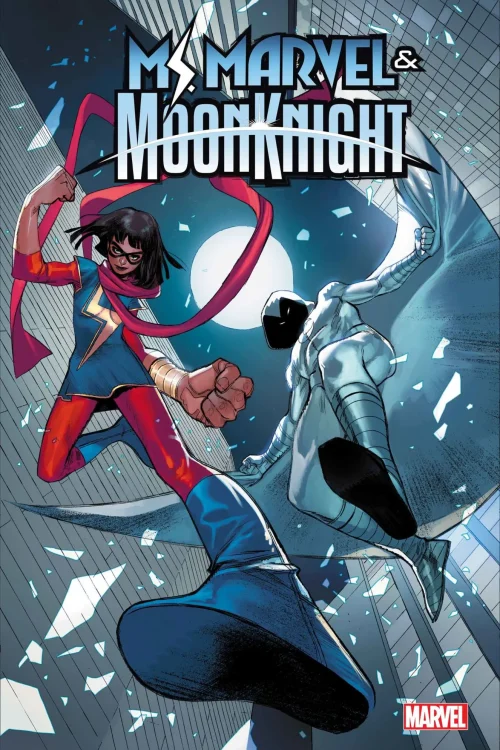 MS. MARVEL & MOON KNIGHT #1
THE FIST OF KHONSHU MEETS THE EMBIGGENED FIST OF MS. MARVEL!
MARC SPECTOR, A.K.A. MOON KNIGHT, protects the travelers of night…but what about those traveling to bring him death? A mechanical (and maniacal!) threat brings MS. MARVEL into Moon Knight's orbit, and the gravity of what they uncover will require them to plumb the depths of life and death! The mystery teased in last month's team-up with WOLVERINE continues to unfurl as the super hero spectacle of the summer sizzles on stands!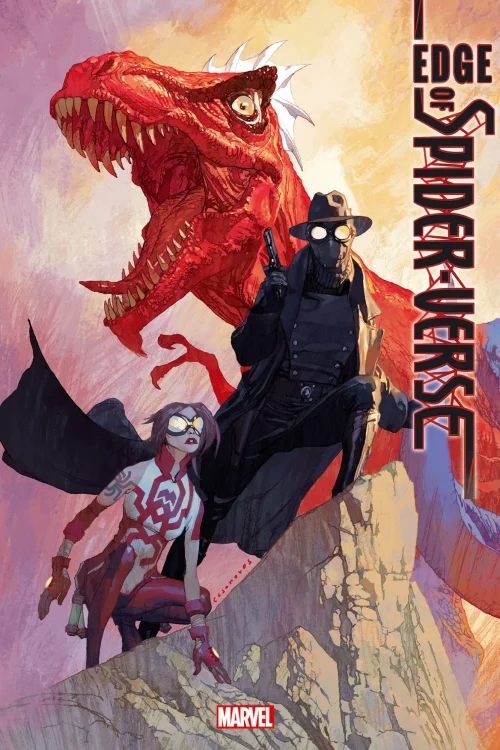 EDGE OF THE SPIDER-VERSE #1 (OF 5)
THE END OF THE SPIDER-VERSE IS COMING!
edge ('ej) noun – 1. outermost limit of an object – 2. the sharp side of a blade
The leading edge of the Spider-Verse brought you Spider-Gwen and Peni Parker. This final edge will introduce you to some of the most important characters in the future of the Spider-Verse… but it will also slice the final strand of the web.
IN THIS ISSUE: SPIDER-MAN NOIR! ARAÑA'S NEW STATUS QUO! SPIDER-REX AND MORE!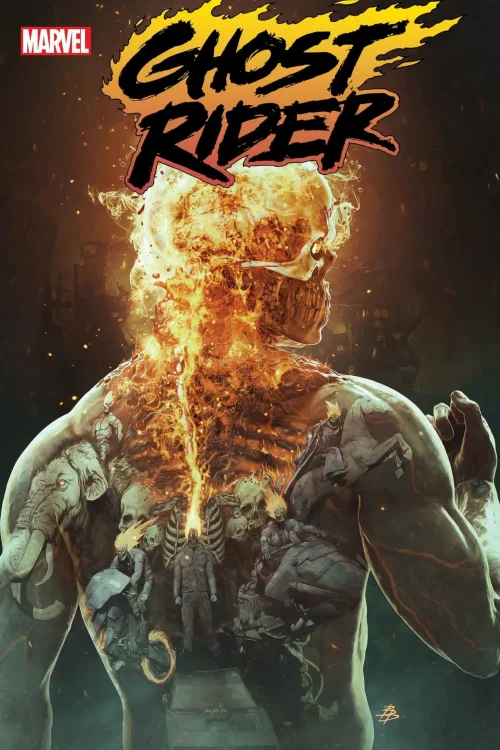 GHOST RIDER: VENGEANCE FOREVER #1
CELEBRATING FIFTY YEARS OF VENGEANCE!
Johnny Blaze, still reeling from his time in Hayden's Falls, seeks the counsel of a seer — named Necro the Tattooist — who uses his needle to bring dark truths to the surface. What follows is not only a wild tour through Ghost Rider's lost history, but also a warning about the future and an examination of the troubling weight of legacy.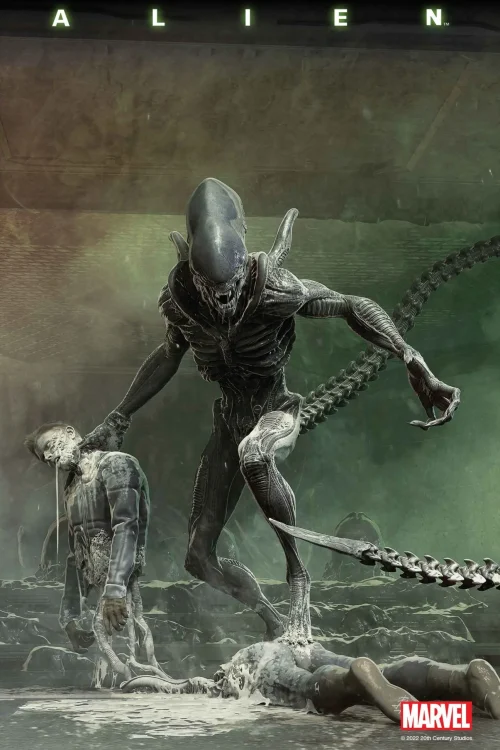 MAN, MACHINE, AND THE MOST TERRIFYING CREATURE IN THE UNIVERSE… IT'S AN EXPRESS ELEVATOR TO HELL, AND YOU'RE GONNA WANT TO BE ON IT!
A small colony of synths have settled in secret on a backwater moon. When a company of United System soldiers come to them for help retrieving biotechnology on a hostile planet that could be the key to saving humanity, the synths must decide whether the prospect of peace between man and machine is worth the risk of betrayal.
Graphic Novels & Collected Editions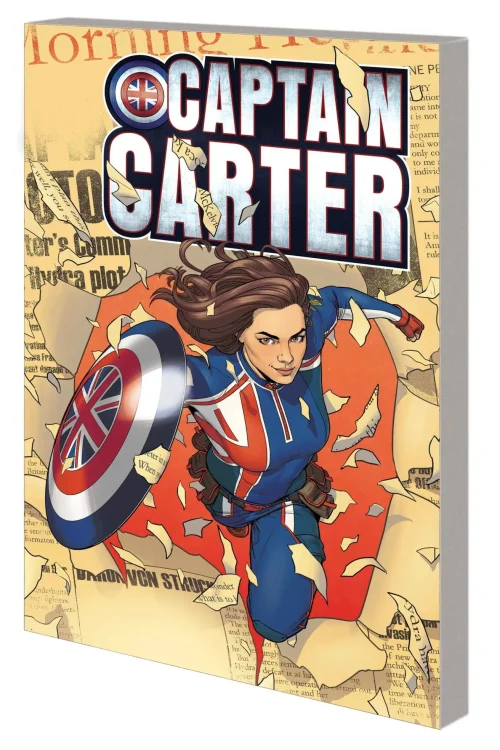 CAPTAIN CARTER: WOMAN OUT OF TIME TP
This new Sentinel of Liberty is a shield-slinging sensation! A reality where S.H.I.E.L.D. agent Peggy Carter took the Super-Soldier Serum instead of Steve Rogers is turned upside down when the World War II hero is pulled from the ice where she was lost in action decades before! Now Peggy struggles to find her footing in a modern world that's gotten a lot more complicated: Cities are louder, technology is smarter and enemies wear friendly faces. Everyone with an agenda wants Captain Carter on their side, but what does Peggy want? As she teams with S.T.R.I.K.E. to investigate Hydra's sudden resurgence, something doesn't feel quite right. Can Peggy trust what she's being told, or is someone trying to use her as a high-profile pawn in a game she doesn't yet understand?
Collecting CAPTAIN CARTER #1-5.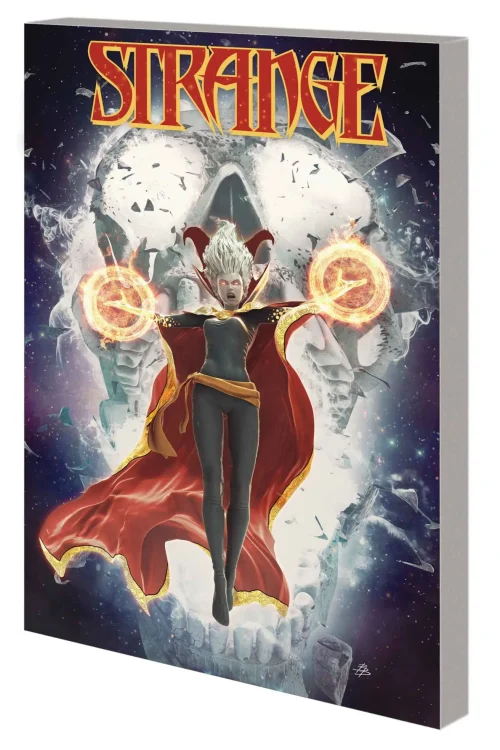 STRANGE VOL. 1: I BELONG TO DEATH TP
Doctor Strange is dead — long live the Sorcerer Supreme! Or should we say… Sorceress? Haunted by her recently returned memories, Clea longs to bring Stephen Strange back from the grave. But when a dangerous group targets Earth, she must rise to the task of being the planet's sole defender against otherworldly magical threats! Clea comes face-to-face with the mysterious Harvestman as they both face off against a familiar undead foe — and finds herself caught in the middle when mortals target monsters! But just as Clea begins to uncover ways to bring Stephen Strange back to life, another impossible assault upon the magical realm rears its head. Clea must face her wicked mom Umar, the dark Shadow Knight and a small army of reanimated heroes and villains! Luckily, Clea is not just any Sorcerer Supreme…she is a warlord!
Collecting STRANGE (2022) #1-5.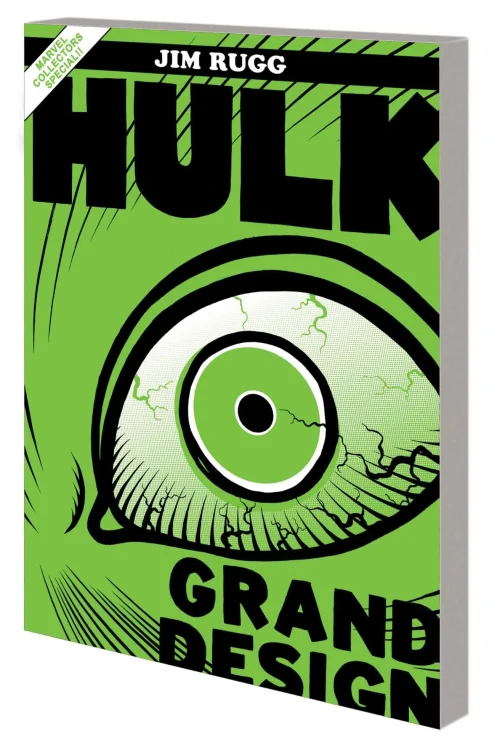 HULK: GRAND DESIGN TREASURY EDITION TP
The acclaimed GRAND DESIGN franchise continues with the Monster…and the Madness! Writer/artist Jim Rugg follows in the tradition of Ed Piskor and Tom Scioli by unfurling the full saga of the Incredible Hulk, from the very beginning to the present day! From Bruce Banner's volatile upbringing to the fateful gamma bomb detonation that changed everything — to years of anger, smashing and just wanting to be left alone! He's been a hero…a hate figure…even a world-breaker. Now witness the biggest moments in the Hulk's history — through the eyes of a single visionary storyteller! You'll never look at Bruce Banner the same way again!
Collecting HULK: GRAND DESIGN — MONSTER and HULK: GRAND DESIGN — MADNESS.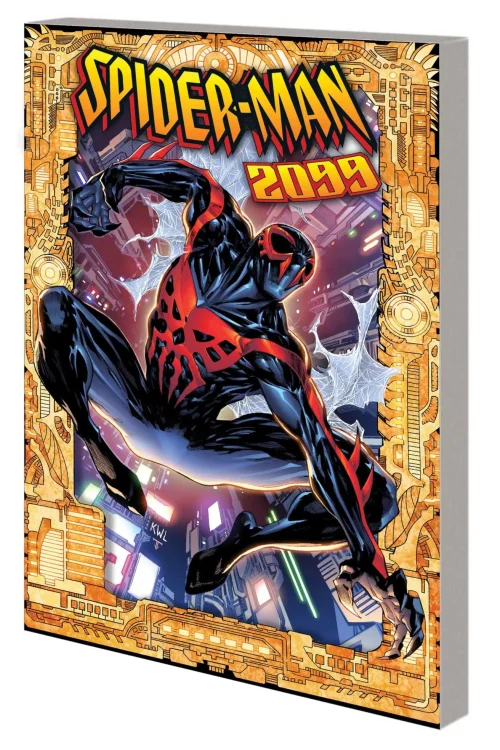 SPIDER-MAN 2099: EXODUS TP
A brave, new tomorrow begins for the world of 2099! After fighting battles across the timestream, Miguel O'Hara — Spider-Man of the year 2099 — is back home at last, defending his present…and our future! But the only constant about life in Nueva York is change. So when a cataclysmic crash creates a new Garden of Eden in the American Wastelands, Spider-Man knows exactly what the next atrocity will be. The deadly Cabal plans to set society ablaze, and you'll never guess who is leading them! Meanwhile, everyone's got something to gain from Paradise — including Winter Soldier 13! And as the Cabal preys upon society's dregs, Loki — last survivor of Ragnarok — schemes to resurrect Asgard! Featuring the X-Men, Moon Knight, Black Widow and New Avengers of the future!
Collecting SPIDER-MAN 2099: EXODUS ALPHA, SPIDER-MAN 2099: EXODUS #1-5 and SPIDER-MAN 2099: EXODUS OMEGA.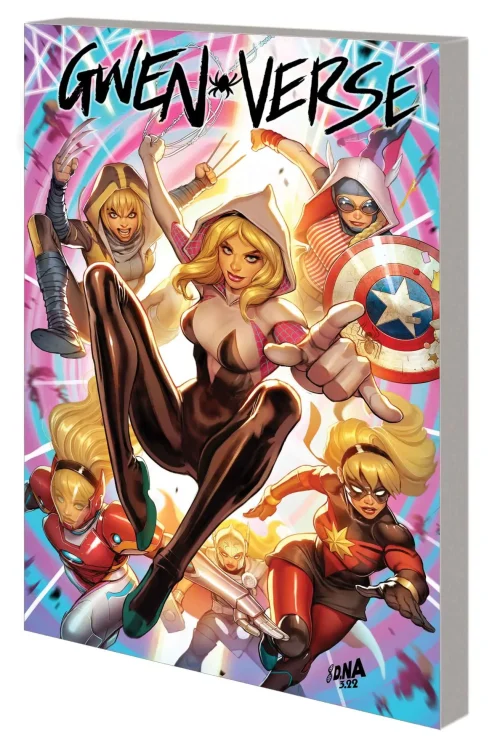 SPIDER-GWEN: GWENVERSE TP
On Earth-65, Gwen Stacy was bitten by a radioactive spider, gained arachnid-like super-powers and started a crimefighting career as Spider-Woman. Now known as Ghost-Spider, she's still affectionately known to her peers as Spider-Gwen! But what would have happened if she'd picked up the enchanted hammer Mjolnir instead? Or if she received the Super-Soldier Serum? Or built a high-tech suit of armor? Or…you get the idea! Well, you're going to find out! Gwen Stacy is about to face a unique journey of self-discovery across time and space, never quite knowing which reality or time period she's just landed in — or which version of herself she'll be meeting next! Who is behind all this chaos? And when the Night-Gwen of HEROES REBORN returns, will she be friend or deadly foe? The answers lie… in the Gwenverse!
Collecting SPIDER-GWEN: GWENVERSE #1-5.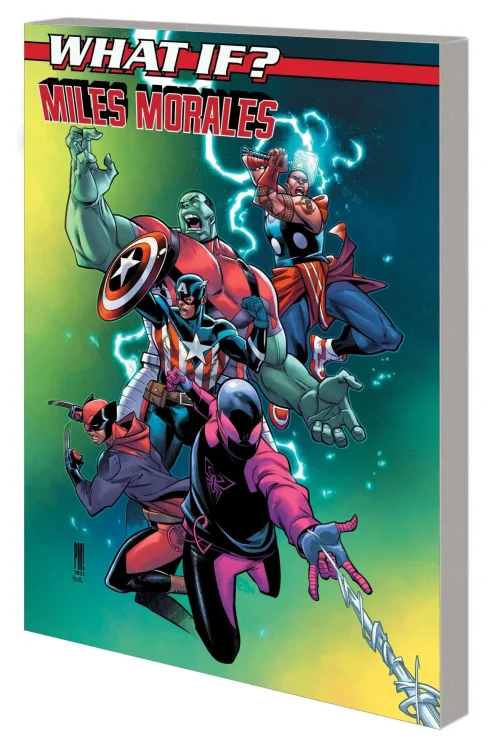 WHAT IF…? MILES MORALES TP
What if Miles Morales had never been bitten by a genetically enhanced spider? What if, instead, the U.S. government recruited, trained and granted him incredible powers with the Super-Soldier Serum, making him a friendly neighborhood Captain America? Or perhaps Miles was taken from everything he ever knew — his family, his home, his entire life — and transformed into the immortal weapon of war known as the Wolverine! If he was blasted by gamma radiation and turned into a Hulk, would Miles be man or monster? And are there other super heroes the many Miles of the Multiverse might have become instead of Spider-Man? You bet there are! Learn what makes Miles Morales a hero no matter the circumstances, no matter the reality!
Collecting WHAT IF…? MILES MORALES #1-5.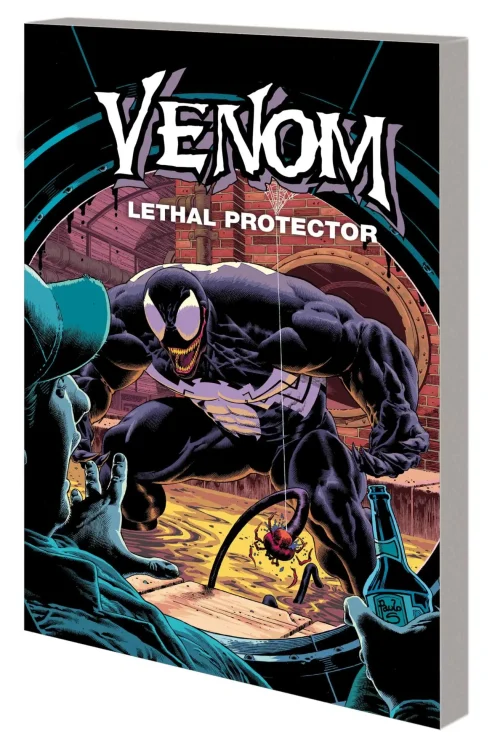 VENOM: LETHAL PROTECTOR – HEART OF THE HUNTED TP
Venom co-creator David Michelinie returns to tell an untold tale of the Lethal Protector! Before Carnage and space gods, clones and toxins and the revelation he was a father, Eddie Brock was a down-on-his-luck reporter who had tried to take his own life and been saved by an extraterrestrial alien. This new story set during Venom's earliest days welcomes Michelinie back into the symbiote hive with open arms as he and rising star Ivan Fiorelli unite to tell a horrifying story that not only revisits the wicked web-slinger's past, but also hints at what's to come in his future! Featuring Venom vs. Hydro-Man! The love of Eddie's life in the arms of another man! And a bounty on the Lethal Protector's head that attracts a gauntlet of deadly foes — including the Taskmaster!
Collecting VENOM: LETHAL PROTECTOR (2022) #1-5.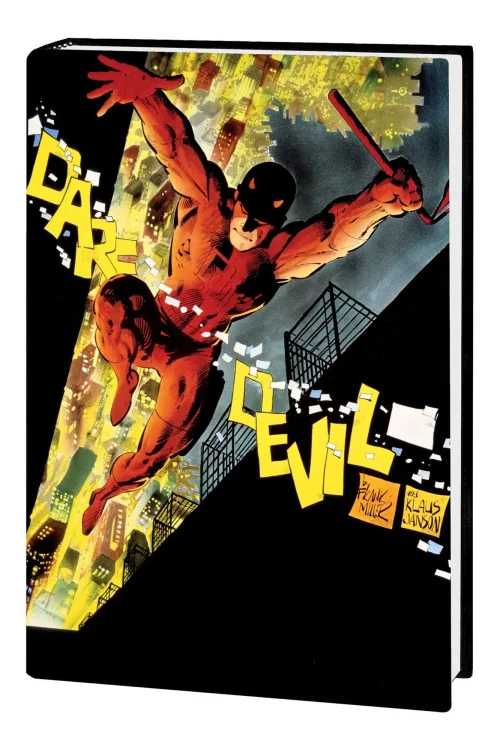 DAREDEVIL BY MILLER & JANSON OMNIBUS HC MILLER POSTER COVER – NEW PRINTING!
ON SALE JANUARY 2023
A classic Marvel hero redefined by one of comics' greatest visionaries! Frank Miller's spellbinding scripts and pulse-pounding pencils mark one of Daredevil's greatest eras — but will the Kingpin and Bullseye's efforts rob the Man Without Fear of everything he holds dear? Featuring the first appearances of Elektra, Stick and the Hand! The daring discovery that drew Ben Urich into Daredevil's domain of darkness! And such forgotten-yet-formidable foes as Death-Stalker and the Gladiator! Take a rare look at the formative years of a brilliant creator and the series that made him famous as traditional super-heroics mix effortlessly with mysterious martial artistry, doomed romance and dark personal drama. Guest-starring the Hulk, the Avengers and Power Man and Iron Fist!
Collecting DAREDEVIL (1964) #158-161 and #163-191 and material from WHAT IF? (1977) #28.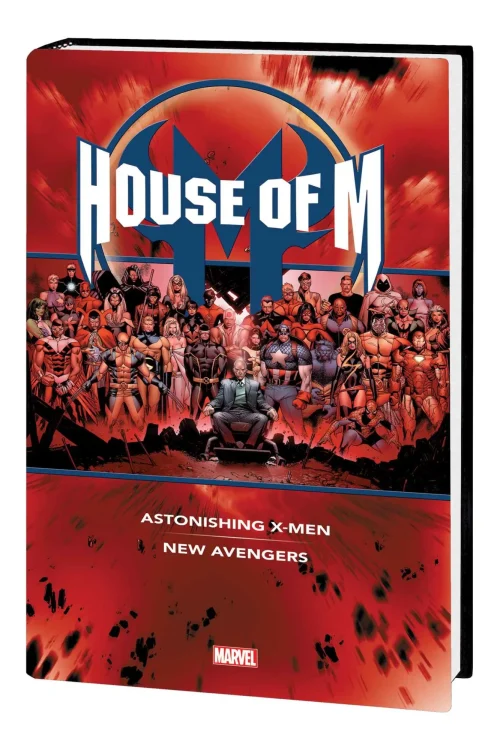 HOUSE OF M OMNIBUS HC COIPEL COVER
The unstable Scarlet Witch has rewritten reality — into a world where Magneto is king! In this "House of M," mutants are Earth's dominant species, living glamorous lives and reigning over the oppressed Sapien class. But Wolverine, now a member of Magnus' peacekeeping force S.H.I.E.L.D., remembers how the world used to be. And his quest to find and awaken his former allies in the Avengers and X-Men sparks a revolution that aims to tear down Wanda's strange new world!
Collecting HOUSE OF M (2005) #1-8, SPIDER-MAN: HOUSE OF M #1-5, FANTASTIC FOUR: HOUSE OF M #1-3, IRON MAN: HOUSE OF M #1-3, NEW THUNDERBOLTS #11, BLACK PANTHER (2005) #7, UNCANNY X-MEN (1981) #462-465, WOLVERINE (2003) #33-35, CAPTAIN AMERICA (2004) #10, PULSE #10, CABLE & DEADPOOL #17, INCREDIBLE HULK (2000) #83-87, NEW X-MEN (2004) #16-19, EXILES (2001) #69-71, MUTOPIA X #1-5, DECIMATION: HOUSE OF M — THE DAY AFTER, GIANT-SIZE MS. MARVEL #1, SECRETS OF THE HOUSE OF M, PULSE: HOUSE OF M SPECIAL, HOUSE OF M #1 DIRECTOR'S CUT, HOUSE OF M SKETCHBOOK and material from HULK: BROKEN WORLDS #1.
If anything jumped out to you, remember to message us or let us know next time you're in the shop! You get a text the second it arrives in the shop and we place a copy aside just for you so you don't miss out!
We do these each month so keep an eye out for the next post!
Have a great month and happy reading 💚