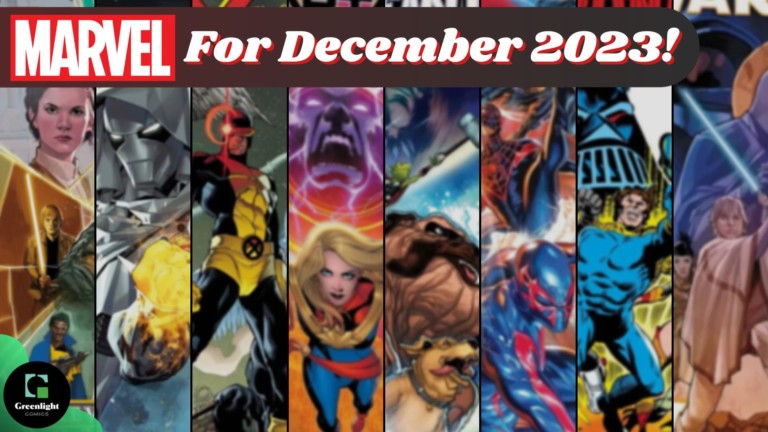 The October issue of Marvel Comics Previews has arrived! Here is our breakdown of the new comics series to jump on, plus what collected editions are arriving from December 2023! You can find the rest of our Previews Picks for other DC Comics, Indies & Manga titles here!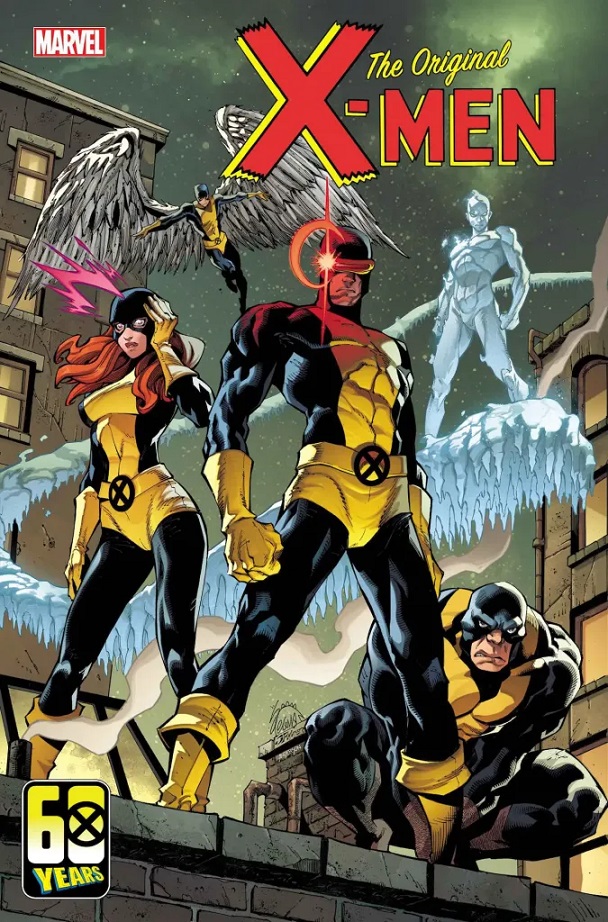 (W) CHRISTOS GAGE (A) GREG LAND (CA) RYAN STEGMAN
THE OG 5 ON AN ALL-NEW ADVENTURE! Cyclops, Marvel Girl, Beast, Iceman and Angel – the first and greatest heroes to bear the X-Men name – once traveled into their own futures and reset the course of history. Now another multiversal mystery calls them forth. When the dust settles, one hero will remain, trapped in the world as we know it. With shocking surprise guests and heart-pounding twists and turns, Christos Gage and Greg Land kick off a story that will shake the whole MU!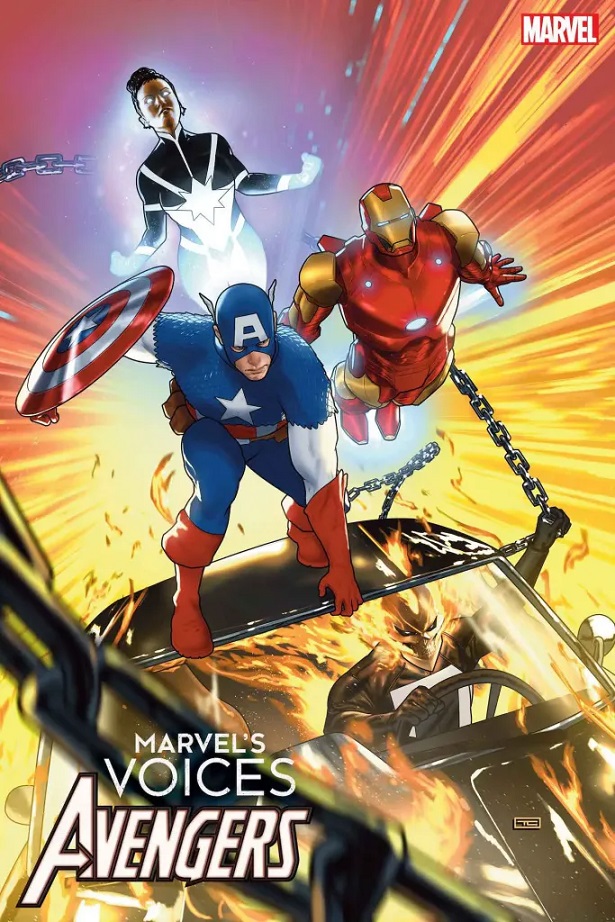 MARVEL'S VOICES: AVENGERS #1
(W/A) VARIOUS (CA) TAURIN CLARKE
And there came a day, a day unlike any other, when Earth's mightiest heroes from all walks of life united against a common threat. Join a team of Marvel's finest creators, from veterans to new recruits full of potential, for four tremendous tales of Earth's Mightiest Heroes! Don't miss the latest anthology in the Marvel's Voices series!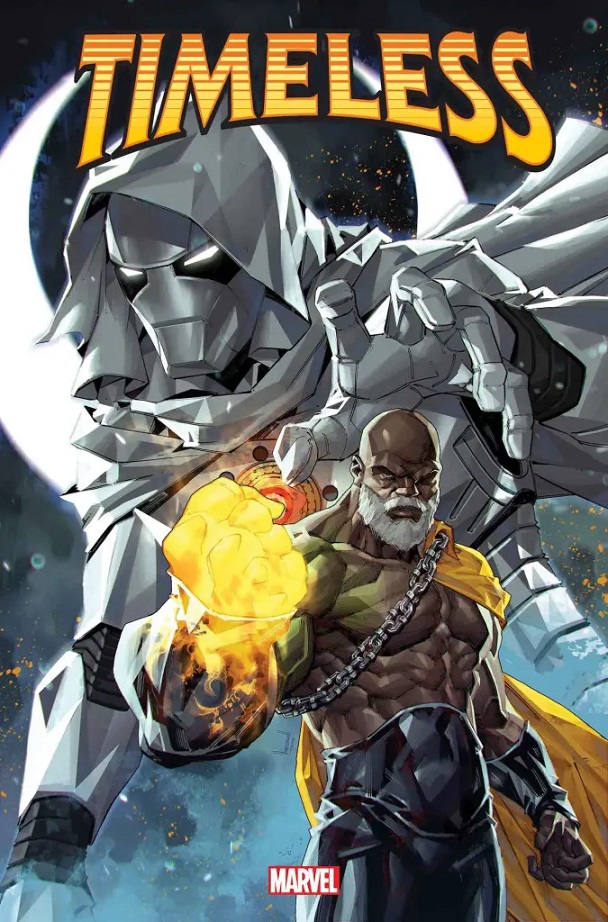 (W) COLLIN KELLY & JACKSON LANZING (A) JUANN CABAL (CA) KAEL NGU
BEHOLD THE FUTURE OF THE MARVEL UNIVERSE – FEATURING THE DEBUT OF TWO NEW MARVEL ICONS! The MOON KNIGHT UNENDING has risen – a nightmare born of StarkTech, the Eternal Machine and the God of the Moon. But one man stands against Khonshu's coming tide of chaos: POWER MAN, the Marvel Universe's final living super hero. But who is Power Man – and how did he come to wield the unstable powers of the Sentry, the Hulk and the Iron Fist? At the end of the line, can the Marvel Universe ever truly be saved? PLUS – a SHOCKING glimpse into the next year of Marvel stories!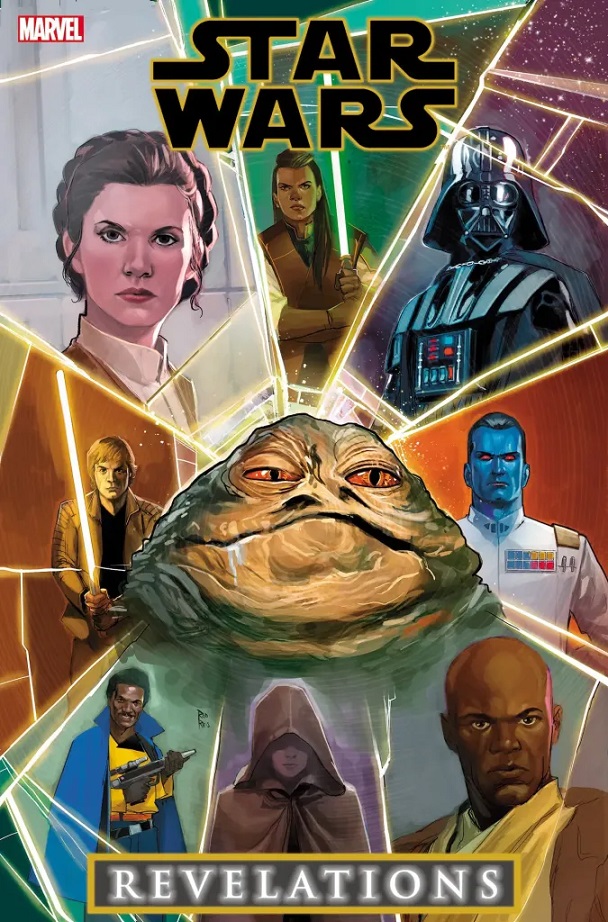 STAR WARS: REVELATIONS [2023] #1
(W/A) VARIOUS (CA) ROD REIS
FROM THE HIGH REPUBLIC TO THE ORIGINAL TRILOGY AND BEYOND! JABBA THE HUTT! DARTH VADER! MACE WINDU! KEEVE TRENNIS, THRAWN AND MORE! Introducing new characters, new twists and new turns across all of Marvel's STAR WARS line! This star-studded issue puts the pieces on the board for what's to come in a galaxy far, far away!
Graphic Novels & Collected Editions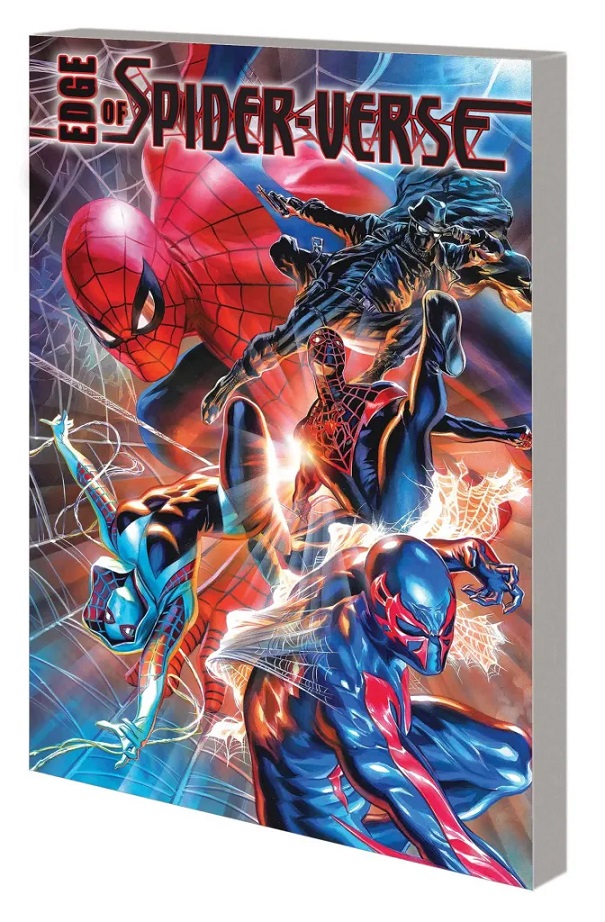 EDGE OF SPIDER-VERSE: WEB OF LIFE TP
(W/A) VARIOUS (CA) FELIPE MASSAFERA
Traverse the Spider-Verse with a swarm of Spiders familiar, fresh and flabbergasting! As the vicious Morlun targets wall-crawlers across all realities, Spider-Man Noir returns, Gwen Stacy is Earth-65's Spider-Woman and Peni Parker dons the sensational mech-suit known as SP//dr! When the end of the Spider-Verse looms, Spider-Ham and Araña head into action, the legacy of Spider-UK passes to a new champion, Sergei Kravinoff becomes the Hunter-Spider and Spinstress is an all-singing, all-slinging princess! Plus: The Spider-Mobile rides again! Spider-Rex faces the Venomsaurus! Billie Morales is all grown up as Spider-Smasher! Make way for Spider-Boy, the forgotten sidekick! Who is Headline? And even more amazing arachnid adventurers!
Collecting EDGE OF SPIDER-VERSE (2014) #1-5, EDGE OF SPIDER-VERSE (2022) #1-5 and EDGE OF SPIDER-VERSE (2023) #1-4.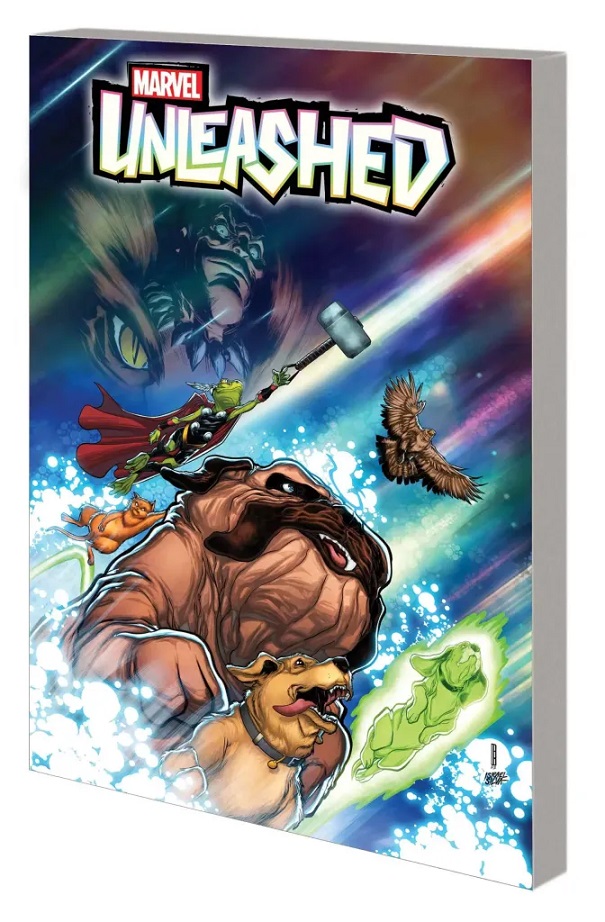 (W) KYLE STARKS (A) JESÚS HERVÁS (CA) DAVID BALDEÓN
Justice… has teeth! When Kraven the Hunter abducts the teleporting hound Lockjaw at the same time as a local scientist mixed up with A.I.M. goes missing, it's up to Throg the Frog of Thunder, Redwing the Falcon, Chewie the catlike Flerken, Lucky the Pizza Dog, Bats the Ghost Dog and their scrappy new ally, D-Dog to save the day! But there's more to this case than meets the eye, and something infernal lurks in the shadows. Can feathers, fangs and claws stand against one of the deadliest foes in the Marvel Universe? Or will these Pet Avengers be made to suffer their worst nightmares? Prepare yourself for heartbreak, because not everyone is making it out of this one!
Collecting MARVEL UNLEASHED #1-4.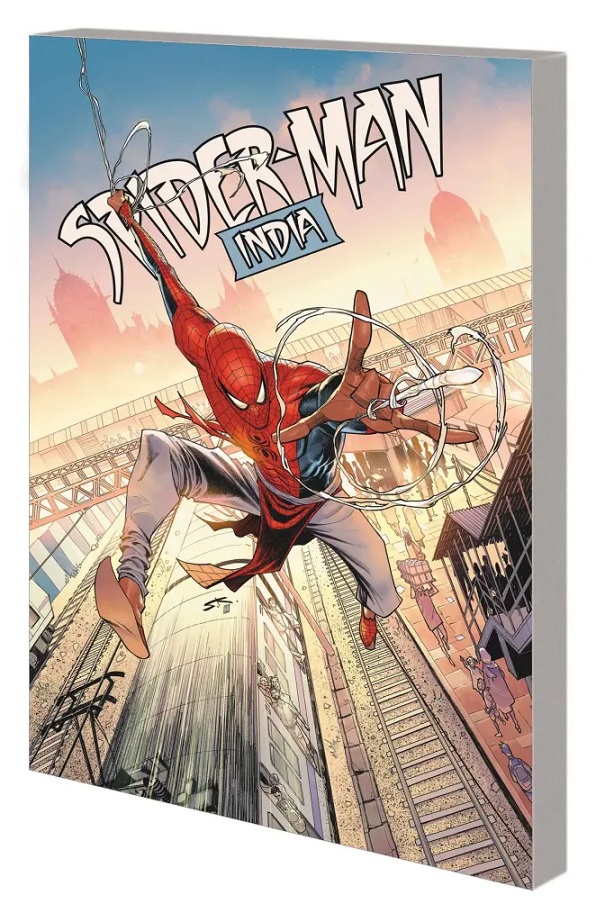 SPIDER-MAN: INDIA – SEVA TP
(W) NIKESH SHUKLA (A) ABHISHEK MALSUNI & TADAM GYADU (CA) ADAM KUBERT
India's Spider-Man stars in his first series in almost twenty years! Pavitr Prabhakar is back, fresh from "The End of the Spider-Verse," in his own universe's Mumbai. But things aren't exactly simple. There's a science professor promising results activating people's "lizard brain," along with a ruthless businessman who may be more than he seems! As a new Lizard emerges to threaten all of Mumbai, its new and terrifying abilities could make it the most powerful version yet! Spider-Man is the city's only hope, but victory will come at a cost – one Pavitr may not be ready for! How can he pick up the pieces when the entire city is turning against him?! The bloodthirsty creature's next move may mean a death sentence for Pavitr should he ever don his costume on the city streets again!
Collecting SPIDER-MAN: INDIA (2023) #1-5.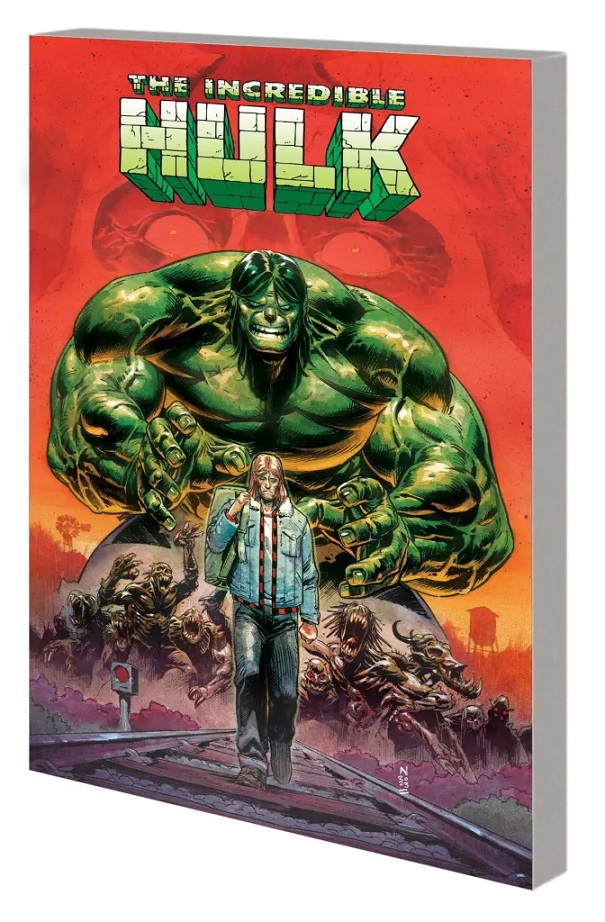 INCREDIBLE HULK VOL. 1: AGE OF MONSTERS TP
(W/A) VARIOUS (CA) NIC KLEIN
A new age of monsters! As an enraged Hulk tries to take permanent control of the body he shares with Bruce Banner, a mysterious immortal turns every monster on Earth against him in an attempt to free their creator, the primordial Mother of Horrors! With the help of an unlikely new friend, Banner must stop the world from being plunged into darkness – and his journeys take him from an abandoned coal-mining town that gives terrifying new meaning to the term "ghost town" to swamplands where a sultry seductress lures unsuspecting victims into her trap! What is her connection to Marvel's macabre muck-monster – and will the Hulk burn at the Man-Thing's touch?! Plus: A documentary crew on the Hulk's trail gets too close to the action!
Collecting INCREDIBLE HULK (2023) #1-5 and HULK ANNUAL (2023) #1.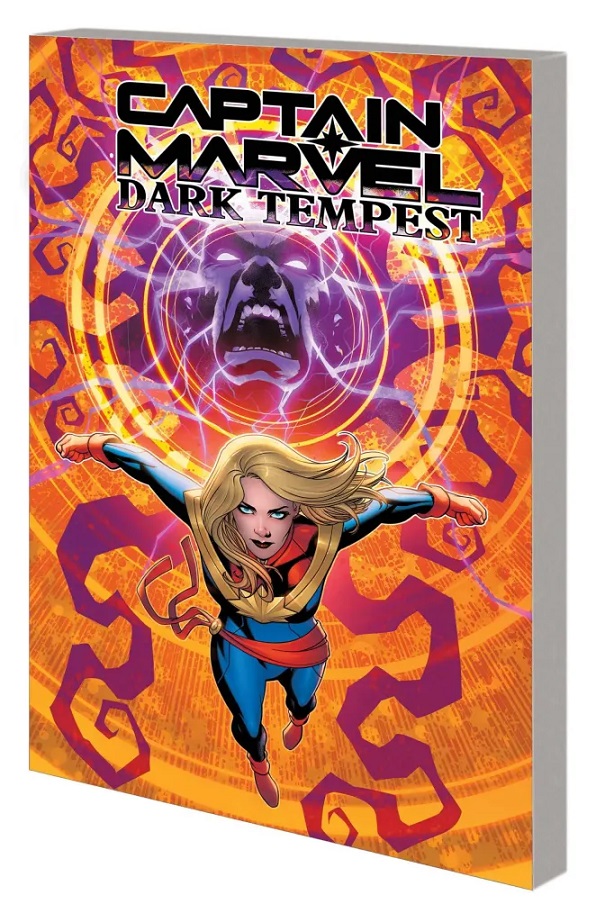 CAPTAIN MARVEL: DARK TEMPEST TP
(W) ANN NOCENTI (A) PAOLO VILLANELLI (CA) MIKE MCKONE
A new start for Captain Marvel! After facing off against the Brood with the X-Men and losing someone she holds dear, Carol Danvers needs a break. But she's not about to get it now! A slinky new cosmic threat has come for Earth's Mightiest, and they know just which surprise legacy villain to recruit to really wreck Carol's world! When the disgruntled Nitro transports Captain Marvel, Chewie the Flerken, baby Gerry and some cantankerous Luddite troublemakers to a strange planet, Spider-Woman – Gerry's mom – is left in a panic. As the mismatched group figures out how to get along and survive, Jessica Drew desperately seeks out help from some of Earth's greatest heroes! But the deadly menaces keep coming, including the spooky alien Nada and the Feral Five!
Collecting CAPTAIN MARVEL: DARK TEMPEST #1-5.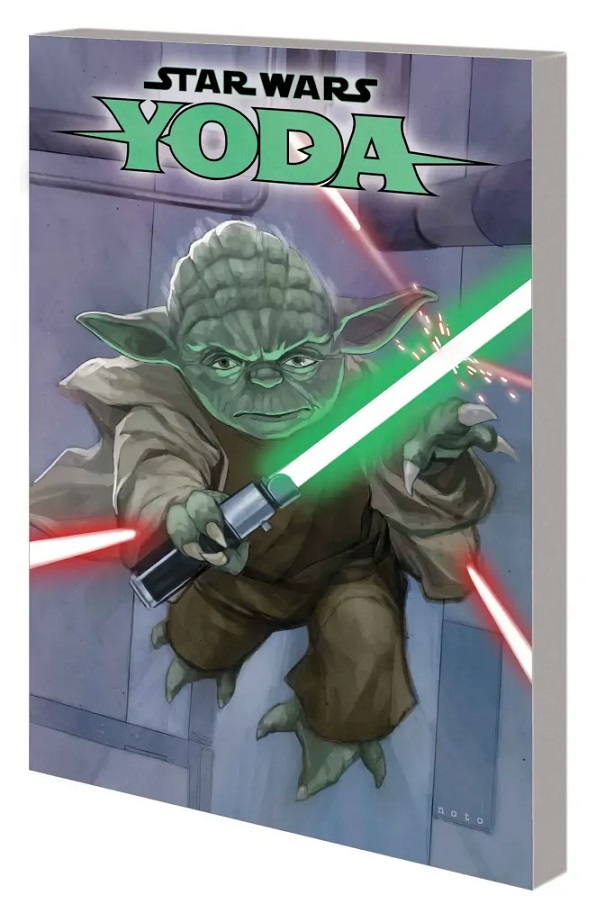 (W) CAVAN SCOTT, JODY HOUSER & MARC GUGGENHEIM (A) VARIOUS (CA) PHIL NOTO
The master becomes the learner! To some, he was a legend. To others, he was a teacher. Now Yoda is all but forgotten, living in exile and haunted by his past. As a strangely familiar voice echoes through the swamps of Dagobah, Yoda must revisit the many lessons he has given over the years – from the glory of the High Republic to the chaos of the Clone Wars! First, a desperate cry for help reaches the Jedi Council on Coruscant. How far will Yoda go to protect a community from attack? Then, years before the Clone Wars, he asks an old friend to come teach the next generation of Jedi: Master Dooku! Plus: Prepare for Yoda vs. General Grievous – to the death! And can a young Anakin Skywalker help Yoda destroy an entire factory full of deadly Megadroids? There is no try!
Collecting STAR WARS: YODA #1-10.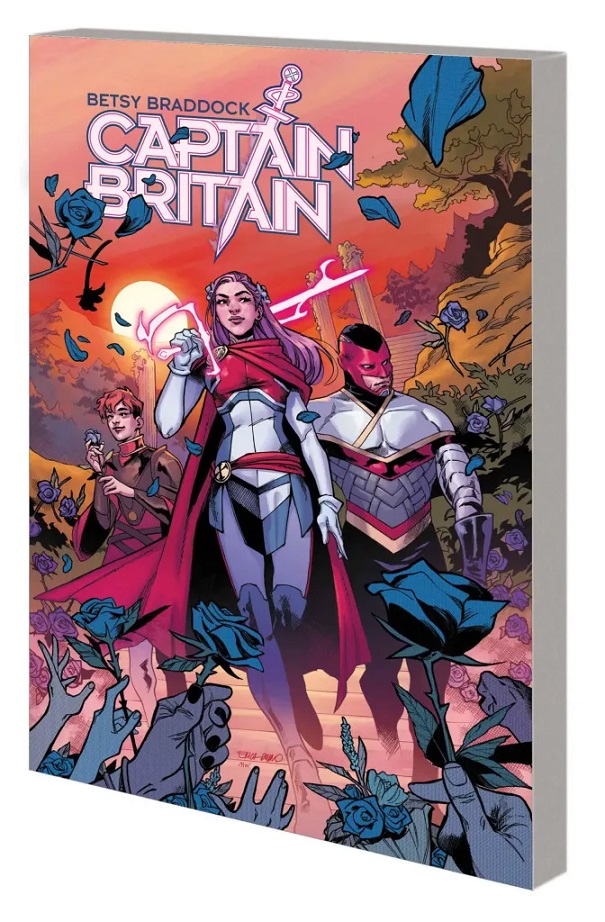 CAPTAIN BRITAIN: BETSY BRADDOCK TP
(W) TINI HOWARD (A) VASCO GEORGIEV (CA) ERICA D'URSO
The Captain comes home! With Otherworld settled, Braddock Manor restored and a blossoming relationship with Rachel Grey, you'd think things were looking pretty good for Betsy Braddock. But it turns out that good ol' Britain doesn't want a mutant menace as its Captain, and Betsy has made more than a few enemies in recent years! Quest-less and country-less, she must define a new role for herself. But Morgan Le Fay is back for vengeance, and Captain Britain is first on her list! Luckily, if one captain fails, another may suffice – and Peggy Carter has a right hook that would inspire the devil herself! And is the furious Forgemaster General the Captain Britain that Earth truly deserves? Magical machinations and feral fisticuffs abound – but what role does Doctor Doom play in it all?
Collecting BETSY BRADDOCK: CAPTAIN BRITAIN #1-5.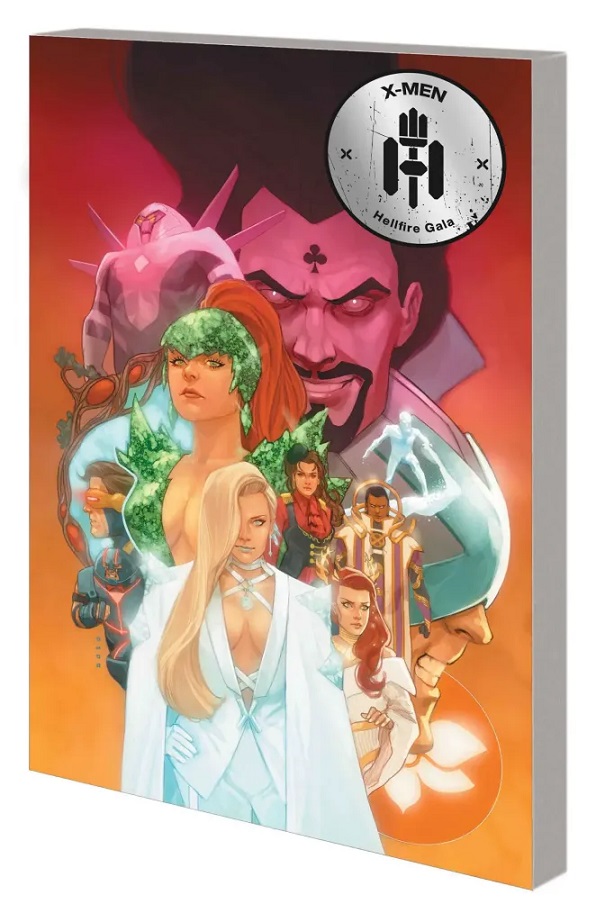 X-MEN: HELLFIRE GALA – FALL OF X TP
(W) GERRY DUGGAN (A) VARIOUS (CA) PHIL NOTO
The Fall of X begins here! The Hellfire Gala is always the biggest event of the season, but this year's party will change everything for Krakoa. What was meant to be mutantkind's biggest night — including the results of the latest X-Men election — becomes their biggest nightmare! All of your favorite mutants are going to be left reeling after this one — a story filled with shocking revelations, stunning betrayals, horrifying tragedies, impossible deaths… and, of course, the most glamorous looks of the year, all in one can't-miss package! Plus: Who is the new Captain Krakoa? What machinations of the evil Orchis will reunite Rogue and Captain America? Then see the Hellfire Gala from the perspective of the candidates who lost the annual X-Men Vote. And as the Gala is underway, can Iron Man stop the new Stark Sentinels by himself?
Collecting X-Men: Hellfire Gala 2023, Free Comic Book Day 2023: Avengers/X-Men (Avengers and X-Men stories), X-Men Unlimited Infinity Comic (2021) #100-105, Iron Man (2022) #8 and the Hellfire Gala Variants!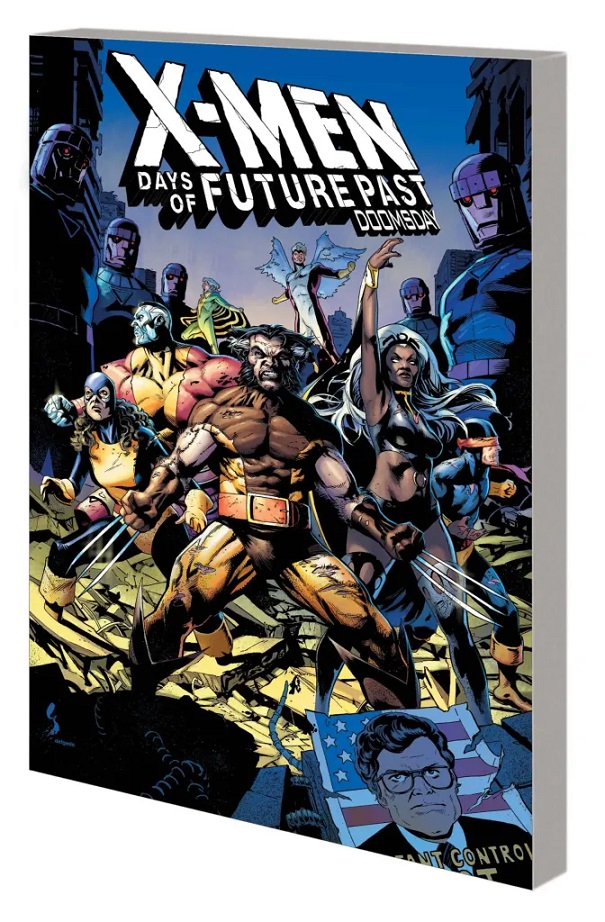 X-MEN: DAYS OF FUTURE PAST – DOOMSDAY TP
(W) MARC GUGGENHEIM (A) MANUEL GARCÍA (CA) GEOFF SHAW
Return to the future in a tale that reveals the events leading up to the timeless classic! In a world where mutants are more than simply hated and feared but not yet slain and apprehended, Senator Kelly's assassination comes to pass – bringing with it the Mutant Control Act and Sentinels on every corner. But with mutantkind on their back foot, what lengths will Kate Pryde, Wolverine, Colossus, Storm, Banshee, Angel, Cyclops, Professor X and the rest of the X-Men go to in order to find some way to survive? And what scheme of Magneto's will bring about their ultimate doomsday? Witness the thirty-year descent into dystopia as one of the most celebrated X-Men timelines is explored in-depth for the first time!
Collecting X-MEN: DAYS OF FUTURE PAST – DOOMSDAY #1-4.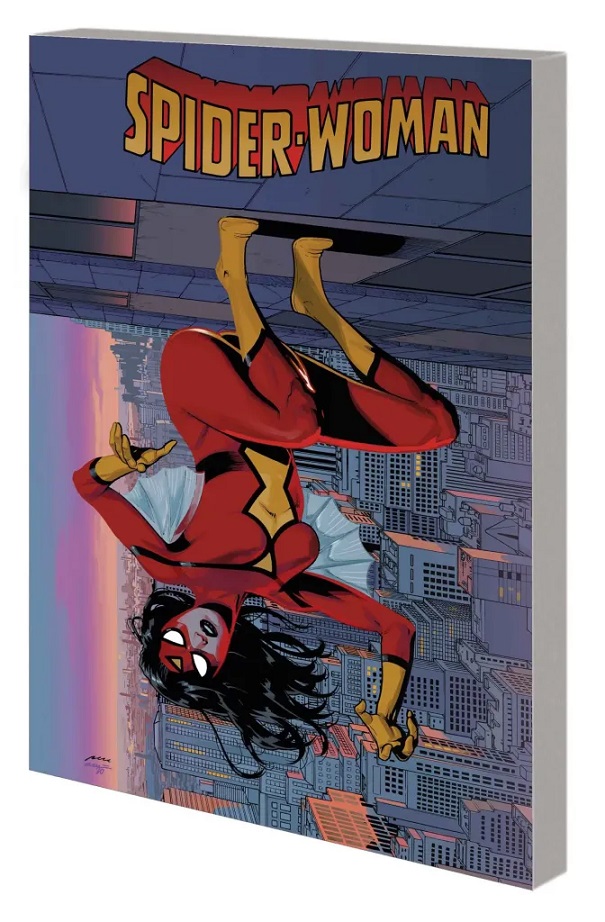 SPIDER-WOMAN BY PACHECO & PÉREZ TP
(W) KARLA PACHECO (A) VARIOUS (CA) PERE PÉREZ
Spider-Woman is back, and she's pulling no punches! Jessica Drew hasn't been feeling like herself lately. When the angry, irritable and unwell Spider-Woman takes a simple security gig to help her get back on her feet, she finds herself besieged by unknown forces out to destroy everything around her. But what does Jessica's illness have to do with the daughter of her old nemesis, Otto Vermis? Finding out will take Spider-Woman back to where it all began – Wundagore Mountain, the nightmarish place that gave her powers – and on a road trip to outer space with her BFF, Captain Marvel! But who is making Jess relive her traumas? And just how far will she go to secure a cure for what ails her? Plus: How will Spider-Woman be affected by Knull's symbiote invasion and the Kingpin's war on vigilantes?
Collecting SPIDER-WOMAN (2020) #1-21.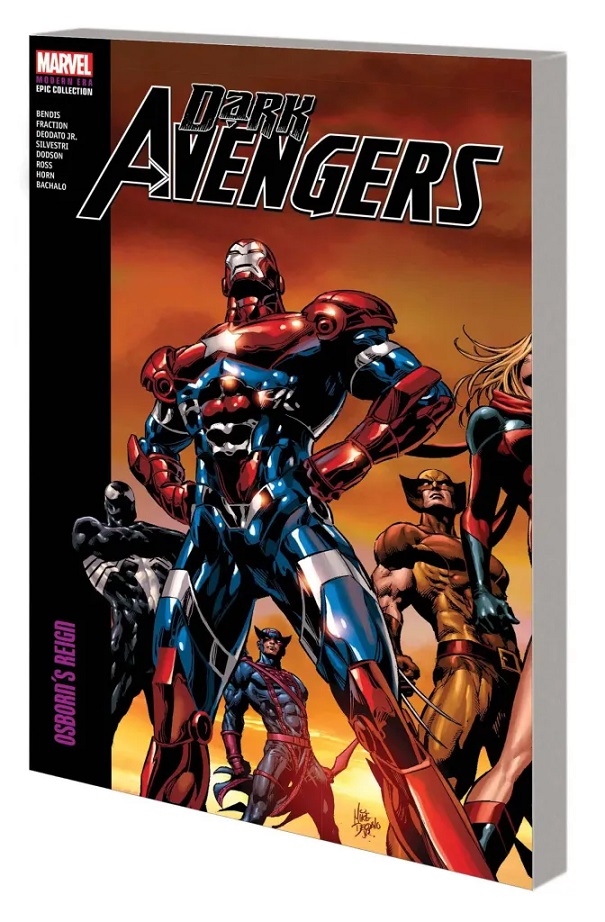 DARK AVENGERS MODERN ERA EPIC COLLECTION: OSBORN'S REIGN TP
(W) BRIAN MICHAEL BENDIS & MATT FRACTION (A) VARIOUS (CA) MIKE DEODATO JR.
Dark Avengers assemble! Norman Osborn, the former Green Goblin, has been awarded the Avengers franchise – and he's assembling a terrifying team in his own image! Transforming well-known villains into twisted versions of Hawkeye, Spider-Man, Wolverine and Ms. Marvel – and recruiting heavy hitters like Ares and the Sentry – Norman suits up as the armored Iron Patriot! But can the Dark Avengers prevail against Morgan Le Fay and the Beyonder? And when Osborn targets mutantkind as a threat, who will join his Dark X-Men?! As Marvel Boy discovers just how sinister a gang he's signed up for and the Sentry's secrets are finally revealed, Osborn goes too far – and the Siege of Asgard may put an end to all his schemes!
Collecting DARK AVENGERS (2009) #1-16 and ANNUAL #1, DARK AVENGERS/UNCANNY X-MEN: UTOPIA, UNCANNY X-MEN (1981) #513-514, and DARK AVENGERS/UNCANNY X-MEN: EXODUS.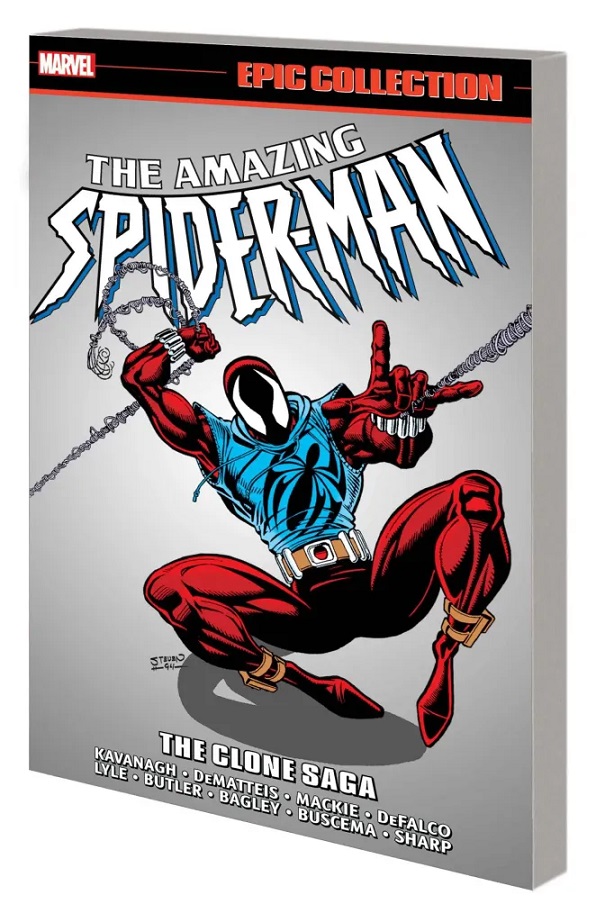 AMAZING SPIDER-MAN EPIC COLLECTION: THE CLONE SAGA TP
(W/A) VARIOUS (CA) STEVEN BUTLER
Spider-Man's clone is back! Spidey thought his clone was long dead, but where has the man now called Ben Reilly been for the last five years? Why has he returned? And is he Peter Parker's dark side – or his better half? As the mysterious Judas Traveller and his companions study the two spiders, Ben enjoys a new lease on life – suiting up as the Scarlet Spider and swinging into action against Venom! But an unstable Peter is pushed to the brink in a confrontation with the Puma. Can Daredevil help bring him back from the edge? No other Spider-storyline was as innovative or infamous as the 1990s' Clone Saga, and this is where it all begins!
Collecting WEB OF SPIDER-MAN (1985) #117-119, AMAZING SPIDER-MAN (1963) #394-396, SPIDER-MAN (1990) #51-53, SPECTACULAR SPIDER-MAN (1976) #217-219, SPIDER-MAN UNLIMITED (1993) #7 and clone subplot pages.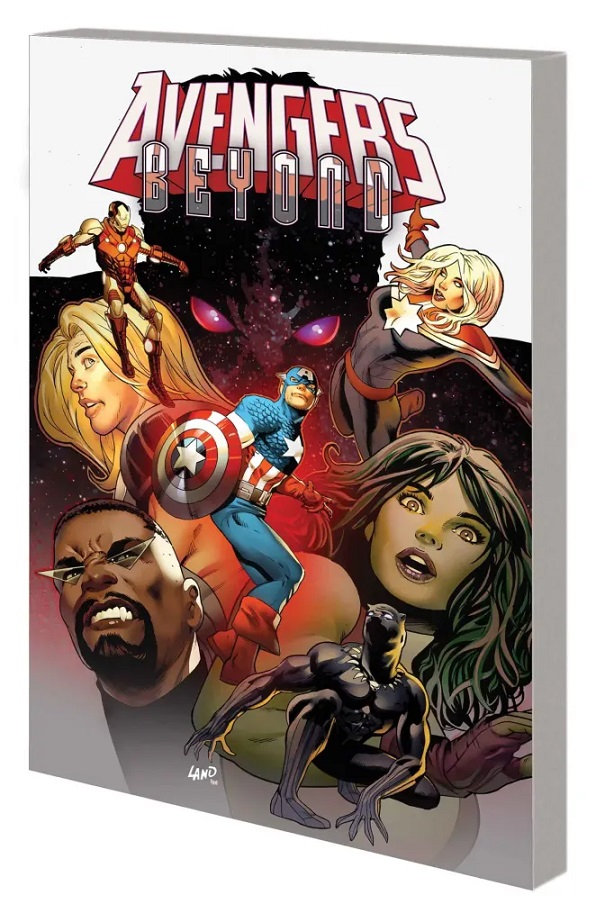 (W) DEREK LANDY (A/CA) GREG LAND
The Avengers' ALL-OUT adventure continues! Someone has been manipulating the Avengers for months, altering the very fabric of reality in an attempt to prepare the planet for a threat that could destroy everything. Now this all-powerful puppeteer is about to be dragged, kicking and screaming, into the light. Meanwhile, as violence tears New York apart, Janet Van Dyne fights not only to save the lives of her fellow heroes, but also a friendship! But time may have run out, for the Lost One has arrived – knocking on Earth's door, waiting to be let in. In a desperate attempt to keep that door shut, a depleted team of Avengers battles the Black Order in the veins and arteries of the dead Celestial they call home. Blood is spilled, bones are broken and betrayal is on the horizon – but who are the Bootleg Avengers?!
Collecting AVENGERS: BEYOND #1-5.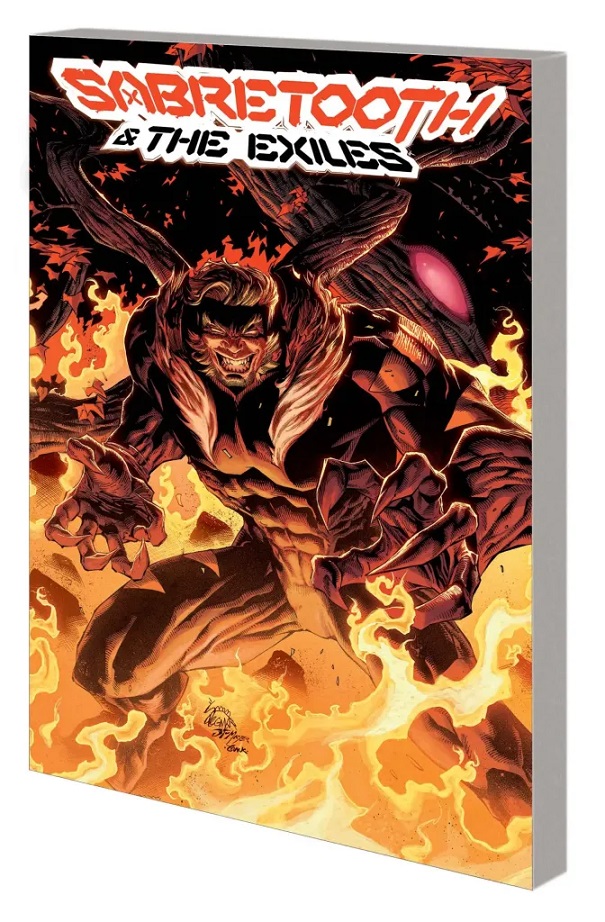 SABRETOOTH & THE EXILES TP
(W) VICTOR LAVALLE (A) LEONARD KIRK (CA) RYAN STEGMAN
Sabretooth takes his destiny into his own clawed hands! The powers that be condemned Victor Creed to the Pit for breaking the rules of Krakoa. But now he's free and ready to show the world that you can't keep a bad man down, even as his fellow Exiles from Krakoa speed along in hot pursuit! But will they find common ground with Sabretooth? Or will their next encounter be their last? The destructive power of one of their number, Orphan-Maker, is contained by his armor – which must not be opened at any cost. So of course, the diabolical Dr. Barrington is about to open the armor. The only hope for Sabretooth and the Exiles lies in the astral plane! Can they stop fighting one another long enough to carve out a path to survival?!
Collecting SABRETOOTH & THE EXILES #1-5.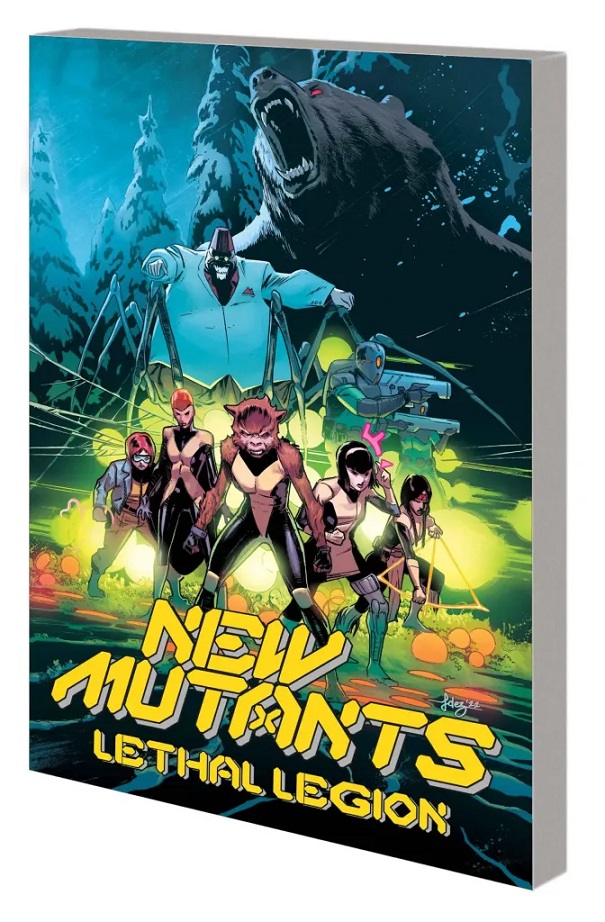 NEW MUTANTS LETHAL LEGION TP
(W) CHARLIE JANE ANDERS (A) ENID BALÁM (CA) JAVI FERNÁNDEZ
Best-selling writer Charlie Jane Anders launches the New Mutants into a new era! When Escapade and her new friends decide to try their hand at Robin-Hooding, they stumble onto a conspiracy that could level New York City: Count Nefaria is building a new Lethal Legion – and Escapade, Scout and Cerebella line up to enlist! But when they find themselves in way over their heads, surely the OG New Mutants will ride to the rescue? Maybe not: Wolfsbane is trapped in a sewer with a very angry beastie, Magik's got X-Men business and Dani and Karma have no idea that their young charges are in trouble at all. Uh-oh! As Nefaria becomes more powerful than ever, this ultimate heist might prove to be genuinely lethal!
Collecting NEW MUTANTS LETHAL LEGION #1-5.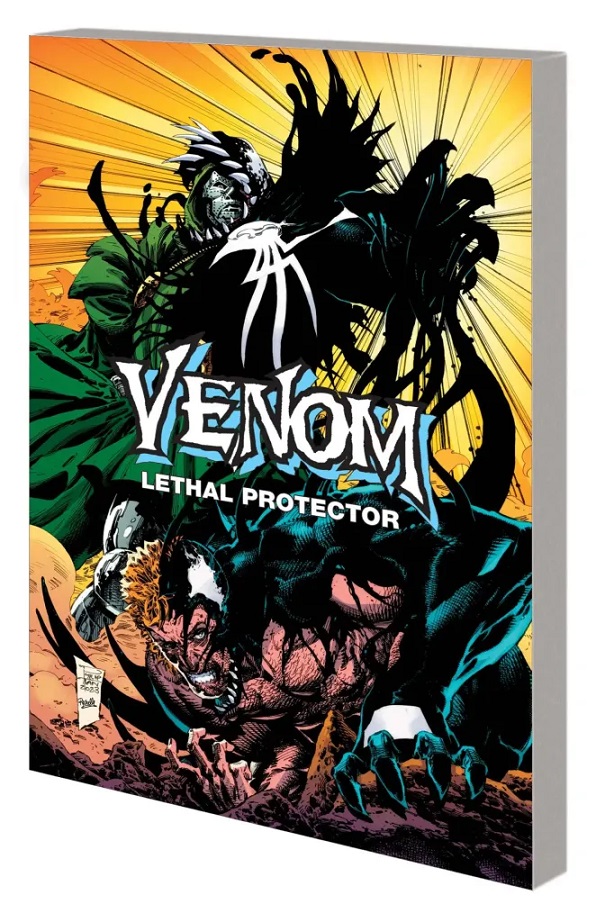 VENOM: LETHAL PROTECTOR – LIFE AND DEATHS TP
(W) DAVID MICHELINIE (A) FARID KARAMI (CA) PHILLIP TAN
Venom vs. Doctor Doom! Venom co-creator David Michelinie returns with a new story set in the sinister symbiote's past, back when brains – and Spider-Man – were still on the menu! Prepare for an epic that will take Venom far from the streets of NYC – all the way to the kingdom of Latveria! When Silver Sable and S.H.I.E.L.D. come calling, Venom is recruited into a battle to stop a tech-worshipping cult from getting their hands on a doomsday weapon. Speaking of doom, there's a certain supreme leader of Latveria who also has his titanium-armored eyes on the same prize – and he's not the only one! Brock is about to be challenged like never before! What (or who) will Venom need to overcome the fiercest foe in the Marvel Universe?
Collecting VENOM: LETHAL PROTECTOR II #1-5.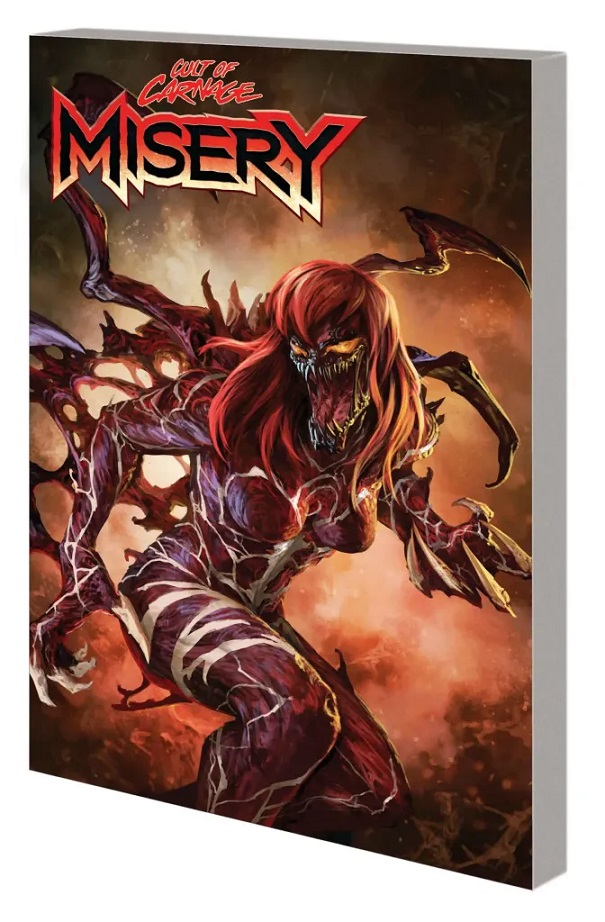 CULT OF CARNAGE: MISERY TP
(W) SABIR PIRZADA (A) FRANCESCO MORTARINO (CA) SKAN
The mother of all symbiote stories! Liz Allan is Normie Osborn's mom and is blissfully unaware that her son is the all-new and all-deadly Red Goblin! But she does know something strange is going on – and after her late husband's father, Norman Osborn (maybe you've heard of him?), gets pulled into the chaos and violence swirls around Normie, Liz has no choice but to use the resources at her disposal as the head of Alchemax to take matters into her own hands and become something the Marvel Universe has never seen before! Meanwhile, Toxin and his fellow Life Foundation symbiotes have been stolen! But by whom? And why?! Regardless, it's up to Liz to save the symbiotes before they fall into the wrong hands and unleash untold havoc across New York!
Collecting CULT OF CARNAGE: MISERY #1-5.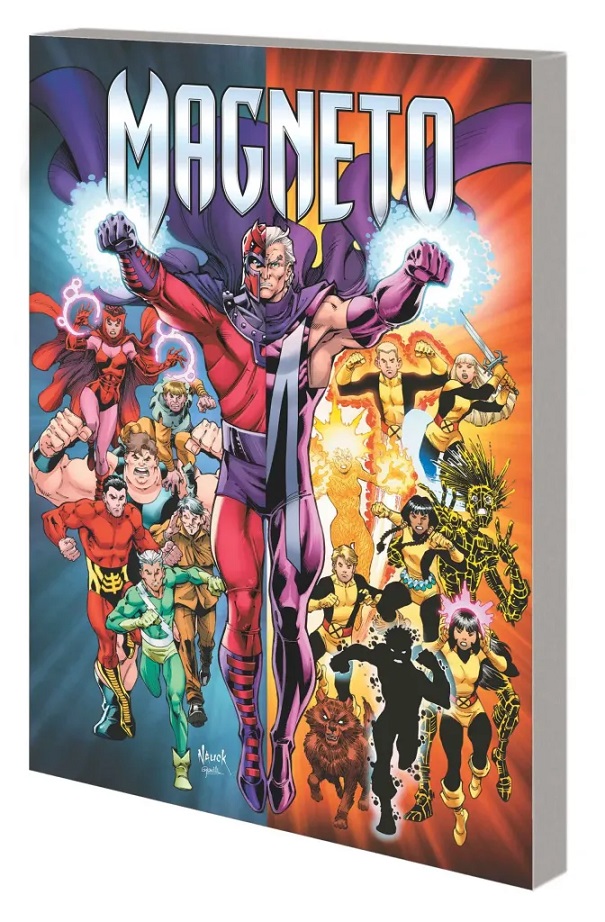 MAGNETO: MAGNETO WAS RIGHT TP
(W) J.M. DEMATTEIS (A/CA) TODD NAUCK
A blast from the past, set when Magneto was headmaster of Xavier's School! Magneto may once have been the X-Men's fiercest foe – but when Professor X leaves the planet for life-saving treatment, the Master of Magnetism inherits a new title: teacher! The New Mutants suddenly find themselves under his tutelage, but can these young X-Men-in-training learn to take orders from a reforming super villain who's tried to kill them and their predecessors?! There are two sides to every story, and J.M. DeMatteis and Todd Nauck weave a tale that will show how Magneto was right…from a certain point of view. In fact, the mutant known as Irae has taken Magneto's lessons to heart in a way that will upend even his best strategies! Prepare to meet the Sisterhood of Evil Mutants!
Collecting MAGNETO (2023) #1-4.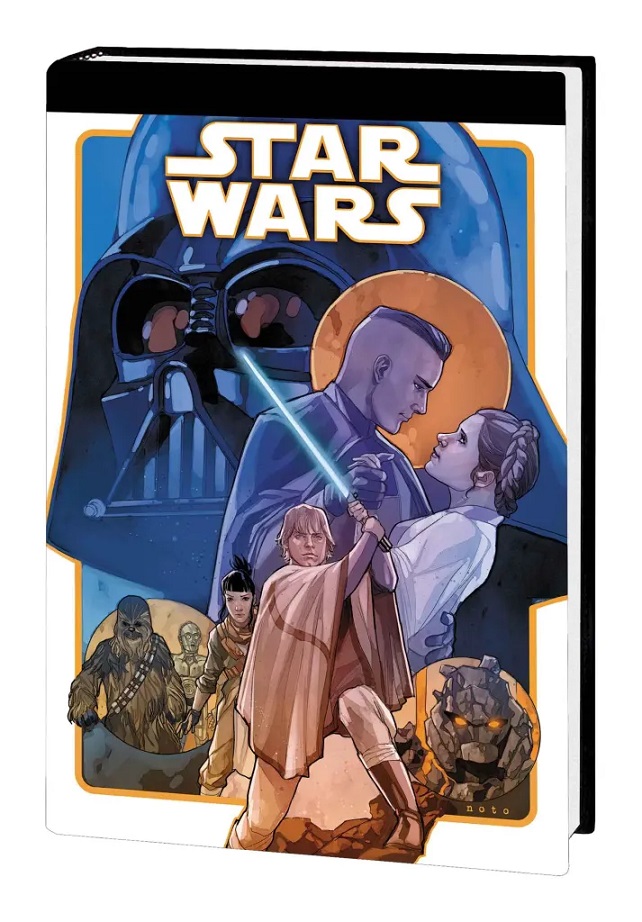 STAR WARS BY GILLEN & PAK OMNIBUS HC
(W/A) VARIOUS (CA) PHIL NOTO
The first chapter of Star Wars' return to Marvel concludes, as Kieron Gillen and Greg Pak's blockbuster runs are collected in one volume! Jedha was left in ruins when the Holy City was annihilated – now, as Queen Trios' forces move in to strip what's left, the rebels struggle to preserve the planet for its survivors! Leia and her allies seek to strengthen their forces, but can they liberate the water planet of Mon Cala? Or will all hope be lost at the hands of Darth Vader? With the Empire resurgent and Vader on a ruthless hunt for Luke Skywalker, our heroes go on the run – but is romance in the air? And can the beleaguered rebels find safe haven in the icy wastelands of Hoth?
Collecting STAR WARS (2015) #38-75, STAR WARS ANNUAL (2016) #4 and STAR WARS: EMPIRE ASCENDANT.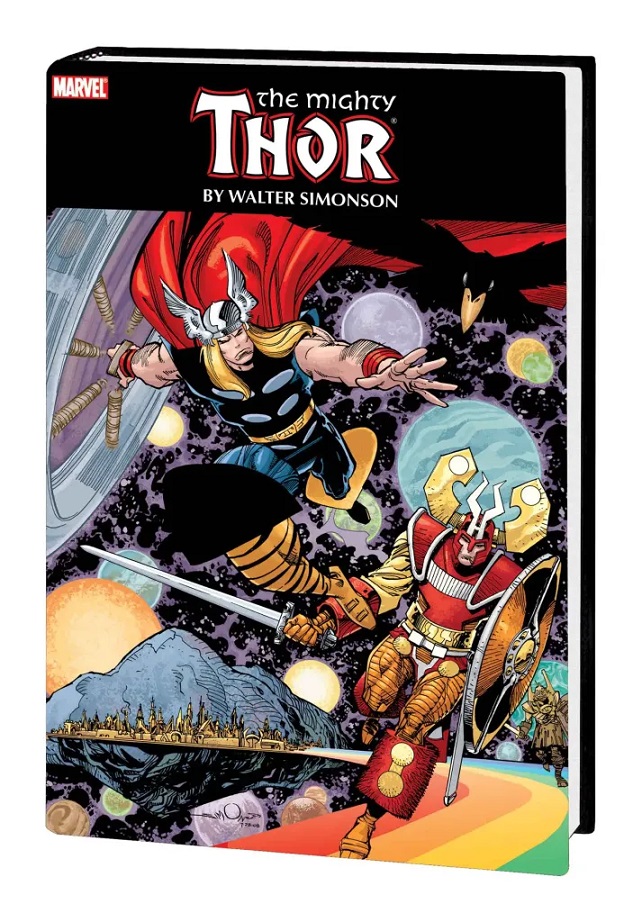 THOR BY WALTER SIMONSON OMNIBUS HC
(W) WALTER SIMONSON (A) WALTER SIMONSON & SAL BUSCEMA (CA) WALTER SIMONSON
Considered by many to be the greatest run on THOR ever, Walter Simonson's classic tales of the God of Thunder are collected here – completely remastered from the original artwork and stunningly recolored by Steve Oliff! And there are too many timeless tales to count: the Casket of Ancient Winters! The death of Odin! The origins of Asgard! The sacrifice of the Executioner! Thor as a frog! The Mutant Massacre! The curse of Hela! The debut of Thor's body armor! Guest-starring Beta Ray Bill, Nick Fury and the Avengers! Featuring the threats of Fafnir the dragon, Loki, Lorelei, Malekith the Dark Elf, Surtur, Hela, the Titanium Man, Kurse, Zaniac, the Marauders, the Absorbing Man, Fin Fang Foom, the Destroyer and the Midgard Serpent! Plus: Balder the Brave battles alone!
Collecting THOR (1966) #337-355, #357-369 and #371-382; and BALDER THE BRAVE #1-4.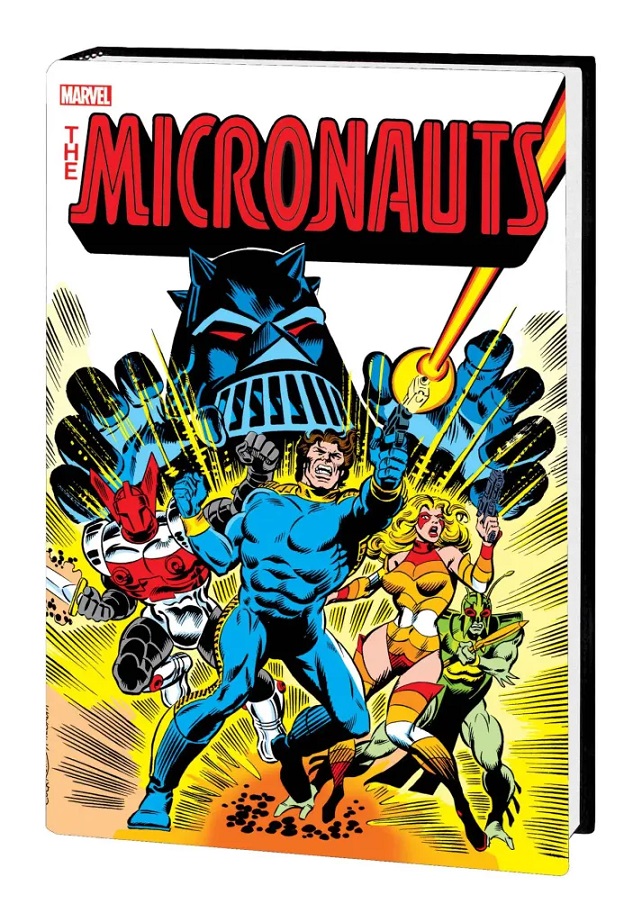 MICRONAUTS: THE ORIGINAL MARVEL YEARS OMNIBUS VOL. 1 HC
(W) BILL MANTLO (A) VARIOUS (CA) DAVE COCKRUM
From out of the Microverse, the Omnibus you thought could never happen! Helmed by writer Bill Mantlo, MICRONAUTS brought together the subatomic heroes of Homeworld and the Marvel Universe! And Mantlo's rich character mythology, combined with groundbreaking artwork by Michael Golden, made the series an instant classic. The Micronauts – Commander Rann, Princess Mari, Biotron, Acroyear and Bug – traverse their universe aboard the microship Endeavor as they struggle to free Homeworld from the tyrannical Baron Karza! Their exploits also bring them to Earth, where our micro-sized heroes encounter big-time Marvel heroes and villains – including the Fantastic Four, S.H.I.E.L.D., Captain Universe and Man-Thing! This Omnibus edition presents a stunning restoration, complete with letters pages and host of bonus material, including house ads, original artwork and more!
Collecting MICRONAUTS (1979) #1-29 and ANNUAL #1-2.
If anything jumped out to you, remember to message us or let us know next time you're in the shop! You get a text the second it arrives in the shop and we place a copy aside just for you so you don't miss out!
We do these each month so keep an eye out for the next post!
Have a great month and happy reading 💚