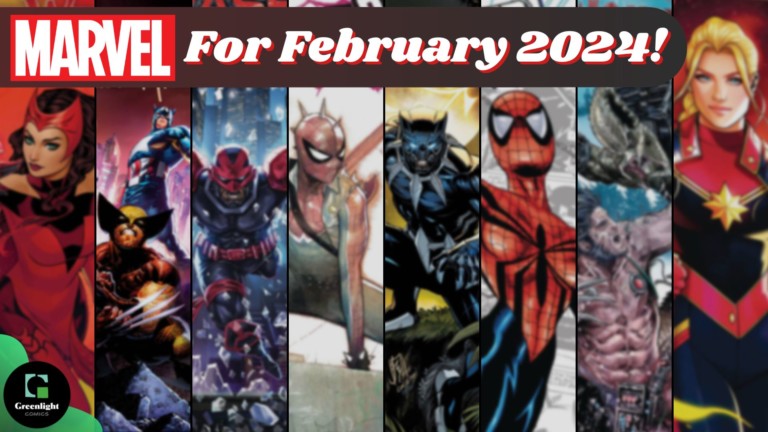 The December issue of Marvel Comics Previews has arrived! Here is our breakdown of the new comics series to jump on, plus what collected editions are arriving from February 2024! You can find the rest of our Previews Picks for other DC Comics, Indies & Manga titles here!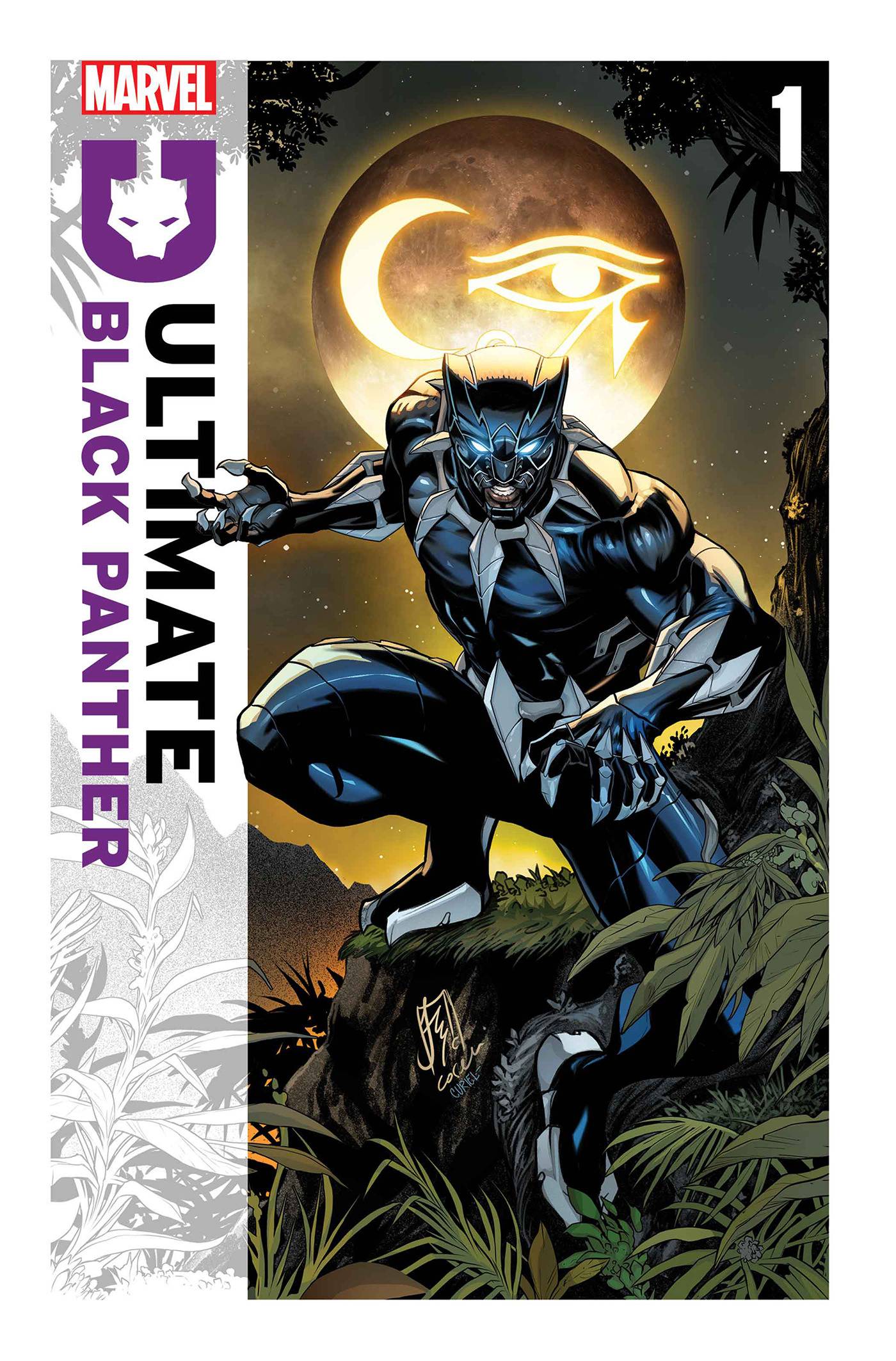 ULTIMATE BLACK PANTHER #1
(W) Bryan Hill (A/CA) Stefano Caselli
THE NEW ULTIMATE BLACK PANTHER! In the wake of ULTIMATE INVASION, Khonshu and Ra – the force known together as Moon Knight – are seeking to expand their brutal control of the continent of Africa. In response, the lone bulwark against them, the isolated nation of Wakanda, will send forth its champion… its king… the Black Panther! From the creative minds of Bryan Hill (BLADE, KILLMONGER) and Stefano Caselli (X-MEN RED, AVENGERS) comes a bold new take on the world of Black Panther and Wakanda!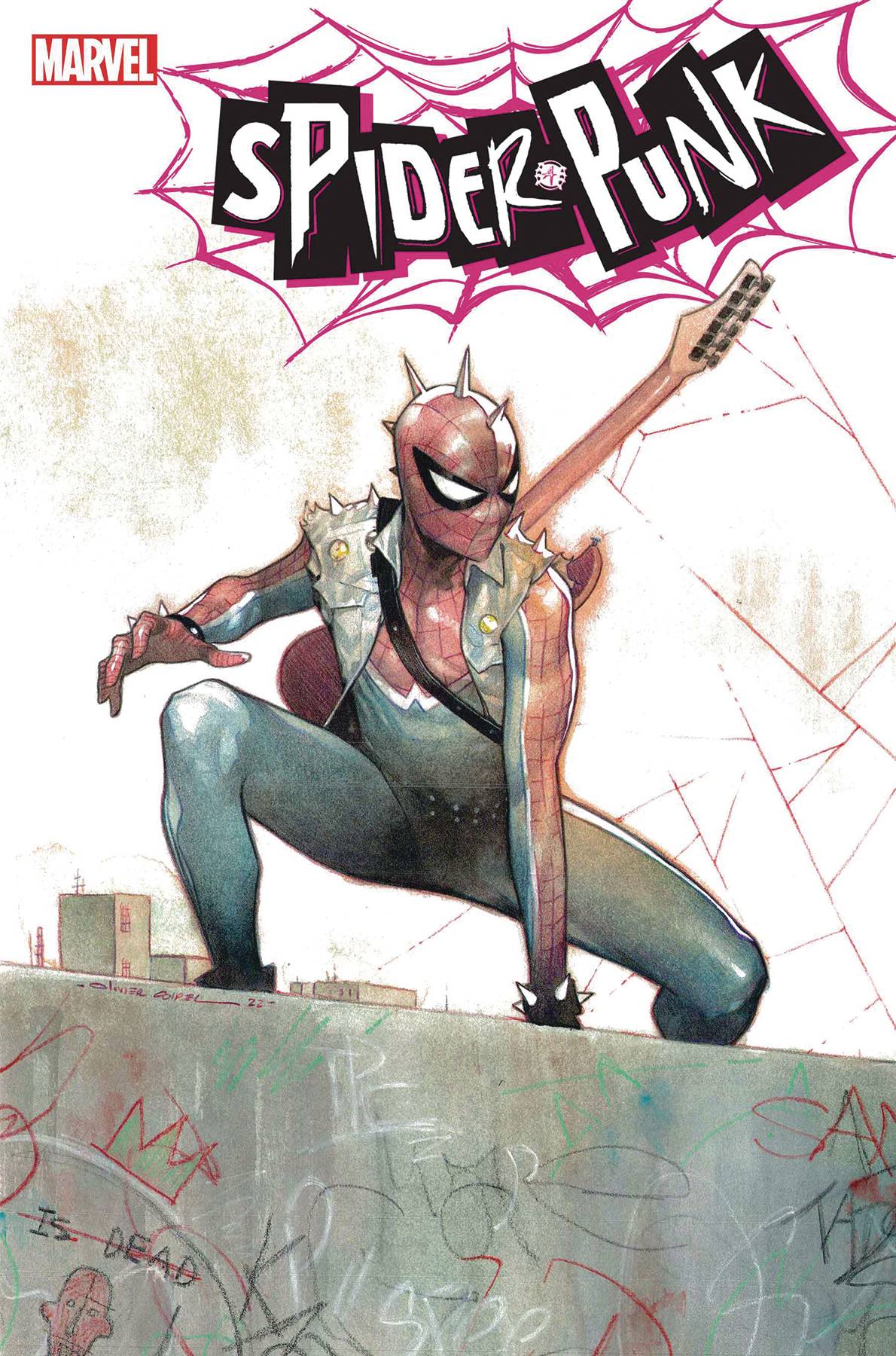 (W) Cody Ziglar (A) Justin Mason (CA) TBA – Featured Variant Cover by Olivier Coipel
ANARCHY IN THE SPIDER-VERSE! SPIDER-PUNK GETS HIS OWN SERIES! HOBIE BROWN is THE ANARCHIC SPIDER-PUNK – set to protect EARTH-138 with his ax in hand and his chaotic band of punk rockin' heroes backing him! NORMAN OSBORN is dead, but will the chaos he's created be too much for Spider-Punk and gang to handle? Feel the vibes as CODY ZIGLAR (AMAZING SPIDER-MAN) and JUSTIN MASON bring you the jams when "BANNED IN DC" begins here!
SCARLET WITCH & QUICKSILVER #1 (OF 4)
(W) Steve Orlando (A) Lorenzo Tammetta (CA) Russell Dauterman
Old Rivalries and New Mysteries! The Scarlet Witch and Quicksilver have been heroes, friends, family heads and occasionally villains, but, above all, they are twins who look out for each other. So when Wanda receives a letter from the recently deceased Magneto that would upset Pietro, she burns the letter before her brother can read it. But her choice drives them apart at the worst possible time: a new threat heralded by the Wizard – with a horrifying eldritch upgrade – is coming for their heads, and if they can't find a way to repair their damaged bond, it will cost them their lives. Join the fan-favorite SCARLET WITCH creative team as they celebrate sixty years of Scarlet Witch and Quicksilver with this new chapter in the twins' storied legacy!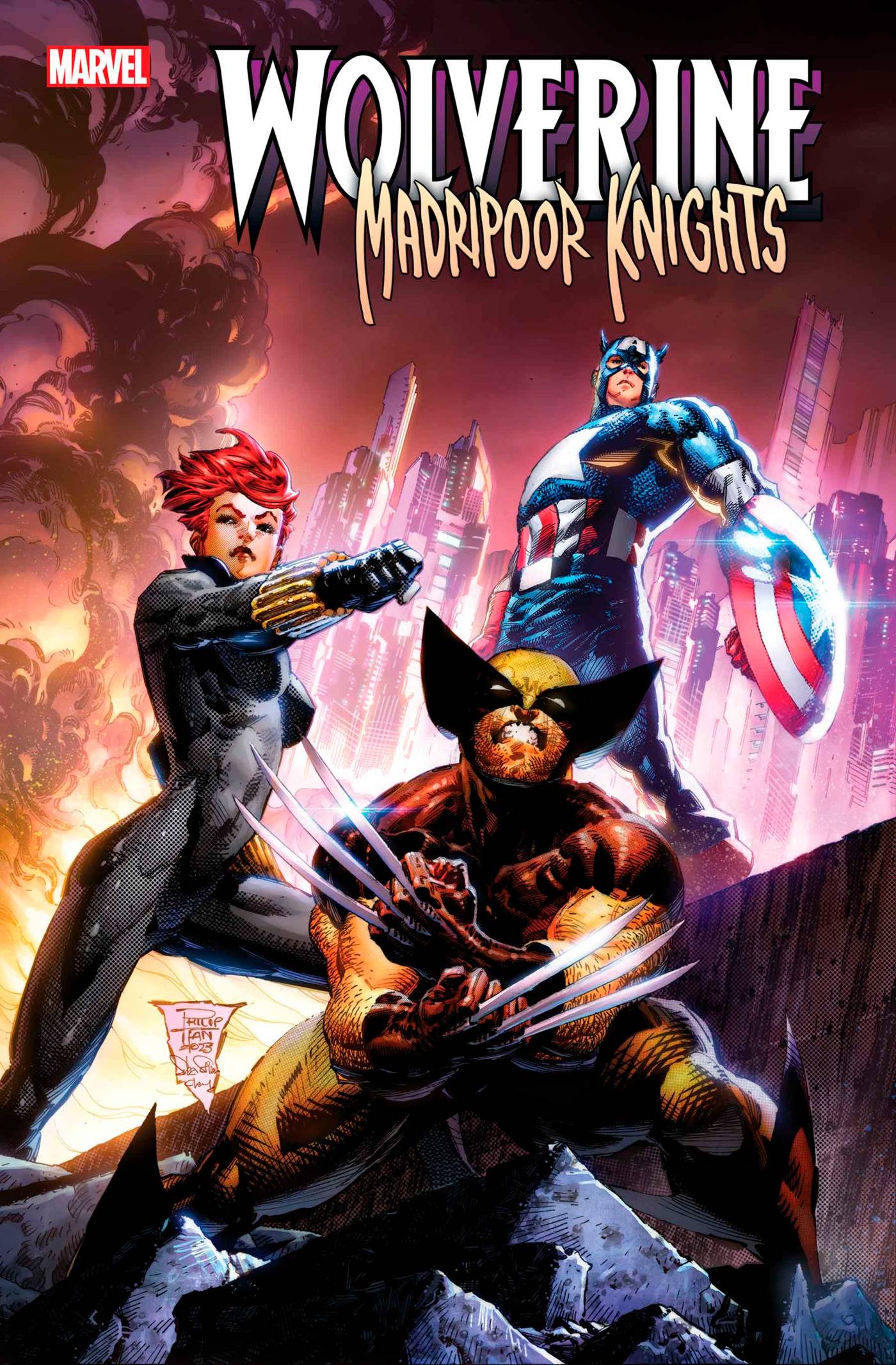 WOLVERINE: MADRIPOOR KNIGHTS #1 (OF 5)
(W) Chris Claremont (A) Edgar Salazar (CA) Philip Tan
Return to the island-nation of Madripoor as X-Men legend Chris Claremont takes the helm of an all-new WOLVERINE tale teaming Logan with his long-standing friends CAPTAIN AMERICA and the BLACK WIDOW! Picking up in the window of the all-time classic UNCANNY X-MEN #268, thrill to a brand-new adventure! When a secret weapon brings Captain America to Madripoor, the trio team-up you've been waiting decades for will finally come to pass as the mission brings Logan and Black Widow into a race against time against a multitude of foes, including the HAND! You've been waiting for this one… and you'll never guess where it goes!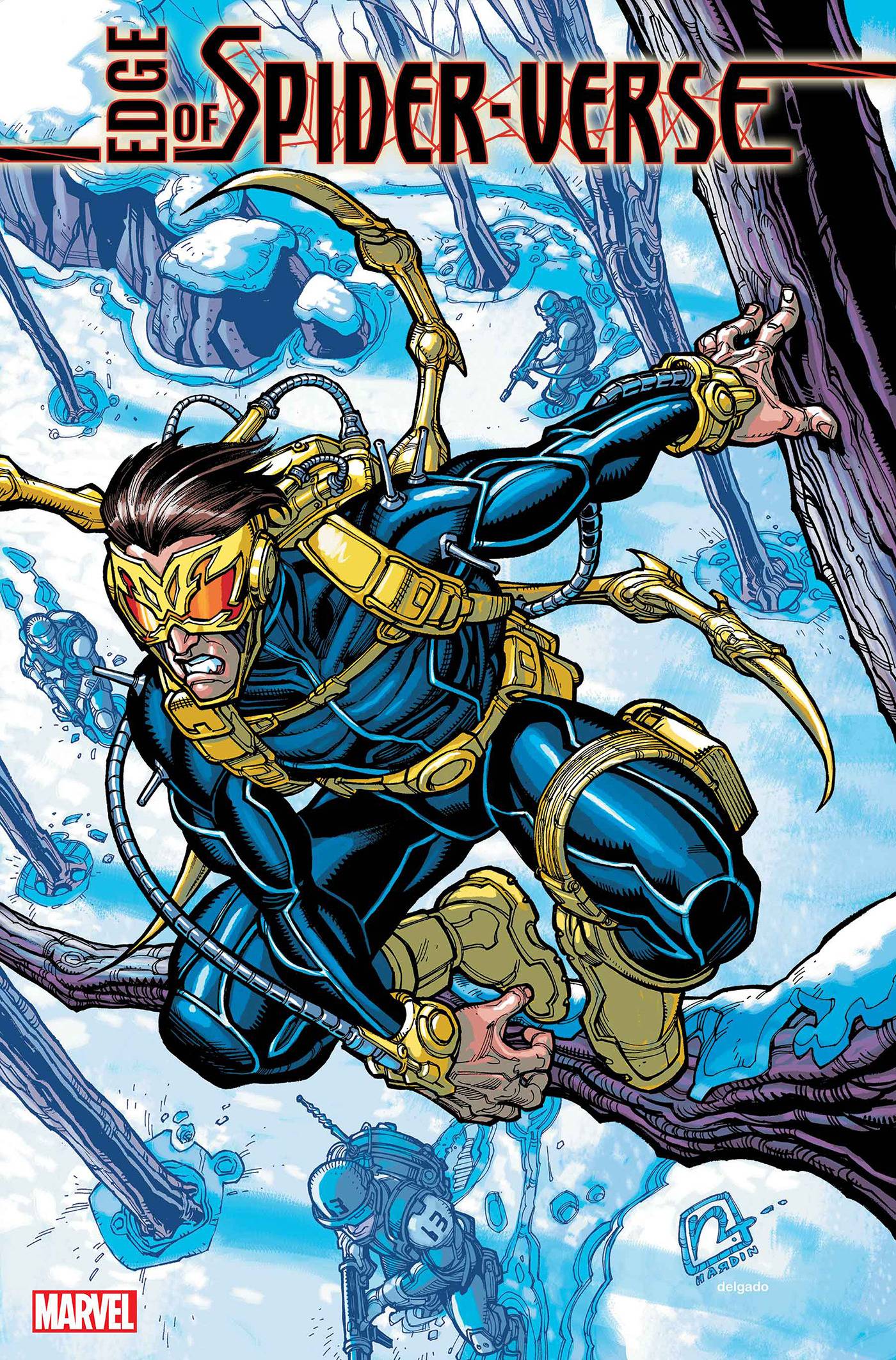 EDGE OF SPIDER-VERSE (2024) #1 (OF 4)
(W) Jackson Lanzing, Various (A) Travel Foreman, Eric Gapstur (CA) Chad Wayne Hardin
The now perennial Spider-Hit is back as we start the build to the biggest Spider-Versal story we've EVER DONE! We all know who Weapon X is, but WHO IS WEAPON VIII?! In their universe, when Weapon X escapes from his facility, they call on their greatest previous success to get him back. SPIDER-BYTE RETURNS! You may not have realized that the digital avatar Spider-Character who made her big screen debut in Across the Spider-Verse came from the comics first! She's back in comics now and you don't want to miss her!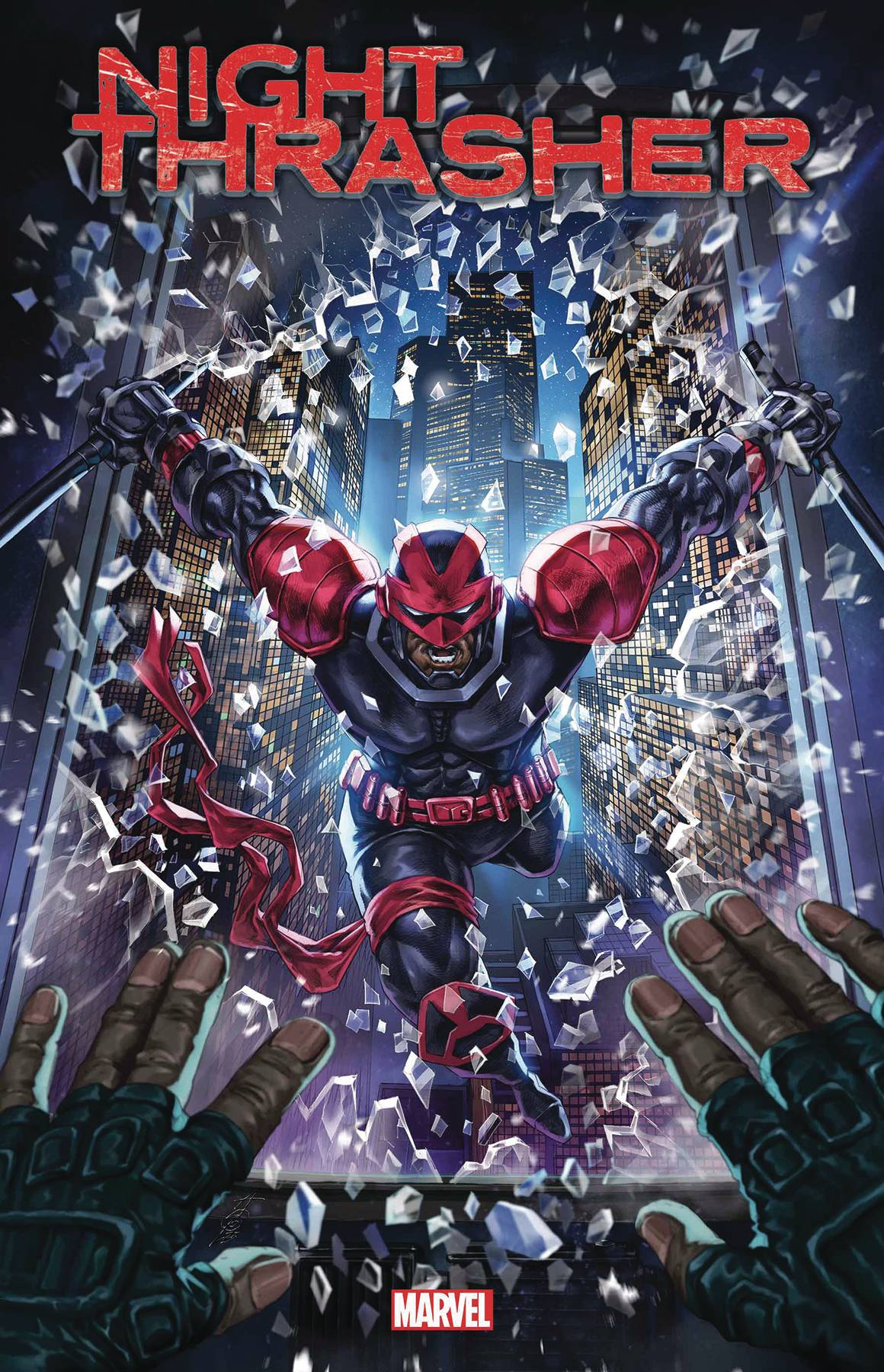 (W) J Holtham (A) Nelson Daniel (CA) Alan Quah
It's time to thrash the night! The death of a loved one draws Dwayne Taylor back to New York City, though his days as NIGHT THRASHER are long over. But Dwayne finds the past difficult to outrun when SILHOUETTE, his ex-teammate from the NEW WARRIORS, seeks his help against a new criminal called THE O.G. And the mystery of the O.G.'s true identity and what's to come will change Night Thrasher's legacy forever! Don't miss this bold new direction for a cult classic character who is leaving the '90s behind him!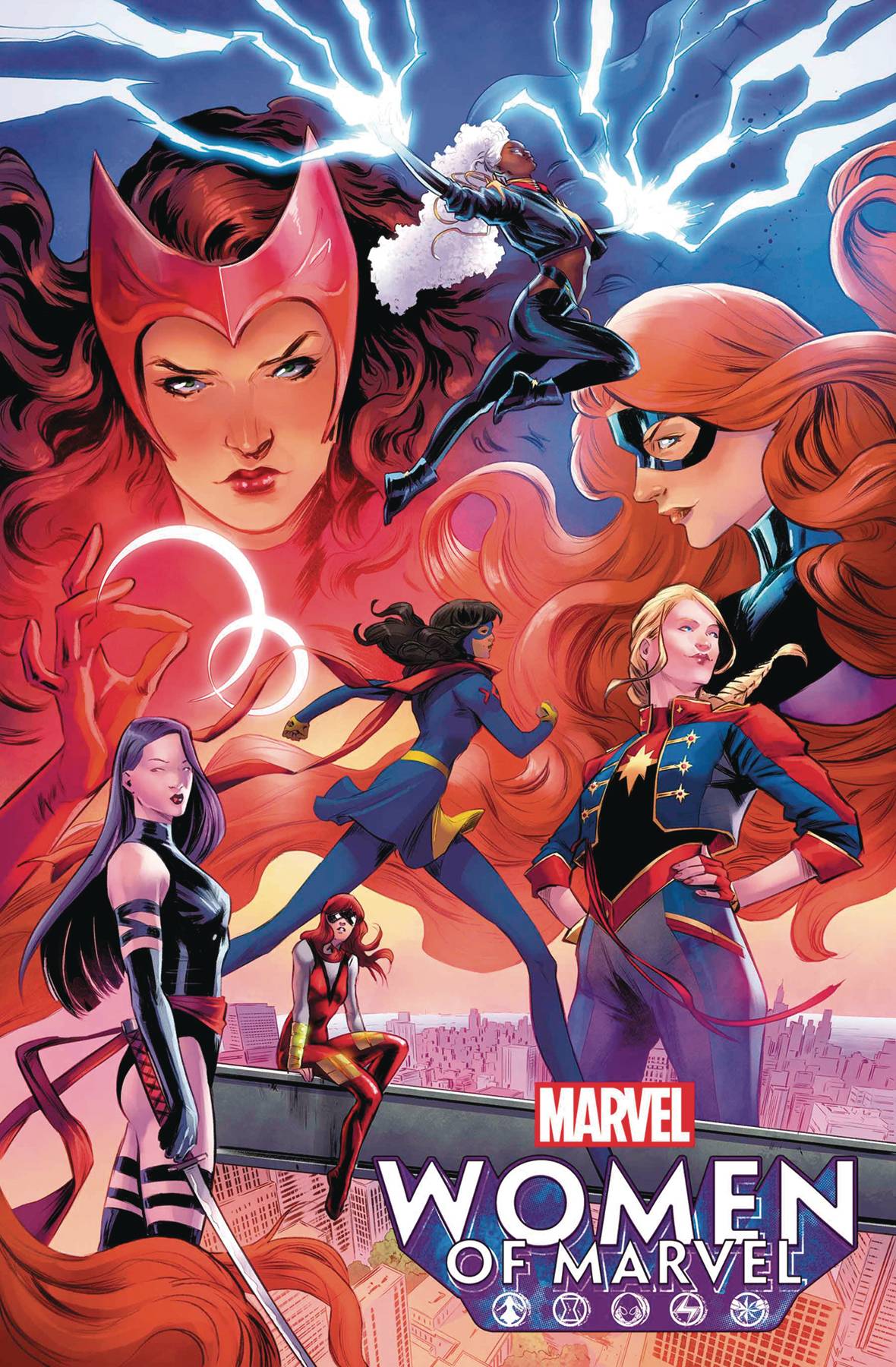 (W/A) Various (CA) Carmen Carnero
CELEBRATING THE MIGHTY WOMEN OF MARVEL! Because they worked hard for this and they deserve it! But who you callin' "doll"?! Marvel's most powerful heroines take center stage in an anthology that will inspire, empower and motivate fans from all walks of life! Whether it's the Boss of Space pummeling back an alien invasion or the Scarlet Witch weaving a magical protection, the women of Marvel have got your back. Featuring a story by industry legend Gail Simone and more to come!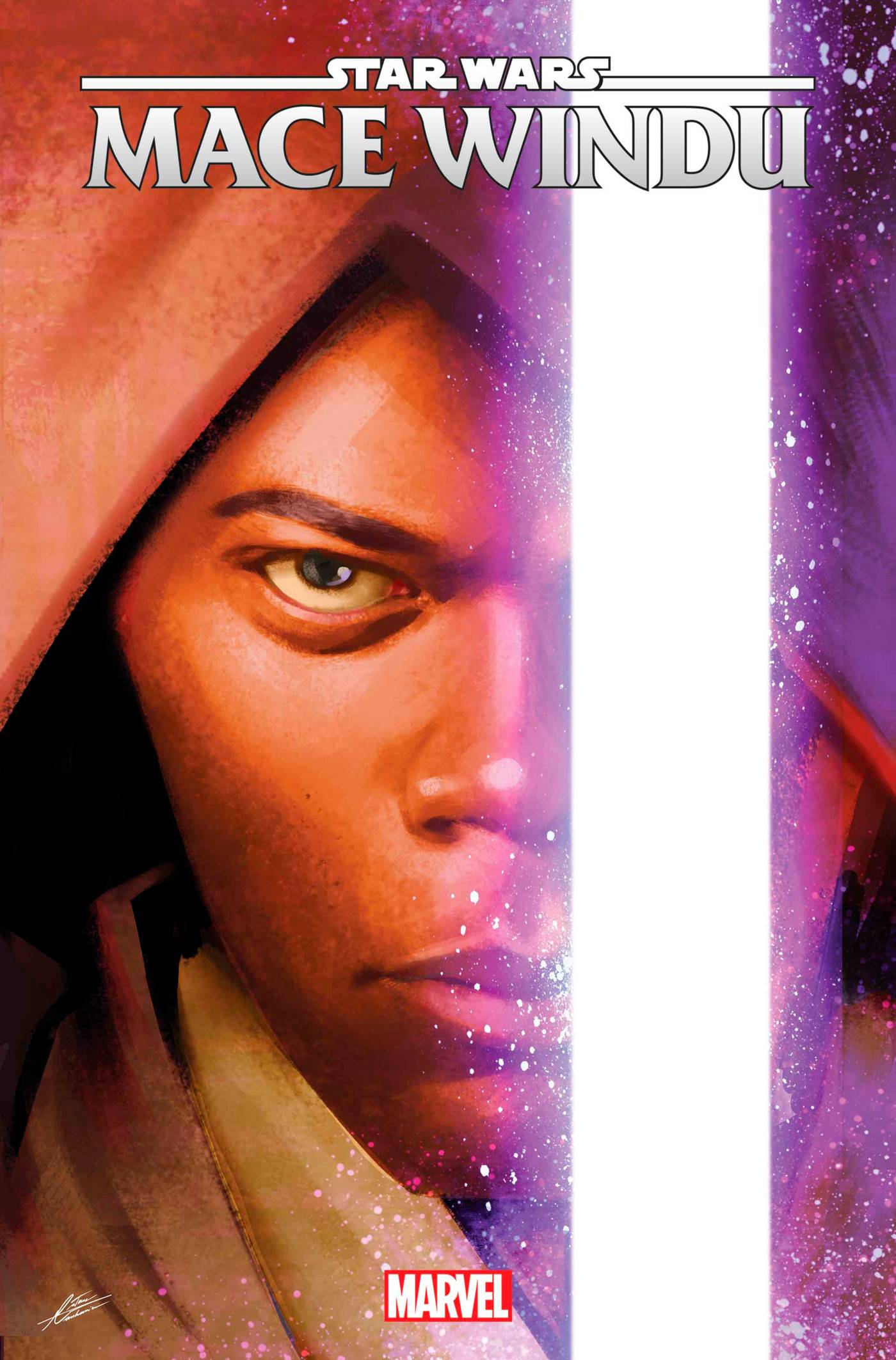 STAR WARS: MACE WINDU #1 (OF 4)
(W) Marc Bernardin (A) Georges Jeanty (CA) Mateus Manhanni
ONE OF THE GREATEST JEDI MUST STOP AN INCENDIARY SECRET FROM FALLING INTO THE WRONG HANDS! Even in the years before THE CLONE WARS, MACE WINDU was known for his discipline, determination and combat skills. When a scientist's discovery threatens the balance of the galaxy, Mace is led down a treacherous path of mystery and action. Introducing AZITA CRUUZ, a pirate with a deadly secret, who the HUTTS and the REPUBLIC will stop at nothing to control!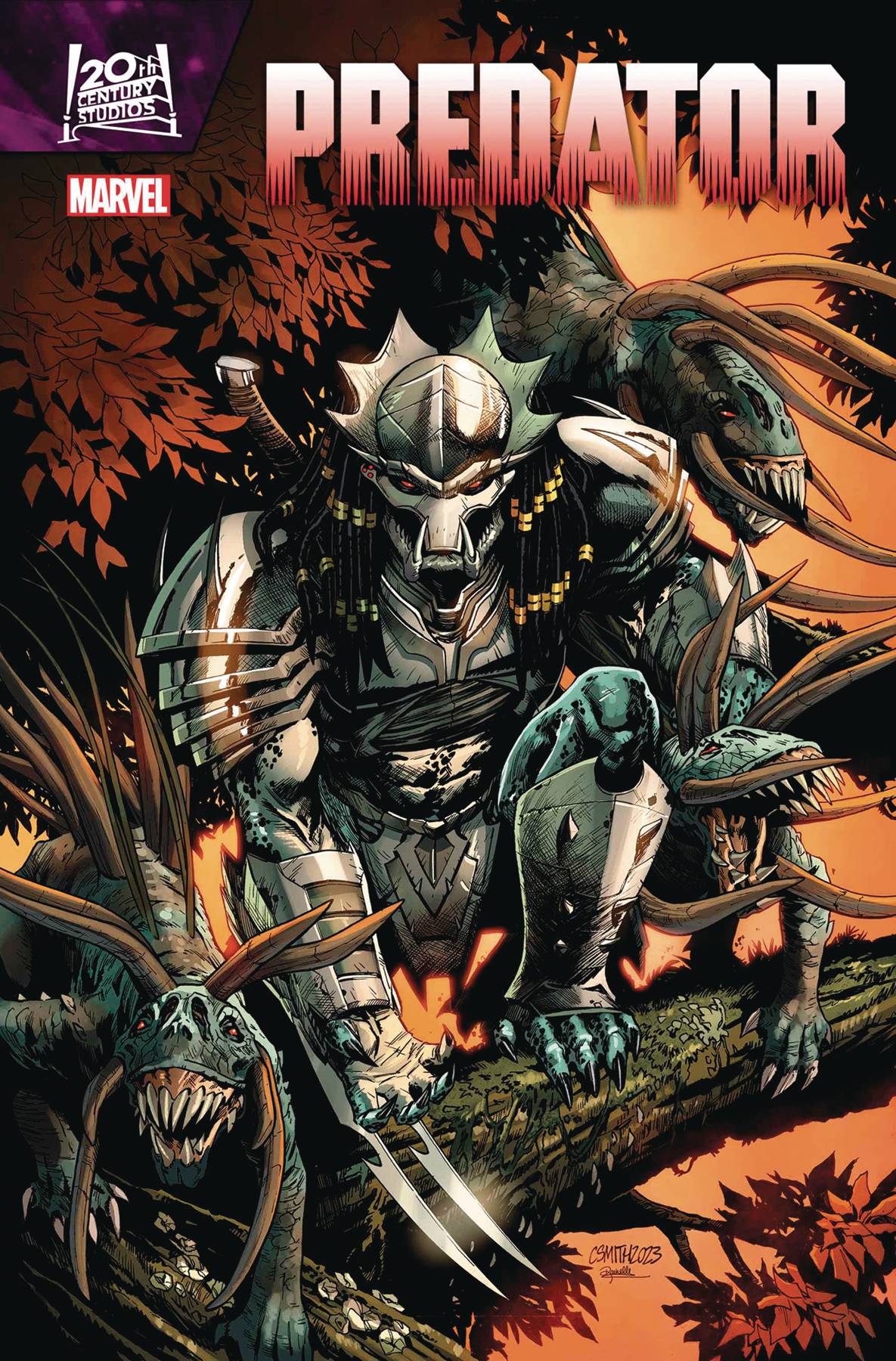 (W) Ed Brisson (A) Francesco Manna (CA) Cory Smith
HUNT. KILL. REPEAT. In the near future, a young girl sees her family slaughtered by the deadliest and most feared hunter in the universe: a PREDATOR. Years later, though her ship is barely holding together and food is running short, Theta won't stop stalking the spaceways until the Yautja monster who killed her family is dead… or she is. Ed Brisson (IRON FIST, GHOST RIDER) and Kev Walker (DR. STRANGE, DOCTOR APHRA) forge a violent, heartbreaking and unforgettable new chapter in the PREDATOR saga not to be missed!
Graphic Novels & Collected Editions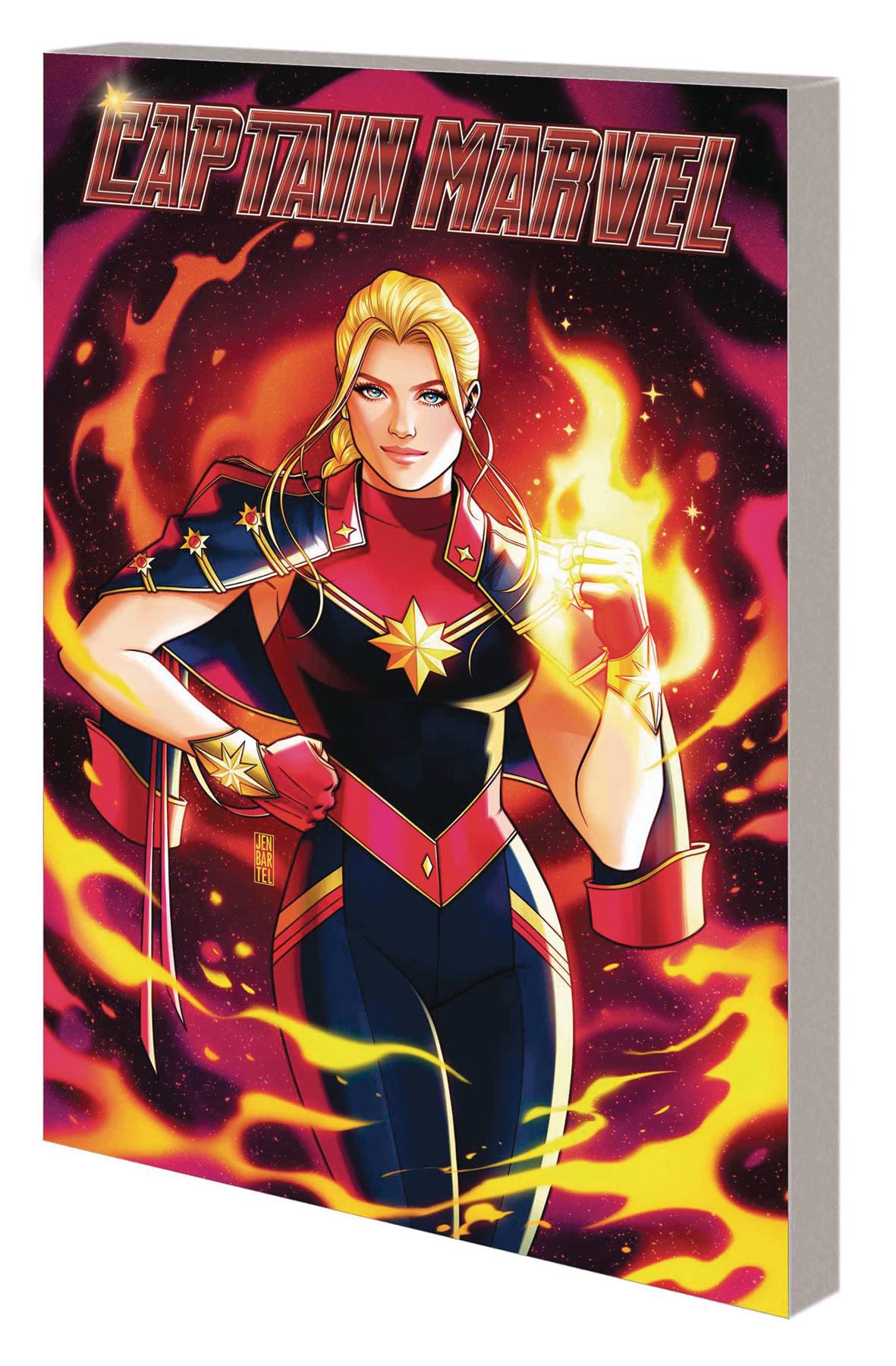 CAPTAIN MARVEL TP VOL 01 THE OMEN
(W) Alyssa Wong (A) Jan Bazaldua, Various (CA) Jen Bartel
Highest, furthest, fastest! Captain Marvel has a new look, a new creative team and a new status quo! When cat burglar Yuna Yang set out to steal the legendary Nega-Bands, she was looking for a quick paycheck. What she got was a free ticket to the Negative Zone – and permanent entanglement with Carol Danvers! Permanent until death, that is. And it doesn't look like Yuna's going to make it to old age – not with the Omen hot on her tail and hungry for the bands' power! Meanwhile, Carol's got to get these blasted bangles off and reclaim her life – and who better to ask for advice than the Sorcerer Supreme Clea Strange? Because the more Carol keeps getting bounced into the Negative Zone, the more likely it is she'll have to face Blastaar the Living Bomb-Burst!
Collecting CAPTAIN MARVEL (2023) #1-4.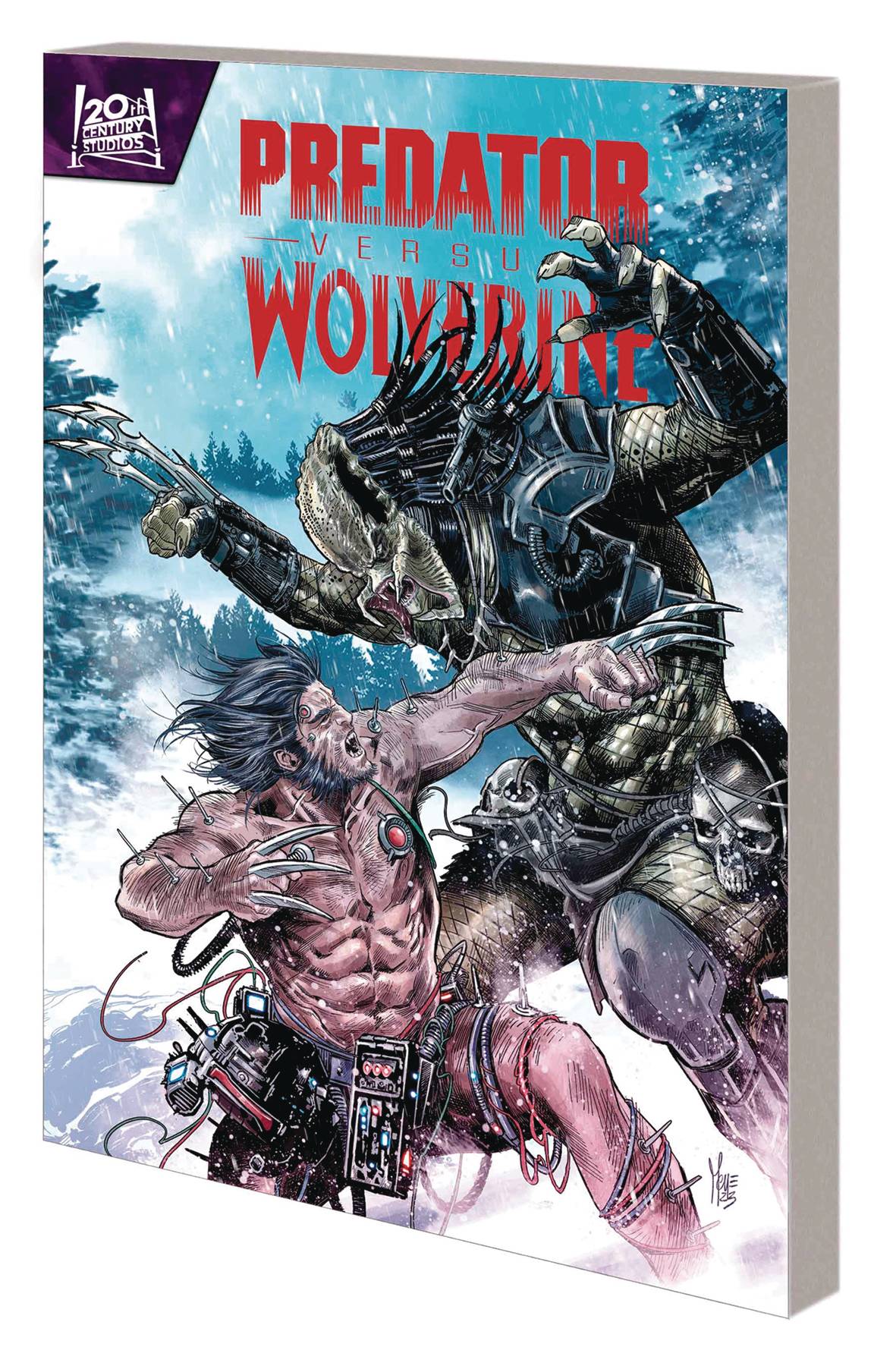 (W) Ben Percy (A) Greg Land, Andrea Di Vito, Various (CA) Marco Checchetto
The bloodthirsty saga you've been waiting for! Wolverine has lived one of the longest and most storied lives in Marvel Comics history. Now witness the untold greatest battles of Logan's life – across the ages, against a Predator! One Yautja seeks the greatest prey in existence – and finds it in Weapon X. From the blood-ridden snows of the Canadian wilderness to the sword-slinging streets of Madripoor, Wolverine and a Predator will destroy everything in their paths on their way to the ultimate victory – or glorious death! Superstar writer Benjamin Percy brings the bloodiest hunters in all of pop culture to their knees! But will Wolverine's adamantium skull join the bones of countless other prey? Or will he prove, once again, that he's the best there is?
Collecting PREDATOR VS. WOLVERINE #1-4.
(W) Charles Soule (A) Luke Ross (CA) Leinil Yu
"First, it comes for the metal…" It is called the Scourge – and no droid is safe from its corruption! As the Scourge spreads from one droid to the next, both the Rebel Alliance and the Empire face uprisings, chaos and terror as their closest companions turn against them! With every passing moment, the infection learns more and grows stronger – but is its goal limited to dominating mechanical intelligence? Or does the Scourge have something far worse in mind? And what role will the droid priest Ajax Sigma play in all of this? Find out when horror comes to a galaxy far, far away! Unlikely allies must join forces to fight an invading evil in a STAR WARS epic like you've never seen before!
Collecting STAR WARS: DARK DROIDS #1-5.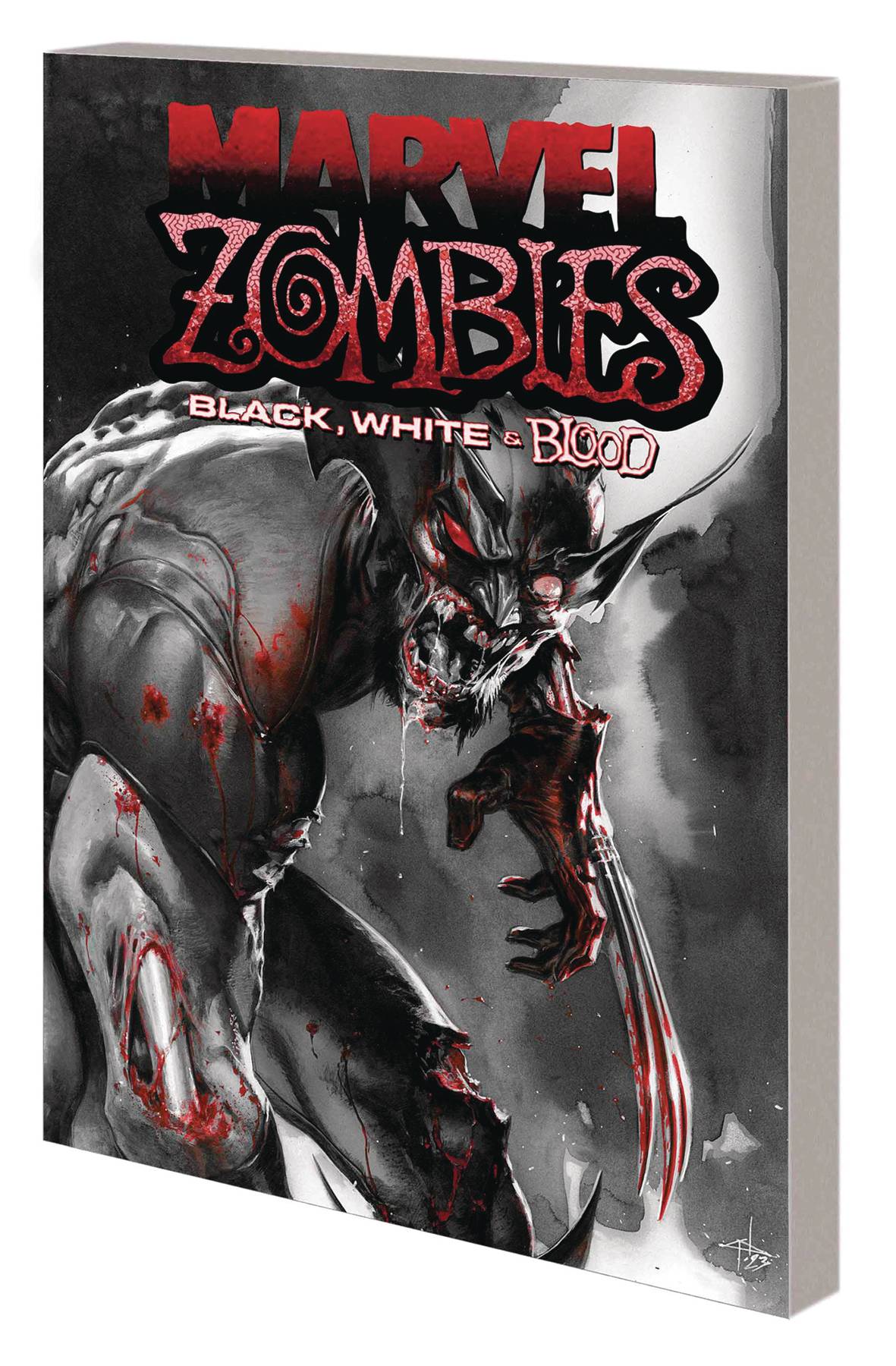 MARVEL ZOMBIES BLACK WHITE & BLOOD TP TREASURY EDITION
(W/A) Various (CA) Gabriele Dell Otto
An all-new era of Marvel Zombies! Daredevil, Spider-Man, Moon Knight, Blade, the Punisher and many more are beset by ever-growing zombie hordes! A mad Reed Richards works in desperation. A lone warrior stands tall against a galaxy of undead. And the unstoppable X-Force faces its greatest foe yet! From New York City to a mystical forest full of gods and monsters to the now truly Savage Land, the plague has clawed its way everywhere – but in a brutal, bloodstained world, can hope survive? Or will creeping, gnawing, shambling horror win out at last? Find out as your favorite (and soon-to-be favorite!) creators tell the most haunting tales their minds can muster!
Collecting MARVEL ZOMBIES: BLACK, WHITE & BLOOD #1-4.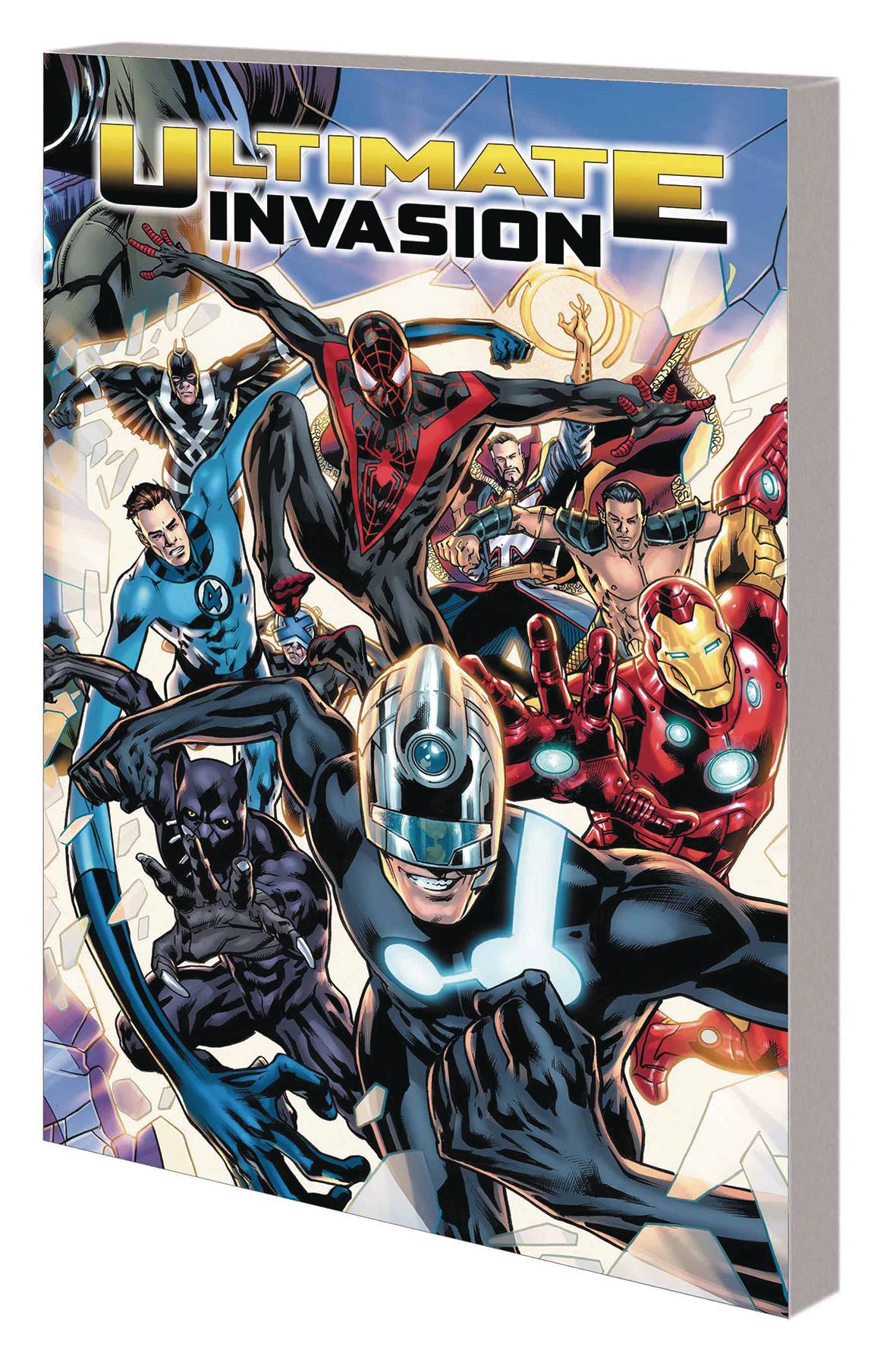 (W) Jonathan Hickman (A/CA) Bryan Hitch
The Illuminati must gather once again to stop the Maker! One of the last survivors of the original Ultimate Universe, the Maker plans to ensure that Earth's Mightiest Heroes never become heroes at all – and then he can reshape a defenseless universe into exactly what he wants it to be! Timelines and dimensions collide – and at the end of it all, the world outside your window will be forever changed! But how does Miles Morales factor into the Maker's plans? Fresh from masterminding the Krakoan era of X-Men, visionary writer Jonathan Hickman presents his next revolutionary epic alongside superstar artist Bryan Hitch, who helped redefine super-hero comics with THE ULTIMATES!
Collecting ULTIMATE INVASION #1-4.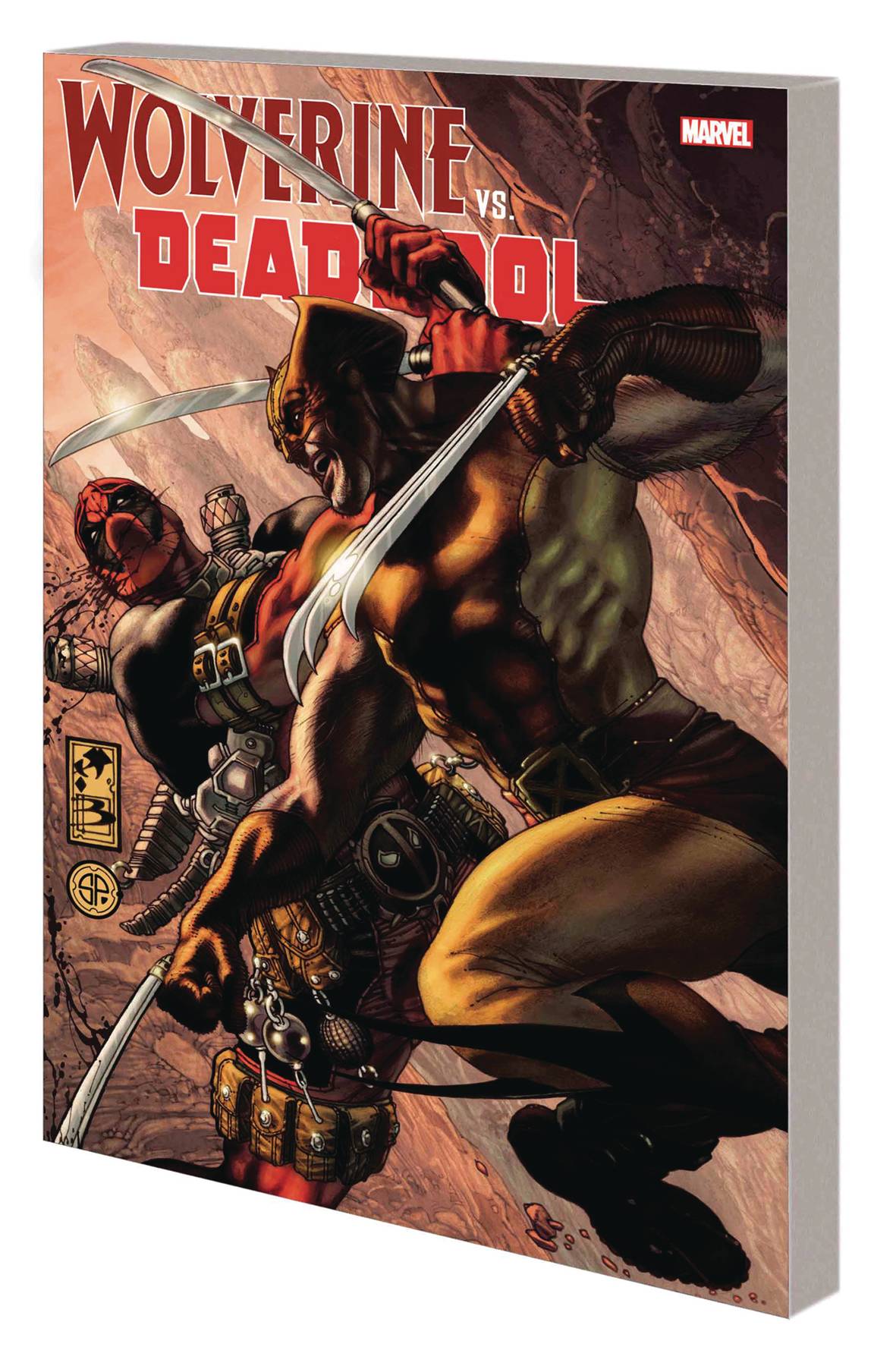 (W/A) Various (CA) Simone Bianchi
The Merc with a Mouth takes on the Mutant with the Muttonchops in their greatest battles – and occasional team-ups! Katanas and claws clash in their brutal first meeting – but when someone targets Weapon X survivors, Wolverine must ride to Deadpool's rescue! Doctor Bong tolls for our heroes, then things get hairy over a werewolf! And when a bounty is placed on Logan's head, guess who tries to collect! An assault on a Hydra base will have them at each other's throats, while Wolvie plays straight man to Wade's wisecracker in a showdown with a Shi'ar robot. But things really go off the deep end in the main event – one ultimate, over-the-top, slicing-and-dicing slobberknocker!
Collecting WOLVERINE (1988) #88 and #154-155, DEADPOOL (1997) #27, CABLE & DEADPOOL #43-44, WOLVERINE: ORIGINS #21-25, WOLVERINE/DEADPOOL: THE DECOY, and material from WOLVERINE ANNUAL '95 and '99.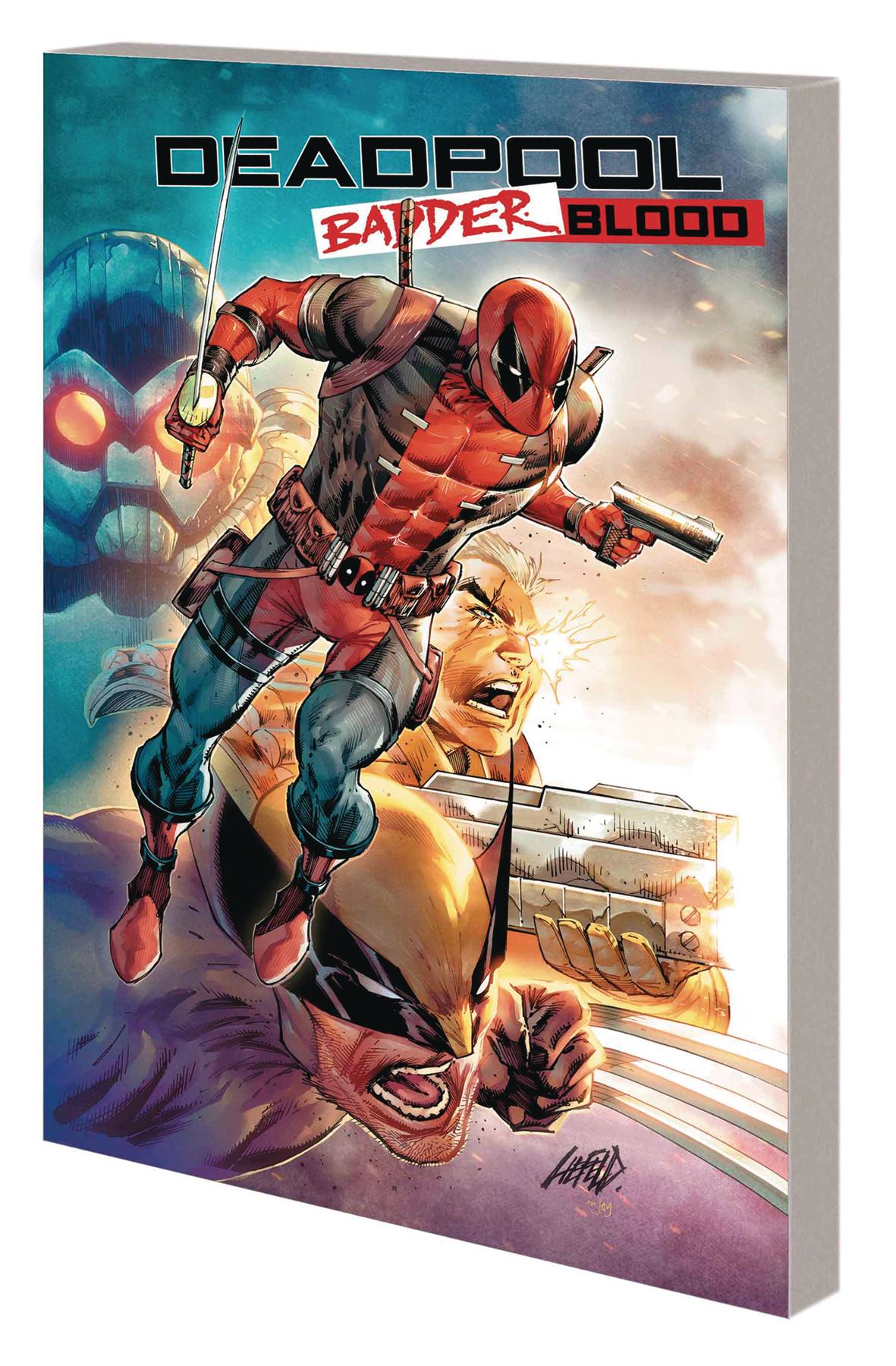 (W) Rob Liefeld, Chad Bowers (A/CA) Rob Liefeld
Rob Liefeld returns – and he's bringing some of Deadpool's frenemies along for the ride! When the villainous Thumper returns to take out the man who created him, Wolverine and Cable step in for a daring rescue mission. But as Deadpool becomes embroiled in nefarious criminal machinations in Madripoor, will the trio be able to join forces – or will Thumper's agenda put an end to their efforts? The Merc with a Mouth thinks he's pretty good with a sword – but is he good enough to trounce the mysterious, blade-brandishing Shatterstorm?! And, win or lose, will wascally Wade have what it takes to navigate the Terrors of Killville? Plus: The Imperial Guard! Zabu of the Savage Land! And, would you believe, Venompool?! But who is Arcata – and what are her plans for Deadpool?
Collecting DEADPOOL: BADDER BLOOD #1-5.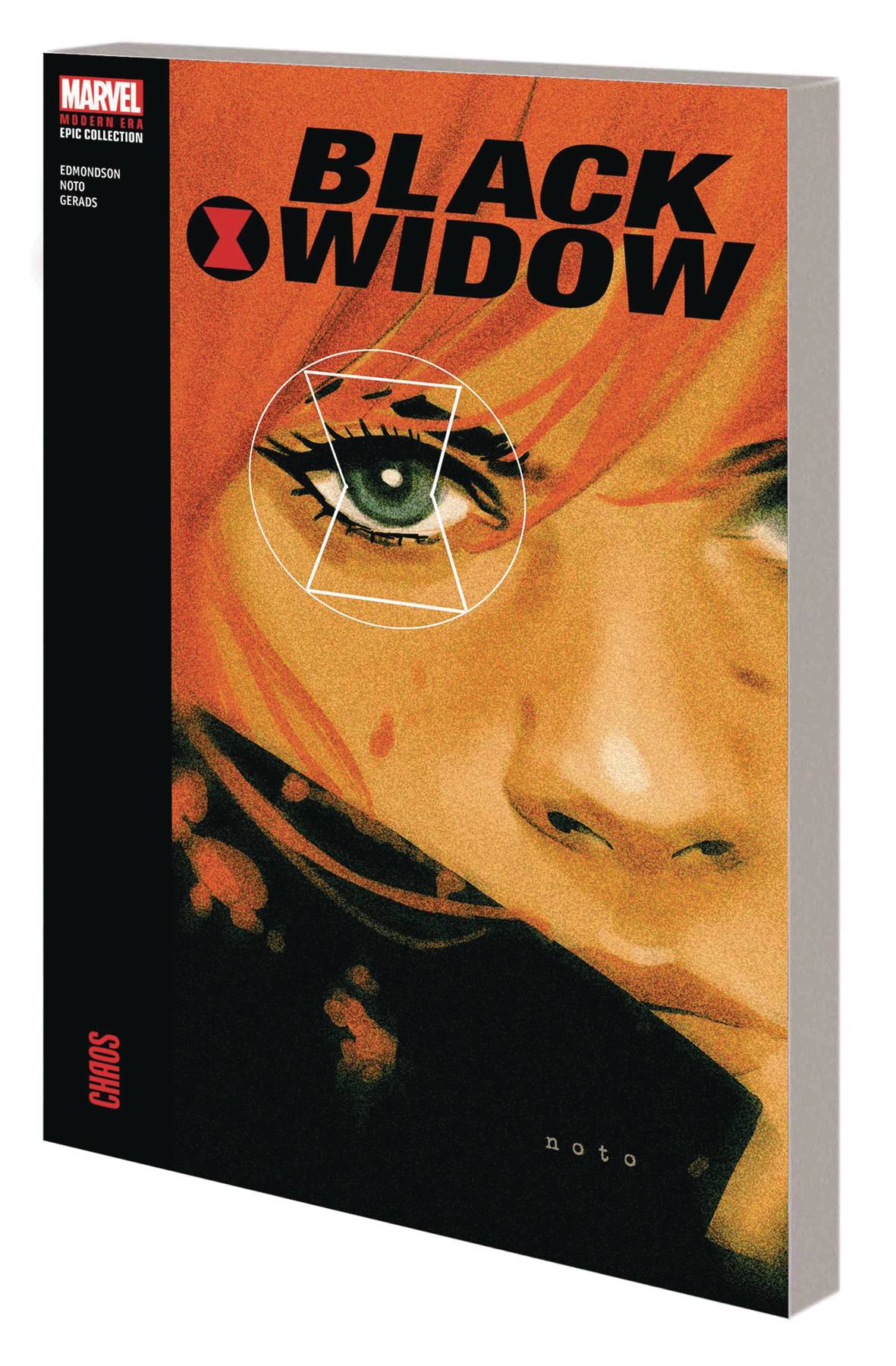 BLACK WIDOW MODERN ERA EPIC COLLECTION TP CHAOS
(W) Nathan Edmondson (A) Mitch Gerads (A/CA) Phil Noto
The Black Widow searches for atonement for her past as a KGB assassin! In Russia, Natasha Romanoff goes undercover – but discovers a deadly plot that spans the entire globe. On a snowy night in Prague, the Black Widow must find her way out of disaster alongside the Winter Soldier. Elsewhere, Natasha fights against – or alongside? – the Punisher for access to a deadly criminal network. Who are the shadowy villains that connect to everything? And what will the Avengers do when they learn how Natasha has been spending her days off? As the Black Widow finds herself unexpectedly confronted by one of the darkest moments of her past, learn how the first red lines in her ledger were written. Is it too late for redemption?
Collecting BLACK WIDOW (2014) #1-20, PUNISHER (2014) #9 and material from ALL-NEW MARVEL NOW! POINT ONE.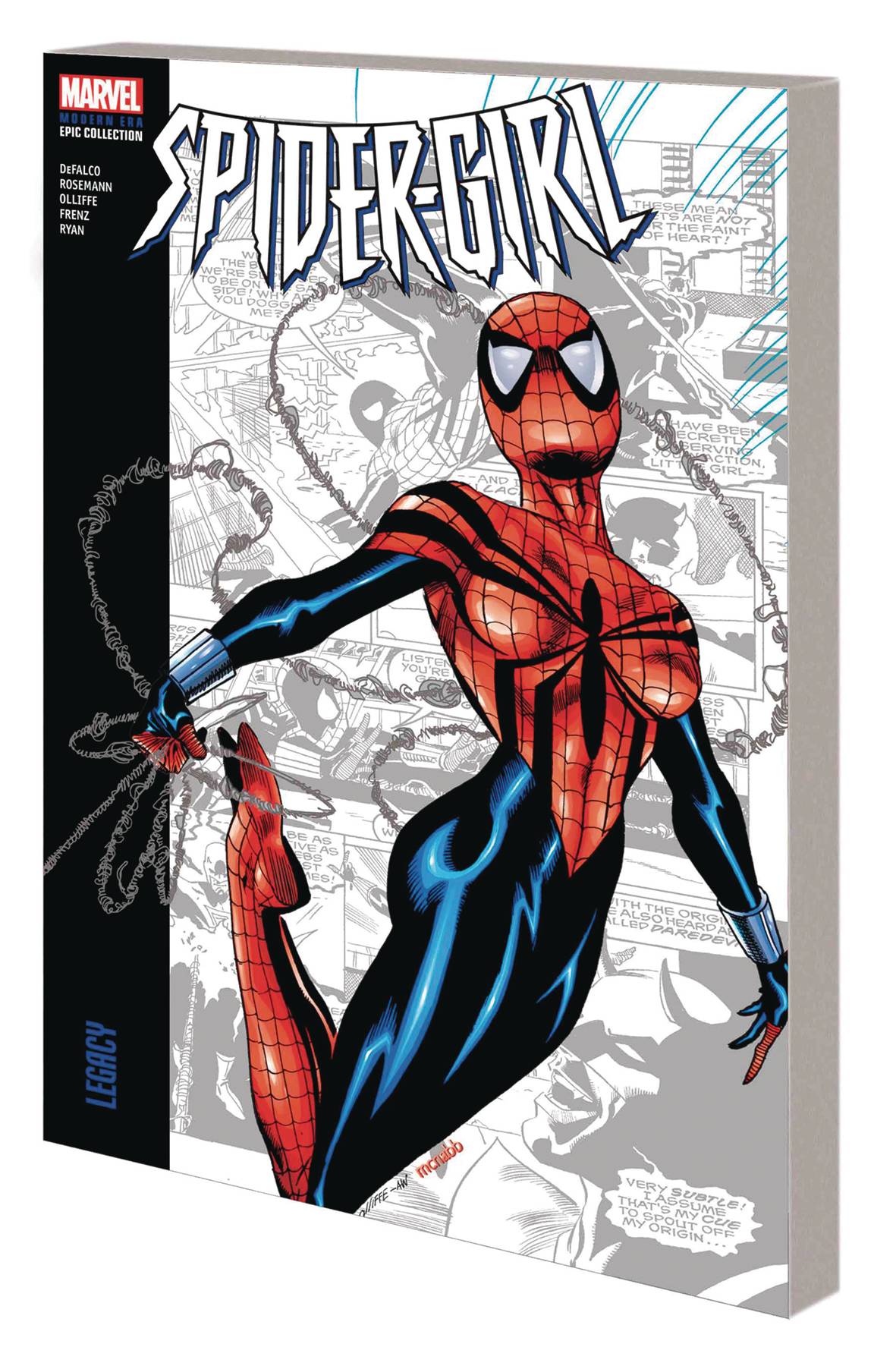 SPIDER-GIRL MODERN ERA EPIC COLLECTION TP VOL 01 LEGACY
(W/A) Various (CA) Ron Frenz
What if Peter Parker and Mary Jane had a daughter? The ever-amazing answer is she'd be May "Mayday" Parker – A.K.A. Spider-Girl! Spinning out of the pages of WHAT IF? into her very own universe, the teenage Mayday inherits spider-powers and dons her retired father's red-and-blues! Follow her adventures from the beginning as Mayday learns about Spider-Man's legacy and wrestles with whether to follow in his footsteps! She'll face threats old and new – from the Venom symbiote and Kaine to Crazy Eight and the Dragon King – and meet incredible faces from the future Marvel Universe including Darkdevil, Wild Thing, the Fantastic Five and the newest roster of the mighty Avengers! Discover a friendly neighborhood hero for a new generation!
Collecting WHAT IF? (1989) #105; and SPIDER-GIRL (1998) #1-15, #1/2 and ANNUAL 1999.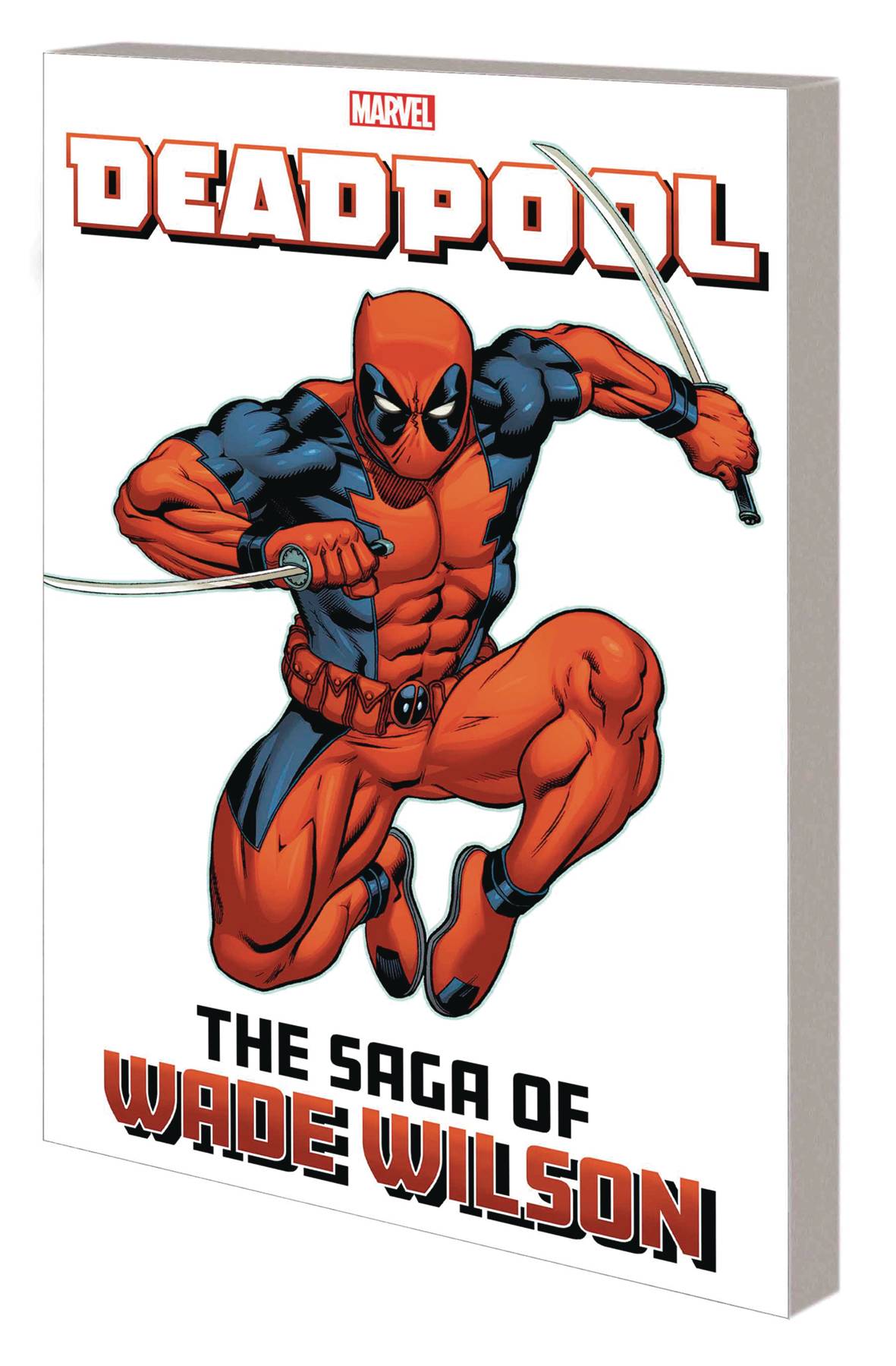 DEADPOOL THE SAGA OF WADE WILSON TP
(W/A) Various (CA) Ed McGuinness
Uncover Deadpool's complicated history with Weapon X! When his healing factor fails, Wade Wilson grudgingly turns to Dr. Killebrew, the mad scientist who cured his cancer – and ruined his life! But what exactly was done to Deadpool in the Workshop? And can Wade control his impulse to slice Killebrew into little pieces? Then, Ajax wants Deadpool's stain scrubbed from the planet. What is his connection to Wade's nightmarish origin – and how is Death herself involved? Plus: The resurrected Weapon X program makes Wade an offer he can't refuse: If he joins their cutthroat crew, they'll fix his ravaged face! And when Deadpool is haunted by the ghosts of his past, can fellow Weapon Plus alumni Wolverine and Captain America help him through his most harrowing battle ever?
Collecting DEADPOOL (1997) #3-5, #17-19 and #57-61; DEADPOOL/DEATH ANNUAL '98; and DEADPOOL (2012) #15-19.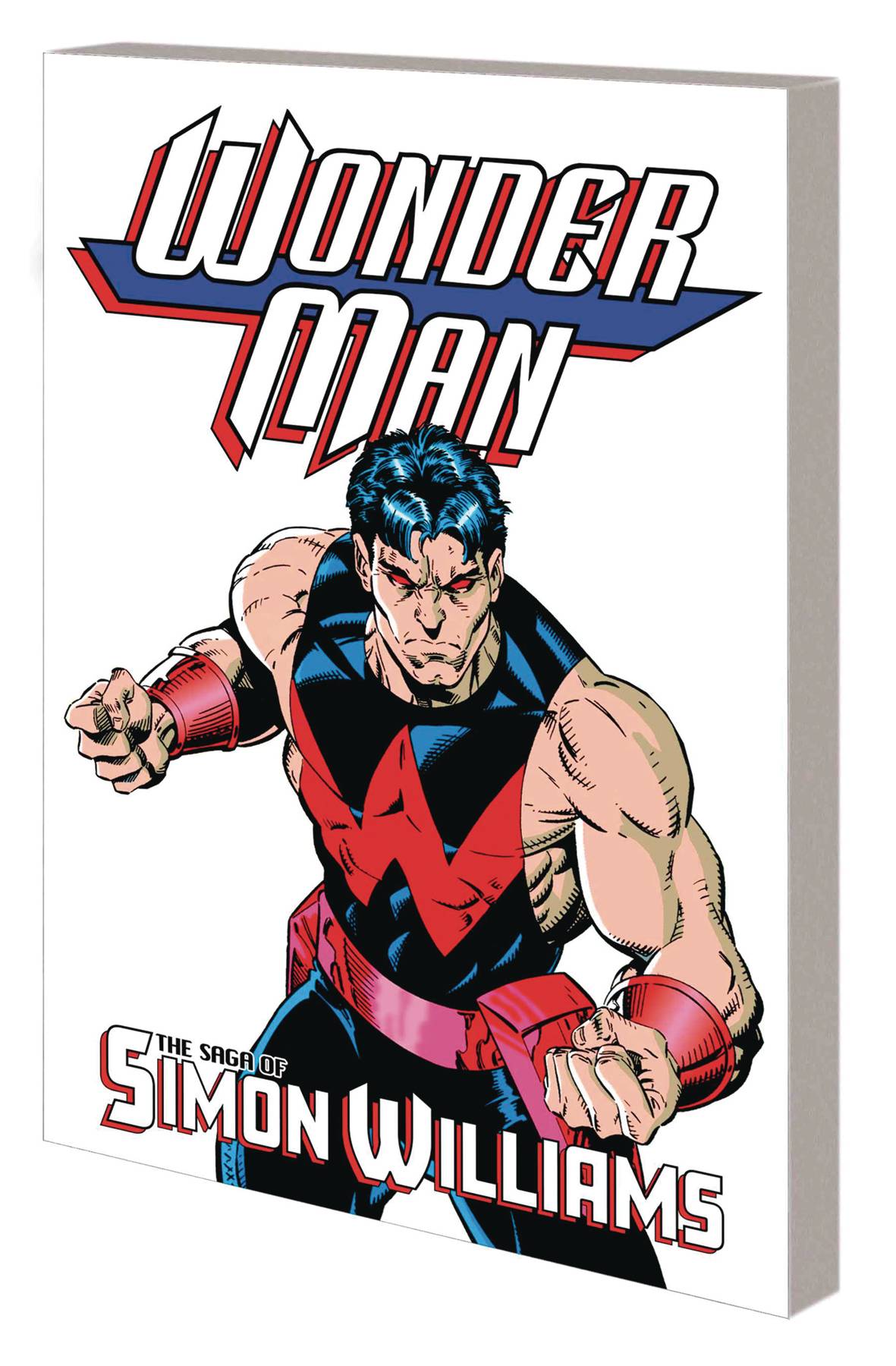 WONDER MAN THE SAGA OF SIMON WILLIAMS TP
(W/A) Various (CA) Jeff Johnson
Wonder Man makes it big! He's the powerful enemy who became one of the mightiest Avengers of all – and who overcame issues with self-confidence to become a Hollywood star! He's Simon Williams, Wonder Man – and even death itself won't stop him! Simon's first clash with the Avengers ends with his noble sacrifice – but when he returns from the grave years later, the team must figure out how, why and what the Living Laser has to do with it! After Simon dies again, he is mourned by his biggest fan! And, revived once more, he reunites with his best pal from the Avengers: the bouncing Beast! Plus: Simon battles Sandman! But can he redeem a woman who calls herself Lady Killer?
Collecting AVENGERS (1963) #9 and #152-153, WONDER MAN (1986) #1, TALES OF THE MARVELS: WONDER YEARS #1-2, AVENGERS TWO: WONDER MAN & THE BEAST #1-3, WONDER MAN (2006) #1-5, and material from AVENGERS ANNUAL #6.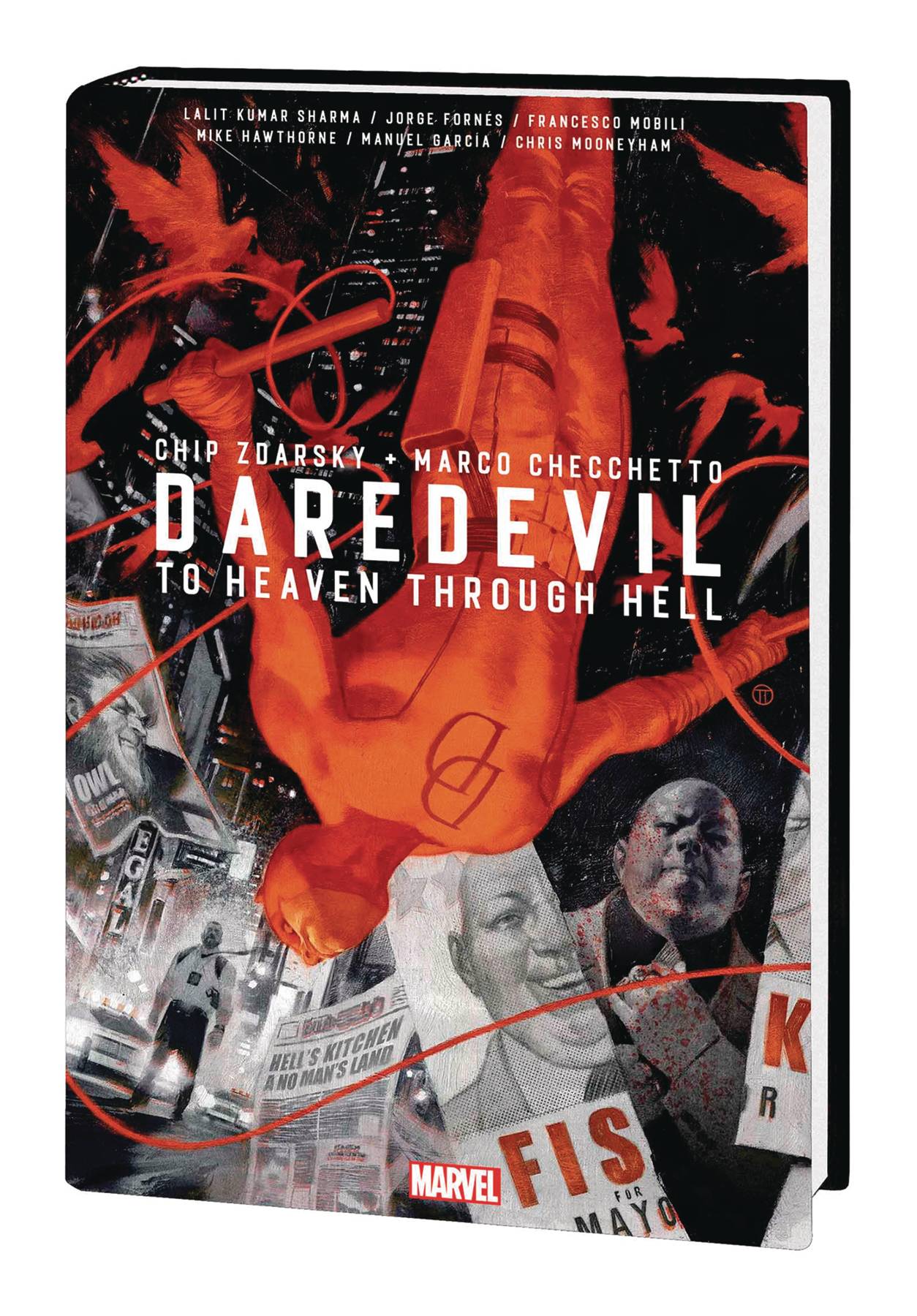 DAREDEVIL BY CHIP ZDARSKY OMNIBUS HC VOL 01
(W) Chip Zdarsky (A) Marco Checchetto, Chip Zdarsky, Various (CA) Julian Totino Tedesco
After a dangerous brush with death, Matt Murdock must piece together his shattered life. Years of trauma have taken their toll, and becoming the guardian of Hell's Kitchen again won't be easy. Mistakes will be made – and one might prove to be the end of Daredevil! With a criminal dead, Matt must go on the run in a desperate bid to clear his name! Meanwhile, Mayor Wilson Fisk continues to make New York a dangerous place for vigilantes, the Owl turns his horrifying sights on Hell's Kitchen and a gang of lethal super villains runs riot. As Typhoid Mary and Bullseye return, DD makes a surprising stand… with a shocking outcome. Now Elektra must step up to fill the role Matt has vacated – and show that she is a woman without fear!
Collecting DAREDEVIL (2019) #1-30 and DAREDEVIL ANNUAL (2020) #1.
If anything jumped out to you, remember to message us or let us know next time you're in the shop! You get a text the second it arrives in the shop and we place a copy aside just for you so you don't miss out!
We do these each month so keep an eye out for the next post!
Have a great month and happy reading 💚