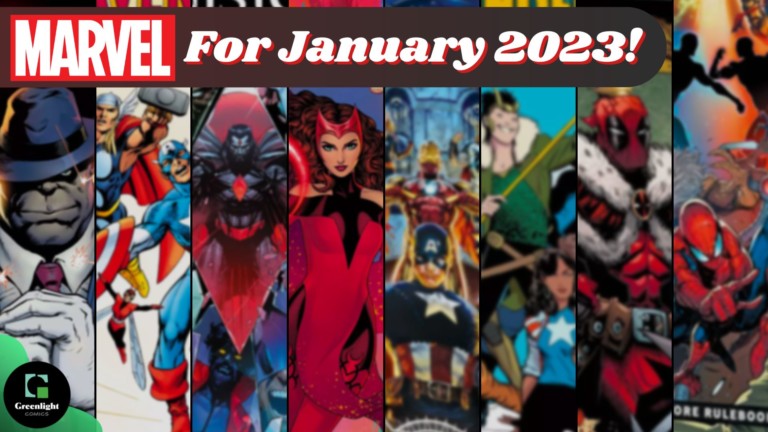 The November issue of Marvel Comics Previews has arrived! Here is our breakdown of the new comics series to jump on, plus what collected editions are arriving from January 2023! You can find the rest of our Previews Picks for other DC Comics, Indies & Manga titles here!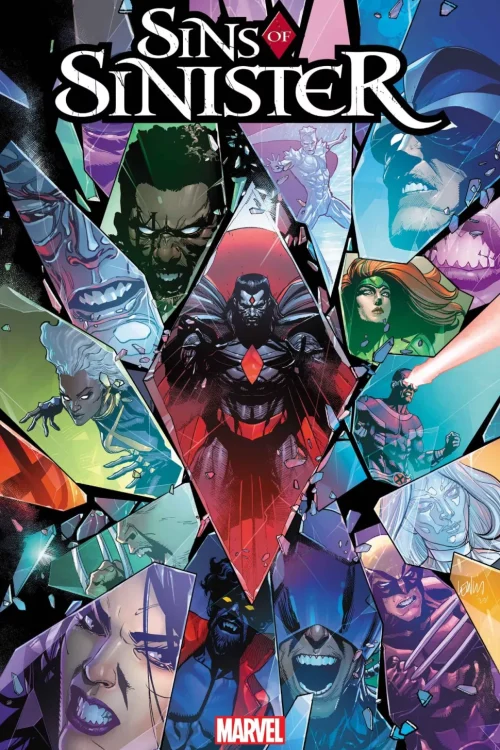 POWERS OF ESSEX!
It's the end of the world as we know it, and at least Sinister feels fine. For now. Can that last? Especially when we discover that he really is his own worst enemy… The universe-melting X-event begins here, in a horror timeline that makes Age of Apocalypse look like the X-Men Swimsuit Special. Join Kieron Gillen (IMMORTAL X-MEN, AXE: JUDGMENT DAY) as he kicks off the X-Men crossover Sinister has been planning since the beginning… and is going to have to see through to the bitter end.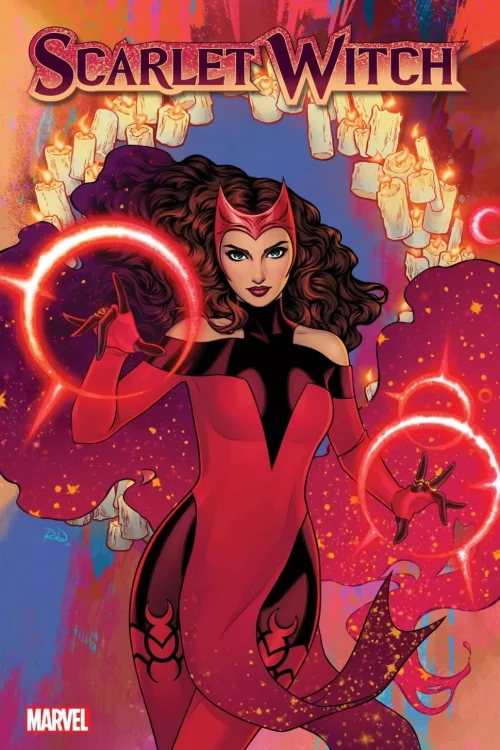 Friend or foe, human or otherwise – if your need is great and your hope is gone, there you will meet the SCARLET WITCH! Wanda Maximoff is familiar with hitting rock bottom – and now that she's finally found peace, she's pledged all her power to help others who are languishing at their lowest. But when a woman falls through Wanda's door with a terrifying story of a town gone mad, the Scarlet Witch will have to muster her wits and chaos magic to deal with an insidious threat!
Comic powerhouses Steve Orlando (MARAUDERS; Midnighter) and Sara Pichelli (ULTIMATE SPIDER-MAN; SPIDER-MEN) join forces to open a groundbreaking new chapter in the Scarlet Witch's history!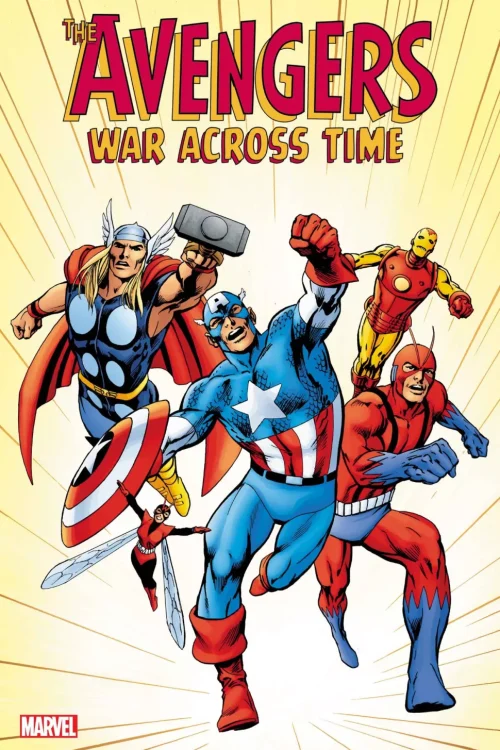 AVENGERS: WAR ACROSS TIME #1 (Of 5)
Thor! Iron Man! Captain America! Giant-Man & the Wasp! The classic Avengers against the Hulk on the streets of New York! It's the beginning of a showdown with Kang the Conqueror that will span the centuries! Eisner Hall of Famer Paul Levitz makes his Marvel debut (unless you count a letter in AMAZING ADVENTURES #5) teamed with acclaimed artist Alan Davis!
Brayden's Note: While this may just look like old stuff on first glance, it actually looks like it should be a pretty cool adventure through the eras of comics and Marvel! Get keen for what will surely be a ridiculous 90's issue.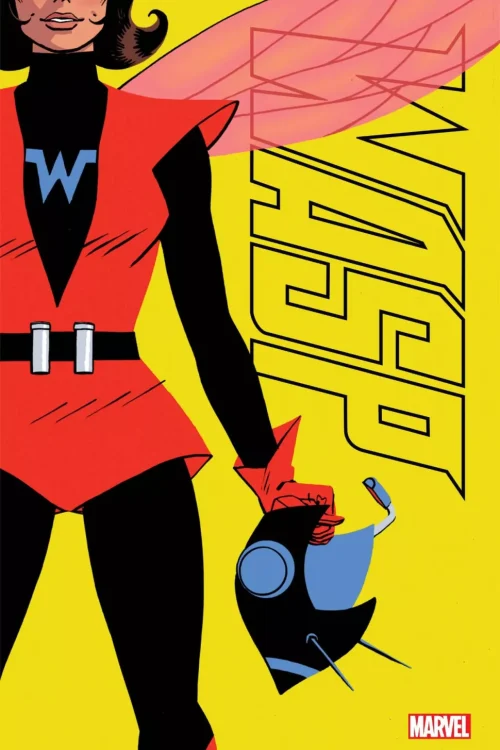 Fashion designer, businesswoman, founding Avenger – Janet Van Dyne has worn many hats over the course of her super heroic career. But when an old enemy threatens Janet and her fellow Wasp, Nadia, seemingly against his will, the Van Dynes will have to confront the ghosts in their shared history to get to the bottom of the mystery.
Join fan-favorite creators Al Ewing (IMMORTAL HULK, X-MEN RED) and Kasia Nie (MOCKINGBIRD; AGE OF CONAN: BELIT) as they celebrate sixty years of the Wasp!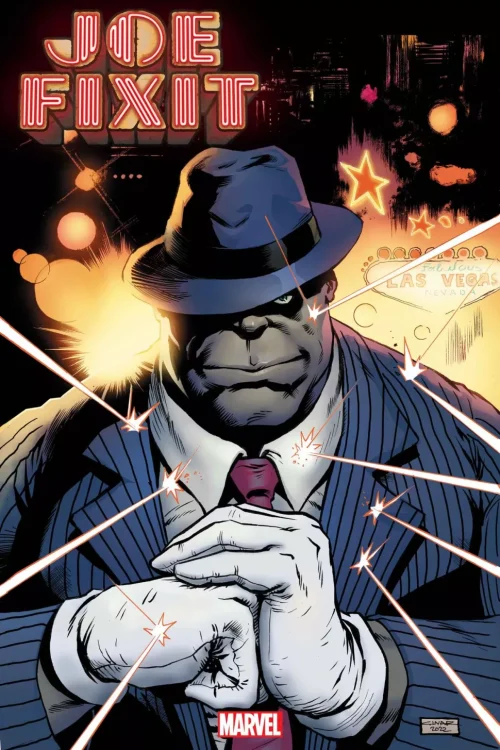 PETER DAVID RETURNS TO JOE FIXIT!
Peter David's tour de force through some of his greatest Hulk hits continues with a return to JOE FIXIT! Gone are the ripped-up shorts of the Hulk of yore – this enforcer prefers the slick suave of a striped suit, and the Hulk has traded in "monster" for "mobster" as he lends his strength to the Las Vegas casino scene. Of course, the Kingpin has his own ideas about who the toughest guy in town is, and it's up to Spider-Man to keep the two of them from destroying Sin City!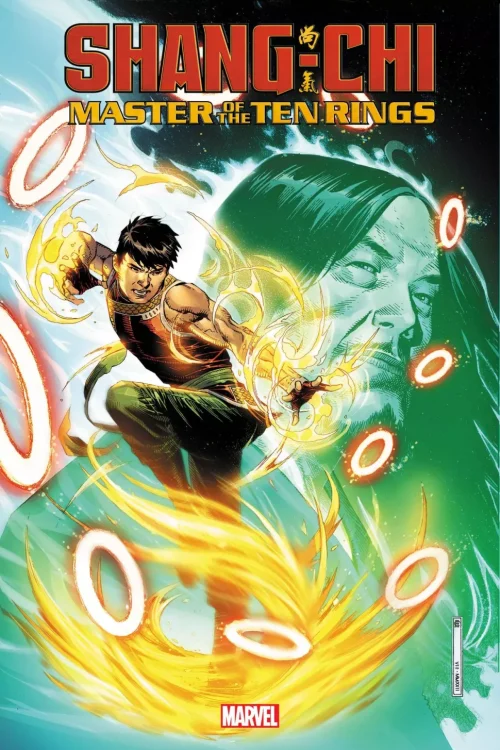 SHANG-CHI: MASTER OF THE TEN RINGS #1
FATHER AND SON, SIDE BY SIDE?!
Shang-Chi is lost in time and the only one who can help him is…his father?! What will Shang-Chi do when he meets the younger version of his evil parent? Will he be able to change the course of history? Or will Shang-Chi be shocked to discover he didn't know his father as well as he thought? Find out as Gene Luen Yang's Shang-Chi saga comes to its shocking conclusion!
Graphic Novels & Collected Editions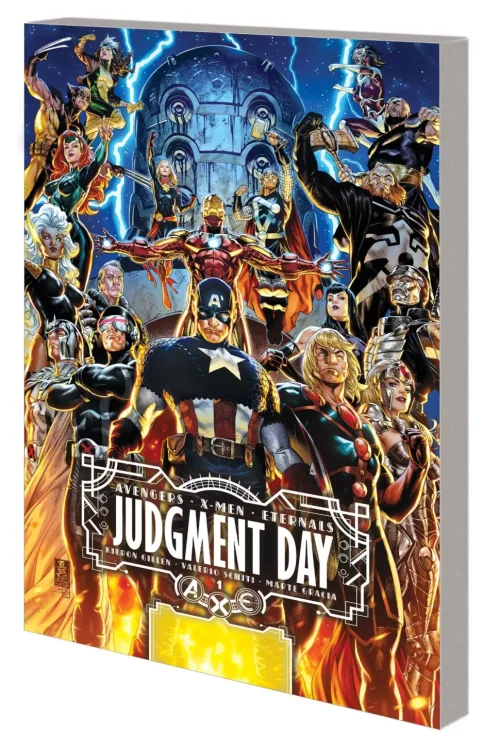 The battle for the planet is here! The X-Men claim they're Earth's new gods. The Eternals know that position is already filled. And the Avengers are about to realize exactly how many secrets their so-called friends have been keeping from them! Years of tension are about to lead to a volcanic eruption, and two worlds will burn! Who has leaked the X-Men's secrets to their latest foes? Why is Tony Stark abducting an old friend? And who stands in judgment over the whole world? The clock is ticking. Midnight looms. But it's not too late…
Collecting A.X.E.: JUDGMENT DAY #1-6, A.X.E.: AVENGERS, A.X.E.: X-MEN, A.X.E.: ETERNALS and material from FREE COMIC BOOK DAY 2022: AVENGERS/X-MEN.
Also Available to order: 'A.X.E.: JUDGMENT DAY COMPANION TP'.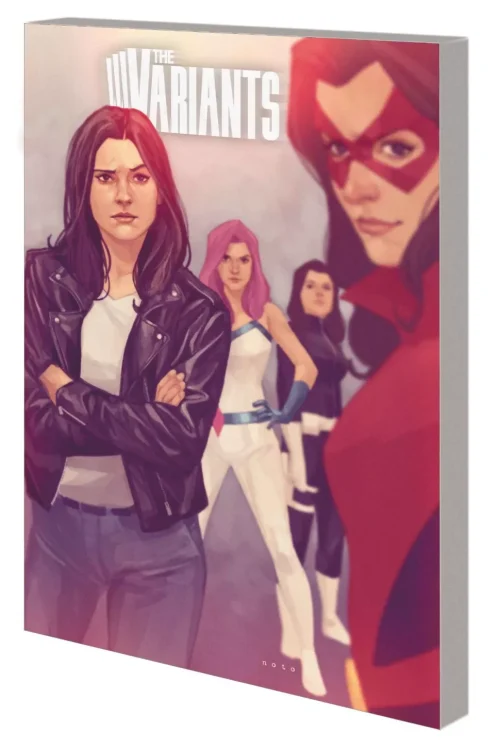 What would it really be like to meet an alternate version of yourself — another you who had made different choices and lived a completely different life as a result? That's the question facing Jessica Jones, as what seemed like a routine investigation instead has her encountering other incarnations of herself from across the Multiverse! Can Jessica get along with herself? Will she want to kill her other selves? And will seeing the roads she could have traveled drive her into a self-destructive spiral? This is what happens when you meet… the Variants! Jessica might just be losing her mind… and, worse still, as she is backed into an impossible corner, she is forced to make a sacrifice play that could cost her a member of her own family!
Collecting THE VARIANTS (2022) #1-5.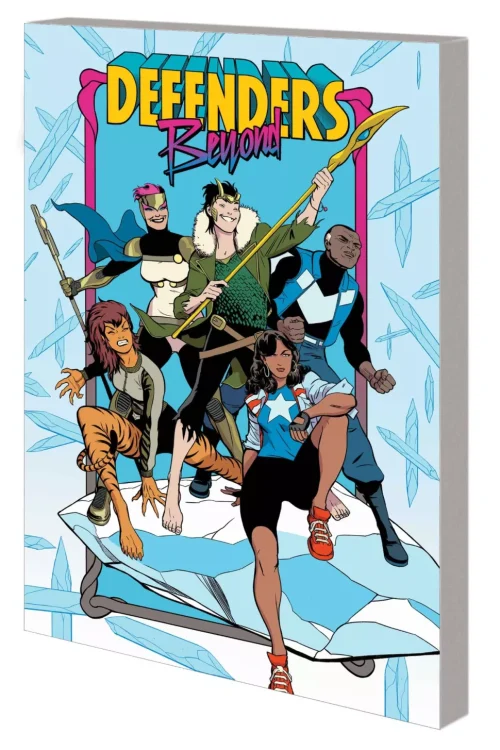 Defending reality itself! Acclaimed creators Al Ewing and Javier Rodríguez follow up their mind-bending first arc with a brand-new saga and an all-new lineup, including everyone's favorite trickster: Loki, God of Stories! When the dearly departed Doctor Strange sends a dire warning from beyond the grave, America Chavez, the Blue Marvel, Tigra and Loki assemble alongside Taaia — mother of Galactus — for an incredible journey that takes them all the way back to the Second Cosmos! But not everybody will make it out unscathed. Featuring the long-awaited return of the Beyonder — and he's not the only cosmic powerhouse the Defenders will need to contend with. Enter… the Phoenix!
Collecting DEFENDERS: BEYOND #1-5.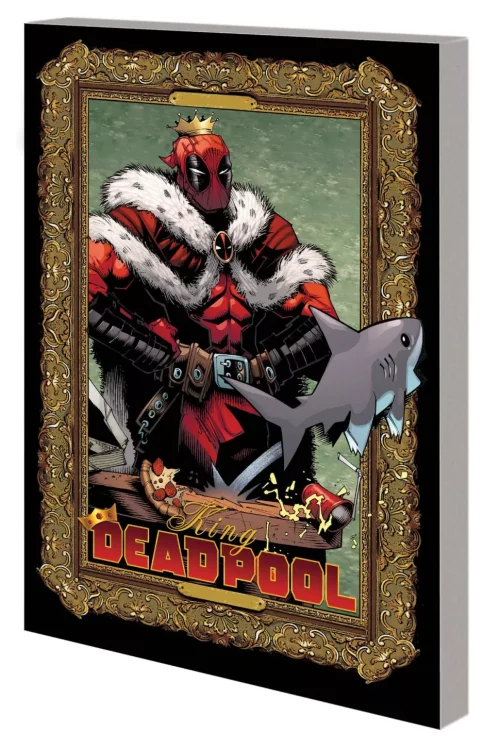 DEADPOOL BY KELLY THOMPSON TP
Hail to the King! Deadpool's unlikeliest career change yet sees him dethrone the King of Monsters — and become the Merc with a Monarchy! His new kingdom? Staten Island — the place where monsters dwell! But his royal highness soon finds himself neck deep in political intrigue — and facing major obstacles including Captain America and the monster-hunting Elsa Bloodstone! Uneasy lies the head that wears a crown — and Wade will learn that lesson firsthand when Kraven the Hunter arrives with regicide on his mind! But when Elsa learns she's dying, why is Deadpool the only one who can save her? Learn the truth of the Bloodstone curse as action, adventure and a dimension full of hideous goo await! Plus: Wade invades the X-Men's island-nation of Krakoa — and King Deadpool takes on the King in Black!
Collecting DEADPOOL (2019) #1-10.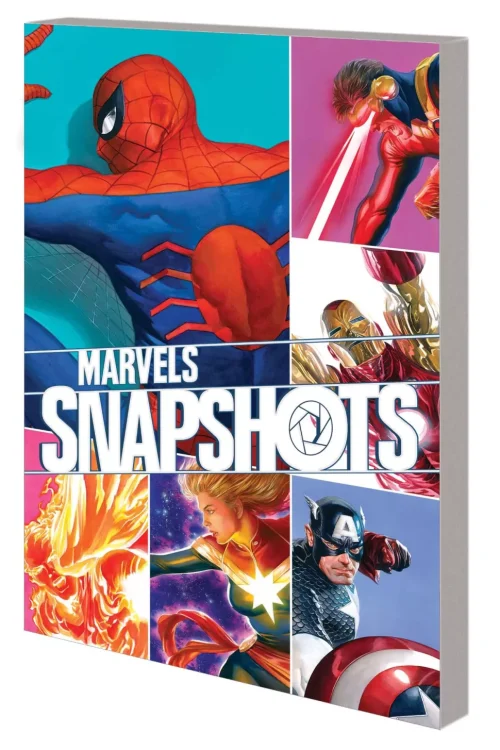 Celebrate the history of the House of Ideas! Curator Kurt Busiek and an awesome assemblage of talent present a series of tales featuring some of Marvel's greatest heroes — as seen through the wide eyes of ordinary residents of the Marvel Universe! From the Sub-Mariner fighting in World War II to the dawn of the Marvel Age to the very different conflict of the superhuman Civil War, witness the lives, loves and losses of the everyday people caught up in the adventures of Spider-Man, Captain America, the Avengers, Captain Marvel and more! These unique perspectives include those of henchmen, first responders, old flames…and even a teenage pre-Cyclops Scott Summers!
Collecting SUB-MARINER: MARVELS SNAPSHOTS, FANTASTIC FOUR: MARVELS SNAPSHOTS, CAPTAIN AMERICA: MARVELS SNAPSHOTS, X-MEN: MARVELS SNAPSHOTS, AVENGERS: MARVELS SNAPSHOTS, SPIDER-MAN: MARVELS SNAPSHOTS, CIVIL WAR: MARVELS SNAPSHOTS and CAPTAIN MARVEL: MARVELS SNAPSHOTS.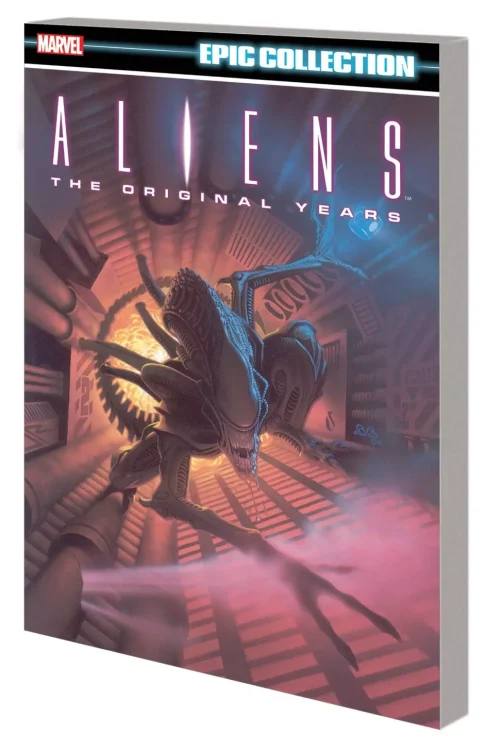 ALIENS EPIC COLLECTION: THE ORIGINAL YEARS VOL. 1 TP
The galaxy's most terrifying creatures are coming for Earth! Years after the first two Aliens films, a Xenomorph attack in space leads the Colonial Marines to take action. Soon, the badly scarred Hicks and the now-grown Newt find themselves swept up in a dangerous mission to locate and destroy the creatures' homeworld! But when Earth itself is overrun by a Xenomorph outbreak, Hicks and Newt must join a renegade group fighting to reclaim the planet. Can an obsessed military man train Aliens to wipe out their own kind? And can an old friend help Hicks and Newt turn the tide — by capturing an Alien Queen Mother? Plus: An outer-space treasure hunt becomes a battle for survival when Aliens attack!
Collecting ALIENS (1988) #1-6, ALIENS (1989) #1-4, ALIENS: EARTH WAR #1-4 and material from DARK HORSE PRESENTS (1986) #24 and #42-43.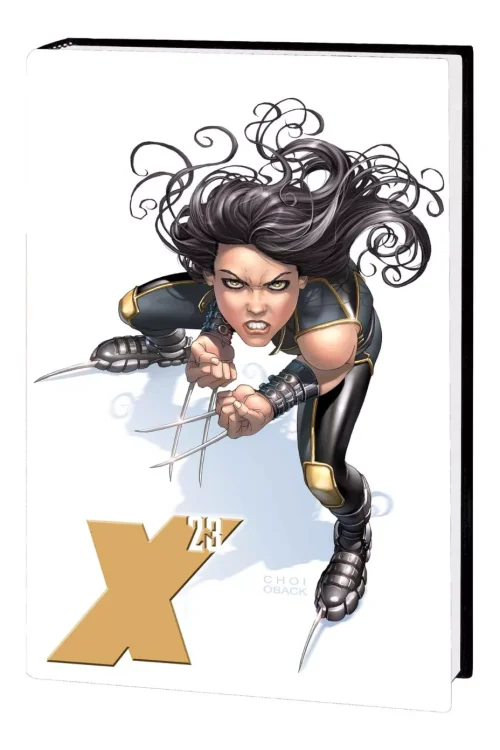 The origin of X-23! Cloned from Wolverine's cells and ruthlessly conditioned by her harsh masters at the Facility, young Laura Kinney is the perfect assassin. But when she breaks free at last, can she rise above her training and killer instincts to forge her own path in the world? Or will the gallons of blood she has spilled drag her down? Follow Laura's journey of self-determination — including a search for family and friendship, her first meeting with Wolverine himself, her alliance with Gambit and a deadly clash with Logan's vicious son, Daken! But when memories threaten to overwhelm her, can Laura defeat the darkness within?
Collecting X-23 (2005) #1-6, X-23: TARGET X #1-6, X-23 (2010A) #1, X-23 (2010B) #1-21, CAPTAIN UNIVERSE/X-23 #1 and DAKEN: DARK WOLVERINE #8-9 — plus material from X-MEN: TO SERVE AND PROTECT #2, WOLVERINE: THE ROAD TO HELL and ALL-NEW WOLVERINE SAGA.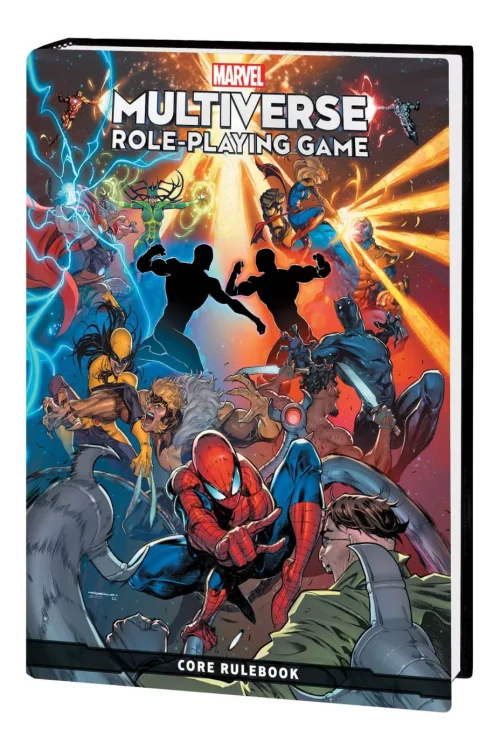 MARVEL MULTIVERSE ROLE-PLAYING GAME: CORE RULEBOOK HC
Welcome to the Marvel Multiverse! Take on the roles of Marvel's most famous Super Heroes — or create entirely new ones — and put an end to the sinister plots of the most menacing Super Villains in the Marvel Multiverse! Written by d616 System co-creator and New York Times-bestseller Matt Forbeck (The Marvel Encyclopedia, Dungeons & Dragons: Dungeonology) and includes all new chapter-opening splash pages by Mike Bowden along with illustrations from Marvel's incredible army of artists. The Core Rulebook features all the rules you need to play — including quick character creation, bombastic combat and scores of amazing powers — plus full profiles of dozens of Marvel's greatest heroes and villains. All you need is this book, three standard dice and some friends.
The Marvel Multiverse is calling! Come join the fun!
If anything jumped out to you, remember to message us or let us know next time you're in the shop! You get a text the second it arrives in the shop and we place a copy aside just for you so you don't miss out!
We do these each month so keep an eye out for the next post!
Have a great month and happy reading 💚