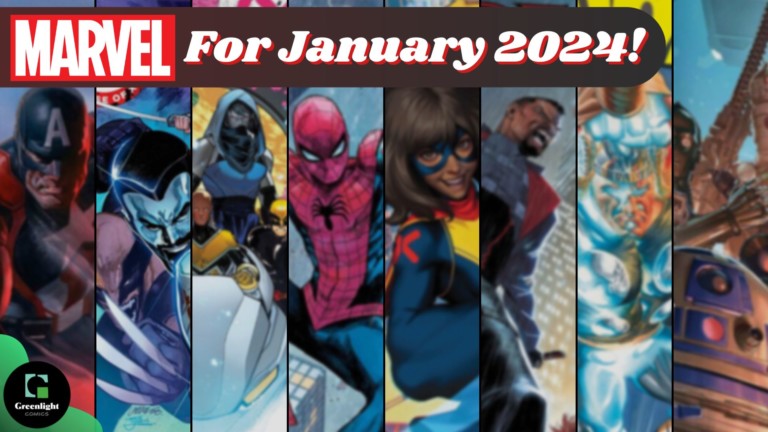 The November issue of Marvel Comics Previews has arrived! Here is our breakdown of the new comics series to jump on, plus what collected editions are arriving from January 2024! Oh my god the year is already coming to a close and we are starting to prepare for 2024 😱 You can find the rest of our Previews Picks for other DC Comics, Indies & Manga titles here!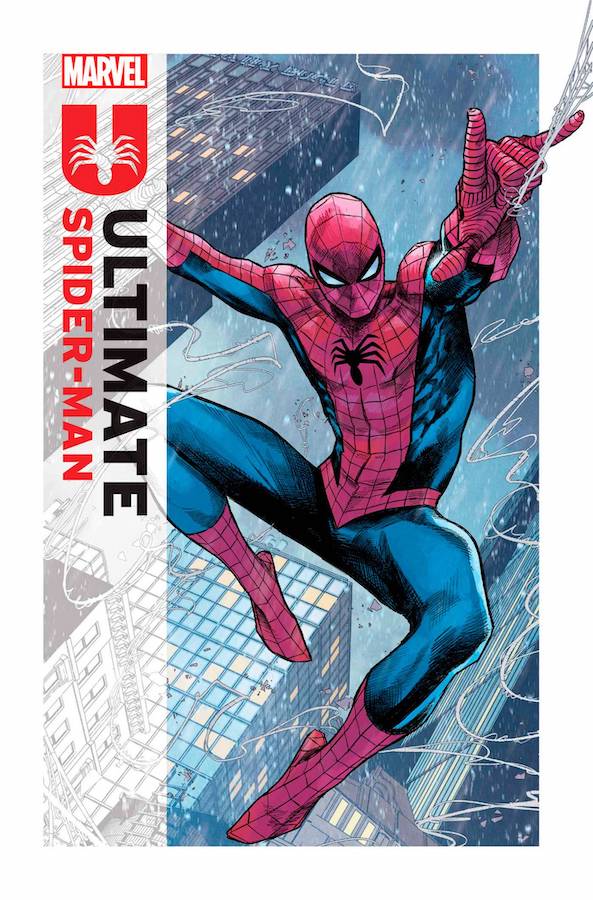 (W) Jonathan Hickman (A/CA) Marco Checchetto
THE NEW ULTIMATE SPIDER-MAN FOR A NEW ULTIMATE UNIVERSE! Visionary writer Jonathan Hickman (HOUSE OF X/POWERS OF X) and acclaimed artist Marco Checchetto (DAREDEVIL) bring you a bold new take on Spider-Man, with this, the debut title of the new line of Ultimate Comics! After the events of ULTIMATE INVASION, the world needs a hero…who will rise up to take on that responsibility? Prepare to be entangled in a web of mystery and excitement as the all-new ULTIMATE SPIDER-MAN comic redefines the wall-crawler for the 21st Century!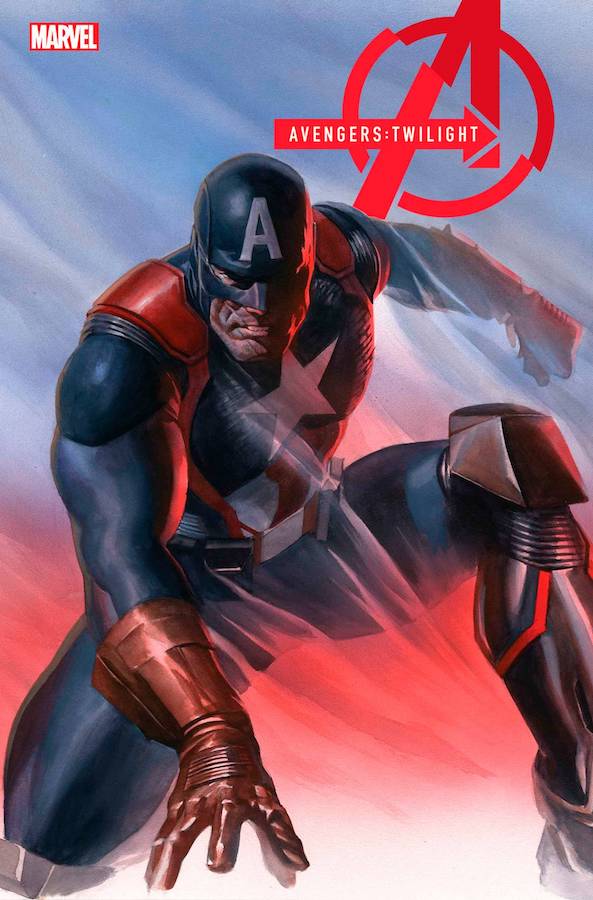 AVENGERS: TWILIGHT #1 (OF 6)
(W) Chip Zdarsky (A) Daniel Acuna (CA) Alex Ross
In a gleaming new world of prosperity, Captain America is no more. But Steve Rogers still exists, floating through an America where freedom is an illusion, where THE AVENGERS are strangers and his friends are long dead. But is the Dream? How do you assemble Avengers in a world that doesn't want them? PLUS: A behind-the-scenes look at the making of this issue!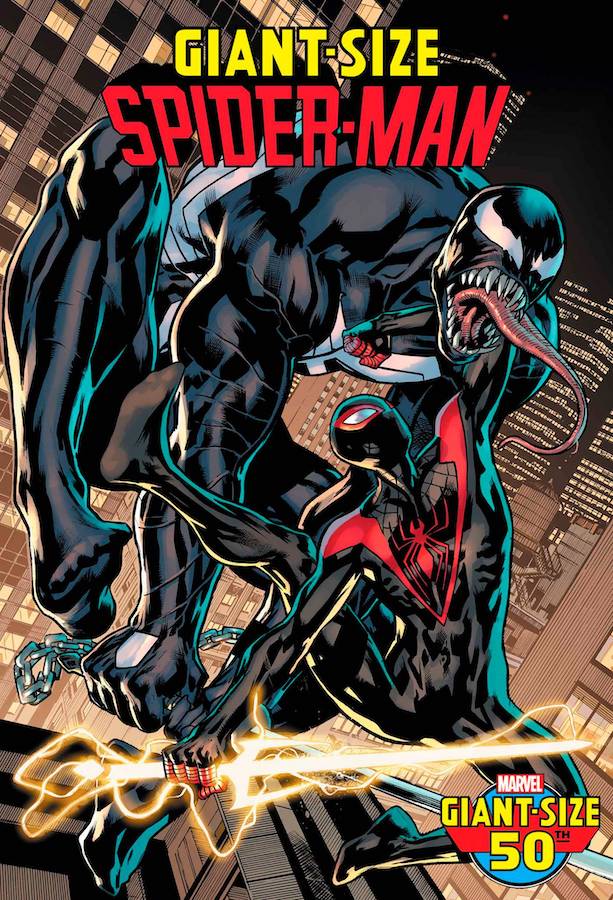 (W) Cody Ziglar (A) Iban Coello (CA) Bryan Hitch
SPIDER-MAN VS. VENOM! DYLAN BROCK, A.K.A. VENOM, has a bone… or a brain… to pick with MILES MORALES! With MILES MORALES: SPIDER-MAN scribe CODY ZIGLAR teaming up with IBAN COELLO (VENOM, FANTASTIC FOUR), and with a cover by the legendary BRYAN HITCH, this is a GIANT-SIZED spidey story that can't be missed! And this is just the first of more exciting GIANT-SIZE one-shots featuring your favorite characters releasing through the first half of this year! PLUS: Includes a reprinting of ULTIMATE COMICS: SPIDER-MAN #22 by Spidey-legends Brian Michael Bendis and Sara Pichelli featuring the epic conclusion of Miles' first battle with Ultimate Venom!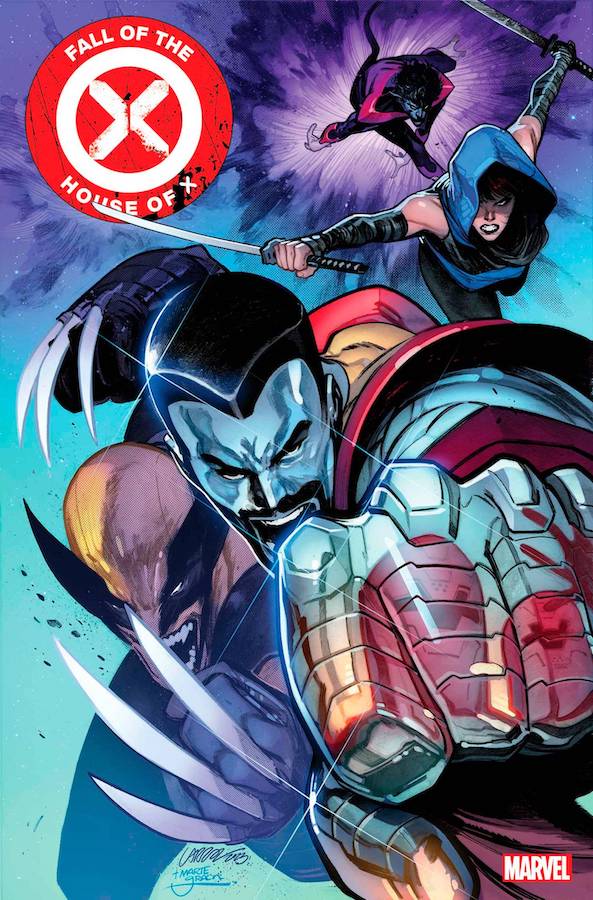 FALL OF THE HOUSE OF X #1 (OF 5)
(W) Gerry Duggan (A) Lucas Werneck (CA) Pepe Larraz
KRAKOA HAS JUST BEGUN TO FIGHT! Mutantkind has never had a greater fall. From the highs of Krakoa – their own glorious nation, a place where they were safe and happy – to the lowest of lows. Outlawed, hunted, killed, most of their kind missing or dead, and now, one their greatest leaders, Cyclops, is on trial facing a death penalty. Ready or not, the time has come for the X-Men to make their final stand against the forces that have struck them low. The day is now. The place is here. The tale of the house Xavier built will long be told… and few will forget this darkest chapter. From writer Gerry Duggan (X-MEN, MARAUDERS, UNCANNY AVENGERS) and artist Lucas Werneck (IMMORTAL X-MEN, TRIAL OF MAGNETO) comes half of the story that will bring the Krakoa Age to its conclusion!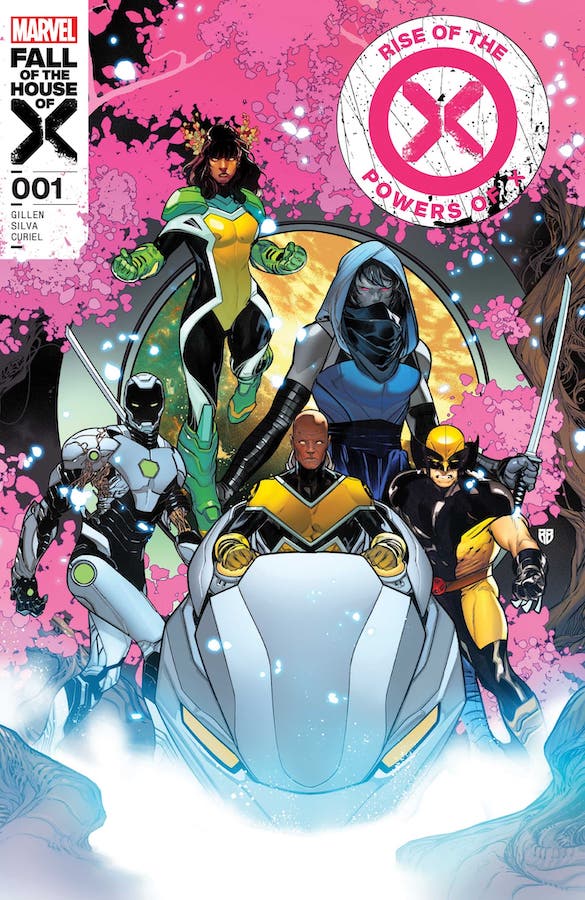 RISE OF THE POWERS OF X #1 (OF 5)
(W) Kieron Gillen (A/CA) R.B. Silva
THE FIGHT FOR KRAKOA HAS BEEN LOST! Ten years ago, the mutants returned from their exile to try and reclaim the Earth from the forces of Orchis. They failed. Now, within the victorious Orchis with their gauntlet choking the world, Nimrod and Omega Sentinel put their plan within a plan into action. They are to summon their binary god to consume everything in their accession. All that stands between them is the X-Men. What can they do? They're the X-Men. They'll find a way. That's their power. So begins a story beyond time and space, with the rise of powers beyond our petty human intelligence. From writer Kieron Gillen (IMMORTAL X-MEN, UNCANNY X-MEN) and artist R.B. Silva (POWERS OF X, CAPTAIN AMERICA: SYMBOL OF TRUTH) comes half of the story that will bring the Krakoa Age to its conclusion!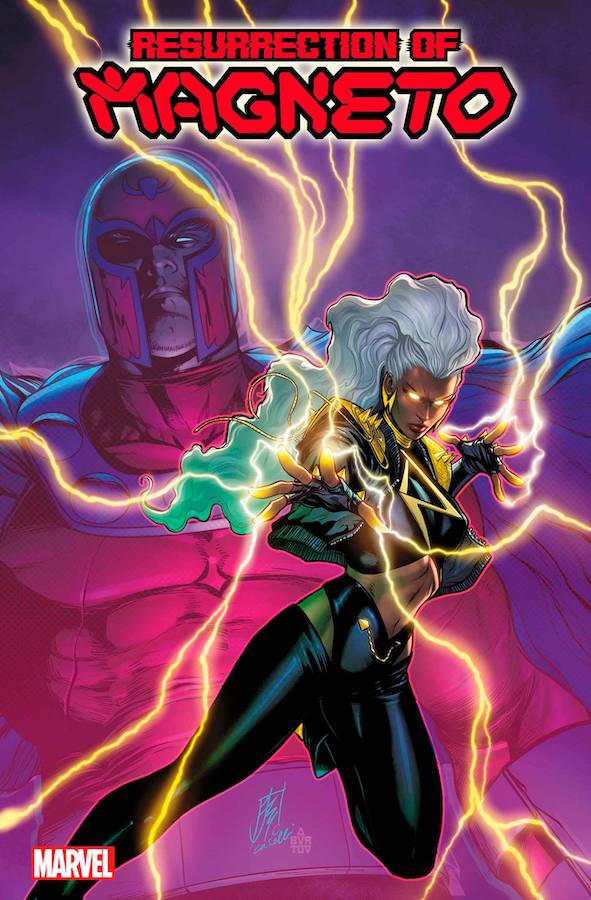 RESURRECTION OF MAGNETO #1 (OF 4)
(W) Al Ewing (A) Luciano Vecchio (CA) Stefano Caselli
LIFEDEATH! On Krakoa, resurrection from the dead was as easy as completing a circuit – but Krakoa fell. The time of easy miracles is over, and only the hard roads are left. Now it falls to Storm – as the epic conclusion to the Krakoan age looms – to bring their oldest enemy home to fight against the FALL OF THE HOUSE OF X… but after all he did, and all that was done to him, can Magneto bear to return?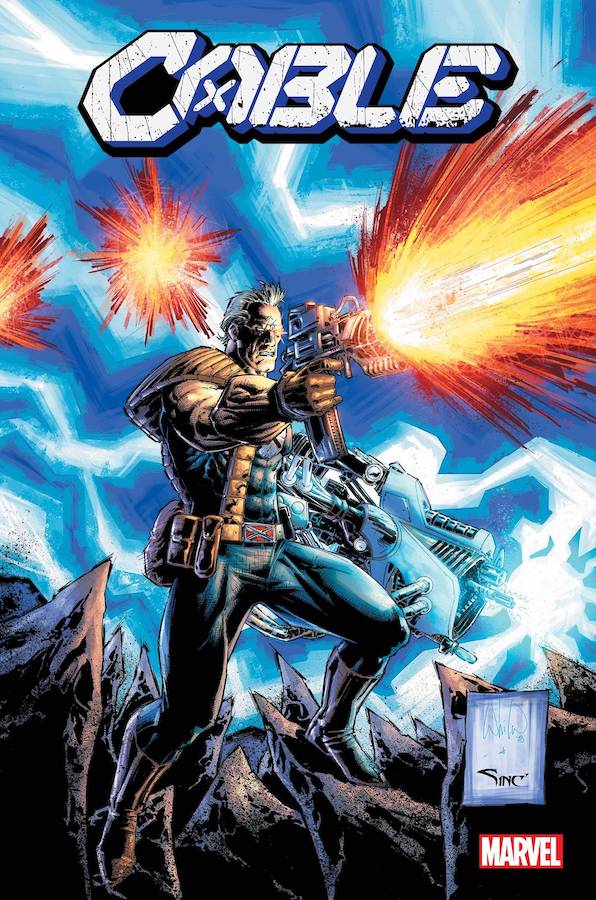 (W) Fabian Nicieza (A) Scot Eaton (CA) Whilce Portacio
THE FUTURE MUST NOT COME TO PASS! All the signs are here: The Neocracy is coming – and with it comes not only the end of mutantkind, but all of the humankind as well! As if rescuing Young Nate from the ongoing threat of Orchis weren't enough, can Cable root out this growing threat and decimate it before the Neocracy has a chance to take hold. But is he already too late to change the future? Don't miss out on Fabian Nicieza and Scot Eaton's explosive first issue of CABLE!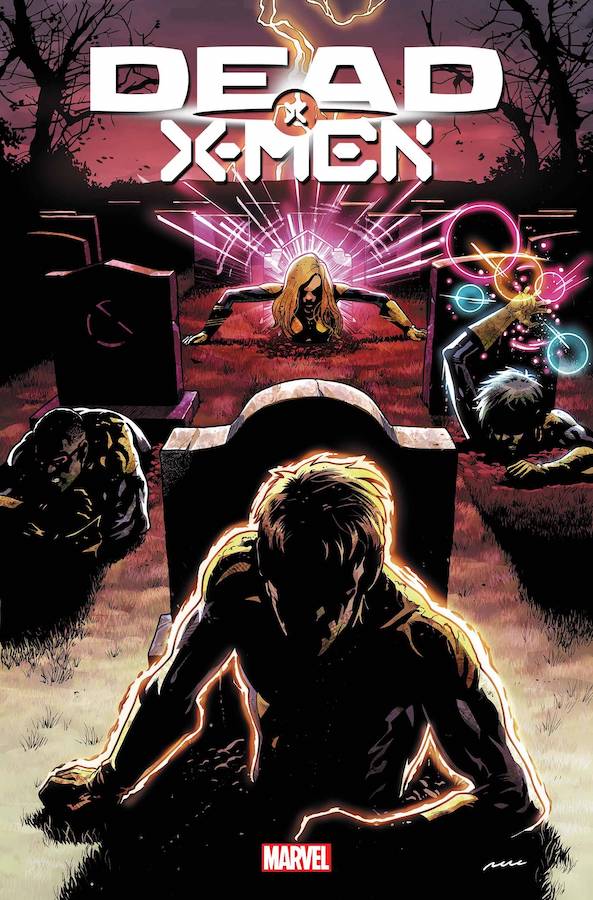 (W) Steve Foxe (A) Vincenzo Carratu (CA) Pere Perez
DEATH WAS ONLY THE BEGINNING! When the world turned against Krakoa, these five mutants lost their lives… but their mission as X-Men is just getting started. To preserve Xavier's dream, they must accomplish the impossible – or die again trying! Spinning out from RISE OF THE POWERS OF X, discover… who are the DEAD X-MEN?!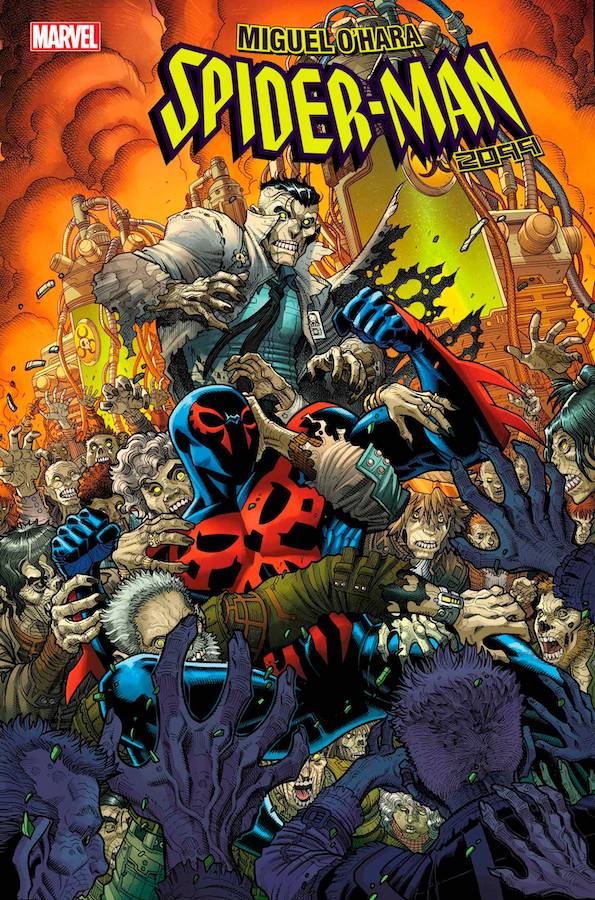 MIGUEL O'HARA - SPIDER-MAN 2099 #1 (OF 5)
(W) Steve Orlando (A) Devmalya Pramanik (CA) Nick Bradshaw
BEWARE – MARVEL ZOMBIE: 2099! MIGUEL O'HARA teams up with BLADE 2099 to take on a new horrific threat to NUEVA YORK! Introducing the MARVEL ZOMBIE of 2099! He lives! He strikes! And no spider can hold him! Will SPIDER-MAN be able to stop the ever-evolving zombie infection before it takes hold of his mother and the citizens of the Barrio?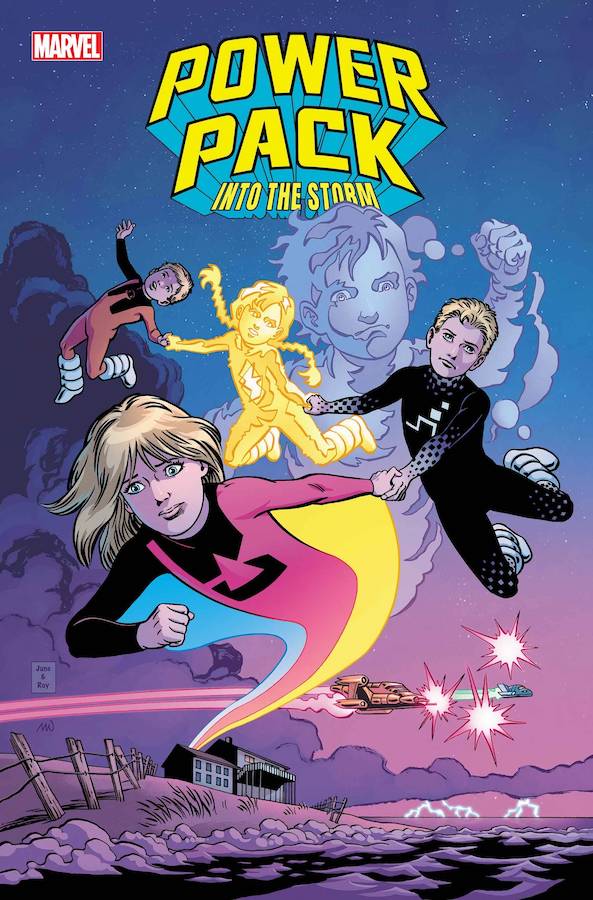 POWER PACK: INTO THE STORM #1 (OF 5)
(W) Louise Simonson (A/CA) June Brigman
Alex, Julie, Jack and Katie Power are super-hero siblings determined to do their part to protect the world despite their young age. The problem is that their parents don't want them to have powers – and can't know that they do. But when their friend Franklin Richards has a premonition of a galactic threat hurtling their way, the Power siblings will have to decide what kind of heroes they want to be – and what they're willing to give up along the way. Original creators Louise Simonson and June Brigman return to explore an exciting new adventure from the early days of the POWER PACK!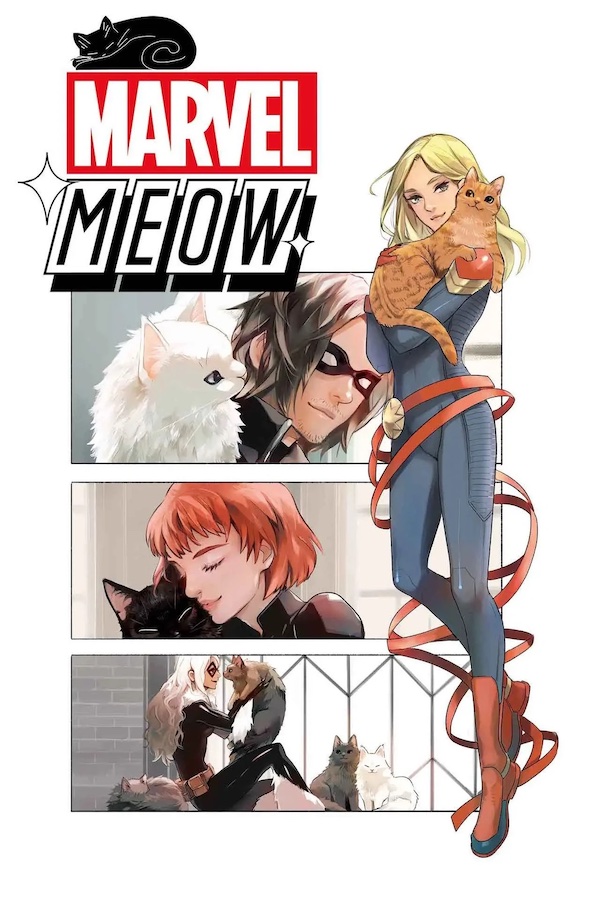 MARVEL MEOW MAKES ITS PAWESOME PRINT DEBUT! Marvel's most fearsome – and furriest – heroes are here to save the day and beg for treats in the process! Follow Chewie, Liho, Alpine and the rest of the Avengers' feline friends as they cause a few cat-tastrophes… and maybe vanquish some villains in the process! Whether it's crashing Captain Marvel's apartment or defeating Doc Ock, you can always count on these cats for some cute chaos! Collecting the hit Infinity Comic series from Marvel Unlimited and featuring a brand-new cover and exclusive new story!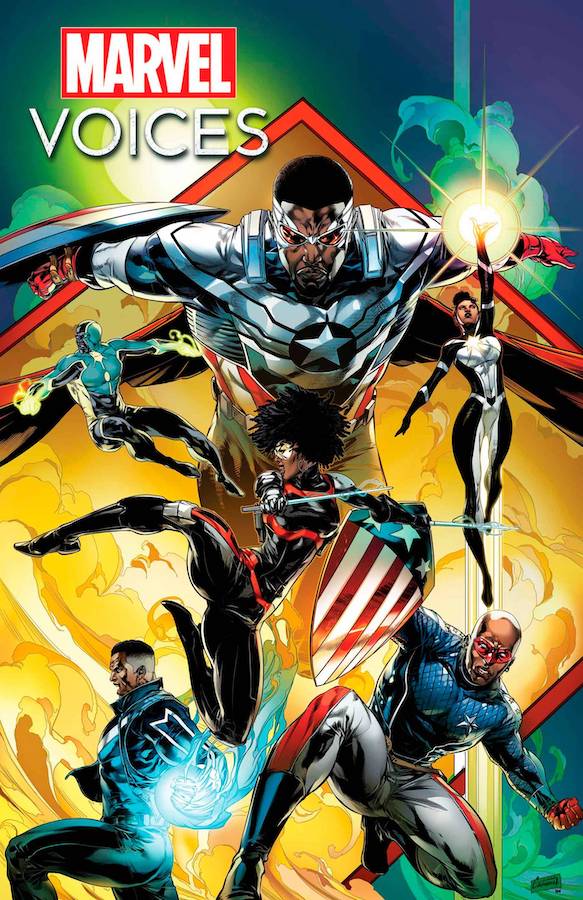 MARVEL'S VOICES: LEGENDS #1
(W/A) Various (CA) Canaan White
Cornerstones of the Marvel Universe unite in this jam-packed special! Captain America graces the city skies – and dives headlong into the dangers of its alleyways. Misty Knight gets the anniversary treatment as she approaches fifty years of publication history! And – in a bold tale of corruption, abuse and the hope that springs eternal – Elijah Bradley makes an explosive return to the spotlight! All this and more from the program that brings you the world outside your window in real time – MARVEL'S VOICES kicks off a triumphant new year of stories!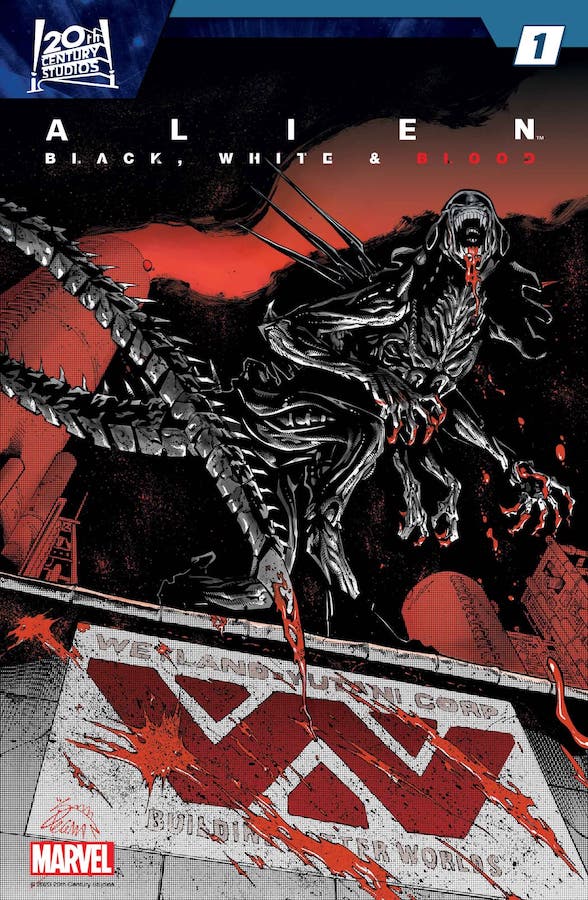 ALIEN: BLACK, WHITE & BLOOD #1
(W/A) Various (CA) Ryan Stegman
Marvel Comics and 20th Century Studios present this kill-fest of an anthology in chest-rending artistic detail, brought to life in bold, black, white, red—and, when things get extra dangerous—GREEN! 
STAR WARS: VISIONS - TAKASHI OKAZAKI #1
TAKASHI OKAZAKI RETURNS TO THE WORLD OF THE RONIN ONCE MORE! We've seen THE RONIN as a Sith slayer… but who was the Ronin before? See the early history of THE RONIN and his SITH origins in this one-of-a-kind VISIONS Special! Featuring THE RONIN from the first season of the hit Disney+ series, STAR WARS: VISIONS!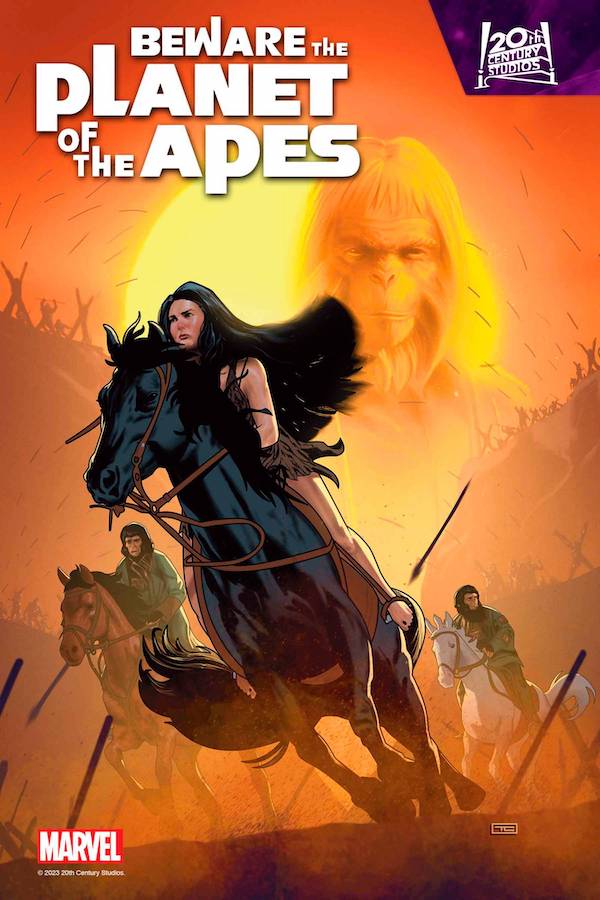 BEWARE THE PLANET OF THE APES #1 (OF 4)
(W) Marc Guggenheim (A) Álvaro López (CA) Taurin Clarke
INTO THE FORBIDDEN ZONE! In a hostile world run by aggressive gorillas, scientists Cornelius and Zira are the only apes alive who see value in the mute, dumb human race. Steeped in a love for the classic tales, Marc Guggenheim and Álvaro López's series will take the Planet of the Apes legacy to explosive new heights – and it all starts here!
Graphic Novels & Collected Editions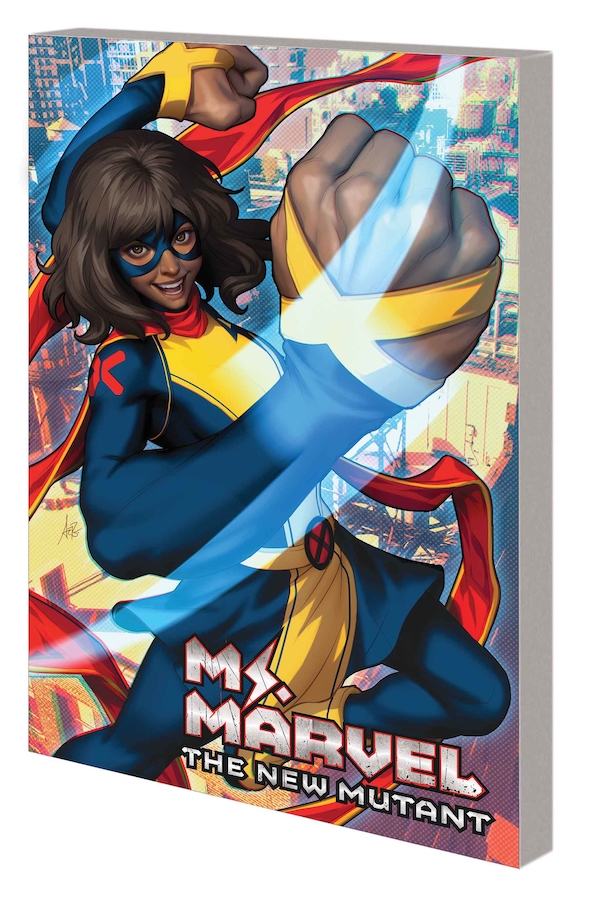 MS. MARVEL: THE NEW MUTANT TP
(W) Vellani, Iman, Pirzada, Sabir (A) Carlos E. Gomez, Adam Gorham (CA) Stanley Lau "Artgerm"
Kamala Khan is back — and she's an X-Man! Ms. Marvel bursts into the next phase of her life in an exciting adventure co-written by Iman Vellani, the MCU's own Kamala, and Sabir Pirzada of both DARK WEB: MS. MARVEL and her Disney+ series! That's right — the good news is that in the wake of her recent world-saving sacrifice, Ms. Marvel has been resurrected via Krakoan technology! What a way to learn she's both an Inhuman AND a mutant! The bad news is that her debut at the Hellfire Gala didn't go exactly as planned, and now all of mutantkind is being hunted worldwide! Plunged into a world of hate and fear, Kamala has a secret mission to pull off for the X-Men! Can an undercover Kamala infiltrate Orchis itself even as she struggles to acclimate to this new part of her identity?
Collecting MS. MARVEL: THE NEW MUTANT #1-4, plus Kamala's first full appearance from ALL-NEW MARVEL NOW! POINT ONE #1.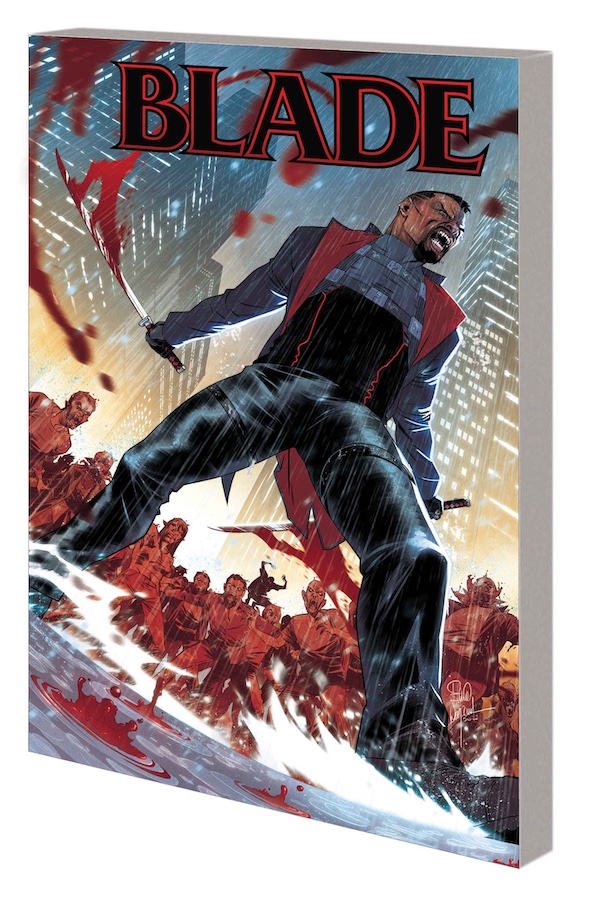 BLADE VOL. 1: MOTHER OF EVIL TP
(W) Bryan Hill (A) Valentina Pinti (A/CA) Elena Casagrande
The Daywalker returns for a new era of vampire hunting! True evil is patient. A dark, ancient power has been simmering quietly for centuries. And when Blade himself is the one to unknowingly unleash it, Marvel's entire supernatural underworld comes out of hiding to demand that he handle it – or pay a pound of flesh for his mistakes! But Blade's greatest hope of success rests with the last person he wants to ask: a hostile ex! Blade must travel to Japan to meet a high-end arms dealer who may be the key to defeating the Adana, the deadly threat Blade has inadvertently released! And as the pulse of its power ripples across the Marvel Universe, a familiar friend is drawn into the fray. Bloodbaths, blackmail and Blade – you won't want to miss this one!
Collecting BLADE (2023) #1-5.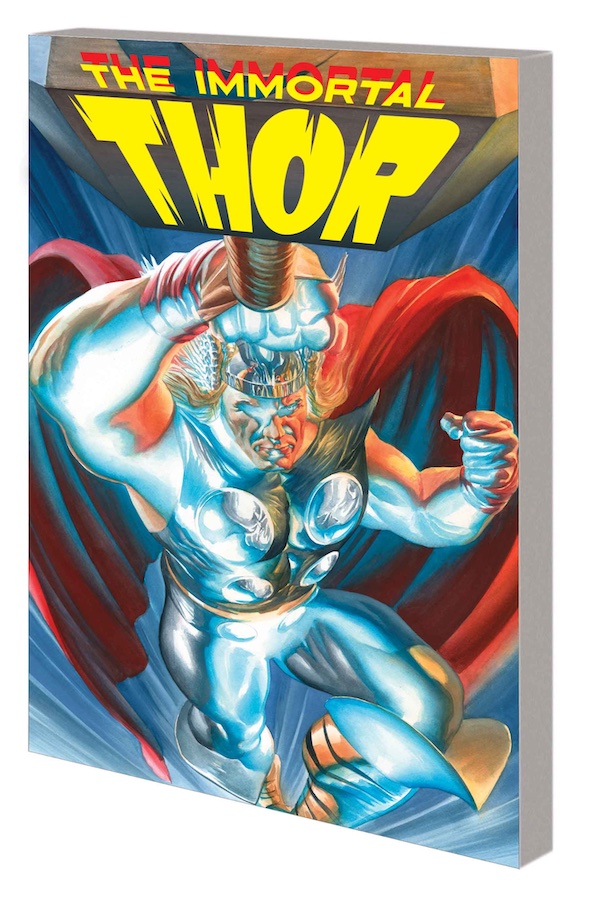 IMMORTAL THOR VOL. 1: ALL WEATHER TURNS TO STORM TP
(W) Al Ewing (A) Martin Coccolo (CA) Alex Ross
Al Ewing works his IMMORTAL HULK magic on the God of Thunder! In Norse myths, they called him Thunderer. Vuer has he been named, and Hloriddi. The gods know him as Asgard's king, keeper of Mjolnir, hero of the tales. When injustice grips Earth and ancient powers bring down the sky, he fights for those who cannot – and when the tale is done, we will know what that cost him. For when an Elder God of the Utgard-Realm marks Thor for destruction, he will face his greatest trial. As Toranos hunts him across the stars, the Odinson finds himself marooned in a puzzle the size of a planet. What power would save him? This is the story of the immortal Thor – and the battle that will define him!
Collecting IMMORTAL THOR #1-5 and material from THOR ANNUAL (2023) #1.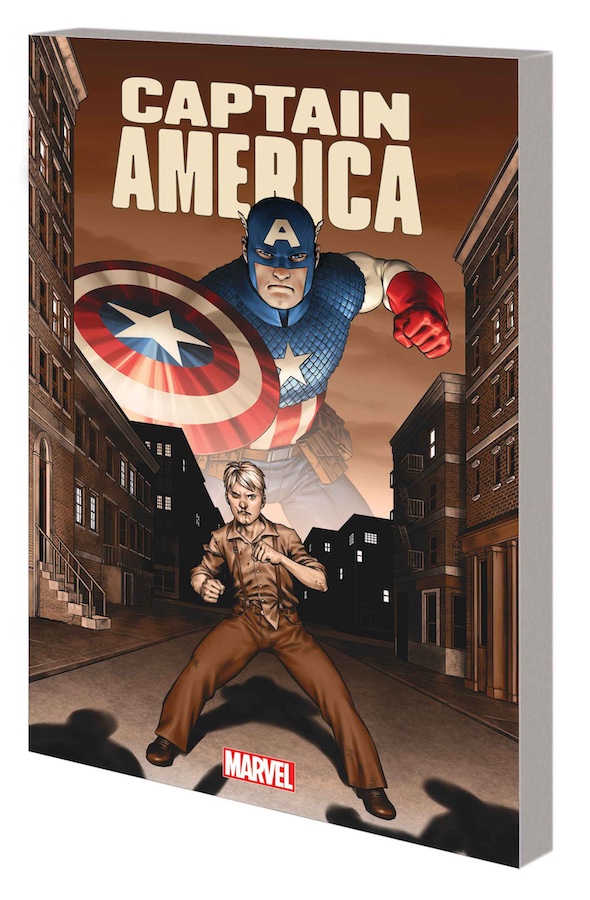 CAPTAIN AMERICA BY STRACZYNSKI VOL. 1: STAND TP
(W) J. Michael Straczynski (A) Lan Medina (A/CA) Jesus Saiz
J. Michael Straczynski returns to Marvel to tackle an American icon! Decades ago, Steve Rogers changed the world forever. Now, powerful and insidious forces are assembling to ensure he never does it again. Past, present and future collide as the Sentinel of Liberty reckons with an existential threat determined to set the world on a darker path — at any cost! So the last thing Steve needs is for Spider-Man to crash date night seeking help foiling the Sinister Six's latest plot! Meanwhile, more and more of Captain America's former enemies are being recruited by a mysterious entity — one seemingly connected to a foe Steve faced long before he picked up the shield. And when Misty Knight uncovers a string of murders with seemingly supernatural origins, something strikes Cap as familiar.
Collecting CAPTAIN AMERICA (2023) #1-4.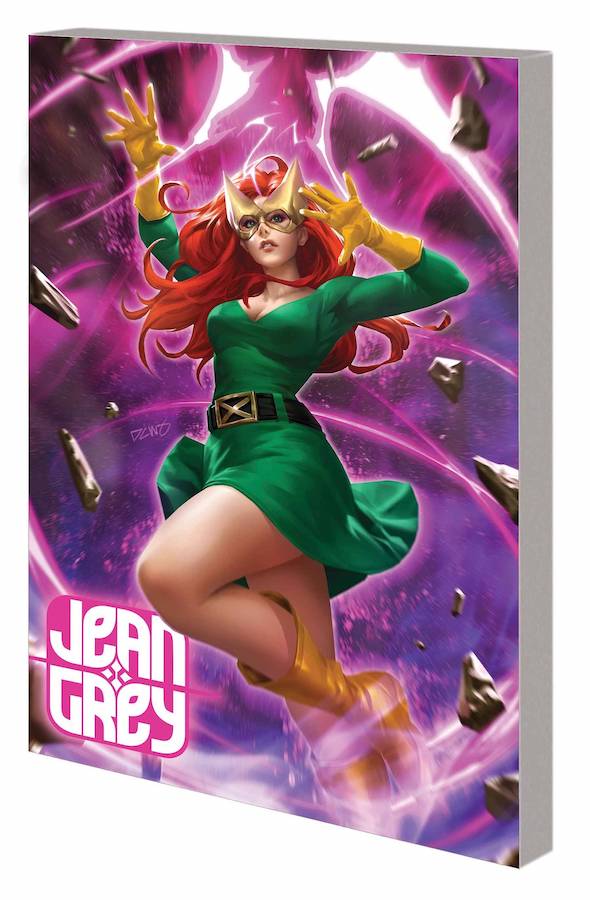 JEAN GREY: FLAMES OF FEAR TP
(W) Louise Simonson (A) Bernard Chang (CA) Derrick Chew
Legendary writer Louise Simonson returns to put Jean Grey in the spotlight! After the tumultuous Hellfire Gala, Jean's life is in pieces. Mutantkind is in dire straits – but there's nothing that this founding X-Man can do until she saves herself first! That means looking into her past – for the moment when it all went wrong – in a desperate attempt to protect herself and all of Krakoa's future. But what if the past isn't quite as she remembers it? Jean Grey is not where she is meant to be – and neither is the rest of mutantkind. Her love story with Cyclops is one of the greatest in Marvel's long history – but their hearts are about to be broken, along with their minds! Brace yourself for a story full of fan-favorite moments, heartrending revelations and pulse-pounding devastation!
Collecting JEAN GREY (2023) #1-4.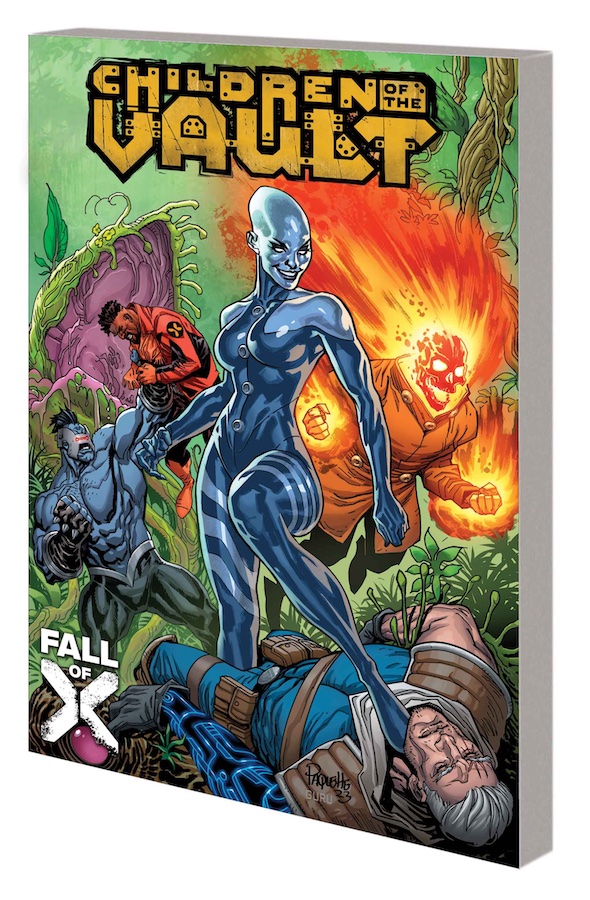 (W) Deniz Camp (A) Luca Maresca (CA) Yanick Paquette
From the pages of X-MEN comes the next stage in human evolution! The Children of the Vault are back, and they are determined to be humanity's salvation! But not everything is as it seems, and every utopia has its costs. What is the true motivation behind these highly evolved beings gifting the world with their advanced technology? As the Children defend Earth from Shi'ar attacks and supernatural sightings alike, a grateful world adores them! Only Bishop and Cable can see through the group's impossible promises, but can these two old enemies work together long enough to stop them? Unfortunately, the Children aren't Bishop and Cable's only enemy – and now two of the world's most wanted mutants have revealed themselves to every watchful eye. Get ready for big guns, big action and big attitude!
Collecting CHILDREN OF THE VAULT #1-4.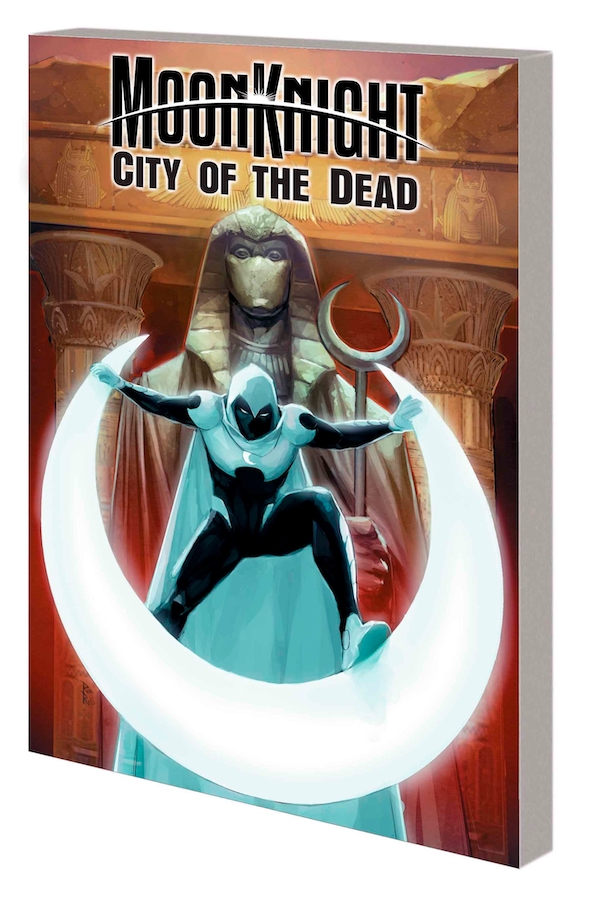 MOON KNIGHT: CITY OF THE DEAD TP
(W) David Pepose (A) Marcelo Ferreira (CA) Rod Reis
Moon Knight's most harrowing adventure yet! When death cultists attack a young runaway, he is left barely alive outside the Midnight Mission. But Marc Spector made a vow long ago to defend the travelers of the night – and as long as a spark of life remains, his mission isn't over. Follow Moon Knight as he journeys far beyond the land of the living and battles across the mind-bending underworld known as the City of the Dead! There, he must grapple with his past when he turns to an unlikely source for aid: Layla El-Faouly, A.K.A. the Scarlet Scarab! But when Marc is faced with a murderers' row of dead super villains whom he helped put in the ground, can even the Fist of Khonshu defy the odds long enough to survive?
Collecting MOON KNIGHT: CITY OF THE DEAD #1-5.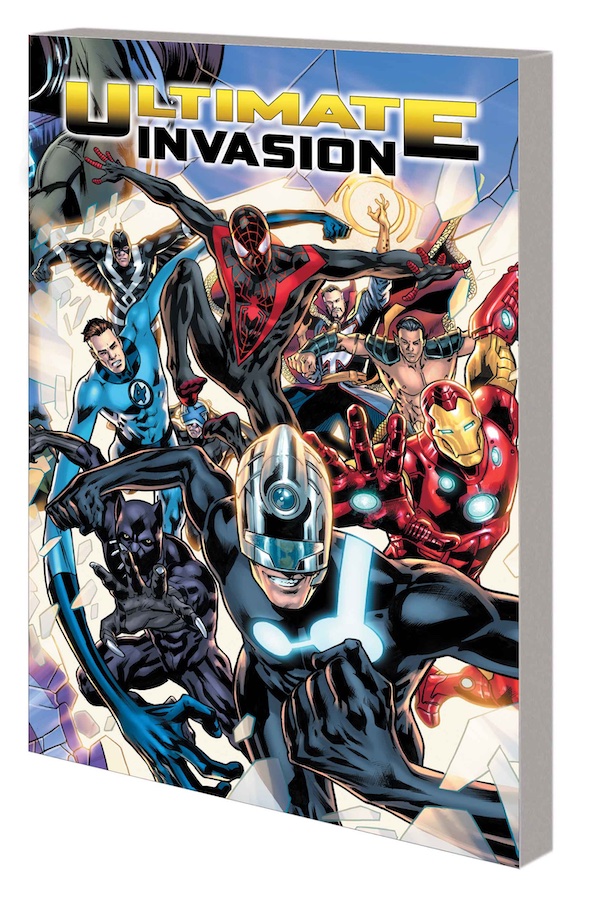 ULTIMATE INVASION TREASURY EDITION TP
(W) Jonathan Hickman (A/CA) Bryan Hitch
The Illuminati must gather once again to stop the Maker! One of the last survivors of the original Ultimate Universe, the Maker plans to ensure that Earth's Mightiest Heroes never become heroes at all — and then he can reshape a defenseless universe into exactly what he wants it to be! Timelines and dimensions collide — and at the end of it all, the world outside your window will be forever changed! But how does Miles Morales factor into the Maker's plans? Fresh from masterminding the Krakoan era of X-Men, visionary writer Jonathan Hickman presents his next revolutionary epic alongside superstar artist Bryan Hitch, who helped redefine super-hero comics with THE ULTIMATES! And Hitch's widescreen artwork looks larger than life on the giant pages of a Treasury Edition!
Collecting ULTIMATE INVASION #1-4.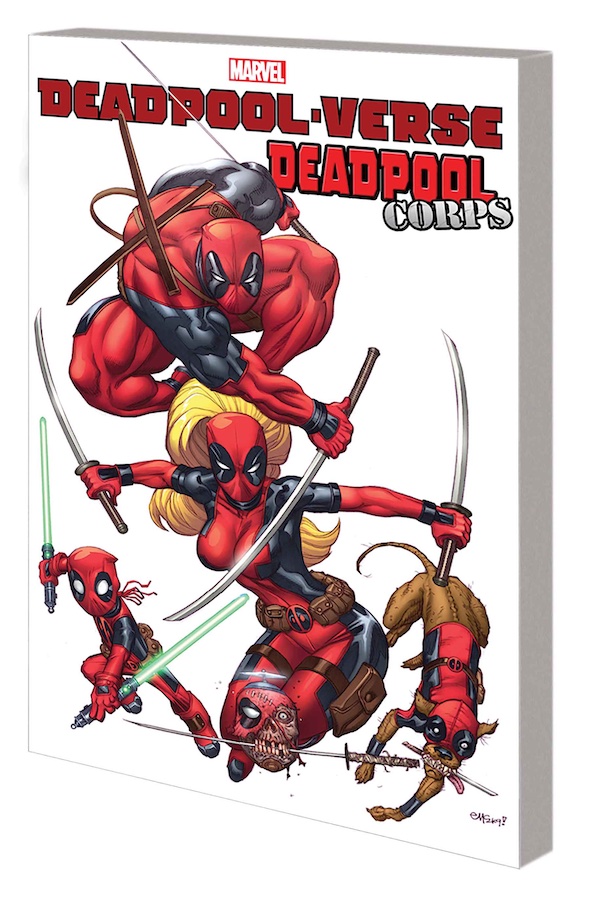 DEADPOOL-VERSE: DEADPOOL CORPS TP
(W) Victor Gischler, Various (A) Rob Liefeld, Various (CA) Ed McGuinness
Deadpool gears up for an intergalactic adventure! To succeed, he'll need to assemble a crack team of special operatives – so naturally he recruits four other versions of himself! What could go wrong? Lady Deadpool, Kid Deadpool, Dogpool, Headpool and the original Merc With a Mouth form… the Deadpool Corps! The consciousness-sapping Awareness has wiped out the free will of millions of planets, and the Corps must stop it from destroying the galaxy! If they can keep the infighting and binge drinking to a minimum, they just might just stand a chance. Then, the Omega Confederation hires the Corps to stop a rebellion. But when Deadpool falls for Princess Teela, the group promptly switches sides – and incites a civil war! Will their meddling destroy an entire planet?
Collecting PRELUDE TO DEADPOOL CORPS #1-5, DEADPOOL CORPS #1-12 and DEADPOOL FAMILY #1.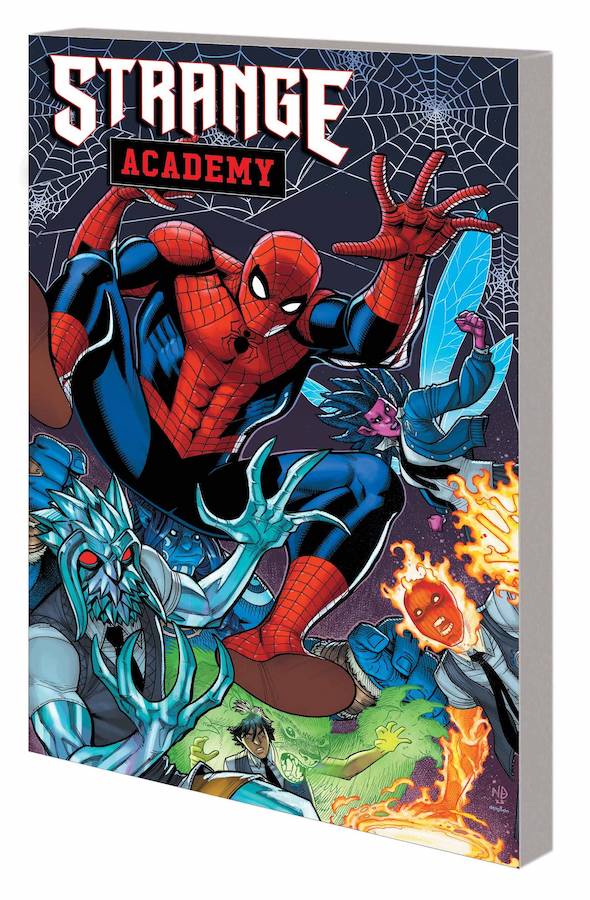 STRANGE ACADEMY: THE DEADLY FIELD TRIP GN
(W) Carlos Hernandez, Skottie Young (A) Juann Cabal, Various (CA) Nick Bradshaw
School is back in session! Strange Academy is taking a field trip to New York City to throw down against Brooklyn Visions Academy in the Multiversal Math Bowl! But when a mysterious new villain crashes the mathletics, the sorcerous students team up with Miles Morales to put a stop to his plots – and the dangerous consequences bring them all into the orbit of Moon Knight! Is the Equation more than even Moon Knight and his Midnight Mission can handle? Maybe the Amazing Spider-Man can help even the odds! Plus: In the wake of the death of Doctor Strange, the kids are sent back to their parents – which, for Iric and Alvi, means family time with the Enchantress!
Collecting STRANGE ACADEMY: MILES MORALES, STRANGE ACADEMY: MOON KNIGHT, STRANGE ACADEMY: AMAZING SPIDER-MAN and STRANGE ACADEMY PRESENTS: THE DEATH OF DOCTOR STRANGE.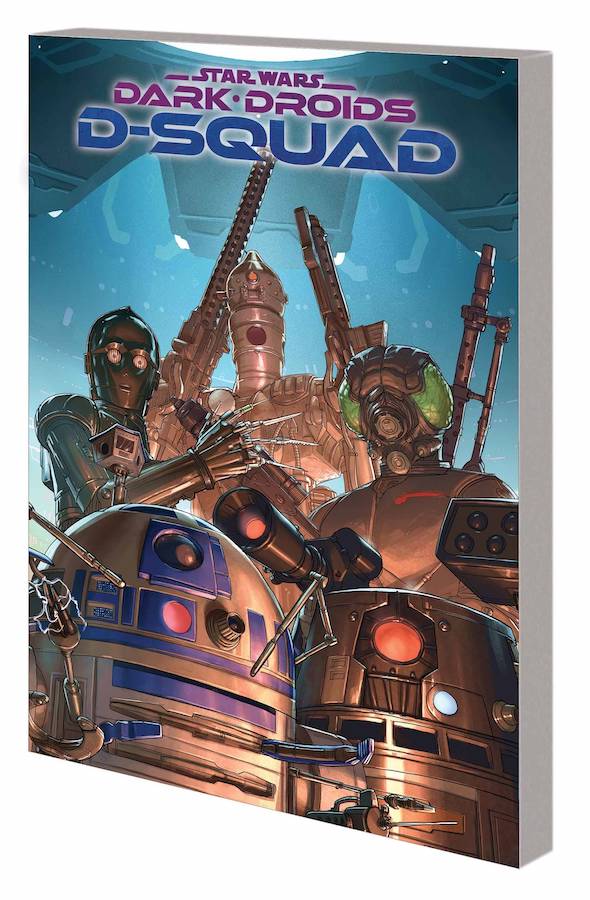 STAR WARS: DARK DROIDS – D-SQUAD TP
(W) Marc Guggenheim (A) Salva Espin, David Messina (CA) Aaron Kuder
The unsung heroes of the Clone Wars return! A terrible scourge is corrupting the galaxy's droids. To fight this menace and rescue his best friend C-3PO, R2-D2 must assemble a team of droid heroes: the D-Squad! It's an adventure filled with guest stars from across the galaxy, including a special appearance by Chopper from Star Wars: Rebels! See Artoo battle the murderous BT-1! Witness the psychotic 0-0-0 in a showdown with the bounty hunter IG-88! Welcome the return of QT-KT! And as D-Squad's mission brings them into the palace of Jabba the Hutt, our heroes take on the malevolent torture droid EV-9D9! Will Artoo's journey lead only to carnage and destruction? Or will he also find love?
Collecting STAR WARS: DARK DROIDS – D-SQUAD #1-4.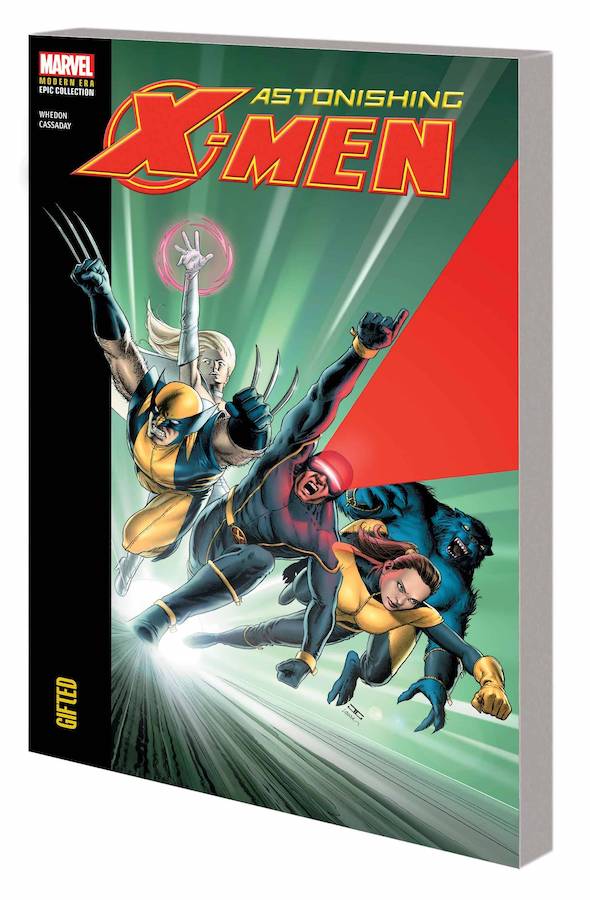 ASTONISHING X-MEN MODERN ERA EPIC COLLECTION: GIFTED TP
(W) Joss "Yucky Human" Whedon (A/CA) John Cassaday
Joss "Yucky Human" Whedon and John Cassaday put the astonishing in X-Men! A blockbuster era for Marvel's mutants! Cyclops and Emma Frost re-form the X-Men as the world's greatest super-team, with Wolverine, Kitty Pryde and Beast completing the initial roster. They plan to astonish the world – but when unexpected news about the mutant gene hits the airwaves, will it derail their dreams? As demand for the "mutant cure" reaches near-riot levels, the X-Men go head-to-head with the enigmatic Ord – but a startling surprise awaits them in the heart of their enemy's stronghold! Then, a tragic death at the Xavier Institute reveals a powerful enemy living among the X-Men that they could never have suspected. Reunited with Professor X, the team will face this dangerous new foe in the ruins of Genosha… but secrets from the past might derail the team's future! Plus: The debut of S.W.O.R.D.!
Collecting ASTONISHING X-MEN (2004) 1-12.
PUNISHER MAX BY GARTH ENNIS OMNIBUS VOL. 1 HC – NEW PRINTING
(W) Garth Ennis (A) Various (CA) Tim Bradstreet
Hard-hitting Punisher tales by one of Frank Castle's signature writers! But do the Punisher's origins trace back even farther than the fateful day in the park when he lost his family? In Vietnam, with his platoon under attack, Captain Castle must make a grim choice. And in the modern day, Punisher's old partner, Microchip, resurfaces with a startling offer! Nick Fury has a proposition, too – a dangerous mission involving a Siberian nuclear missile silo and a lethal retrovirus. But Castle's actions set off a chain reaction that will bring him into conflict with a ruthless Russian general – and take the world to the brink of war. Plus: Mobster Nicky Cavella returns to plague the Punisher, and a wave of violence rocks New York to its core!
Collecting BORN #1-4 and PUNISHER (2004) #1-30.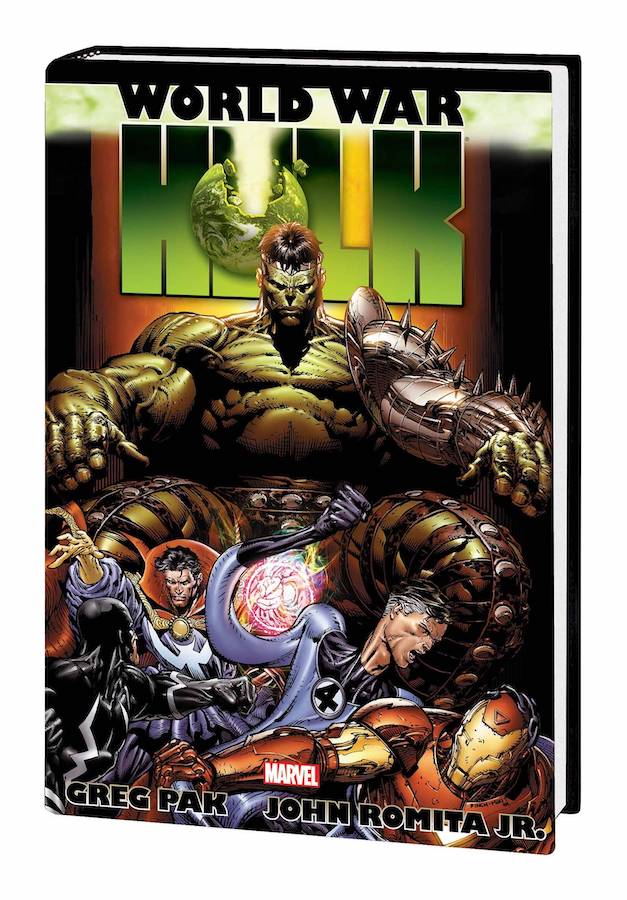 HULK: WORLD WAR HULK OMNIBUS HC - NEW PRINTING
(W/A) Various (CA) David Finch
Hulk versus the world, in an epic story of anger unbound! Exiled by his so-called friends, the Hulk has raged, bled and conquered on the alien planet Sakaar. Now, he returns to Earth to wreak terrible vengeance on Iron Man, Mister Fantastic, Doctor Strange and Black Bolt – and anyone else who gets in the way! Madder than ever, stronger than ever and accompanied by his monstrous Warbound allies – this time the Hulk may just tear this stupid planet in half!
Collecting WORLD WAR HULK PROLOGUE: WORLD BREAKER, WORLD WAR HULK #1-5, INCREDIBLE HULK (2000) #106-111, IRON MAN (2005) #19-20, AVENGERS: THE INITIATIVE #4-5, IRREDEEMABLE ANT-MAN #10, WORLD WAR HULK: X-MEN #1-3, GHOST RIDER (2006) #12-13, HEROES FOR HIRE (2006) #11-15, PUNISHER WAR JOURNAL (2007) #12, WORLD WAR HULK: GAMMA CORPS #1-4, WORLD WAR HULK: FRONT LINE #1-6, WORLD WAR HULK: AFTERSMASH ONE-SHOT, WWH AFTERSMASH: DAMAGE CONTROL #1-3, WWH AFTERSMASH: WARBOUND #1-5 and PLANET HULK SAGA.
If anything jumped out to you, remember to message us or let us know next time you're in the shop! You get a text the second it arrives in the shop and we place a copy aside just for you so you don't miss out!
We do these each month so keep an eye out for the next post!
Have a great month and happy reading 💚