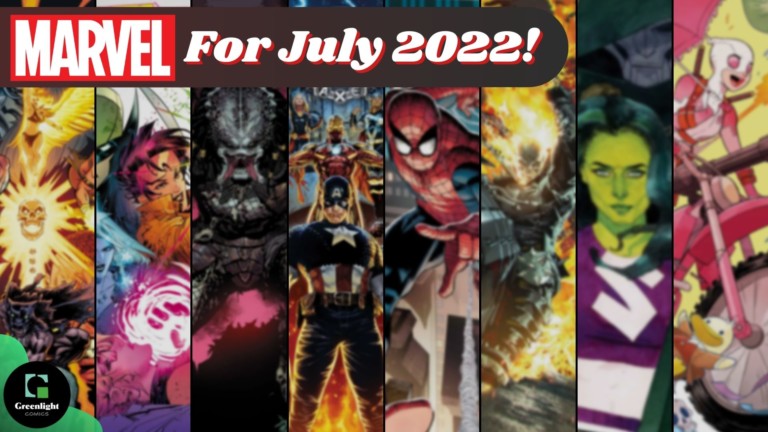 The May issue of Marvel Comics Previews has arrived! Here is our breakdown of the new comics series to jump on, plus what collected editions are arriving from July 2022! You can find the rest of our Previews Picks for other DC Comics, Indies & Manga titles here!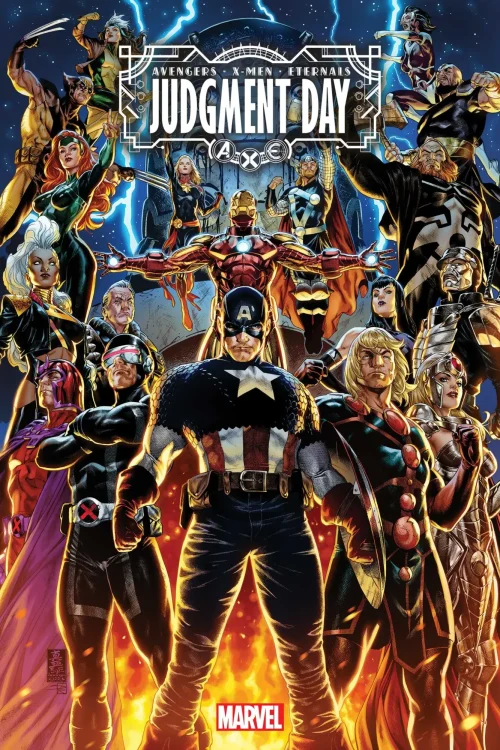 A.X.E.: JUDGMENT DAY #1 (OF 6)
The X-Men claim they're the planets' new gods. The Eternals know that position is already filled. The Avengers are about to realize exactly how many secrets their so-called friends have kept from them. Years of tension lead to a volcanic eruption as two worlds burn. Who has leaked the X-Men's secrets to their latest foes? Why is Tony Stark abducting an old friend? And who stands in judgment over the whole world?
Judgment Day from Kieron Gillen and Valerio Schiti is the apocalyptic emotional event to define the summer.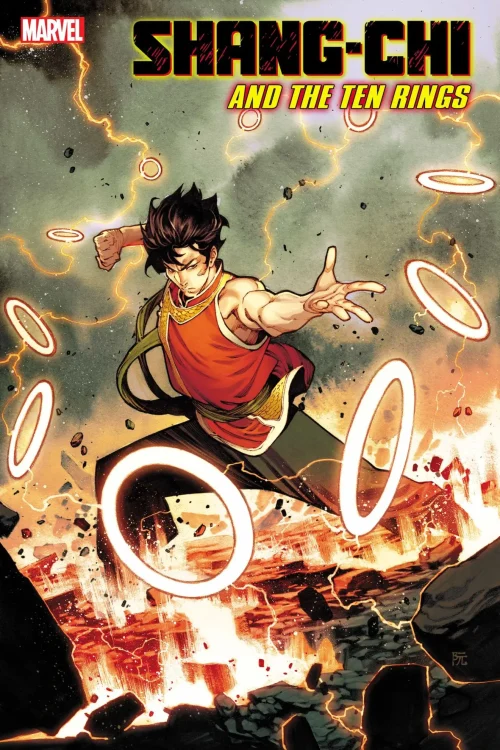 SHANG-CHI AND THE TEN RINGS #1
A BOLD NEW ERA STARTS HERE!
Shang-Chi has gained possession of the powerful Ten Rings. But so much concentrated energy has not gone unnoticed. Now, every bounty hunter, assassin and evil syndicate in the Marvel Universe is coming to take the Rings from him! But will the responsibility and the truth of the Rings be too much to bear for the Master of Kung Fu?
Find out as the true origin of the Ten Rings starts here from Gene Luen Yang (SHANG-CHI) and Marcus To (EXCALIBUR)!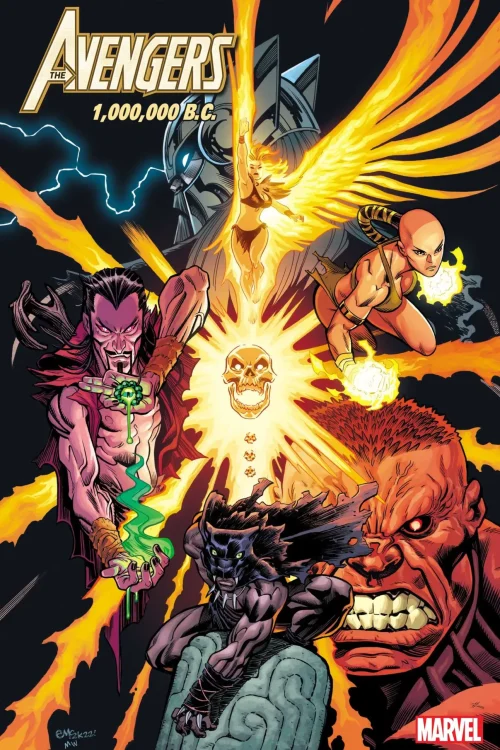 AVENGERS: 1,000,000 B.C. #1
From writer Jason Aaron! They are the defenders of the dawn of time. Marvel's first and mightiest legacy heroes. But their greatest secrets have never been revealed. Until now.
Witness the dark events that shatter their ranks. See how their lives come to shape the entire future of the Marvel Universe. And be there for the monumental event that reunites them one last time: the true story of Thor's birth.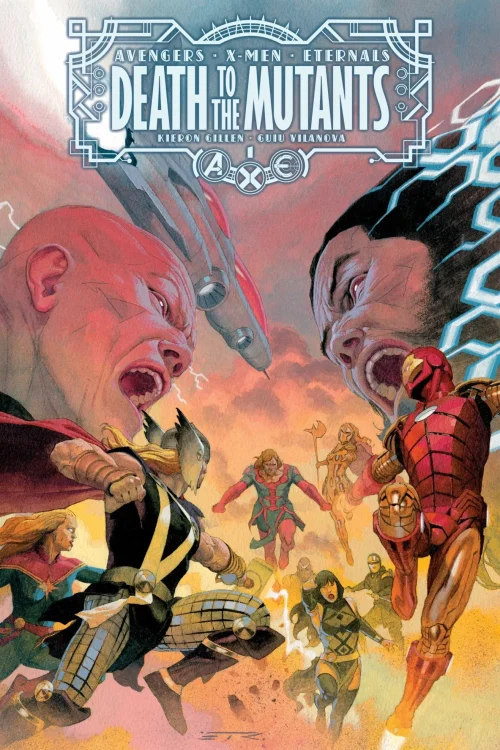 A.X.E.: DEATH TO THE MUTANTS #1 (OF 3)
The mutants are Deviants. Eternals are coded to correct excess deviation. The mutants are eternal, Mars colonizers, ever-spreading. Eternals know what they should do. Our heroes don't want to, but can they resist the murderous designs coded into their body as surely as any Sentinel? And if they can't, can anyone survive the coming judgment?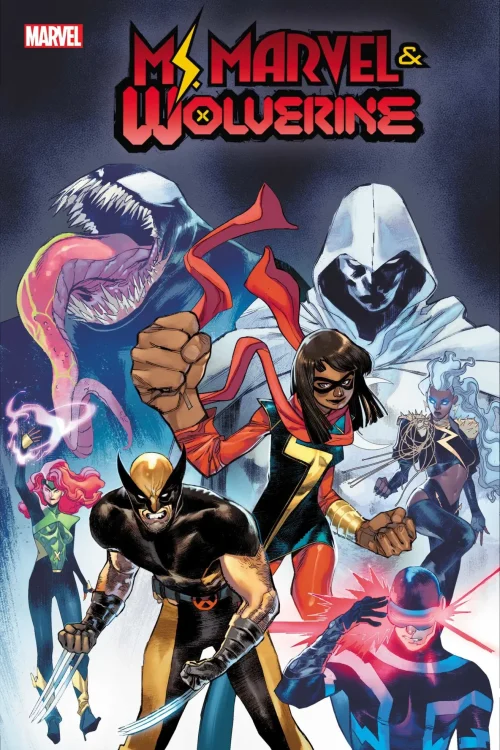 MS. MARVEL & WOLVERINE #1
When a mysterious threat lands in New York City, MS. MARVEL takes matters into her own embiggened hands! But with Krakoan security/tech compromised, you can bet WOLVERINE and the X-MEN won't be far behind! The best there is at what he does teams up with one of the Marvel Universe's most lauded heroes in an oversized action-packed adventure for the ages!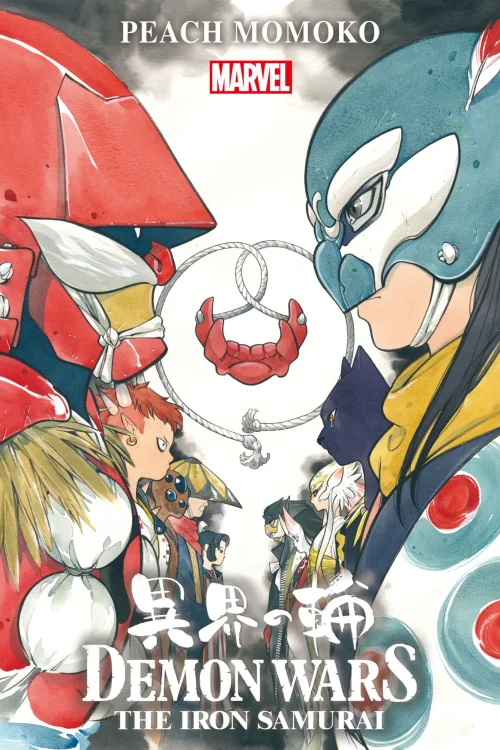 DEMON WARS: THE IRON SAMURAI #1 (OF 4)
Peach Momoko takes her version of the Marvel Universe to the next level by transporting readers to another dimension, one filled with wondrous creatures: sentient samurai armor, a winged individual in a falcon mask, a mysterious panther person and a red, snakelike monster with a deadly appetite. Don't miss the next evolution of the Peach Momoko's Marvel Universe!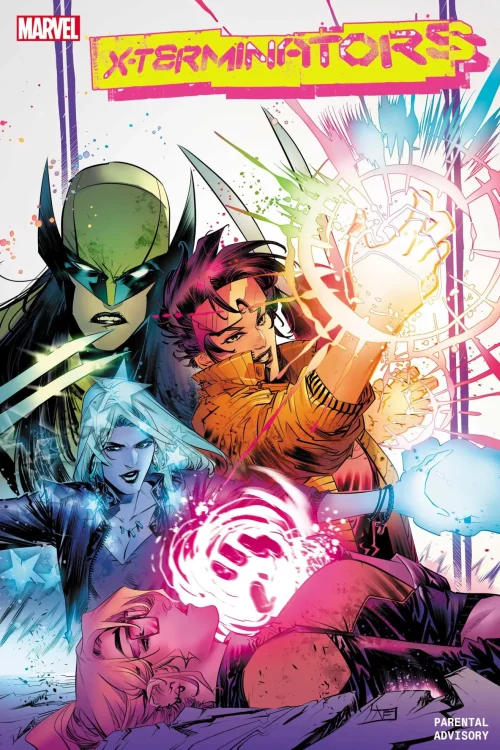 ENTER THE GRINDHOUSE OF X!
When Jubilee and Boom-Boom agree to take Dazzler out for a night on the town to console her after her nasty breakup, they have no idea they're about to be kidnapped and put into elaborate death traps for their efforts! What are three girls with the power to blow things up to do?
Leah Williams and Carlos Gómez put the X in eXploitation in this tale of blood, sweat and REVENGE!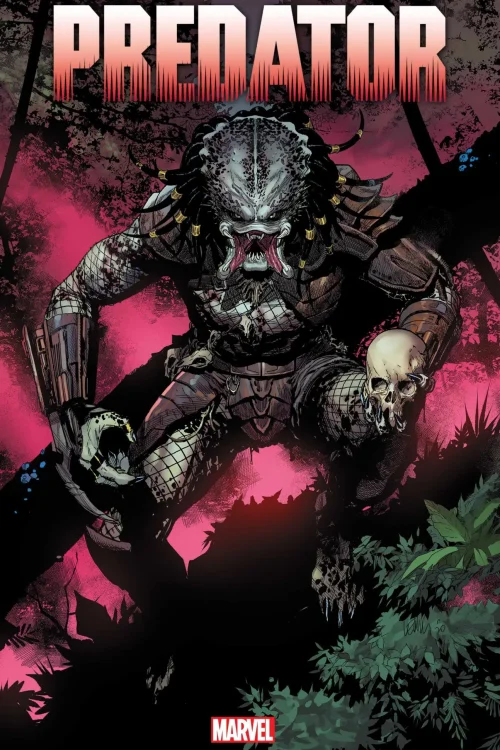 HUNT. KILL. REPEAT.
In the near future, a young girl sees her family slaughtered by the deadliest and most feared hunter in the universe: a PREDATOR. Years later, though her ship is barely holding together and food is running short, Theta won't stop stalking the spaceways until the Yautja monster who killed her family is dead…or she is.
Ed Brisson (IRON FIST, GHOST RIDER) and Kev Walker (DR. STRANGE, DOCTOR APHRA) forge a violent, heartbreaking and unforgettable new chapter in the PREDATOR saga not to be missed!
Graphic Novels & Collected Editions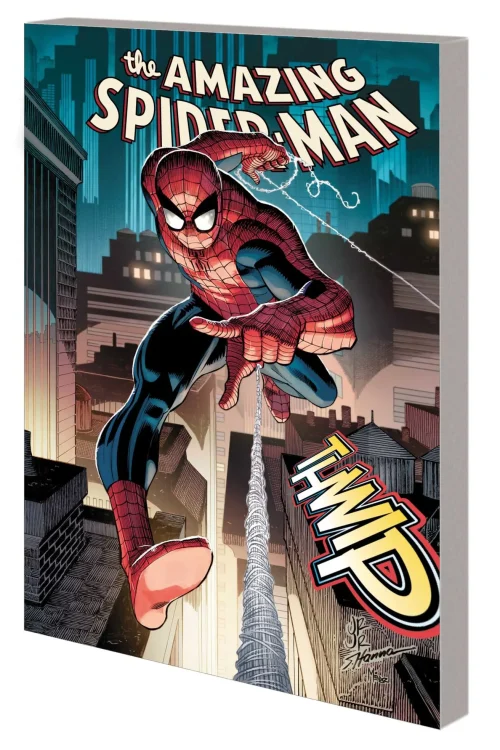 AMAZING SPIDER-MAN BY WELLS & ROMITA JR. VOL. 1: WORLD WITHOUT LOVE TP
A new era of AMAZING SPIDER-MAN begins! Peter Parker is on the outs with the Avengers. He's on the outs with the Fantastic Four. He's on the outs with Aunt May! No one wants to see Spider-Man, except for Doctor Octopus. Doc Ock is on Spidey's tail, and the Master Planner has something truly terrible planned for when he gets his tentacles on Peter. But what did Spider-Man do that has alienated him from everyone? And what moves is the gangster called Tombstone making? Spidey and Tomby are about to have their most brutal battle ever, and the worst damage to Peter might not be physical! Just in time for Spider-Man's 60th Anniversary, blockbuster artist John Romita Jr. returns, and 2022 will be the biggest year for the wall-crawler ever!
Collecting AMAZING SPIDER-MAN (2022) #1-5.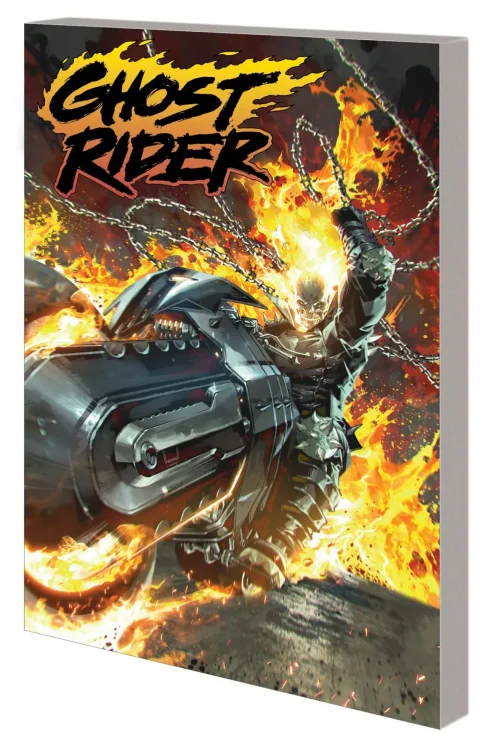 GHOST RIDER VOL. 1: UNCHAINED TP
Ghost Rider goes back to flaming-skulled basics! Johnny Blaze is in a haze. He has the perfect life: idyllic small town, wife and kids, dog, the American dream. Except for the nightmares. Blaze is having terrifying visions and has a constant, pounding headache, like something inside is trying to get out. This world he's living in is too good to be true. In fact, it's more like a prison. But who would purposely be keeping the Spirit of Vengeance on the sidelines, and how? Meanwhile, the FBI has recently discovered a frightening and unexplained surge in supernatural activity. And that can mean only one thing: It's time for Blaze to hit the dark roads of the Marvel Universe once more, confronting its monsters and battling his demons. Let's ride!
Collecting GHOST RIDER (2022) #1-5.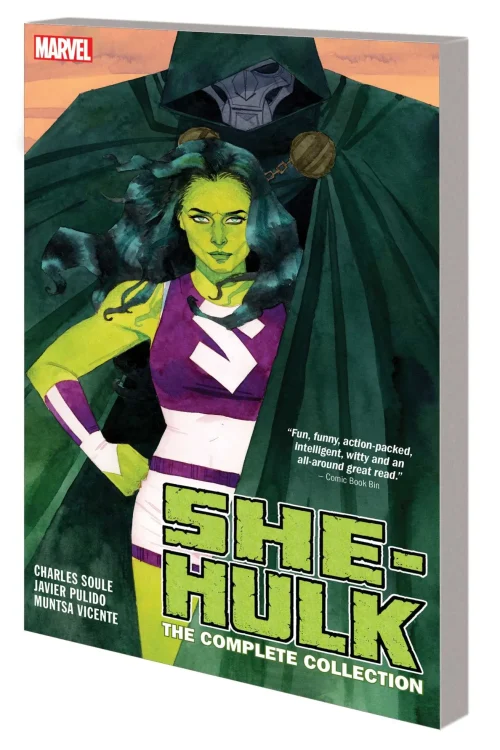 SHE-HULK BY SOULE & PULIDO: THE COMPLETE COLLECTION TP
Writer Charles Soule brings his legal expertise to Jennifer Walters, attorney at law, A.K.A. the Sensational She-Hulk! With a solo law practice, a new paralegal who is far more than she seems and a mounting number of enemies, Jen might have bitten off more than she can chew! Especially with clients like Kristoff Vernard, son of Doctor Doom, and Captain America himself! Meanwhile, She-Hulk and Hellcat must uncover the deeply buried conspiracy found in the mysterious Blue File! And when someone important to Jen is killed, she won't let it stand, but who can she trust? Giant-Man lends a big hand, and She-Hulk takes on Matt Murdock in the Marvel trial of the century! Plus: Titania! Deadpool! And will She-Hulk's holiday party spell the end of her practice?
Collecting SHE-HULK (2014) #1-12, WOLVERINES #13 and material from GWENPOOL SPECIAL #1.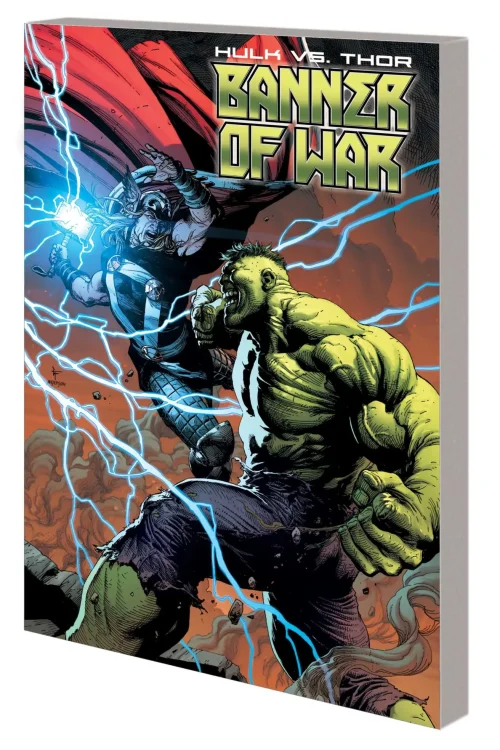 HULK VS. THOR: BANNER OF WAR TP
A cataclysmic crossover destined to be a smash hit! Hulk and Thor have both undergone massive changes recently, but one thing remains constant: their heated rivalry! When mysterious circumstances bring them into conflict once more, will the God of Thunder be able to triumph against a Bruce Banner who can now control his rage? And will Iron Man regret coming between these two titans, even with his new Celestial Hulkbuster armor?! Celebrating the 60th Anniversary of both characters, writer Donny Cates pits the stars of his two titles against one another in his biggest blockbuster yet, and that's saying something! Key mysteries from HULK and THOR will be revealed, and this clash will have shocking consequences for the future of both characters!
Collecting HULK VS. THOR: BANNER OF WAR ALPHA (2022) #1, THOR (2020) #25-26 and HULK (2021) #7-8.
FANTASTIC FOUR: LIFE STORY TP
An incredible exploration of the fabulous foursome's lives if they aged in real time across the decades! Amid the backdrop of the Space Race, an accident gives the Fantastic Four great powers and entangles them in the history of their planet. But as the years pass, the four heroes struggle to find their role in a rapidly changing world. As Sue continues to fight for social causes, Reed becomes increasingly obsessed with preparing for the prophesied arrival of Galactus! And in the end, after six decades of triumphs and tragedies, love and loss, can the aging heroes make a final stand against the implacable might of Doctor Doom?
Collecting FANTASTIC FOUR: LIFE STORY #1-6.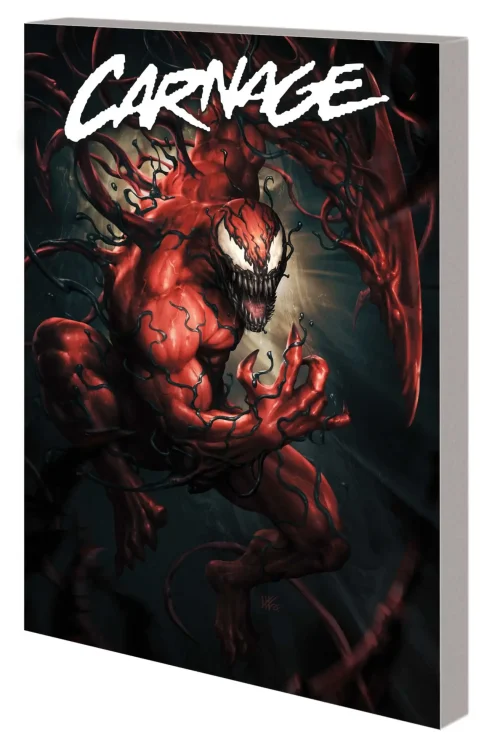 CARNAGE VOL. 1: IN THE COURT OF CRIMSON TP
Carnage is back to celebrate 30 years of symbiotic slaughter! Prepare to look deep into Cletus Kasady's psychotic past, and to catch up with Venom's offspring in the here and now, ready for his visceral and violent future! For years, the unhinged Cletus Kasady has been the only host the Carnage symbiote has known. Sharing a uniquely horrifying bond, the pair were the most notorious and prolific serial killers in the entire Marvel Universe. But after the events of EXTREME CARNAGE, Cletus' codex has found a new home, leaving the Carnage symbiote adrift, alone…and deadlier and more bloodthirsty than ever before! What new and terrifying creature will emerge from this symbiotic solitude? Something wicked this way comes!
Collecting CARNAGE (2022) #1-5 and CARNAGE FOREVER #1.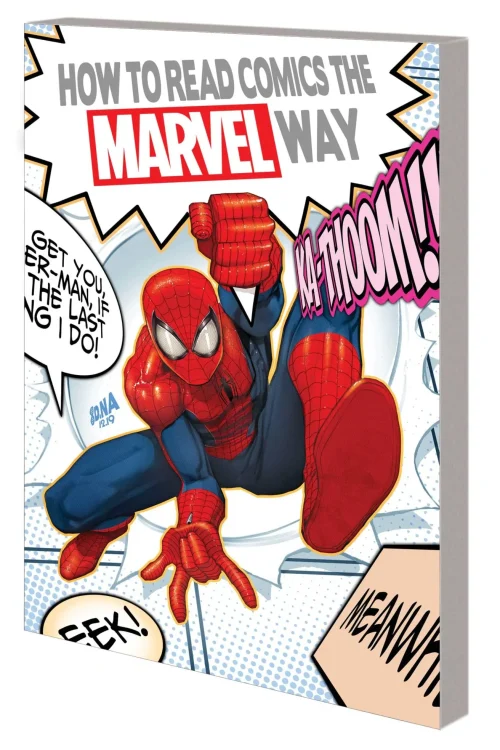 HOW TO READ COMICS THE MARVEL WAY GN
Presenting a universal gateway into the House of Ideas! Comic books can sometimes be like a foreign language to the uninitiated, with their own unique storytelling tools, visual shorthand and narrative conventions. Many clever cartoonists and scribes have shared their theories on the grammar of comics, but it's never been done in the Mighty Marvel Manner! Get ready, because Mysterio has trapped Spider-Man inside a comic book, and Spidey's going to help you navigate through the gutters, balloons, panels, pencils and more! Plus: See how top talents speak the "language of comics" in action-packed adventures featuring Peter Parker, Miles Morales, Ms. Marvel, Moon Girl and Devil Dinosaur!
Collecting HOW TO READ COMICS THE MARVEL WAY #1-4, MS. MARVEL (2014) #1, ULTIMATE COMICS SPIDER-MAN #1, MOON GIRL AND DEVIL DINOSAUR #1 and SPIDEY #1.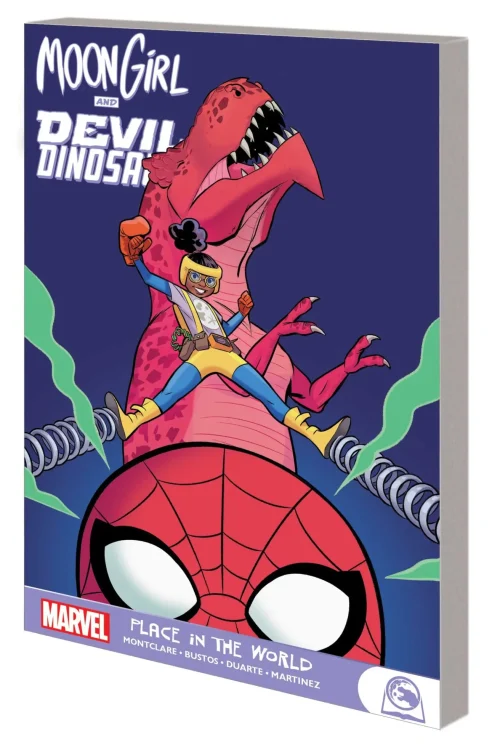 MOON GIRL AND DEVIL DINOSAUR: PLACE IN THE WORLD GN
Bad dreams and great team-ups! Moon Girl and Devil Dinosaur must fight to stay out of the Dream Dimension, a place at the edge of our subconscious where all manner of monsters dwell! What fearsome fiends lurk within the mind of a 65-million-year-old thunder lizard, or worse yet, a 9-year-old super-genius?! Doctor Strange and Sleepwalker are about to find out! Then Lunella meets the original kid super hero, Spider-Man! And if that isn't amazing enough, wait until the War of the Realms breaks out, and our heroes share a mythical adventure in Asgard! Next, the Lafayettes face a family crisis that threatens time and space! And, at last, it's the battle of the biggest brains in the Marvel Universe… and it will be fantastic! Is Reed Richards smarter than a fourth-grader?
Collecting MOON GIRL AND DEVIL DINOSAUR #37-47.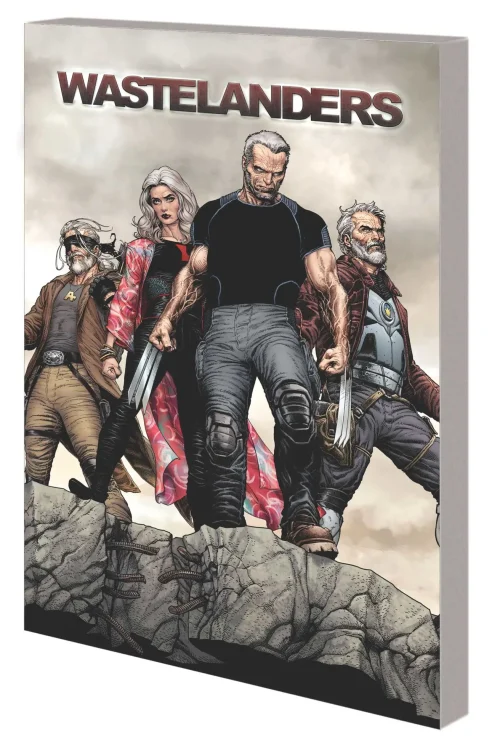 Return to the dystopian future world where the villains won! Get ready for shocking new stories from a disturbing world, taking their cue from the breakout podcast inspired by the original OLD MAN LOGAN saga! For Logan, saving the day looks very different with a baby Hulk in his arms, and protecting the child may be his downfall! Learn how a blind Hawkeye trained with the man once known as Daredevil! The mysterious Black Widow infiltrates the deadly land of the Lizard King! A guilt-ridden Peter Quill visits the site where he lost his great love! And as he rules over his domain in the Wastelands, a greater destiny calls to Doom!
Collecting WASTELANDERS: WOLVERINE, HAWKEYE, STAR-LORD, DOOM and BLACK WIDOW.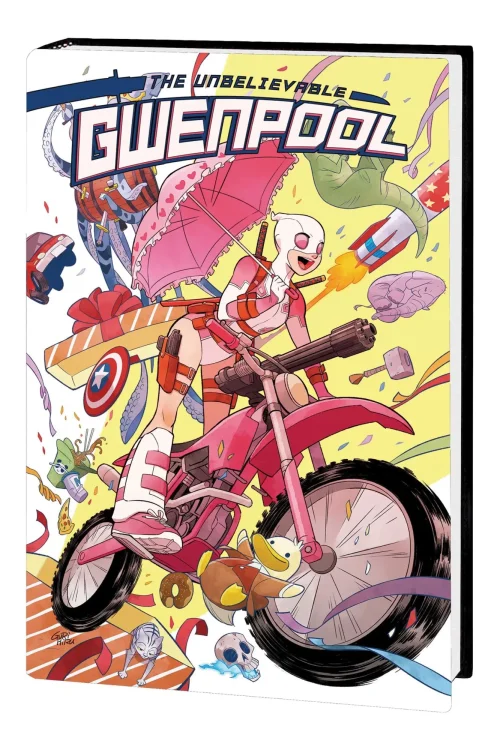 Superfan becomes super hero! Gwen Poole was an avid comic book reader, until she found herself transported into the Marvel Universe! Now, surrounded by characters that she knows everything about (including their secret identities!) and fully aware of the tropes of super hero storytelling, Gwen is determined not to be an "extra" in this brave new world. But her attention-seeking journey from mercenary to Avenger (okay, West Coast, but still…) is complicated when she learns how to manipulate the comic books she herself appears in! As her continuity dramas get ever more convoluted, will Gwen go big… or go home?
Collecting UNBELIEVABLE GWENPOOL #1-25, ROCKET RACCOON AND GROOT #8-10, CHAMPIONS (2016) #5, EDGE OF VENOMVERSE #2, WEST COAST AVENGERS (2018) #1-10, SUPERIOR SPIDER-MAN (2018) #7-8 and GWENPOOL STRIKES BACK #1-5 — plus material from HOWARD THE DUCK (2015B) #1-3, GWENPOOL SPECIAL #1, GWENPOOL HOLIDAY SPECIAL: MERRY MIX-UP and SECRET EMPIRE: BRAVE NEW WORLD #1.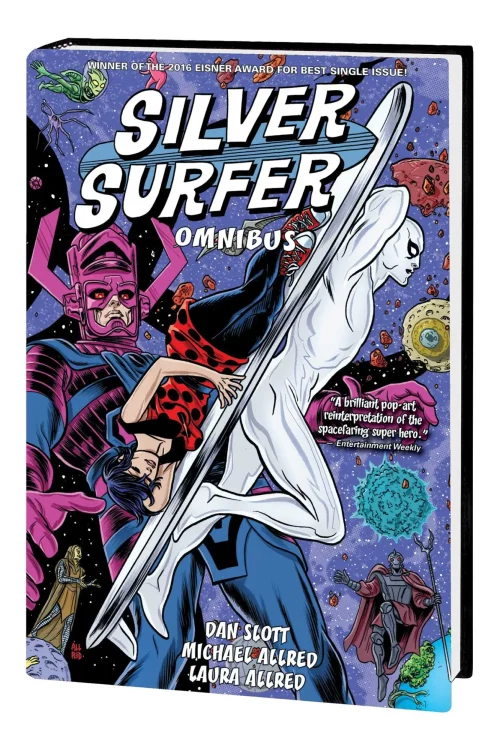 SILVER SURFER BY SLOTT & ALLRED OMNIBUS HC
Anywhere and everywhere, hang on! Dan Slott and Michael Allred take the Sentinel of the Spaceways on his wildest ride yet, with a very special companion! Meet Dawn Greenwood, the Earth girl who's enabled the Silver Surfer to see the universe with all-new eyes, and push its boundaries like never before! But that way leads to incredible dangers, like the Never Queen, Warrior One and Jumbonox the Giganormous! From perfect planets to wrathful warriors, from the end of reality to an all-new beginning, they'll travel the length and breadth of space and time, and beyond! But what could ever make Norrin Radd willing to once again serve Galactus?
Slott and Allred weave a cosmic-powered story of triumph, tragedy and boundless imagination, including the 2016 Eisner Award-winning story "Never After"!
Collecting SILVER SURFER (2014) #1-15, SILVER SURFER (2016) #1-14 and material from ALL-NEW MARVEL NOW! POINT ONE.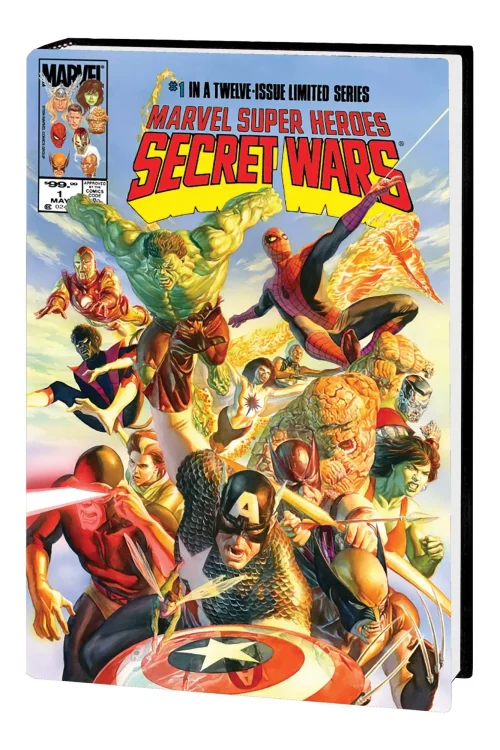 Covers by MIKE ZECK OR ALEX ROSS
Drawn from Earth across the stars, the Marvel Universe's greatest heroes and villains are set against one another by the mysterious and all-powerful Beyonder, with the winner promised the ultimate prize! But as battle lines are drawn, new alliances are forged and old enemies clash, one among them is not willing to settle for anything less than godhood. Can even the combined might of the Avengers, Spider-Man, the Fantastic Four and the X-Men prevent Doctor Doom from becoming the most powerful being in the universe? The greatest super hero war of all time is collected alongside an untold chapter of Thor's time on Battleworld, Titania's incredible origin and "What If?" tales that offer very different endings to the Secret Wars!
Collecting MARVEL SUPER HEROES SECRET WARS #1-12, THOR (1966) #383, SHE-HULK (2004) #10 and WHAT IF? (1989) #4 and #114.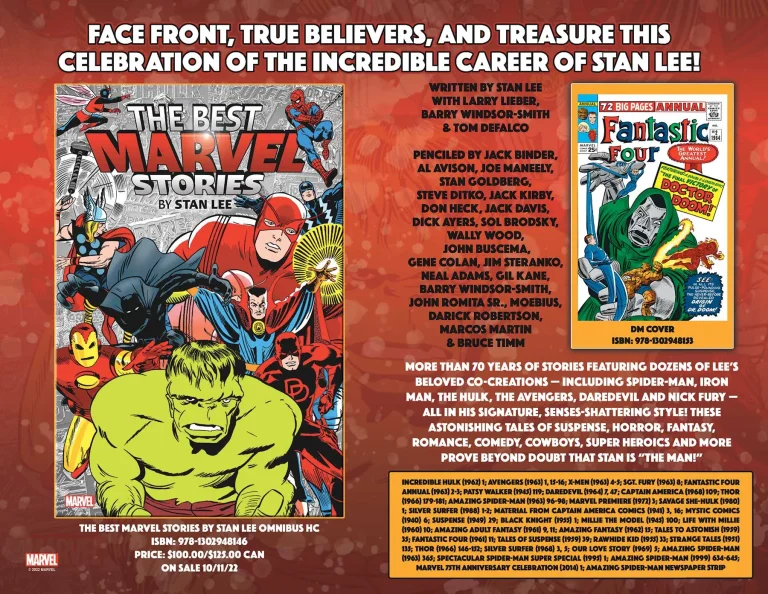 The best marvel stories by stan lee omnibus hc
If anything jumped out to you, remember to message us or let us know next time you're in the shop! You get a text the second it arrives in the shop and we place a copy aside just for you so you don't miss out!
We do these each month so keep an eye out for the next post!
Have a great month and happy reading 💚