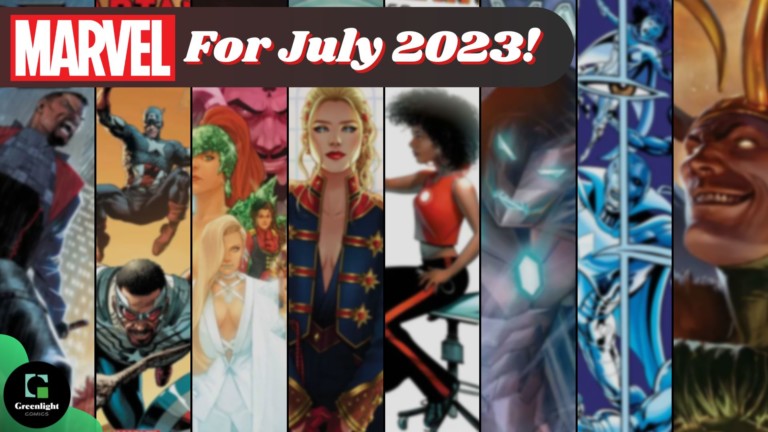 The May issue of Marvel Comics Previews has arrived! Here is our breakdown of the new comics series to jump on, plus what collected editions are arriving from July 2023! You can find the rest of our Previews Picks for other DC Comics, Indies & Manga titles here!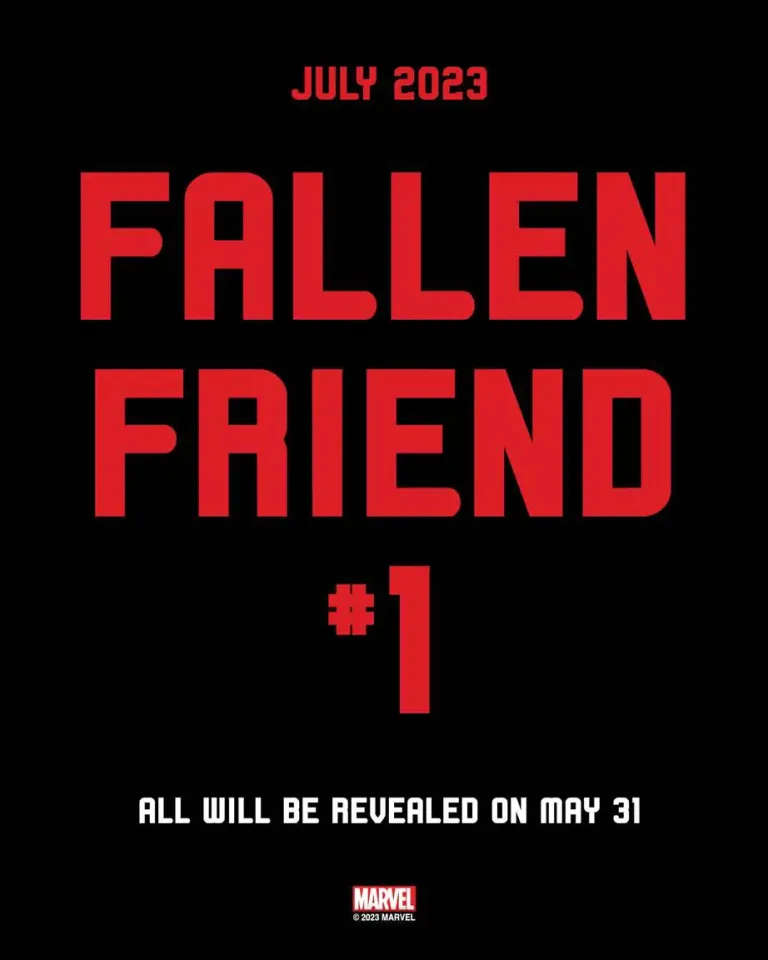 (W) NO IDEA (A/CA) WHO KNOWS
We get the feeling that someone ain't gonna be making it through to the start of the next financial year. 💀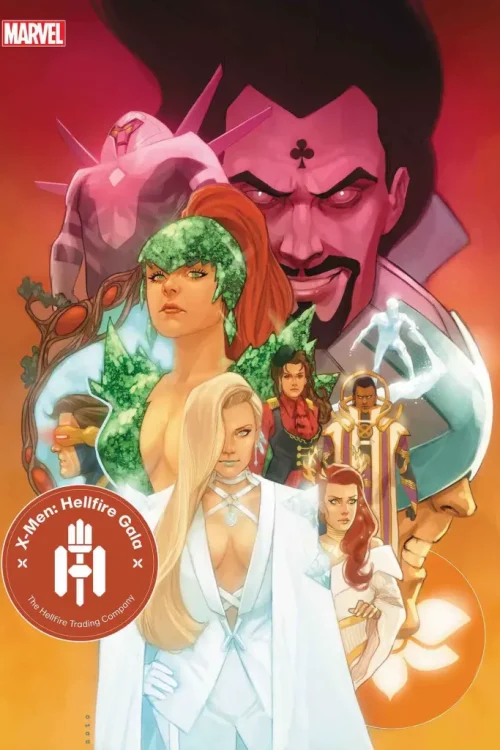 X-MEN: HELLFIRE GALA 2023
(W) GERRY DUGGAN (A) VARIOUS (CA) PHIL NOTO
THE FALL OF X BEGINS HERE! The Hellfire Gala is always the biggest event of the season… but this year's will change everything for Krakoa. What is meant to be mutantkind's biggest night becomes their biggest nightmare as the Fall of X begins! All your favorite X-Men are going to be left reeling after this one – shocking revelations, stunning betrayals, horrifying tragedy, impossible deaths… and of course the most glamorous looks of the year, all in one CANNOT-MISS package!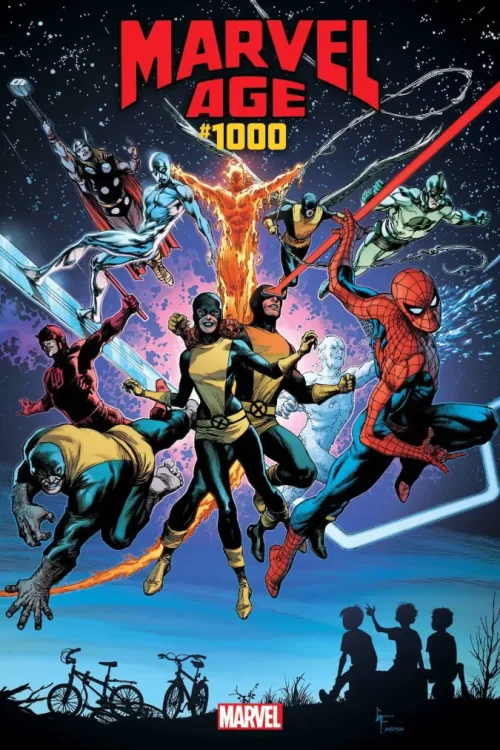 (W) VARIOUS (A) VARIOUS (CA) GARY FRANK
This massive commemorative issue includes contributions from some of the most storied creators in Marvel history, as well as a few surprises, as the classic days of Marvel are explored in depth! J. Michael Straczynski and Kaare Andrews create the Marvel Universe in a backyard! Dan Slott and Michael Allred depict a crucial turning point for Captain Marvel! Rainbow Rowell and Jamie McKelvie explore the blossoming relationship between Cyclops and Jean Grey! The original Human Torch finds his purpose thanks to Mark Waid and Alessandro Cappuccio! The Silver Surfer confronts Mephisto under the guidance of Steve McNiven! And more, more, more! Plus: The ultimate Marvel Value Stamp, #1000! Who or what will it feature?
(W) BRYAN HILL (A/CA) ELENA CASAGRANDE
Marvel's slickest vampire hunter returns in a brand new ongoing by Bryan Hill (KILLMONGER) and Elena Casagrande (BLACK WIDOW)! True evil is patient. And a dark, ancient power has been simmering quietly for centuries… and when Blade himself is the one to unknowingly unleash it, Marvel's entire supernatural underworld will come out of hiding to demand he handle it. Or pay a pound of flesh for his mistakes. Bloodbaths, blackmail and Blade – you won't want to miss the explosive first issue of this new volume!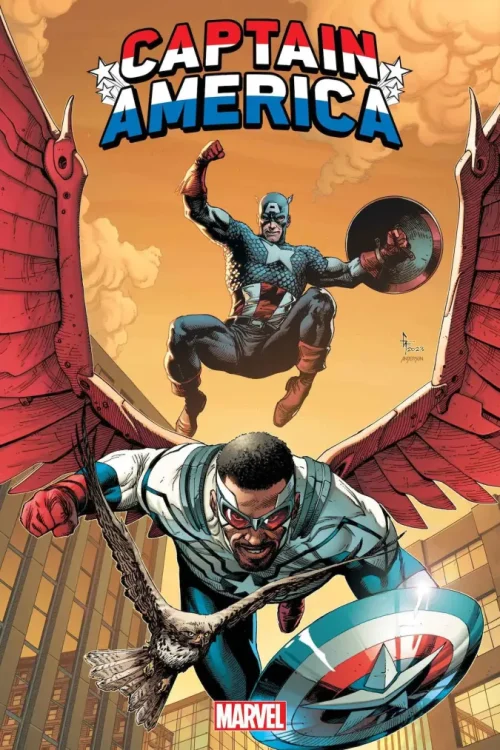 (W) VARIOUS (A) VARIOUS (CA) GARY FRANK
THE CAPTAINS AMERICA MOURN THEIR FALLEN! The Captains America return home to mourn their fallen – and strive to honor the power of legacy. Plus: The secret origin of Sam Wilson's new shield revealed, and a bold new direction for Sharon Carter! In honor of 750 issues of CAPTAIN AMERICA, a team of fan-favorite guest writers join forces with superstar artists to spin timeless tales celebrating the epic history of the star-spangled hero! Don't miss this jam-packed oversized issue!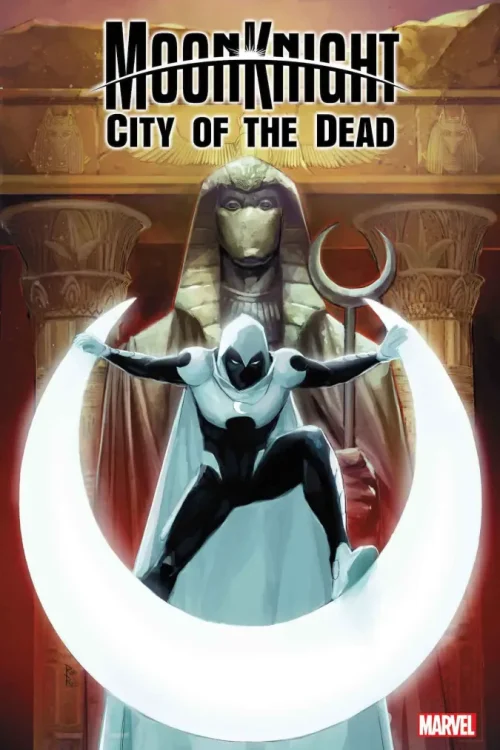 MOON KNIGHT: CITY OF THE DEAD #1 (OF 5)
(W) DAVID PEPOSE (A) MARCELO FERREIRA (CA) ROD REIS
THE DEBUT OF THE NEW SCARLET SCARAB! When a young runaway is attacked by a gang of death cultists, he is left barely alive outside the Midnight Mission. But Marc Spector made a vow long ago to defend the travelers of the night… and as long as a spark of life remains, his mission isn't over yet. Follow Moon Knight on his most harrowing adventure yet, as the Fist of Khonshu journeys far beyond the land of the living – and battles across the mind-bending underworld known as the City of the Dead!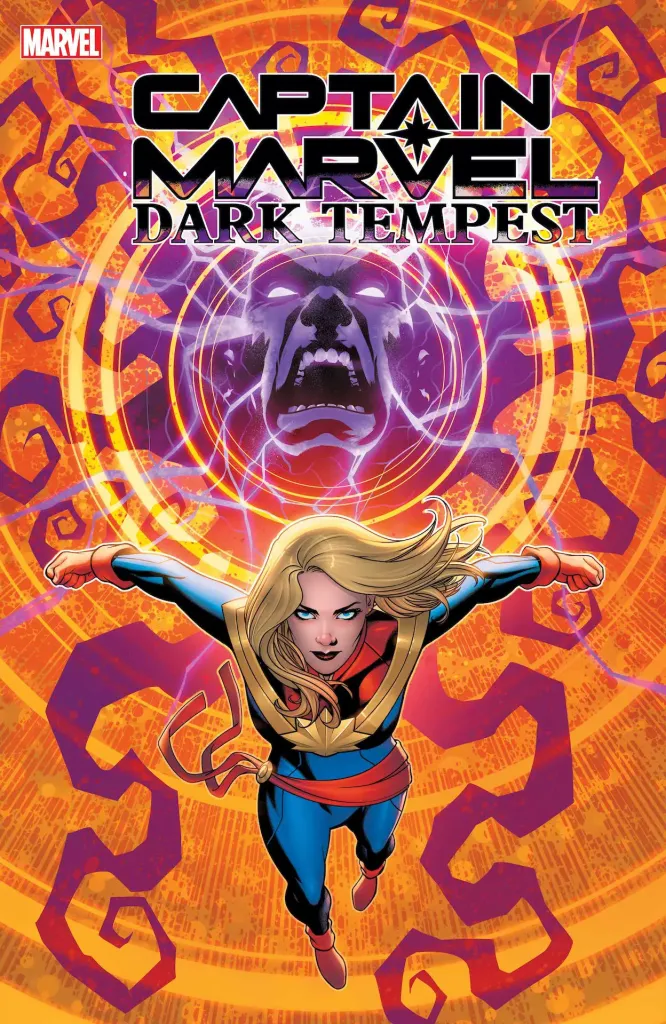 CAPTAIN MARVEL: DARK TEMPEST #1 (OF 5)
(W) ANN NOCENTI (A) PAOLO VILLANELLI (CA) MIKE MCKONE
EARTH'S MIGHTIEST! After facing off against the Brood with the X-Men and losing someone she holds dear, Carol Danvers needs a break. She's not about to get it now! A slinky new cosmic threat comes for Earth's Mightiest, and they know just who to recruit to really wreck Carol's world – a surprise legacy villain! Join industry legend Ann Nocenti and artist Paolo Villanelli of STAR WARS: BOUNTY HUNTERS fame as they take the torch from Kelly Thompson's record-breaking run and slingshot Captain Marvel from the Harpswell Sound to the far reaches of the galaxy!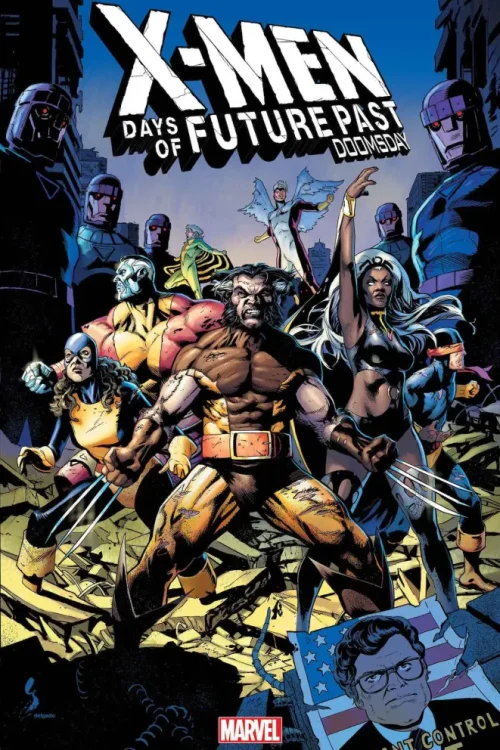 X-MEN: DAYS OF FUTURE PAST – DOOMSDAY #1 (OF 4)
(W) MARC GUGGENHEIM (A) MANUEL GARCIA (CA) GEOFF SHAW
THE CATACLYSM THAT LEADS TO THE X-MEN'S DYSTOPIC FUTURE! Return to the future in a tale that reveals the events leading up to the timeless original DAYS OF FUTURE PAST story that's inspired spin-offs, films and more! Witness the thirty-year descent into the dystopic future, replete with the previously untold deaths of key mutant characters, as we flesh out one of the most celebrated X-MEN timelines in its own series for the first time!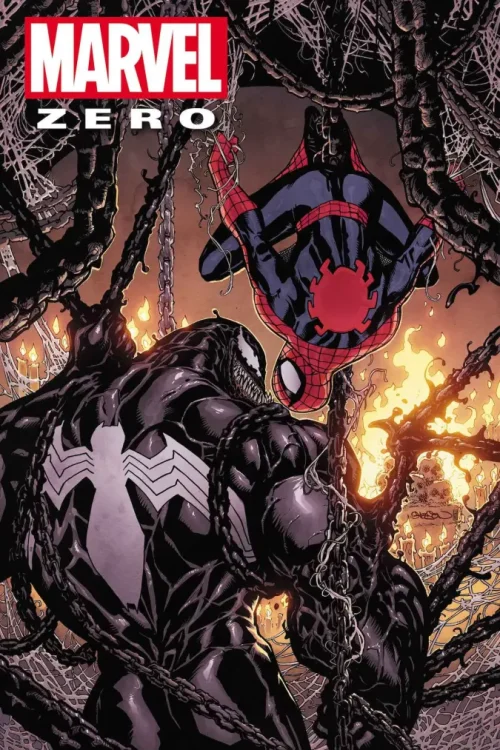 (W) VARIOUS (A) VARIOUS (CA) PATRICK GLEASON
A deluxe edition collecting Marvel's GOLD 2023 FREE COMIC BOOK DAY titles! This giant-sized issue is jam packed with entry points into the biggest comic storylines of the year and bursting with never-before-seen bonus material including preview art, design sketches, and more!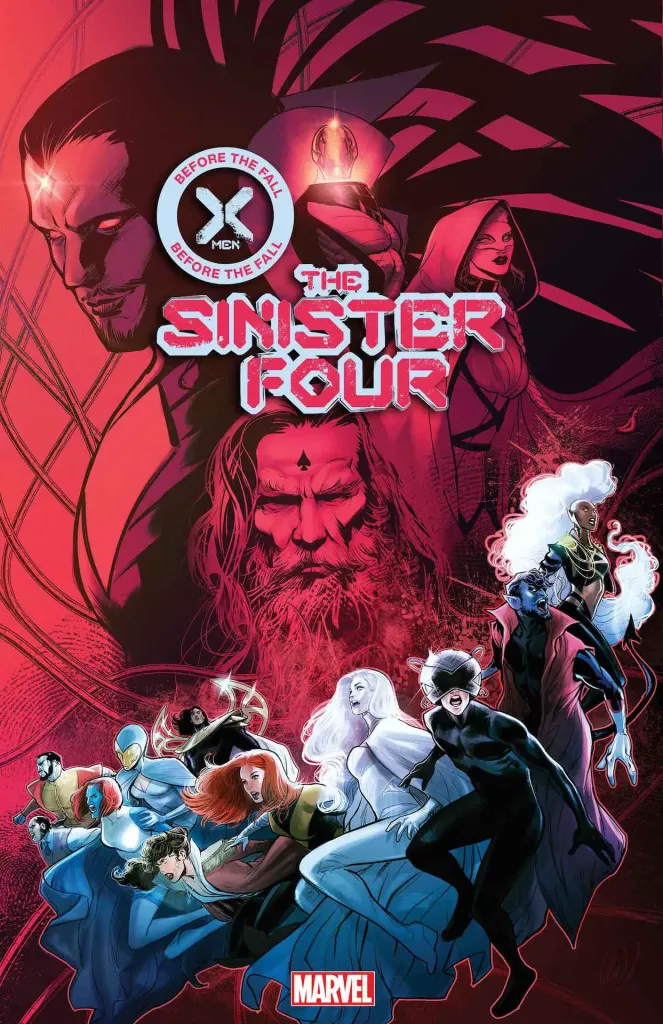 X-MEN: BEFORE THE FALL – SINISTER FOUR #1
(W) KIERON GILLEN (A) PACO MEDINA (CA) LUCAS WERNECK
FALL OF X IS COMING! As the nineteenth century drew to a close, the dying Nathaniel Essex unleashed four clones of himself into the world. They've been haunting it ever since, while lurking in the shadows. We know what Sinister has been up to. What about the others? In this issue, we delve into their past… and discover their latest atrocity. When they start to…date?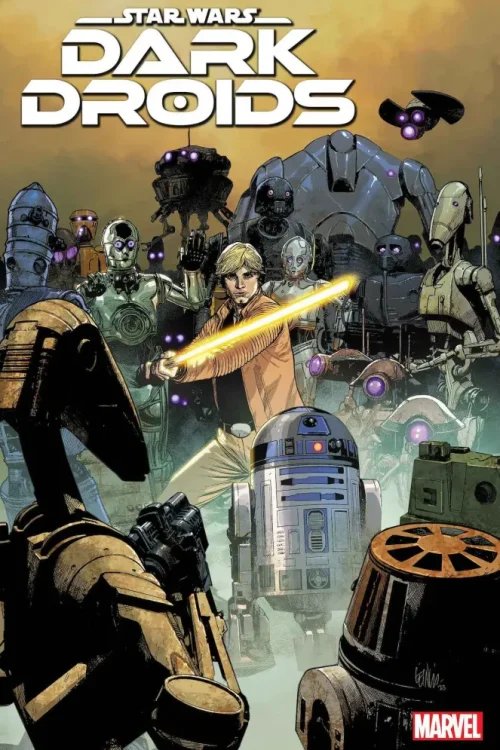 STAR WARS: DARK DROIDS #1
(W) CHARLES SOULE (A) LUKE ROSS (CA) LEINIL FRANCIS YU
"SCOURGE OF THE DROIDS!" A STAR WARS EPIC LIKE YOU'VE NEVER SEEN BEFORE! Who or what is THE SCOURGE, and why is no droid safe? As a corruption spreads from one droid to the next THE REBELLION and THE EMPIRE face chaos! What role does AJAX SIGMA play in all of this? And whose side is he on?Find out when horror comes to a galaxy far, far away! Charles Soule continues his legendary run on STAR WARS with the most ambitious event in STAR WARS comics history! Joined by his WAR OF THE BOUNTY HUNTERS collaborator Luke Ross, the superstar team carves a new path for the future!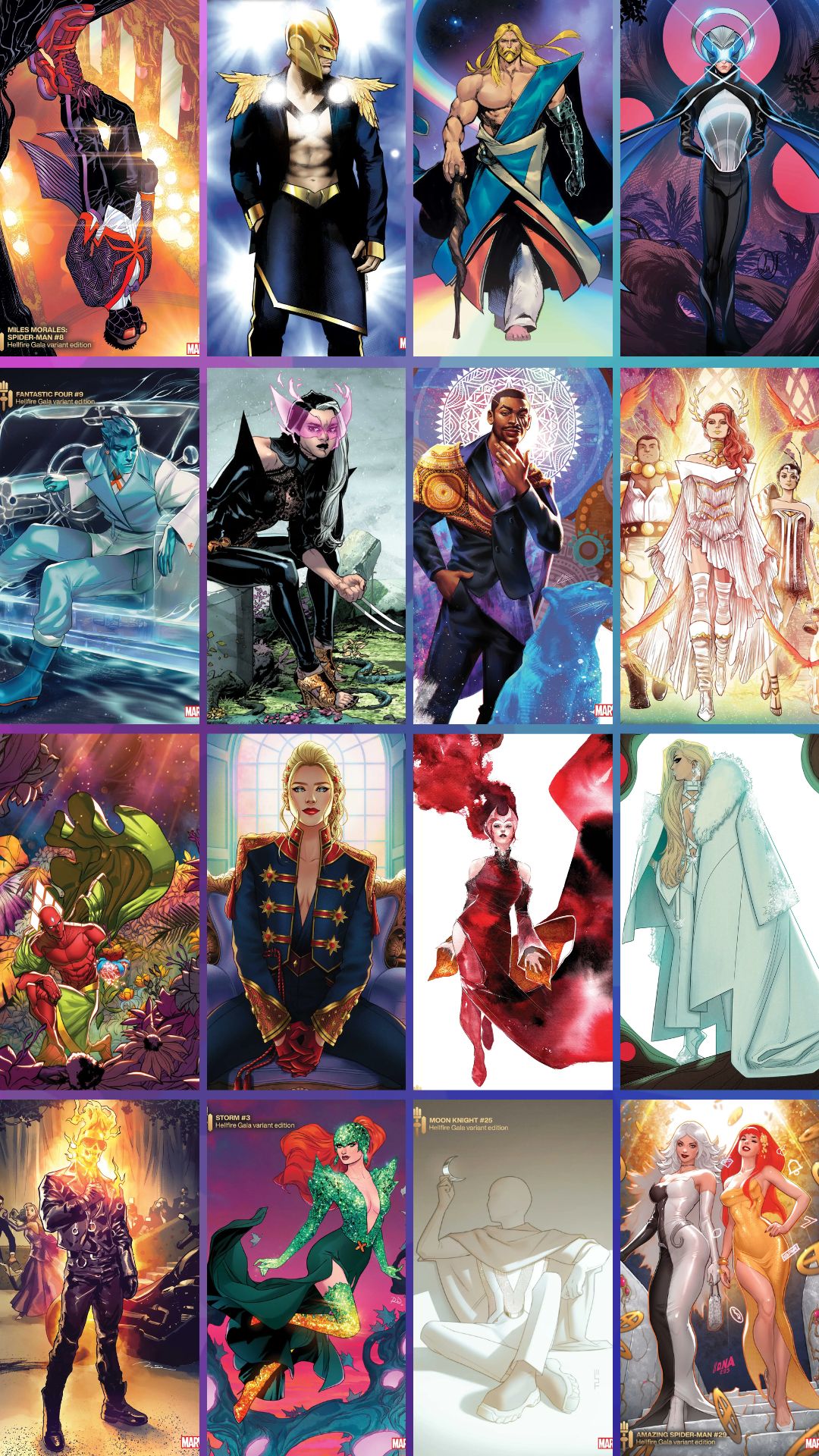 SHOUT OUT TO ALL THE GORGEOUS HELLFIRE GALA 2023 VARIANT COVERS
(W) VARIOUS (A) VARIOUS (CA) VARIOUS
Graphic Novels & Collected Editions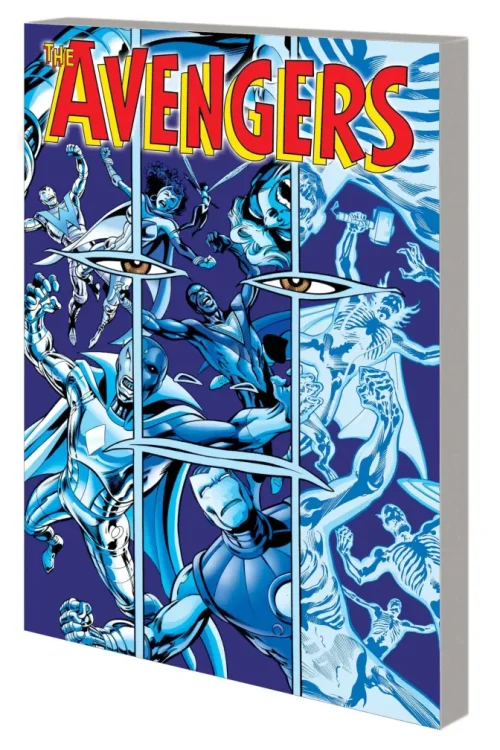 AVENGERS: THE KANG DYNASTY TP
(W) KURT BUSIEK (A) VARIOUS (CA) ALAN DAVIS
NEW PRINTING! Kang's ultimate triumph! The time-traveling warlord called Kang the Conqueror returns – and this time he plans to enslave all of Earth! The only thing standing in his way is its mightiest heroes! Time and time again, Kang has been a thorn in the Avengers' side. But now, the Conqueror has gathered all his vast legions from multiple eras to conquer the present once and for all! Can an expanded roster of Avengers – including returning members and new recruits – wage worldwide war and hold back the colossal forces arrayed against them? Or will they face defeat and subjugation beneath Kang's merciless boot?! Kurt Busiek, one of the most celebrated AVENGERS writers of all time, crafts an epic clash between the heroes and their most dangerous foe!
Collecting AVENGERS (1998) #41-55 and material from AVENGERS ANNUAL 2001.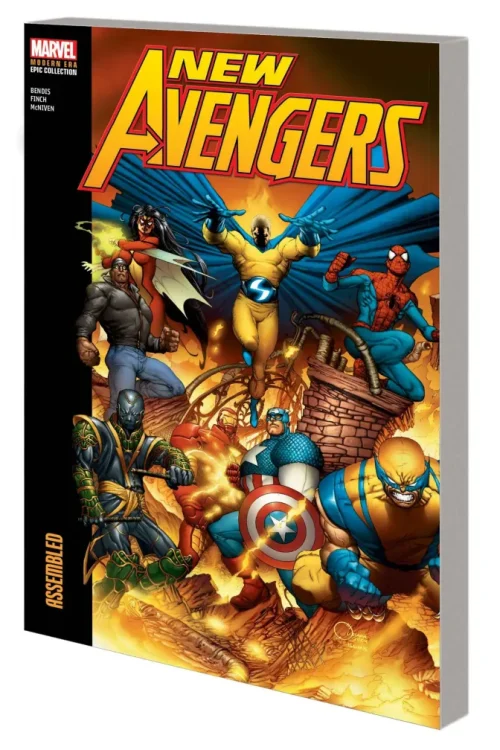 NEW AVENGERS MODERN ERA EPIC COLLECTION: ASSEMBLED TP
(W) BRIAN MICHAEL BENDIS & MORE (A) DAVID FINCH, STEVE MCNIVEN & MORE (CA) JOE QUESADA
From the ashes, a new team will rise! On the Avengers' darkest day, they are torn apart by one of their own – the Scarlet Witch – and as they mourn their losses, it seems like things might be over forever. But when a super-villain breakout at the Raft unites Captain America and Iron Man with a surprising group of allies – including Spider-Man, Wolverine, Spider-Woman and Luke Cage – a new day dawns, and these disparate heroes form the New Avengers! But will the most powerful hero of them all, the Sentry, become their strongest member…or the world's greatest threat? From the blockbuster creative team of Brian Michael Bendis and David Finch, a new era of greatness begins for the Avengers!
Collecting AVENGERS (1998) #500-503 and #500 DIRECTOR'S CUT, AVENGERS FINALE, NEW AVENGERS (2004) #1-10 and #1 DIRECTOR'S CUT, and NEW AVENGERS: MOST WANTED FILES.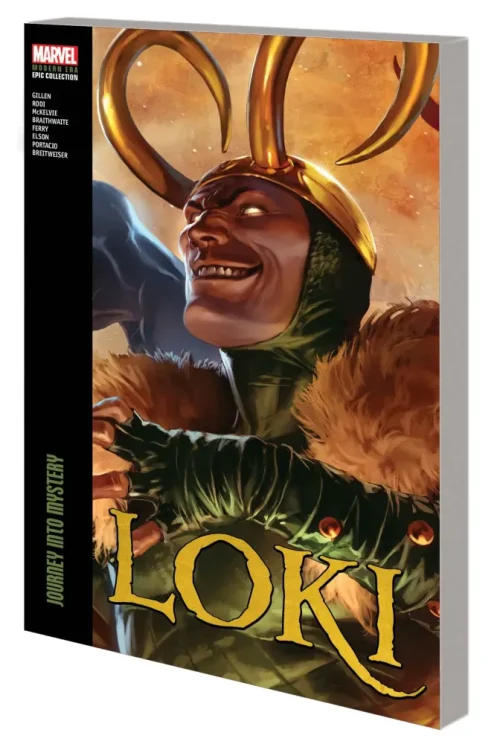 LOKI MODERN ERA EPIC COLLECTION: JOURNEY INTO MYSTERY TP
(W) KIERON GILLEN & ROB RODI (A) VARIOUS (CA) MARKO DJURDJEVIC
Loki changes his story! In the wake of the siege of Asgard, Loki is reborn — as a child! With this new life comes a fresh purpose, but can the other Asgardian gods possibly trust him? Let's hope so — because when the Serpent threatens Earth, Thor's battle plan is doomed to fail without Loki's help! The former Lord of Lies must use all the skills of deceit that made him so hated in his past life, but will the rejuvenated godling find redemption or damn himself further? Plus: Nightmare is gathering enough energy to rule the world, and the motherlode is inside Loki's mind. Aided by an undead handmaiden and a demon puppy, Loki risks everything on a scheme so crazy it could only have been hatched by a God of Mischief!
Collecting SIEGE: LOKI, and JOURNEY INTO MYSTERY (2011) #622-636 and #626.1.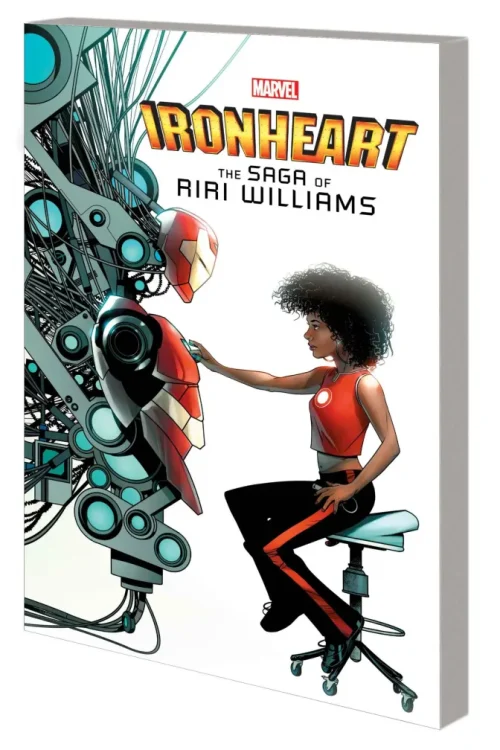 IRONHEART: THE SAGA OF RIRI WILLIAMS TP
(W) BRIAN MICHAEL BENDIS (A) DAVID MARQUEZ & MIKE DEODATO JR. (CA) MIKE MCKONE
Can Ironheart survive her baptism of fire? When tragedy befalls Tony Stark, a teen genius named Riri Williams develops her own invincible armor and continues the heroic legacy of Iron Man! Riri may be destined to upgrade her tech and later join the Champions as Ironheart, but this is the shocking story of how her rise coincides with Stark's fall! While Tony battles Madame Masque, fights alongside War Machine and Spider-Man, and deals with something rotten in the house of Stark, Riri forges her first armor and suits up — and her life will never be the same! As a revelation about Tony's past sends him down a dark path, and the events of CIVIL WAR II throw the Marvel Universe into turmoil, what exactly is Victor Von Doom up to amid the chaos?
Collecting INVINCIBLE IRON MAN (2015) #1-14.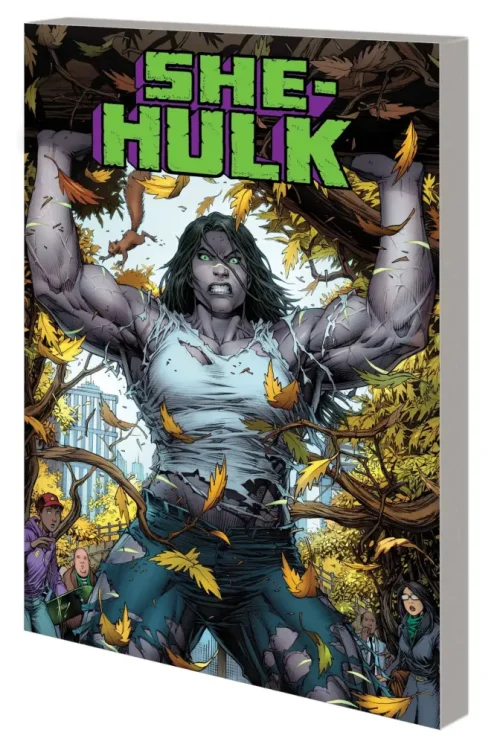 SHE-HULK BY MARIKO TAMAKI TP
(W) MARIKO TAMAKI (A) VARIOUS (CA) DALE KEOWN
Jennifer Walters survived the second superhuman Civil War…barely. Now, she re-enters the world a very different hero. Fueled by a quiet rage, Jen is determined to move forward with her life — but the pain of the past is always there. An undercurrent, a pulse waiting to quicken…and transform her into the one thing over which she has no control! But as Jen returns to legal practice, her newest client struggles with her own dark secrets. And a string of murders soon leaves Jen in over her head as a lawyer. Must she give in to her anger and become the Hulk?! Plus: Faced with a wave of monsters, can Jen help being pulled into the craziness as a force for good? And what happens when the nefarious Leader decrees: Jen Walters must die?!
Collecting HULK (2016) #1-11 and SHE-HULK (2017) #159-163.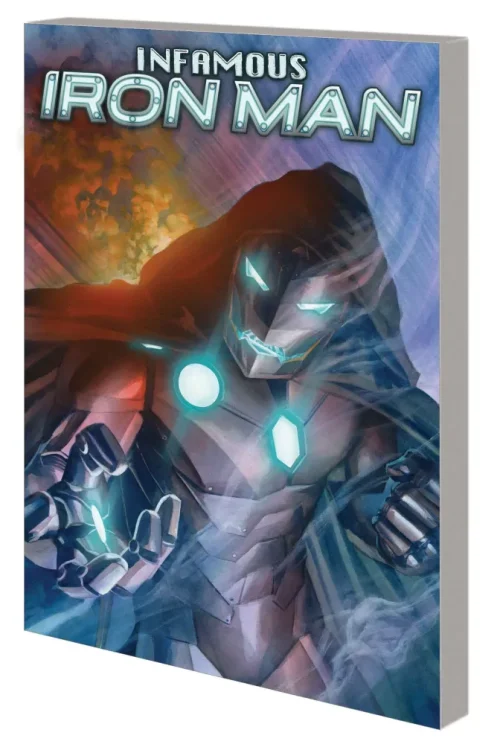 INFAMOUS IRON MAN BY BENDIS & MALEEV TP
(W) BRIAN MICHAEL BENDIS (A) ALEX MALEEV, STEFANO CASELLI & MORE (CA) ALEX ROSS
There's a new Iron Man in town, and his name is…Victor Von Doom! The Marvel Universe's greatest villain is no stranger to armor, but now he's trying something new on for size: heroism. And where Tony Stark failed, Doom will succeed. But what is Victor's master plan? That's what a great number of folks want to know — including Ben Grimm, Pepper Potts and the other Iron Man: Riri Williams! In his heroic quest, Doom faces a cosmic-level adversary — and his most mortal enemy, whom he thought he would never see again! But what is the shocking truth behind Victor's reincarnated mother? Plus: When the search for Tony Stark begins, the time comes to decide, once and for all, who will wear the armor of Iron Man!
Collecting INFAMOUS IRON MAN #1-12 and INVINCIBLE IRON MAN (2016) #593-600.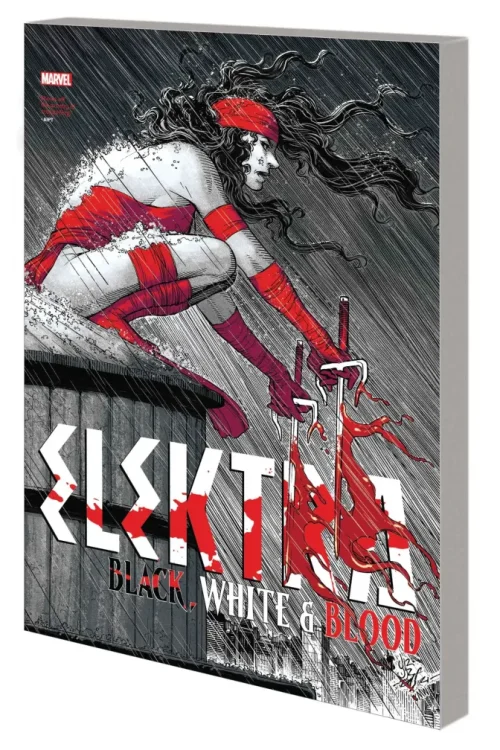 ELEKTRA: BLACK, WHITE & BLOOD TP
(W) VARIOUS (A) VARIOUS (CA) JOHN ROMITA JR.
Elektra walks the line between good and evil — with style! It's an undisputed fact: Trained by both the vicious Hand and the benevolent Chaste, Elektra Natchios is the best assassin in the Marvel Universe! And a murderers' row of all-star Marvel creators are here to present the proof, in glorious black and white… with lashings of blood! A dozen astonishing tales set throughout her long and lethal life illustrate her fighting skills, ninja training and sheer determination! From the mean streets of Hell's Kitchen to the seedy back alleys of Madripoor — and even farther afield — prepare to see Elektra in a whole new light… taking on ninja, vampires and worse!
Collecting ELEKTRA: BLACK, WHITE & BLOOD #1-4.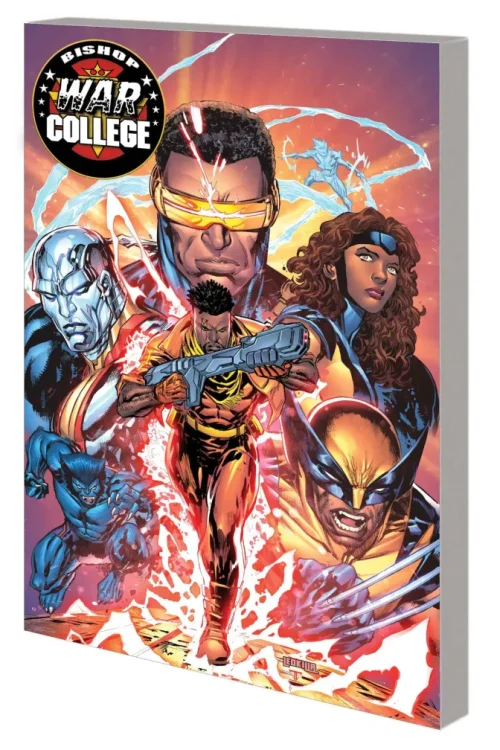 (W) J. HOLTHAM (A) SEAN DAMIEN HILL & ALBERTO FOCHE (CA) KEN LASHLEY
The X-Men like you've never seen them before! Krakoa is an island paradise, and it's a vulnerable one – but not with Lucas Bishop on the case! Armor, Surge, Cam Long, Aura Charles, Amass – these are his students. Their course objective: Get strong. Defend the island. Keep mutantkind safe. Their first lesson? How to fail! And they'll do it in spectacular Marvel fashion. But what does any of that have to do with an all-Black X-Men team? And what's a Bishop story without time travel? Shunted to a strange future, Lucas discovers familiar faces who will permanently alter his worldview. Meanwhile, his students are in danger – and not just of failing his course! Aided by shocking allies, the anti-mutant organization Orchis has finally found a way onto Krakoa. Is this the end of the island?
Collecting BISHOP: WAR COLLEGE #1-5.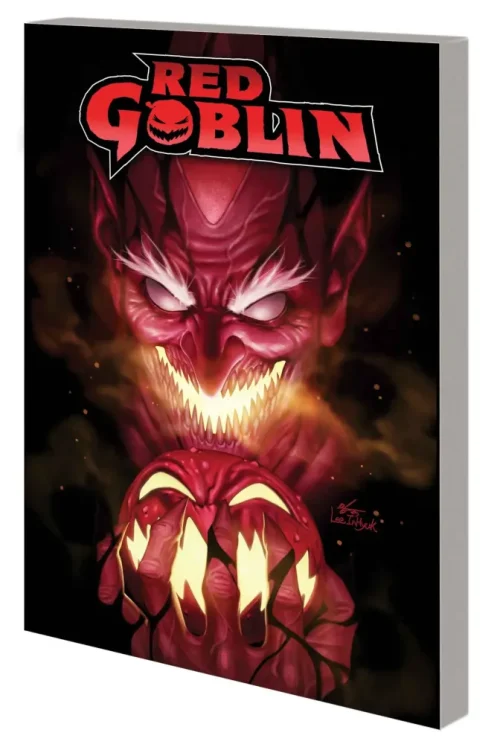 RED GOBLIN VOL. 1: IT RUNS IN THE FAMILY TP
(W) ALEX PAKNADEL (A) JAN BAZALDUA (CA) INHYUK LEE
The newest – and deadliest – Red Goblin! Spinning out of the pages of VENOM, young Normie Osborn receives his own symbiote at last! Will Normie fulfill his destiny as the grandson of the original Green Goblin? Or will he and his symbiote finally break the cycle and make a difference for the better? Meanwhile, a new Goblin King reigns under the streets of New York as the leader of a resurgent Goblin Nation! But why has he kidnapped Norman Osborn? And why has he siphoned off gallons of Osborn's Goblin Serum-infused blood?! That can't be good! Things get even worse when Cletus Kasady returns to New York, determined to paint the town blood red! Normie's determination to prove himself puts him on a nightmarish collision course with Carnage!
Collecting RED GOBLIN #1-5.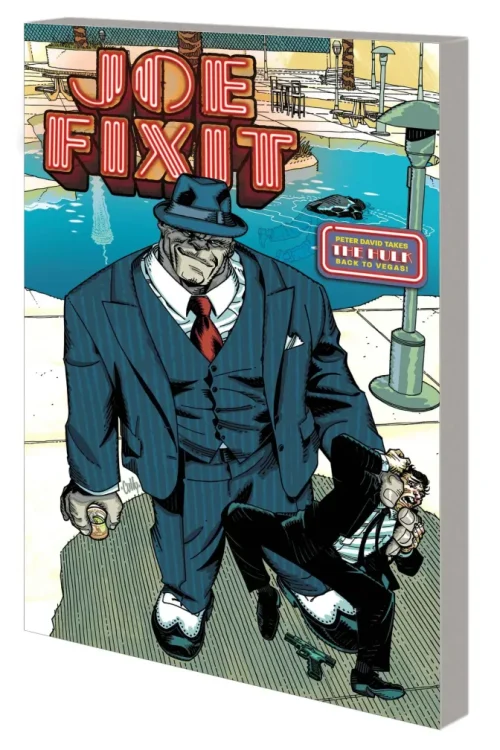 (W) PETER DAVID (A) YILDIRAY ÇINAR (CA) CULLY HAMMER
Peter David revisits one of his greatest Hulk hits with a return to Joe Fixit! Gone are the ripped-up shorts of the Hulk of yore — this enforcer prefers the slick style of a suavely striped suit, and the Hulk has traded in "monster" for "mobster" as he lends his strength to the Las Vegas casino scene. Of course, the Kingpin has his own ideas about who the toughest guy in town is, and now it's up to Spider-Man to keep the two of them from destroying Sin City! Everyone wants to know who the mysterious gray-skinned enforcer really is, including many of the wall-crawler's deadliest foes, and Spidey is on the case (complete with location-appropriate disguises)! Meanwhile, Wilson Fisk is preparing to make Fixit an offer he can't refuse.
Collecting JOE FIXIT #1-5, INCREDIBLE HULK (1968) #347.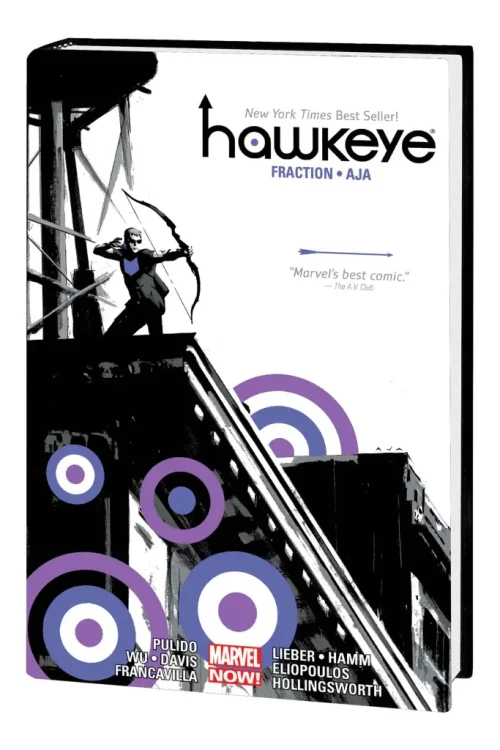 HAWKEYE BY FRACTION & AJA OMNIBUS HC
(W) MATT FRACTION (A/CA) DAVID AJA
NEW PRINTING! Matt Fraction and David Aja's critically acclaimed run in a single sharpshooting volume! With Young Avenger Kate Bishop by his side, Clint Barton continues his fight for justice — and good rooftop BBQs! He's hoping for some downtime from being one of Earth's Mightiest Heroes — but when the apartment building he's moved into, and the neighbors he's befriended, are threatened by a tracksuit-wearing, dog-abusing gang of Eastern European mobsters who say "bro" an awful lot, Clint must stand up and defend his new adopted family…any way he can. It's Hawkguy, Katie-Kate, Pizza Dog and friends against the Clown, Madame Masque, the Tracksuit Draculas and more in a fantastic, Eisner Award-winning reinvention of the arrowed Avenger! Bro, you read this book. Okay, bro?
Collecting HAWKEYE (2012) #1-22 and ANNUAL #1, and YOUNG AVENGERS PRESENTS #6.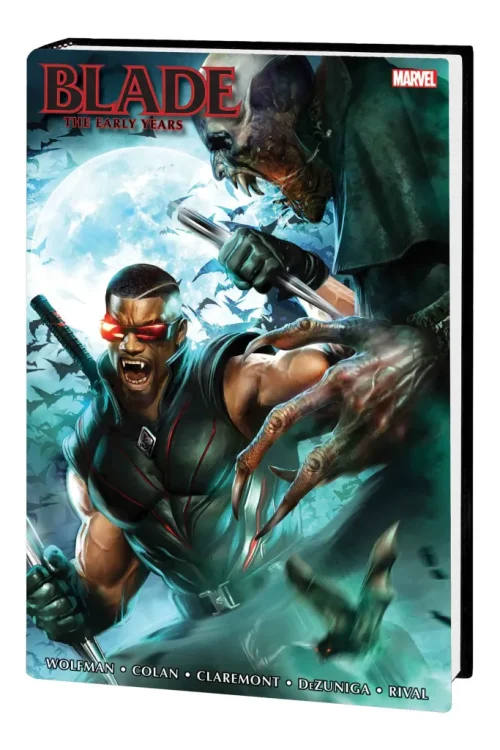 BLADE: THE EARLY YEARS OMNIBUS HC
(W) VARIOUS (A) VARIOUS (CA) DAVE WILKINS, GIL KANE OR GRAY MORROW
Blade hit the comics scene in the 1970s — a time when horror movies were all the rage and Black cinema was introducing bold new action heroes who defied authority. Blade immediately changed the stakes of Marv Wolfman and Gene Colan's TOMB OF DRACULA, bringing a sense of unstoppable determination as he pursued Deacon Frost, the vampire who killed his mother. And if a few other vampires died along the way, all the better! This Omnibus collects, for the first time, Blade's complete early adventures: from his influential role in TOMB OF DRACULA to his 1970s solo stories and his climactic battle against Dracula alongside Doctor Strange!
Collecting TOMB OF DRACULA (1972) #10, #12-14, #24, #30, #41-43, #45, #51, #53 and #58; MARVEL PREVIEW #3; FEAR #24; and DOCTOR STRANGE (1974) #61-62 and #67 — plus material from TOMB OF DRACULA (1972) #17-19, #21, #44, #46-50 and #52; VAMPIRE TALES #8-9; MARVEL PREVIEW #8; and MARVEL COMICS PRESENTS (1988) #64.
If anything jumped out to you, remember to message us or let us know next time you're in the shop! You get a text the second it arrives in the shop and we place a copy aside just for you so you don't miss out!
We do these each month so keep an eye out for the next post!
Have a great month and happy reading 💚