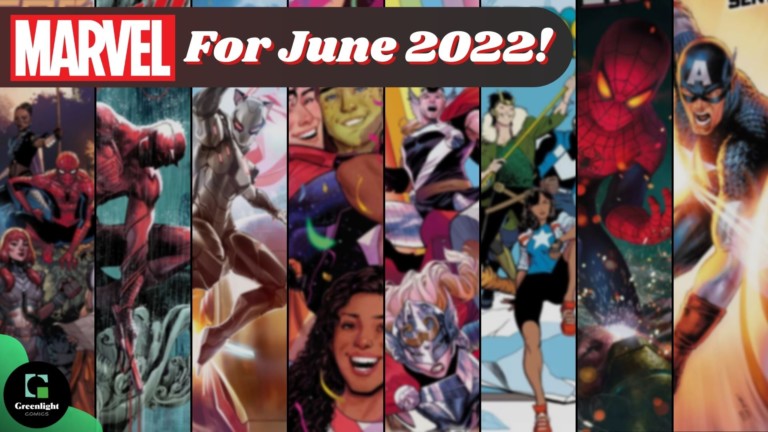 The April issue of Marvel Comics Previews has arrived! Here is our breakdown of the new comics series to jump on, plus what collected editions are arriving from June 2022! You can find the rest of our Previews Picks for other DC Comics, Indies & Manga titles here! 
It's also worth mentioning here at the top that this month of previews is absolutely overflowing with new #1's! So it's a great time to subscribe to any series that you want to collect the single issues of!
FORTNITE X MARVEL: ZERO WAR #1 (of 5)
THE MARVEL UNIVERSE COLLIDES WITH FORTNITE! Epic Games' Chief Creative Officer, Donald Mustard, teams up with veteran Marvel writer Christos Gage (SPIDER-GEDDON, AVENGERS ACADEMY) and artist Sergio Dávila (CAPTAIN MARVEL) for a five-part crossover event with enormous ramifications for both universes!
Each first print issue contains a redeemable code to unlock a bonus digital cosmetic in Fortnite!
Amazing Spider-Man #6 (aka #900)
"The 900th issue of AMAZING SPIDER-MAN comes out the month of Spider-Man's 60th Anniversary, and we are pulling out ALL THE STOPS!"
Someone from Spider-Man's past has captured the Sinister Six and used them to create the truly terrifying SINISTER ADAPTOID!
Brayden personally just wishes John Romita Jr would either quit or take some anatomy lessons.
A.X.E: Eve of Judgement #1
FIRST SHOT FIRED – JUDGEMENT IS COMING!
The Eternals know that the mutants have conquered death. But what are they going to do about it? The oldest immortals on Earth eye up the newest, and the doomsday clock starts to tick toward Judgment Day.
This is one of the starting comics leading into Marvel's big crossover event for this year so don't miss out on subscribing to the whole thing!
CAPTAIN AMERICA: SENTINEL OF LIBERTY #1
The shield is one of the most iconic images in the world. It stands for hope, justice and the protection of the innocent. It also holds a secret, undiscovered until now, that will change the way Steve Rogers views the 20th century…and how he chooses to fight in the 21st.
Nothing is what it appears in this game-changing Captain America run by Jackson Lanzing and Collin Kelly (KANG THE CONQUEROR) and Stormbreaker Carmen Carnero (MILES MORALES: SPIDER-MAN, CAPTAIN MARVEL, STAR).
AFTER THE REIGN COMES THE DAWN!
In the wake of Wilson Fisk's violent and visceral last act, it's a new era for New York and the Man Without Fear!
With a groundbreaking creative team returning to usher in an all-new chapter, Matt Murdock has no choice but to leave behind everything he's ever known, and ELEKTRA is the last vestige of his former life. Everything Matt Murdock thought it meant to be DAREDEVIL is about to change, including the challenges he will have to face in the cowl!
NEW TEAM REVEALED!
At last year's gala, mutants changed the face of the solar system, terraforming Mars and claiming it for mutantkind.
Do you think you can afford to miss this year's gala, all contained in this one over-sized issue!?
Much like the last Hellfire Gala there are a heap of gorgeous variant covers across the X-titles with characters done up in their Gala attire and we highly recommend checking them out!
JANE FOSTER & THE MIGHTY THOR #1 (OF 5)
When Mjolnir comes crashing through Jane Foster's apartment window, she fears the worst has happened to Thor.
As Asgard's greatest enemies – including Hela, Ulik the Troll and Enchantress – mount an assault on the Golden Realm, Jane must find Thor and save Asgard – even if that means she must once again risk her life to become Thor herself!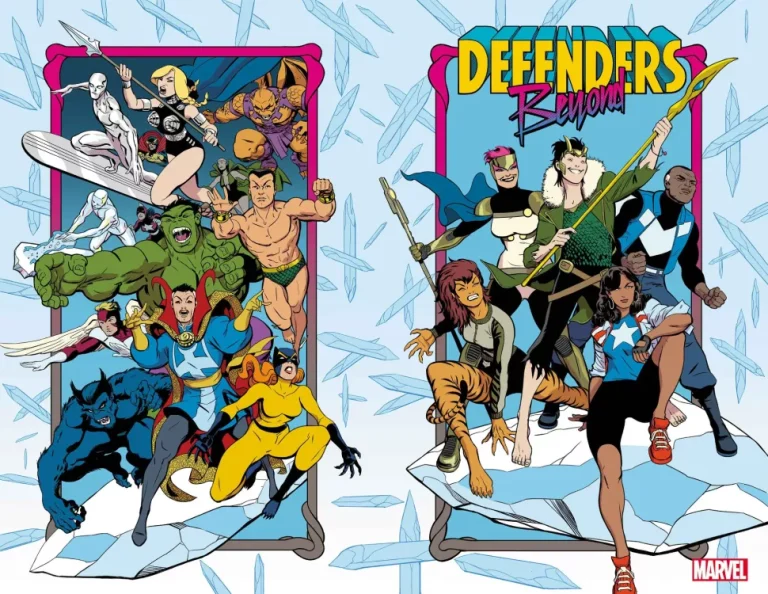 DEFENDERS: BEYOND #1 (OF 5)
Al Ewing and Javier Rodríguez follow up their acclaimed DEFENDERS: THERE ARE NO RULES series with a new volume and an all-new lineup, including none other than Loki, God of Stories!
When Doctor Strange sends a dire warning from beyond the grave, Blue Marvel, America Chavez, Taaia (Galactus' mom!), Tigra and Loki assemble to defend reality itself!
Plus, you won't believe who shows up on the final page!
Hulking & Wiccan have found their happy ending at last…or have they? When a magical artifact shows them the paths not taken in life and love, will Billy and Teddy find their way back to each other? Will they even want to?
The hit Infinity comic by Josh Trujillo (UNITED STATES OF CAPTAIN AMERICA) and Jodi Nishijima (SPIDER-GWEN: GWENVERSE) appears in print for the first time!
MILES MORALES AND MOON GIRL #1
Join Lunella Lafayette (aka Moon Girl) and her trusty T-rex sidekick, Devil Dinosaur, in their biggest adventure yet!
In the first of three one-shots, Moon Girl takes on the whole Marvel Universe alongside Miles Morales, the Avengers and the X-Men. Don't miss this new story from acclaimed writer Mohale Mashigo!
What seemed like a routine investigation instead has Jessica Jones encountering other incarnations of herself from across the Multiverse.
Can Jessica get along with herself? Will she want to kill her other selves? And will seeing the lives she could have led drive her into a self-destructive spiral? This is what happens when you meet… the Variants!
CLOBBERIN' TIME #1 (OF 5)
It's Clobberin' Time all the time, as Ben Grimm teams up with heroes from across the Marvel Universe for BIG, FIST-POUNDING ACTION! But the stakes have never been higher!
In this opening issue, Ben and the Incredible Hulk are stranded on a distant, ancient, alien world, where the duo must protect an ancient people against legions of Deviant hordes and ultimately face the wrath of a Celestial!
Flash back to the early days of Hank Pym's career as the astonishing Ant-Man! It's date night for Hank and his girlfriend Janet Van Dyne, but nobody told that to Ant-Man's enemies! Watch as Hank's ant-agonists band together to finally take down the scientific adventurer! But will anyone come to his rescue? And who is the mysterious stranger who stalks him?
Join Al Ewing (IMMORTAL HULK) and Tom Reilly (THE THING) as they explore the history of every hero (past, present and future!) called Ant-Man!
DEADLY NEIGHBORHOOD SPIDER-MAN #1 (OF 5)
What is reality and what is dream? What is science and what is magic? At the intersection of all of this stands the Deadly Neighborhood Spider-Man. Peter Parker goes to Los Angeles and what he finds there are definitely not angels. The demons waiting for Peter are going to test him like never before. One demon in particular, a very famous one for Marvel and X fans in particular, might just eat Spider-Man alive.
Also Marvel finally let Peach Momoko do a variant cover closer to her original art and… ew.
The Iron Cat armor made its first appearance in BLACK CAT #11 but both Black Cat and Iron Man thought that was the last they would see of it. If Felicia is surprised to see the armor again, you can imagine how furious Tony is.
There's someone new in the Iron Cat armor and they have a plan that will put them in the crosshairs of all the heroes of the Marvel Universe. Both Iron Man and Black Cat's secrets and mistakes are going to come back to haunt them and it's going to get ROUGH!
MARVEL'S VOICES: PRIDE 2022 #1
Hot off a GLAAD Award nomination for 2021's anthology, MARVEL'S VOICES: PRIDE returns for a jam-packed celebration of LGBTQI+ characters and creators!
New York Times-bestselling, multi-award-winning author Charlie Jane Anders introduces a new hero to the Marvel Universe – and it won't be the last you see of them. Get in on the ground floor here!
IRON MAN scribe and lauded TV showrunner Christopher Cantwell takes on Moondragon's complex legacy for a heart-bending story across space and time. Shuster and Eisner-winning writer Andrew Wheeler makes his Marvel debut with the MU's real god of love – Hercules! Nebula, World Fantasy, and Locus-award winner Alyssa Wong reunites the Young Avengers in a story guaranteed to please fans new and old! And that's just the first slice of the rainbow.
MARVEL'S VOICES continues its groundbreaking anthology series with another swoon-worthy glimpse of the world outside your window!
STAR WARS: THE MANDALORIAN #1
For the first time, THE MANDALORIAN arrives in comics!
The Mandalorian bounty hunter tracks a target for a well-paying, mysterious client.
Witness the introduction of Din Djarin and the first meeting between the Mandalorian and the Child!
Okay Brayden here, from the above solicitation for this I honestly cannot tell if this is just a comic adaptation of the first episode of The Mandalorian or if the series will be exploring before the show picks up?
If it is bringing more in the terms of new adventures with Mando then I'm totally down for it. *Werner Herzog voice* "I would like to see the baby" and maybe get more looks into Grogu's early years?
All I'm saying is that if this is just an adaptaion then that is super dissapointing. Fingers crossed it's new original stories!
Graphic Novels & Collected Editions
Out of the pages of NON-STOP SPIDER-MAN comes something different… something savage! Peter Parker has gone through a horrifying transformation, one that has left him more spider than man. Far from his friendly neighborhood, the animalistic Spider-Man finds himself in a terrifying jungle, where he soon becomes the leader of a tribe of monstrous victims just like him! But with a terrifying global conspiracy on one side and the lethal Baron Zemo on the other, can a barely human Peter somehow find a way to fight to the surface? And if he does, can he face himself after all he's done as a monster? As the truth about the Immaculatum is revealed, Peter may give in to his savage side forever.
Collecting SAVAGE SPIDER-MAN #1-5.
Ron Marz and Ron Lim return to the Sentinel of the Spaceways with a new tale of cosmic adventure set during their classic 1990s SILVER SURFER run! When the Reality Gem is stolen from safekeeping by an unknown antagonist, the resulting chaos attracts the attention of Thanos, and the Mad Titan seeks the aid of the Surfer to recover the gem! As reality fractures around them, Norrin must do the unthinkable and ally himself with his bitter enemy. The unlikely duo will cross paths with familiar faces, including Nebula, Jack of Hearts, Galactus and the original (and long-dead) Kree Captain Mar-Vell! But will even the awesome power of the Silver Surfer and Thanos be enough to restore order to the Marvel Universe? Or will doing so mean a galaxy where the Surfer never existed?
Collecting SILVER SURFER REBIRTH #1-5.
IRON FIST: THE SHATTERED SWORD TP
Who is Iron Fist? Danny Rand no longer wields his legendary power. He's just a guy who knows kung fu. So who will take Danny's place as the Iron Fist? A new heroic legacy begins as a young warrior in great pain turns to the martial arts masters of K'un-Lun for aid, and gets far more than he bargained for! Can this lost soul balance his chi, win the favor of Shou-Lao the Undying and join a long line of champions? The world had better hope so, because a dark god is rising, and all hope of stopping him lies with the newest Iron Fist! Meanwhile, Danny is searching for his successor, and may have to cash in a favor from an old friend! But he isn't the only one hunting the new Iron Fist! Who will find him first?
Collecting IRON FIST (2022) #1-5.
ELEKTRA: BLACK, WHITE & BLOOD TREASURY EDITION TP
Elektra walks the line between good and evil, with style! It's an undisputed fact: Trained by both the vicious Hand and the benevolent Chaste, Elektra Natchios is the best assassin in the Marvel Universe! And a murderers' row of all-star Marvel creators are here to present the proof, in glorious black and white… with lashings of blood! A dozen astonishing tales set throughout her long and lethal life illustrate her fighting skills, ninja training and sheer determination! From the mean streets of Hell's Kitchen to the seedy back alleys of Madripoor, and even farther afield, prepare to see Elektra in a whole new light… taking on ninjas, vampires and worse on the larger-than-life pages of a Treasury Edition!
Collecting ELEKTRA: BLACK, WHITE & BLOOD #1-4.
X-CELLENT VOL. 1: HEREDITARY-X TP
They were cherished by their adoring fans. They were reviled by the harsh press. They lived, they loved, they fought, and they died… a lot… all for the sake of fame. They were the X-Statix, a team of mutant celebrities fighting for a brighter world and an even brighter spotlight! But they're old news now, because there's a new mutant team that will live harder, love harder, fight harder and die a whole lot harder than those has-beens! Peter Milligan, Michael Allred and Laura Allred return to introduce the best new super hero team you didn't know you needed! Meet… the X-Cellent! But as the long-thought-dead Zeitgeist recruits new members for his smash-hit mutant phenomenon, will they turn out to be team players, or the latest in a long line of adversaries?
Collecting GIANT-SIZE X-STATIX #1 and X-CELLENT #1-5.
SABRETOOTH: THE ADVERSARY TP
The island nation of Krakoa has ushered in a bright new era for mutantkind, paradise after years of persecution. But even mutants must deal with monsters in their midst, and Victor Creed is perhaps the worst. One of the first acts of the Krakoan Quiet Council was to exile the savage Sabretooth to the pit beneath Krakoa, locked away in an endless darkness for his countless crimes against both mutants and humans. Now, you're about to find out what Sabretooth has been up to since he was banished, and it's not what you expect! And when he welcomes five more mutants to his own private hell, are they ready for what they'll find? No, they are not. Can these exiles find a way to stop fighting each other and start working together… on a way out?
Collecting SABRETOOTH (2022) #1-5.
X-MEN: FIRST CLASS — MUTANTS 101 GN
Professor X's first students as you've never seen them before! Class is in session as Cyclops, Marvel Girl, Angel, Beast and Iceman learn what it means to be X-Men, and find their place in the emerging Marvel Universe! Spring Break in Florida may sound fun, but fighting for survival against the Lizard in the Everglades isn't what they had in mind!
Uncanny encounters await for the young mutants with Doctor Strange, Thor and the alien, shape-shifting Skrulls! But when the Brotherhood of Evil Mutants strikes, will the team be beaten, or bewitched? And on an expedition into one of the world's deadliest jungles, not even the mutant mind of Charles Xavier can guide them safely. No, this mission requires… a Gorilla Man! Enjoy first-class adventures starring the original X-Men!
Collecting X-MEN: FIRST CLASS (2006) #1-8 and X-MEN: FIRST CLASS SPECIAL.
Celebrate the history of the House of Ideas! Curator Kurt Busiek and an awesome assemblage of talent present a series of tales featuring some of Marvel's greatest heroes, as seen through the wide eyes of ordinary residents of the Marvel Universe! From the Sub-Mariner fighting in World War II to the dawn of the Marvel Age to the very different conflict of the superhuman Civil War, witness the lives, loves and losses of the everyday people caught up in the adventures of Spider-Man, Captain America, the Avengers, Captain Marvel and more! These unique perspectives include those of henchmen, first responders, old flames and even a teenage pre-Cyclops Scott Summers!
Collecting SUB-MARINER: MARVELS SNAPSHOTS, FANTASTIC FOUR: MARVELS SNAPSHOTS, CAPTAIN AMERICA: MARVELS SNAPSHOTS, X-MEN: MARVELS SNAPSHOTS, AVENGERS: MARVELS SNAPSHOTS, SPIDER-MAN: MARVELS SNAPSHOTS, CIVIL WAR: MARVELS SNAPSHOTS and CAPTAIN MARVEL: MARVELS SNAPSHOTS.
BLACK PANTHER: THE SAGA OF SHURI AND T'CHALLA TP
Shuri's incredible journey! T'Challa's genius sister always believed she was destined to be the Black Panther. And when T'Challa unexpectedly falls, Shuri may get her chance, if she can survive it! While T'Challa recuperates, Shuri must prove herself worthy by braving the deadly Panther rituals. Though when their father's killer, Ulysses Klaw, returns with a plot that will spill blood from the Savage Land to New York, Shuri must turn to some unexpected allies for help!
Then, when disaster strikes, it's T'Challa's turn to fight for Shuri, but a journey through the Wakandan spirit plane will soon change her forever. Plus: Sister and brother unite to face the monstrous threat of the White Gorilla Cult!
Collecting BLACK PANTHER (2005) #2, BLACK PANTHER (2009) #1-6, KLAWS OF THE PANTHER #1-4, BLACK PANTHER (2016) #1 and #8-11 and BLACK PANTHER: LONG LIVE THE KING #3-4.
STAR WARS: THE HALCYON LEGACY TP
For 300 years, the Halcyon has been the preeminent cruise ship in the galaxy. Republics and an Empire have risen and fallen, but this luxury space vessel has been a constant, despite a bumpy ride or two. Now, learn the incredible, centuries-long story of the ship at the heart of the sensational Star Wars: Galactic Starcruiser hotel at Walt Disney World! In the High Republic era, can the ship withstand a Nihil attack? During the Halcyon's time as a flying casino, Aurra Sing gambles her life! In the days of the Old Republic, Anakin and Padmé infiltrate the ship on a secret mission! Lando and Hondo find themselves on a collision course in the Halcyon's halls! And as the ship runs afoul of the First Order, can a Resistance spy complete their dangerous assignment?
Collecting STAR WARS: THE HALCYON LEGACY #1-5.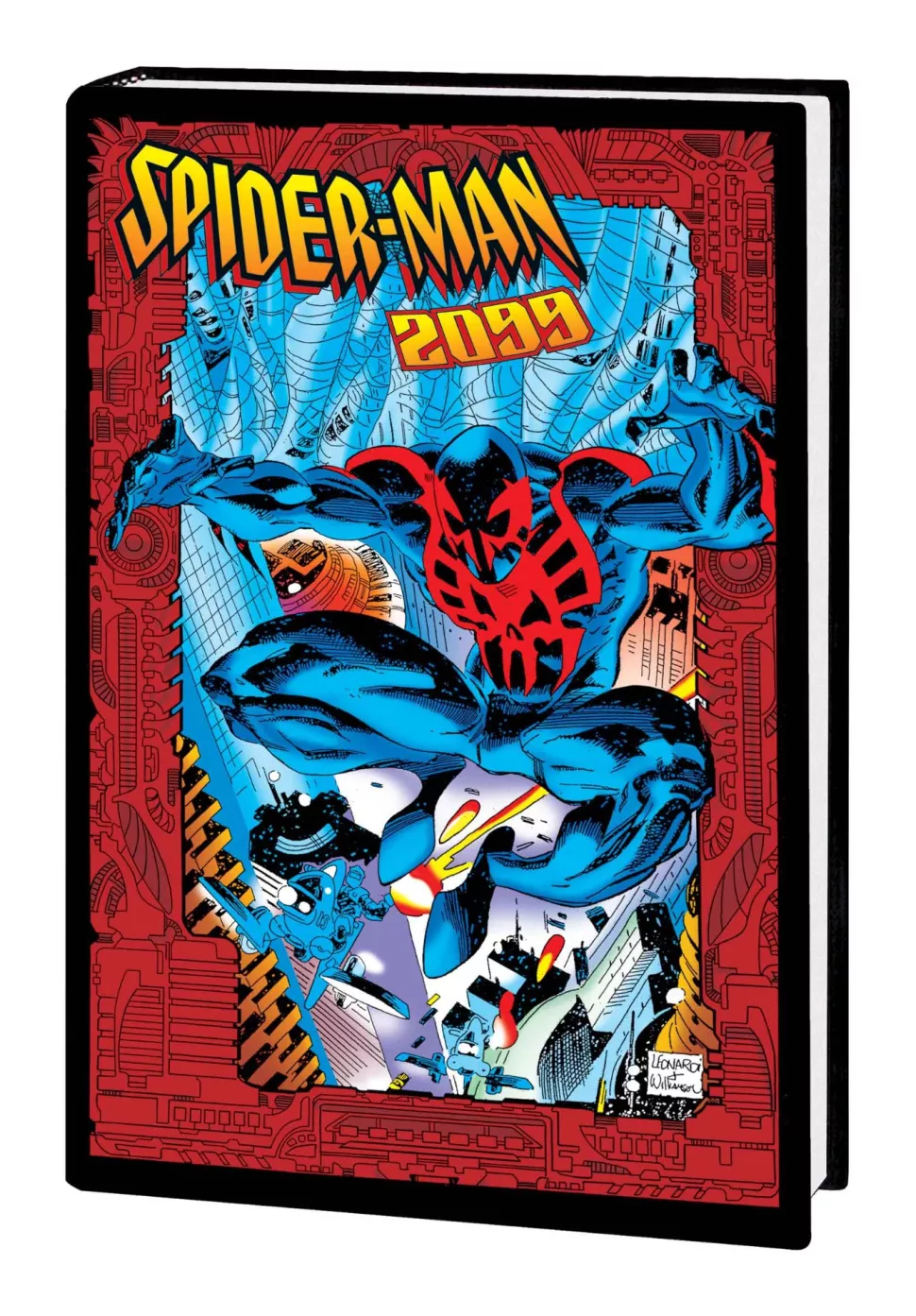 SPIDER-MAN 2099 OMNIBUS VOL. 1 HC
Peter David's futuristic epic, collected in full! The year 2099 is full of menace, but none so insidious as the corrupt corporations that run the world! Miguel O'Hara, his DNA rewritten in an attempt to escape his employer Alchemax, has gained amazing powers, and become the new Spider-Man! But as Miguel battles injustice in both high and low society, menaces new and familiar come calling: Venture, the Specialist, the Vulture, the mysterious Thanatos and more! The possible return of the Asgardian gods unites Miguel with 2099's other heroes, but who is the Net Prophet? How will Spider-Man react when Doctor Doom conquers America? And what is Miguel's connection to Venom 2099?
Collecting SPIDER-MAN 2099 (1992) #1-46 and ANNUAL #1, RAVAGE 2099 #15, X-MEN 2099 #5, DOOM 2099 #14, PUNISHER 2099 #13, SPIDER-MAN 2099 MEETS SPIDER-MAN and SPIDER-MAN 2099 SPECIAL.
AVENGERS BY BUSIEK & PÉREZ OMNIBUS VOL. 1 HC
Fan-favorite creators Kurt Busiek and George Pérez craft a new era for Earth's Mightiest Heroes! The Avengers have always defended humanity against the forces of evil. When duty calls, these legendary champions answer, fighting valiantly for justice. But as the Avengers re-form in the wake of a life-changing event, they must face an array of foes like no other: Morgan Le Fay, the Squadron Supreme, the Kree, the Legion of the Unliving, the Thunderbolts and the Wrecking Crew, not to mention facing Kang and Immortus in the Destiny War! But when the merciless Ultron attacks, wiping out an entire nation in his hatred for mankind, the Avengers must live up to their name, if they can!
Collecting AVENGERS (1998) #0-23, #1 ROUGH CUT and ANNUAL '98-99; IRON MAN (1998) #7; CAPTAIN AMERICA (1998) #8; QUICKSILVER #10 and AVENGERS FOREVER (1998) #1-12.
SAVAGE AVENGERS BY GERRY DUGGAN OMNIBUS HC
Out of the Hyborian Age and into the Marvel Universe, here comes Conan the Barbarian! As the Cimmerian warrior finds his way in the 21st century, he'll meet savage new friends more than happy to join him in battle, including Wolverine, Venom, Elektra and the Punisher!
The Hand has summoned a death god from a celestial hell, and the only thing standing between Earth and destruction is Conan and those who will fight by his side. As Conan's global journey begins, he is joined by Doctor Strange, Black Widow, Doctor Doom, Magik, Deadpool and more, but can even a whole army of Savage Avengers stand against evil wizard Kulan Gath, harnessing the awesome power of the elder god Shuma-Gorath?
Collecting SAVAGE AVENGERS (2019) #0-28 and ANNUAL #1, UNCANNY X-MEN (1981) #190-191 and material from FREE COMIC BOOK DAY 2019 (AVENGERS/SAVAGE AVENGERS).
X-MEN: THE ANIMATED SERIES – THE ADAPTATIONS OMNIBUS HC
Exploding from your TV screen! The iconic X-Men: The Animated Series thrilled fans in the 1990s and defined the X-Men for an entire generation. And their small-screen adventures, inspired by the X-Men's classic storylines, were adapted into comic book form as well! Cyclops, Jean Grey, Storm, Wolverine, Rogue, Gambit, Beast, Jubilee and Morph are Professor X's Uncanny X-Men, ready to battle threats including Sabretooth, the Juggernaut and Magneto, Master of Magnetism! But when the giant, mutant-hunting Sentinels attack, one of the X-Men will pay the ultimate price! Plus: Cable and Bishop each arrive from the future, Rogue seeks a cure for her plight, Apocalypse unleashes his deadly Horsemen and more, including action-packed takes on classic stories including "Days of Future Past" and the Dark Phoenix Saga!
Collecting X-MEN ADVENTURES (1992) #1-15, X-MEN ADVENTURES (1994) #1-13 and X-MEN ADVENTURES (1995) #1-13.
STAR WARS: WAR OF THE BOUNTY HUNTERS OMNIBUS HC
All-out war engulfs the galaxy! Notorious bounty hunter Boba Fett has finally landed his greatest prize: Han Solo, frozen in carbonite. But Solo is about to become one highly sought-after smuggler! The rebels want their friend back, the Empire seeks revenge on one of its greatest enemies and other bounty hunters have their eyes on a big payday, but what moves will the Crimson Dawn crime syndicate make? Featuring Darth Vader, Jabba the Hutt, Luke Skywalker, Leia Organa, Valance, Doctor Aphra and more!
Collecting STAR WARS: WAR OF THE BOUNTY HUNTERS ALPHA; STAR WARS: WAR OF THE BOUNTY HUNTERS #1-5; STAR WARS: WAR OF THE BOUNTY HUNTERS — JABBA THE HUTT, 4-LOM & ZUCKUSS, BOUSHH and IG-88; STAR WARS (2020) #13-18; STAR WARS: BOUNTY HUNTERS #12-17; STAR WARS: DARTH VADER (2020) #12-17 and STAR WARS: DOCTOR APHRA (2020) #10-15.
If anything jumped out to you, remember to message us or let us know next time you're in the shop! You get a text the second it arrives in the shop and we place a copy aside just for you so you don't miss out!
We do these each month so keep an eye out for the next post!
Have a great month and happy reading 💚