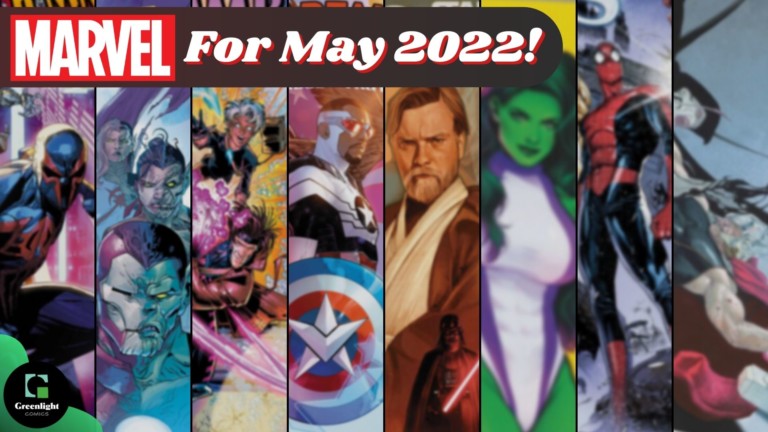 The March issue of Marvel Comics Previews has arrived! Here is our breakdown of the new comics series to jump on, plus what collected editions are arriving from May 2022! You can find the rest of our Previews Picks for other DC Comics, Indies & Manga titles here!
All-NEW ADVENTURES OF THE LEGENDARY THIEF BY CO-CREATOR CHRIS CLAREMONT! You think you know all there is to know about Remy LeBeau, the Ragin' Cajun, the mutant known as GAMBIT, but legendary X-scribe Chris Claremont has an ace up his sleeve with this new series! Before he joined the X-MEN, Gambit encountered a mysterious girl named 'RO, the mutant STORM regressed to her child self by the nefarious NANNY, and the two went up against the forces of the SHADOW KING! Now, revealed for the first time, Gambit finds his path to becoming the heroic X-Man millions of fans call their favorite! Joined by rising star artist Sid Kotian, Chris weaves a story of action, intrigue and revenge that made Gambit the mutant he is and forged his relationship with Storm. You'll get a charge out of this one, mon ami!
Captain America: Symbol of Truth #1
Sam Wilson picks up the shield once more — and enters a world of trouble! Following a lead from Misty Knight, Sam intercepts a mysterious group hijacking what appears to be an empty train. As he digs deeper, he discovers that the plot may be connected to a crucial piece of Captain America history…and, surprisingly, Wakanda. The world is ready for two Captain Americas — but is Sam Wilson ready for what comes next?
Acclaimed writer Tochi Onyebuchi (BLACK PANTHER LEGENDS, Riot Baby) teams with Stormbreaker R.B. Silva (POWERS OF X, INFERNO, FANTASTIC FOUR) to open a thrilling new chapter of CAPTAIN AMERICA history!
Secret Invasion #1 (of 5)
THE SKRULLS ARE BACK! In a giant-sized issue kicking off an all-new five-part miniseries! When Maria Hill detects the merest HINT of Skrulls, she acts quickly to put her defensive plans into action. And when Nick Fury is sent to investigate a Skrull sighting in Iowa, he finds the LAST thing he was expecting! Our pale blue dot is in their sights, and this time, Earth's old defenses won't work… Find out who you REALLY trust: The invasion begins NOW.
Brayden's Note: "But they already did Secret Invasion back in the day what's with this?" This my friends is called Brand Synergy cause of the Disney+ series on the horizon, which is hilarious considering we can't even get copies of the original Secret Invasion from Marvel 🤦‍♂️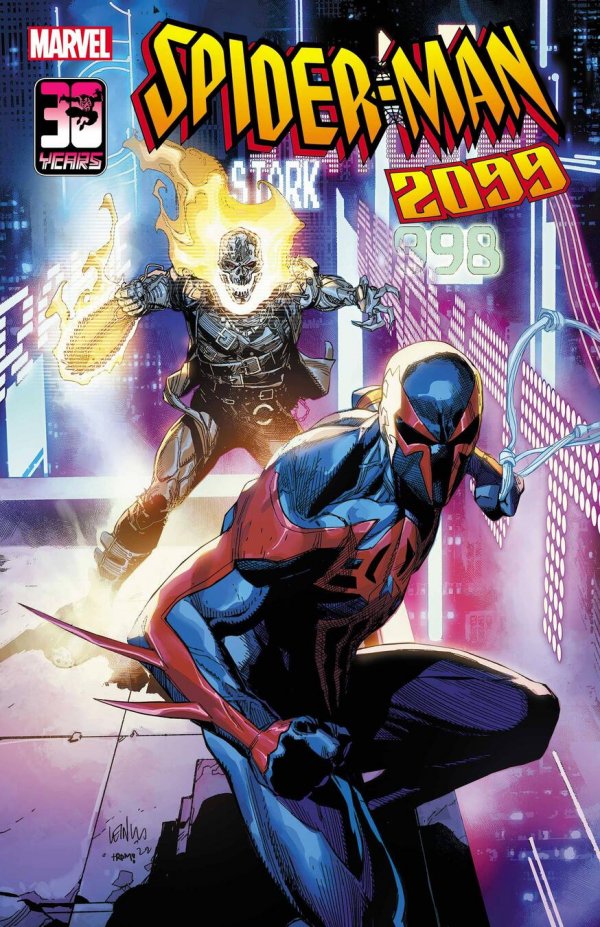 Spider-Man 2099: Exodus #1
Starting with 'Spider-Man 2099 Exodus Alpha'! After fighting battles across the timestream, MIGUEL O'HARA is at last back defending hispresent and our our future! For SPIDER-MAN 2099, the only thing constant about life in Nueva York is change. So when a cataclysmic crash creates a new Garden of Eden in what was once the American Wastelands, Spider-Man knows exactly what the next atrocity will be. Watch as THE CABAL plans to set society ablaze — and you'll never guess who is leading them!
After a massive CELESTIAL body crashes into the Wastelands outside of Nueva York, a new Garden of Eden erupts from the crash site, offering unimaginable power. And it's not just THE CABAL who is hungry to control the Garden. Everyone's got something to gain from Paradise… including WINTER SOLDIER 13. Salvaged from the black market as a child, the Winter Soldier, raised on mad science, is bent on vengeance and rebirth. But what truly lies within the Garden?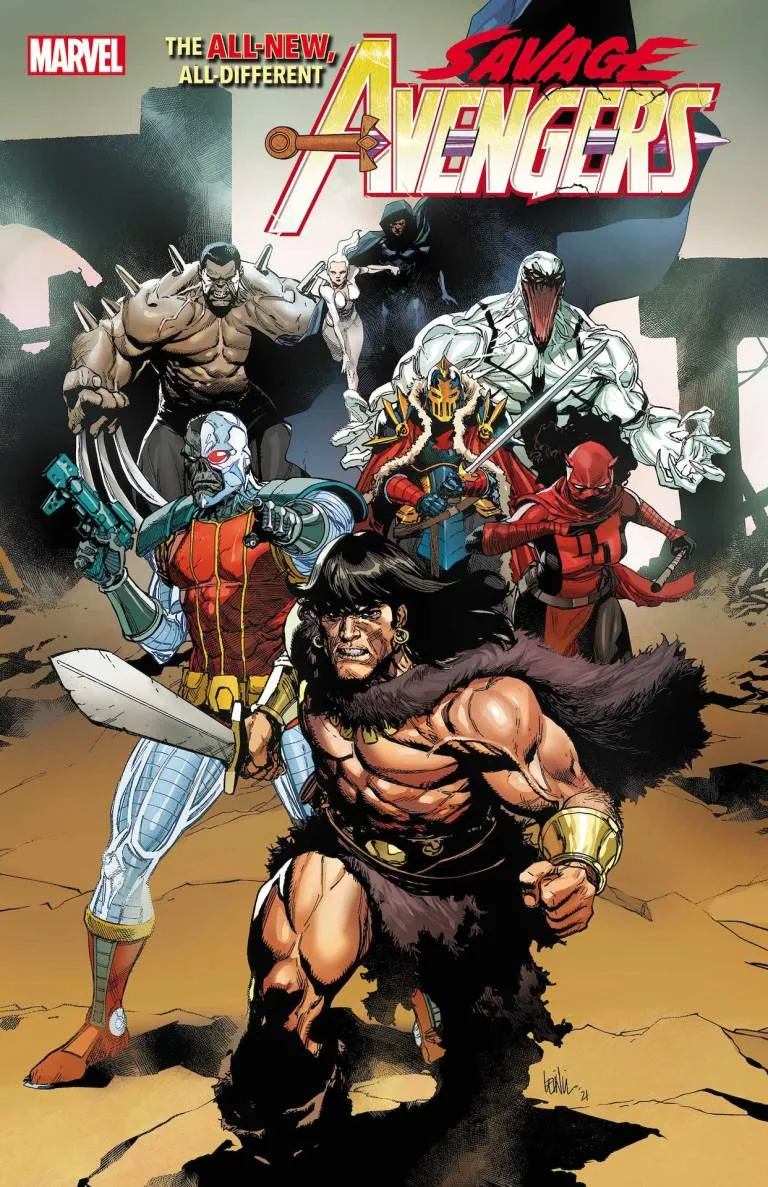 Since his exile from the Hyborian Age, Conan the Barbarian has conquered the most dangerous foes the modern Marvel Universe has to offer, but what happens when this hard-edged Cimmerian finds himself on the run from the cybernetic soldier of the future known as Deathlok?
Outgunned and outmatched, Conan must turn to an unlikely group of loners, berserkers and killers if he hopes to survive the night, but can these Savage Avengers defy Deathlok's murderous manhunt, or will they become the next targets in the crosshairs of tomorrow?
Don't miss out on a bold new beginning for Marvel's most savage super heroes, as Ringo Award-winning writer David Pepose (Spencer & Locke,
Scout's Honor) and superstar artist Carlos Magno (KANG THE CONQUEROR, RoboCop: Dead or Alive) introduce a sensational new lineup that will resonate across every era of the House of Ideas!
Super-powered crooks have taken hostages in Staten Island? A dimensional rift tears open in Chinatown? Monsters running amok at the Met? Call in the THUNDER!
New York City's finest are here to save the day —
Hawkeye, Spectrum, America Chavez, Power Man, Persuasion and Gutsen Glory!
You know 'em, you love 'em…they're the Thunderbolts! In the aftermath of Devil's Reign, the Big Apple has big problems, and it's up to a new group of Thunderbolts to turn things around. But when Clint Barton gets tasked with heading up this team and proving they can go toe-to-toe with anything the Marvel Universe can throw at them, the first opponent he's going to have to face is himself.
New Fantastic Four #1 (of 5)
SPIDER-MAN + HULK + WOLVERINE + GHOST RIDER?! When these unlikely heroes first banded together to become the NEW FANTASTIC FOUR, they made Marvel history.
Now this fan-favorite team returns in an all-new adventure written by Peter David! Set shortly after the events of the group's first appearance, brace yourself for a wild ride and guest stars aplenty,  including the original FF. Plus, a series of mystery villains that you'll never see coming!
Before GIANT-SIZE X-MEN brought STORM, WOLVERINE, COLOSSUS, NIGHTCRAWLER and THUNDERBIRD to the team, Roy Thomas redefined the merry mutants in two seminal runs on the book. Now Roy, at long last, returns to the saga of the X-MEN to take us through the period between his run and GSX, for the first time detailing Wolverine's government missions before his recruitment by PROFESSOR X (including unrevealed detail on his battle with the green goliath in HULK #181/182), an untold episode involving BEAST and a host of missing mutants, and the secret behind Wolverine's costume!
Kicking off an all-new volume of X-MEN LEGENDS by a host of legendary creators, this is but the first story in a run of new, in-continuity tales covering the length and breadth of X-Men history from the early eras to fan-favorite latter day sagas!
Face front, True Believers! These are the missing links you've been looking for!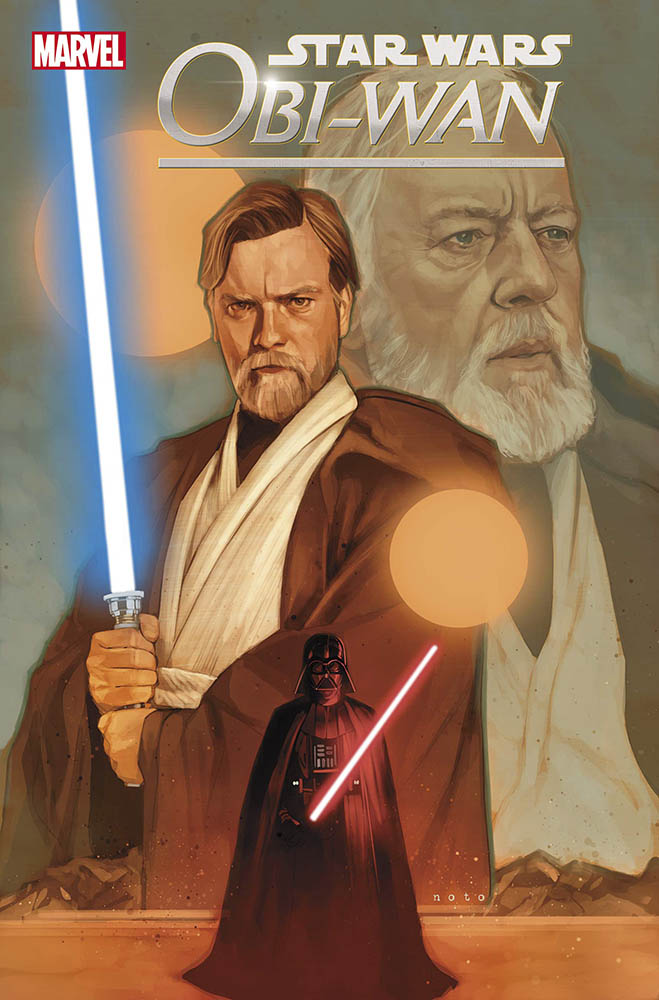 Star Wars: Obi-Wan #1 (of 5)
Fast approaches the ultimate destiny of one of the Jedi's most renowned masters! As he spends his final days in the remote deserts of Tatooine, Obi-Wan Kenobi takes time to reflect on, and record, key moments of a heroic life long-lived.
Writing in old leather-bound journals from his hermit's hut, Obi-Wan remembers his days as a young Jedi Initiate, his trials as a Padawan, the crucible of Jedi Knighthood and the Clone Wars, and some of the earliest challenges he faced as a true Master of the Force! In this tale, Obi-Wan considers a watershed Youngling adventure he narrowly survived on Coruscant when he was but eight years of age… This is just the beginning of his Jedi journey!
Brayden's Note: Disney+ Brand Synergy babyyyyyy
Graphic Novels & Collected Editions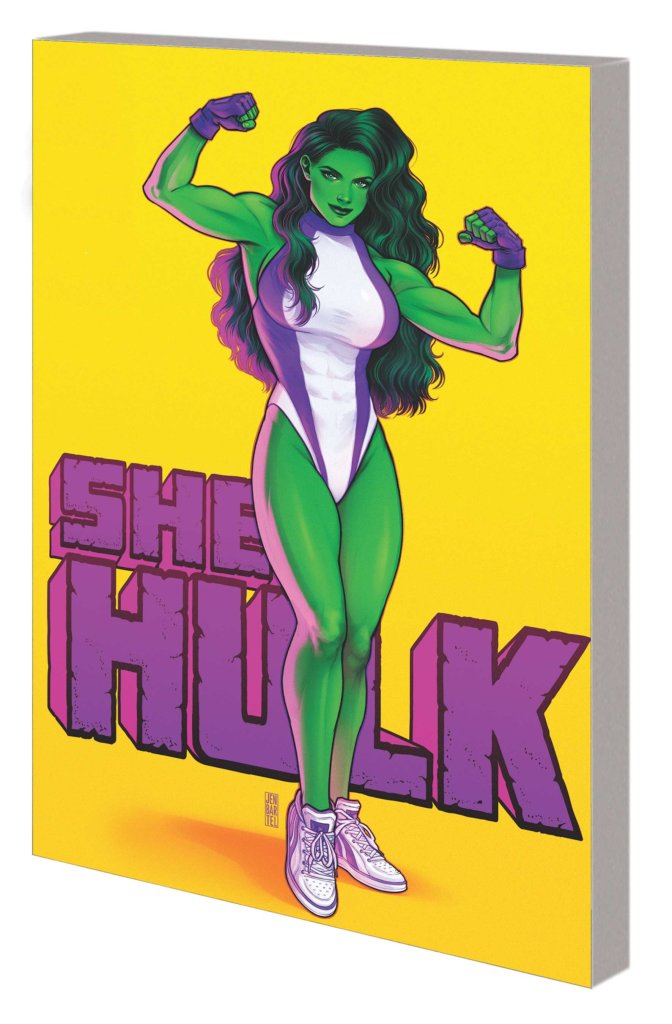 SHE-HULK BY RAINBOW ROWELL VOL 1 TP
Smashing new adventures starring the best character ever! Jennifer Walters, the Sensational She-Hulk, is no longer savage — and now she needs to put her life back together. She's got a legal career to rebuild, friends to reacquaint herself with (and maybe represent in a court of law) and enemies to…well, she may not want to connect with them, but they are definitely going to connect with her. And Jen is about to be sent down a road she's never traveled — one that will shake up her life…and possibly the whole Marvel Universe! One of the most dangerous things ever to exist lands in She-Hulk's lap, and she's got to figure out what the heck to do with it. Good luck with that, Jen! And with… Super Fight Club?!
Collecting SHE-HULK (2022) #1-5.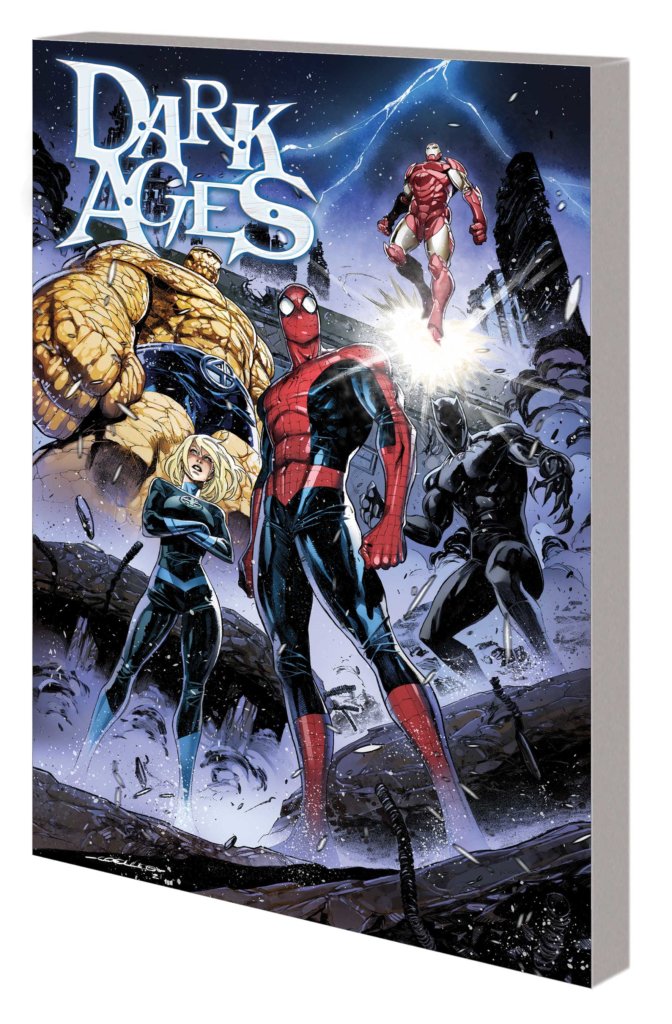 This is what the Watcher has been watching for. A danger older than the planet threatens everything. The age of technology is about to end — and for once, the heroes who have saved Earth time and again find themselves almost completely powerless in the face of it. X-Men and Avengers will assemble. Spiderpeople and the Fantastic Four will come together. Heroes for Hire will fight alongside Champions. But none of it will be enough. The lights are about to go out. The world outside our window…is about to end. And after darkness comes Apocalypse! Nothing can prepare you for an all-new saga of the Marvel Universe as you've never seen it before — from acclaimed talents Tom Taylor and Iban Coello!
Collecting DARK AGES #1-6 and material from FREE COMIC BOOK DAY 2020 (X-MEN/DARK AGES).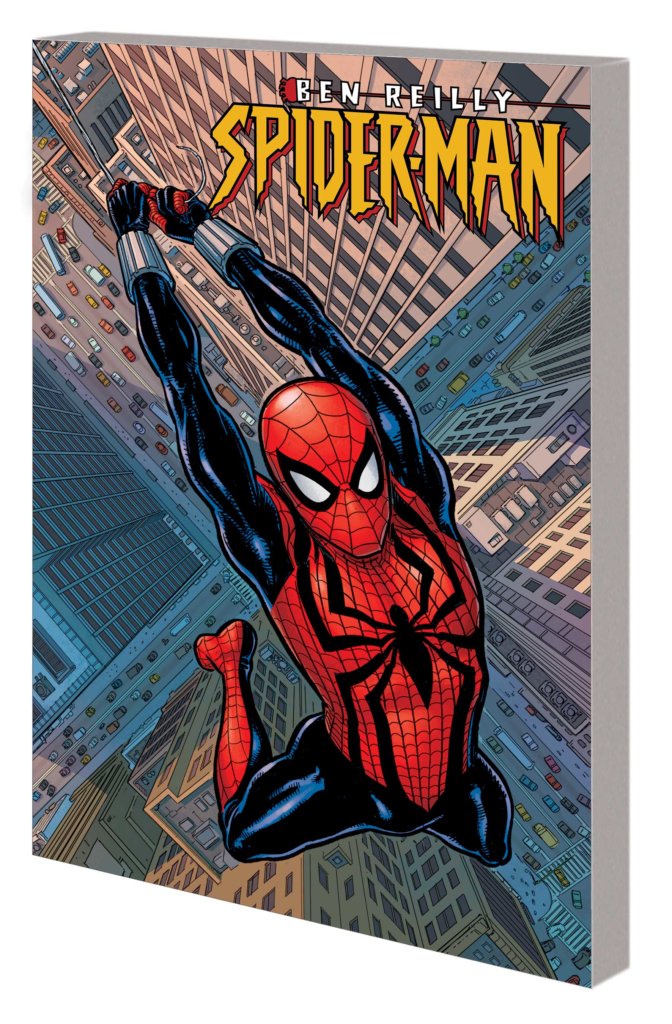 BEN REILLY: SPIDER-MAN TP
Journey back in time to another sensational era of Spidey storytelling! In the proud tradition of SYMBIOTE SPIDER-MAN comes a brand-new tale starring Peter Parker's clone Ben Reilly, set during his first stint as Spider-Man! When a mysterious figure from the past crawls his way back into Ben's life, does the foreboding Ravencroft Institute hold the key to their identity? And after five years lived on the road, followed by the madness of the Clone Saga, can Ben truly handle what it means to be Spider-Man? He'll have to learn quickly when he faces a gauntlet of his most fearsome foes! Legendary scribe J.M. DeMatteis and kinetic artist David Baldeón return readers to a tumultuous time in comic books — when Ben Reilly, not Peter Parker, was the one true Spider-Man!
Collecting BEN REILLY: SPIDER-MAN #1-5.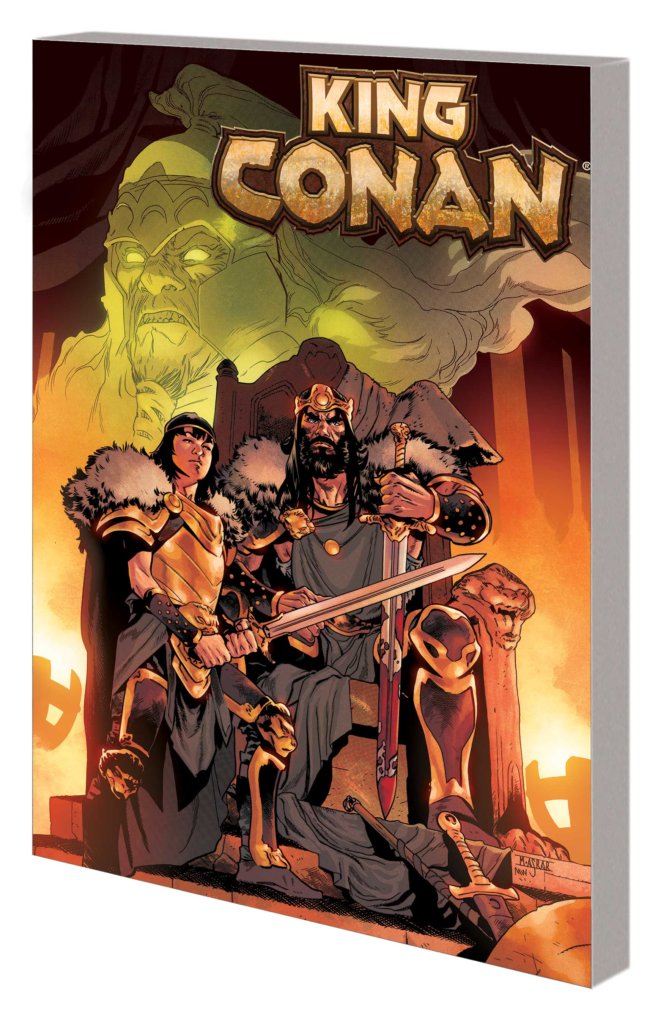 An old and terrible danger threatens to end King Conan's saga once and for all! Jason Aaron and Mahmud Asrar return to the saga of Conan — and together they take the Cimmerian futher than has ever been revealed in any media to date! As Robert E. Howard posited, when King Conan of Aquilonia grows restless on the throne, he sails west, toward land and adventure unknown. Now, see the first step of that fateful journey! When an unholy alliance is forged and fallen warriors rise to fight again, will Conan finally be forced to succumb to the lure of cursed sorcery? And what of his son, Prince Conn, and the kingdom
of Aquilonia left behind? Prepare for the adventure of a lifetime, the end of an era and the final stand against Thoth-Amon!
Collecting KING CONAN (2021) #1-6.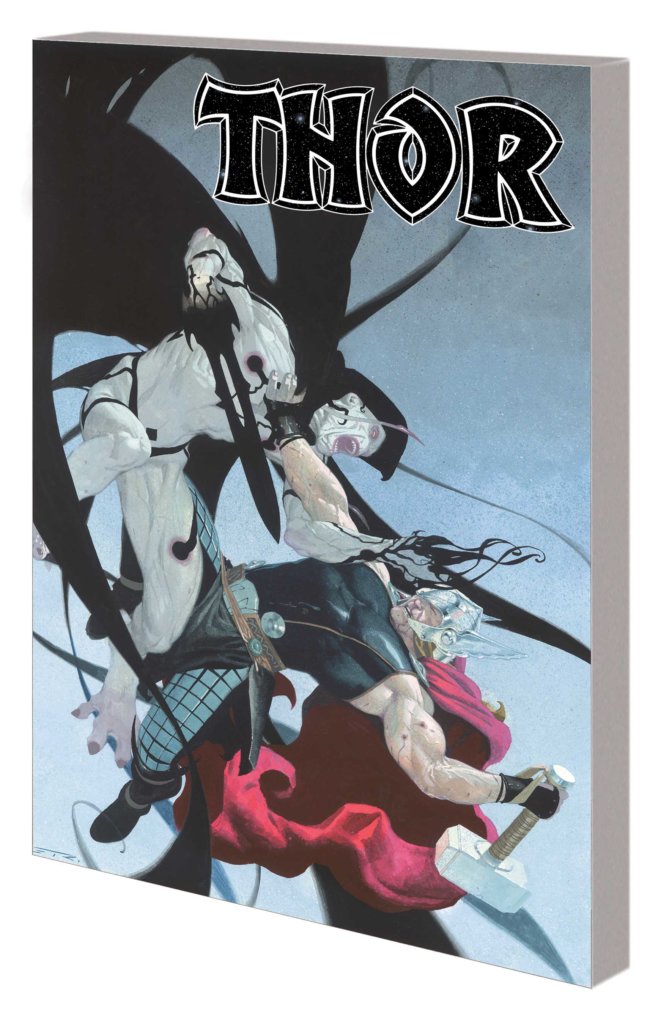 THOR: THE SAGA OF GORR THE GOD BUTCHER TP
A trail of blood consumes Thor's past, present and future! Gods are vanishing across the ages, and Thor must unravel the gruesome mystery of Gorr the God
Butcher! In the distant past, Thor discovers a cave echoing with the cries of tortured gods! In the present, Thor follows the bloody wake of murdered gods across the depths of space. And millennia from now, the last god-king of Asgard makes his final stand against Gorr's berserker legions. As Thors from three eras race to stop Gorr, his scheme's full extent is revealed: What is the Godbomb? At the end of time, the universe's remaining gods are enslaved, building a machine that will forever change the face of creation. Three time-bending Thors unite, but will it all be for naught as the massive Godbomb is triggered?
Collecting THOR: GOD OF THUNDER #1-11.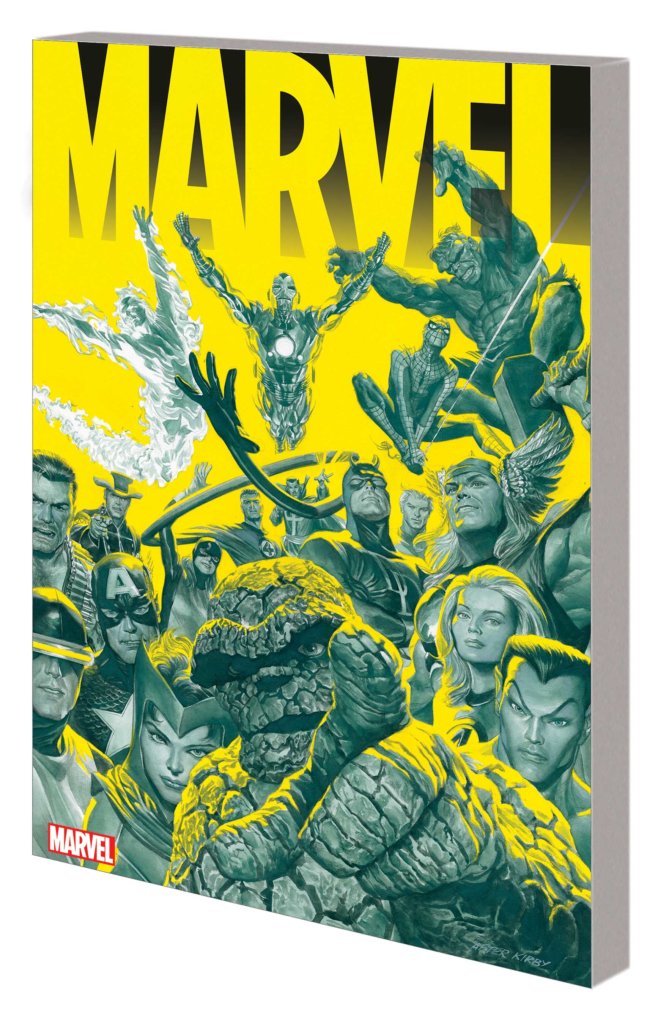 Unforgettable stories from a once-in-a-lifetime assemblage of talent! Thirty years ago, Alex Ross had a vision for a new series showcasing Marvel's heroes in a way they'd never been seen before. The first realization of that idea became the blockbuster MARVELS, but now Ross finally brings his original dream to life! MARVEL is an anthology of stories by unique, exceptional talents — many of whom are working with these characters for the first time. And all these tales are linked together by an overarching story by Ross featuring the dread dream lord Nightmare, who threatens the entire Marvel Universe — and possibly beyond! Featuring Spider-Man, the Avengers, the X-Men, the Thing, Doctor Doom, the Vision, Namor the Sub-Mariner, Warlock, Rocket Raccoon, the Golden Age Black Widow and more!
Collecting MARVEL #1-6.
SHE-HULK BY DAN SLOTT OMNIBUS HC
Before he became a superstar on AMAZING SPIDER-MAN, Dan Slott delighted readers with his sensational SHE-HULK run! Jennifer Walters is a gammapowered Green Goliath just like her Hulkish cousin, but her home is in the courtroom — where she takes on some of the Marvel Universe's wildest cases, litigating alongside coworkers like reformed android Awesome Andy and researching old Marvel comics to set legal precedents. Could She-Hulk's career get any stranger? Sure — when she's summoned to outer space to practice Universal Law for the Living Tribunal or pulled out of the timeline by the Time
Variance Authority! But when the Superhuman Registration Act leads to a civil war, whose side will She-Hulk argue? Plus: all-out smackdowns against Titania, the Champion and an A-Z of the Hulk's enemies!
Collecting SHE-HULK (2004) #1-12, SHE-HULK (2005) #1-21 and MARVEL WESTERNS: TWO-GUN KID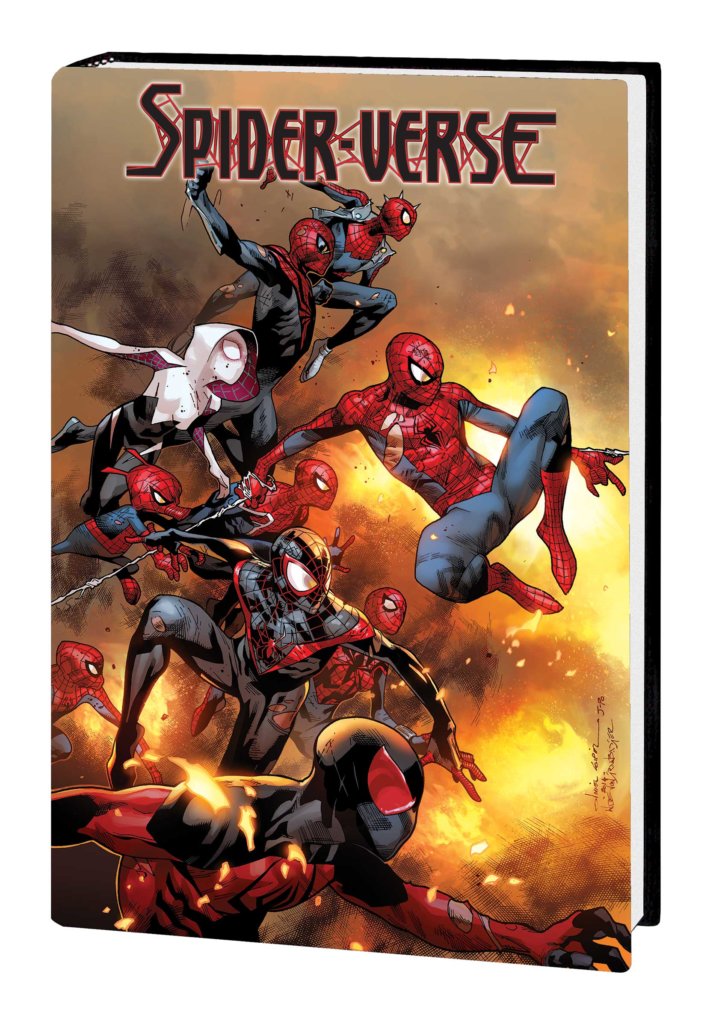 SPIDER-VERSE/SPIDER-GEDDON OMNIBUS HC
Two epic tales of multiversal madness in one spider-filled Omnibus! It begins with the Inheritors — a family of killers working their way through the realities, leaving a trail of dead Spider-people in their wake! Peter Parker, Miles Morales and Jessica Drew are joined by Spider-Men, Women and Girls from across the worlds in an interdimensional battle for survival! If any of them get out of this alive, will they be ready for the Spider-Geddon to follow? Iconic heroes and amazing new champions unite as things go from bad…to Spider-Verse!
Collecting EDGE OF SPIDER-VERSE #1-5; SPIDER-VERSE (2014) #1-2; SUPERIOR
SPIDER-MAN (2013) #32-33; AMAZING SPIDER-MAN (2014) #7-15; SPIDER-MAN 2099 (2014) #5-8; SCARLET SPIDERS #1-3; SPIDER-WOMAN (2014) #1-4; SPIDERVERSE TEAM-UP #1-3; EDGE OF SPIDER-GEDDON #1-4; SPIDER-GEDDON #0-5; SUPERIOR OCTOPUS #1; SPIDER-FORCE #1-3; SPIDER-GIRLS #1-3; PETER PARKER, THE SPECTACULAR SPIDER-MAN (2017) #311-313; SPIDER-GWEN: GHOST SPIDER #1-4; VAULT OF SPIDERS #1-2; SPIDER-GEDDON: SPIDER-MAN NOIR VIDEO COMIC;
SPIDER-GEDDON: SPIDER-GWEN — GHOST SPIDER VIDEO COMIC; SPIDER-GEDDON: SPIDER-MAN VIDEO COMIC; SPIDER-GEDDON HANDBOOK and material from FREE COMIC BOOK DAY 2014 (GUARDIANS OF THE GALAXY).
PREDATOR: THE ORIGINAL YEARS OMNIBUS VOL. 1 HC
The hunt begins! As the Predators make their Marvel debut, experience their original comics legacy! Nowhere is safe when the remorseless alien killers stalk the concrete jungle of New York City, leave a trail of death across the American Southwest and ignite the Cold War by landing in Siberia! And did Predators come to Earth during Vietnam and World War I? The hunters make a new enemy in Dutch's brother, Detective John Schaefer; and it's Predator vs. psychotic Predator
in the Pine Barrens of New Jersey! And in 1950s Hollywood, only a child with special glasses can see the monster in the midst of Tinseltown! It's total carnage, Predator-style!
Collecting PREDATOR (1989) #1-4, PREDATOR 2 #1-2, PREDATOR: BIG GAME #1-4, PREDATOR: COLD WAR #1-4, PREDATOR: THE BLOODY SANDS OF
TIME #1-2, PREDATOR: BAD BLOOD #1-4, PREDATOR: INVADERS FROM THE FOURTH DIMENSION, PREDATOR: DARK RIVER #1-4, PREDATOR: STRANGE ROUX and PREDATOR: KINDRED #1-4 — and material from DARK HORSE PRESENTS (1986) #46, #67-69 and #119; DARK HORSE COMICS #1-2, #4-7, #10-14, #16-18 and #20-21; and A DECADE OF DARK HORSE #1.
Middle-aged reporter Michael Moran always knew he was meant for something more. When an unexpected series of events leads him to reclaim his destiny, Miracleman is reborn. But Miracleman's return threatens to unravel Moran's life. Their connections to Dr. Emil Gargunza and Project Zarathustra bring with them disturbing revelations and trigger the return of a childhood friend who, beneath his sinister smile, has become something terrifying. Pushing the concept of the super hero to its logical conclusion, MIRACLEMAN is nothing short of a revelation. The series reinvented the super hero and 40 years later stands as one of the influential works in the comic book artform. This first-ever Omnibus edition collects MIRACLEMAN BOOKS ONE through THREE, complete with a massive trove of covers, original artwork and rare features.
Collecting MIRACLEMAN (1985) #1, #3 and #6-16; MARVELMAN SPECIAL #1 and material from A1 (1989) #1 and WARRIOR #1-18 and #20-21 [as presented in Miracleman (2014) #1-16] — plus ALL-NEW MIRACLEMAN ANNUAL #1.
If anything jumped out to you, remember to message us or let us know next time you're in the shop! You get a text the second it arrives in the shop and we place a copy aside just for you so you don't miss out!
We do these each month so keep an eye out for the next post!
Have a great month and happy reading 💚