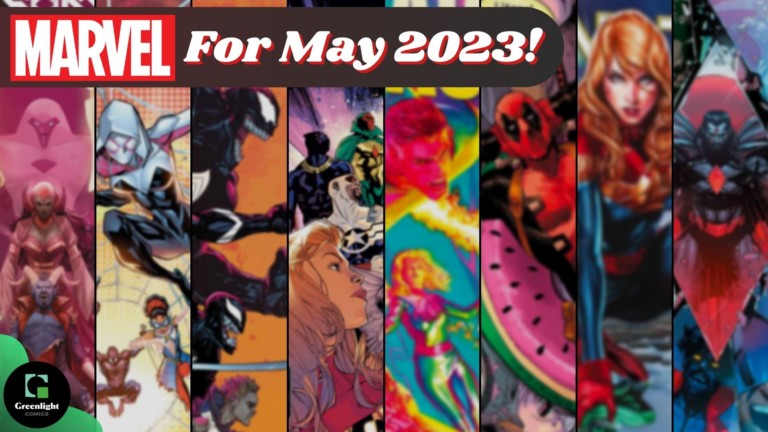 The March issue of Marvel Comics Previews has arrived! Here is our breakdown of the new comics series to jump on, plus what collected editions are arriving from May 2023! You can find the rest of our Previews Picks for other DC Comics, Indies & Manga titles here!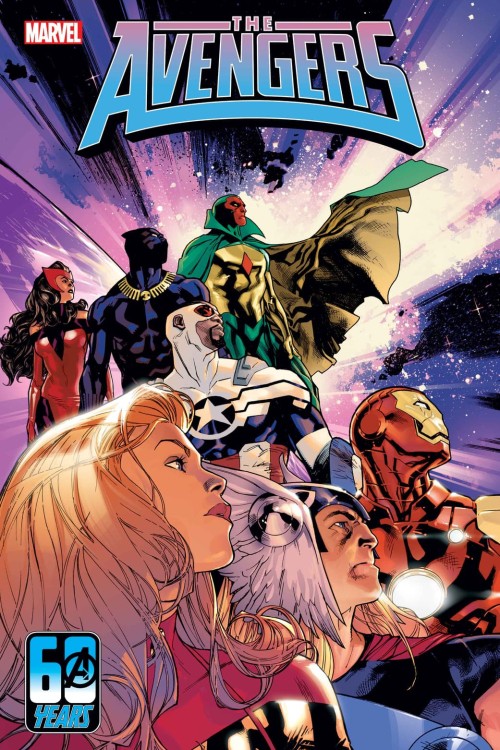 Assemble! Jed Mackay and "Stormbreaker" C.F. Villa take the reins of Earth's Mightiest Heroes! The Star. The Icon. The Witch. The Construct. The God. The Engineer. The King.
The world is ever in peril, and a new team of Avengers mobilizes to meet any dangers that dare threaten the planet. But when TERMINUS attacks, a new and insidious danger rears its head: one that the Avengers know all too well, and one that comes to them in the most dangerous of guises – that of a friend.
X-MEN: BEFORE THE FALL – SONS OF X #1
A BATTLE OF THE TITANS OF THE X-UNIVERSE! Si Spurrier and Phil Noto usher in new status quos for some of your favorite X-Men in this can't-miss one-shot!
A man of innumerable personalities and powers vs. the most powerful artificial intelligence in this universe: Legion vs. Nimrod! With Nightcrawler in Orchis' clutches, David Haller and his allies will have to confront the mastermind who destroyed Warlock and nearly took Krakoa with him. But Nightcrawler is not himself… and Legion's allies aren't all they seem to be either. Mutant monsters roam the Earth… Banshee, broken once again, dreams of lost vengeance… Mother Righteous, her role in SINS OF SINISTER unrevealed, takes another stab at universal control…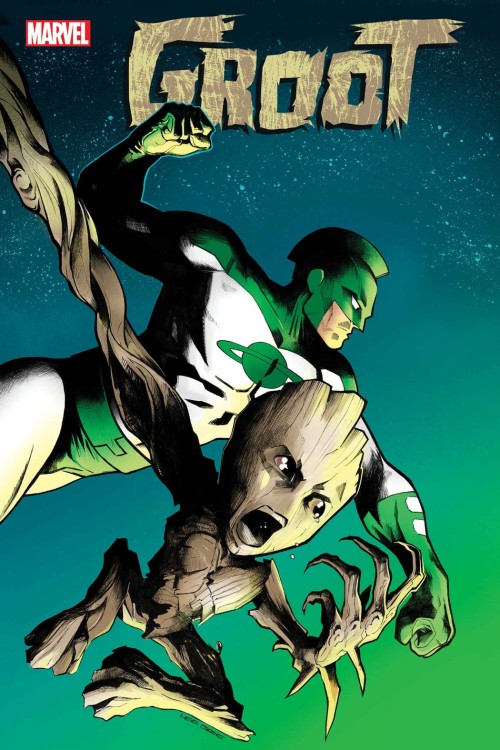 Monster, Hero, Guardian… Groot! Before he was a Guardian of the Galaxy… before the Grootfall… young Groot lived a life of tranquility on his serene home world. But when monstrous invaders attack his planet, Groot must accept his heroic destiny!
Will this destiny lead him to come to blows with a young Kree soldier by the name of Mar-Vell? Join writer Dan Abnett (Guardians of the Galaxy) and artist Damian Couceiro (The Amazing Spider-Man 2099, X-Force) as they reveal never-before-seen moments of Groot's origin and first adventure through the galaxy!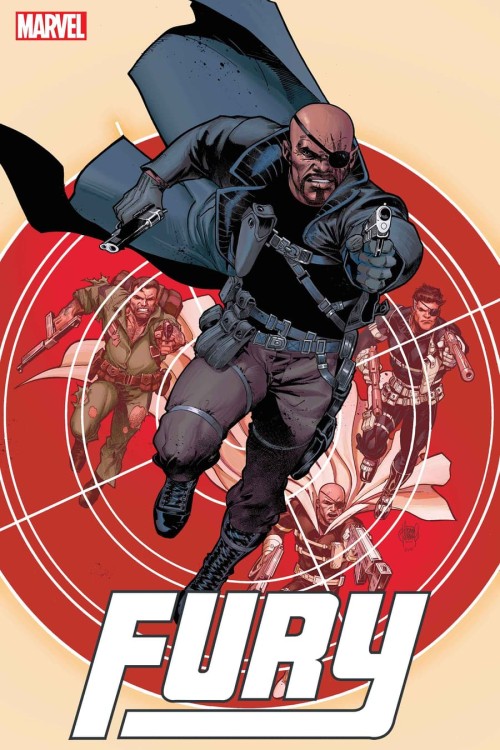 WHO IS S.C.O.R.P.I.O.?
A glamorous rogue agent with a deadly secret lures NICK FURY into the action-thriller of a lifetime… his father's! Following the trail opens never-before-seen Fury files from the Howlin' '40s…the Swingin' '60s… and today! But it takes more than one Nick Fury to unlock a mystery decades in the making – and to answer the question…WHO IS S.C.O.R.P.I.O.?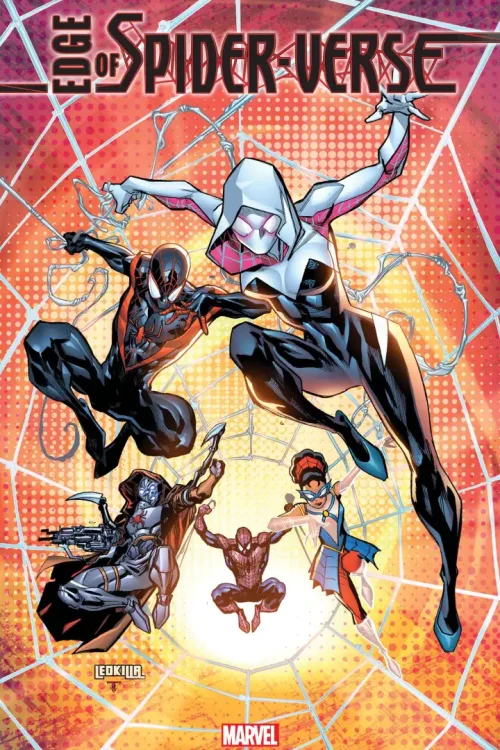 EDGE OF SPIDER-VERSE #1 (OF 4)
INTO THE OTHER EDGE OF THE SPIDER-VERSE!
Spider-Rex returns and faces the VENOMSAURUS! Plus – who is the spider-killer?! Zander Cannon introduces the world to the scariest Spider-Character ever created!!! Bringing your favorite breakout characters back, as well as introducing brand new Spiders who will blow your mind!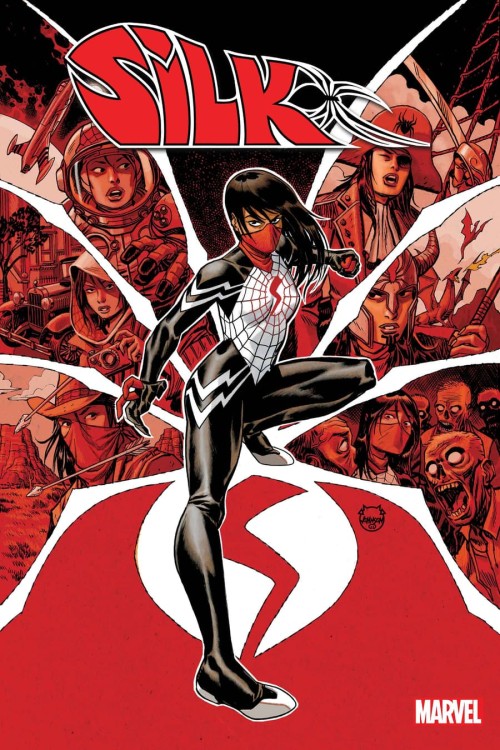 Silk Swings Back Into The Spider-Verse!
There's something rotten in Los Angeles, and ace detective Cindy Moon is on the case! Wait…that can't be right. In this mind-bending new series, Cindy will face old foes and never-before-seen dangers that will take her to the breaking point! Brought to you by all-star writer Emily Kim (Silk, Tiger Division) and Marvel veteran Ig Guara (Ghost-Spider, Spider-Gwen)!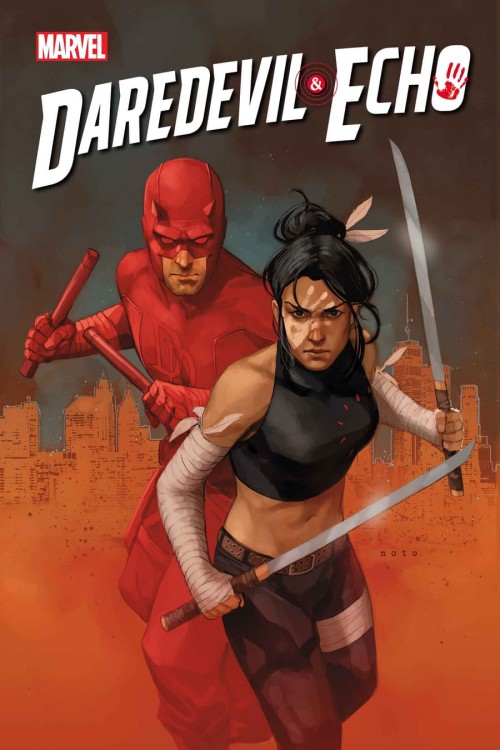 DAREDEVIL & ECHO #1 (OF 4)
SOMETHING STIRS BENEATH HELL'S KITCHEN!
For months, the bloodthirsty and demonic DEMOGOBLIN has been kidnapping children for reasons unknown. In this series, Daredevil and Echo discover why – as Demogoblin works to wake an ancient and powerful evil deep within the bowels of the city. Reunited at last with Echo, herself fresh from a brief time as the host of the Phoenix force, it falls to Daredevil to stop Demagoblin and save not only the children, but everyone in New York! Written by Black Eyed Peas artist Taboo and B. Earl with art by Phil Noto.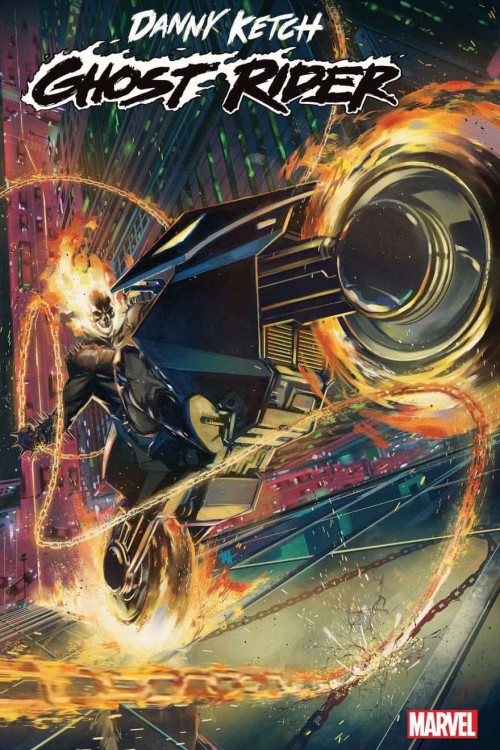 DANNY KETCH: GHOST RIDER #1 (OF 5)
DANNY KETCH IS BACK!
Flashback to a time when innocent blood was spilled, a Spirit of Vengenace was born, and Danny Ketch found himself transformed into the GHOST RIDER! A gang war is breaking out across New York City, with Ghost Rider caught in the middle! But if it's just rival gangs killing each other, does Ghost Rider need to get involved? Join us for an untold tale written by Danny Ketch co-creator HOWARD MACKIE and artist DANIEL PICCIOTTO!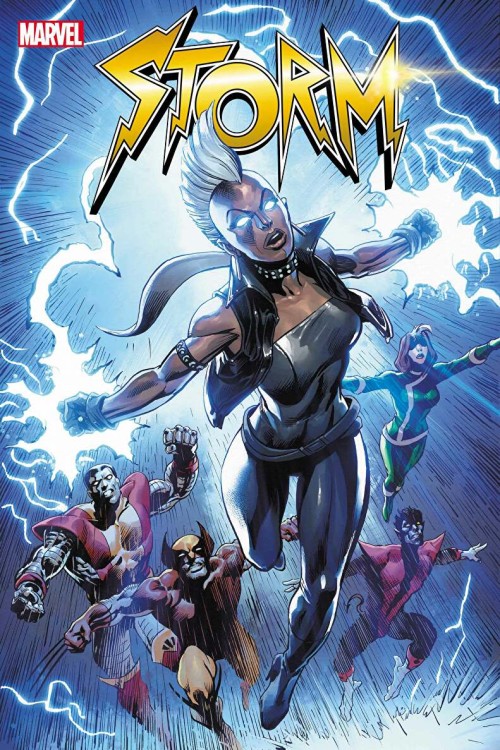 Storm faces the blowback of her powers! Ororo Munroe, A.K.A. STORM, has been a thief, a goddess and a leader of the X-MEN – and she's just getting started! With her mutant ability to control the weather bolstered by her top-notch fighting skills, she's a formidable opponent like no other (as Callisto of the Morlocks can attest)! But when an elemental power emerges near the Xavier Mansion, it'll take Storm to the limit of her powers and beyond!
Get ready for an electrifying all-new series showcasing Storm's days of rocking her mohawk and leading the X-Men, as she faces an All-New Villain that will threaten to tear her apart from her team… and what she thought she knew about herself!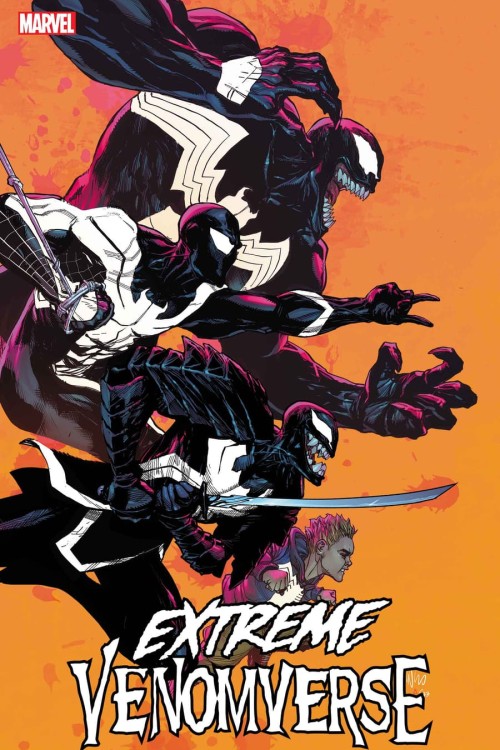 EXTREME VENOMVERSE #1 (OF 5)
Return to the Venomverse! Face front, Venomaniacs – to celebrate the 35th Anniversary of the creation of Venom, the Summer of Symbiotes Is Underway! And it all starts with Extreme Venomverse, a landmark series that's going to take Mighty Marveldom to corners of the hive never seen before in three titanic tales!
First, Comics superstars Ryan North and Paulo Siqueira put a fresh and exciting spin on a story you may be familiar with… starring Eddie Brock as… Spider-Man?! Then, your new favorite comics writer, Mirka Andolfo, shows you a side of the whole Brock family you never thought you'd see! And finally, one of the best writer/artists in comics today, Leonardo Romero, reimagines Venom as a samurai! But whether all of your new favorite symbiotes will survive this summertime saga remains to be seen…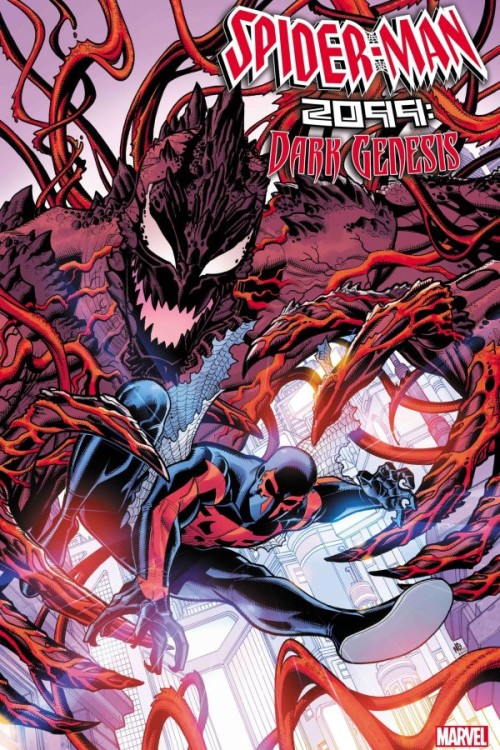 SPIDER-MAN 2099: DARK GENESIS #1 (OF 5)
FROM THE SHADOW OF EXODUS… COMES THE DARK GENESIS! Miguel O'hara, The Futuristic Spider-Man Of 2099, Must Face A Sinister Carnage Like Never Before! As society begins to crumble, SPIDER-MAN 2099 will need all the help he can get – but does the public even want his help? Or do they all just want to watch this world burn?
Steve Orlando (Scarlet Witch, Spider-Man 2099: Exodus) continues his journey through the future world of 2099, this time paired with bombastic artist Justin Mason (Spider-Punk) – get ready for the debut of the New Heroes And Villains that populate the future!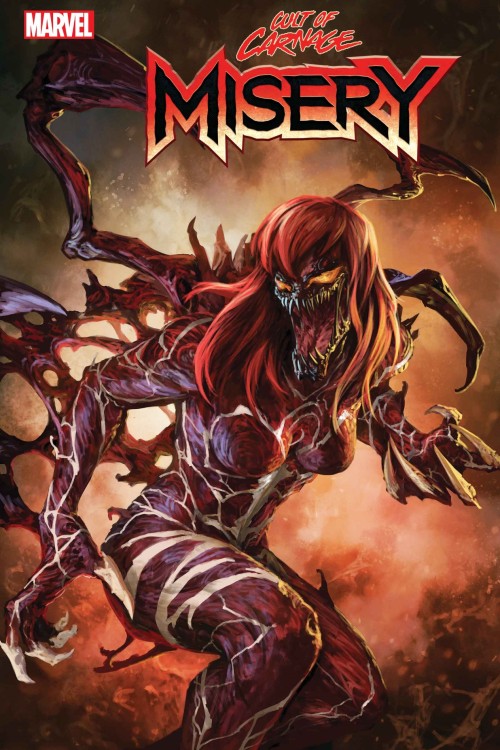 Cult Of Carnage: Misery #1 (Of 5)
DEATH AND DESTRUCTION RETURN HOME!
Liz Allen is the mother of Normie Osborn, who she is blissfully unaware is the all-new and all-deadly Red Goblin! But what Liz does know is that the Red Goblin has been active and has been seen VERY close to her home. And after her late husband's father, Norman Osborn (maybe you've heard of him?), gets pulled into the chaos and violence swirling around Normie, Liz has no choice but to use the resources at her disposal as the head of ALCHEMAX to take matters into her own hands and become something the Marvel Universe has never seen before!
Graphic Novels & Collected Editions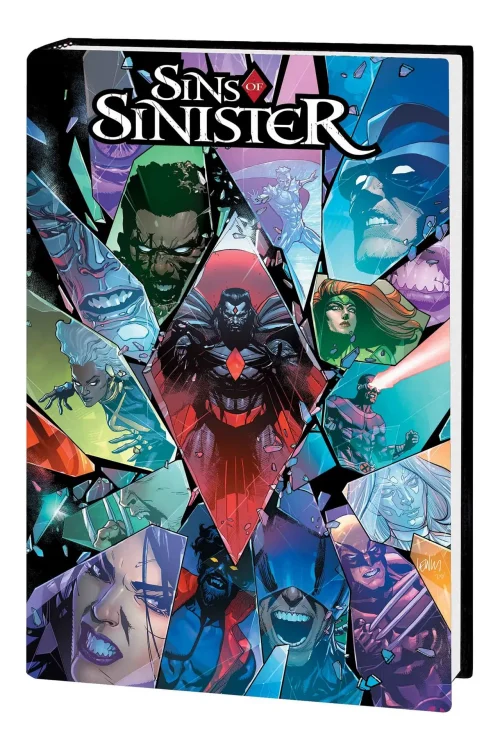 For decades, Mister Sinister has plotted and schemed, intent on creating a "better" world. Now, at last, his plans come to fruition beyond his wildest dreams — and his darkest nightmares! Ten, a hundred and a thousand years into the future, a horrific timeline has been unleashed that makes the Age of Apocalypse look like a day at the beach! Who are the Immoral X-Men, sworn to crush a world that adores and respects them? Why are Storm and the Brotherhood seeking deadly revenge? And what is the shocking secret of the bloodthirsty bamfing assassins, the Legion of the Night? As Sinister's genetic tampering runs rampant across the globe, can the X-Men survive this experience? Can anyone?
Collecting SINS OF SINISTER #1, IMMORAL X-MEN #1-3, STORM & THE BROTHERHOOD OF MUTANTS #1-3, NIGHTCRAWLERS #1-3 and SINS OF SINISTER DOMINION #1.
DEADPOOL BY ALYSSA WONG VOL. 1 TP
Marvel's top merc is back is business and better than ever! We all know Wade Wilson is one of the leading guns-for-hire in the Marvel Universe (even if he is simultaneously the most annoying one), but now he's pushing to make that recognition official. Deadpool is auditioning for the elite group of assassins known as the Atelier, and he has 48 hours to kill one of the world's most famous super villains: Doctor Octopus! Only problem? He's been kidnapped, and something…strange…is growing inside him! Things are going to get gross as writer Alyssa Wong (STAR WARS: DOCTOR APHRA, IRON FIST) and artist Martin Coccolo (HULK VS. THOR: BANNER OF WAR) take out their pent-up aggression on everyone's pizza-faced, jabber-mouthed, misguided, hate-to-love, love-to-hate fave!
Collecting DEADPOOL (2022) #1-5 and material from NEW MUTANTS (2019) #30.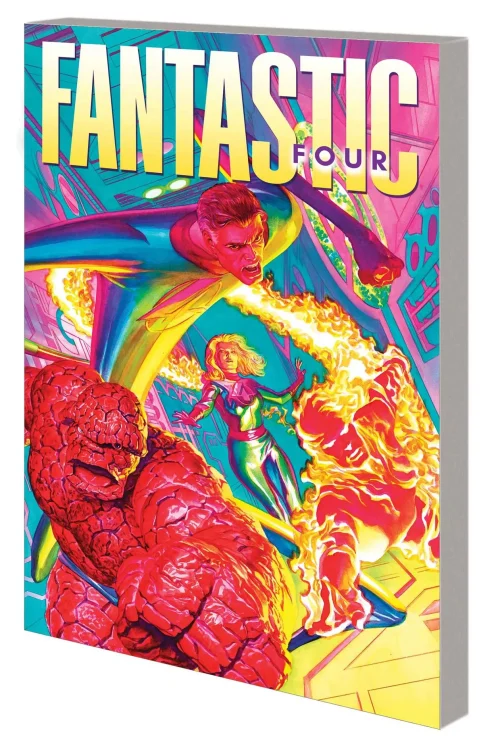 FANTASTIC FOUR BY RYAN NORTH VOL. 1: WHATEVER HAPPENED TO THE FANTASTIC FOUR TP
Something has gone terribly wrong in New York! The Thing and Alicia are traveling across America to escape it! But when they stop for the night and wake up the morning before they arrived, they find themselves caught in a time loop that's been going on since before they were born! Meanwhile, Reed and Sue are on the run from their troubles — and make an unfortunate stop in a small town full of killer Doombots! But what is their terrible secret? And Johnny is left alone in New York — a city that hates and fears him! So it's time for a new identity — and a new job! Can the FF find their way back together and somehow rebuild their lives?
Collecting FANTASTIC FOUR (2022) #1-6.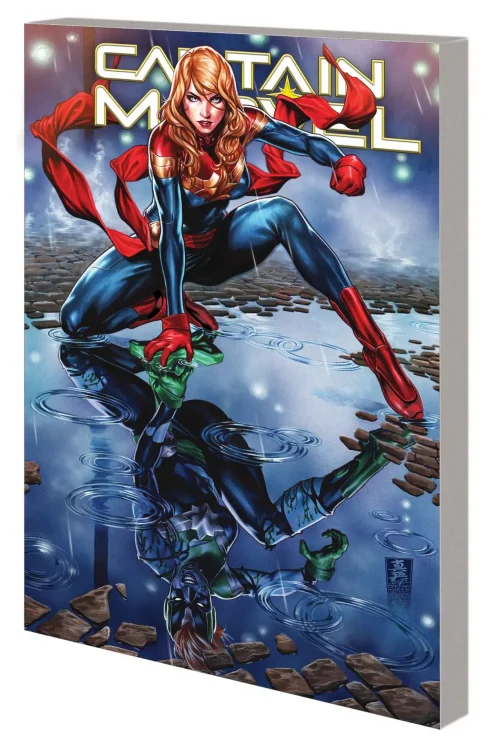 CAPTAIN MARVEL BY KELLY THOMPSON VOL. 1 TP
Captain Marvel comes home! Carol Danvers has spent months in space protecting the planet, but now she's back on Earth. And New York City has never looked so good — until a powerful villain turns Manhattan's Roosevelt Island into an apocalyptic wasteland! Now, cut off from the rest of the world, Carol needs a new crew — including Spider-Woman, Hazmat and Echo — to kick-start a revolution! Then, Captain Marvel enlists in the War of the Realms! But when her Kree heritage is exposed to the world in dramatic fashion, Carol goes from beloved hero to Public Enemy No. 1! As a new hero steps into the limelight, Carol can't help but wonder: Does the world even need Captain Marvel anymore? Plus: Head into the future for Carol Danvers' final story!
Collecting CAPTAIN MARVEL (2019) #1-11 and CAPTAIN MARVEL: THE END.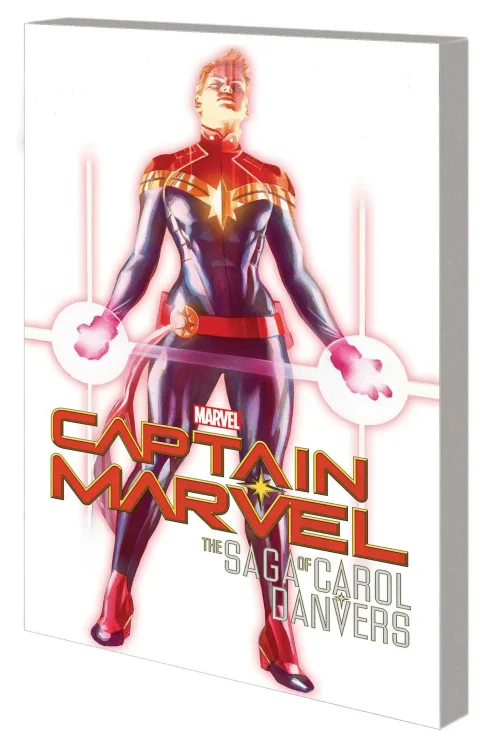 CAPTAIN MARVEL: THE SAGA OF CAROL DANVERS TP
Learn how Carol Danvers made the step up from Avenger to Earth's Mightiest Hero! At last, the ace pilot turned costumed powerhouse takes on the legendary mantle of Captain Marvel — and forges a new legacy! But although Carol has a bright future, she can't walk away from a challenge from her past. It's a firefight in the sky as the Banshee Squadron makes its debut! Then, what does Monica Rambeau, the former Captain Marvel, make of Carol's new moniker? And who, exactly, are the Carol Corps? Plus: Shocking secrets abound in Captain Marvel's definitive origin as she faces a painful family reunion — and her full connection to the alien Kree stands revealed! A deadly weapon has been unleashed, and Carol's sleepy coastal hometown won't know what hit it!
Collecting CAPTAIN MARVEL (2012) #1-8 and #17, and THE LIFE OF CAPTAIN MARVEL #1-5.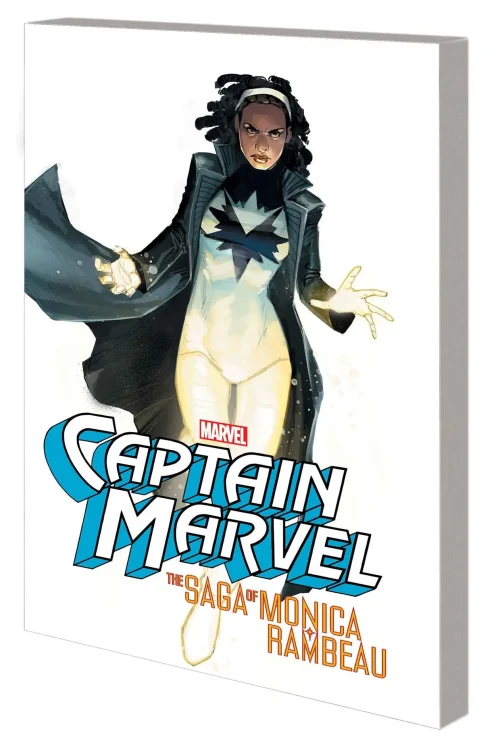 CAPTAIN MARVEL: THE SAGA OF MONICA RAMBEAU TP
Before Carol Danvers took the name Captain Marvel, Monica Rambeau held the mantle! A police lieutenant with the remarkable power to transform into energy, Monica began as a reluctant super hero but soon rose through the ranks to become the Avengers' field leader! Now, witness Monica's debut, her earliest encounters with Spider-Man and the Avengers, and an interdimensional team-up with Thanos' brother, Starfox! Monica clashes with Powderkeg and the Sons of the Serpent in little-seen solo tales, but what prompts her to give up the name of Captain Marvel and evolve into the next phase of her heroic career?
Collecting AMAZING SPIDER-MAN ANNUAL (1964) #16; AVENGERS (1963) #227 and #279; MARVEL TEAM-UP (1972) #142-143; CAPTAIN MARVEL (1989) #1; CAPTAIN MARVEL (1994) #1; AVENGERS UNPLUGGED #5; and material from SOLO AVENGERS #2, and MARVEL FANFARE (1982) #42 and #57.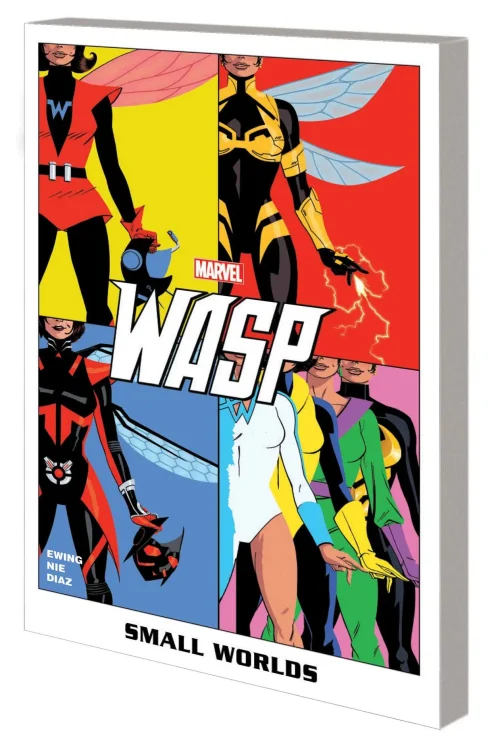 Celebrate 60 years of the wondrous Wasp! Fashion designer, businesswoman, founding Avenger — Janet Van Dyne has worn many hats over the course of her super-heroic career…and many costumes! But when an old enemy threatens Janet and her fellow Wasp, Nadia — seemingly against his will — the Van Dynes must confront the ghosts in their shared history to get to the bottom of the mystery! But something about this case seems unnervingly familiar to Jan. Can she figure out what it is in time to save both their lives? Trapped in a past where Henry Pym, the Ant-Man, was never born, will they be wiped from existence altogether?
Collecting WASP #1-4 and material from TALES TO ASTONISH (1959) #44.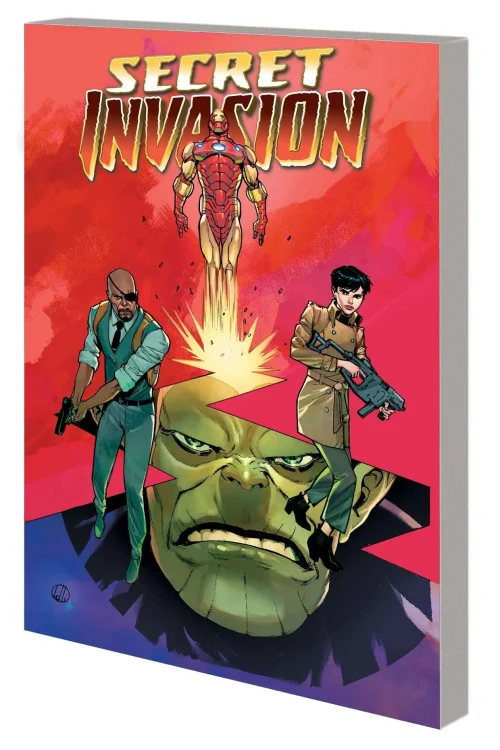 SECRET INVASION: MISSION EARTH TP
The Skrulls are back — with a vengeance! When Maria Hill detects the merest hint of Skrull activity, she immediately puts her defensive plans into action. Nick Fury is sent to investigate a sighting in Iowa, but he quickly finds the last thing he was expecting! Earth's defenders are extremely motivated to ensure that this new Skrull Secret Invasion doesn't go the way the last one did. All Maria needs to do is confirm that the Avengers really are who they claim to be. What could possibly go wrong? A familiar face from her past is behind this latest incursion, but are they acting alone? Soon, Maria finds herself facing both betrayal and a choice — and what she chooses will decide the fate of not just Earth, but also of the entire Skrull race!
Collecting SECRET INVASION (2022) #1-5.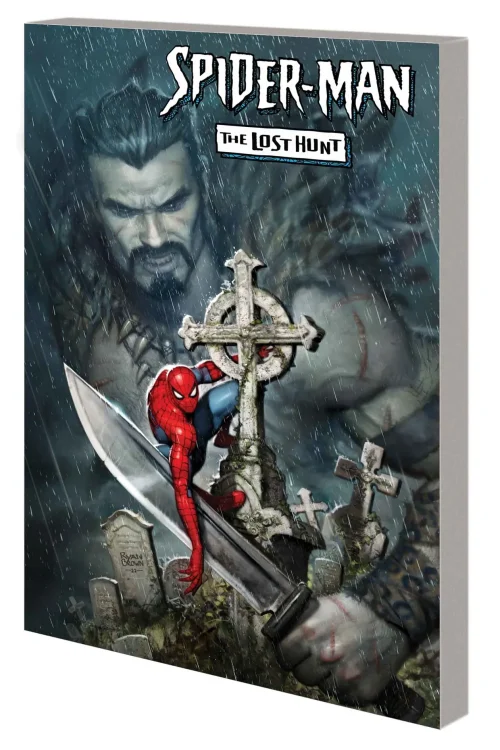 SPIDER-MAN: THE LOST HUNT TP
J.M. DeMatteis returns to uncover the origins of Kraven the Hunter! In "Kraven's Last Hunt," the acclaimed writer delivered the definitive tale of one of Spider-Man's deadliest foes. Now, revealing secrets and answering mysteries Spidey fans have been waiting for, this is the story of what made Kraven the man he is — in a tale set just after SPIDER-MAN: THE FINAL ADVENTURE, when Peter Parker was powerless! As Peter and Mary Jane prepare for their new civilian lives in Portland, a figure from Kraven's past stalks them. Who is this mystery man? What does he want with Spider-Man? And, as Peter desperately tries to defend himself and MJ, what shocking ally will come to his aid? The hidden history of the Kravinoff legacy is revealed at last!
Collecting SPIDER-MAN: THE LOST HUNT #1-5.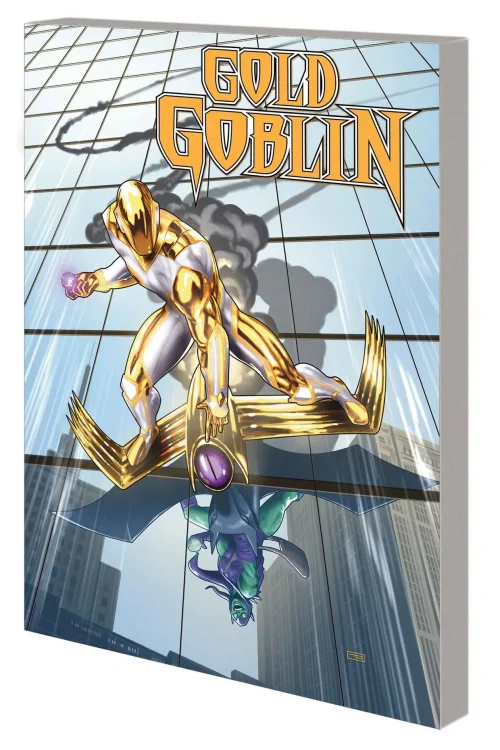 It's not easy being…gold? Norman Osborn's sins may have been cleansed, but his memories weren't — and as the Green Goblin, he's done plenty of horrific things to keep him up at night. Norman has worked hard to avoid all things "goblin" and stay on the straight and narrow, but recent events pushed him to give life as a super hero a try — and he liked it! But when the media dubs him the Gold Goblin, he starts wondering whether he can ever truly get away from the goblin inside? A devastating encounter with Ben Reilly, A.K.A. Chasm, pushes Norman toward the edge, and another terrifying opponent might send him over it! Being a hero isn't for everyone, and the crimefighting career of the Gold Goblin might soon be tarnished!
Collecting GOLD GOBLIN #1-5.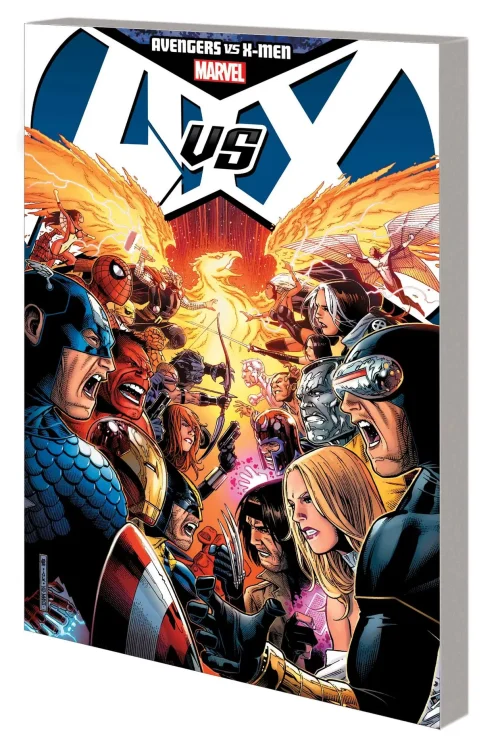 AVENGERS VS. X-MEN TP NEW PRINTING!
Earth's Mightiest Heroes and the Children of the Atom go to war in the ultimate super-hero showdown! The world-destroying Phoenix Force is back — and while the Avengers are intent on stopping it, Cyclops and his X-Men have other ideas. To Captain America, the Phoenix threatens doom. To Cyclops, it could mean salvation. Marvel's two greatest leaders wage war, with the Phoenix's chosen host — Hope Summers — caught in the middle. How far are both sides willing to go? The answer lies in a battle so big no one world could contain it — and a shocking ending that neither team could have seen coming! Marvel's top writers and artists present a spacefaring, world-changing epic — the culmination of a decade's worth of incredible event storytelling!
Collecting AVENGERS VS. X-MEN #0-12 and material from POINT ONE #1.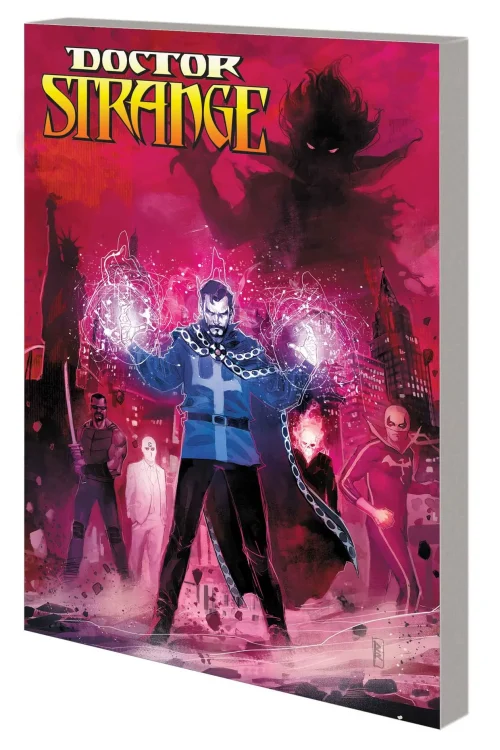 DOCTOR STRANGE BY DONNY CATES TP
Duplicity and Damnation! Evil is everywhere, and the world needs the Sorcerer Supreme more than ever. But the Sorcerer Supreme is now…Loki?! Say hello to the Master of the Mischief Arts! The Norse lord of lies has the cloak and spells, and he's even got Zelma Stanton as his assistant! So what happened to Stephen Strange? Down but not out, Strange may have one last play left in him — one that could shake the Marvel Universe to its core! But when Strange raises up Las Vegas from its destruction during Hydra's Secret Empire, he inadvertently hands the key to the city of sin to the embodiment of evil: Mephisto! It will take an unlikely assemblage of heroes from throughout the Marvel Universe to defeat Mephisto — but at what price?
Collecting DOCTOR STRANGE (2017) #381-390 and DOCTOR STRANGE: DAMNATION #1-4.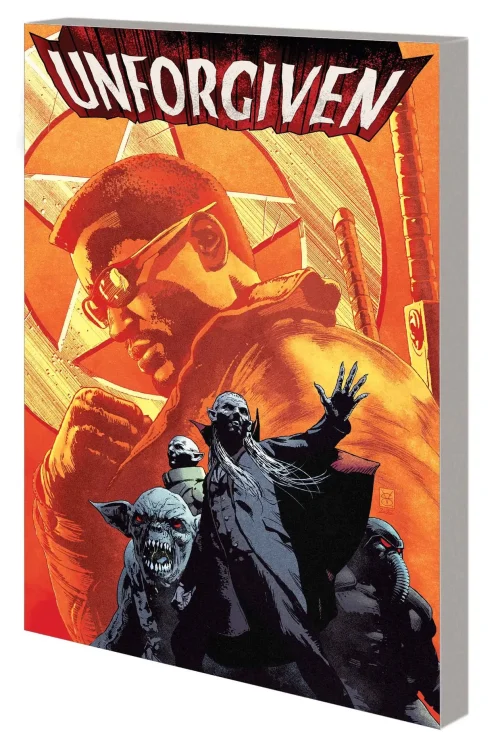 Marvel's team of super-hero vampires emerges from the shadows! Raizo Kodo and the clanless vampires of the Forgiven scour the underworld for the most dangerous ghouls known to man! But when former Sorceress Supreme Salomé returns with a devastatingly devious plan, these moral monsters might run into more trouble than they bargained for — and mixed up in the middle of it all is the one and only Spider-Man! And when body parts mysteriously start washing up on the coast of Maine, the Forgiven must call in some help from the X-Men — including former vampire Jubilee! But as defeat follows defeat, they become bitter — and bloodthirsty! Can Captain America bring them back into the light? Plus: Blade is now the sheriff of Dracula's Vampire Nation! But an assassination threatens to unravel the fledgling country and spread chaos throughout the world!
Collecting SPIDER-MAN: UNFORGIVEN, X-MEN: UNFORGIVEN, CAPTAIN AMERICA: UNFORGIVEN and BLADE: VAMPIRE NATION.
PLANET HULK: WORLDBREAKER TP
Return to Planet Hulk! A thousand years from now on Planet Sakaar, a high priestess fills a stone starship prison with small, green children — and a young woman with emerald skin searches for the legendary Green Scar to help save her brother from a group of apocalyptic cultists. But which Hulk will she find? And after all these centuries, is he truly the Sakaarson, who will save us all — or the Worldbreaker, who will destroy us? On a world broken again and again by prophecy and catastrophe, the Hulk must find the will to fight again! A shocking expansion and culmination of the mythos of Sakaar and the heart of the Hulks from original PLANET HULK scribe Greg Pak!
Collecting PLANET HULK: WORLDBREAKER #1-5.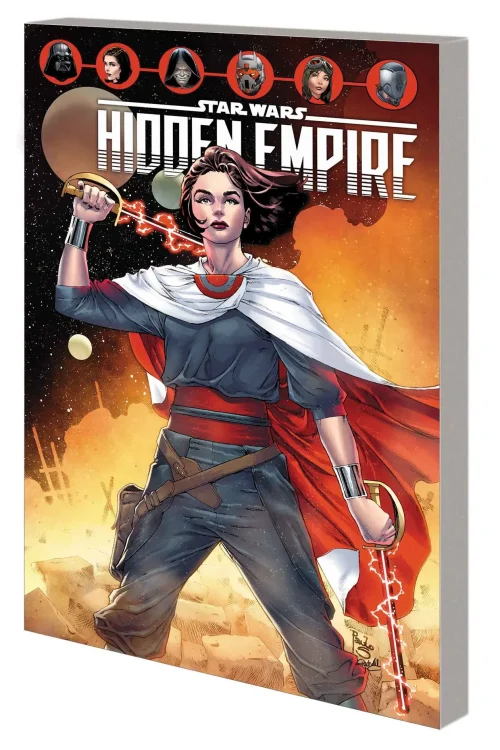 STAR WARS: HIDDEN EMPIRE TP
Qi'ra's final plot to take down the Empire! The mysterious criminal syndicate Crimson Dawn and its leader, Lady Qi'ra, have become the galaxy's most wanted now that Emperor Palpatine has realized the scope of their plans against him and moves to destroy her. But Qi'ra still has tricks up her sleeve — and with the help of the Knights of Ren and her many other allies, she will not go down without a fight! But as her bid to use an ancient Dark Side weapon known as the Fermata Cage to destroy the Sith falls apart and Darth Vader draws ever nearer, can Qi'ra still salvage victory from certain defeat? The epic trilogy begun in STAR WARS: WAR OF THE BOUNTY HUNTERS and STAR WARS: CRIMSON REIGN concludes here!
Collecting STAR WARS: HIDDEN EMPIRE #1-5.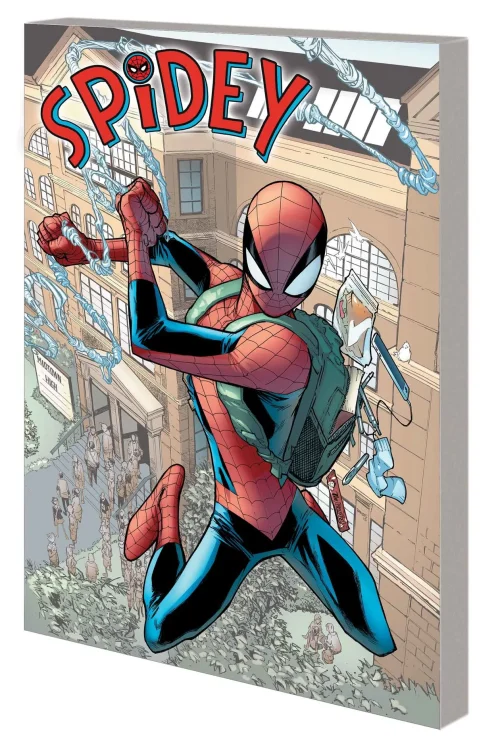 Return to a classic era and discover what made Spidey the world's greatest hero! It's action, adventure and hilarity in equal measure as we head back to high school to explore Peter Parker's early days as Spider-Man! Navigating your teen years is tough enough, but Peter also has to contend with a never-ending merry-go-round of Spider-Man madness courtesy of the best rogues' gallery in comics! We're talking Doctor Octopus, Sandman, the Vulture, Electro, Kraven, the Scorpion…and believe it or not, Doctor Doom! But could our young hero ever be ready for an arch-nemesis like the Green Goblin? Black Panther and Captain America guest-star as Spidey learns the ropes of heroism — but fun time is over when the Sinister Six strikes! And can Peter put an end to the Crime-Master's citywide spree?
Collecting SPIDEY #1-12 and SPIDER-MAN: MASTER PLAN.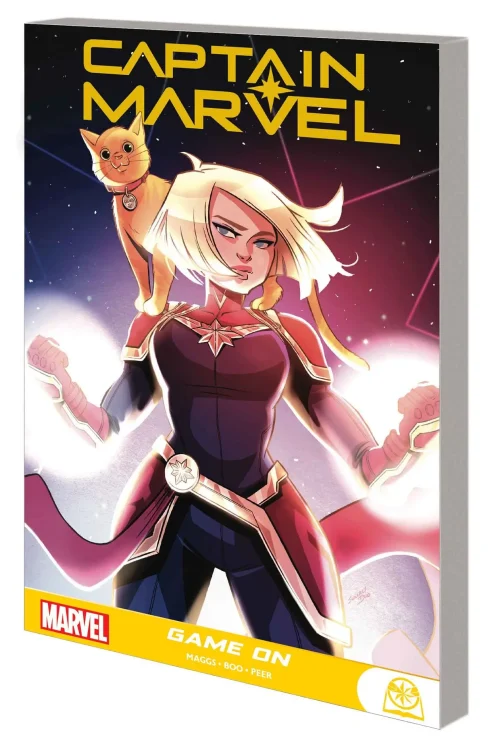 CAPTAIN MARVEL: GAME ON GN
All-action adventures of Captain Marvel and friends! Carol Danvers' quiet night with BFF Jessica Drew (A.K.A. Spider-Woman) takes a cat-astrophic turn when Manhattan's bodegas are suddenly overrun by a host of angry felines! And not just any felines — Flerkens, the most terrifying kitty lookalikes in the entire universe! Then, Carol has been a fighter pilot, a cosmic hero and an Avenger, but now she faces her most difficult job yet: driving instructor to Nadia Van Dyne, the Unstoppable Wasp! And it becomes an even bigger task when A.I.M. uses Pym Particles to shrink Captain Marvel down to tiny size! Plus: Carol joins Ghost-Spider in battle with the Mad Thinker and the Awesome Android — and needs some help from the Unbeatable Squirrel Girl to take down a digital doppelganger!
Collecting MARVEL ACTION CAPTAIN MARVEL (2019) #1-6 and MARVEL ACTION CAPTAIN MARVEL (2021) #1-5.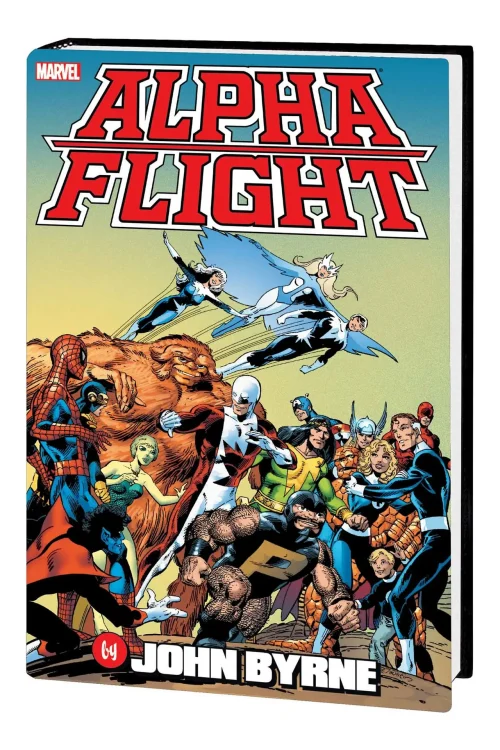 ALPHA FLIGHT BY JOHN BYRNE OMNIBUS HC
Legendary writer/artist John Byrne steers one of his greatest creations to glory! Exploding from the pages of X-MEN, Canada's premier super-team takes the Marvel Universe by storm before starring in its own Byrne-helmed series! Guardian, Shaman, Snowbird, Sasquatch, Aurora, Northstar, Puck and Marrina fight to protect Canada from injustice and evil — including the Master of the World, the maniacal alchemist Diablo and the terrifying Great Beasts! But they'll face their darkest defeat at the hands of rival Omega Flight. And when an Alphan falls, can the team fight on? Plus: Loki! The Hulk! And more!
Collecting X-MEN (1963) #109, #120-121 and #139-140; INCREDIBLE HULK (1968) #272, #313 and ANNUAL #8; MACHINE MAN (1978) #18; MARVEL TWO-IN-ONE (1974) #83-84; ALPHA FLIGHT (1983) #1-29; X-MEN AND ALPHA FLIGHT (1985) #1-2; X-MEN/ALPHA FLIGHT (1998) #1-2; and material from MARVEL TEAM-UP ANNUAL #7.
If anything jumped out to you, remember to message us or let us know next time you're in the shop! You get a text the second it arrives in the shop and we place a copy aside just for you so you don't miss out!
We do these each month so keep an eye out for the next post!
Have a great month and happy reading 💚