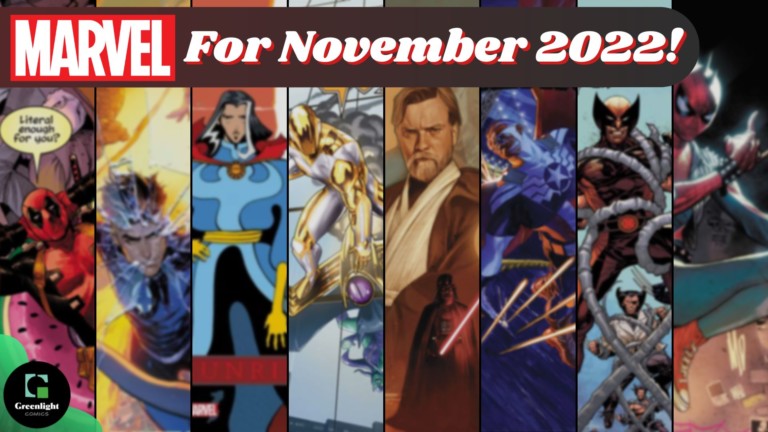 The September issue of Marvel Comics Previews has arrived! Here is our breakdown of the new comics series to jump on, plus what collected editions are arriving from November 2022! You can find the rest of our Previews Picks for other DC Comics, Indies & Manga titles here!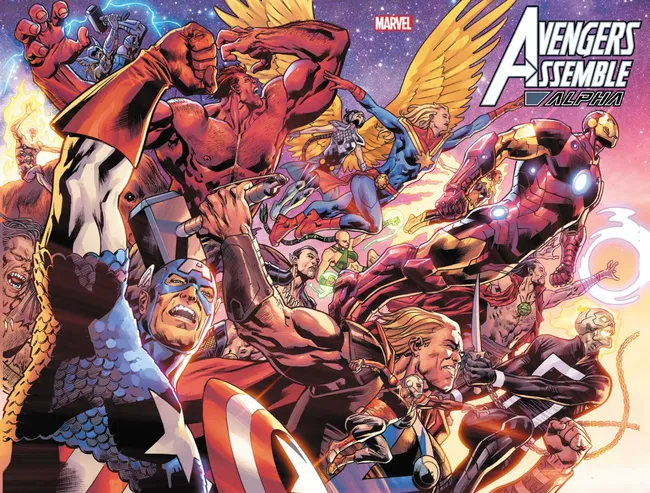 AVENGERS ASSEMBLE ALPHA (ONE-SHOT)
UNITING THE AVENGERS, AVENGERS FOREVER AND AVENGERS OF 1,000,000 BC IN AN EPIC SAGA THAT FORMS THE CAPSTONE TO JASON AARON'S ERA ON AVENGERS!
From throughout time and the far corners of the Multiverse, the Mightiest Heroes of All the Earths are assembling as never before for a battle beyond all imaging. A war that will take us from the prehistoric beginnings of an Earth under assault by the greatest villains who've ever lived to the watchtower that stands at the dark heart of the all and the always, where an army of unprecedented evil now rises. The biggest Avengers saga in Marvel history begins now.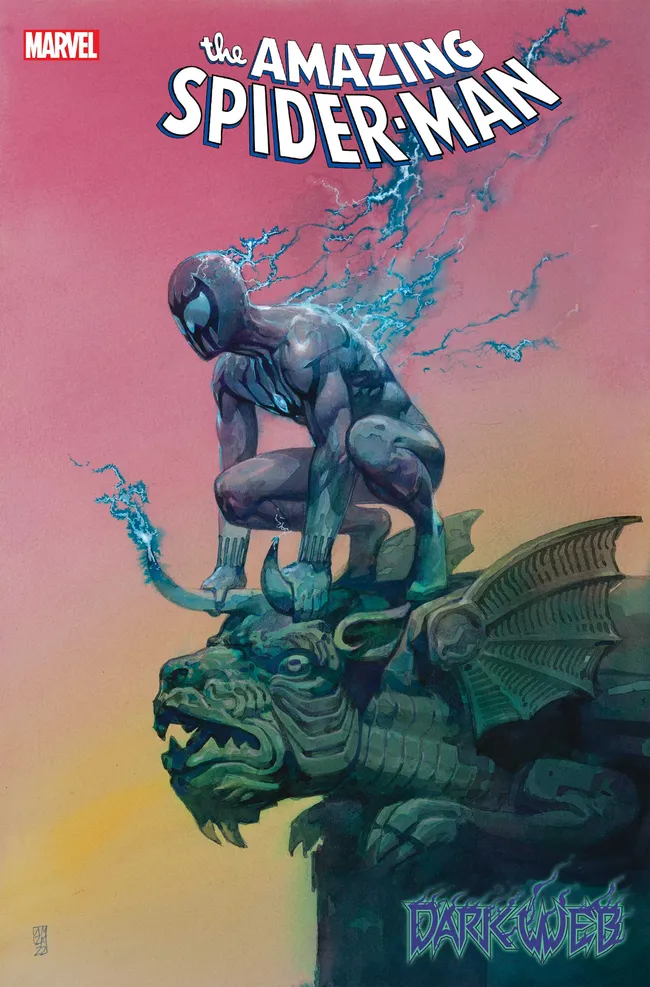 "DARK WEB" EVENT PRELUDE!
We haven't seen Chasm since ASM #894 and the FCBD issue, but that doesn't mean he hasn't been busy.
Join us for this very special issue featuring Spidey's most dangerous new villain as well as the Goblin Queen and a BRAND-NEW villain that you won't believe. **NOTE** Variant Cover shown because Romita Jr's main cover is nowhere near as good as this Maleev variant.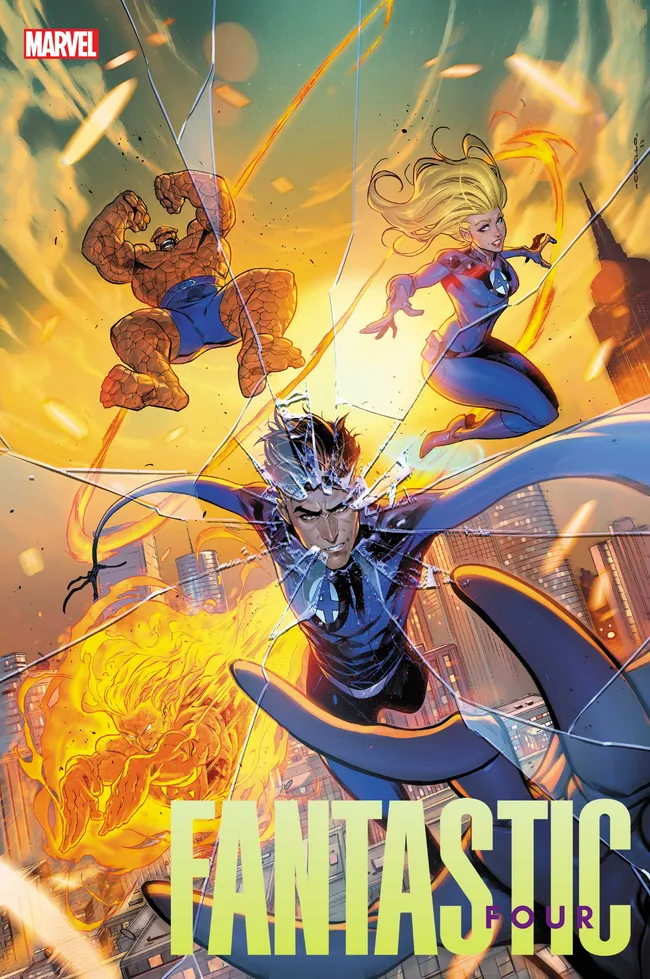 "WHATEVER HAPPENED TO THE FANTASTIC FOUR?"
It's the start of a new era for the Fantastic Four… and they're already in a ton of trouble.
Something has gone terribly wrong in New York, and the Thing and Alicia are traveling across America to escape it!
But when they stop in a small town for the night and wake up the morning before they arrived, they find themselves caught in a time loop that's been going on since before they were born…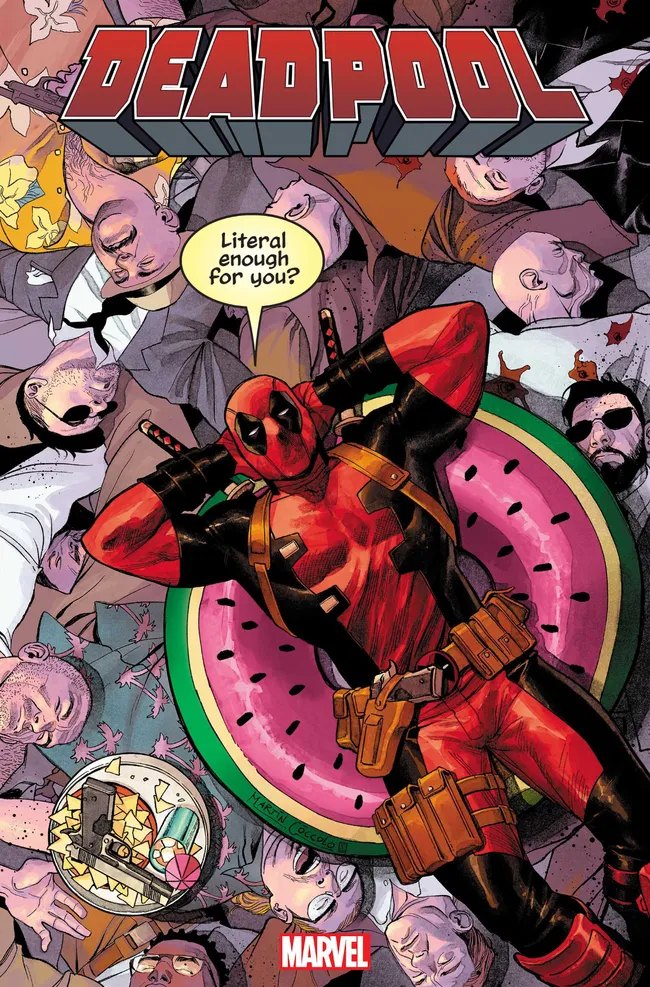 MARVEL'S TOP MERC IS BACK IN BUSINESS!
We all know Wade Wilson is one of the top mercenary/assassins in the Marvel Universe, even if he is simultaneously the most annoying one… but he's pushing to make that recognition official as he auditions for the elite group known as the Atelier. Now, he has 48 hours to kill one of the world's most famous supervillains. Only problem? He's been kidnapped, and something… strange… is GROWING INSIDE HIM. Things are going to get gross as writer Alyssa Wong (DOCTOR APHRA, IRON FIST) and artist Martin Coccolo (BANNER OF WAR) take out their pent up aggression on everyone's pizza-faced, jabber-mouthed, misguided, hate-to-love, love-to-hate fave… Deadpool!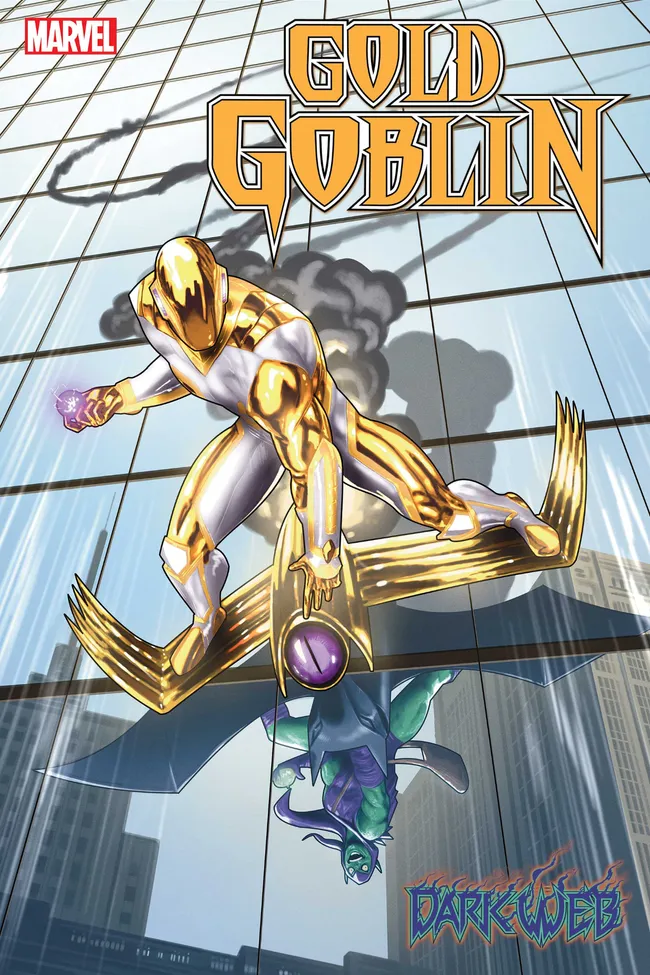 IT'S NOT EASY BEING… GOLD?
Norman Osborn's sins may have been cleansed, but his memories weren't and he's done plenty of horrific things to remember. Norman's worked hard to avoid all things "Goblin" and to stay on the straight and narrow. Consequences in AMAZING SPIDER-MAN pushed him to try super-heroing, and he liked it. But when the media dub him the Gold Goblin, he has to start wondering – can he ever get away from the Goblin inside?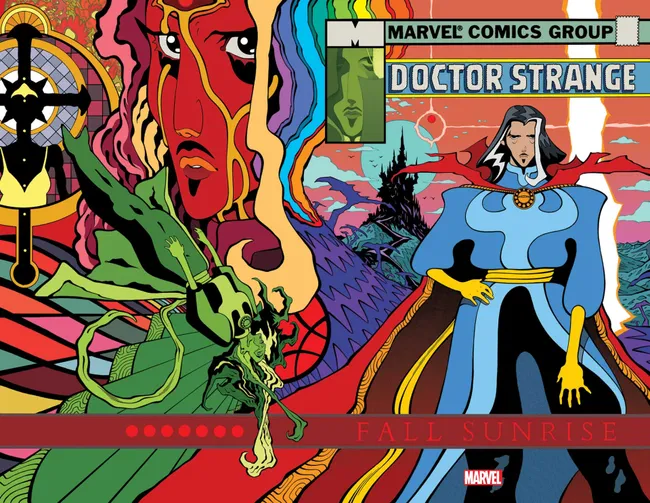 DOCTOR STRANGE: FALL SUNRISE #1 (OF 4)
FROM THE MIND OF TRADD MOORE!
Doctor Strange awakens alone in a distant world not his own. Lost of purpose and surrounded by danger, the wandering sorcerer must explore this land of blades and mystery to unravel arcane secrets and escape the deadly horrors that lie in wait! From the fantastical mind of creator Tradd Moore (SILVER SURFER: BLACK) comes a Strange story like you've never seen!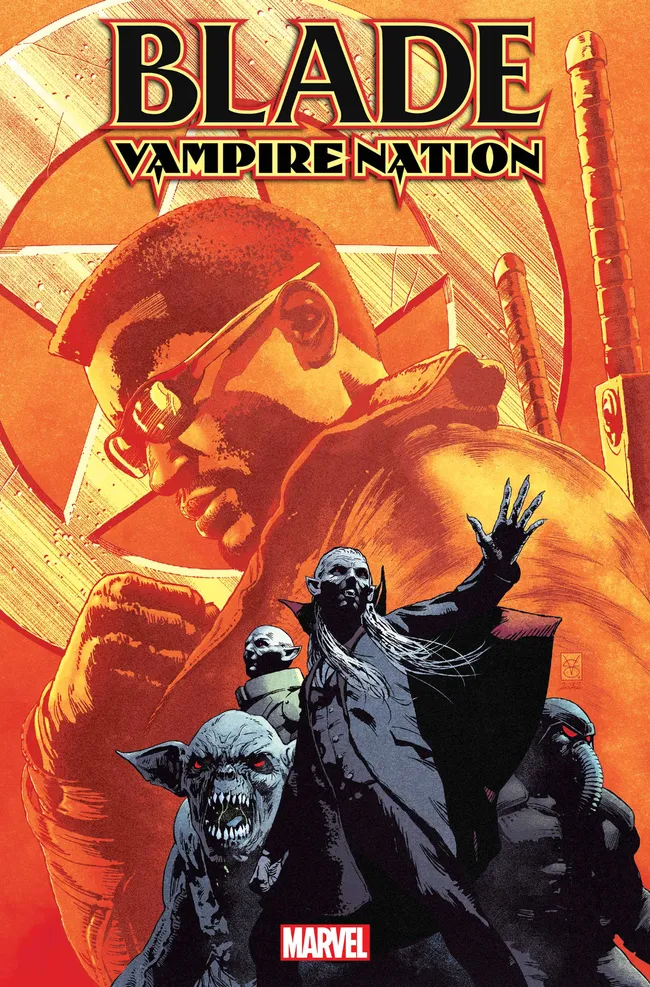 A deep dive into Dracula's new kingdom as established in AVENGERS. Starring BLADE, the sheriff of Vampire Nation!
An assassination threatens to unravel the fledgling country and spread chaos throughout the world. But is getting rid of a nation full of bloodsuckers really all that bad of an idea? Blade himself isn't too sure…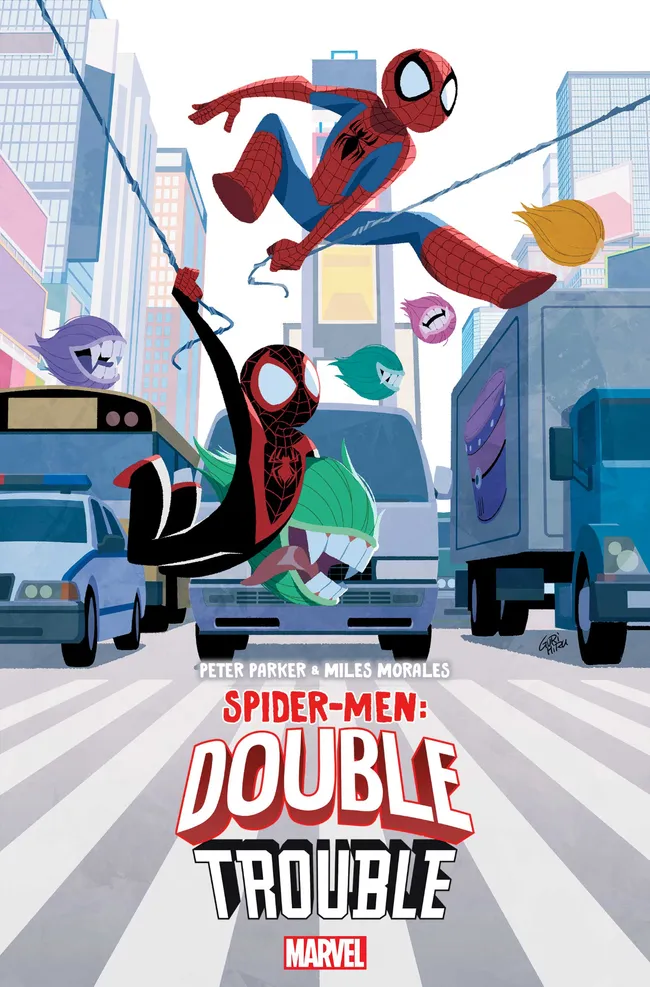 PETER PARKER & MILES MORALES: SPIDER-MEN DOUBLE TROUBLE #1 (OF 4)
They're friends, heroes and… sidekicks? Peter has dragged Miles into Take Your Sidekick to Work Day, and Miles is not amused — they're both Spider-Man, after all! So when Peter makes a mistake that unleashes villainous shenanigans on New York City, it's up to Miles to save the day — and prove who's the true sidekick among the Spider-Men. Vita Ayala joins the fan-favorite team that brought you SPIDER-MAN & VENOM: DOUBLE TROUBLE and THOR & LOKI: DOUBLE TROUBLE for a brand-new adventure!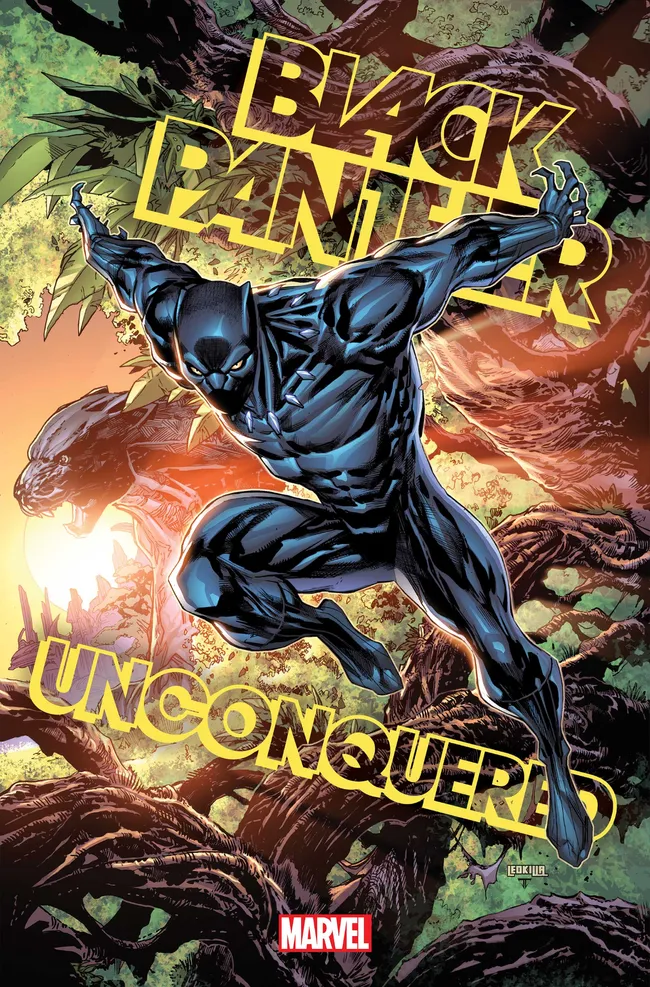 BLACK PANTHER: UNCONQUERED #1
NEW-READER FRIENDLY ONE-SHOT!
T'Challa faces a challenge unlike anything Wakanda has ever seen before in this all-new epic one-shot by Bryan Edward Hill (KILLMONGER) & Alberto Foche (MILES MORALES)!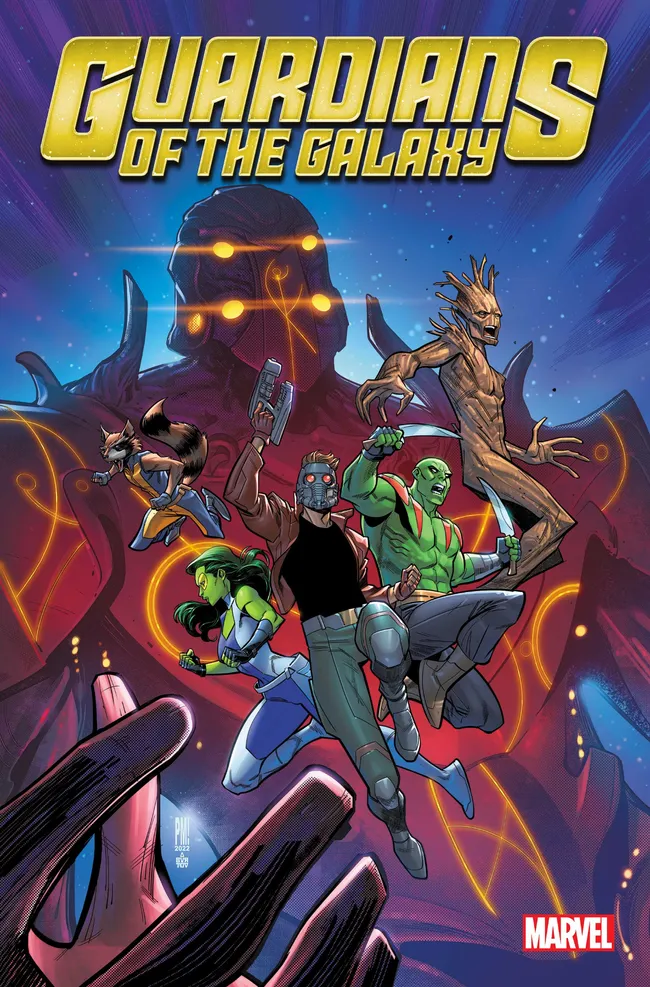 GUARDIANS OF THE GALAXY: COSMIC REWIND #1
The Worldmind is collecting data for the new Xandar pavilion on Terra and who knows Earth better than Peter Quill? (Probably… a lot of people… but definitely not the other Guardians!) What Star-Lord doesn't know, is that a Celestial has been watching and waiting for the Guardians of the Galaxy to be distracted to begin his plan to wipe humanity from existence.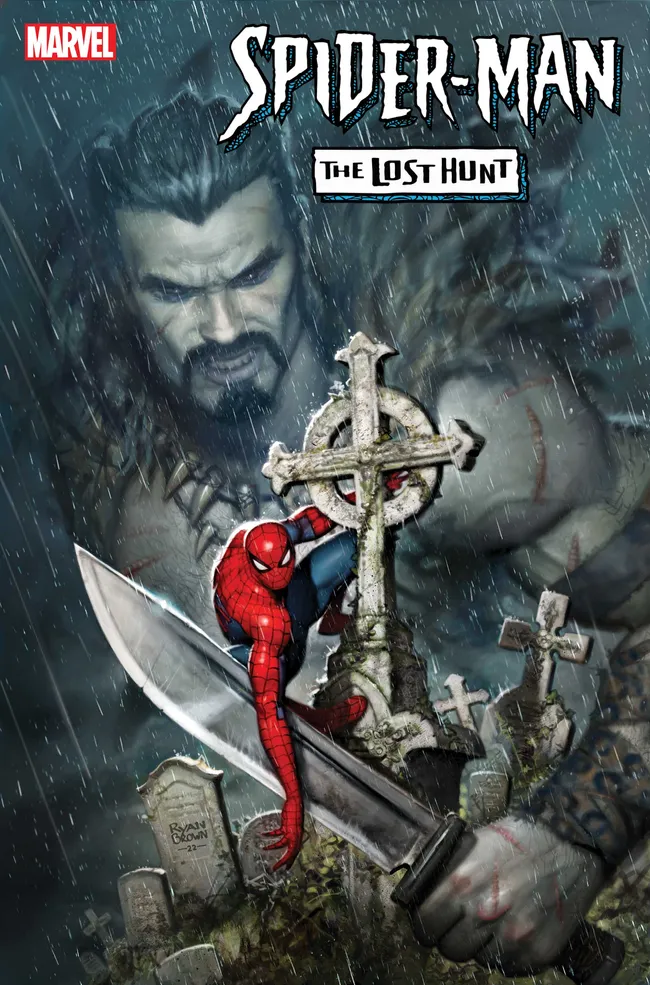 SPIDER-MAN: THE LOST HUNT #1 (OF 5)
THE ORIGINS OF KRAVEN FINALLY REVEALED!
J.M. DEMATTEIS continues to spin new webs within the past, this time partnered with artist EDER MESSIAS! Revealing secrets and answering mysteries Spidey fans have been waiting for — prepare to explore the depths of what made Kraven the Hunter the powerhouse villain he was!
As PETER PARKER and MARY JANE prepare for their new lives in Portland, a man from Kraven's past stalks them.
Who is this mystery man, and what does he want with SPIDER-MAN?
Find out when we return to the time period after SPIDER-MAN: THE FINAL ADVENTURE when Peter Parker was POWERLESS!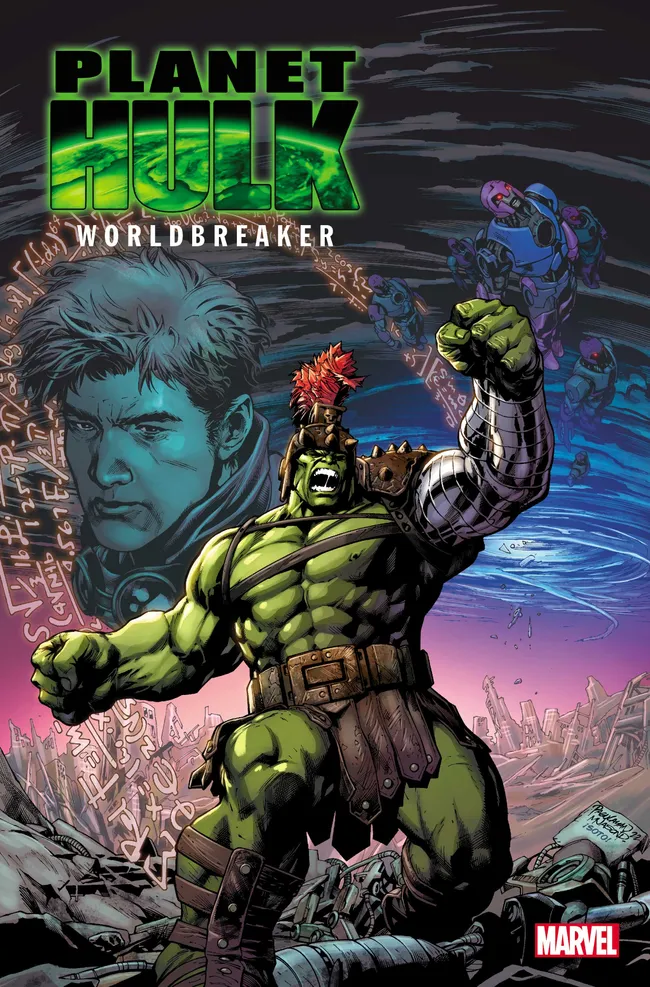 PLANET HULK: WORLDBREAKER #1 (OF 5)
MILLENNIUM!
A thousand years from now on the planet Sakaar, a young woman with green skin searches for the legendary Green Scar to help save her brother from a group of apocalyptic cultists.
But which Hulk will she find?
And after all these years, is he truly the Sakaarson, who will save us all — or the Worldbreaker, who will destroy us?
A shocking expansion and culmination of the mythos of Sakaar and the heart of the Hulks from PLANET HULK scribe Greg Pak and visionary DEVIL'S REIGN artist Manuel Garcia.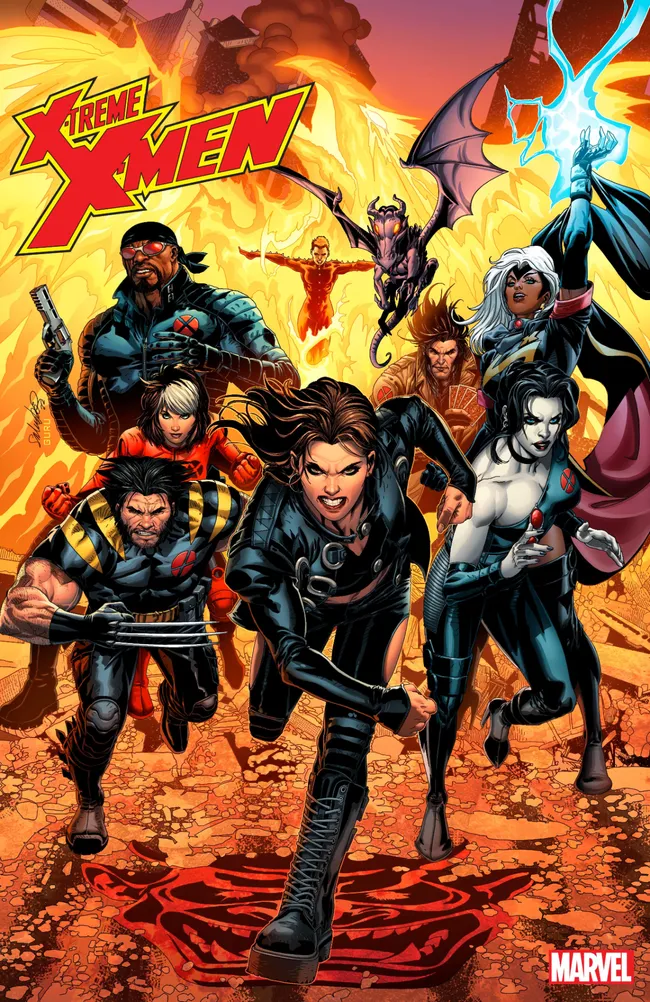 THE X-TREME TEAM IS BACK!
Legendary X-scribe Chris Claremont reunites with artistic dynamo Salvador Larroca for an all-new story set just after the groundbreaking original run of X-TREME X-MEN! A powerful psychic attack on KITTY PRYDE from her old enemy OGUN brings the X-Treme team back together for a high-stakes mission… but what secret is Ogun hiding, and will even the combined might of BISHOP, SAGE, GAMBIT, ROGUE, RACHEL SUMMERS, STORM and WOLVERINE be enough to stop his insidious plan?
The X-citement starts here, with the kickoff to the arc that will have wide-reaching implications for some of your favorite X-characters!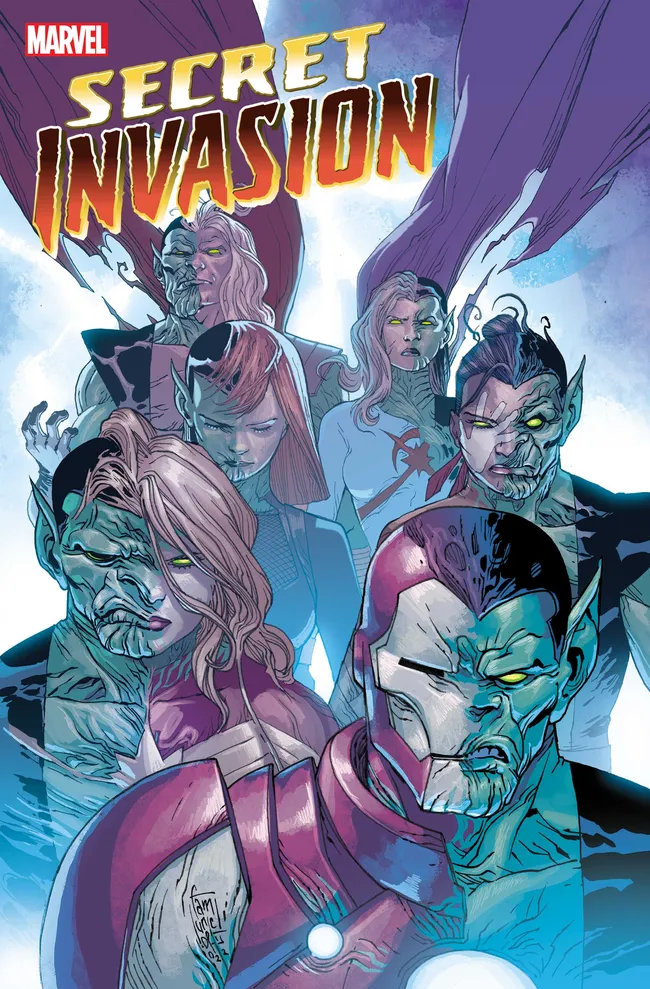 SECRET INVASION #1 (OF 5) (RES)
THE SKRULLS ARE BACK in a giant-sized issue kicking off an all-new five-part miniseries!
When Maria Hill detects the merest HINT of Skrulls, she acts quickly to put her defensive plans into action. And when Nick Fury is sent to investigate a Skrull sighting in Iowa, he finds the LAST thing he was expecting!
Our pale blue dot is in their sights, and this time, Earth's old defenses won't work…
Find out who you REALLY trust: The invasion begins NOW.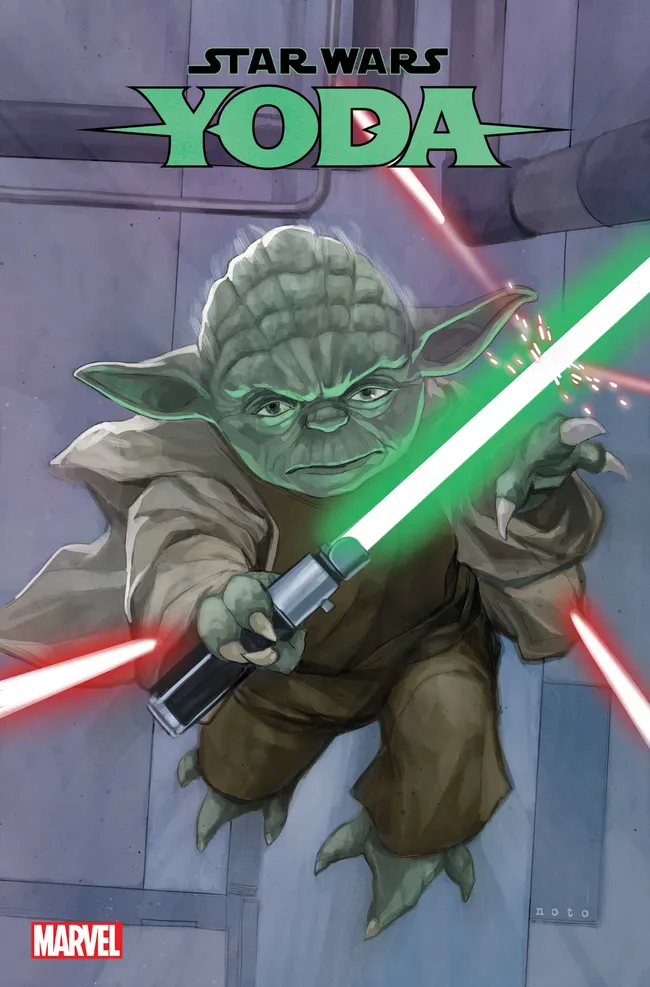 ALL-NEW ADVENTURES FOR THE GREATEST JEDI OF ALL TIME!
To some, he was a legend. To others, he was a teacher. Now Yoda is all but forgotten, living in exile and haunted by the past. As a strangely familiar voice echoes through the swamps of Dagobah, Yoda must revisit the many lessons he has given over the years, from the days of the High Republic to the chaos of the Clone Wars.
In the first of three story arcs, a desperate cry for help reaches the Jedi Council on Coruscant and only Yoda can respond.
But how far will he go to protect a community from attack?
Graphic Novels & Collected Editions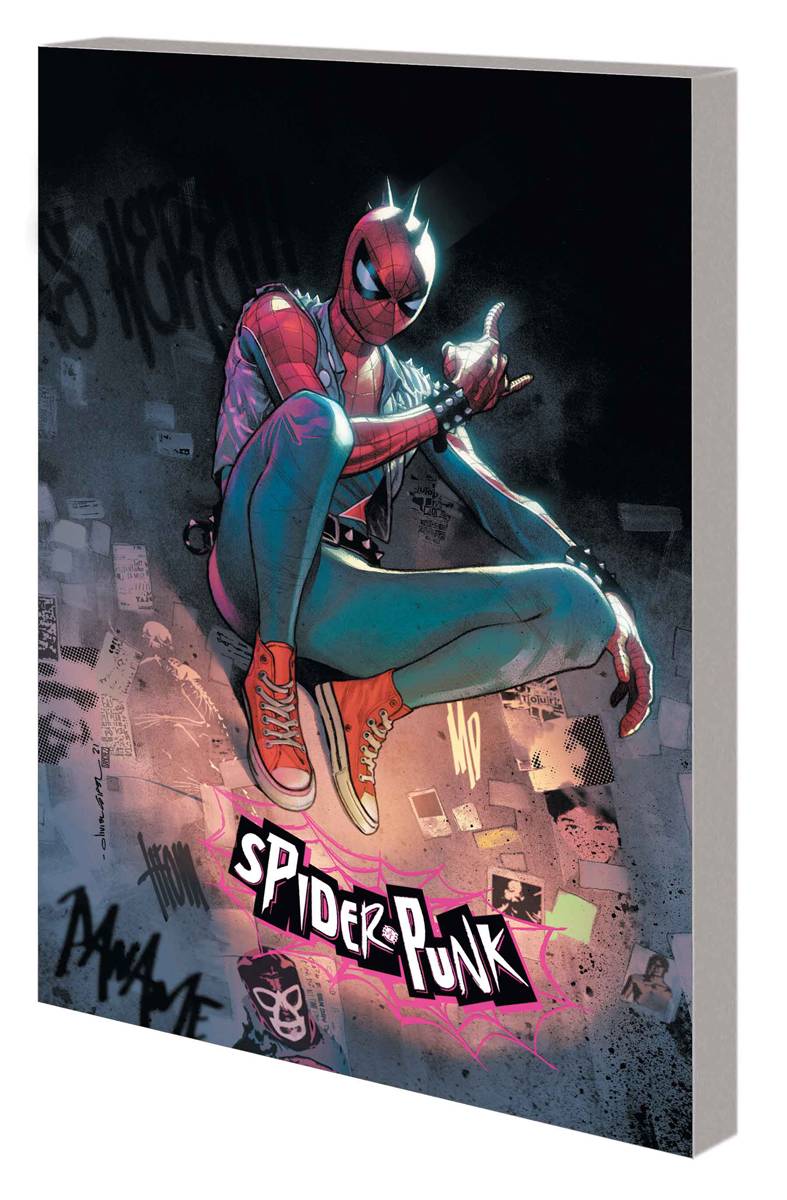 SPIDER-PUNK: BANNED IN D.C. TP
Anarchy in the Spider-Verse! Hobie Brown is the head-spiked Spider-Punk — all set to protect Earth-138 with his ax in hand and his chaotic band of punk-rockin' heroes backing him! But even though the Norman Osborn of Hobie's dimension is dead, will the chaos he created be too much for Spider-Punk and the gang to handle? What secrets lie under the community center Spidey and his crew call home base? And why is Taskmaster crashing the party to stomp out Spider-Punk? It all ties back to one thing, and Hobie had better figure it out fast. It's time to take to the road in the Spider-Van, but Hobie and crew will soon end up joining Daredevil in the giant shadow of the Kingpin! Prepare for an arachnid adventure like you've never seen before! Kick it!
Collecting SPIDER-PUNK #1-5.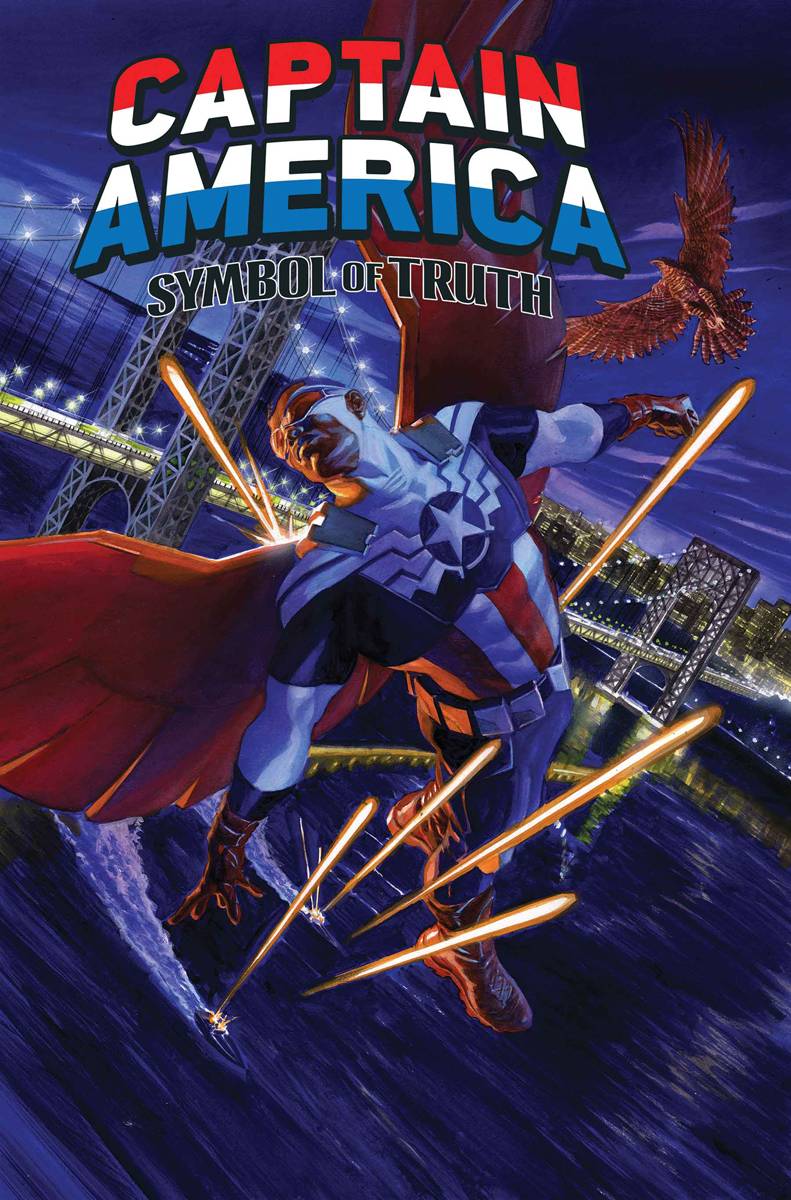 CAPTAIN AMERICA: SYMBOL OF TRUTH VOL. 1 — HOMELAND TP
Captain America soars again in a new era for truth and liberty! The world is finally ready for two Caps, so Sam Wilson picks up a shield once more – and enters a world of trouble! Following a lead from Misty Knight, Sam intercepts a mysterious group hijacking what appears to be an empty train. But as Sam and his partner, the new Falcon, dig deeper, they discover that this plot may be connected to a crucial piece of Captain America history – and, surprisingly, to the nation of Wakanda! But how is Deadpool involved?! To find answers, Sam Wilson and Wade Wilson must team up in Latveria – and you know what that means! When Doctor Doom learns of the interlopers in his midst, can Cap escape with his life?
Collecting CAPTAIN AMERICA (2022) #0 and CAPTAIN AMERICA: SYMBOL OF TRUTH #1-6.
Celebrate the astonishing legacy of the Ant-Man with every hero who ever donned the helmet! Reacquaint yourself with Hank Pym, the original Ant-Man, during his early days as a costumed hero! Join the irredeemable Eric O'Grady on an untold adventure set during the events of SECRET INVASION! And in the present day, reconnect with Scott Lang as he tries to stop the villainous Black Ant from freeing the killer android Ultron from captivity! But in the far future, who is the new hero calling himself Ant-Man? And what can he do against an Ultron who has become a god?! Plus: Classic tales featuring Hank at the mercy of the pernicious Protector — and tackling the terrible Time-Master!
Collecting ANT-MAN (2022) #1-4 and material from TALES TO ASTONISH (1959) #37 and #43.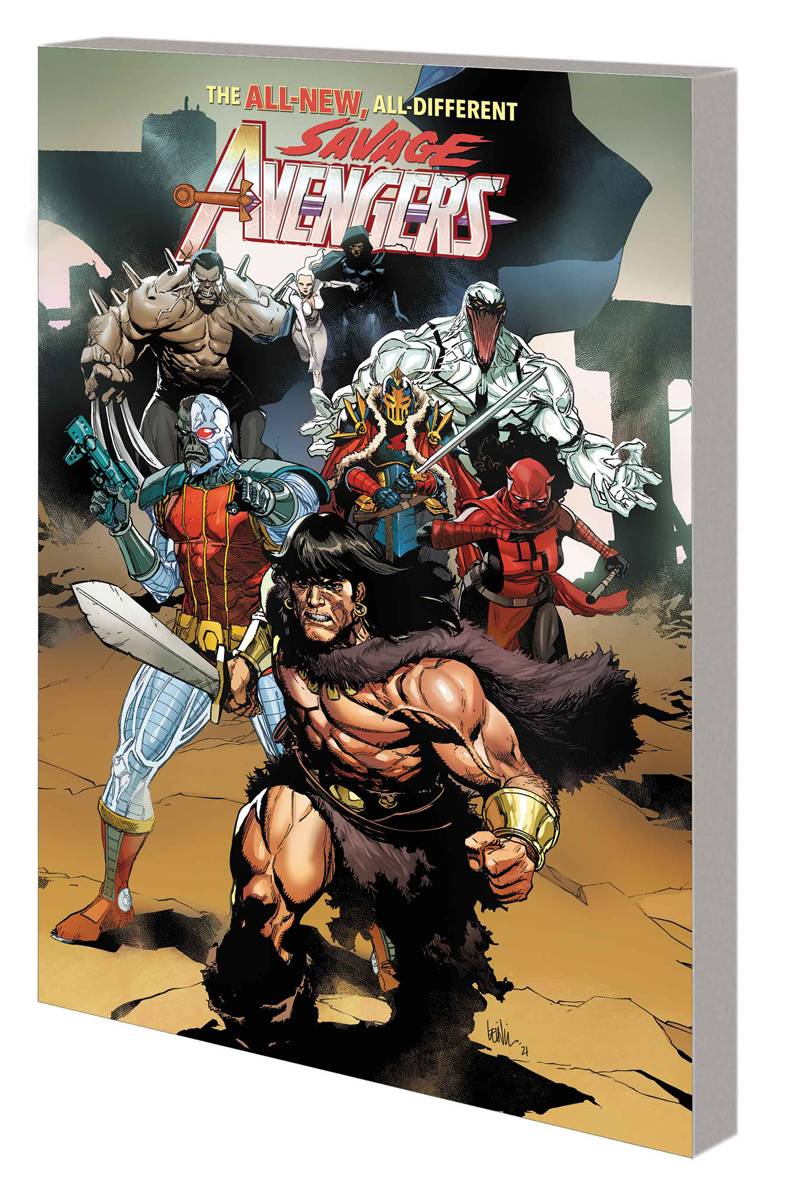 SAVAGE AVENGERS TP VOL 01 TIME IS THE SHARPEST EDGE
A bold new beginning for Marvel's most savage super heroes! Since his exile from his own time, Conan the Barbarian has conquered every foe the modernMarvel Universe has to offer – but what happens when this hard-edged Cimmerian finds himself targeted by the cybernetic future soldier called Deathlok? Outgunned and outmatched, Conan must turn to an unlikely group of loners, berserkers and killers if he hopes to survive – a sensational new lineup that will resonate across every era of the House of Ideas! But as Deathlok pursues Conan and these new Savage Avengers from the present day back to the Hyborian Age, can anything stop his murderous manhunt? Who is behind Deathlok's assault? And can this hastily assembled team handle the dangers that lurk in every corner of Conan's home era?
Collecting SAVAGE AVENGERS (2022) #1-5.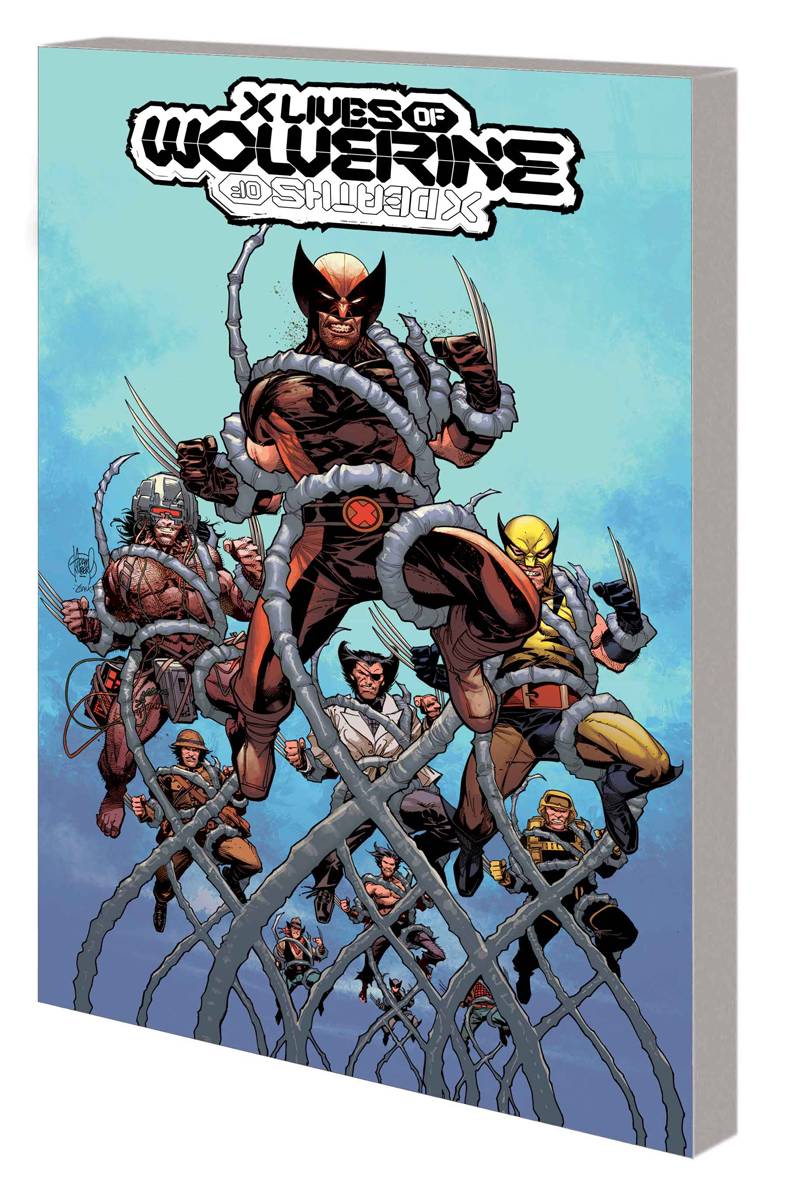 X LIVES OF WOLVERINE/X DEATHS OF WOLVERINE TP
A pivotal tale for the Krakoan era! The mutant known as Wolverine has lived for deunder many identities, but now the fate of the future is entwined with his past! When a time-traveling assassin targets a key figure in mutant history, Logan must travel back to various points in his own long life to stop him. Fan-favorite eras and never-before-seen adventures will be explored! Meanwhile in the present, Moira MacTaggert finds herself cut off from Krakoa and on the run. Who – or what – is the mysterious figure chasing her? And with Wolverine busy saving the past, can his extended family step up to safeguard the future? Benjamin Percy presents a timesaga across all of Wolverine's history – and futures yet to come!
Collects X LIVES OF WOLVERINE #1-5 and X DEATHS OF WOLVERINE #1-5.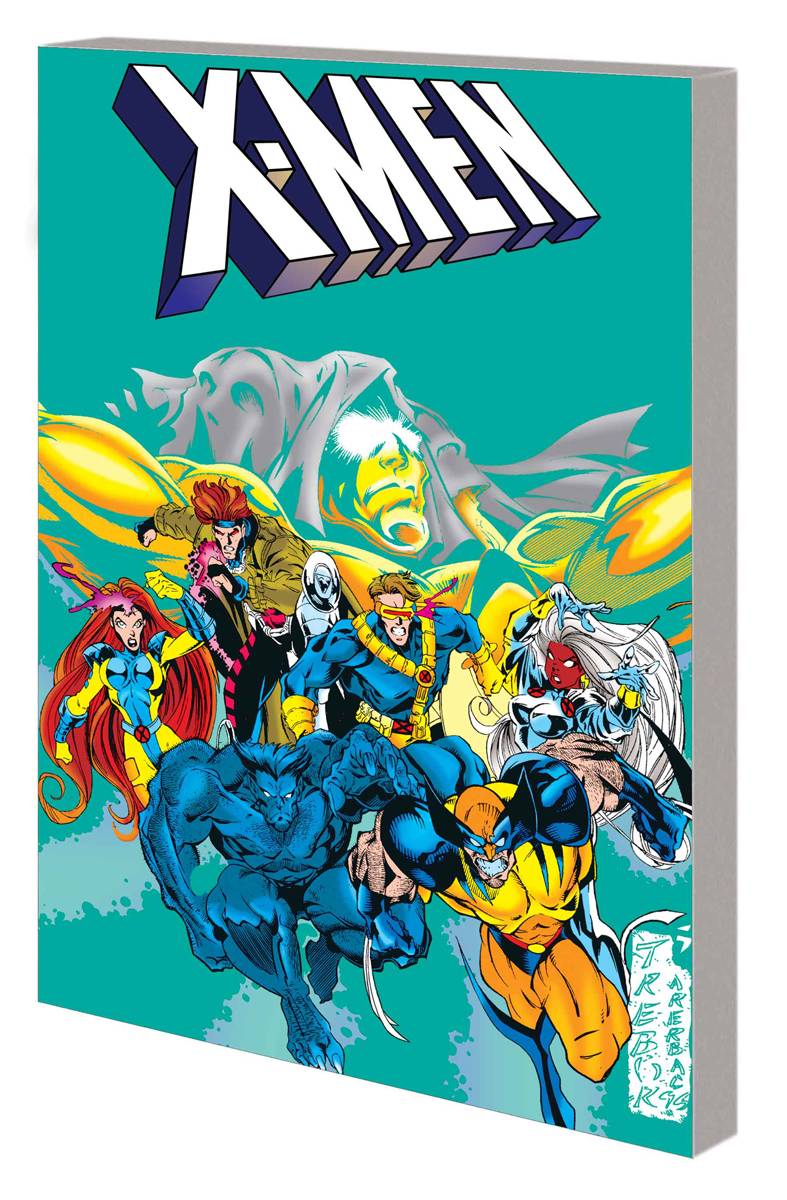 X-MEN: THE ANIMATED SERIES — THE FURTHER ADVENTURES TP
Animated-style adventures from one of the X-Men's greatest eras! Wolverine tackles the Hulk and Cyclops battles demons, while Beast and Gambit face Mister Sinister's evil machinations — with help from Spider-Man! When Magneto and his Brotherhood commit an act of war, it triggers the coming of Apocalypse! Gambit finds himself in the middle of a showdown between the Thieves and Assassins Guilds, and the X-Men battle Sabretooth, the Sentinels and more — but will they become media darlings in the maddening Mojoverse? And when the Shi'ar Empire, the Watcher, the Living Tribunal and more gather, brace yourself for a big finish on a cosmic scale! Plus: The X-Men take on Juggernaut, Mystique, the Morlocks and more in rarely seen tales!
Collecting ADVENTURES OF THE X-MEN #1-12, ADVENTURES OF SPIDER-MAN #3 and material from SPIDER-MAN MAGAZINE #1-13 and SPIDER-MAN MAGAZINE SPECIAL #1-2.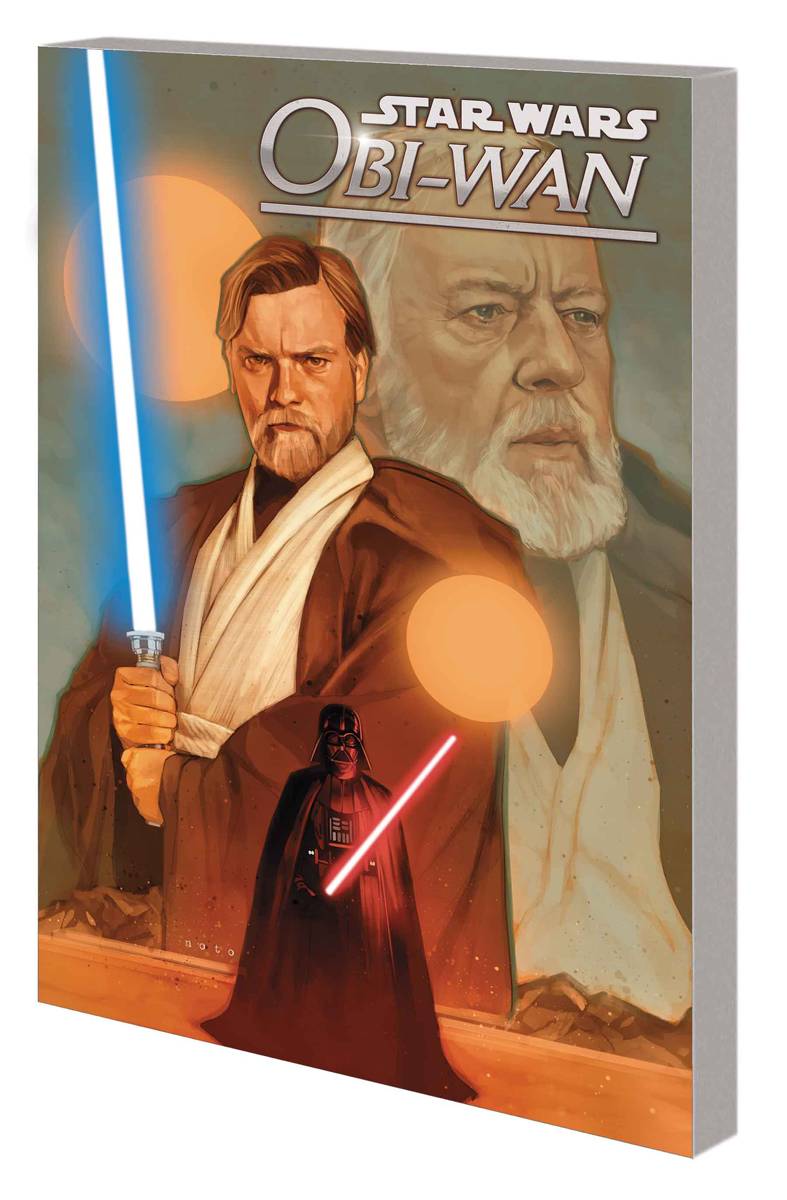 STAR WARS: OBI-WAN — A JEDI'S PURPOSE TP
Fast approaches the ultimate destiny of one of the Jedi's most renowned masters! As Obi-Wan Kenobi spends his final days in the remote deserts of Tatooine, he takes time to reflect on – and record – key moments from his long and heroic life. Writing in old, leather-bound journals from his hermit's hut, Obi-Wan remembers a watershed adventure on Coruscant, which he narrowly survived when he was but 8 years old. But this was just the beginof his incredible Jedi journey! Thrill to untold tales of Obi-Wan Kenobi's days as a young Jedi Initiate, his trials as a Padawan, the crucible of Jedi Knighthood and the Clone Wars and some of the earliest challenges he faced as a true Master of the Force!
Collecting STAR WARS: OBI-WAN #1-5.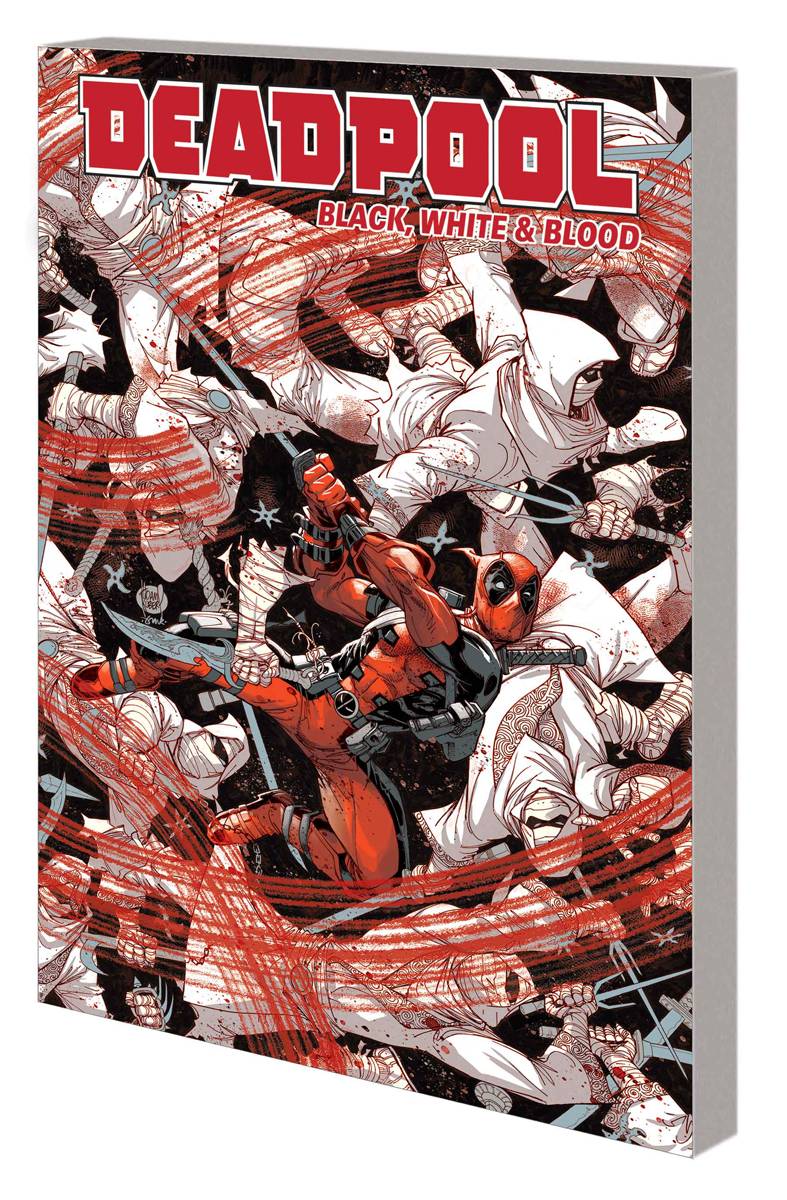 DEADPOOL: BLACK, WHITE & BLOOD TP
What's black, white and red all over? A collection packed with blood-drenched tales of violence and mayhem led by Marvel's mirthful mercenary himself, Deadpool! Wade Wilson curses streaming platforms, laments the loss of video stores and invades a foreign country — all in the name of his favorite screen idol! Deadpool enjoys his long-awaited reunion with Gabby Kinney, A.K.A. Scout! The Merc with a Mouth battles the man who can't miss: Bullseye! Plus: The age-old parable of how Deadpool got his swords — and more, filled with gore! You want to see today's top talent take it to the edge to bring you the wildest Wade Wilson adventures yet?! Then this is the book for you! It's like a classic black-and-white movie — but with way more blood!
Collecting DEADPOOL: BLACK, WHITE & BLOOD #1-4.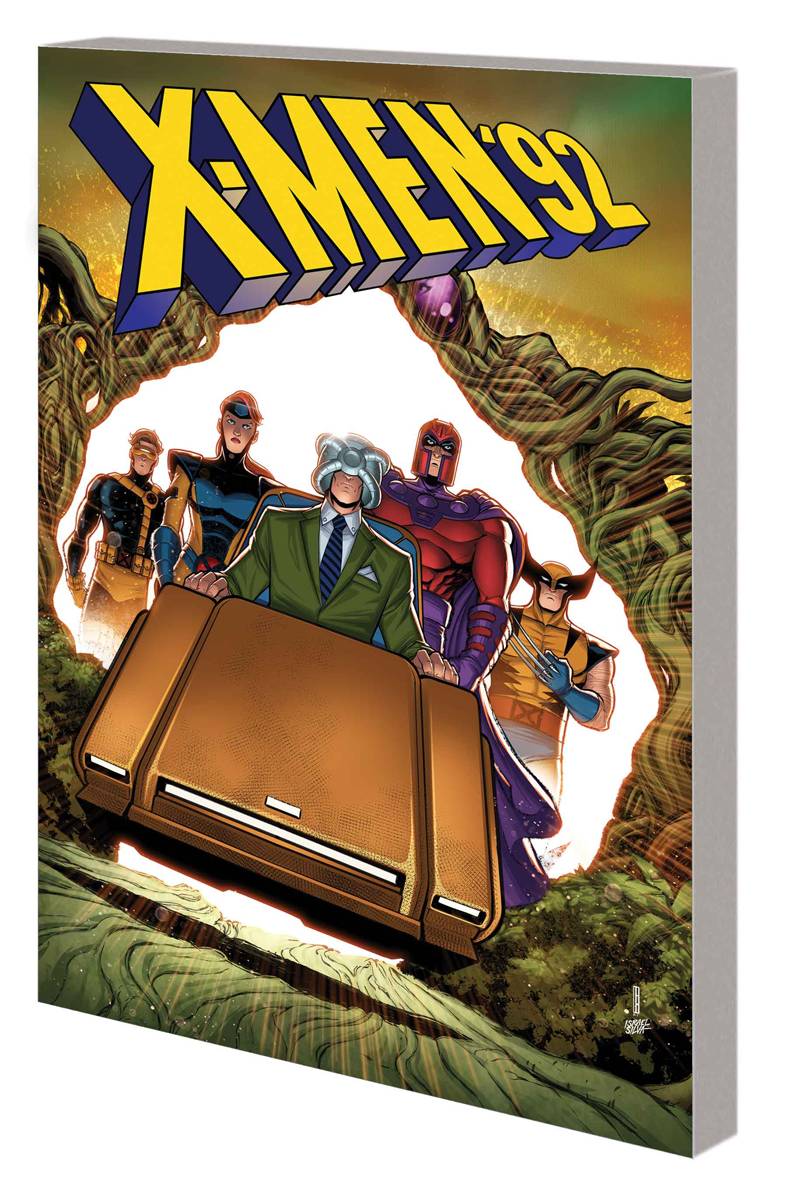 X-MEN '92: HOUSE OF XCII TP
Everyone's favorite X-Men have returned — but everything is different! Mutants are taking a huge leap forward by founding their own nation on the island of Krakoa — guided by Professor X, Magneto and a mysterious, long-lived mutant who knows much more than she should. Mutantkind is ready to protect their new homeland from threats of all kinds — but if they knew the truth about the mutant whose secret power of resurrection was the key to it all, would they be so eager to sacrifice everything to defend their founders' dream? That's right, the '90s X-Men are tackling the Krakoan Age thirty years early — including Arakko, the gala and more — and it's not going to go the way that you expect!
Collecting X-MEN '92: HOUSE OF XCII #1-5.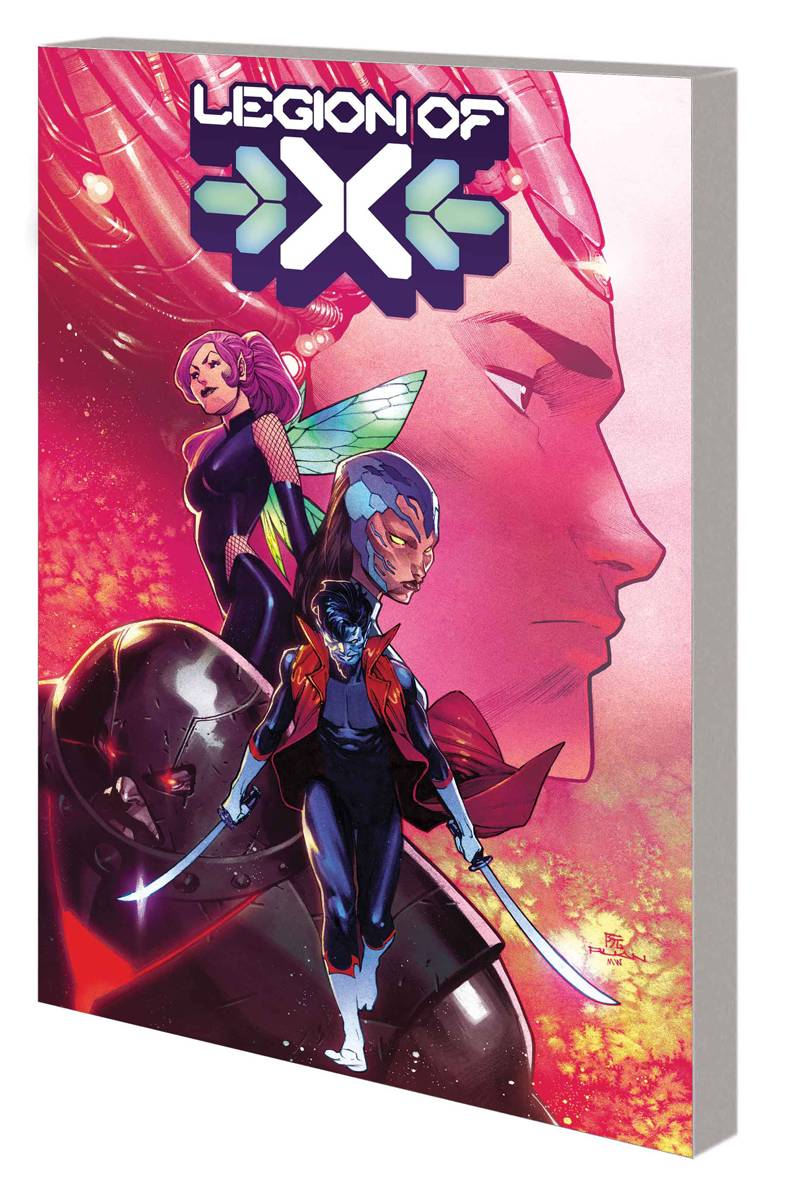 LEGION OF X BY SI SPURRIER VOL. 1 TP
Krakoa has laws — but does it have justice? The island-nation must safeguard itself against those who would damage its peace or traumatize its people. The lost must be found, and the wicked must face redemption — or retribution. It's up to the swashbuckling Nightcrawler to keep the spark alive on the ground — and Professor X's son, Legion, to host his unique team in the psychedelic mindspace called the Altar! With Pixie on point, Juggernaut as a one-man riot squad and a host of X-favorites on the beat, the Legion of X will do anything to protect mutants' right to pursue happiness and hope. But who is the Skinjacker possessing innocent mutants, and will Arakkii badass Weaponless Zsen be friend or foe? The Destiny of X bares its heart and soul right here!
Collecting LEGION OF X #1-5.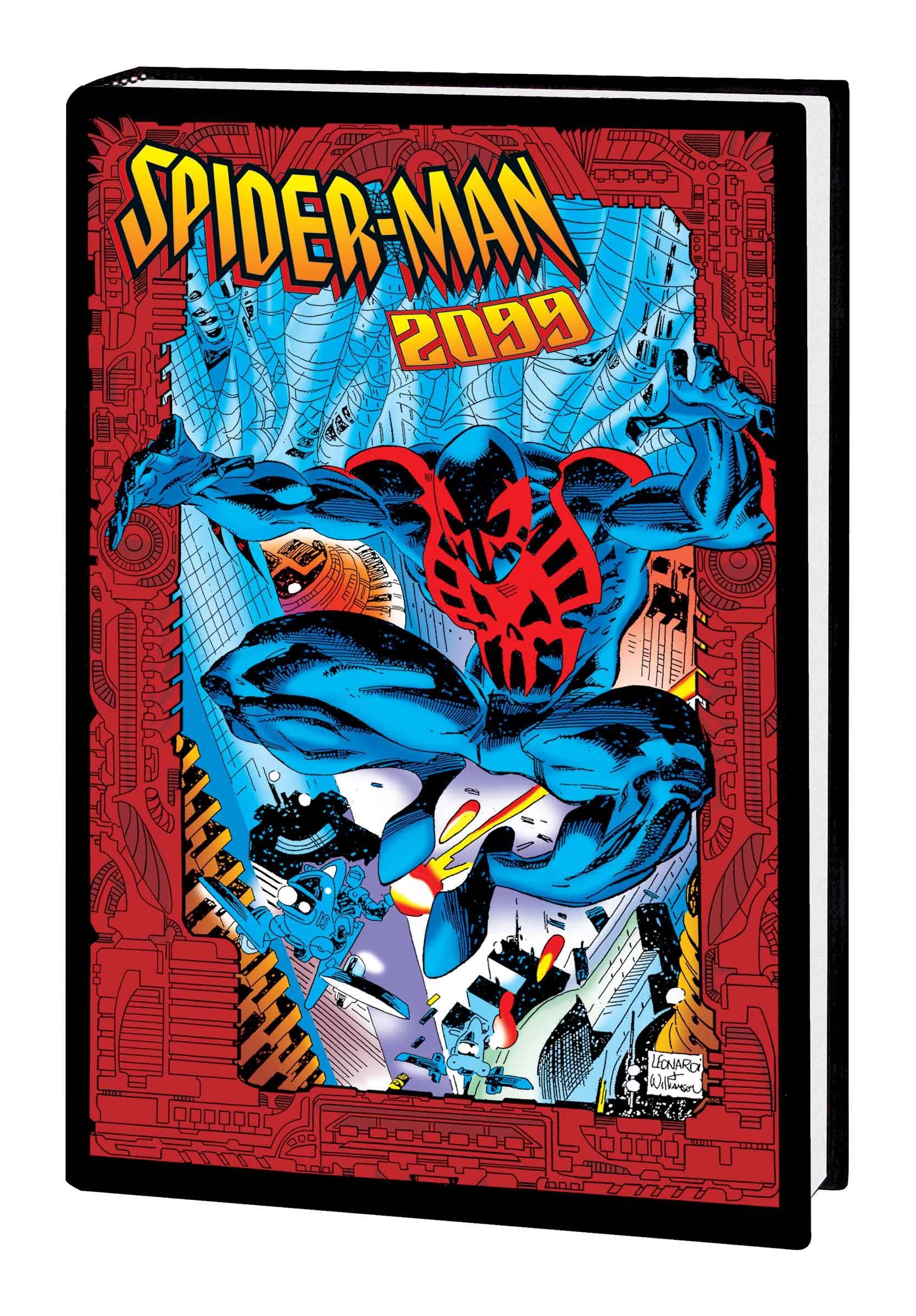 SPIDER-MAN 2099 OMNIBUS HC VOL 01 (RES)
PRE-ORDER BEFORE MID-OCTOBER! Peter David's futuristic epic, collected in full! The year 2099 is full of menaces, but none so insidious as the corrupt corporations that run the world! Miguel O'Hara, his DNA rewritten in an attempt to escape his employer Alchemax, has gained amazing powers — and become the new Spider-Man! But as Miguel battles injustice in both high and low society, menaces new and familiar come calling: Venture, the Specialist, the Vulture, the mysterious Thanatos and more! The possible return of the Asgardian gods unites Miguel with 2099's other heroes, but who is the Net Prophet? How will Spider-Man react when Doctor Doom conquers America? And what is Miguel's connection to Venom 2099?
Collecting SPIDER-MAN 2099 (1992) #1-46 and ANNUAL #1, RAVAGE 2099 #15, X-MEN 2099 #5, DOOM 2099 #14, PUNISHER 2099 #13, SPIDER-MAN 2099 MEETS SPIDER-MAN and SPIDER-MAN 2099 SPECIAL #1.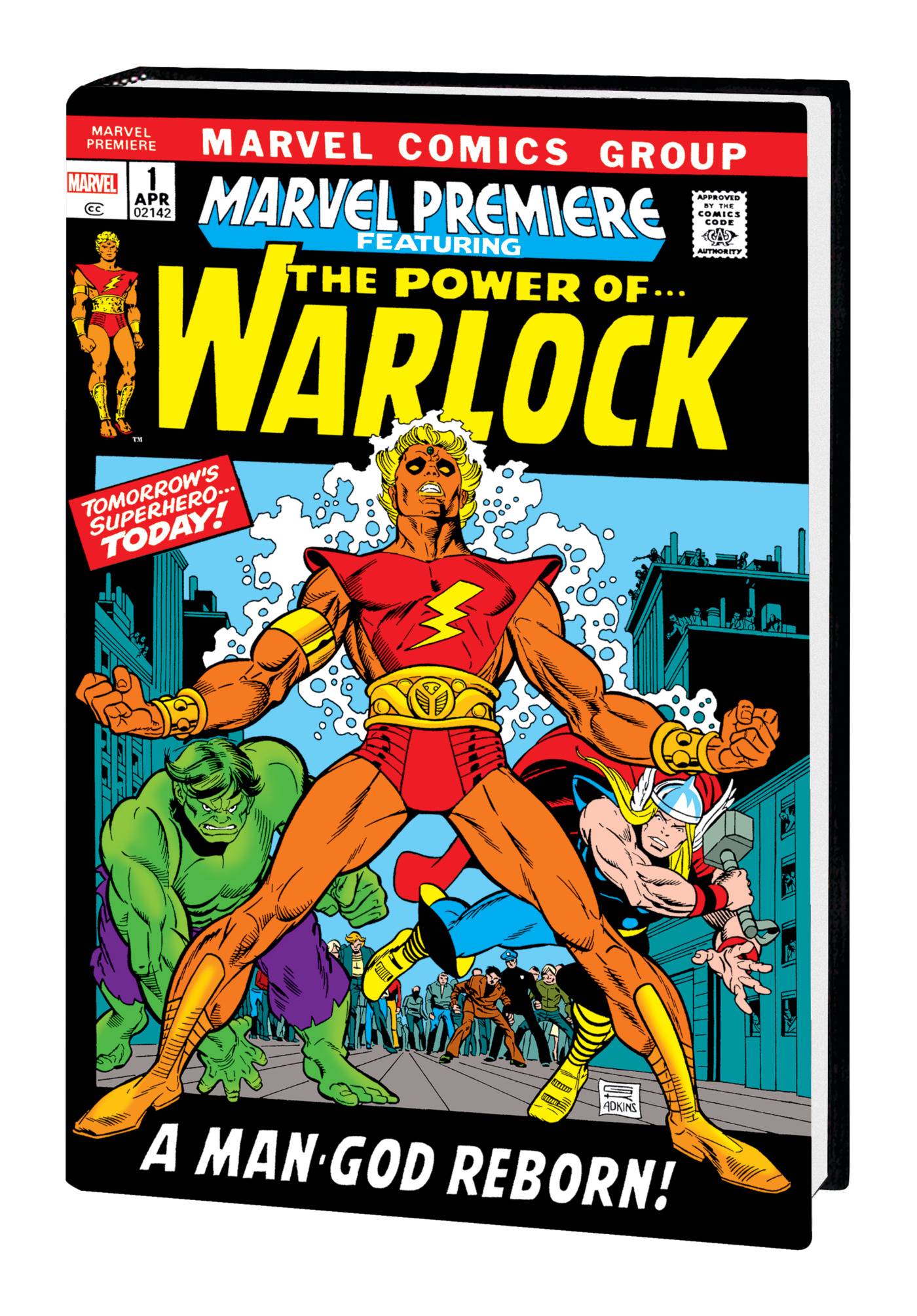 PRE-ORDER BEFORE MID-OCTOBER! Created by the utopian scientists of the Enclave and hatched from the imaginations of Stan Lee and Jack Kirby, there came a being known only as…Him! And when this perfect being encountered the High Evolutionary, he gained a purpose, a Soul Gem and a name: Adam Warlock! His adventures will rock your world — and Counter-Earth too! Now, Warlock's complete original 1970s saga is collected in one volume. Featuring the first life (and death) of Adam Warlock, the debut of the Infinity Gems, the Magus saga, the all-time classic war against Thanos, the debut of Her, the resurrection of Adam Warlock and a massive treasure trove of bonus material!
Collecting FANTASTIC FOUR (1961) #66-67, THOR (1966) #165-166, MARVEL PREMIERE #1-2, WARLOCK (1972) #1-15, INCREDIBLE HULK (1968) #176-178 and ANNUAL #6, STRANGE TALES (1951) #178-181, MARVEL TEAM-UP (1972) #55, AVENGERS ANNUAL #7 and MARVEL TWO-IN-ONE (1972) #61-63 and ANNUAL #2.
If anything jumped out to you, remember to message us or let us know next time you're in the shop! You get a text the second it arrives in the shop and we place a copy aside just for you so you don't miss out!
We do these each month so keep an eye out for the next post!
Have a great month and happy reading 💚