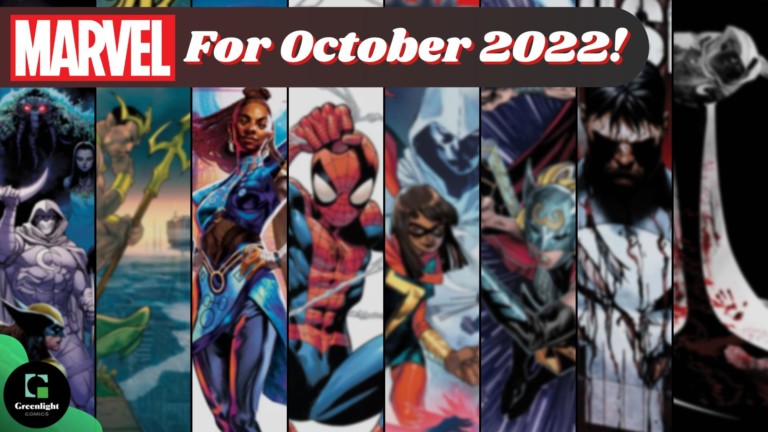 The August issue of Marvel Comics Previews has arrived! Here is our breakdown of the new comics series to jump on, plus what collected editions are arriving from October 2022! You can find the rest of our Previews Picks for other DC Comics, Indies & Manga titles here!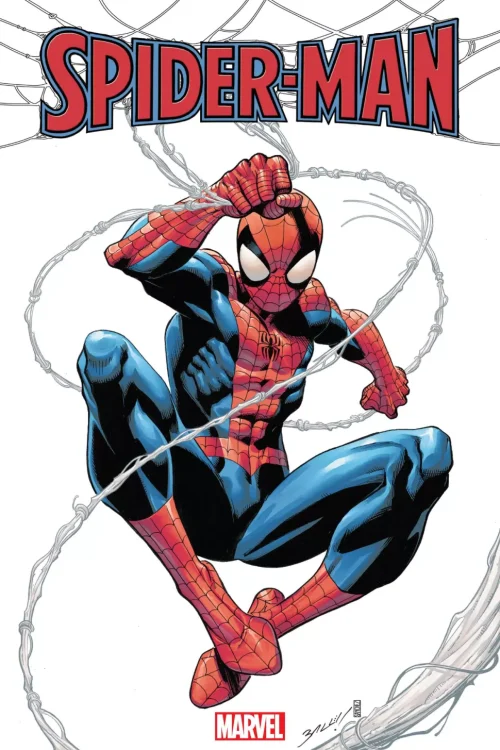 "The End of the Spider-Verse" is here!
Morlun is back and he is not alone. Allied with one of the most powerful beings known to the Spider-Verse, the scariest Spider-Villain of all time is making his biggest play and no Spider is safe. Especially not the Chosen Spider himself, Peter Parker. With Peter working for Norman Osborn and using a glider… does he have it coming?
Spidey's 60th Anniversary is no joke as two of the most legendary Spider-Creators are working together on Spidey for the first time and you know it's going to be one for the record books!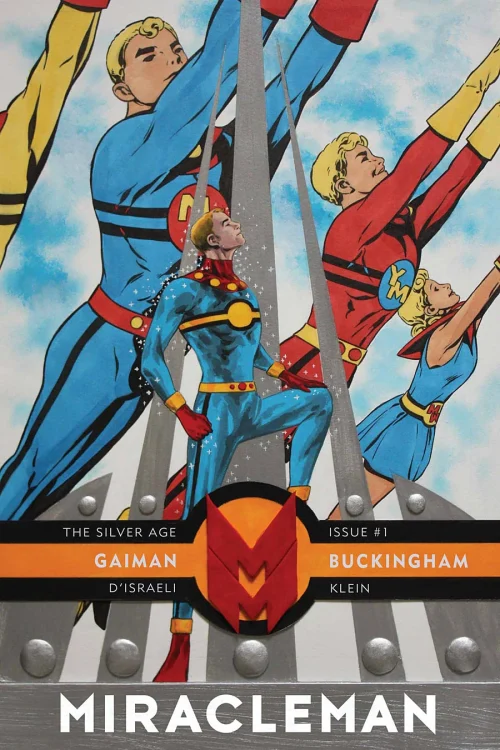 Forty years ago, Miracleman's modern era began and changed the world of comics as we know it. Now, on the cusp of a new era of Miracleman, we celebrate all things Kimota with a who's who of the best talent in the industry!
"THE SILVER AGE" BEGINS AGAIN! After thirty years, Neil Gaiman and Mark Buckingham's unfinished storyline "The Silver Age" begins again! These legendary creators are remastering the two published issues with brand new artwork and finishing their grand story at long last! Young Miracleman – the lost member of the Miracleman Family – is back! His last memories were of a 1963 world of joy and innocence. Now he's been thrust into the 21st century, where his best friends have become gods and monsters.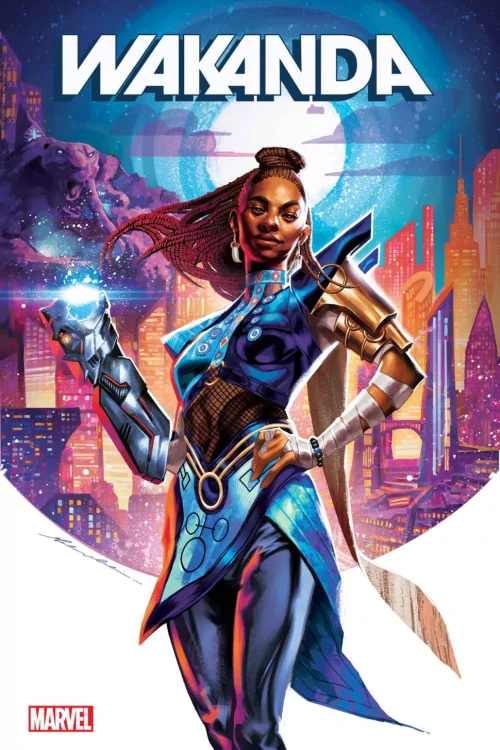 THE BLACK PANTHER IS NO LONGER WELCOME IN WAKANDA!
Who is this proud nation without its king? This exciting new miniseries answers that question as each issue spotlights a different fan-favorite Wakandan character. First up: Shuri proves that being without the Black Panther doesn't mean Wakanda is without heroes to protect it – and that there is a reason she too once wielded the power.
Plus, part one of the "History of the Black Panthers" backup story, providing for the first time anywhere a definitive overview of every Wakandan who has ever held the mantle of the Black Panther!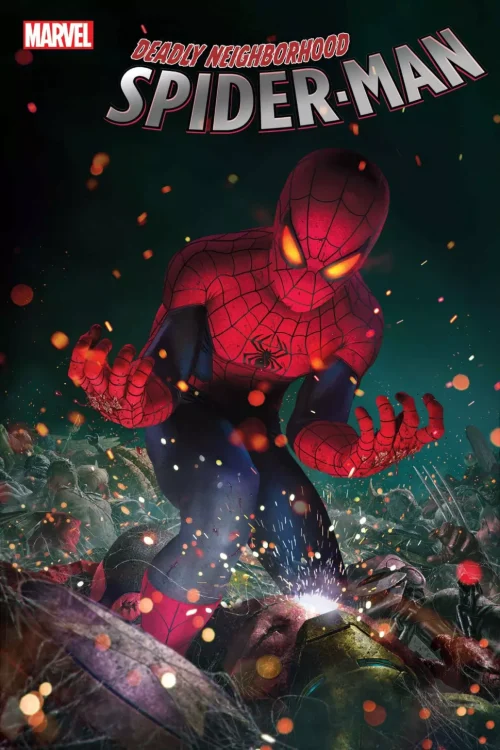 DEADLY NEIGHBORHOOD SPIDER-MAN #1 (OF 5)
A revolutionary dark take on Spider-Man begins here!
What is reality and what is dream? What is science and what is magic? At the intersection of all of this stands the Deadly Neighborhood Spider-Man. Peter Parker goes to Los Angeles and what he finds there are definitely not angels. The demons waiting for Peter are going to test him like never before. One demon in particular, a very famous one for Marvel and X-fans, might just eat Spider-Man alive.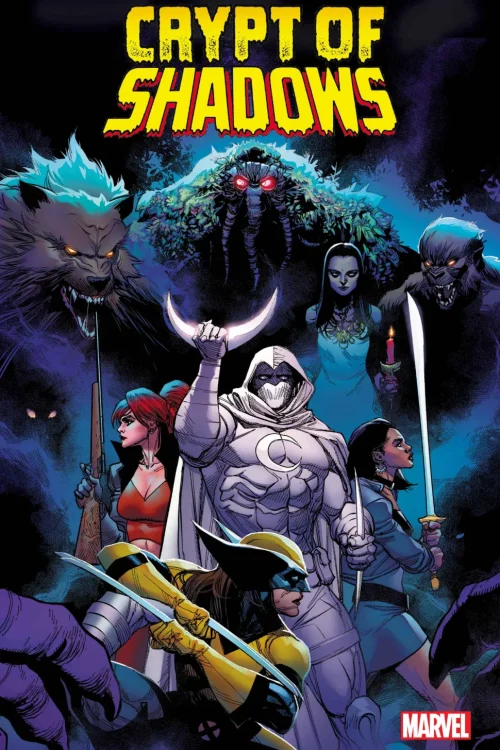 The heroes of the Marvel Universe spend most of their time in the bright sun, flying high above it all… but every once in a while, they venture into the darkness that lurks in the hidden corners of the world.
There lurk the creatures, the monsters, the vampires… the ones who prey on innocence and goodness.
Join us, and some of your favorite heroes, for tales of fangs, claws and silent, stalking swamp creatures to celebrate All Hallows' Eve!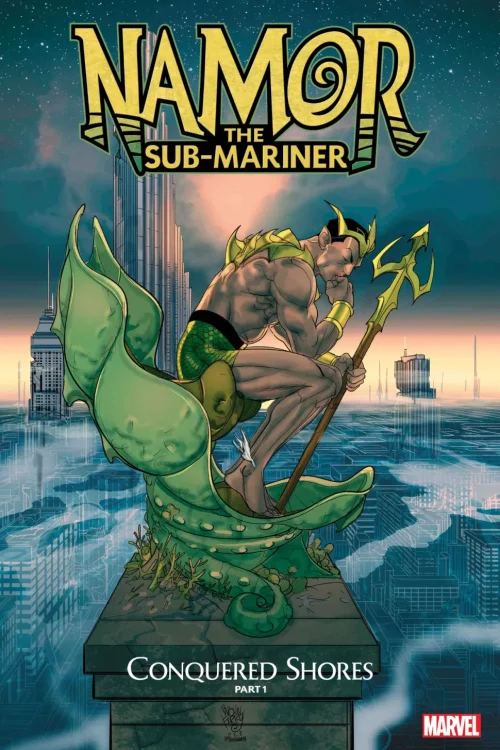 NAMOR: CONQUERED SHORES #1 (OF 5)
A century into the future, not much land remains on Earth.
A combination of a worsening climate and a devastating war with the Kree has left the surface of the planet mostly inhospitable, with an ever-dwindling population of air-breathers and a profound lack of super heroes to protect them. Enter NAMOR, who these many years on is no longer King of Atlantis… but ruler of the entire world.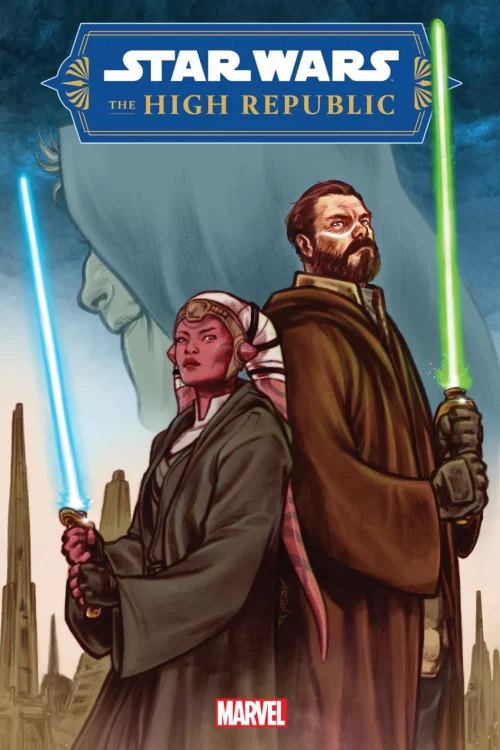 STAR WARS: THE HIGH REPUBLIC #1
A NEW CHAPTER BEGINS FOR STAR WARS: THE HIGH REPUBLIC!
One hundred and fifty years before the fall of Starlight, another beacon burns bright in the galaxy, a beacon of faith and spirituality. Jedha. The Pilgrim Moon. The Kyber Heart. But tensions are rising in the holy city and dark days are to come. Jedi Vildar Mac, a Jedi safe and secure in who he is and what he could be, arrives as Jedha's fragile peace begins to crumble. But a nightmare awaits… a nameless terror that will become the stuff of legend…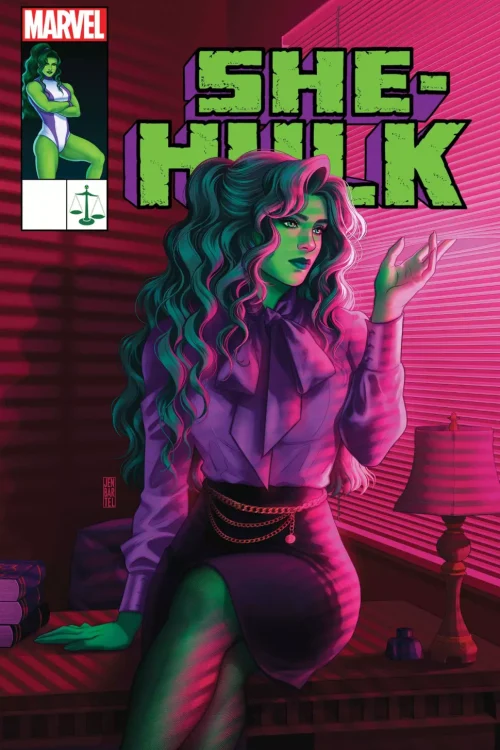 "Hey so… look… I'm just putting these covers in this post because… I mean… LOOK AT THEM. Wow. So gorgeous. So pretty. Love them. 10/10."
– Brayden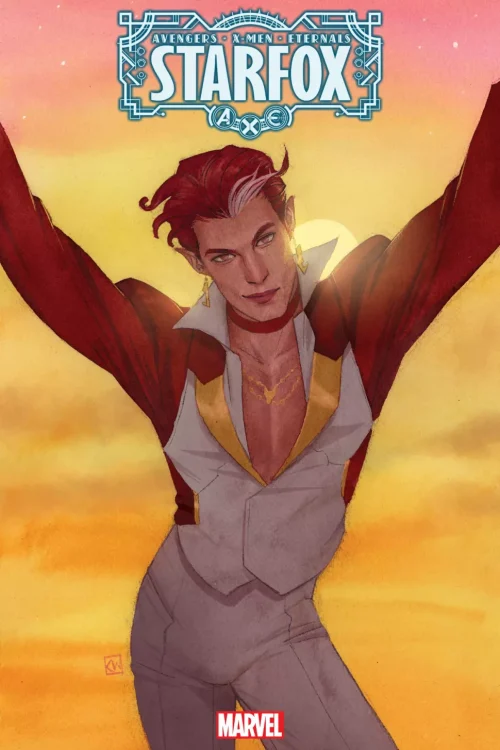 "See 'She-Hulk #7' description. Also a shout out to what is super obviously a redesign of Starfox to match better with the casting of Harry Styles in the MCU. "
– Brayden
Graphic Novels & Collected Editions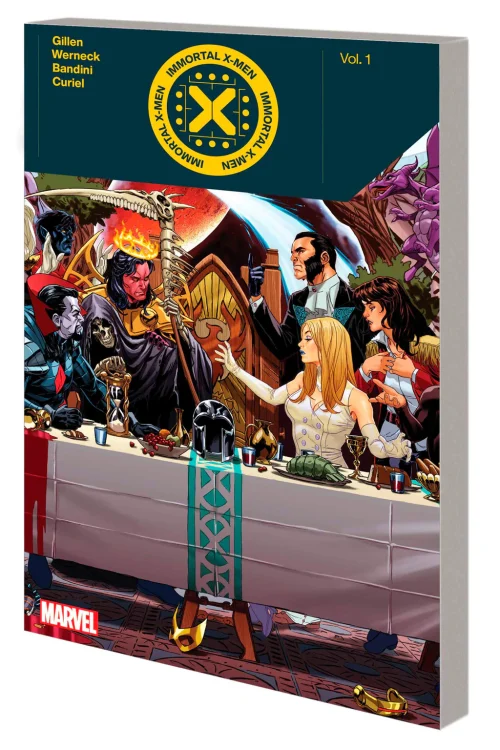 IMMORTAL X-MEN BY KIERON GILLEN VOL. 1 TP
Kieron Gillen returns to the world of X! The Quiet Council are the rulers of the Krakoan age, for better or worse. But now, shaken by INFERNO, they strive to hold their nation together – no matter how much they want to tear each other apart! And IMMORTAL X-MEN brings you inside the room where it all happens! As Magneto leaves the Council, his big shoes need to be filled. Selene demonstrating her foot size by crushing the whole island beneath it is unorthodox yet compelling. Can the Quiet Council resist? Meanwhile, the resurrected mutant seer called Destiny wrote her books of prophecy over one hundred years ago – and a sequel is long overdue! As the Council's machinations grow desperate and Emma Frost prepares another Hellfire Gala, sinister secrets are laid bare – but some secrets are more sinister than others!
Collecting IMMORTAL X-MEN #1-5.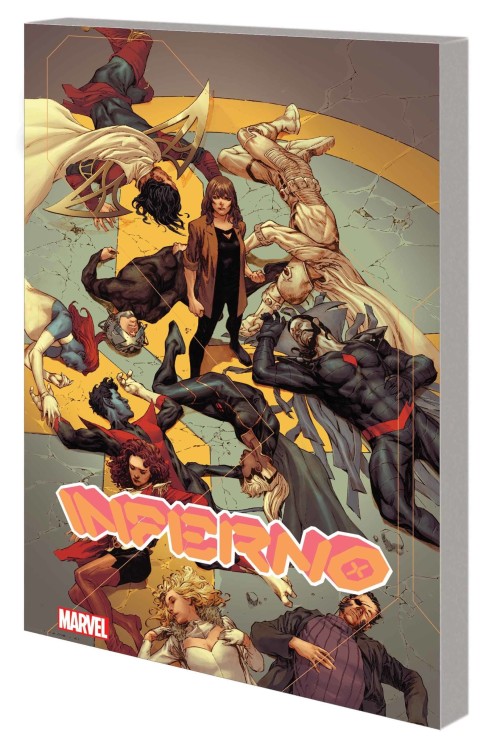 He changed everything for mutantkind with HOUSE OF X and POWERS OF X. He explored the new Krakoan era in X-MEN. Now the keeper of the mutant flame, Jonathan Hickman, presents his final, incendiary X-saga! Mystique, former terrorist and espionage agent supreme, is loyal to Professor X's Quiet Council for one reason only: the promise that someday they will resurrect her beloved Destiny. But when Moira MacTaggert helped Professor X and Magneto realize their lifelong dreams for mutantkind, it came with one condition: Do not allow any precognitive mutants on the island of Krakoa. What will Mystique do when she realizes she's being strung along? Vengeance burns hot, and Mystique is about to ignite an Inferno! And where has the elusive Moira been all this time, anyway?
Collecting INFERNO (2021) #1-4.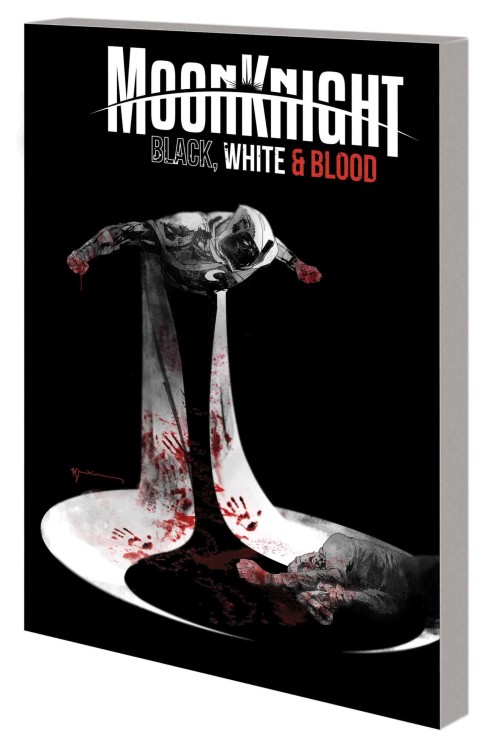 MOON KNIGHT: BLACK, WHITE & BLOOD TREASURY EDITION TP
At last, the BLACK, WHITE & BLOOD format reaches the vigilante who was reborn to star in it! A bevy of comicdom's finest creators put their mark upon the Fist of Khonshu in stories depicted solely in stark black, white and blood red! Meet the all-different Moon Knight of the future and wrap your head round a tale of the mixed-up marauder in reverse! Moon Knight teams up with the ever-amazing Spider-Man for a harrowing night of adventure and seeks an odd favor from Doctor Strange! Moon Knight's four personalities come together to debrief the events of one bizarre night, and Marc Spector's mercenary past comes back to haunt him! A blood moon is rising, and these stories look better than ever on the oversized pages of a Treasury Edition!
Collecting MOON KNIGHT: BLACK, WHITE & BLOOD #1-4.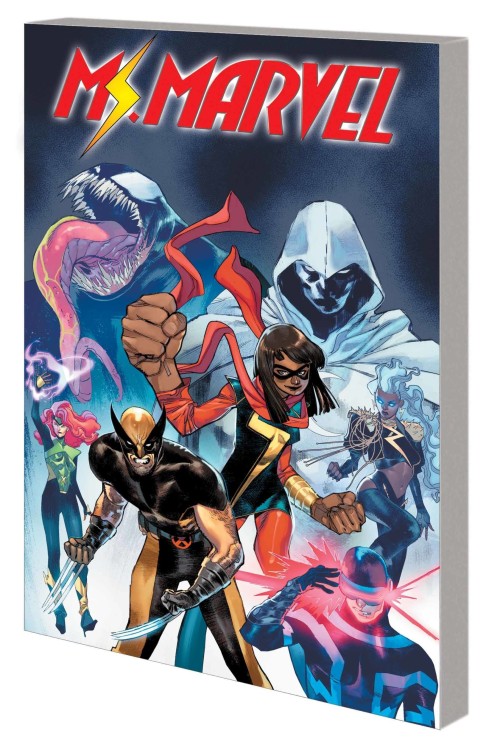 MS. MARVEL: FISTS OF JUSTICE TP
A dire threat. A dangerous mystery. And only the toughest heroes of the Marvel Universe can save the day! Ms. Marvel is taking matters into her own embiggened hands — but with Krakoan tech compromised, you can bet Wolverine and the X-Men won't be far behind! The best there is at what he does joins one of the Marvel Universe's brightest heroes to kick off an action-packed adventure — but to solve this conundrum, Kamala Khan will need to rub shoulders with more dark vigilantes! When a mechanical (and maniacal!) evil brings her into Moon Knight's orbit, the gravity of what they uncover will require them to plumb the depths of life and death! But can anything prepare Kamala for a team-up with Venom?!
Collecting MS. MARVEL & WOLVERINE #1, MS. MARVEL & MOON KNIGHT #1 and MS. MARVEL & VENOM #1.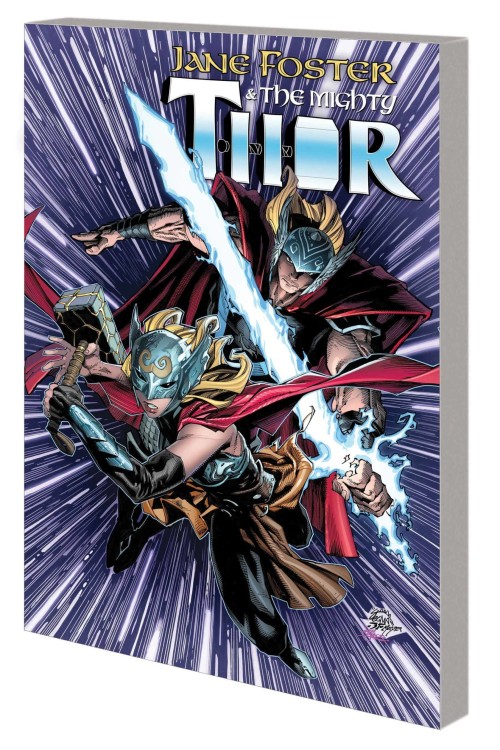 JANE FOSTER & THE MIGHTY THOR TP
Will Jane Foster don the mantle of Thor once more? When Mjolnir comes crashing through Valkyrie's window, she fears the worst has happened to the God of Thunder. Where is Thor, and why did his mighty hammer seek out Jane? Asgard's greatest enemies — including Hela, Ulik the Troll and the Enchantress — have mounted a shocking assault on the Golden Realm, and the warriors of Asgard are losing…badly. Valkyrie's ally Rúna has managed to stave off total defeat, but the Asgardians desperately need Thor. Jane begins a quest to find the Odinson, but can she find clues to his whereabouts in Limbo — or will she lose herself to S'ym's dark magic? And to save the day, must Jane Foster become the Mighty Thor once again?
Collecting JANE FOSTER & THE MIGHTY THOR #1-5.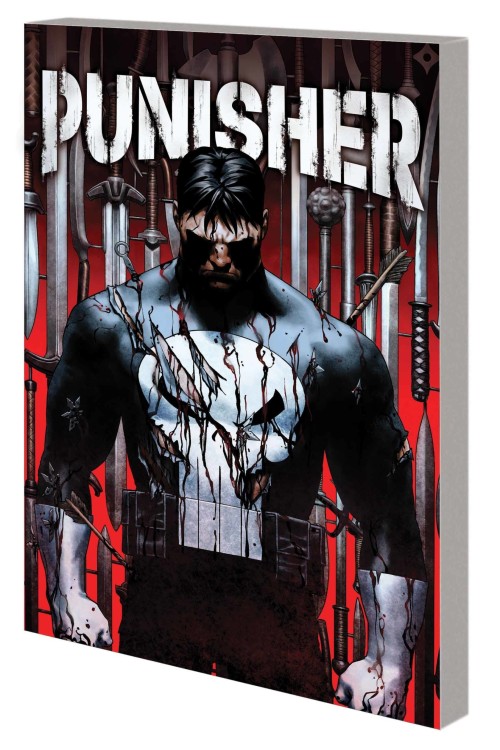 PUNISHER VOL. 1: THE KING OF KILLERS BOOK ONE TP
The Punisher story to end all Punisher stories! Born of tragedy. Devoted to war. Unstoppable in his rage. Frank Castle has become the most accomplished killer the world has ever seen. Now it's time for him to confront the secrets lurking in his past — and face his destiny. What shocking event convinces Frank to take the reins of the deadly ninja clan known as the Hand? And once he becomes the warlord of the Marvel Universe's most notorious assassins, will it mean an end for the Punisher — or a whole new bloody beginning? Is the Punisher truly the Fist of the Beast, the predestined High Slayer of the Hand? Or is he nothing more than a prisoner of the ninjas' twisted lies? Prepare for a show-stopping showdown against the very god of war himself!
Collecting PUNISHER (2022) #1-6.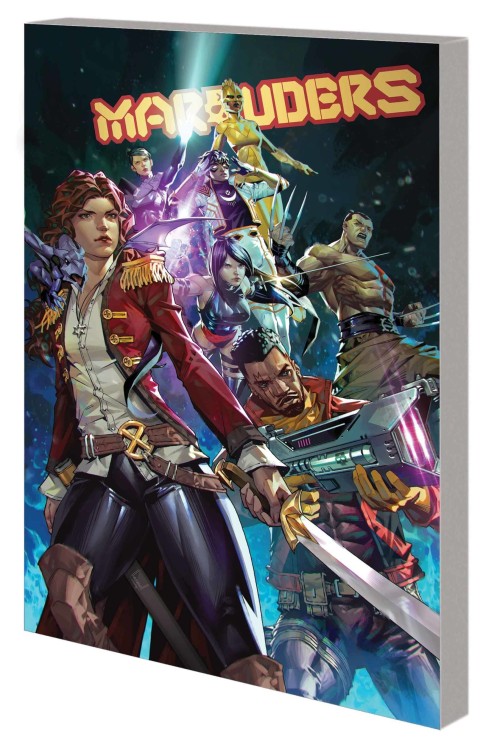 MARAUDERS BY STEVE ORLANDO VOL. 1 TP
A new crew sets sail! Captain Kate Pryde's got the mission — all she needs now is a boat and some mutant sailors to join her on the high seas. Pryde and Bishop must unite a surprising crew of mutants, new and old, to spring Daken from imprisonment at the hands of the primal provocateur known as Brimstone Love! But can the Marauders ever be ready to welcome Cassandra Nova aboard?! One of the most infamous villains in mutant history might be the team's only chance to unravel a mystery stretching two billion years into the past! Who are the Kin Crimson? The Marauders point their keel toward Shi'ar space, but the Majestrix has raised an intergalactic armada to stop the mutants in their tracks! Cannons ready!
Collecting Marauders Annual (2022) #1, Marauders (2022) #1-5 and Marvel's Voices Pride (2021) #1 (Somnus story).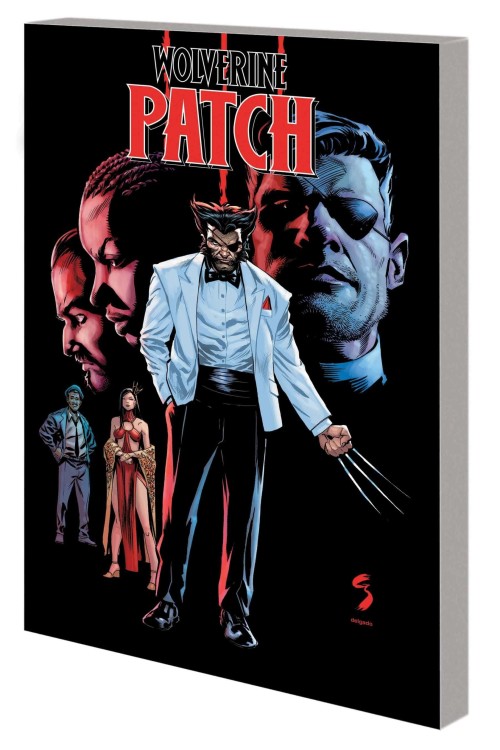 Return to Madripoor with the man called Patch! All-new action, intrigue and espionage await you as legendary creator Larry Hama crafts a story set before his original run on WOLVERINE! Logan has donned an eyepatch and made a new name for himself on the cutthroat island of Madripoor. From their haunt at the Princess Bar, what starts as a simple recon mission lands "Patch" and his old pal Archie Corrigan knee-deep in a paramilitary struggle that will herald some surprise revelations! Who is the mutant Krasny Beth, and how does she figure into the plans of both General Coy and Dr. Malheur? And what are Nick Fury, S.H.I.E.L.D. and the Russians after? Jungle warfare is a nasty business — but luckily, Patch is the best there is at what he does!
Collecting WOLVERINE: PATCH #1-5.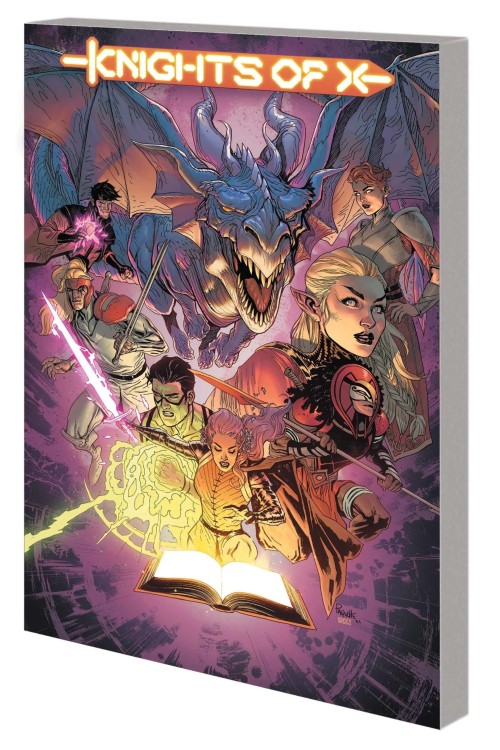 The gates to Otherworld are closed, and Captain Britain is trapped on the wrong side! Usurpers Merlyn and King Arthur are now in control of the Lunatic Citadel. Furies the size of Sentinels raze villages in their hunt for the witchbreed. Bloodthirsty vampires roam. Cut off from Krakoa, Betsy Braddock is Otherworld's only hero – and to save her people, she must recruit a roundtable of her own! Ten Knights of X will set out on a dangerous quest, but not all will make it to the end. Can those who survive locate the holy grail of mutantkind? The fate of Otherworld lies at the center of Krakoa's future!
Collecting KNIGHTS OF X #1-5.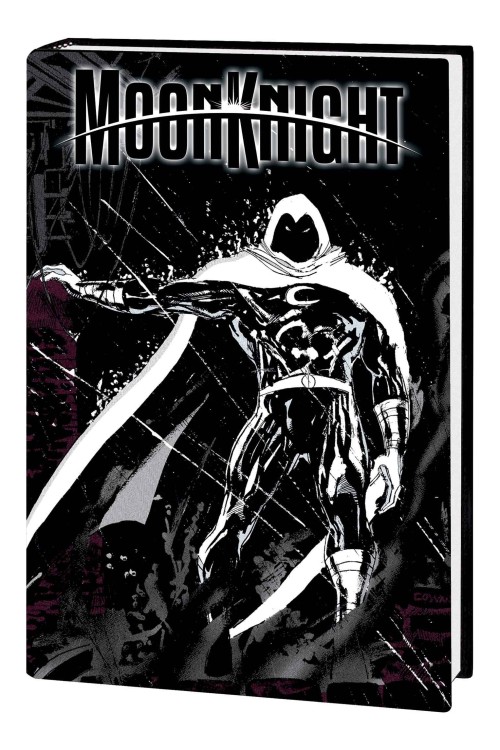 MOON KNIGHT: MARC SPECTOR OMNIBUS VOL. 1 HC
Moon Knight's longest-running series gets the Omnibus treatment! Marc Spector gets down and dirty tackling street-level crime as a vigilante of the night. But when his old nemesis Bushman conquers his homeland of Burunda, Moon Knight must renew an international rivalry against his deadliest foe – with Marlene's life at stake! Meanwhile, Marc gains an unwanted ally in Midnight, takes on the anarchist Flag-Smasher and finds himself on trial for his crimes as a mercenary! Can Spider-Man and the Punisher help Marc root out the source of his woes? Plus: Stained Glass Scarlet seeks redemption – and Moon Knight deals with Arsenal, Chainsaw, Ghost Rider, the Hobgoblin and a sidekick's revenge!
Collecting MARC SPECTOR: MOON KNIGHT #1-34, AMAZING SPIDER-MAN (1963) #353-358, MOON KNIGHT: DIVIDED WE FALL and material from PUNISHER ANNUAL (1988) #2.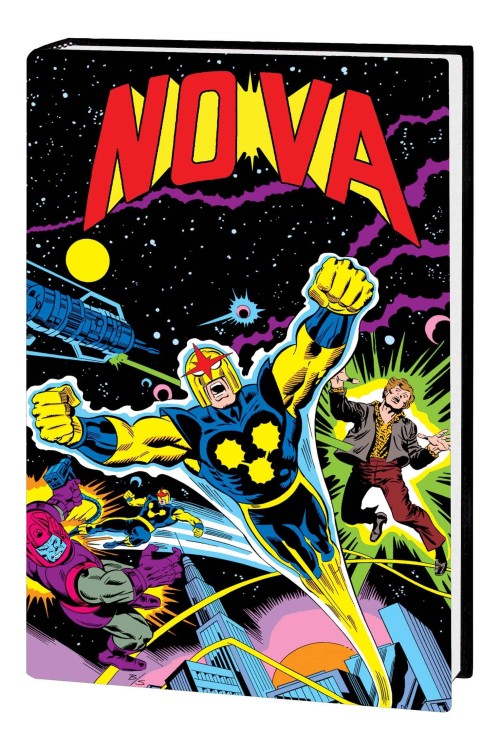 NOVA: RICHARD RIDER OMNIBUS HC
Richard Rider is Nova, the original 1970s Human Rocket! Struck by energy sent by a dying alien, Rich has inherited the mantle of an intergalactic Nova Centurion! The newly minted hero must somehow balance schoolwork, a social life and a constant string of villains — including Condor, Powerhouse, Diamondhead, Blackout and the dreaded Sphinx, who seeks a secret that Nova doesn't even know he's carrying! Plus: Nova and Spider-Man unravel a murder mystery, Rich's father is ensnared in an underworld scheme and Nova joins…the dynamic Defenders? And when the Nova Corps' homeworld, Xandar, comes under attack, Rich and his new allies leave Earth behind to join the cosmic fray — while the Fantastic Four tackle the Sphinx!
Collecting NOVA (1976) #1-25; AMAZING SPIDER-MAN (1963) #171; DEFENDERS (1972) #62-64; FANTASTIC FOUR (1961) #204-206, #208-214 and ANNUAL #12; MARVEL TWO-IN-ONE (1974) #91 and ANNUAL #3; THING (1983) #34 and material from WHAT IF? (1977) #36.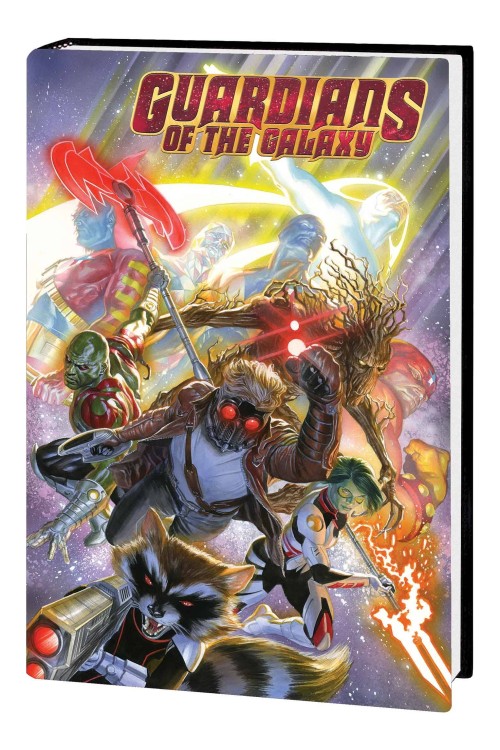 GUARDIANS OF THE GALAXY BY BRIAN MICHAEL BENDIS OMNIBUS VOL. 1 HC
Blockbuster writer Brian Michael Bendis takes on Marvel's misfit movie stars! Star-Lord, Gamora, Drax, Rocket Raccoon and Groot assemble alongside the Avengers to thwart Thanos' latest scheme — and they take Iron Man back into space with them! They'll face the wrath of the Badoon, Peter Quill's father and — once again — the infinite threat of Thanos! But can anything prepare them for Angela? The Guardians will add new recruits and fight alongside the X-Men, but which team members will end up star-crossed lovers? And when SECRET WARS obliterates the galaxy, what will be left to guard?
Collecting AVENGERS ASSEMBLE (2012) #1-8, GUARDIANS OF THE GALAXY (2013) #0.1 and #1-27, GUARDIANS OF THE GALAXY ANNUAL (2014) #1, GUARDIANS OF THE GALAXY: TOMORROW'S AVENGERS, ALL-NEW X-MEN (2012) #22-24, GUARDIANS OF KNOWHERE #1-4, GUARDIANS TEAM-UP #1-2 and material from FREE COMIC BOOK DAY 2014 (GUARDIANS OF THE GALAXY).
If anything jumped out to you, remember to message us or let us know next time you're in the shop! You get a text the second it arrives in the shop and we place a copy aside just for you so you don't miss out!
We do these each month so keep an eye out for the next post!
Have a great month and happy reading 💚