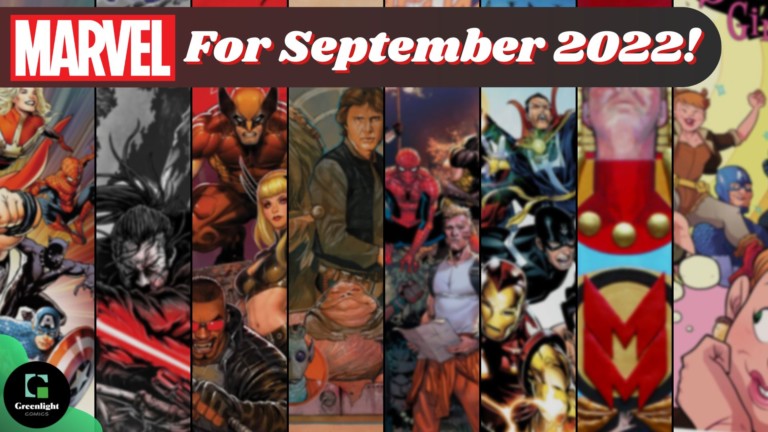 The July issue of Marvel Comics Previews has arrived! Here is our breakdown of the new comics series to jump on, plus what collected editions are arriving from September 2022! You can find the rest of our Previews Picks for other DC Comics, Indies & Manga titles here! 
There were a couple of titles from previous Previews that were delayed slightly so you may recognise a couple things here and there!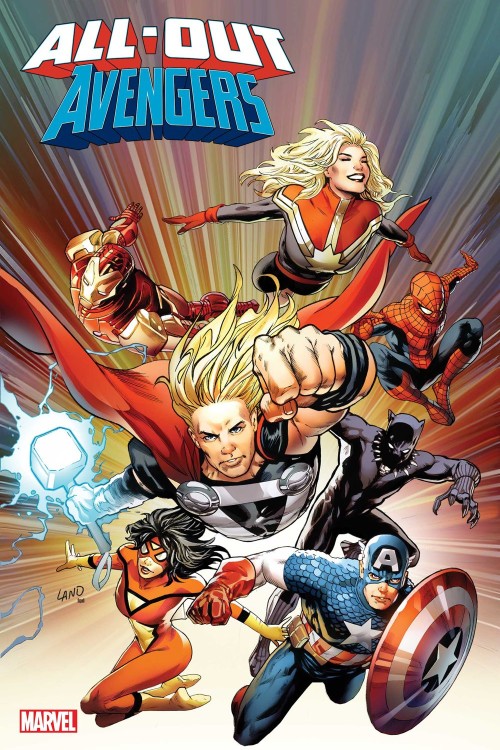 INTRODUCING: THE ALL-NEW AVENGERS SERIES THAT STARTS IN THE MIDDLE OF THE EXPLOSIVE ACTION AND RACES TO A SHOCKING CLIMAX!
An alien attack. A missing piece of wormhole tech. A city warped, its citizens transformed into hideous creatures loyal to an Empress from the far side of the universe. And a certain Captain Marvel, looking to her fellow Avengers with murderous intent…
Plunge into the action and take a deep breath because you will not be allowed up for air as a thrilling new series kicks off in the strongest, strangest way possible.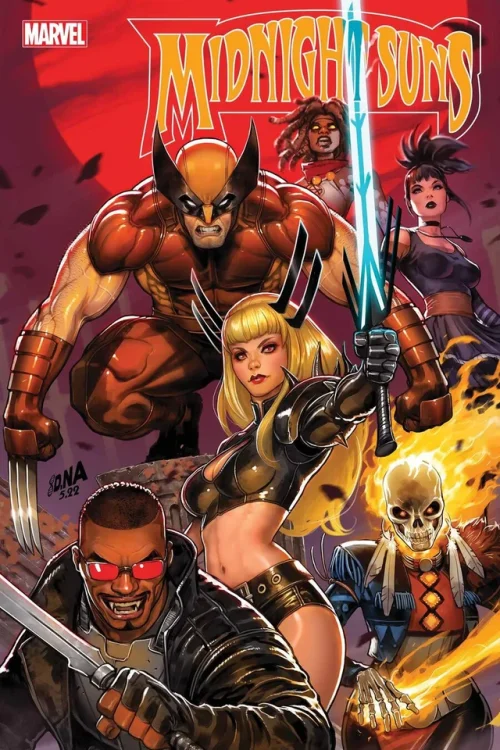 RISE OF THE MIDNIGHT SUNS!
A dark prophesy and apocalyptic new villains with horrifying powers the likes of which Earth has never faced before ordains a team of MIDNIGHT SUNS to rise and tear @#$% up: MAGIK, WOLVERINE, BLADE, SPIRIT RIDER & NICO MINORU. But what does this new threat have to do with the Sorcerer Supreme's past? And why is STRANGE ACADEMY student ZOE LAVEAU number one on the Suns' list?
FROM THE CREATIVE MIND BEHIND THE STAR WARS: VISIONS EPISODE "THE DUEL" COMES AN ALL-NEW STORY!
TAKASHI OKAZAKI (Afro Samurai) is continuing his storytelling from the acclaimed STAR WARS: VISIONS episode "THE DUEL," featuring the Ronin!
The mythology of STAR WARS infused with elements of Feudal Japan makes this issue a MUST READ for STAR WARS and MANGA fans alike!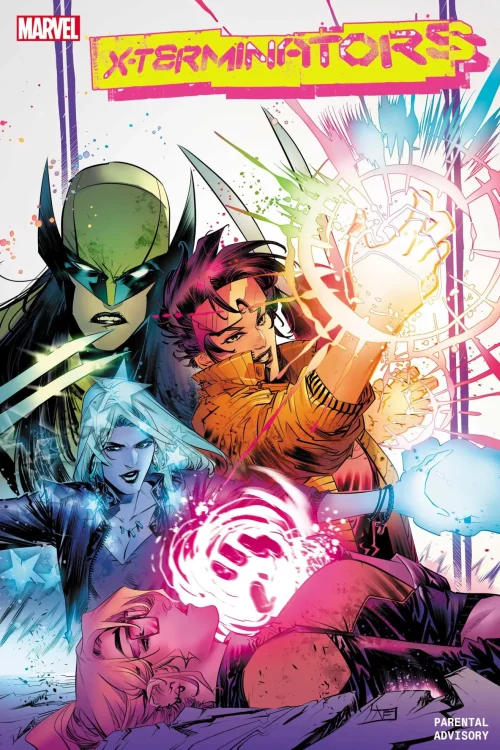 RE-SOLICIT: ENTER THE GRINDHOUSE OF X!
When Jubilee and Boom-Boom agree to take Dazzler out for a night on the town to console her after her nasty breakup, they have no idea they're about to be kidnapped and put into elaborate death traps for their efforts! What are three girls with the power to blow things up to do? Leah Williams and Carlos Gómez put the X in eXploitation in this tale of blood, sweat and REVENGE!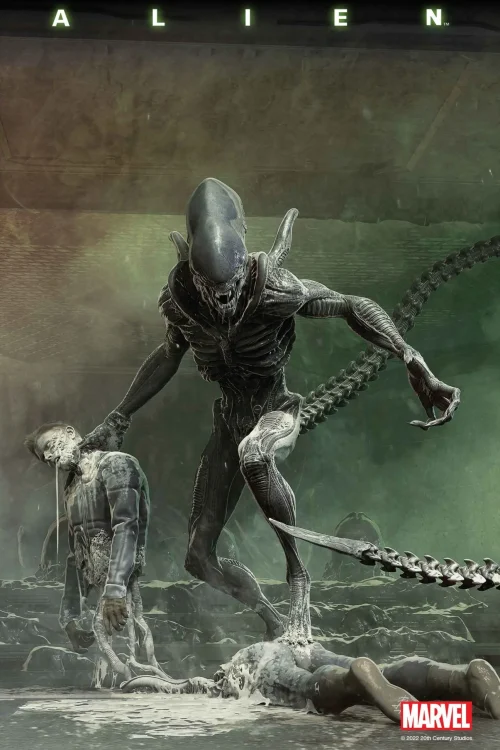 RE-SOLICIT: MAN, MACHINE, AND THE MOST TERRIFYING CREATURE IN THE UNIVERSE… IT'S AN EXPRESS ELEVATOR TO HELL, AND YOU'RE GONNA WANT TO BE ON IT!
A small colony of synths have settled in secret on a backwater moon. When a company of United System soldiers come to them for help retrieving biotechnology on a hostile planet that could be the key to saving humanity, the synths must decide whether the prospect of peace between man and machine is worth the risk of betrayal.
Graphic Novels & Collected Editions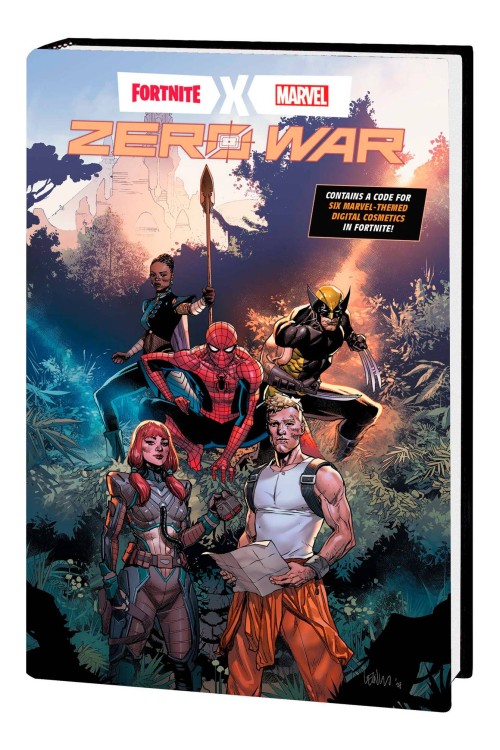 FORTNITE X MARVEL: ZERO WAR PREMIERE HC
The Marvel Universe collides with video game phenomenon Fortnite! The inhabitants of the ultimate battleground, the Island, are locked in a never-ending war — and only one thing has the potential to turn the tide: a crystallized fragment of the Zero Point that was cast into the Marvel Universe! Spider-Man, Wolverine and Shuri team up with several Fortnite fighters to hunt down the elusive Zero Shard. But as the search extends from Wakanda to the Savage Land and beyond, can they find it in time to avert catastrophe? Heroes from both realities enlist in the struggle against the Imagined Order — but do they have a fighting chance of avoiding doom when Marvel's most dangerous villain sets his sights on the Shard? Brace yourself for a blockbuster crossover event with enormous ramifications for both universes!
Collecting FORTNITE X MARVEL: ZERO WAR #1-5.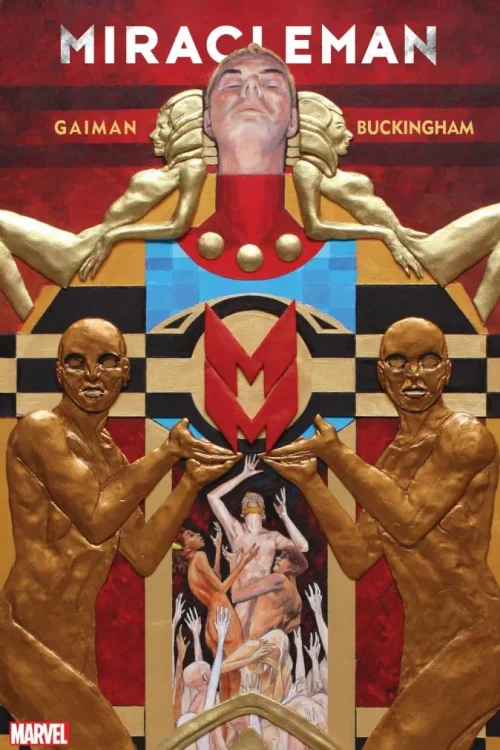 MIRACLEMAN BY GAIMAN & BUCKINGHAM BOOK 1: THE GOLDEN AGE TP
Award-winning writer NEIL GAIMAN (Sandman) and artist MARK BUCKINGHAM (Fables) unveil Miracleman's Golden Age! Atop Olympus, Miracleman presides over a brave new world forged from London's destruction. It is a world free of war, of famine, of poverty. A world of countless wonders. A world where pilgrims scale Olympus' peak to petition their living god while, miles below, the dead return in fantastic android bodies. It is an Age of Miracles — but is humankind ready for it? Do we even want it? Is there a place for humanity in a world of gods? Gaiman and Buckingham delve into the lives of lonely idealists, rebellious schoolchildren and fracturing families — exploring the human constant in a changing world of gods and miracles.
Collecting MIRACLEMAN (1985) #17-22 and material from TOTAL ECLIPSE #4 [as presented in MIRACLEMAN BY GAIMAN & BUCKINGHAM #1-6].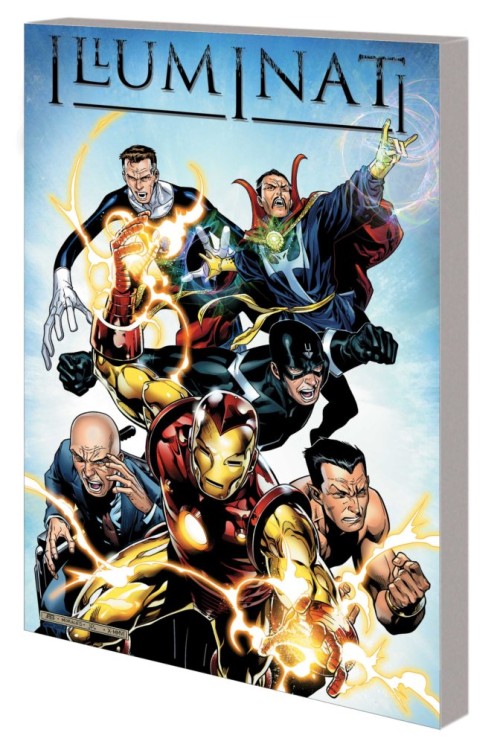 The Illuminati will see you now! They are an elite group of the planet's most powerful and influential heroes, who meet in secret to guide Earth through its greatest crises. Nobody knows they exist — and that's the way they want it! Join Iron Man, Professor X, Black Bolt, the Sub-Mariner and Mister Fantastic as they take on the threats no one else can handle — and learn hidden secrets that will forever alter the way they (and you) look at the Marvel Universe! From the Kree/Skrull War and the coming of the Beyonder to a secret investigation of the Infinity Gems, this shadowy cabal has been manipulating events behind the scenes for years. But as the Skrulls' Secret Invasion looms, can the isolated Illuminati keep themselves from fracturing under the pressure of paranoia?
Collecting NEW AVENGERS: ILLUMINATI (2006) #1 and NEW AVENGERS: ILLUMINATI (2007) #1-5.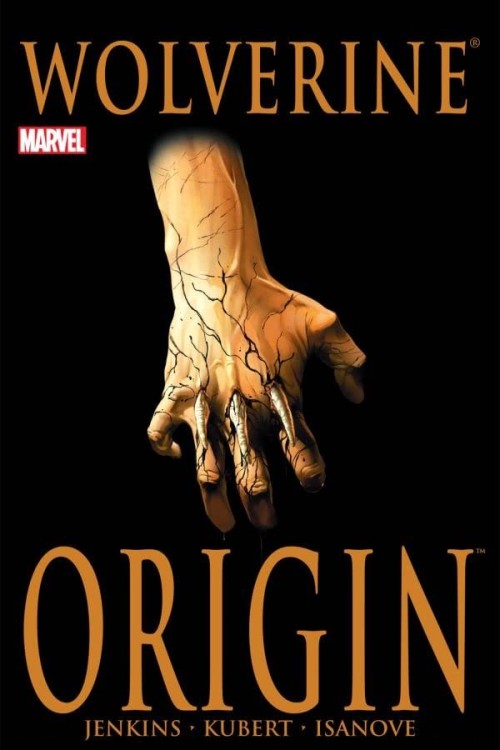 WOLVERINE: ORIGIN DELUXE EDITION TP
For decades, Wolverine's shadowy past has been shrouded in mystery. But before he was the X-Men's savage mainstay, before he was a tormented secret agent codenamed Weapon X — even before he was a barroom brawler in the wilds of Canada — he was sickly young James Howlett. Experience the secrets and intrigue of his family history, see the first struggle with his subconscious savagery that culminated in tragedy and learn how James' flight from everything he once knew led to the forging of the man known as Logan! Paul Jenkins and Andy Kubert, two of the industry's most acclaimed creators, unite to tell the tale that shaped mutantdom's mightiest misfit — in a gorgeous new edition packed with behind-the-scenes extras!
Collecting WOLVERINE: THE ORIGIN #1-6.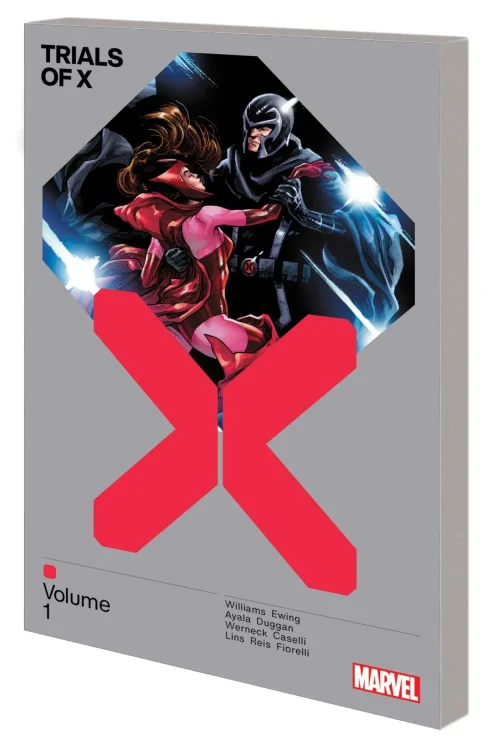 Murder and mayhem in the Reign of X! The Scarlet Witch has been murdered — and as X-Factor investigates the shocking crime, all clues point to Magneto! Meanwhile, the fallout from the Hellfire Gala continues for S.W.O.R.D. as Doctor Doom sticks around for a meeting of monarchs with matters of galactic import to discuss — including the Last Annihilation! The New Mutants are reeling from their own devastating loss as a great evil continues to cast its shadow. And when new problems present themselves in Ireland, the Marauders bring in Banshee for some assistance — and he'll soon be screaming into battle!
Collecting X-MEN: THE TRIAL OF MAGNETO #1-2, S.W.O.R.D. (2020) #7, NEW MUTANTS (2019) #20-21 and MARAUDERS (2019) #23.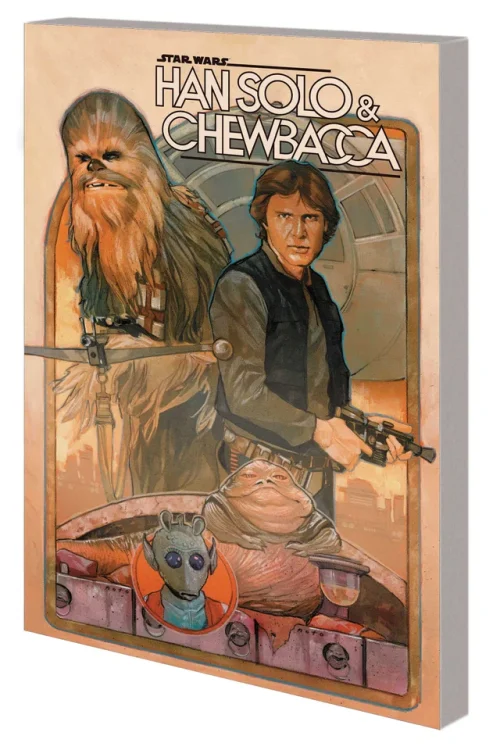 STAR WARS: HAN SOLO & CHEWBACCA VOL. 1 — THE CRYSTAL RUN TP
The galaxy's best buddies star in a hair-raising adventure from the days before they joined the Rebellion! Loveable rogue Han Solo and his Wookiee partner-in-smuggling, Chewbacca, set off on a heist for none other than Jabba the Hutt — and this time, the Rodian bounty hunter named Greedo is working alongside them! It's supposed to be a nice, straightforward job. What could possibly go wrong? Well, for starters, how about a reunion with the very last person Han expected to see? And when the target safe is cracked, you won't believe what's inside! Plus: Celebrate the galaxy's favorite holiday with a collection of festive tales from all across the saga of Star Wars. Happy Life Day!
Collecting STAR WARS: HAN SOLO & CHEWBACCA #1-5 and STAR WARS: LIFE DAY.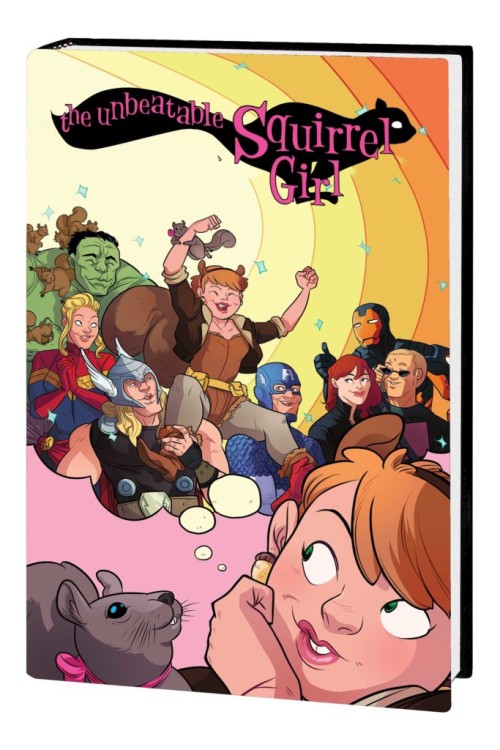 THE UNBEATABLE SQUIRREL GIRL OMNIBUS HC
Kicking butts and eating nuts is all in a day's work for Squirrel Girl — the super hero and computer science student who just can't be beat! But that won't stop a long line of villains from trying — including Kraven the Hunter, the Mole Man, Count Nefaria and, would you believe, Galactus?! It's a good thing Doreen Green can count on an ever-growing list of friends to help, both in conquering evildoers and her all-important studies — pals like Tippy-Toe (the squirrel), Nancy (the human) and Howard (the duck) and fellow crimefighters Koi Boi, Chipmunk Hunk and Brain Drain! From the Savage Land to outer space, Squirrel Girl travels the length and breadth of the Marvel Universe — and beats it up!
Collecting THE UNBEATABLE SQUIRREL GIRL (2015A) #1-8, THE UNBEATABLE SQUIRREL GIRL (2015B) #1-50, THE UNBEATABLE SQUIRREL GIRL BEATS UP THE MARVEL UNIVERSE, HOWARD THE DUCK (2015B) #6 and material from A YEAR OF MARVELS: UNBEATABLE and NOT BRAND ECHH (2017) #14.
If anything jumped out to you, remember to message us or let us know next time you're in the shop! You get a text the second it arrives in the shop and we place a copy aside just for you so you don't miss out!
We do these each month so keep an eye out for the next post!
Have a great month and happy reading 💚