The February issue of PREVIEWS has arrived so here are our picks from what's arriving in April! We've separated our Marvel Previews Picks as well as our DC Comics Picks, which you can find over on The Blog! As always, if you see anything you like make sure to let us know by shooting us a message!
The story of three punk rock witches, Alice, Hazel, and Maggie, who cast spells with their songs to battle corporate demon jerks, defeat rival witch bands, save the world, and get to the next gig.

Black Cat Social Club have been at this "band thing" for quite a while, with limited success. (Bummer.) Despite their kick-ass punk rock skills (and a little songcasting magic), these witchy women have been struggling to reach their big break. Discouraged, bassist Hazel sells her soul to a demon for more magical power, prompting singer/lead guitarist Alice to step in and assume the debt herself! Plus side, the band is killing it at their shows now. Downside? They may literally be killing the entire world by fueling these corporate demons' evil plans, which for sure involve brimstone, monsters… you know, the works!

Can the band stop the apocalypse? Is drummer Maggie's songwriting, uh, "technique" the key? Will the demon Stan ever shut up?! If you've ever wished Josie and the Pussycats had more demons, or Buffy was fronting a three-piece rock band, you've found your next favorite book in Black Cat Social Club!
ELDEN RING ROAD TO ERDTREE GN
The epic and foreboding world of the hit video game Elden Ring gets turned on its head in this absurd comedy adventure! Follow Aseo the Tarnished as he struggles his way through the Lands Between. What he lacks in strength, speed, intelligence, charisma, skill, experience, intuition, and common sense, he makes up for in… uhhh…  
'The Internet Has Fallen In Love With The Shitposting Energy Of The Official Elden Ring Manga'
"Written by gag mangaka Nikiichi Tobita, an artist best known for 'A Cursed Sword's Daily Life' and 'Monster x Monster' … I can confidently say that 'Elden Ring: The Road to the Erdtree' is one of my favourite pieces of cross-media so far." – Levi Winslow, Kotaku
ESSENTIAL JUDGE DREDD JUDGEMENT DAY TP
The essential Judge Dredd graphic novel series-this is the ultimate introduction to the Lawman of the Future! It is Judgment Day! Sabbat the Necromagus has resurrected every corpse in the whole world to serve as his zombie horde.
All over the globe the Judges are facing unimaginable odds, but then the unthinkable happens and time-travelling Strontium Dog, Johnny Alpha, arrives to lend Dredd a hand. It is the team-up of the century as Dredd and Alpha fight back against the walking dead!
Grace is so excited to fly a freighter from her home space station (and away from her boring mother Evelyn) to a faraway moon! Plus, she'll get some quality time with her fun mom Kendra-something Grace definitely needs. Finally, a real adventure that Grace can get excited about while the rest of her space station friends go away for their summer vacations. But when Kendra is too focused on work, Grace's first big trip suddenly becomes kind of lonely.
But all it takes is one quick decision to explore the moon by herself before Grace's adventure suddenly becomes not so out of this world at all. With her mom mad at her, Grace wants nothing more than to return home. Then their ship breaks down. Will Grace be able to get through to her mom and save their trip in the end?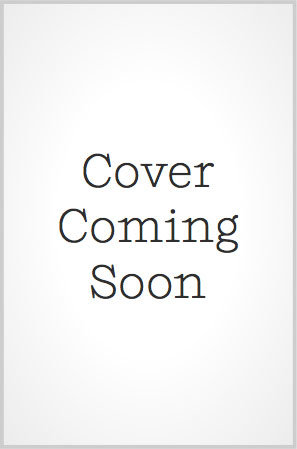 VINLAND SAGA 3-in-1 DLX HC VOL 01
Amid the chaos of the Viking war for dominance over England, a boy has everything taken from him and vows revenge. But violent dreams bring no peace… The violent and complex action epic that inspired the hit anime returns, in premium, 3-in-1, collector's hardcovers!
Includes volumes 1-3 of the Japanese edition of Vinland Saga and new bonus content.
As a child, Thorfinn sat at the feet of the great Leif Ericson and thrilled to wild tales of a land far to the west. But his youthful fantasies were shattered by a mercenary raid. Raised by the Vikings who murdered his family, Thorfinn became a terrifying warrior, forever seeking to kill the band's leader, Askeladd, and avenge his father. Sustaining Thorfinn through his ordeal are his pride in his family and his dreams of a fertile westward land, a land without war or slavery…the land Leif called Vinland.
This premium, hardcover edition presents the acclaimed action epic in hardcover, at a bigger size than ever before (7 by 10 inches), wrapped in a red leather-patterned cover with logo stamping. This new edition features all the content of the original release, plus new and exclusive bonus illustrations, interviews, and behind-the-scenes details never before translated.
Graphic Novels & Collections!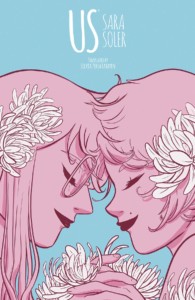 Sara and Diana's love story, as well as the story of Diana's gender transition. Humor, heartache, and everyday triumphs/struggles of identity.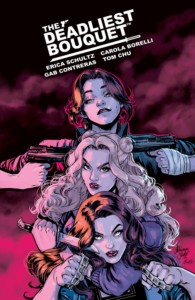 In 1998, three estranged sisters trained by their Nazi-hunting mother come together to solve their mother's murder.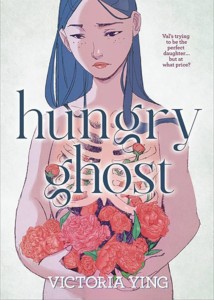 Beautiful and heart-wrenching, taking a look at eating disorders, family dynamics, and, ultimately, a journey to self-love.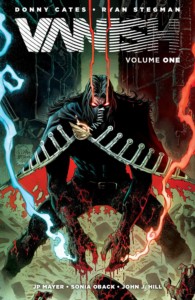 From the all-star creative team that brought you Venom (the 2018-2021 run), comes an all-new very 90's feeling original hero series!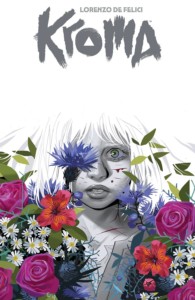 The critically acclaimed prestige series from Lorenzo De Felici, for fans of 'ULTRAMEGA' and 'The Many Deaths of Laila Starr'.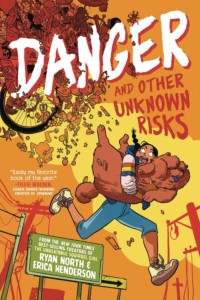 DANGER AND OTHER UNKNOWN RISKS GN
January 1st, 2000, the world ended. But it wasn't technology that killed it: It was magic.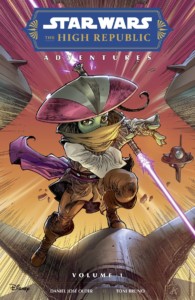 STAR WARS HIGH REPUBLIC ADVENTURES TP VOL 01
For young Padawan Sav Malagan, joining the ranks of the noble Jedi Order has been all she's ever wanted.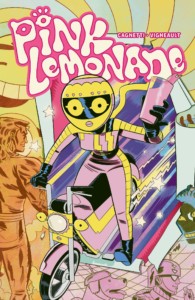 Mysterious past! Colorful costume! Altruistic outlook! Zippy motorcycle! And one very overactive imagination!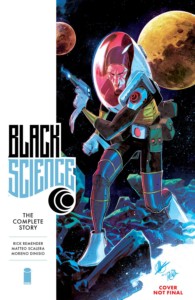 BLACK SCIENCE COMPENDIUM TP
The entire seminal series that launched the multiverse craze by the critically acclaimed team of Rick Remender and Matteo Scalera.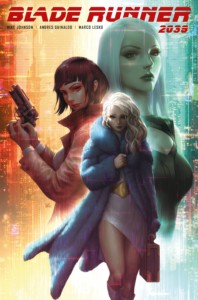 BLADE RUNNER 2039 TP VOL 01
Cleo has returned to L.A. in search of her Replicant mother, who has been kidnapped. Who can help her? A disgraced former Blade Runner.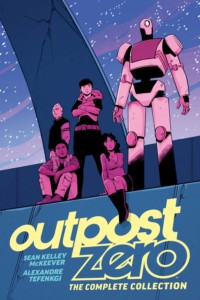 OUTPOST ZERO COMP COLL TP
For fans of PAPER GIRLS and On a Sunbeam! The complete critically acclaimed series from an Eisner Award-winning team.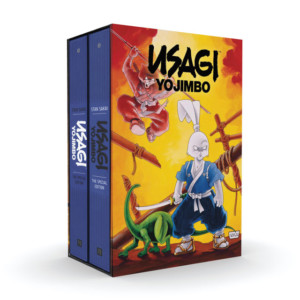 USAGI YOJIMBO SPECIAL EDITION HC
Fantagraphics are releasing a 25th anniversary deluxe slipcase set collecting the first seven USAGI YOJIMBO books! Over 1000 pgs!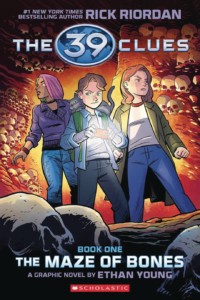 39 CLUES GN VOL 01 MAZE OF BONES
The graphic novel adaptation of the mega-bestseller that launched a global phenomenon!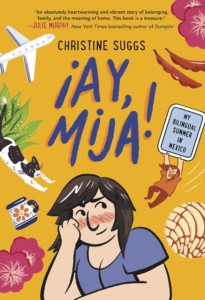 AY MIJA MY BILINGUAL SUMMER IN MEXICO GN
16-year-old Christine takes their first solo trip to Mexico to spend a few weeks with their grandparents.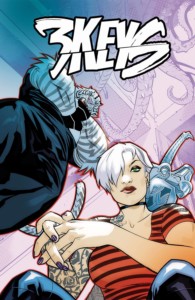 Did the inhabitants of another dimension flee into our reality to save themselves from the terrible wrath of the Great Old Ones…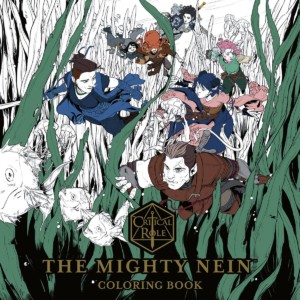 CRITICAL ROLE MIGHTY NEIN ADULT COLORING BOOK TP
Experience the adventure once more, and join in on the fun, with 45 moments selected by the cast of Critical Role and brought to the page by beloved Critter artists.
In 1999, Gabriel and his friends discovered the Undernet, a secret architecture to the Internet. They charted their exploration on a message board called W0RLDTR33.
Then they lost control. Someone broke into W0RLDTR33-someone who welcomed the violent hold the Undernet had on them. At great personal cost, Gabriel and the others thought they sealed the Undernet away for good.
They were wrong. And now they will know the meaning of PH34R.
The next major horror outing from multiple Eisner Award-winning writer JAMES TYNION IV (THE DEPARTMENT OF TRUTH, The Nice House on the Lake) and FERNANDO BLANCO (Detective Comics), along with Eisner-winning colorist JORDIE BELLAIRE and Eisner-nominated letterer ADITYA BIDIKAR, begins here!
GREAT BRITISH BUMP OFF #1 (OF 4)
An Agatha Christie-style murder mystery set in the world of English competitive baking from Giant Days' John Allison and Max Sarin.
When she enters her country's most beloved baking competition, Shauna Wickle's goal is to delight the judges, charm the nation, and make a few friends along the way. But when a fellow contestant is poisoned, it falls to her to apprehend the culprit while avoiding premature elimination from the UK Bakery Tent… and being the poisoner's next victim!
New Orleans, 1917. In the city's bustling red-light district, a young clarinet player lands a job with his hero-but he'll soon discover there's more to the music business than playing the right notes.
Join writers KYLE HIGGINS & JOE CLARK (RADIANT BLACK) and an ALL-STAR CAST OF ARTISTS for SIX DOUBLE-LENGTH ISSUES that weave stories of struggle, joy, and hope through the history of jazz!
A whip-smart new miniseries that's perfect for music fans searching for a story with depth and redemption.
Eisner-winning writer SALADIN AHMED (Miles Morales) and superstar horror artist DAVE ACOSTA (Elvira) make their Image debut with this sci-fi horror series about working people fighting mind-bending monsters.
Blue City was the last livable place on Earth. Now it's crawling with Terrors-creatures that transform into their victims' worst fears. Humanity's last hope? Muhammad Cho and his overworked, underpaid crew of freelance Terrorfighters.
"We're not heroes-we're contractors."
EXPANSE THE DRAGON TOOTH #1 (OF 12)
Picking up after the final season of the acclaimed and beloved sci-fi series and filling in the missing years between The Expanse: Babylon's Ashes and The Expanse: Persepolis Rising, the secret history of your favorite characters are revealed for the first time!
Everything comes together in this epic 12-issue story, tying together the threads of the show and answering lingering questions that will bring readers and viewers alike far beyond the stellar horizon.
Across this monumental maxi-series, superstar comics writer Andy Diggle (Green Lanterns, James Bond) and artist Rubine (Voltron: Legendary Defender) broadens The Expanse universe in ways that will change how fans view the entire series forever!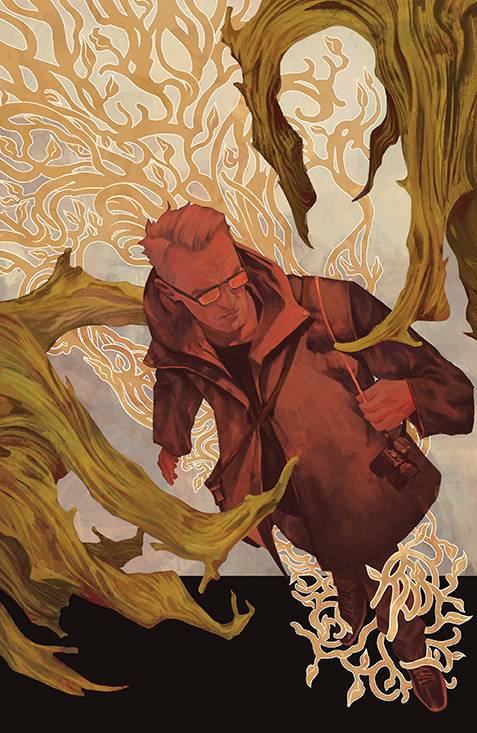 SEASONS HAVE TEETH #1 (OF 4)
In a drab, colorless world, the seasons bring change… and also destruction.
Andrew, a retired conflict photographer, lives a life steeped in regret after an unthinkable tragedy, but everything shifts when the seasons arrive-each one a personified, god-like creature.
As he risks everything to track down Spring, Summer, AutumnFall, and Winter, will capturing the perfect picture of each be enough to find redemption… and ultimately bring color back to his world?
Dan Watters of Sword of Azrael and Home Sick Pilots writing acclaim is joined by artist Sebastian Cabrol (Anthony Bourdain's Hungry Ghosts, Maestro: World War M) for a tale that is both down to earth and supernaturally apocalyptic in its pertinence.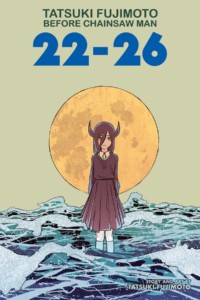 TATSUKI FUJIMOTO BEFORE CHAINSAW MAN GN 22-26
See the origins of the mad genius who created Chainsaw Man! It's rough, it's raw, it's pure Fujimoto!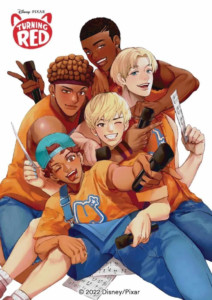 DISNEY & PIXARS TURNING RED 4 TOWN 4 REAL MANGA GN
How will Canada's greatest boy band spend the day leading up to their epic Toronto concert?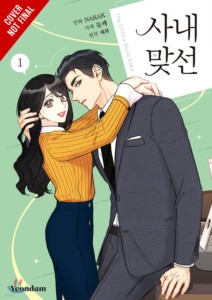 A BUSINESS PROPOSAL GN VOL 01
Worked to the bone at her office job and dealing with her family's debt, Hari Shin's life seems to have hit rock bottom… but her friend has an idea.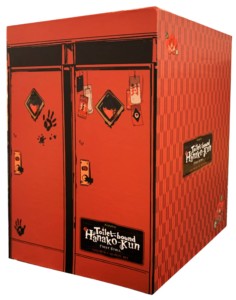 TOILET-BOUND HANAKO-KUN FIRST STALL GN BOX SET
A beautiful collection of the first ten volumes of Toilet-bound Hanako-kun. PAID PRE-ORDERS ONLY.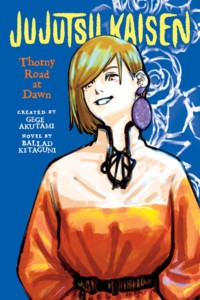 JUJUTSU KAISEN THORNY ROAD AT DAWN GN
Chilling and charming adventures ensue in these five short stories set in the world of Jujutsu Kaisen!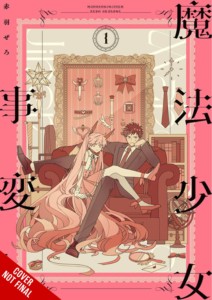 MAGICAL GIRL INCIDENT GN VOL 01
As a little boy, he dreamed he could be a hero. Now this office worker finds himself transformed into… a magical girl?!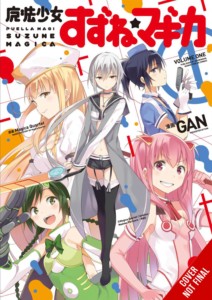 PUELLA MAGI SUZUNE MAGICA COMP OMNIBUS ED GN
Read this defiant story set in the world of Madoka Magica in one complete omnibus!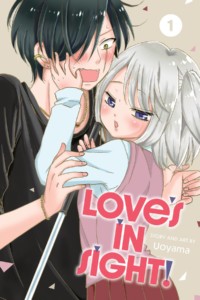 Morio, toughest guy around. Yukiko, girl attending a school for the blind. She sees the real him – a softie trying to find his place in the world!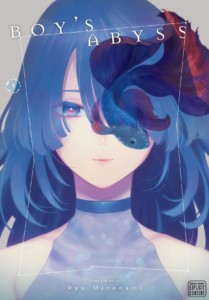 Reiji's life is as miserable as the small town he can't escape. Most interesting thing that's ever happened there is [trigger warning].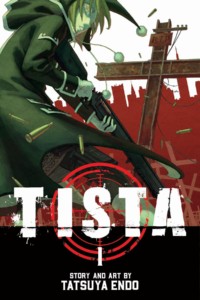 The NYPD struggle to track down a serial killer known as Sister Militia, who has been targeting mobsters and other criminals in the Big Apple.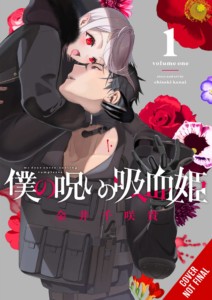 MY DEAR CURSE-CASTING VAMPIRESS GN VOL 01
The world is full of vampires. Fighting such beings is the foundation of Isuzu Osaka's life. But humanity is losing…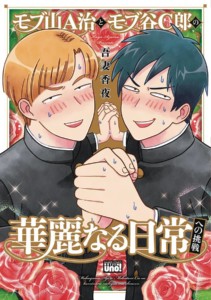 EIJI AND SHIRO GN VOL 01 FROM ZEROES TO HEROES
A collection of shorts with comedic tones from one of Boy Love's most infamous comedic writers.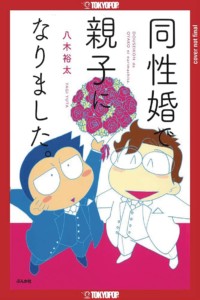 WHY I ADOPTED MY HUSBAND GN
As a gay couple living in Japan (where gay marriage is not yet legal), they found a unique loophole to live together and support one another.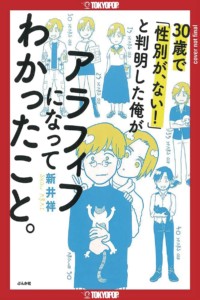 AT 30 I REALIZED I HAD NO GENDER GN
A lighthearted auto-bio that explores how Japanese culture affects the LGBTQIA+ community.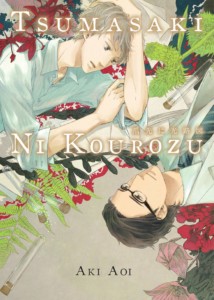 An ordinary college student is suddenly offered a part-time job to work as an assistant for a seemingly moody and unsociable mycologist.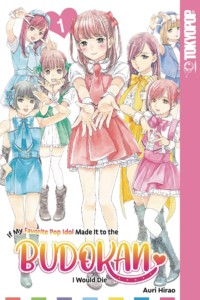 FAVORITE POP IDOL MADE IT BUDOKAN GN VOL 01
When it comes to idol group Cham Jam, Eripiyo is the oldest – and perhaps only – fan of Maina Ichii.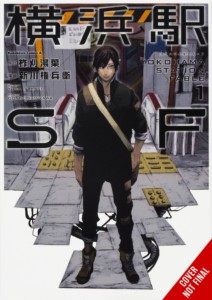 YOKOHAMA STATION SF GN VOL 01
Much of the country has been swallowed by Yokohama Station, a mysterious, ever-growing series of buildings. 
WHAT THIS WORLD IS MADE OF GN VOL 01
The Nakata brothers find an app that offers a chance to make large sums of money. But are they ready…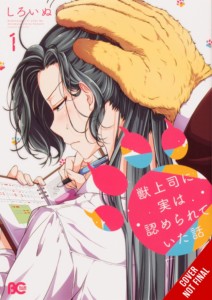 ME & MY BEAST BOSS GN VOL 01
In a world where beastfolk are thought to be superior to humans, a office worker becomes the CEO's private secretary.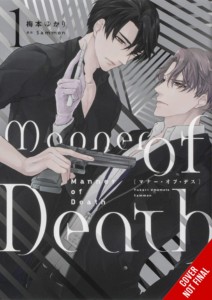 MANNER OF DEATH GN VOL 01
When a skilled coroner is called to examine the body of his childhood friend, he soon determines that she was actually murdered. 
If anything jumped out to you, remember to message us or let us know next time you're in the shop! You get a text the second it arrives in the shop and we place a copy aside just for you so you don't miss out!
We do these each month so keep an eye out for the next post!
Have a great month and happy reading 💚