The June issue of PREVIEWS has arrived so here are our picks from what's arriving in August!  We've separated our Marvel Previews Picks as well as our DC Comics Picks, which you can find over on The Blog! As always, if you see anything you like make sure to let us know by shooting us a message!
Note: We haven't actually received our Previews Catalog yet so this is a slightly frankensteined blog post so there may be changes in the days after this is posted!
A tranquil seaside town is upended by the arrival of a serial killer. Two high school students are found dead, stoking fears amongst the student body and surrounding community of a serial killer on the loose. Yet summer is approaching, and the future is fraught with uncertainty – if only things could go back to normal for just a while longer. Instead, the heightened police presence prevents Pola from coping at school while her best friend, the typically discreet Daniel, resists increasingly morbid impulses. News crews speculate about the Bloody Batter, triggering PTSD and fueling paranoia.
Meanwhile, evil has its own plans. Slash Them All is cartoonist Antoine Maillard's tribute to 1980s American horror cinema, skillfully absorbing the traditions and tropes of the genre, yet drawn in a gorgeous, grayscale pencil style that evokes 1950s film noir more than Jason or Freddy Kreuger. This singular work of graphic fiction is a story about adolescents thrust unexpectedly, unwillingly, and unpreparedly into adulthood, told with a graphic acuity and emotional depth that transcends its simple slasher inspirations.
ROOSTER FIGHTER GN VOL 01
The neighborhood cock of the walk is more than just an ordinary rooster-he's humanity's greatest defender! His opponents may be ten stories tall, but nothing is bigger than his stout heart and his fearsome, earth-shattering cry-cock-a-doodle-do!

For older teen audiences.
SPRIGGAN: DLX ED GN VOL 01
The classic action-adventure manga of super spies and ancient relics that inspired the 1998 anime film and the 2022 Netflix Original anime series!
In the waning years of the Cold War era, national governments and paramilitary forces are in a race to uncover the relics of an ancient civilization that once ruled the Earth. The technology holds seemingly miraculous powers, but in the wrong hands, this power could spell disaster. Only the ARCAM Corporation's elite special operatives, the SPRIGGAN, have what it takes to stand up against an international rogue's gallery of power-hungry cyborgs and gunmen who covet ultimate power. Brash and fearless Ominae Yu, a teenage SPRIGGAN equipped with ARCAM's strongest power armor, will do whatever it takes to keep the past's forbidden legacy buried away!
STAR WARS TALES FROM THE RANCORS PIT HC
All-new all-ages adventures from throughout the galaxy! At Dark Horse!?
After a brief stint with IDW Publishing, Star Wars all-ages comics and graphic novels are back at Dark Horse!
It's a dark and stormy night on Tatooine as Jabba the Hutt's victim hangs perilously above the rancor pit with only his collection of scary stories to save him. New York Times bestseller Cavan Scott (Star Wars: The High Republic, Tales from Vader's Castle) teams up with with fan-favorites artists Nick Brokenshire, Juan Samu, Rafael Pérez, and Puste for a trio of terrifying tales just in time for Halloween. Experience clanking droid ghosts, explore the chilling wampa caves of Hoth and go monster hunting with Saber-For-Hire Ty Yorrick.
Bee and her fellow runaways are their own found family. So when a stranger named Paco saves her life, Bee invites him to join their crew, thinking he's another lost teen. Someone else the world has overlooked. The truth is Paco's not just a lost teen, he's a Lost Boy from Neverland. And he needs Bee and the others to come back with him.
When the group is then spirited away by a foul-mouthed Tinker Bell, they discover that Neverland is not some fun-filled hideaway. It's a war zone under siege by a horde of pirates with a merciless new leader who will stop at nothing to steal the land's magic. Tink leads a fairy army that barely holds them at bay. Peter Pan is gone. And rest of the Lost Boys have been killed. Paco is all that remains… but he hopes that this group of teens will become the new Lost Ones. These young runaways may be Neverland's only hope-but they're about to learn that it'll take a lot more than happy thoughts to win a war.
The big powers converge as Luffy, Law and Kid face off against Kaido and Big Mom. Is there any hope of victory against this ultimate alliance?!
Onigashima quakes with power as some of the fiercest pirates in the world go head-to-head!!
Graphic Novels & Collections!
GILLEN & HANS' award-winning, critical-hit series is now collected in a single, beautiful, oversized hardcover volume.
AVATAR HIGH GROUND HC VOL 01
A direct prequel to the upcoming 'Avatar: The Way of Water', it's been a decade since the original film so time to catch up?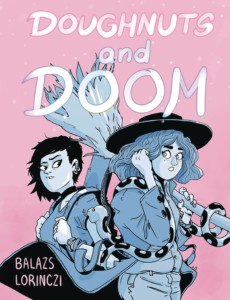 Being a teenage witch, or rock star, is tougher than it looks! Could this be the start of a delicious new relationship…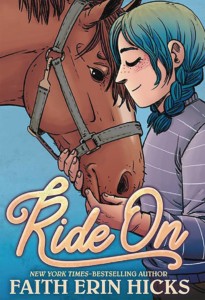 The new book from Faith Erin Hicks, 12-year-old Victoria thought all she wanted in life was to ride, train, and study horses.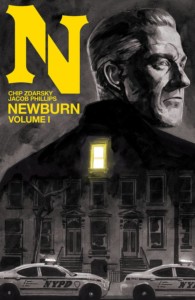 Easton Newburn is a private detective without loyalties, investigating conflicts between rival crime factions, with assistant Ellie.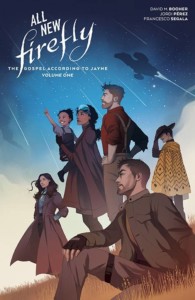 ALL-NEW FIREFLY HC VOL 01
Firefly for the new era! They have FINALLY dropped the Whedon name from the cover in this new original comic in the Firefly universe!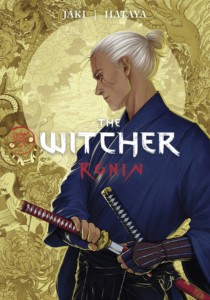 Inspired by Edo-period Japan, Geralt is faced with difficult moral choices while battling a variety of yokai and oni inspired by Japanese myths.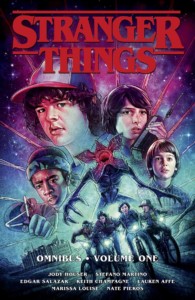 STRANGER THINGS OMNIBUS TP VOL 01
The first four Stranger Things stories all in one place! Turn upside down twice to read!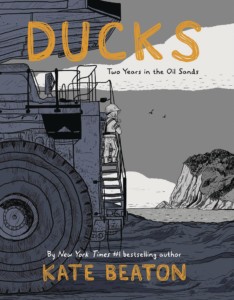 After uni, Beaton leaves home to join Alberta's oil rush, but as one of the few women, the culture shock is palpable.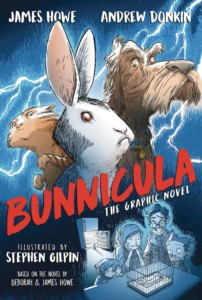 Could this innocent-seeming rabbit actually be a vampire? The chills and thrills of this classic tale in an all-new graphic novel format!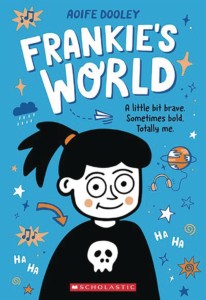 Acclaimed Autistic Irish comedian Aoife Dooley comes a fresh & funny debut middle-grade graphic novel about fitting in and standing out.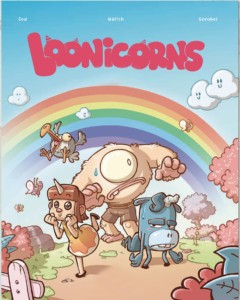 Looniland is a joyful and colorful world populated by mythical and extinct creatures, but its soceity is prejudiced based on ones beauty!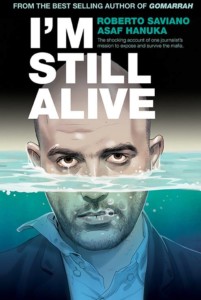 Italian journalist Roberto Saviano shares his experiences of life in Naples, where he witnessed the power and violence of the mafia.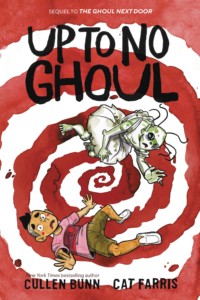 Grey has been having nightmares about vampires. A mysterious blood bank rolls into town. Grey has an eerie feeling about this.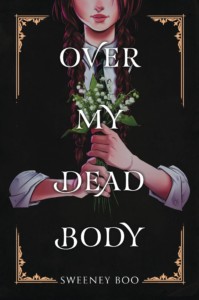 The new original graphic novel from fantastic artist Sweeney Boo, in an Institute of Witchcraft where there's been disappearances.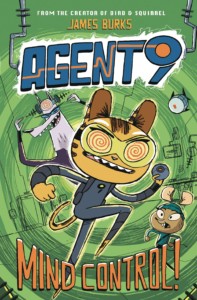 New threats, new foes, new partner?! A hilarious, action-packed spy series for those who love funny crime-fighting stories!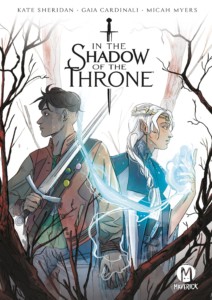 In The Shadow of the Throne GN
Jordan tries to get some space, but instead of wandering around a museum he finds himself dropped into a fantasy world of magic.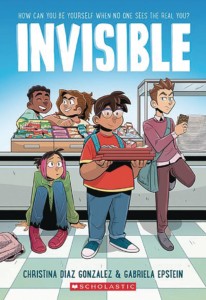 Although they're sure they have nothing in common, some people see them as all the same… just five Spanish-speaking kids.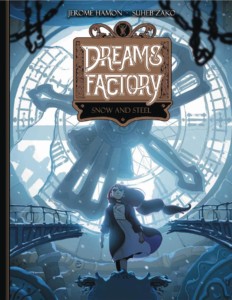 London, 1892. Indira's little brother goes missing and she discovers that he is not the only child to have disappeared.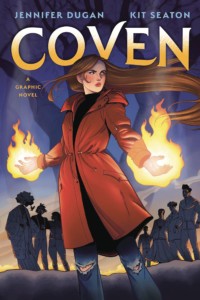 Emsy lives in California, and she'd much rather spend her days surfing or hanging out with her girlfriend than honing her powers.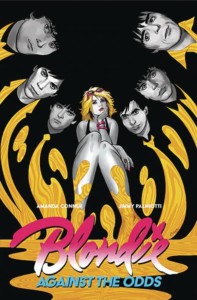 Blondie: Against The Odds GN
Combining an imaginative take on an oral history, interspersed with artistic interpretations of 10 songs from Blondie's catalog.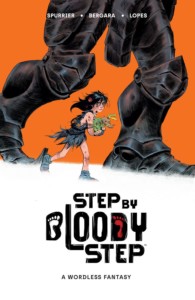 The completely wordless visual feast fantasy opus from the Eisner Award nominees behind CODA, MATIAS BERGARA and SI SPURRIER.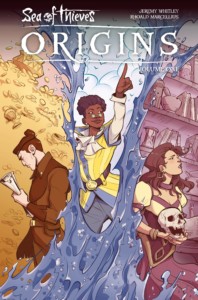 Sea Of Thieves Origins GN Vol 01
When three unlikely travelers set sail for pirate waters, making their fortune will also make history!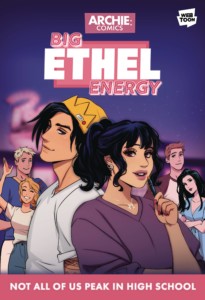 She used to be the laughingstock of Riverdale. Now she's a successful New York journalist with a DGAF attitude.
Some Honourable Mentions!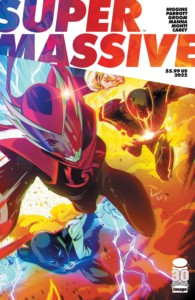 THE SUPERHERO CROSSOVER EVENT OF 2022! 2021's hottest new superhero RADIANT BLACK launches into his first ever crossover event with the Image Comics debut of INFERNO GIRL RED and the first appearance of ROGUE SUN! The future of Image's superhero universe is here! Power Rangers: Shattered Grid architects KYLE HIGGINS & RYAN PARROTT, MAT GROOM & FRANCESCO MANNA from Marvel's Ultraman, and colorist extraordinaire IGOR MONTI unite for a one-shot, extra-length crossover event so big it can only be called – SUPERMASSIVE.
San Francisco is changing. Tech consortium Morrow is building the city of the future with "peacekeeper" robots looming on every corner-and wherever Morrow isn't, the Salvation gang is. Bibiana Lopez-Yang is changing too. She came back from Afghanistan with PTSD and the ability to control electrical currents. If she can hold it together, she might be the hero San Francisco needs. But against an enemy this big, it isn't enough to be good. She'll have to be lucky. From debut writer MELISSA FLORES and superstar art team FRENCH CARLOMAGNO and MATTIA IACONO (RADIANT BLACK) comes the newest book in the MASSIVE-VERSE!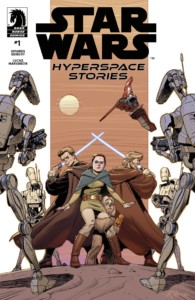 STAR WARS HYPERSPACE STORIES #1 (OF 12)
When the members of a Republic mission led by Senator Padmé Amidala are abducted by the ruthless Separatist General Grievous, Anakin Skywalker and Obi-Wan Kenobi jump to the rescue. But the operation quickly goes awry, and the Jedi find themselves cut off and surrounded by an army of battle droids! Danger and deception at the height of the Clone Wars, in Star Wars: Hyperspace #1. Series features fan-favorite heroes, vile villains, and unexpected twists and turns, brought to you by all-star authors Cecil Castellucci, Amanda Deibert, and Michael Moreci!
All-new all-ages adventures from throughout the galaxy!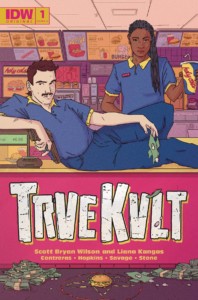 Marty Tarantella has been flipping burgers for 15 years. He has no kids, no hobbies, no love interests, and, essentially, no life. But what he does have is a plan to change everything. Years of watching the daily rhythms of the neighboring stores has given Marty the idea for a perfect heist, but when he accidentally steals a supernatural weapon from a cult full of violent lunatics, the resulting Satanic panic will be way above his minimum-wage pay grade. Nothing can prepare you for the coming of Trve Kvlt, a deliciously horrifying and hilarious new series!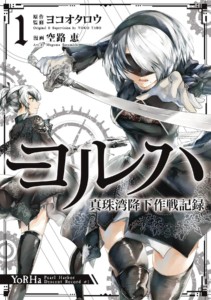 YORHA PEARL HARBOR DESCENT RECORD NIER AUTOMATA GN VOL 01
A NIER AUTOMATA MANGA!!!!!!!!!! TELL EVERYONE!!!!!!!!!!!!!!!!!!!!!!!!!!!!!!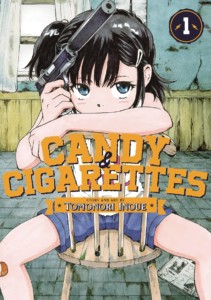 Candy & Cigarettes GN Vol 01
An action-packed, neo-noir revenge thriller from the creator of Coppelion, following a retired cop and an 11-year old assassin.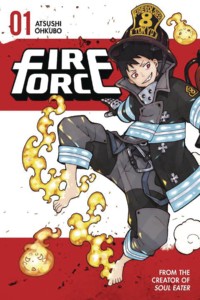 Fire Force 3-in-1 GN Vol 01
The 3-in-1 omnibus editions of long running manga series are the perfect way to collect and read the best of the best!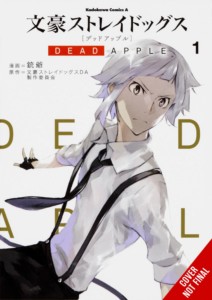 BUNGO STRAY DOGS DEAD APPLE GN VOL 01
A string of mysterious suicides across Yokohama, it's up to the Armed Detective Agency!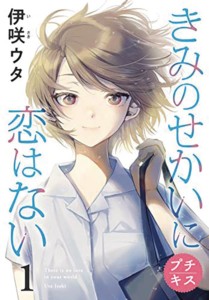 A poignant coming-of-age story about a young woman coming into her own as she discovers her identity as an aromantic asexual.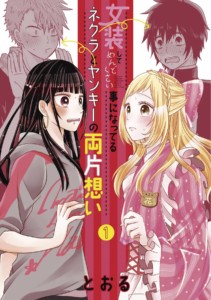 CROSSPLAY LOVE OTAKU X PUNK GN VOL 01
An LGBTQ+ romcom, they are attracted to each other, but only when crossdressing at a maid cafe!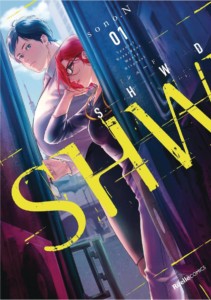 A slick and action-packed yuri tale about two special agent women fighting supernatural horrors in the year 20XX.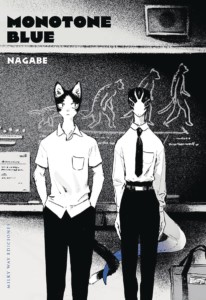 Creator of 'The Girl From the Other Side' returns with this gorgeous Boys' Love tale about animal boys falling in love!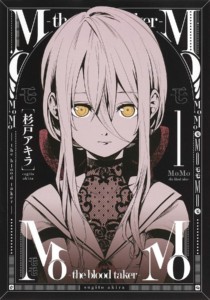 MOMO BLOOD TAKER GN VOL 01
A hardboiled supernatural murder mystery from the creator of 'Boku Girl'following a washed-up Tokyo detective investigating murders.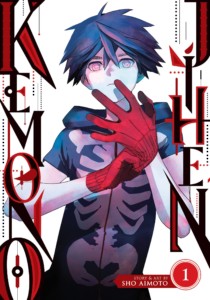 Inugami is a Tokyo detective specializing in the occult, who finds a peculiar boy with powers nicknamed after a yokai.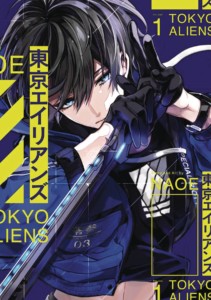 Welcomes to Japan, a top 10 destination for extraterrestrials looking for refuge, relaxation, or just to raise a little hell!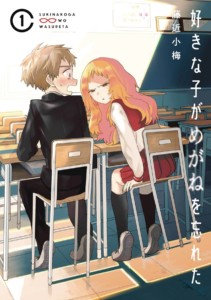 The GIRL I LIKE FORGOT HER GLASSES GN VOL 01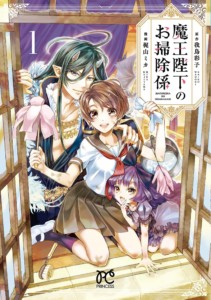 HIS MAJESTY DEMON KINGS HOUSEKEEPER GN VOL 01
A lighthearted shojo tale about a high-schooler who uses her cleanliness to fix a fantasy world!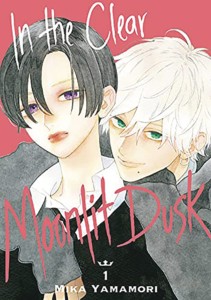 IN THE CLEAR MOONLIT DUSK GN VOL 01
Their long legs, deep voice, handsome face, an attractive guy. But she is, in fact, a girl.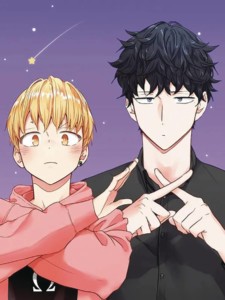 LOVE IS AN ILLUSION GN VOL 01
The hit fiery Boys' Love manhwa omegaverse webtoon from Lezhin is now in print!
WISTORIA WAND & SWORD GN VOL 01
A magical dungeon-adventure fantasy series, author of 'Is It Wrong to Try to Pick Up Girls in a Dungeon?'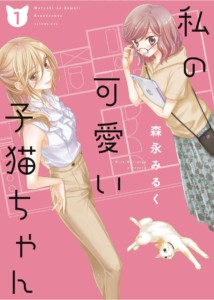 MY CUTE LITTLE KITTEN GN VOL 01
Romance between two female roommates, spurred on by the rescue of a rambunctious kitten in this yuri romcom.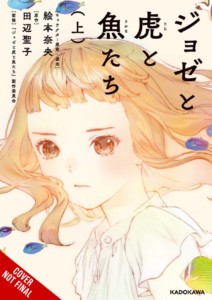 JOSEE THE TIGER & THE FISH GN
Josee has been in a wheelchair since she was a child, and has lived her life through pictures, books, and her imagination.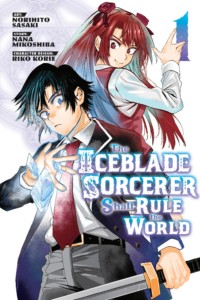 ICEBLADE SORCERER SHALL RULE WORLD GN VOL 01
Ray finds himself surrounded by the children of aristocrats at Arnold Academy of Magic.
They haven't seen each other since they were 18. Now 27 at a high school reunion, their romantic feelings come rushing back.
If anything jumped out to you, remember to message us or let us know next time you're in the shop! You get a text the second it arrives in the shop and we place a copy aside just for you so you don't miss out!
We do these each month so keep an eye out for the next post!
Have a great month and happy reading 💚