The March issue of PREVIEWS has arrived so here are our picks from what's arriving in May! This was a super packed month of solicitations so we've had to try and limit ourselves (which we clearly struggled with), there's just too many good books on the way!
We've separated our Marvel Previews Picks as well as our DC Comics Picks, which you can find over on The Blog! As always, if you see anything you like make sure to let us know by shooting us a message!
In 2115, Earth has been abandoned as a lost cause, and humankind has moved on to space colonization. At a decrepit high school on the moon for underprivileged youth, Stab, Yuki, and Una are three teenagers who try to keep their boredom and resentment at bay by fighting rival gangs and cliques, hanging out, and sleeping their way through class, all while trying to avoid punishment from the student council. Fights over turf, respect, and snacks lead to unearthing an exciting secret, but is their friendship strong enough to forge a new future?  
DEATH NOTE SHORT STORIES GN
Kira's story is over, but the Death Note's is not…In this imaginative and complete collection of Death Note short stories penned by the series' creators, discover tales of lives irrevocably changed by the sinister influence of the Death Note, with surprising and thrilling answers to the question of what it truly takes to use the Death Note… or fight it.
ARSENE LUPIN GENTLEMAN THIEF HC
In 1907, Maurice Leblanc released the first collection of stories recounting the adventures of Arsene Lupin, a charming thief and master of disguises, inspiring generations of anti-heroes to follow. This new edition is colorfully illustrated by artist Vincent Mallie in an animated style reminiscent of Hayao Miyazaki (whose first directorial release was LUPIN THE 3rd: The Castle of Cagliostro, filled with nods to Leblanc's classic character).
In 1999, when most people think that the world is about to end with the Y2K crash on the eve of the new Millennium, Jet is just trying to get through high school. When their Mom moves to another country to work on fixing the Millennium bug, Jet is forced to stay at a boarding house while they finish the school year, and they're not pleased about it. As Jet slowly starts to feel overwhelmed by their peers, they begin to notice that they don't feel like the other girls in their class. As new feelings start to emerge, Jet slowly begins to realise that they may be more of a boy than a girl. This coming-of-gender graphic novel debut from trans creator Joris Bas Backer is an enlightening and often hilarious tale that casts light on what it was like to be transgender before information and help was more accessible and widespread.
It's 1918 in Orange, New Jersey, and everyone knows the "Ghost Girls." The proud holders of well-paying jobs at the local watch factory, these working-class young women gain their nickname from the fine dusting of glowing, radioactive powder that clings to their clothes after every shift painting watch dials. The soft, greenish glow even stains their lips and tongues. It's perfectly harmless… or so claims the watch manufacturer. When teeth start falling out, followed by jawbones, the dial painters become the unprepared vanguard on the frontlines of the burgeoning workers' rights movement. Desperate for compensation and acknowledgement from the company that has doomed them, the Ghost Girls must fight, not just for their own lives but the future of every woman to follow them.
Graphic Novels & Collections!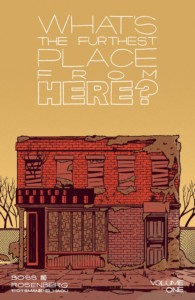 WHATS THE FURTHEST PLACE FROM HERE TP VOL 01
From artist TYLER BOSS and writer MATTHEW ROSENBERG comes an epic adventure about growing up.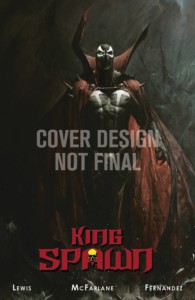 Why does Kincaid want Spawn to ascend the throne of Hell, and what of the prophecy of the KING SPAWN? Get your chains ready kids.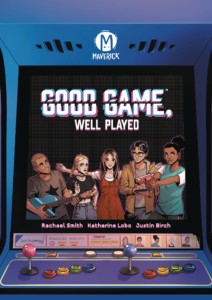 A story of working in a local video game store with your four best friends at the turn of the century and wanting it to last forever.
Dizzy wants to be the best! But with everything she's tried, including roller skating, this teen can only achieve one thing – disaster.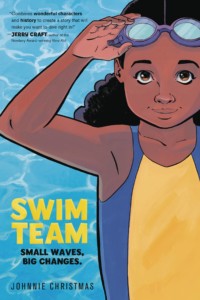 Bree can't wait for her first day at her new middle school, until she's stuck with the only elective that fits her schedule, the dreaded 'Swim 101'.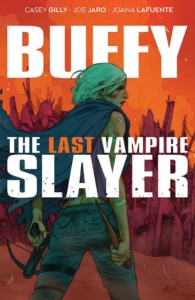 Buffy The Last Vampire Slayer TP
In an alternate universe, Buffy (who is now 50 years old) embarks on an epic post-apocalyptic journey.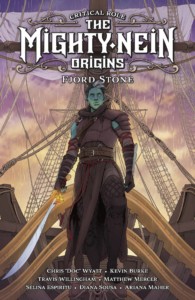 Critical Role Mighty Nein Origins: Fjord HC
The latest in the Critical Role Library, bringing Fjord's early years to life in this all-new hardcover graphic novel.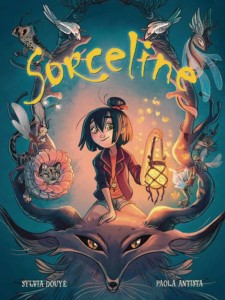 Now a student at a big school of cryptozoology, Sorceline is great at studying magical creatures but tends to struggle when it comes to humans.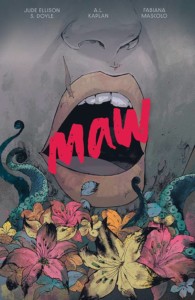 A provocative horror story of sisterly bonds, deep trauma, and the dormant monsters buried within us, perfect for readers of SIKTC!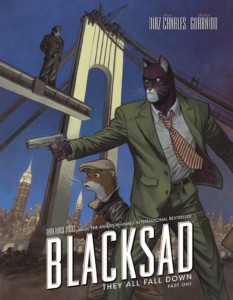 Blacksad: They All Fall Down Part One HC
Blacksad must navigate from the lofty world of 1950's theater, all the way to the city's seedy depths.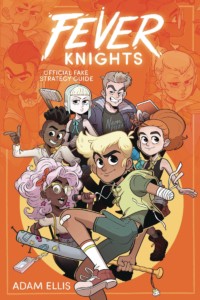 FEVER KNIGHTS OFFICIAL FAKE STRATEGY GUIDE
From the amazing Adam Ellis comes a new book structured like an old-school video game strategy guide!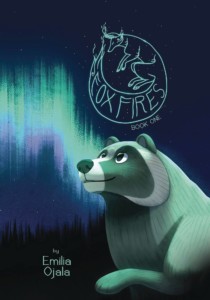 A fantasy-adventure that is inspired by Finnish folklore. On her journey, Raate meets all kinds of interesting creatures, and also new friends.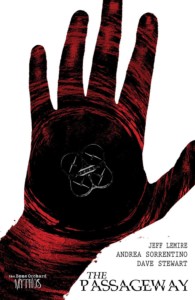 BONE ORCHARD MYTHOS HC The PASSAGEWAY
The first of a dozen new Lemire interconnected projects making up 'THE BONE ORCHARD MYTHOS'.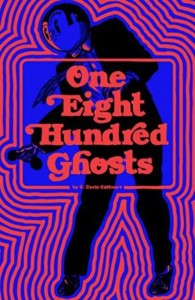 ONE EIGHT HUNDRED GHOSTS TP
The most wild blurb ending we have ever read please do yourself a favour and read it here my god… just absolutely wild.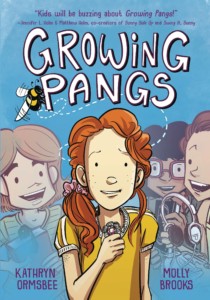 New grade. New friends. New worries? Introducing an irresistibly honest, relatable graphic novel about friendship, anxiety, and growing up.
LARS THE AWKWARD YETI TP VOL 01
An ongoing gag-a-day webcomic by New York Times-bestselling author Nick Seluk since 2012!
Some Honourable Mentions!
The Dark Room, King of Spies, The Art of Star Wars Visions, Star Wars Rebels, Critical Role Vox Machina Origins Vol 3, Basil and Oregano, The Blouse, Sparkle Dragons Vol 1, The Oates and The Elphyne, The First Cat In Space Ate Pizza, Anne of West Philly, Dewdrop, Bug Boys Adventures, Urban Animal, Smaller Sister, Gay Giant, After Vol 1.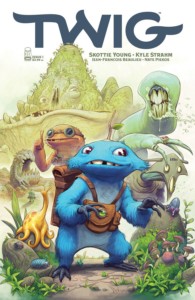 Eisner Award-winning 'I HATE FAIRYLAND' and 'MIDDLEWEST' writer SKOTTIE YOUNG and artist KYLE STRAHM (SPREAD, UNEARTH) come together for an all-new epic fantasy/adventure miniseries! It's the first day of Twig's new job as a journeyer on a JEFF SMITH's Bone-esque quest to save a The Dark Crystal/Labyrinth-style world.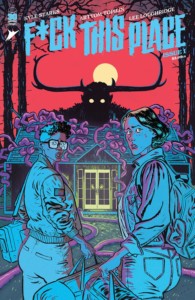 After inheriting a farm house, Trudy and Gabby are ready to start the next chapter of their lives together… except it's already attracted ghosts, aliens, and all kinds of supernatural beings for decades. A new series from KYLE STARKS (ASSASSIN NATION, THE SIX SIDEKICKS OF TRIGGER KEATON) and ARTYOM TOPILIN (ICE CREAM MAN PRESENTS: QUARANTINE COMIX SPECIAL).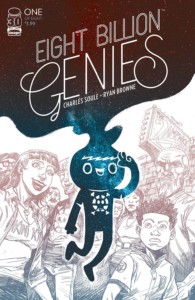 EIGHT BILLION GENIES #1 (OF 8)
If you had one wish…what would you wish for? Now, what if everyone else had one wish too? That's 'EIGHT BILLION GENIES', the new eight-issue series from CHARLES SOULE & RYAN BROWNE (CURSE WORDS). At exactly the same moment, everyone on earth gets a genie and one wish. All hell breaks loose, in a very entertaining way… and that's just the beginning. Buckle in for the wildest ride of the year!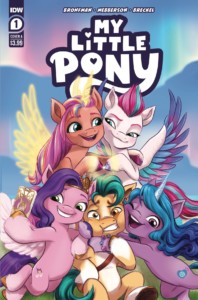 A new adventure begins here! Join Sunny, Izzy, Zipp, Pipp, Hitch, and their trusty sidekick Cloudpuff as they explore a brand-new Equestria following the magical events of the hit Netflix movie!
Can the Mane 5 find the culprit before magic is gone for good? And where's Cloudpuff leading them, anyway? Is this . . . Canterlot?!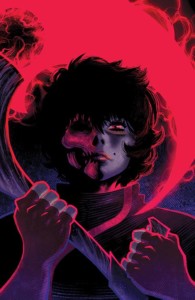 Discover the world of the afterlife, where Jessica has been recruited as a Reaper. In order to unravel the mystery of her own demise, she'll have to solve an even bigger one – where is the actual GRIM REAPER? From acclaimed writer Stephanie Phillips (Harley Quinn) and fan favorite artist Flaviano (New Mutants) comes a bold new vision of what comes after, and the nature of death itself!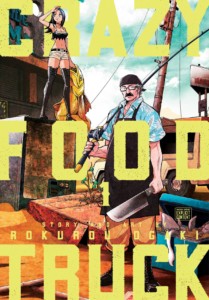 CRAZY FOOD TRUCK GN VOL 01
A food truck in a post-apocalyptic world. A naked girl? Wait an armed militia hot on her trail?! AND her even more problematic appetite?!?!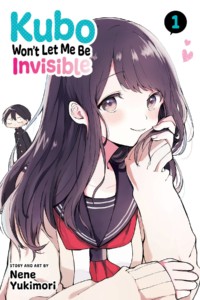 KUBO WON'T LET ME BE INVISIBLE GN VOL 01
His goal is to make the most of his high school life, but he's invisible… until Nagisa Kubo notices him!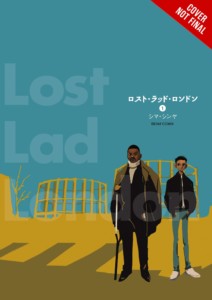 LOST LAD LONDON GN VOL 01
A London Underground murder draws a regular university student and a grizzled New Scotland Yard detective into a web of crime.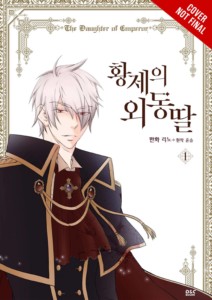 DAUGHTER OF THE EMPEROR GN VOL 01
Some people are reborn as villainesses and heroes… but Adriana is daughter of a tyrannical Emperor!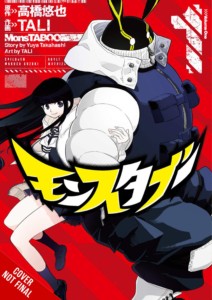 Maruka is a monster hunter who ends up fighting alongside a monster – who she then ask to be her new boyfriend!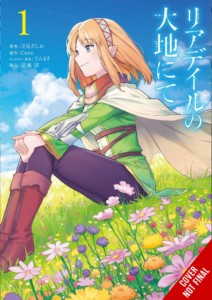 IN THE LAND OF LEADALE GN VOL 01
Keina Kagami's life ended when a power outage caused her life support to fail… and so begins her new life two centuries later in a RPG world.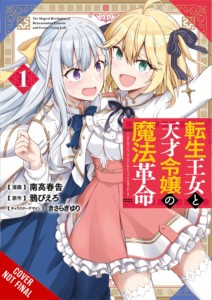 THE MAGICAL REVOLUTION OF THE REINCARNATED PRINCESS & THE LADY GN VOL 01
Basically a princess spots a sad looking girl and takes her home.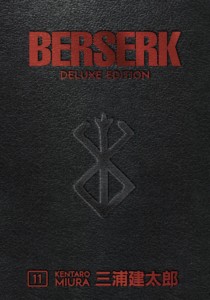 BERSERK DLX EDITION HC VOL 11
The next release of the gorgeous hardcover deluxe editions of Berserk, make sure to get your pre-orders in on this one!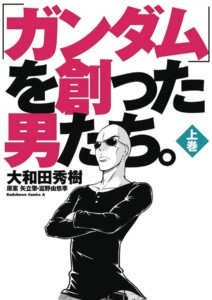 THE MEN WHO CREATED GUNDAM GN
With Yoshikazu Yasuhiko by his side, Tomino would change the view on Japanese animation and the toy and comics industries built around it.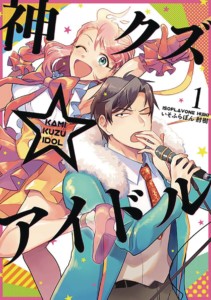 PHANTOM OF THE IDOL GN VOL 01
Yuuya, one half of the boy pop duo ZINGS, may be the laziest performer in the Japanese music industry. And now he meets a ghost girl!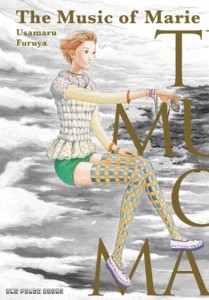 Delve into the beginnings of Usamaru Furuya's soaring fantastical worldview in a story of sublime love, that will pluck at your heartstrings.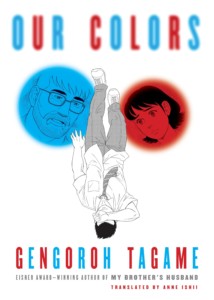 A 16-year old aspiring painter wants to live honestly as a young gay man in high school, but that is still not acceptable in Japanese society.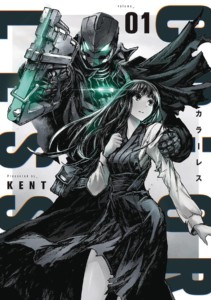 A stylish noir-punk thriller presented in two-tone printing that contrasts a monochromatic world with sudden electric splashes of neon color.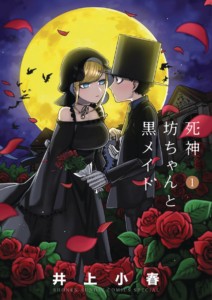 THE DUKE OF DEATH & HIS MAID GN VOL 01
Brayden here! I just put this in here cause the cover looks like some My Chemical Romance fanart off Tumblr.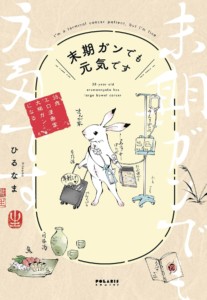 I'M A TERMINAL CANCER PATIENT BUT I'M FINE GN
Just diagnosed with terminal cancer, follow a physical and emotional journey in this powerful memoir.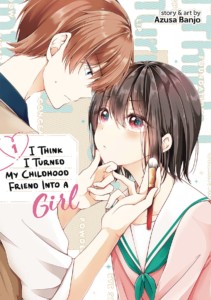 I THINK I TURNED MY FRIEND INTO A GIRL GN VOL 01
A popular high school student gives their plain friend a makeover and transforms their life.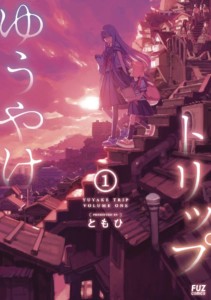 NIGHTFALL TRAVELERS GN VOL 01
Two girls explore their haunted hometown in this beautifully illustrated ghost-filled friendship-exploring manga.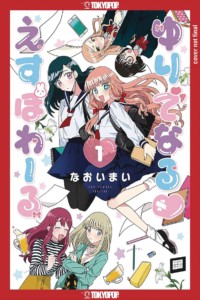 In her final year of high school, a girl indulges in her love of other women, creating a sketchbook of lesbian romance to leave as her legacy.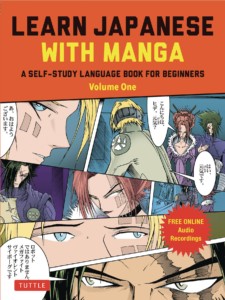 LEARN JAPANESE WITH MANGA SC VOL 01
Designed for self-study by adults, this is a fun resource for beginners – no prior knowledge required!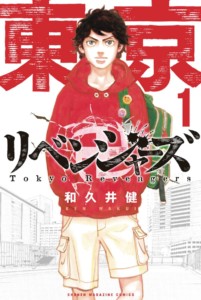 TOKYO REVENGERS OMNIBUS GN VOL 01
A gang that once terrorized him has grown into the largest gang in Tokyo, and they've started killing people.
If anything jumped out to you, remember to message us or let us know next time you're in the shop! You get a text the second it arrives in the shop and we place a copy aside just for you so you don't miss out!
We do these each month so keep an eye out for the next post!
Have a great month and happy reading 💚