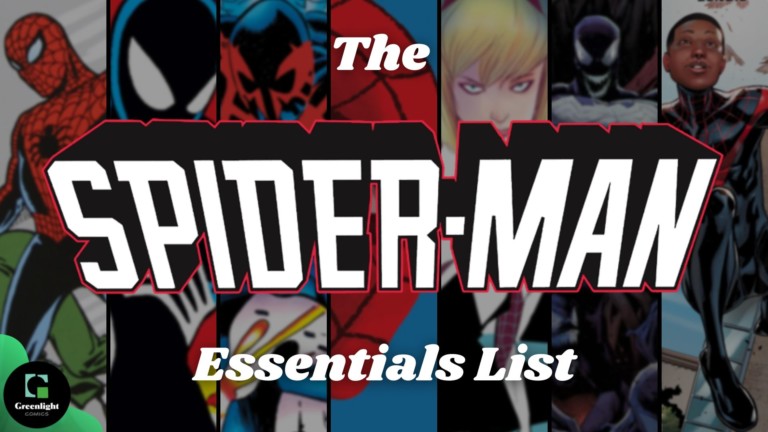 Peter Parker. Miles Morales. Both are Spider-Man. But it would be rude of us to only include those two in our Spider-Man Essentials List! So we are featuring all the Spidey-fam books that we believe are the ones you need on your shelf! From Gwen Stacy's alternate universe, Venom's alien symbiote takeovers, all the way to Spider-Ham's all-ages adventures!
We've prioritised stories that are currently in print through collected editions, just so we aren't tempting you with things you can't buy and read today! *Most of the time at least, if Marvel keep reprinting them*
You can also check out our more Essentials Lists & Previews over on the blog!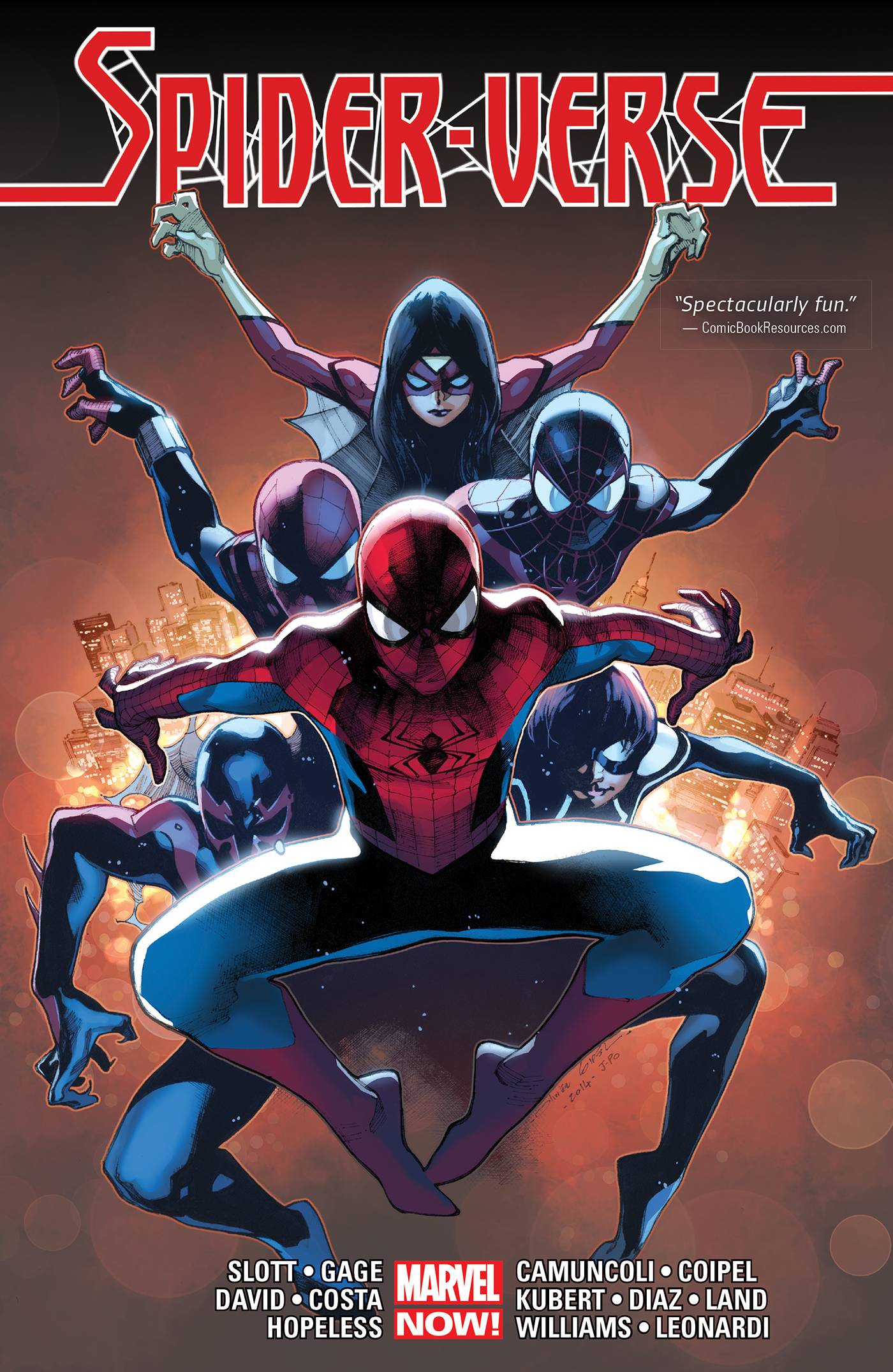 (W) Dan Slott, Various (A) Various (CA) Olivier Coipel
When the evil Inheritors begin exterminating Spider-characters throughout the multiverse, every single Spider-Man ever is needed to save the day! An interdimensional Spider-army gathers to fight Morlun and his deadly family, but as the Prophecy comes to fruition, none of them are safe! What will this brutal war for survival mean for Peter Parker…and the rest of the Spiders? Starring the Superior Spider-Man, the Ultimate Universe's Miles Morales and Jessica Drew, Spider-Man 2099, Spider-Woman, Silk, Kaine, Scarlet Spider, MC2's Spider-Girl, Spider-Man Noir, Spider-Man 1602, Spider-Ham, Spider-Monkey, Lady Spider, Spider-Punk, Spider-UK, the rocktacular Spider-Gwen…and hundreds more, from the beloved to the obscure!
MILES MORALES: THE ULTIMATE SPIDER-MAN - ULTIMATE COLLECTION BOOK 1
(W) Brian Michael Bendis (A) Sara Pichelli & Various (CA) Sara Pichelli
Miles Morales takes up the mantle of Spider-Man! Before Peter Parker died, young Miles was poised to start the next chapter in his life in a new school. Then, a spider's bite granted the teenager incredible arachnid-like powers. Now, Miles has been thrust into a world he doesn't understand, with only gut instinct and a little thing called responsibility as his guides. Can he live up to Peter's legacy as Spider-Man? As Miles grapples with his new life, Miles' Uncle Aaron – A.K.A. the Prowler – learns his secret! He's got plans for his nephew, but little does he know that the Scorpion is on his tail! Plus- Universes collide, and the wall-crawlers of the Marvel and Ultimate Universes unite in the most ultimate, amazing Spider-Man story ever!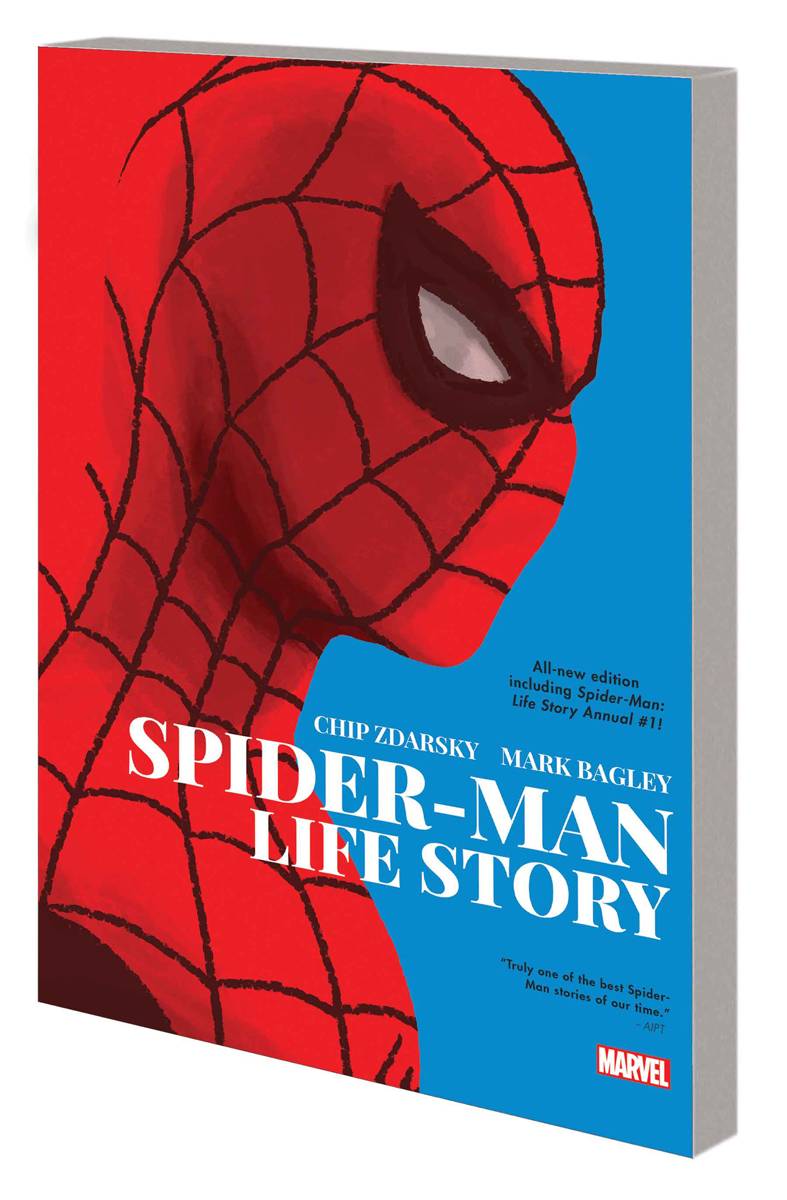 (W) Chip Zdarsky (A) Mark Bagley (CA) Chip Zdarsky
Spider-Man makes history! In 1962's AMAZING FANTASY #15, teenage Peter Parker was bitten by a radioactive spider and became the amazing Spider-Man! Sixty years have passed in the real world since that event – so what would have happened if the same amount of time had passed for Peter? In celebration of an icon, Chip Zdarsky and legendary artist Mark Bagley spin a unique Spidey tale – telling the entire life story of Spider-Man from beginning to end, set against the key events of the decades through which he lived! From the Vietnam War to Secret Wars and Civil War, all the way through to what just might be a 72-year-old Spider-Man's final mission! Plus: Watch the saga unfold through the jaded eyes of jolly J. Jonah Jameson!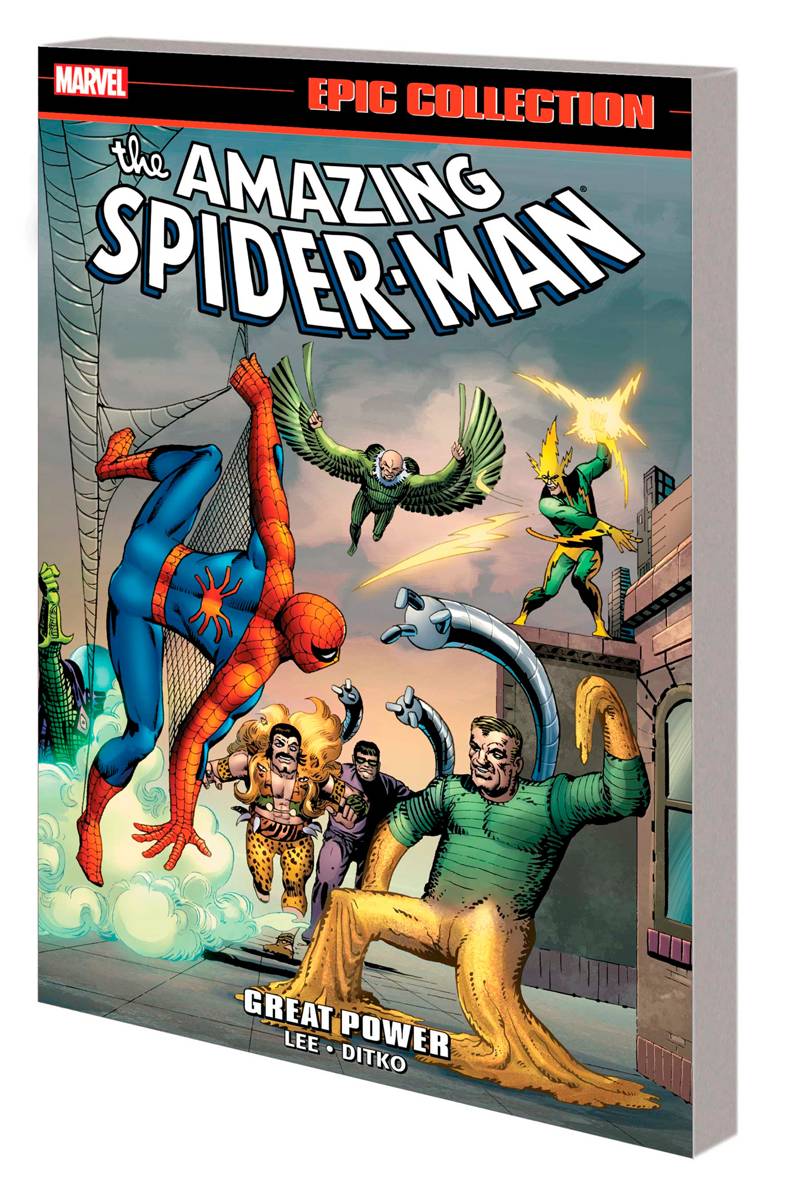 AMAZING SPIDER-MAN EPIC COLLECTION VOL. 01 GREAT POWER
(W) Stan Lee (A) Steve Ditko, Jack Kirby (CA) Steve Ditko
In 1962, in the pages of a comic book slated for cancellation, Stan Lee and Steve Ditko gave birth to one of the most enduring icons in American popular culture: the Amazing Spider-Man! Turning the concept of a super hero on its head, they imbued the young, guilt-ridden Peter Parker with the fantastic powers of an arachnid and the fantastic pressures of an everyday teenager. The combination was pure magic. Now you can leap into Spider-Man's web-slinging world from the beginning – including the tragic origin that started it all; the first appearances of the Daily Bugle and J. Jonah Jameson; and the debut of classic villains including the Green Goblin, Doctor Octopus, the Sandman, the Vulture and Electro!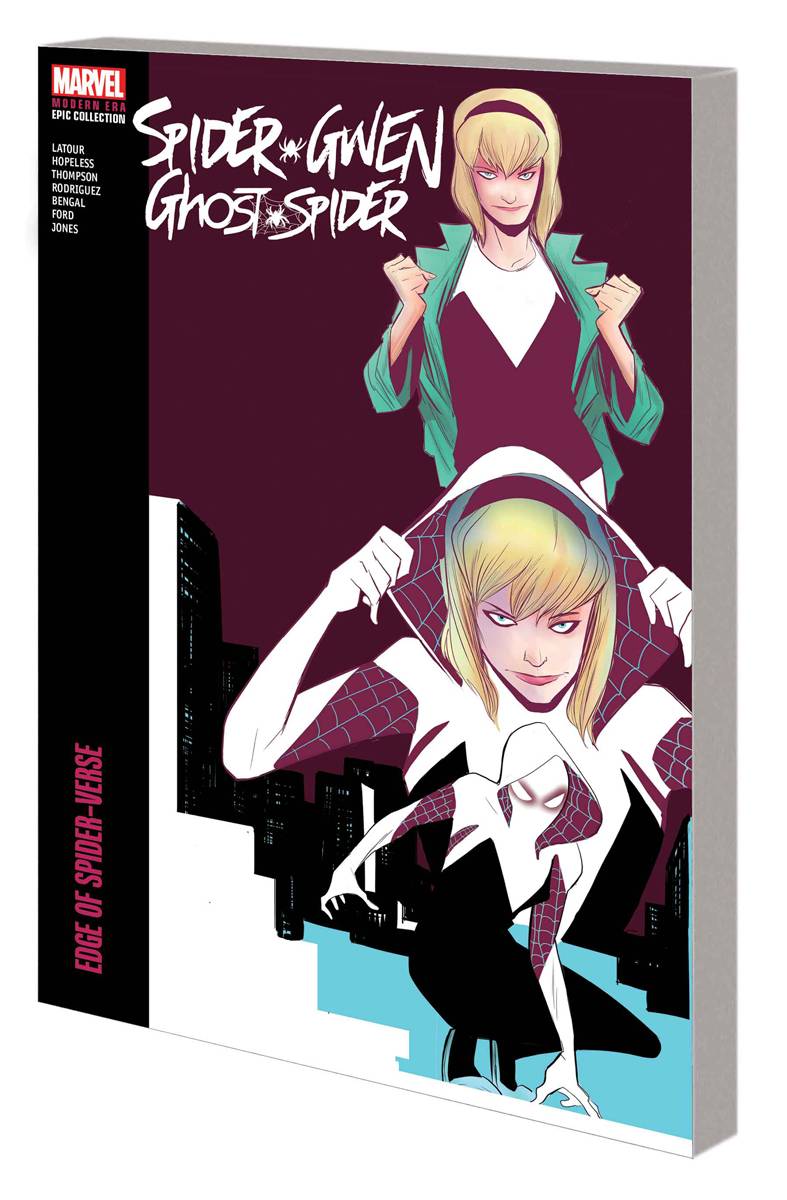 SPIDER-GWEN/GHOST-SPIDER MODERN ERA EPIC COLLECTION
(W) Jason Latour, Various (A) Robbi Rodriguez, Various (CA) Leinil Yu
On Earth-65, the radioactive spider didn't bite Peter Parker – it bit Gwen Stacy! Now, Gwen fights crime as Spider-Woman – just don't tell her father, the police chief! In the wake of SPIDER-VERSE, Gwen splits her time between school, heroism and playing in her band, the Mary Janes, while dodging NYPD lieutenant Frank Castle! But what really happened the night her world's Peter Parker died, and how does it connect to a new reptilian rampage? Gwen's troubles pile up as her world's Osborns debut and she finds herself on S.H.I.E.L.D.'s most wanted list! Can a team-up between Gwen, Silk and Jessica Drew – the Spider-Woman of the prime Marvel Universe – help Gwen learn lessons about power and responsibility?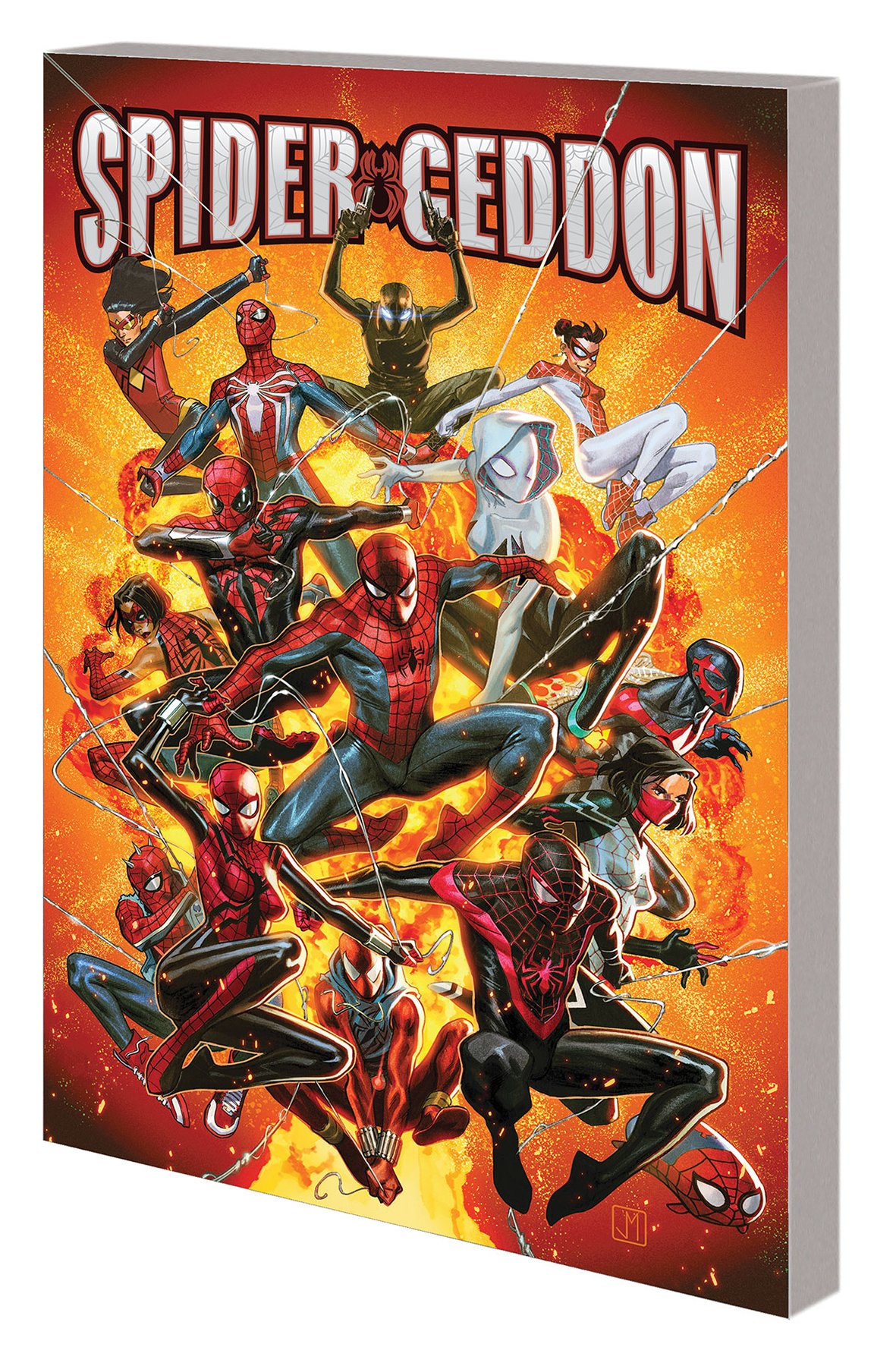 (W) Christos Gage & Various (A) Clayton Crain & Various (CA) Jorge Molina
SPIDER-VERSE united every Spider-Person ever – now SPIDER-GEDDON will destroy them all! The Inheritors have escaped their radioactive prison planet and made their way to the Marvel Universe. As the villains draw first blood, a whole Spider-Army must reunite to keep them at bay! Starring Spider-Man, Otto Octavius, Spider-Gwen, Miles Morales, Spider-Woman, Spider-Punk, the live-action Japanese TV Spider-Man, the Spider-Man from the new PS4 video game and many more Spiders – including some brand-new ones! Prepare to meet Web-Slinger, Spidey of the Wild West! May Parker: Spider-Ma'am! And more! But as the threat they face builds, things do not look good for our web-heads and wall-crawlers. The end of the Spider-Verse is here!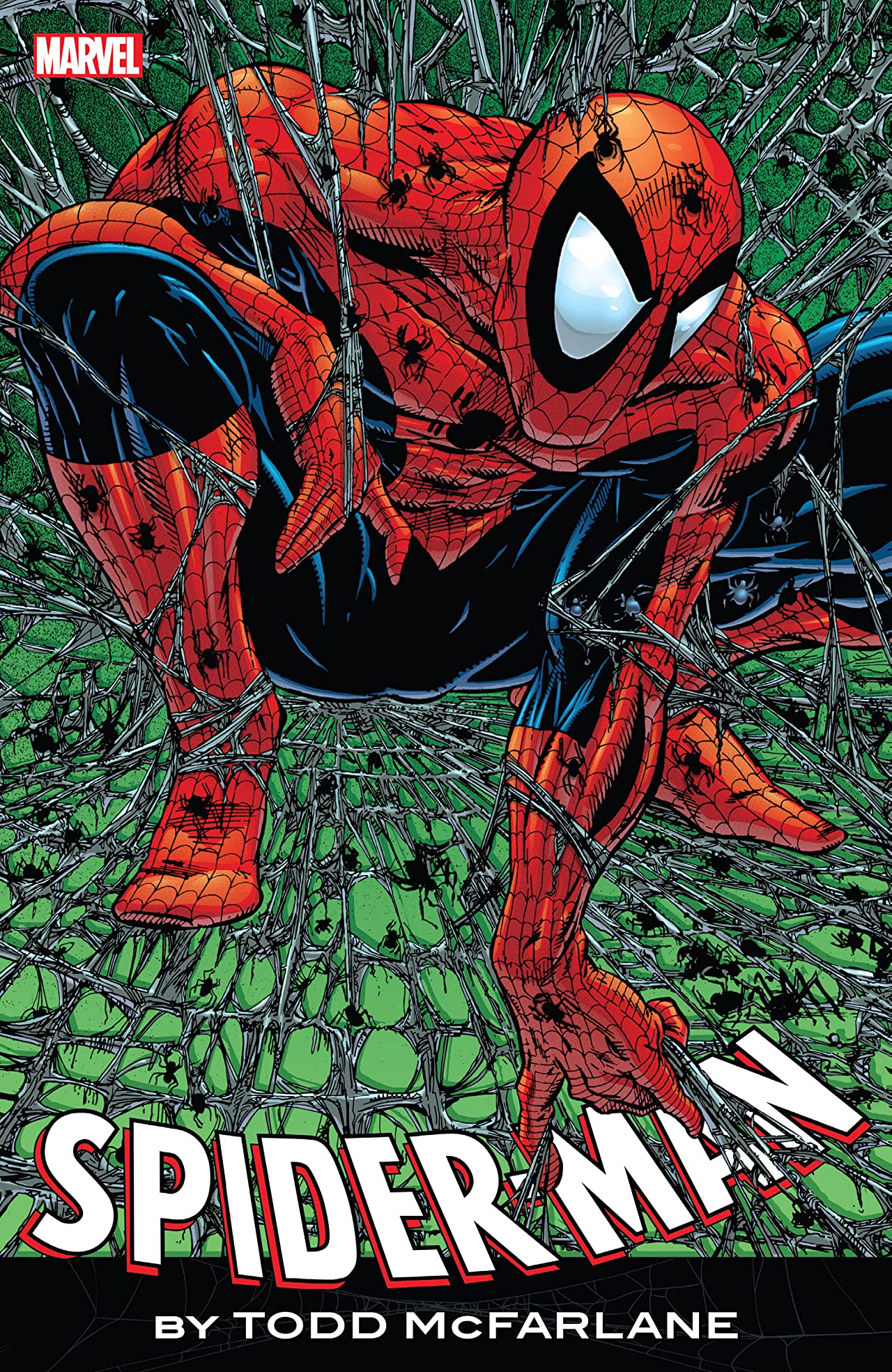 SPIDER-MAN BY TODD MCFARLANE COMPLETE COLLECTION
(W) Todd McFarlane, More (A) Todd McFarlane, Rob Liefeld (CA) Todd McFarlane
 The book that transformed comics! Todd McFarlane became a superstar illustrating AMAZING SPIDER-MAN, but he changed the industry forever with his next project: the ""adjectiveless"" SPIDER-MAN! Taking on both writing and art duties, McFarlane ushered Peter Parker into a gritty new era – and it began with ""Torment""! When the Big Apple's streets run red with blood, the web-slinger heads into the sewers to stop the Lizard's homicidal rampage. But what is driving his old friend and foe? Plus: Ghost Rider lends a bony hand when the deranged Hobgoblin returns, the wall-crawler finds himself at the center of a clash of claws between Wolverine and Wendigo and Pete goes back in black to face Morbius the Living Vampire! And in the ultimate nineties team-up, Spidey joins X-Force to battle the unstoppable Juggernaut!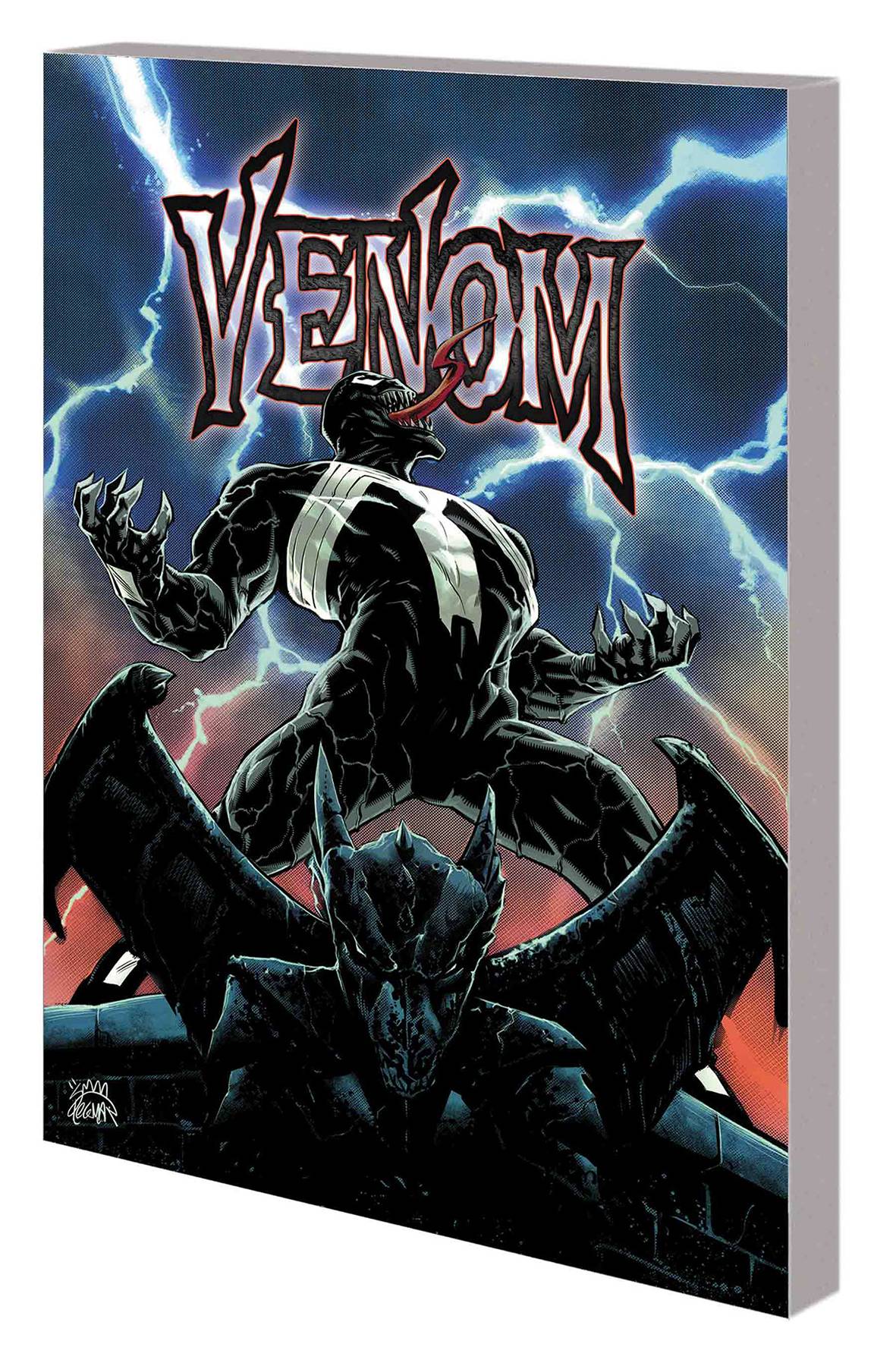 VENOM (2018-2022) BY CATES & STEGMAN
(W) Donny Cates (A/CA) Ryan Stegman
Donny Cates and Ryan Stegman's epic reinvention of Venom! An ancient and primordial evil surfaces beneath New York, awakening something deep inside Eddie Brock's symbiote – and nothing will ever be the same for Venom! Cletus Kasady wreaks Absolute Carnage against the former hosts of symbiotes, Eddie faces a battle for survival on the Island of Bones and an attack by the armored Virus sends Venom into a whole different world of terror! But when Knull, god of symbiotes, awakens and heads for Earth, can anyone survive the darkness of the King in Black?
PETER PARKER & MILES MORALES: SPIDER-MEN - DOUBLE TROUBLE
(W) Mariko Tamaki, Vita Ayala (A/CA) Gurihiru
Miles Morales is Peter Parker's friend, super-hero namesake, crimefighting ally and?sidekick?! No way! Peter has dragged Miles to "Take Your Sidekick to Work Day," and Miles is not amused – they're both Spider-Man! So when Peter makes a mistake that unleashes villainous shenanigans on New York City, it's up to Miles to save the day ? and prove exactly which Spider-Man is the true sidekick! Writer Vita Ayala joins the fan-favorite team that brought you SPIDER-MAN & VENOM: DOUBLE TROUBLE and THOR & LOKI: DOUBLE TROUBLE for a brand-new adventure! Plus: Look back at another case of double trouble as the best of frenemies, Spider-Man and Venom, get inside each other's heads… literally!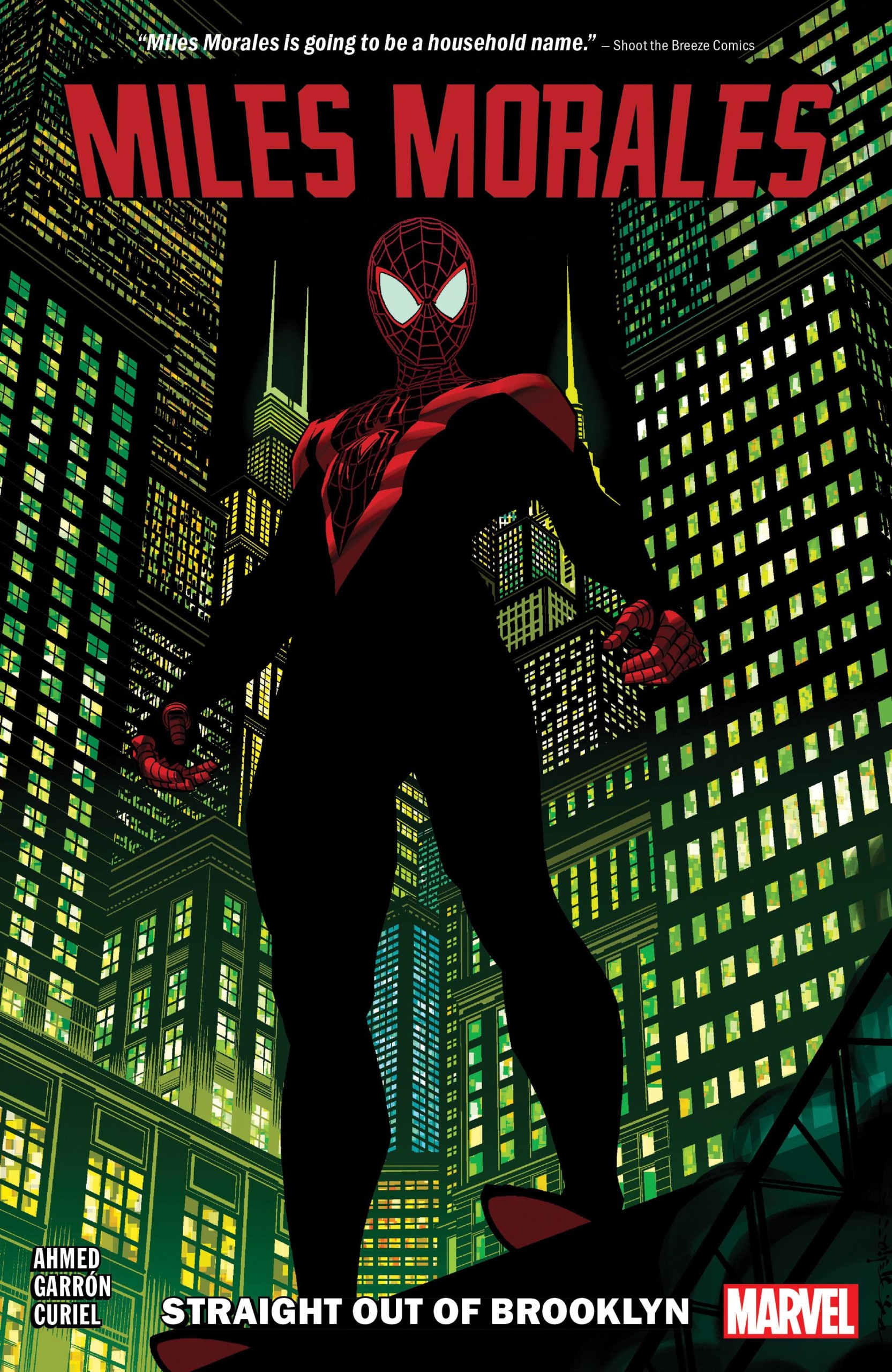 MILES MORALES: SPIDER-MAN BY SALADIN AHMED
(W) Saladin Ahmed, Various (A) Garron, Javier, Various (CA) Brian Stelfreeze
Saladin Ahmed shakes up the world of Miles Morales! The young Spider-Man has his hands full with adversaries including the Rhino, Tombstone and-Vice Principal Drutcher?! But is the high-flying Starling friend or foe? When an unknown assailant captures Miles, it sets in motion a series of events that will change his life – while an oddly familiar villain named Ultimatum threatens to destroy it! Meanwhile, the Morales family has a new arrival, the nation threatens to outlaw teen vigilantes, and Miles is about to face his own clone saga! But there are even bigger problems lurking – both in a dark future and out in the Multiverse!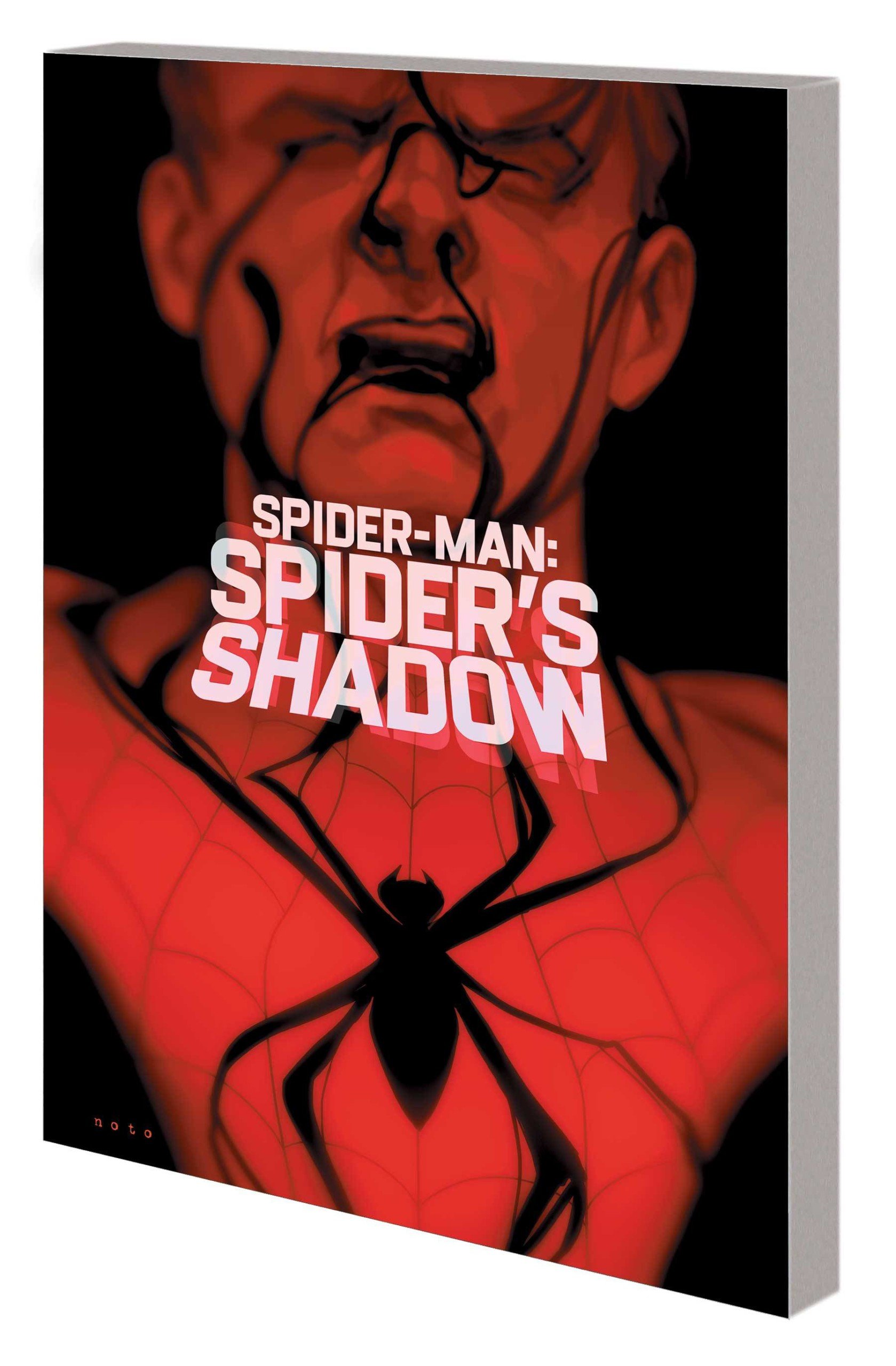 SPIDER-MAN: SPIDERS SHADOW
(W) Chip Zdarsky (A) Pasqual Ferry
What if Peter Parker became Venom? Spider-Man once donned an alien suit that nearly destroyed his life, but what if he never took it off? In this shocking new version of the story, Peter ignores every warning and embraces his dark symbiote! Now, haunted by terrible nightmares and exhausted by an endless barrage of villains, he is at the end of his rope – and when Hobgoblin attacks, Spider-Man isn't so friendly anymore. The rules of engagement are about to change – permanently! Wilson Fisk wants to put an end to this deadly new Spidey once and for all. But with Peter haunted by his past and present more and more each day, can anyone save him from his own mind?
AMAZING SPIDER-MAN EPIC COLLECTION - MAXIMUM CARNAGE
(W) David Michelinie, Various (A) Mark Bagley, Various (CA) Ron Lim
Symbiotes clash – with Spidey in the middle! Carnage, the spawn of Venom, has assembled an army of the web-slinger'swebslinger's criminally insane adversaries to spread his message of hostility, chaos and wholesale slaughter: Carrion, Demogoblin, Shriek and the Spider-Man Doppelganger! Outmanned and overpowered, the wall-crawler must recruit his own band of super-beings to combat the rising tide of evil: Black Cat, Cloak & Dagger, Firestar, Captain America, Iron Fist, Deathlok and – Venom?! Spider-Man's worst enemy becomes his uneasy ally in the battle to halt the pure evil of Carnage's mad rampage! Plus, an explosive day for Peter Parker leads him into a savage showdown with the Punisher – and Sabretooth!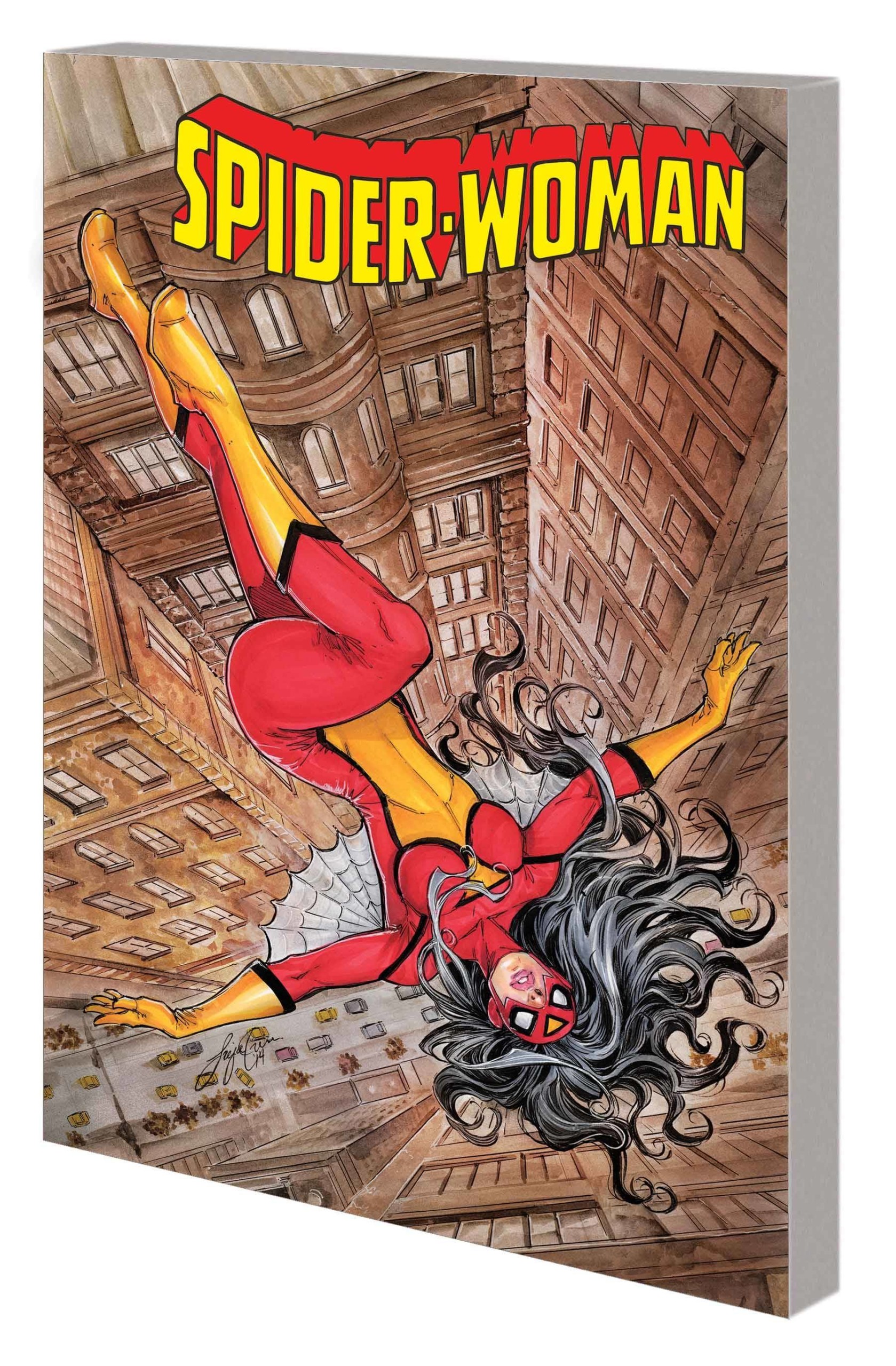 SPIDER-WOMAN BY DENNIS HOPELESS
(W) Dennis Hopeless (A) Greg Land, Various (CA) Siya Oum
The mother of all Spider-Woman sagas! Writer Dennis Hopeless takes Jessica Drew on a life-transforming journey – beginning by embroiling her in the multidimensional insanity of SPIDER-VERSE! Then, Jess heads back into the investigating business with reporter Ben Urich at her side. And their first case is a doozy: Someone is kidnapping super villains? loved ones! Get ready for a new nemesis in Lady Caterpillar – and a prickly Silver Age bad guy joins Team Spider-Woman! But he isn't the only addition to the cast: Jess is a mother-to-be! What a terrible time to be abducted by Skrulls! And just as Jess' baby arrives, the Marvel Universe erupts in a second superhuman Civil War! Will new mom Spider-Woman stand against her best friend, Captain Marvel?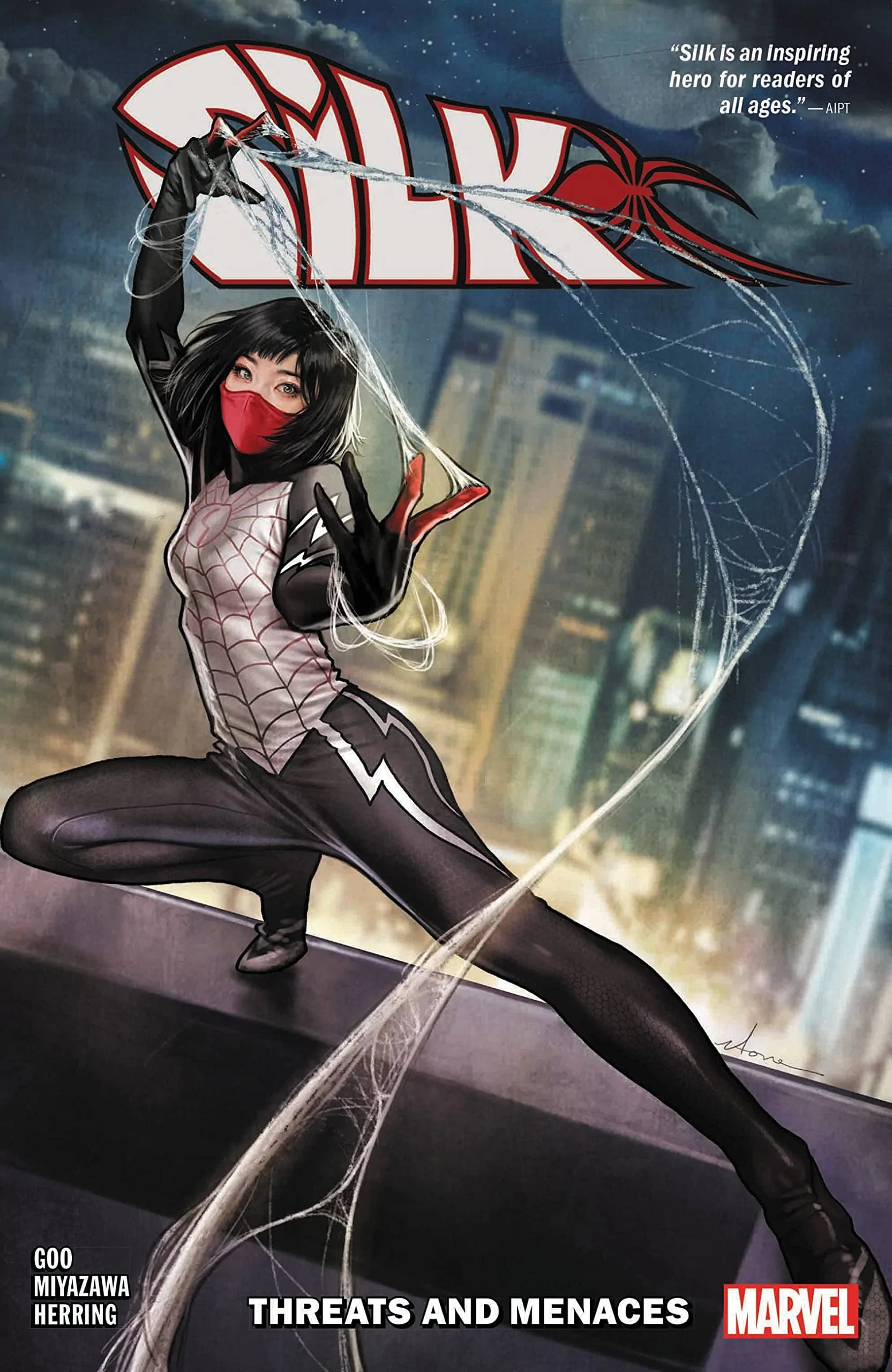 (W) Maurene Goo (A) Takeshi Miyazawa (CA) Stonehouse
Worlds collide! By day Cindy Moon is an intrepid reporter for the upstart new media empire Threats & Menaces under her old boss J. Jonah Jameson. By night she's Silk, crime-fighting super hero! But Cindy's latest investigation puts Silk and everyone she loves in danger! Someone is killing gangsters in Queens, leaving behind a trail of blood and… fur?! Who is this powerful new player in New York's underworld? Where did she come from, and what is she doing with a strange cat demon? It will take all of Cindy's prowess as reporter and hero to find the answers – and stay alive! But even as a perilous meeting with tech CEO Saya Ishii brings Cindy one step closer to the truth, a classic Spidey villain sets his sights on Silk!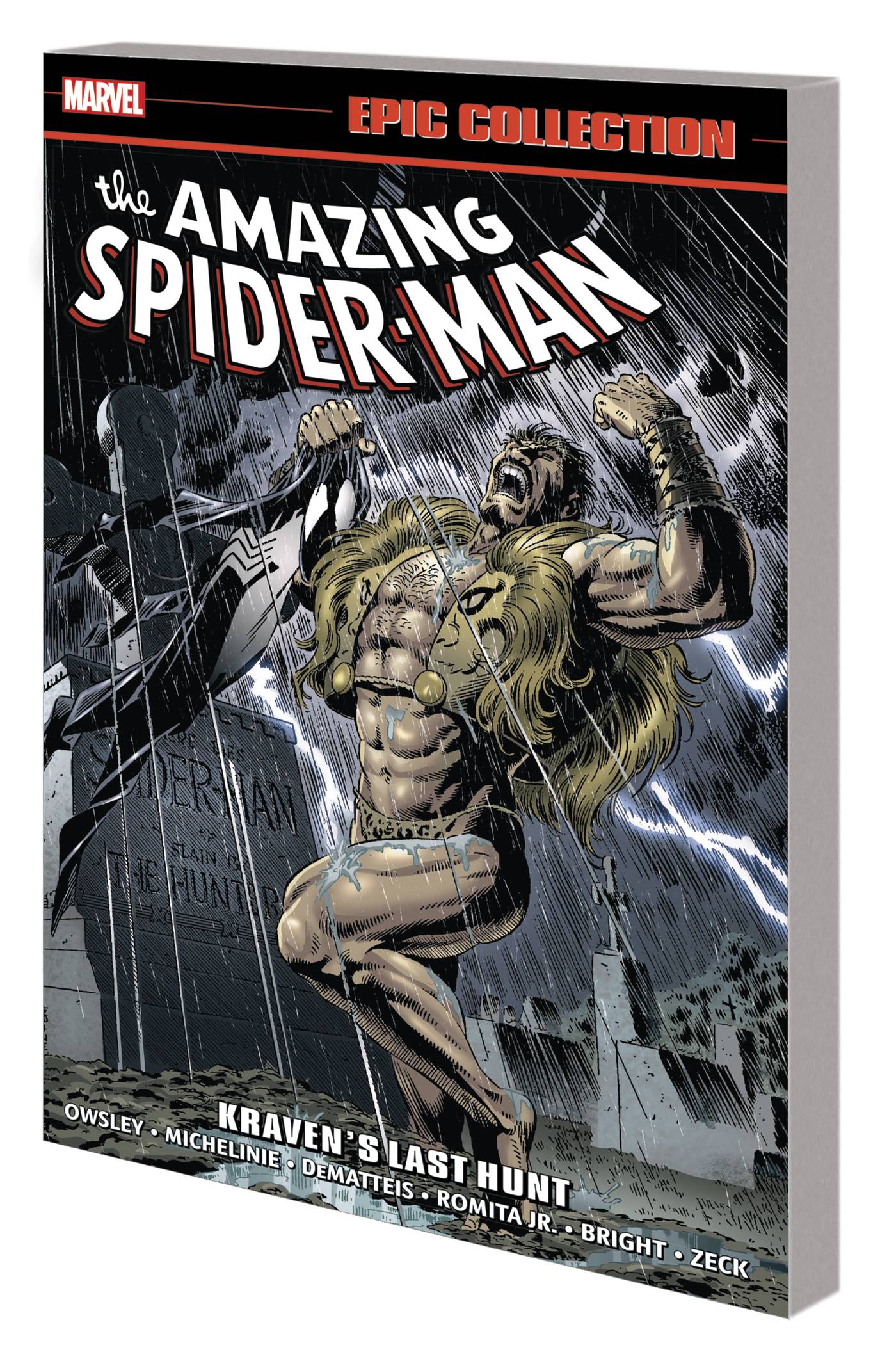 AMAZING SPIDER-MAN EPIC COLLECTION - KRAVENS LAST HUNT
(W) Peter David, Various (A) John Romita Jr., Various (CA) Mike Zeck
Peter Parker and Mary Jane Watson are getting married! But Kraven the Hunter is going to make sure the wall-crawler ends up six feet under – literally! It begins with an all-time classic encounter with Wolverine that changes Spidey's life forever, leading to the death of one of his best friends! In the wake of tragedy, Peter pops the question – but the honeymoon is short-lived, as Kraven goes to extreme lengths to prove himself superior to his greatest foe! As one of comics' most introspective, psychological sagas ever unfolds, the Hunter will learn that it's one thing to defeat Spider-Man – but another to expect him to stay down!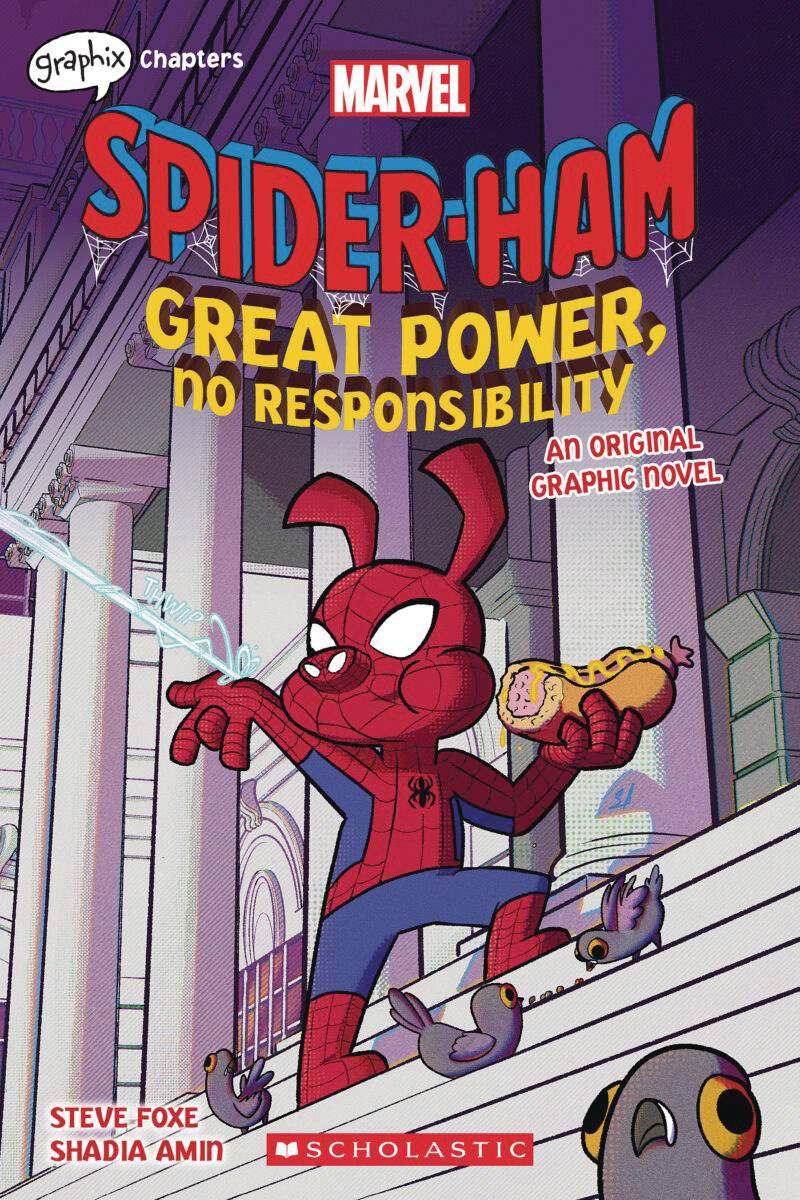 SPIDER-HAM: GREAT POWER, NO RESPONSIBILITY
(W) Steve Foxe (A/CA) Shadia Amin
Peter Porker, the Spectacular Spider-Ham (and breakout character from Into the Spider-Verse), arrives in this all-new, original graphic novel for younger readers! Experience a laugh-out-loud day in the life of Spider-Ham! He receives the key to the city (and, being a cartoon universe, the key actually unlocks New York City's political and financial institutions). Of course, Spider-Ham isn't paying attention to the fine print telling him he didn't actually get to keep the key, and he swings off without returning the highly coveted oversized object. The next day, when the mayor's office finally gets in touch to ask for the key back, Spider-Ham realizes he must have dropped it sometime in the last 24 hours. YIKES.
One thing's for sure — Great Power, No Responsibility is an action-packed, hilarious adventure perfect for younger readers.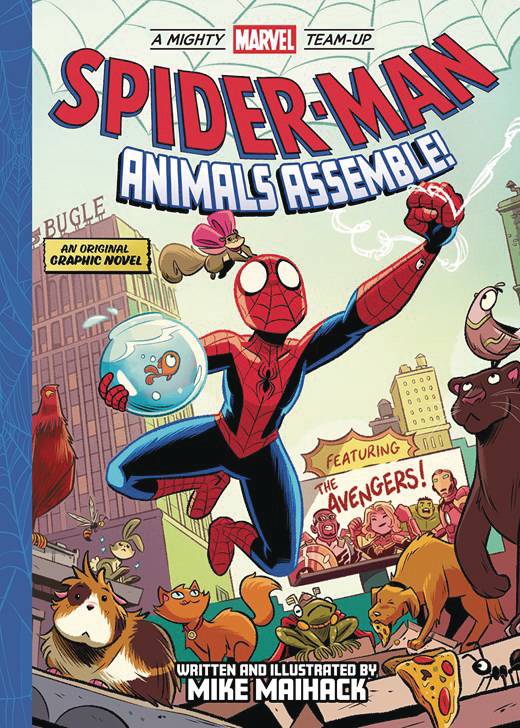 A MIGHTY MARVEL TEAM-UP: SPIDER-MAN ANIMALS ASSEMBLE!
When the Avengers are assembled to contain a super threat in New York City, Spider-Man is given the most important job of all: to make sure all the Avengers' super pets are safe! Spider-Man wants in on the bad guy fighting action, but with great power comes great pet sitting. Featuring fan favorite Avengers like Captain America, Captain Marvel, and Black Panther, this fun and funny original graphic novel sees the mighty web-slinger teaming up with the most unlikely of heroes to save the day!
You can find a review our very own Brayden did here!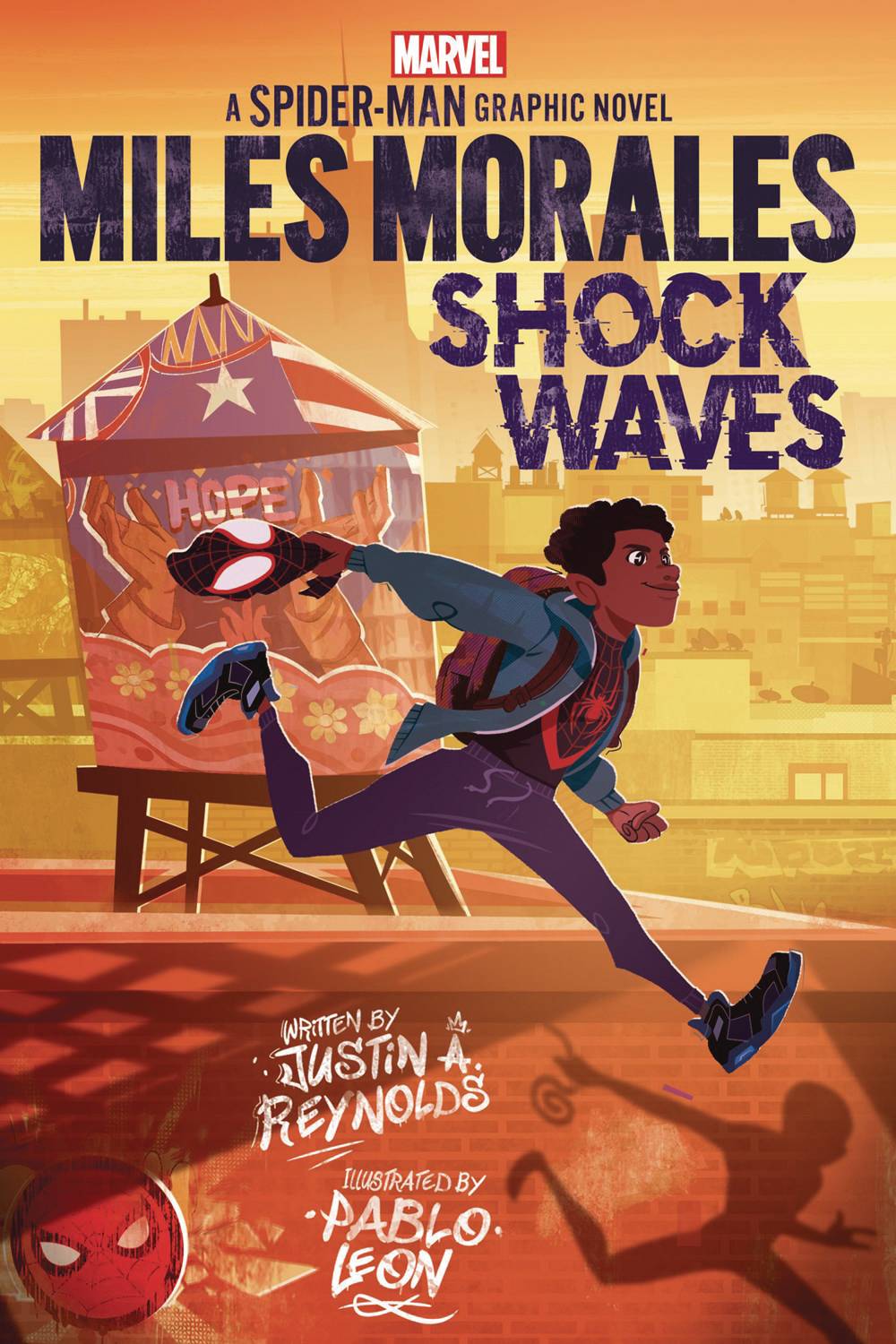 MILES MORALES: SHOCK WAVES
(W) Justin A. Reynolds (A) Pablo Leon
Miles Morales is a normal kid who happens to juggle school at Brooklyn Visions Academy while swinging through the streets of Brooklyn as Spider-Man. After a disastrous earthquake strikes his mother's birthplace of Puerto Rico, Miles springs into action to help set up a fundraiser for the devastated island. But when a new student's father goes missing, Miles begins to make connections between the disappearance and a giant corporation sponsoring Miles' fundraiser. Who is behind the disappearance, and how does that relate to Spider-Man? A true middle grade graphic novel starring one of Marvel's most popular characters, bestselling author Justin A. Reynolds (Opposite of Always) and Eisner award-nominated artist Pablo Leon (Refugees) create a riveting story that will connect with new and well-versed comics readers alike.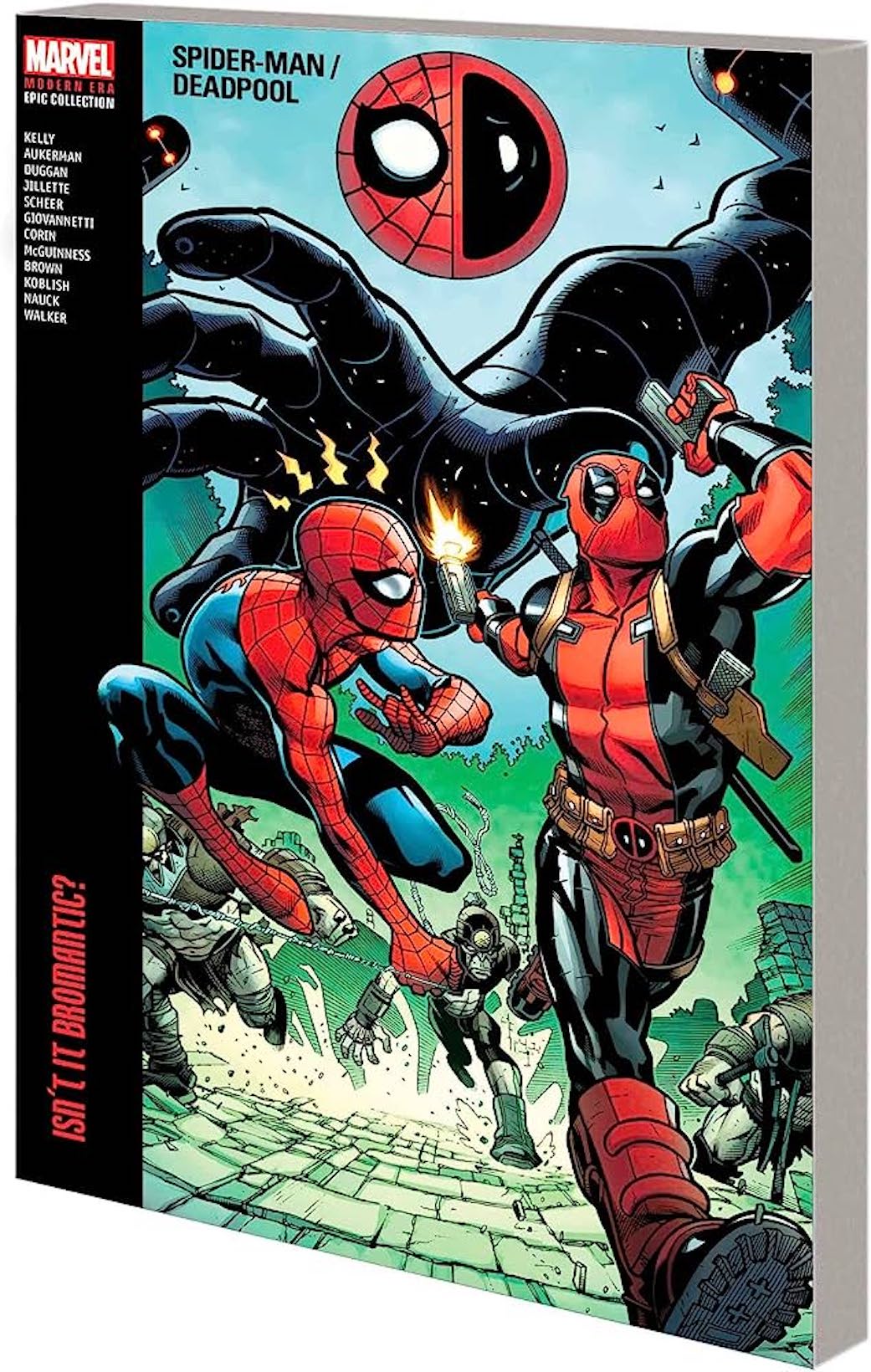 SPIDER-MAN/DEADPOOL MODERN ERA EPIC COLLECTION VOL 01
(W) Joe Kelly, Various (A) Ed McGuinness, Various (CA) Ed McGuinness
Spider-Man and Deadpool – teaming up?! That's right – and the web-slinger and the Merc with a Mouth are the double act of your dreams! Legendary DEADPOOL creative team Joe Kelly and Ed McGuinness reunite to make this team-up everything you ever hoped for. But will a fledgling friendship turn sour when Wade Wilson's next target turns out to be…Peter Parker?! Someone is messing with our wascally wisecrackers, and they've blended the genes of our heroes to create one murderous, mixed-up miss named Itsy Bitsy. She's Spidey and 'Pool's "daughter" – and she has seriously creepy daddy issues! Plus: More big-name creators join the fun as Deadpool goes Hollywood, our duo shares a retro adventure, Wade & Peter meet Penn & Teller, and Spidey and 'Pool are the only ones who can save Christmas!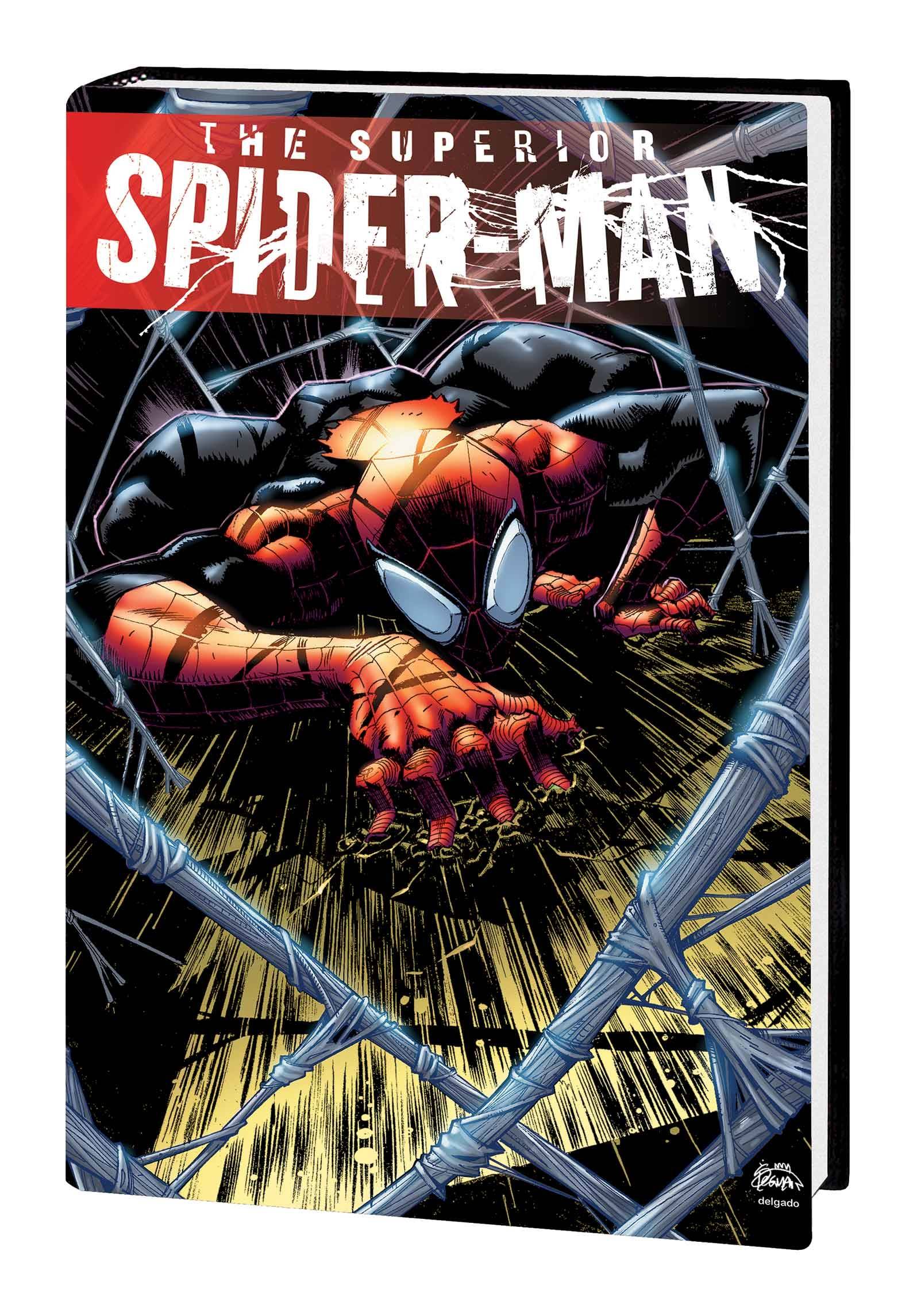 SUPERIOR SPIDER-MAN OMNIBUS
(W) Dan Slott, Various (A) Richard Elson, Various (CA) Ryan Stegman
When a dying Doctor Octopus swaps his mind into Peter Parker's body, he sentences his accursed enemy to oblivion – and sets out to prove that he is the smarter, stronger?Superior Spider-Man! Upgrading Spidey's costume and arsenal, Otto Octavius works wonders for "Peter's" scientific career – but his much more violent approach to crimefighting doesn't sit well with the Avengers! The ruthless new Spider-Man battles – and brutalizes – his way through Peter's rogues' gallery. But will Otto's fiercest fight be against the resurgent Green Goblin – or whatever is left inside his mind of the one, true Peter Parker? The modern-classic Spider-Man saga that shocked the world is collected in a truly Superior Omnibus!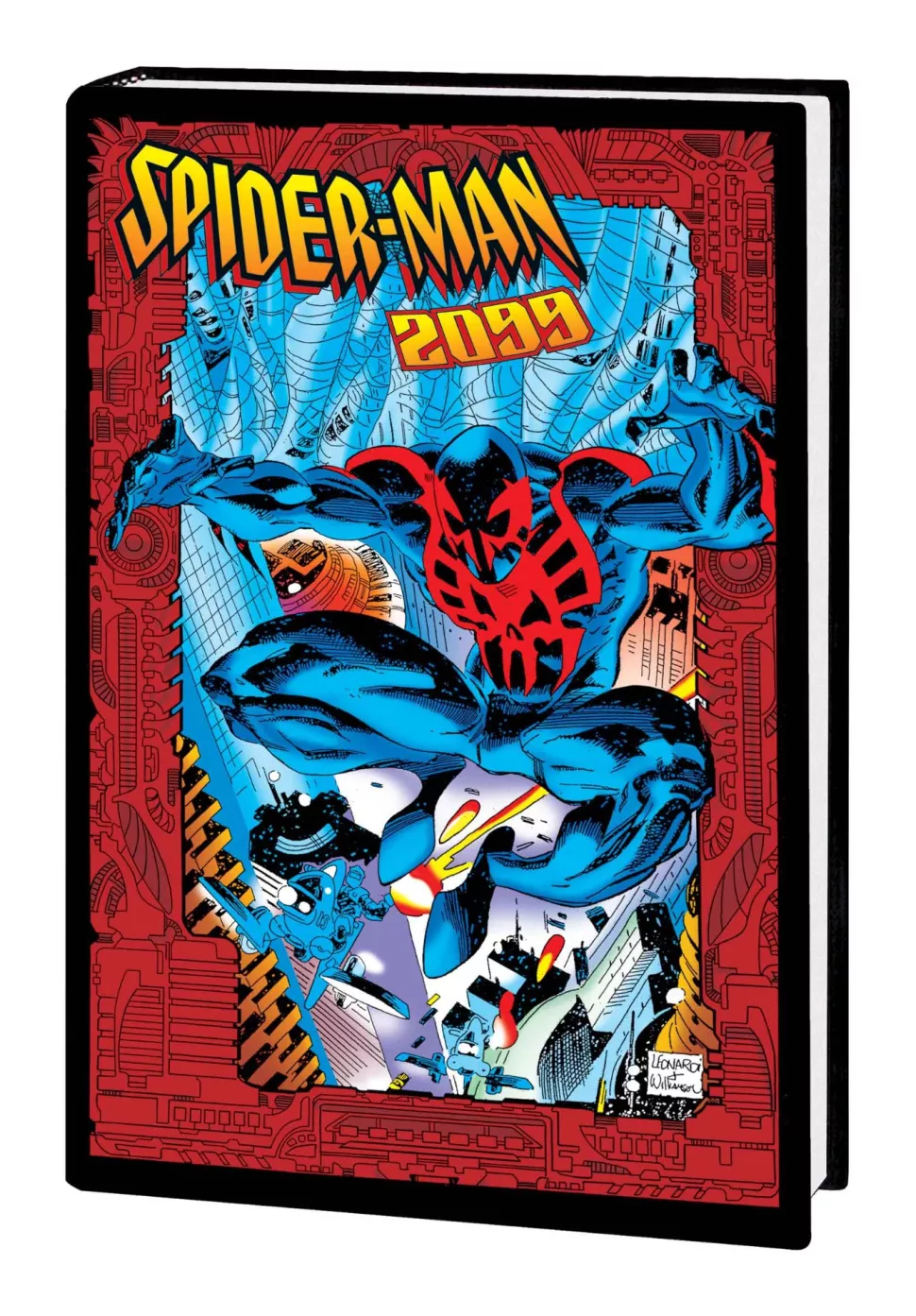 (W) Peter David, Various (A) Rick Leonardi, Various (CA) Rick Leonardi
Peter David's futuristic epic, collected in full! The year 2099 is full of menace, but none so insidious as the corrupt corporations that run the world! Miguel O'Hara, his DNA rewritten in an attempt to escape his employer Alchemax, has gained amazing powers – and become the new Spider-Man! But as Miguel battles injustice in both high and low society, menaces new and familiar come calling: Venture, the Specialist, the Vulture, the mysterious Thanatos and more! The possible return of the Asgardian gods unites Miguel with 2099's other heroes – but who is the Net Prophet? How will Spider-Man react when Doctor Doom conquers America? And what is Miguel's connection to Venom 2099?
Spider-Man and friends will always have brand new books each month from Marvel Comics, so make sure to check out our monthly Previews Picks Blog updates to make sure you don't miss out on any upcoming new releases!