The January issue of Marvel Comics Previews has arrived! Here is our breakdown of the new comics series to jump on, plus what collected editions are arriving from March 2022! You can find the rest of our Previews Picks for other Comics & Manga here! We will also be doing these for DC Comics when the next issue of DC Connect arrives later this month!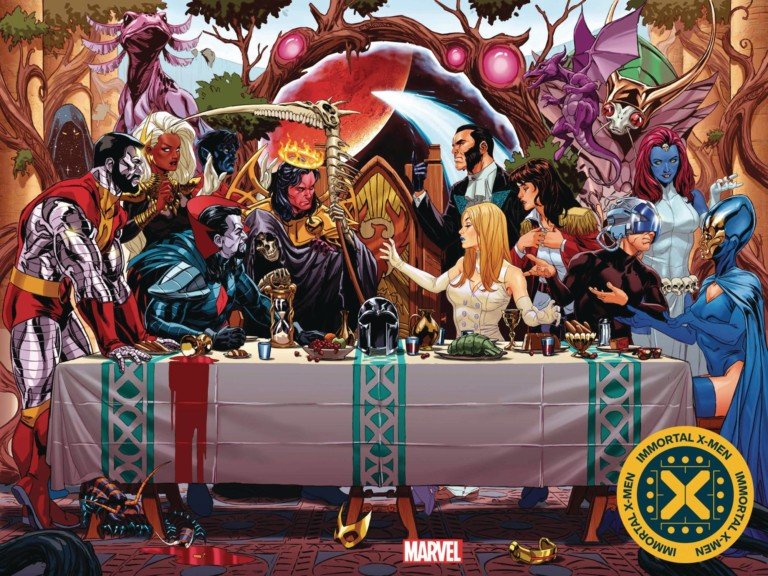 The X-Men are entering a new era (now that they no longer have Jonathan Hickman leading the charge, no pressure guys). Following the events of Inferno, which was Hickman's last foray in sculpting the state of mutantkind, the island of Krakoa is in flux and the possibilities are endless!
Writer Keiron Gillen (Die, Wicked + Divine, Young Avengers, Once and Future, SW Darth Vader) and artist Lucas Werneck (Trial of Magneto) launch the next stage of Marvels mutants in March 2022!
"Immortal X-Men will focus on the current leaders of mutantkind known as The Quiet Council in an X-Men series ripe with backstabbing, shady alliances, and chilling revelations that will put everything you thought you knew about Krakoa's future into question!"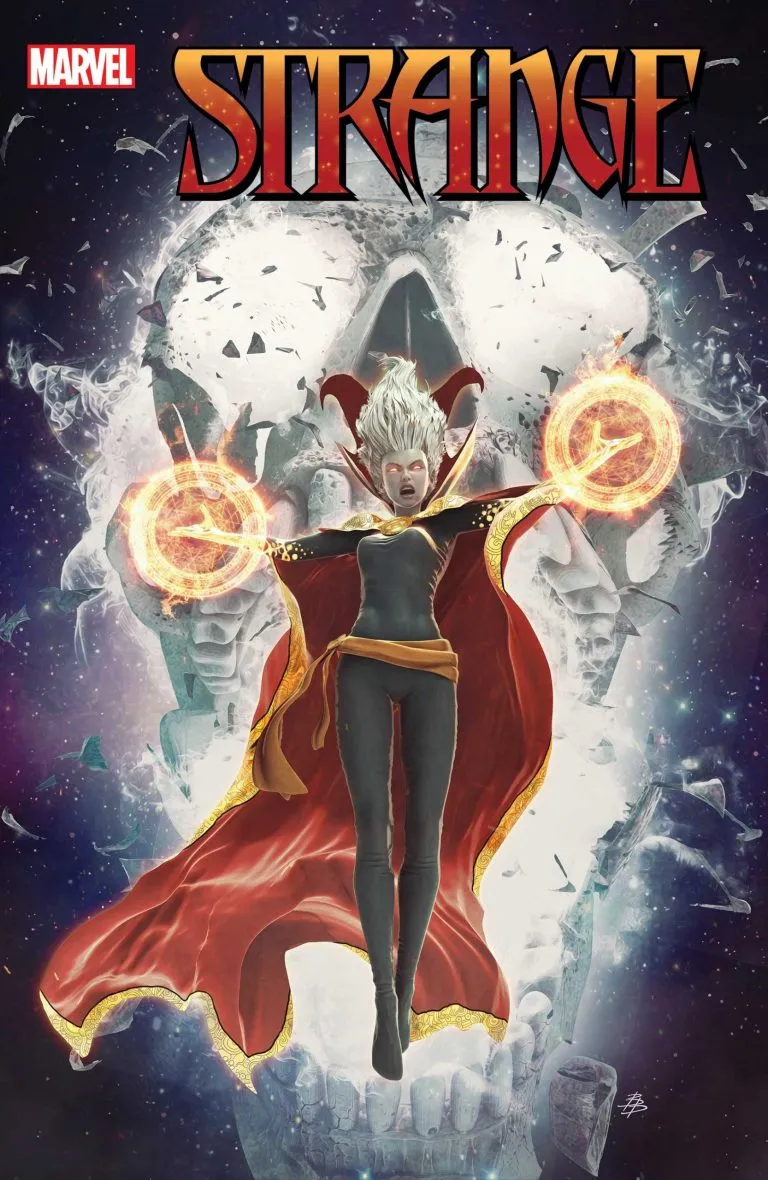 Straight out of the events of 'Death of Doctor Strange' … well yeah Doctor Stephen Strange is dead, the hint was in the name hey?
A new Sorcerer Supreme takes on the cape! Clea Strange, Stephens love interest, must take on the duties of protecting earth from its magical enemies, all while trying to find a way to bring her love back to life.
What If... Miles Morales #1
Everyone loves Miles Morales (and rightly so the dude is the best) so why not have a mini-series exploring alternate worlds in which Miles became other superheroes rather than Spider-Man!
The first issue see's him taking on the shield after going through the super soldier program and who knows what other heroes roles he will take on in the following 4 issues?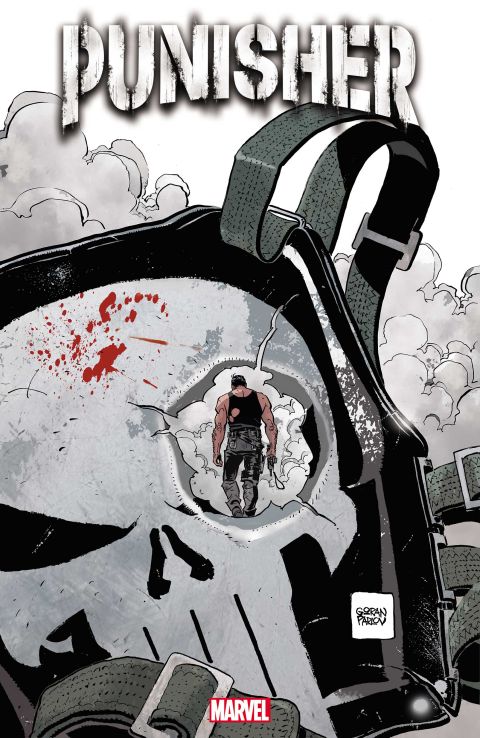 Punisher is back (after a much needed break and re-assessment of the character), Marvel has brought on Jason Aaron (Punisher MAX, Thor 2012-2020) to return to Frank Castle and explore his dark past and his questionable future (I feel both in universe as well as in a creative property sense).
Note that the above cover is not the A cover and is one of the variants which symbolises the seperation of The Punisher from the classic skull logo. When I read that this was happening I thought it was an excellent decision… but the fact that Marvel are still plastering their #1 issue with it on the cover feels like them trying to have their cake and eat it too. Just commit to seperating from the logo that has been utilised by police and white supremacist groups already.
After her appearance in Marvel Studios 'What If…?' on Disney+ in 2021, Peggy Carter bursts into her own comic series (look at that cover, literally bursting).
Led by Jamie McKelvie (Young Avengers, Wicked + Divine) with interior art by Marika Cresta (Star Wars Doctor Aphra), the 5-issue miniseries explores a world in which Peggy was given the super soldier serum and fought in WWII. This picks up in the modern day when she is pulled from the ice 80-years later, much like a certain Captain we have all heard of before. 
How will a woman out of time handle the differences of modern day society, while an old foe rears its head once again?
Captain Carter is sure to play a larger part of 'What If…?' Season 2 so to scratch that itch in the mean time jump on this one!
The finale of Peach Momoko's solo venture with Marvel Comics, Demon Days has been a visual feast and continues to showcase her stunning paintings while she adapts classic Marvel characters into her own world.
Set in Japan across the ages, Demon Days has worked both as an adaptation of heroes and villains we already know as well as its own stand alone story.
Momoko's work seems to be doing quite well, with Marvel themselves seeming to tease that we may get more stories from her in the future set in her world of Japanese mythology adaptations.
If you've missed out on the Momoko bandwagon, don't stress! There is a collection of Demon Days below! Scroll down for the info!
Hulk Grand Design: Monster #1
The Hulk is celebrating its 60th Anniversary in 2022 (wowsers that a lot) and to mark the occassion Marvel are continuing their Grand Design one-shots! 
Much like 'X-Men: Grand Design' & 'Fantastic Four Grand Design', this tale will be tackling and retelling the original Hulk mythos under a modern lens.
Jim Rugg (Street Angel, The Plain Janes, Afrodisiac) has said that Monster, the first of the two issues, will explore the first 300-issues of 'The Incredible Hulk' while focussing on the balance of Hulk as a hero and as a… well, monster!
The second part, 'Hulk: Grand Design – Madness', will arrive in April and should explore the second half of the original Hulk run, namely his splits into multiple personalities!
Continuing Marvel Comics annual tradition of celebrating the Women of Marvel for yet another year, this collection of shorts featuring the fierce females of the Marvel Universe is created by a bunch of incredibly talented female creators!
Some stand outs to look forward to in this years collection:
A Squirrel Girl and Black Widow team-up tale
A jungle story from Terry Pratchett's daughter Rhianna Pratchett (Heavenly Sword, Mirrors Edge, Tomb Raider 2013, Rise of the Tomb Raider)
A dark Jessica Jones tale with art by the awesome Zoe Thorogood
And of course featuring the always gorgeous art of the one and only Jen Bartel!
Carnage's 30th Anniversary… wait… really? Damn man the 90's was like ten years ago… okay let me compose myself…
Writer Ram V (Venom 2021, Swamp Thing 2021, Paradiso) and artist Francesco Manna (Rise of Ultraman, Fantastic Four) have Carnage on the hunt for a new human host after seperating with serial killer Cletus Kassidy. 
With everything that has happened in the world of the symbiotes in recent years, following from the likes of Donny Cates Venom run and the King in Black and Absolute Carnage events, Carnage is in a super interesting place now.
Ram V is promising both a new take on what kind of stories you can tell with Carnage, while being as dark and twisted as possible!
Graphic Novels & Collected Editions
X Lives & Deaths of Wolverine HC
With the X-Men moving into the 'Destiny of X' era, Logan must travel throughout his storied past to prevent the death of *SPOILER*.
Expect plenty of fun callbacks and references to comics of old, but also make sure to prepare yourself because this story seems like it has the potential to really shake up the current status quo of mutantkind.
Marvel even made a little trailer for it, check it out HERE!
Demon Days Treasure Edition TP
The complete collection of Peach Momoko's solo series Demon Days, complete with a brand new piece of her art for the cover!
Momoko's watercolour work is fantastic and how she manages to blend together traditional Japanese Mythology with Marvels cast of characters is excellent!
Whether you've been picking up variant covers of issues or if you've just seen her work for the first time here, this collection is a must have.
Jane Foster: The Saga of The Mighty Thor TP
With her upcoming appearance in Marvel Studios 'Thor: Love and Thunder', now is the perfect opportunity to catch up on Jane Fosters time as The Mighty Thor!
Jason Aaron's Thor run is truly excellent and this complete collection paperback pulls together everything you need from the multiple years of Jane's time with Mjolnir.
Plus it has a great cover from Artgerm!
Arriving hot off the heels of her MCU debut in Marvel Studios 'Hawkeye' on Disney+, Kate Bishop gets a super fun standalone adventure!
From incredible award winning author Marieke Nijkamp (This Is Where It Ends, Critical Role Kith & Kin, The Oracle Code) and artist Enid Balám (Reptil), Kate is heading back to the East Coast!
Another new addition to the MCU in Marvel Studios 'Hawkeye' on Disney+, Maya aka Echo is the star of this new story in the ever expanding saga surrounding the Phoenix Force.
Writer Rebecca Roanhorse (Black Sun) and artist Luca Maresca (Marvel's Spider-Man: The Black Cat Strikes) bring new elements to Maya's backstory in this new chapter.
A brand new take on the origins of Black Panther perfect for middle-grade readers and up!
From author Tochi Onyebuchi (Riot Baby) and artist Setor Fiadzigbey, this tale is perfect for brand new readers and studied fans alike. See how T'Challa grew up, met Ororo Munroe aka Storm and invited the Fantastic Four to Wakanda!
Venomnibus by Cates and Stegman HC
THE Venom run. Donny Cates and Ryan Stegman's absolutely awesome take on the symbiote since 2018 has completely defined the future of the entire Marvel symbiote family forever.
This huge omnibus covers the entirety of Venom #1-35, Absolute Carnage #1-5 and King in Black #1-5, plus more!
Miles Morales: Spider-Man Omnibus Vol 1 HC
The ultimate (get it?) original run of Miles Morales as Spider-Man! Read the stories from Brian Michael Bendis and Sara Pichelli in the Ultimate universe, before he got so damn popular that they brought him into the main universe after Secret Wars (2015)! A must have for fans of the young wall-crawler.
Avengers Vs X-Men Omnibus HC
To celebrate its 10th Anniversary 'Avengers vs X-Men' or just 'AvsX' gets collected into a big omnibus, collecting all of it's crossovers and one-shots into one easy book!
Featuring cover art from Jim Cheung, this one is a great addition to a collection of the big events of Marvel Comics!
If anything jumped out to you, remember to message us or let us know next time you're in the shop! You get a text the second it arrives in the shop and we place a copy aside just for you so you don't miss out!
We do these each month so keep an eye out for the next post!
Have a great month and happy reading 💚