The June issue of PREVIEWS has arrived so here are our picks from what's arriving in August! We've separated our Marvel Previews Picks as well as our DC Comics Picks, which you can find over on The Blog! As always, if you see anything you like make sure to let us know by shooting us a message!
In Emily Carroll's haunting adult graphic novel horror story A Guest in the House, a young woman marries a kind dentist only to realize that there's a dark mystery surrounding his former wife's death.
After many lonely years, Abby's just gotten married. She met her new husband—a recently widowed dentist—when he arrived in town with his young daughter, seeking a new start. Although it's strange living in the shadow of her predecessor, Abby does her best to be a good wife and mother. But the more she learns about her new husband's first wife, the more things don't add up. And Abby starts to wonder . . . was Sheila's death really by natural causes? As Abby sinks deeper into confusion, Sheila's memory seems to become a force all its own, ensnaring Abby in a mystery that leaves her obsessed, fascinated, and desperately in love for the first time in her life.
Emily's masterful balance of black and white, surreal colors, rich textures, and dramatic lettering is assured to bring this story to life and give readers a chill up their spine as they read.
In a post-apocalyptic future, a human girl and an android travel the world in search of a mythical utopia to protect those they love.
Nearly 200 years after the destruction of humanity in World War III, Roue lives a happy life exploring the ruins of civilization with her "uncle," a robot named Zett. But when their peaceful life is threatened, Roue must trust the mysterious robot Chrome to bring her family together again.
After Roue accidentally activates Chrome without a base program—what is essentially a robot's soul—she and Uncle Zett invite him into their makeshift family and encourage him to choose his own purpose. But when an insane machine attacks their home, will Chrome survive, much less find his purpose?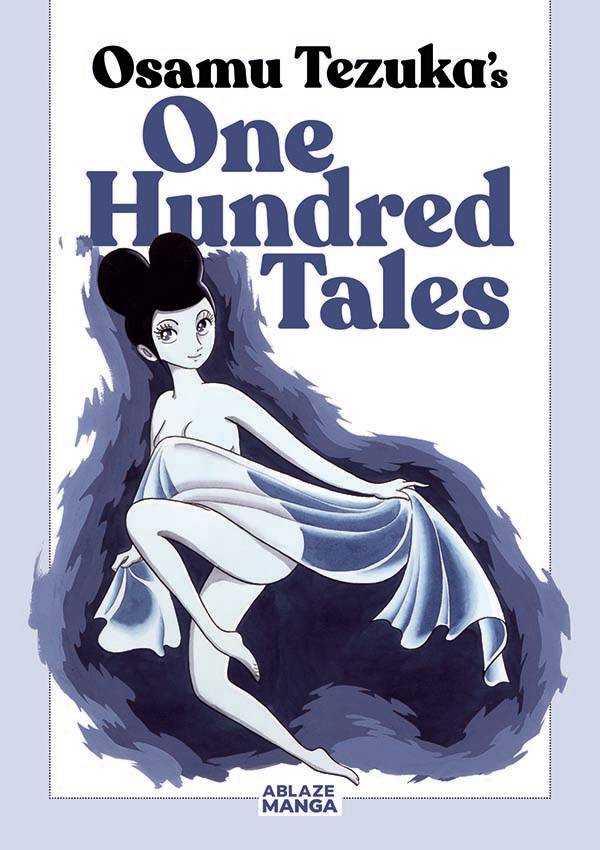 OSAMU TEZUKA ONE HUNDRED TALES GN
One Hundred Tales is a story about being careful what you wish for.
Ichirui Hanri is an ordinary accountant serving his master. Though innocent, he is ordered to commit hara-kiri after being entangled in some trouble in his master's house. Just then, a witch named Sudama appears. She signs a contract with Hanri to obtain his soul in exchange for fulfilling three of his wishes. Hanri gets what he wants… but the price he pays is too high.
An enchanting supernatural fable from Osamu Tezuka, known worldwide as the "Godfather of Manga" and the most influential person of the past century in the development of Japanese manga and anime.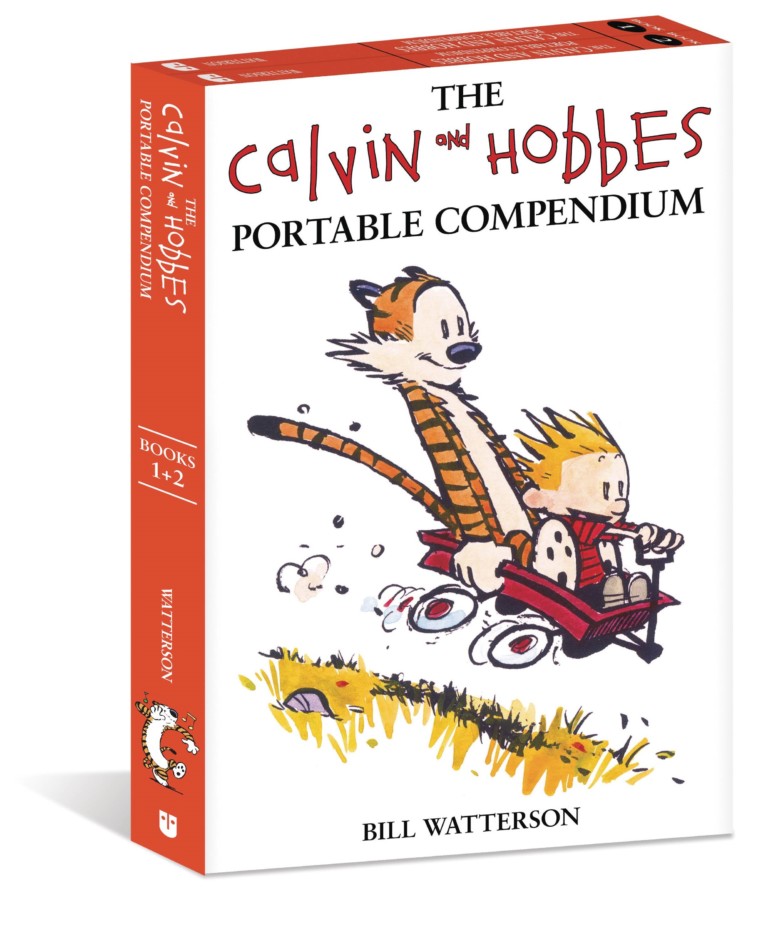 CALVIN AND HOBBES PORTABLE COMPENDIUM BOOKS 1+2
Calvin and Hobbes is unquestionably one of the most popular comic strips of all time. The imaginative world of a boy and his real-only-to-him tiger first appeared in 1985 and could be read in more than 2,400 newspapers when Bill Watterson retired on January 1, 1996. This compact, portable new format is designed to introduce the timeless adventures of Calvin and Hobbes to a new generation of readers, and will fit easily into backpacks as well as on the collector's shelf.
Featuring archival slipcase and cover art selected by the author, The Calvin and Hobbes Portable Compendium pays tribute to the strip's origin in newspapers while appealing to both new and existing fans. This set is composed of two 144-page paperback books, including over 500 comics from the strip's debut in Nov. 1985 through March 1987. It is the first of seven sets total to be released between 2023 and 2026.
MIRACLEMAN BY GAIMAN BUCKINGHAM TP SILVER AGE
(W) NEIL GAIMAN, MARK BUCKINGHAM (A/CA) MARK BUCKINGHAM
The wait is over! Decades in the making, Neil Gaiman (Sandman) and Mark Buckingham's (Fables) MIRACLEMAN continues the groundbreaking saga touted as the greatest super-hero story of all time!
In THE SILVER AGE, Miracleman has created a utopia on Earth where gods walk among men and men have become gods. But when his long-dead friend Young Miracleman is resurrected, Miracleman finds that not everyone is ready for his brave new world! The story that ensues fractures the Miracleman family and sends Young Miracleman on a stirring quest to understand this world – and himself. It's a touching exploration of the hero's journey that ranges from the top of the Himalayas to the realm of the towering Black Warpsmiths – and into the secret past of the Miracleman family!
Collecting MIRACLEMAN BY GAIMAN & BUCKINGHAM: THE SILVER AGE #1-7 and material from MIRACLEMAN BY GAIMAN & BUCKINGHAM #1-6.
Graphic Novels & Collections!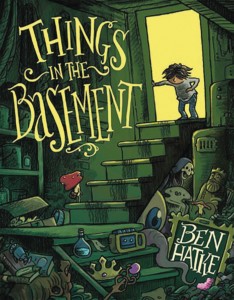 THINGS IN THE BASEMENT GN
From the creator of 'Mighty Jack' & 'Zita The Spacegirl' comes a new adventure delving into the dark depths of the basement!
THE PIRATE AND THE PORCELAIN GIRL GN
(W) EMILY RIESBECK (A) NJ BARNA
A sapphic twist for this swash buckling YA tale full of high-stakes adventure and enemies-to-lovers.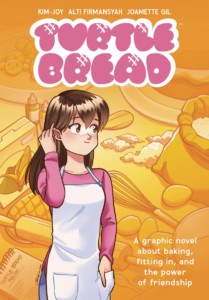 (W) KIM-JOY (A/CA) ALTI FIRMANSYAH
From Great British Bake-Off's Kim-Joy, explore mental health and the power of friendship, community and, of course, baking!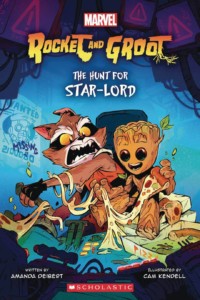 MARVELS ROCKET & GROOT GN HUNT FOR STAR LORD
(W) AMANDA DEIBERT (A) CAM KENDELL
Star-Lord has been kidnapped! Rocket & Groot immediately drop their pizza and jump into action!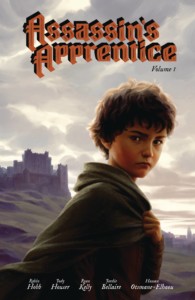 ASSASSINS APPRENTICE TP VOL 01
(W) JODY HOUSER, ROBIN HOBB (A) RYAN KELLY, JODIE BELLAIRE
The first installment of Robin Hobb's NYT bestselling fantasy epic comes to life in comics form!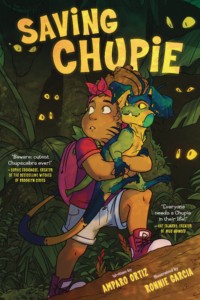 (W) AMPARO ORTIZ (A) RONNIE GARCIA
He isn't as monstrous as everyone thinks. Sure, he's got scales, spikes, big red eyes and pointy fangs, but he's a total puppy and loyal to a fault.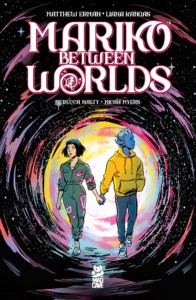 (W) MATTHEW ERMAN (A) LIANA KANGA
A world of lust and stardust. Find yourself navigating the human condition with the most out of this galaxy rom-com characters.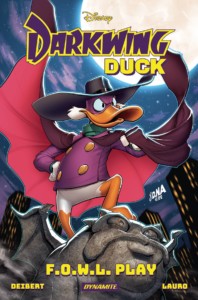 (W) AMANDA DEIBERT (A) CARLO LAURO (CA) DAVID NAKAYAMA
The first collection of Darkwing Duck's all-new adventures is here at last! Alongside his trusty sidekick Launchpad McQuack!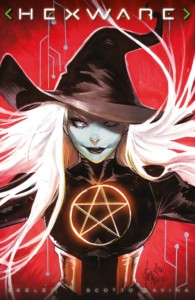 (W) TIM SEELEY (A) ZULEMA LAVINA (CA) MIRKA ANDOLFO
A corporate-ruled city. Class inequality worse than ever. A desperate population drawn to neo-spiritualism and hedge magic.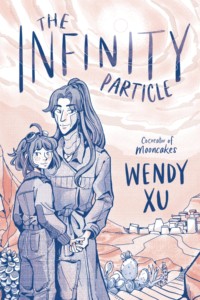 From the co-creator of Mooncakes, exploring big questions through an aspiring inventor and the lifelike AI she finds herself falling for.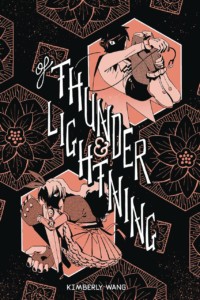 OF THUNDER & LIGHTNING GN
In a world where pop media meets military power, two idol-super-soldiers fight a world-ending conflict for their corporate nations.
COOKING WITH MONSTERS GN VOL 01
(W) JORDAN ALSAQA (A/CA) VIVIAN TRUONG
Naruto with LGBTQ+ characters! Percy Jackson or HP without a straight white man in the pilot seat!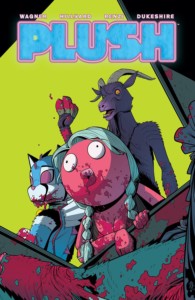 (W) DOUG WAGNER (A/CA) DANIEL HILLYARD, RICO RENZI
Serial-killing, cannibalistic furries! PLASTIC and VINYL creators recruited RICO RENZI for their disturbing "neon-horror" colours!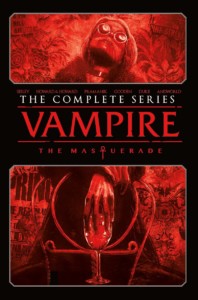 VAMPIRE THE MASQUERADE COMPLETE SERIES TP
(W) TIM SEELEY, TINI HOWARD, BLAKE HOWARD, JIM ZUB (A) DEV PRAMANIK, NATHAN GOODEN (CA) AARON CAMPBELL
An enforcer for the Twin Cities' vampiric elite gets dragged into an insidious conspiracy.
(W) RICK REMENDER (A/CA) GREG TOCCHINI, DAVE MCCAIG
The entire critically acclaimed series from NYT-bestselling writer RICK REMENDER and visionary artist GREG TOCCHINI.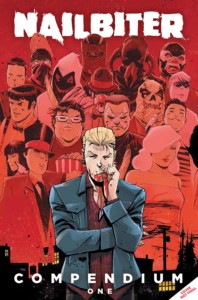 NAILBITER COMPENDIUM TP VOL 01
(W) JOSHUA WILLIAMSON (A/CA) MIKE HENDERSON, ADAM GUZOWSKI, JOHN J. HILL
A mystery that mixes Twin Peaks with the horror of Se7en! Collects NAILBITER #1-30.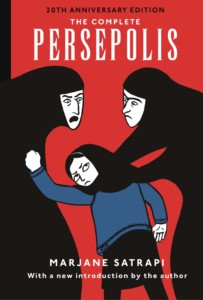 COMPLETE PERSEPOLIS 20TH ANNIV ED HC
A stunning 20th anniversary edition of "the most original coming-of-age story from the Middle East yet".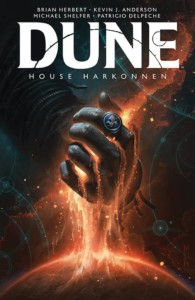 DUNE HOUSE HARKONNEN HC VOL 01
(W) BRIAN HERBERT, KEVIN J. ANDERSON (A) MICHAEL SHELFER (CA) RAYMOND SWANLAND
The second NYT Bestselling prequel to Dune is adapted for the first time by award-winning novelists.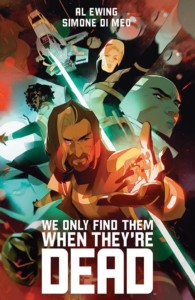 WE ONLY FIND THEM WHEN THEYRE DEAD DLX ED HC
(W) AL EWING (A/CA) SIMONE DI MEO
Al Ewing and Simone Di Meo present the entire Eisner Award-nominated sci-fi epic!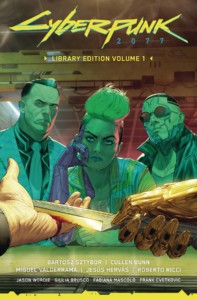 CYBERPUNK LIB ED HC VOL 01
(W) BARTOSZ SZTYBOR, CULLEN BUNN (A) MIGUEL VALDERRAMA, JESUS HERVAS, ROBERTO RICCI
A collection of three action-packed stories exploring the underbelly of Night City, featuring a cover gallery, expanded sketchbook, and more!
(W) KELLY THOMPSON (A/CA) MATTIA DE IULIS
Eisner-winning writer KELLY THOMPSON (BLACK CLOAK) and superstar artist MATTIA DE IULIS (Captain America) team up for their first creator-owned work together! Something is Killing the Children horror vibes mix with The Goonies-style adventure as five friends set off to shoot a short film on a forbidden rock near their home the summer before they all go their separate ways. But that's not really why they're there. One of them has lied. And that lie will change their lives forever.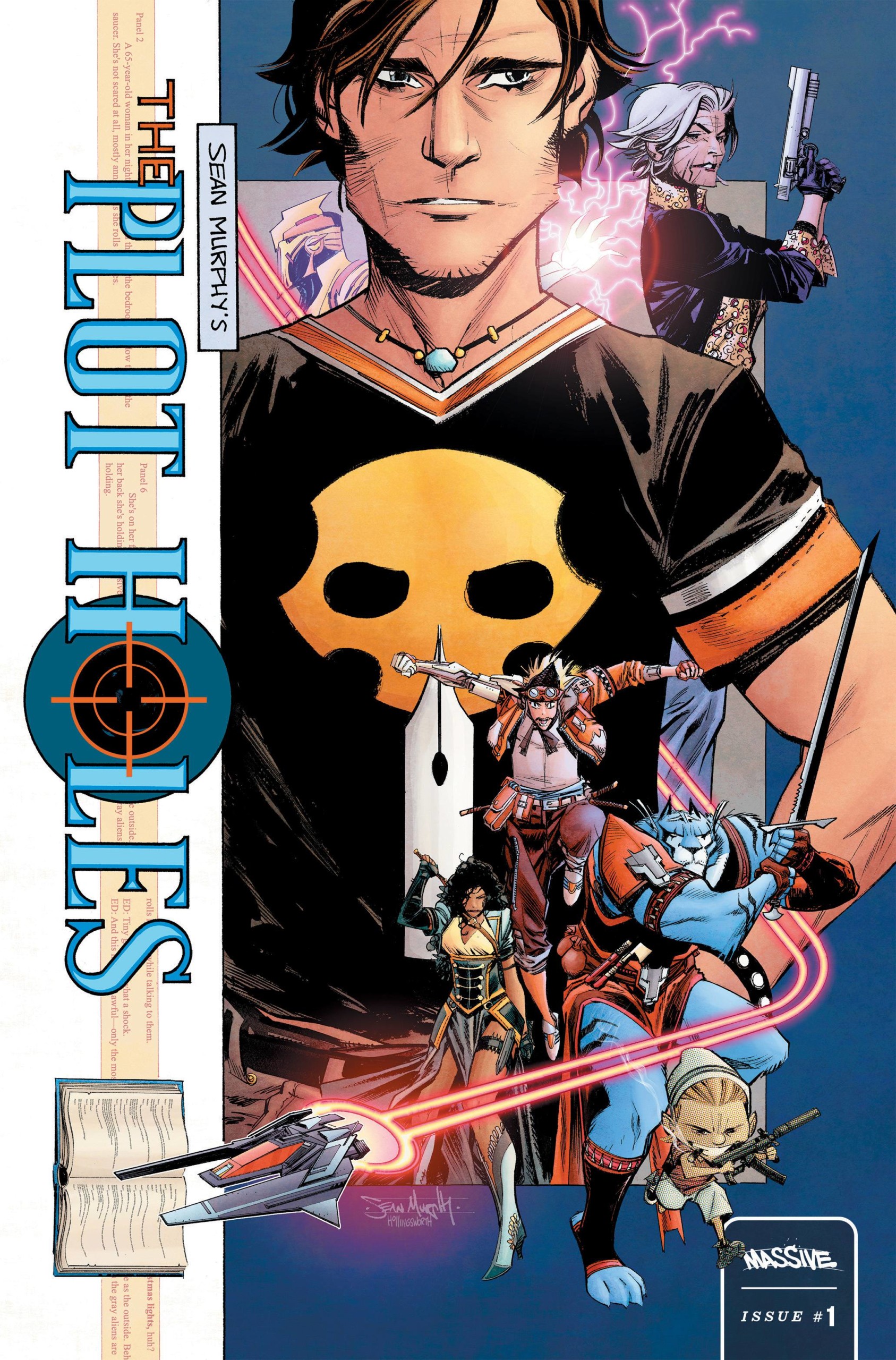 Superstar artist Sean Gordon Murphy, known for his groundbreaking series Batman: White Knight, delivers an all-new tale of world-hopping adventure. THE PLOT HOLES are a squad of fictional warriors who transport themselves into the pages of other books, using their unique skills to save the plots in order to stop them from being destroyed. And Cliff is their newest recruit, a comic creator who's just realized his world isn't real-in fact, it's a complete fiction that literally exists inside a novel. The other members are misfits like him, pulled from unpublished books that couldn't be saved: a manga samurai, a barbarian tiger, a kid from a comic strip, and a vampire assassin. Outclassed by the other members, Cliff sets out to prove his worth to The Plot Holes as they fight to save as many books as possible.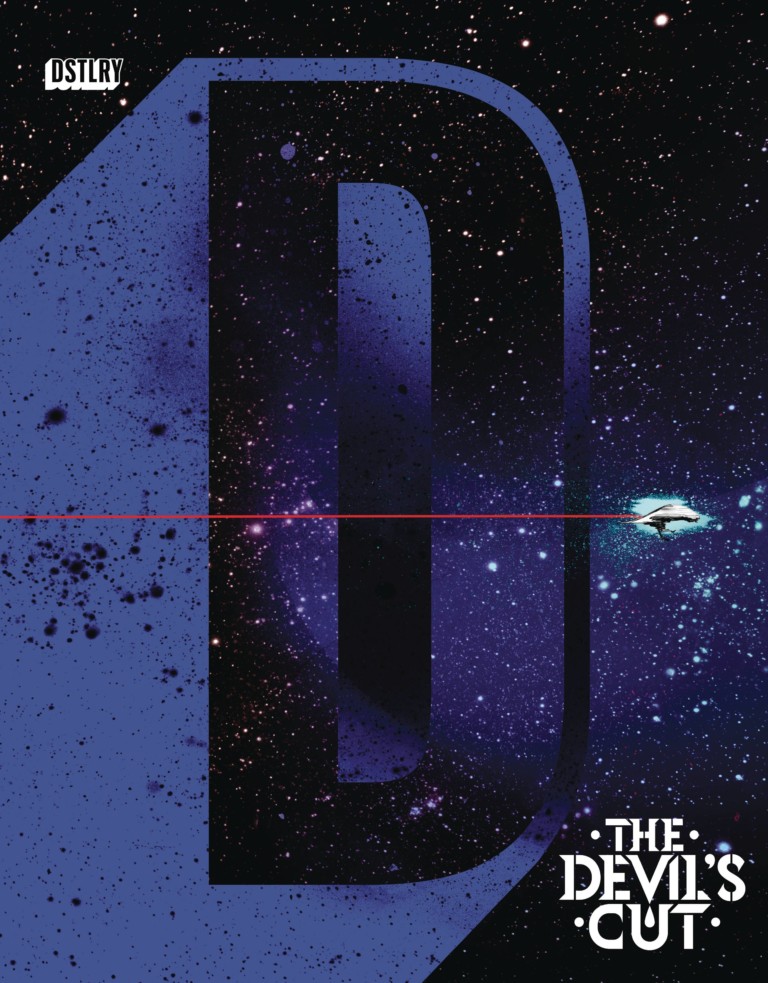 (W/A) DSTLRY FOUNDING CREATORS
The Devil's Cut is your introduction to DSTLRY, a new publisher redefining creator-owned comics. In the aging process, the whiskey that evaporates is called the Angel's Share. But the most potent spirits are captured in the wood-the Devil's Cut.
This is The Devil's Cut-unfiltered stories from the most fearless creators, offering a distinct taste of the quality to come. 72 oversized pages printed on premium paper, featuring a flight of high-proof work from our Founding Creators including Scott Snyder, James Tynion IV, Tula Lotay, Mirka Andolfo, Jock, Becky Cloonan, Brian Azzarello, Marc Bernardin, Elsa Charretier, Lee Garbett, Joelle Jones, Stephanie Phillips, Ram V, Jamie McKelvie, Junko Mizuno and friends including Francesco Francavilla, Ariela Kristantina, Eduardo Risso, Christian Ward, and more. Edited by the legendary Will Dennis.
(W) RICK REMENDER (A) DAVE MCCAIG (A/CA) MAX FIUMARA
Tomorrow is a harmonious paradise thanks to five families who make everything perfect…for the price of one child per household. Now, as that bill comes due, a son expected to give everything for a family that never loved him and an affluent daughter determined to destroy utopia must unite to end one generation's unnaturally protracted reign. New York Times-bestselling writer RICK REMENDER (LOW, DEADLY CLASS, Uncanny X-Force) joins forces with superstar MAX FIUMARA (Amazing Spider-Man, FOUR EYES, Lucifer) to take you through the dark science fiction world of THE SACRIFICERS!
(W) HENRY BARAJAS (A/CA) PABLO VERDUGO
When Splinter is kidnapped, the Teenage Mutant Ninja Turtles search for clues across NYC to try to find their master. With all signs pointing to the nefarious Foot Clan, April and Metalhead analyze artifacts recovered by the brothers to help zero in on where Splinter is being held. However, as the gang gets ever closer to Splinter's location, they start to uncover an even greater threat working from the shadows!
GODZILLA WAR FOR HUMANITY #1
(W) FRASER MACLEAN (A) JAKE SMITH (CA) ANDREW MACLEAN
"Godzilla saved us that day." When Dr. Yuko Honda was young, she was chased by Hedorah, the smog monster, and thought it was all over… until Godzilla saved her! Now a respected professor and writer, she's dedicated her life to showing that while Godzilla may be a monster, that doesn't mean it and the other kaiju are enemies. Unfortunately, when a strange new monster emerges, her belief in the good of Godzilla will be put to the test. If Godzilla doesn't defend them, what can humanity do against the might of Zoospora?
(W) ELLIOTT KALAN (A) ALESSANDRO RANALDI (CA) KAREN DARBOE
Hades – the lord of darkness! The most deceitful and scheming of the Greek gods! The one god not invited to the weekly brunch at Mount Olympus! Obviously, a slight like this calls for the total destruction of the gods of Olympus. To make that happen, the hot-tempered ruler of the underworld needs to acquire the magical Golden Fleece of Colchis. Unfortunately, the Fleece is guarded by a sleepless dragon and soldiers made out of teeth, so Hades assembles a ragtag group of morally questionable adventurers to help him steal the Fleece before some dude named Jason and his Argonaut bros swoop in and ruin his perfectly logical plan. It's absolute chaotic hilarity courtesy of writer ELLIOTT KALAN (Spider-Man & The X-Men) and artist ALESSANDRO RANALDI (Zorro)!
(W) GREG PAK (CA) IAN HERRING (A/CA) TAKESHI MIYAZAWA
Fans of the highly anticipated Netflix series won't want to miss this perfect companion series by highly acclaimed writer Greg Pak (Star Wars: Darth Vader), superstar artist Takeshi Miyazawa (She-Hulk), and colorist Ian Herring (Spider-Man / Deadpool). General Park-head of Sky Corps Academy-must assemble a team of heroes to protect humankind from alien invasions, and Stanford Yu, Maya Sanchez, Frank Olivetti, and Park's own daughter Olivia may have been pulled into the role by fate… as they are Earth's best hope.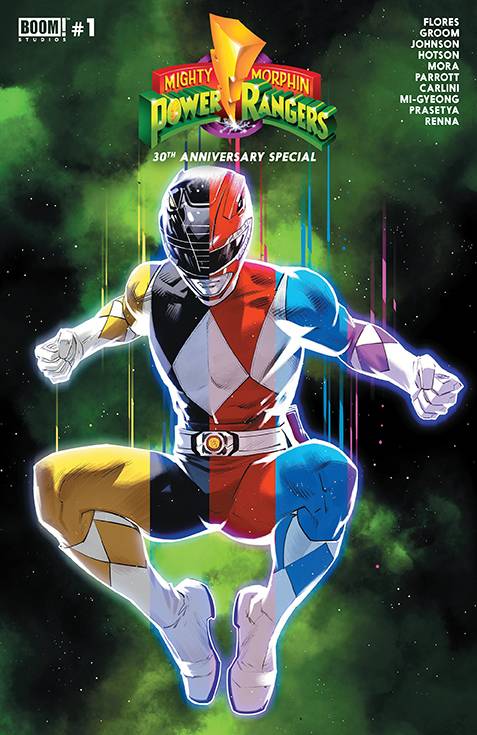 MMPR 30TH ANNV SPECIAL #1
(W) VARIOUS (A) VARIOUS (CA) DAN MORA
A landmark celebratory special featuring 5 brand new stories paying homage to the legacy of Rangers with stories by Ryan Parrott (Rogue Sun), Mat Groom (Inferno Girl Red), the original Mighty Morphin Pink Ranger Amy Jo Johnson and Matt Hotson (Titans), and young adult author Maria Ingrande Mora (Fragile Remedy), along with current Mighty Morphin Power Rangers superstar scribe Melissa Flores! Joining the celebration are returning fan-favorite Power Rangers artists including Hendry Prasteya, Eleonora Carlini, and Marco Renna!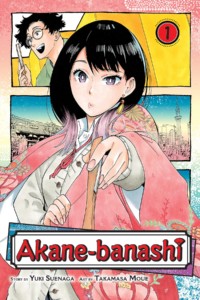 (W) YUKI SUENAGA (A) TAKAMASA MOUE
Akane unintentionally stirs up the specter of scandal when she's discovered taking informal lessons from her father's former teacher.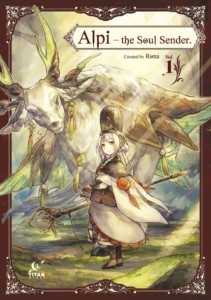 ALPI SOUL SENDER GN VOL 01
Spirits are sent to the afterlife by Soul Senders. Alpi is one such girl, talented despite her young age, and assisted by her familiar!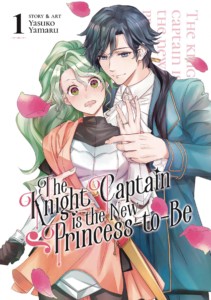 KNIGHT CAPTAIN IS NEW PRINCESS TO BE GN VOL 01
A shojo rom-com tale! A dashing female bodyguard pretends to be engaged to the prince.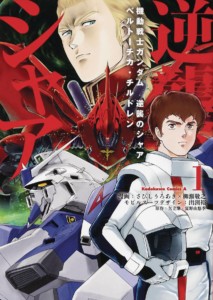 MOBILE SUIT GUNDAM CHARS COUNTERATTACK GN VOL 01
(W) TAKAYUKI YANASE (A) SABISHI UROAKI
The legend continues in a new adaptation of Tomino's ground-breaking film.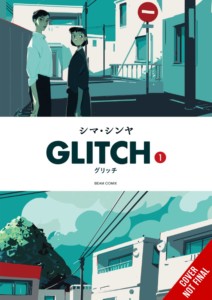 Minato notices something strange about their new town on their very first day of school, when they witness an eerie shadow.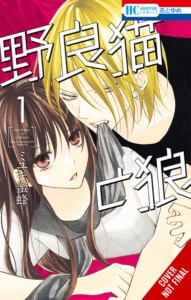 STRAY CAT & WOLF GN VOL 01
She leaves her village to attend high school in the capital. She intended to live alone, when she's offered a place at a hot stranger's apartment.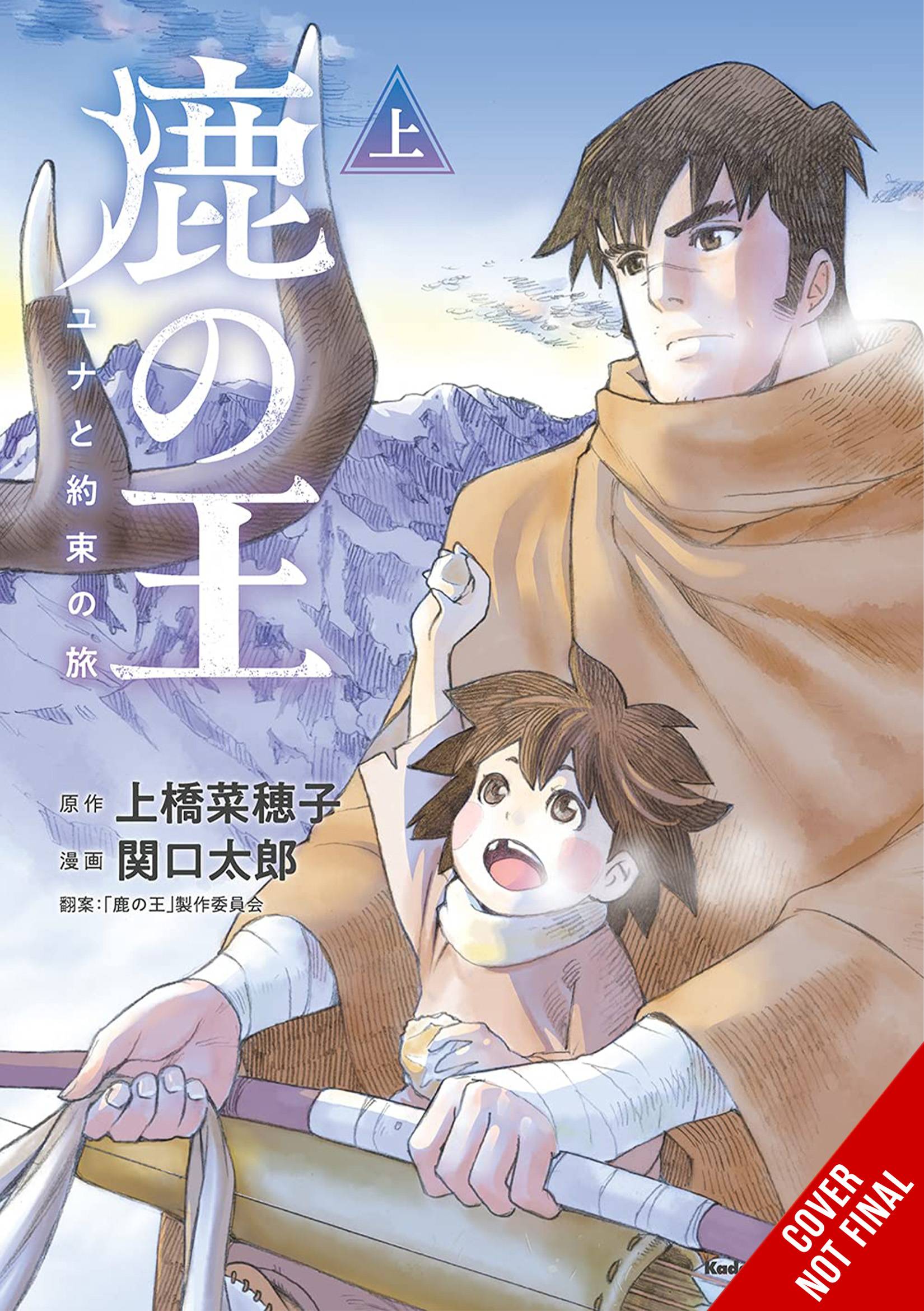 (W) NAHOKO UEHASHI (A) TARO SEKIGUCHI
Van resolves to fight the Zol Empire and save his homeland, only to be captured and sent to the salt mines. Only he and a young girl survive.
(W) LAZYSHEEP (A) HIBIKO HARUYAMA
When the captain of the swimming club takes the podium during Pharm's university orientation, something unusual happens.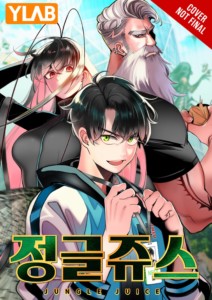 Though popular and well-liked, he has a secret that keeps him from getting close to others: under his clothes lies a pair of insect wings.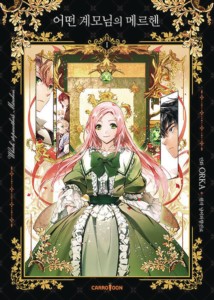 A STEPMOTHERS MARCHEN GN VOL 01
(W) SPICE&KITTY (A/CA) ORKA
Full-color fantasy of romance and second chances. Also known as The Fantasie of a Stepmother.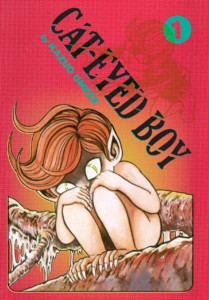 CAT EYED BOY PERFECT ED HC VOL 01
From the mind of the master of Japanese horror manga and creator of The Drifting Classroom and Orochi!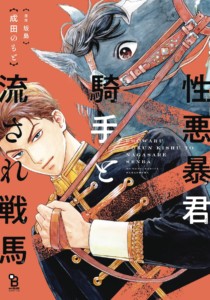 RUTHLESS COMMANDER & HIS REINCARNATED WARHORSE GN
(W) SAKASHIMA (A) NOMOTO NARITA
A modern man is reincarnated, but instead of being a samurai or ninja, he is now a pony!
PERSONA 4 ARENA ULTIMAX GN VOL 01
(W) ATLUS (A/CA) ROKURO SAITO
The action continues for the united casts of PERSONA 3 and PERSONA 4!
EPHEMERAL SCENES SETSUNAS JOURNEY GN VOL 01
(W) ROKUSYOU (A) USUASAGI, KEN TERASATO, SIME
He's summoned to another world to be a hero. But he's quickly tossed aside due to his weak constitution.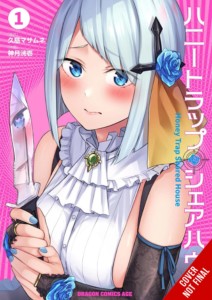 HONEY TRAP SHARED HOUSE GN VOL 01
(W) MASAMUNE KUJI (A) KOICHI KOZUKI
He promised to marry his first love. Fifteen yeers later, they are the world's greatest spies… but rivals.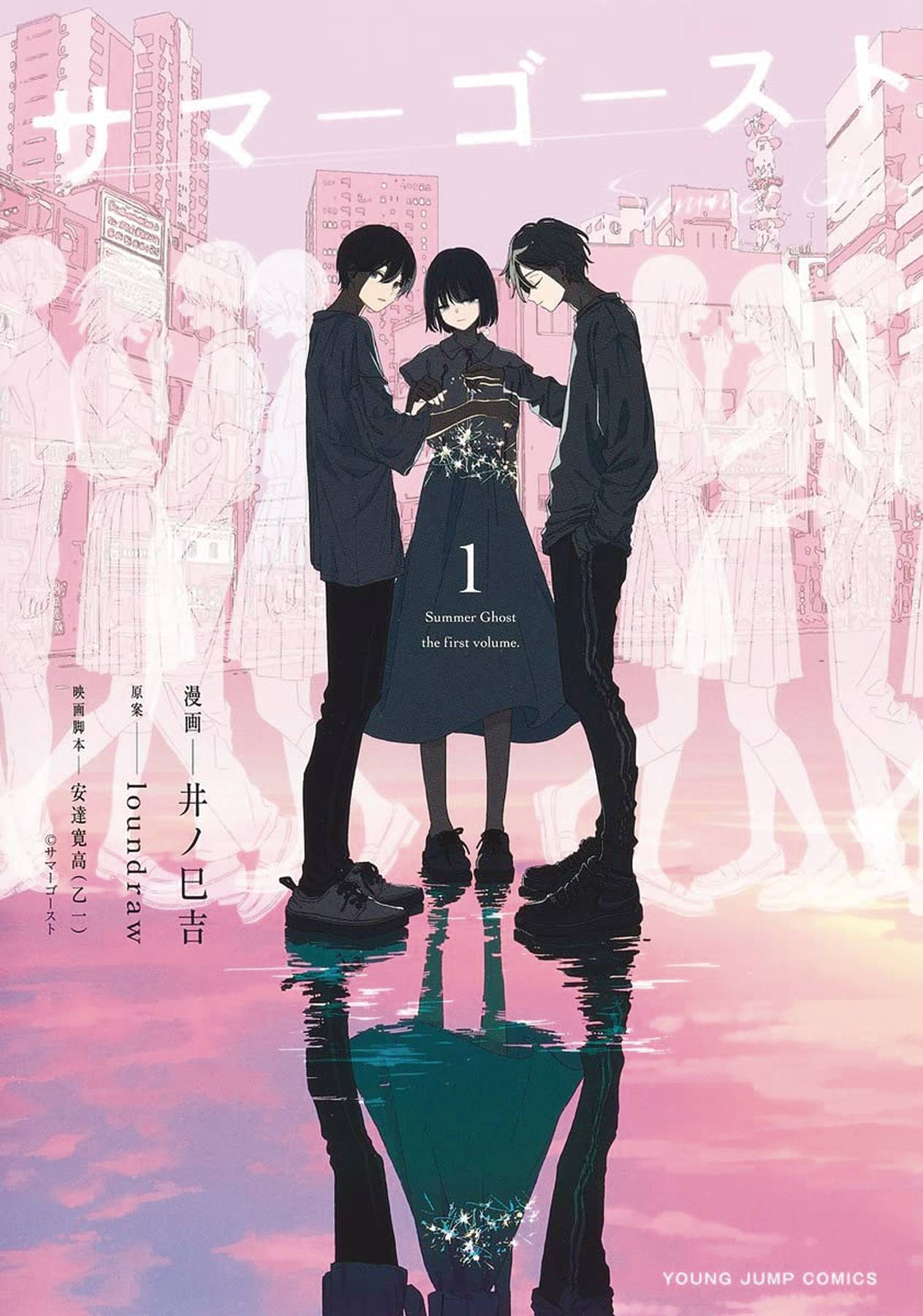 SUMMER GHOST COMP COLL GN
(W) Otsuichi (A) Yoshi Inomi (CA) loundraw
Based on the critically acclaimed animated short film about three high schoolers' supernatural coming-of-age!
MAIDEN OF THE NEEDLE GN VOL 01
(W) ZEROKI (A) YUKIMURA, MIHO TAKEOKA
She failed to inherit her family's enchanted tailoring gifts, she's in for torment and misfortune.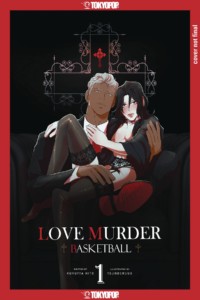 LOVE MURDER BASKETBALL GN
(W) KURUTTA HITO (A/CA) TSUNDERUU
Son of one of the most infamous Yakuza bosses. Then he meets the most popular athlete in Japan, who also happens to be a serial killer.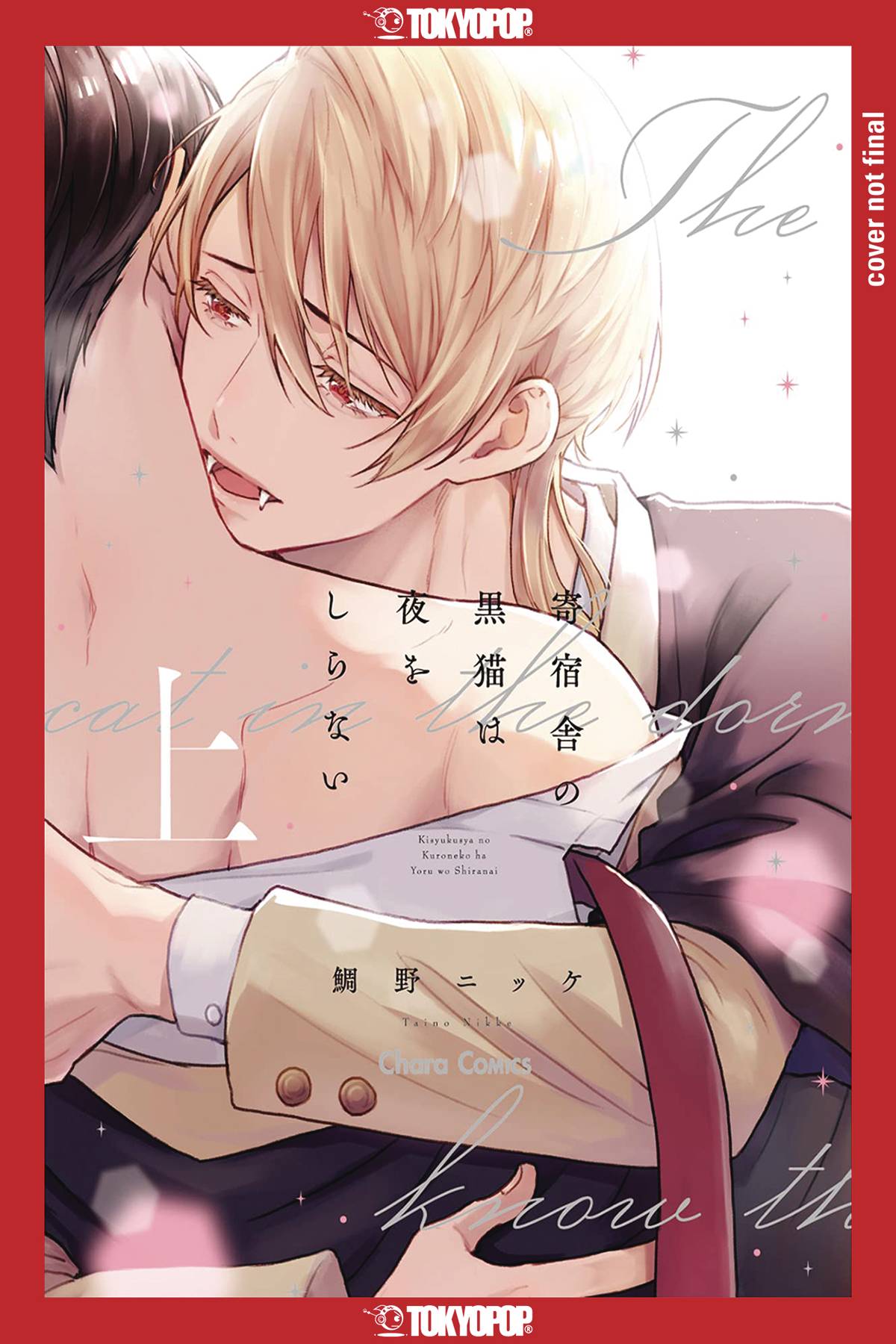 BLACK CAT & VAMPIRE GN VOL 01
Their school is peaceful, until a student gets attacked and ends up with a wound on his neck that looks suspiciously like a vampire bite!
Banished from his pack for being an omega, a wolf stumbled across a herbivore village. There he met a meddlesome rabbit.
If anything jumped out to you, remember to message us or let us know next time you're in the shop! You get a text the second it arrives in the shop and we place a copy aside just for you so you don't miss out!
We do these each month so keep an eye out for the next post!
Have a great month and happy reading 💚