I love horror. I'm an avid horror fan. I even do a weekly podcast (TerrorVision Horror Podcast) about horror films. I always love to keep my favourate horror comics in stock as much as possible at Greenlight. Here are 13 cool horror reads to get you ready for Halloween. -Dan.
1. AFTERLIFE WITH ARCHIE
When Jughead's beloved pet Hot Dog is killed in a hit and run, Jughead turns to the only person he knows who can help bring back his canine companion – Sabrina the Teenage Witch. Using dark, forbidden magic, Sabrina is successful and Hot Dog returns to the land of the living. But he's not the same – and soon, the darkness he brings back with him from beyond the grave begins to spread, forcing Archie and the gang to try to escape Riverdale! Collects issues #1-5.
Order AFTERLIVE WITH ARCHIE from the Greenlight Comics webstore
---
2. BABYTEETH VOL 01
Collecting all five issues of the first story arc from the hit AfterShock series, babyteeth! Sadie Ritter is sixteen years old, nine months pregnant, and scared out of her sweet nerdy mind. Having a baby that young is tough, but with the support of her loving family behind her, everything should be okay. OH YEAH, and also her baby is the antichrist and it's going to break open the barriers between the earthly and demonic planes and unleash eternal suffering to all of humankind. Other than that, though…should be fine. From Donny Cates, writer of Buzzkill, Paybacks, Rednecks and the break-out hit God Country, comes a pulse-pounding new series with art from THE REVISIONIST's Garry Brown!
Order BABYTEETH VOL 01 from the Greenlight Comics webstore
---
3. BEASTS OF BURDEN: ANIMAL RITES
Black magic, demonic frogs, and zombie road kill are just a few of the problems plaguing this seemingly sleepy little town. Beneath the quiet streets a rat cabal plots vengeance, while in the local cemetery the dead leave their graves. With the human residents unaware of the supernatural danger, it's up to a determined crew of dogs (and one cat) to keep their community safe. Lives will be lost, and bonds forged as the beasts of Burden Hill battle against an unknown evil rooted within their town. Award-winning comics creators Evan Dorkin (Milk & Cheese) and Jill Thompson (Scary Godmother) come together to share the lives of some unlikely heroes. This volume reprints the comic-book series Beasts of Burden issues #1-4, the short stories from the Dark Horse Book of Hauntings, the Dark Horse Book of Witchcraft, the Dark Horse Book of the Dead, and the Dark Horse Book of Monsters,"Stray," "Unfamiliar," "Let Sleeping Dogs Lie," and "A Dog and His Boy," published by Dark Horse Comics.
Order BEAST OF BURDEN: ANIMAL RITES from the Greenlight Comics webstore
---
4. FAMILY TREE VOL 01
When an eight-year-old girl begins to transform into a tree, her single Mom, troubled brother, and possibly insane grandfather embark on a bizarre and heart-wrenching odyssey across the back roads of America, desperately searching for a way to cure her horrifying transformation before it's too late. Bestselling, award-winning writer JEFF LEMIRE (ROYAL CITY, DESCENDER, Sweet Tooth) and superstar artist PHIL HESTER (Shipwreck, Green Arrow) come together for FAMILY TREE, a genre-defying epic about the lengths a mother will go to keep her children safe in a world of unspeakable horrors. Collects FAMILY TREE #1-4
Order FAMILY TREE VOL 01 from the Greenlight Comics webstore
---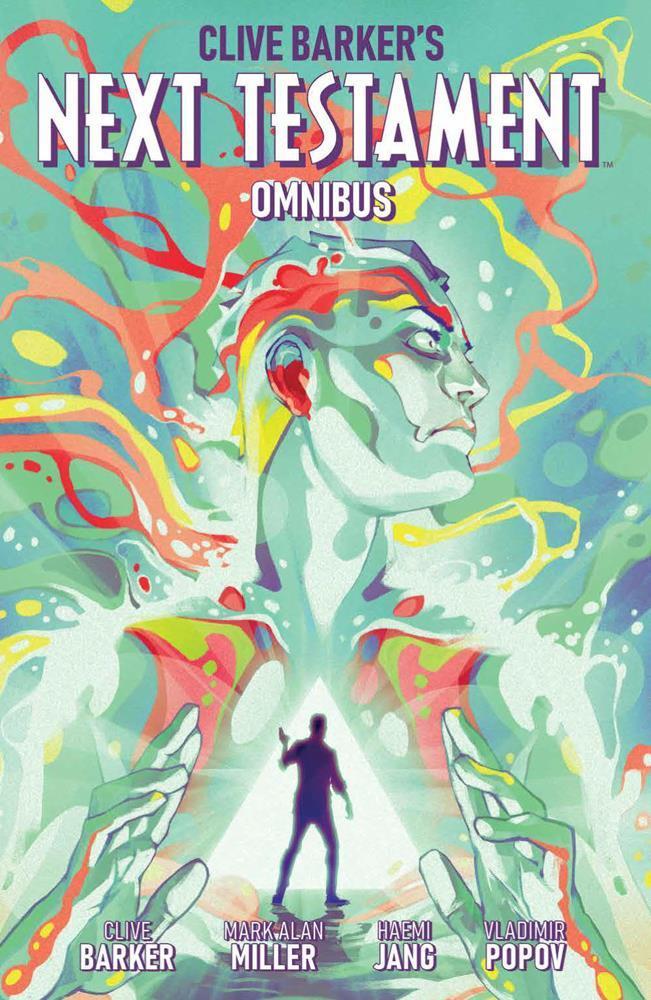 5. CLIVE BARKER'S NEXT TESTAMENT OMNIBUS
Finally collected in one complete volume, experience the terrifying madness of Master of Horror fs first original comic book series, Clive Barker fs Next Testament . Julian Demond is a captain of industry who left behind everything and began a walkabout, believing himself to be on a mission from above. He soon discovers a figure unlike any other, one who calls himself Wick cand claims to be God. Bestselling author Clive Barker, co-writer Mark Alan Miller (Clive Barker fs Hellraiser), and internationally acclaimed artist Haemi Jang ( Clive Barker fs Hellraiser: The Road Below ) come together for a thrilling story not of this world. Clive Barker fs Next Testament Omnibus collects all twelve issues of the Harvey Award-nominated horror epic.
Order CLIVE BARKERS NEXT TESTAMENT OMNIBUS from the Greenlight Comics webstore
---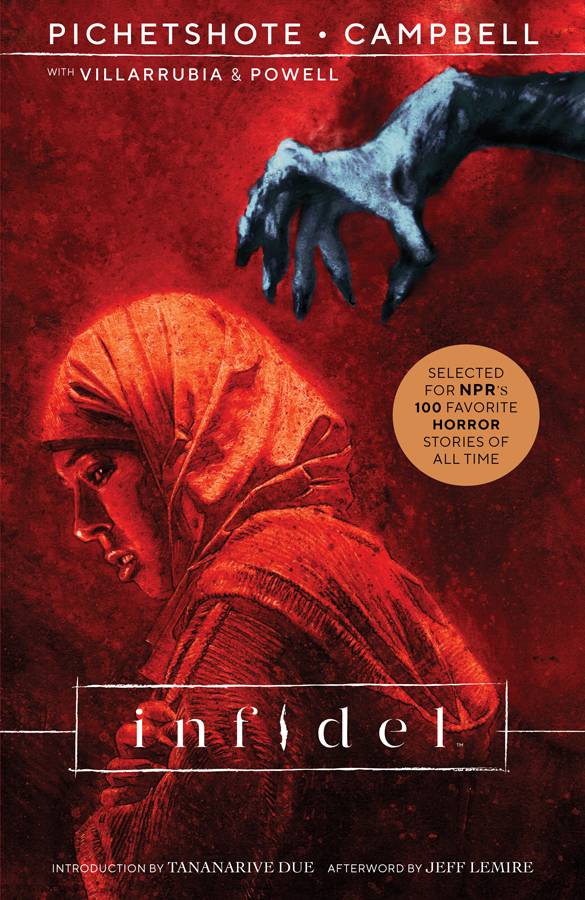 6. INFIDEL Graphic Novel
A haunted house story for the 21st century, INFIDEL follows an American Muslim woman and her multi-racial neighbors who move into a building haunted by entities that feed off xenophobia. Bestselling editor Pornsak Pichetshote (Swamp Thing, Daytripper, The Unwritten) makes his comics writing debut alongside artist extraordinaire Aaron Campbell (The Shadow, James Bond: Felix Leiter), award-winning colorist and editor Jos? Villarubia (Batman: Year 100, Spider-Man: Reign), and letterer/designer Jeff Powell (Scales & Scoundrels). Collects INFIDEL #1-5, the complete series.
Order INFIDEL from the Greenlight Comics webstore
---
7. MANOR BLACK
Graphic Novel
Roman Black is the moribund patriarch of a family of powerful sorcerers. As his wicked and corrupt children fight over who will take the reins of Manor Black and become representative of the black arts, Roman adopts a young mage whom he gifts his powers to with the hope that someone good will take his place against the evil forces out to bring down his family and legacy. Collects Manor Black issues #1-#4 and features a sketchbook section and pinup art by Jill Thompson, Dan Brereton, Erica Henderson, and Greg Smallwood.
Order MANOR BLACK from the Greenlight Comics webstore
---
8. NAILBITER VOL 01: THERE WILL BE BLOOD
"Where do serial killers come from?" and why has Buckaroo, Oregon given birth to sixteen of the most vile serial killers in the world? NSA Agent Nicholas Finch needs to solve that mystery in order to save his friend, and he'll have to team up with the infamous Edward "Nailbiter" Warren to do it. JOSHUA WILLIAMSON & MIKE HENDERSON deliver a mystery that mixes Twin Peaks with the horror of Se7en! Collects NAILBITER #1-5.
Order NAILBITER VOL 01 from the Greenlight Comics webstore
---
9. OCTOBER FACTION VOL 01
The October Faction details the adventures of retired monster-hunter Frederick Allan and his family, which include a thrill-killer, a witch, and a warlock. Because sometimes crazy is the glue that binds a family together.
Order OCTOBER FACTION VOL 01 from the Greenlight Comics webstore
---
10. SHIVER
Hard Cover
This volume includes nine of Junji Ito's best short stories, as selected by the author himself and presented with accompanying notes and commentary. An arm peppered with tiny holes dangles from a sick girl's window… After an idol hangs herself, balloons bearing faces appear in the sky, some even featuring your own face… An amateur film crew hires an extremely individualistic fashion model and faces a real bloody ending… An offering of nine fresh nightmares for the delectation of horror fans.For older teen audiences.
Order SHIVER from the Greenlight Comics webstore
---
11. UNSOUND
Graphic Novel
Eisner Award-nominated writer Cullen Bunn ( Harrow County, The Empty Man ) is joined by brilliant newcomer artist Jack T. Cole to present a surreal psychological horror series that will have you questioning what it is to truly be crazy… Ever since she was little, all Ashli wanted was to help people. It's why she went to nursing school, and it's why she signed up for the vacant position at Saint Cascia, despite the psychiatric hospital's less-than-sterling reputation. But when strange occurrences begin in the midst of her very first day on the job, Ashli is forced to escape through the labyrinthine bowels of the asylum to not only help her fellow nurses, but to save herself.
"There is nothing else like this book on the stands now or perhaps ever. It stands on its own as an unparalleled horror comic that will have you frightened to turn the page, yet eager to do it to see what happens next. You will not be able to put it down, partly because it might not let you." – Horror Talk
Order UNSOUND from the Greenlight Comics webstore
---
12. STRAYED
VOL 01
In the far future, a military-industrial complex reigns over all humanity and actively destroys distant alien worlds. The galaxy's only hope can be found through an unlikely pair: an astral-projecting cat named Lou and his loving owner Kiara. Trading nine lives for the well-being of billions, their revolt is a battle for love, friendship, compassion, and the soul of humanity. Collects the five-issue miniseries.
Order STRAYED from the Greenlight Comics webstore
---
13. WYTCHES VOL 01
When the Rooks family moves to the remote town of Litchfield, NH to escape a haunting trauma, they're hopeful about starting over. But something evil is waiting for them in the woods just beyond town. Watching from the trees. Ancient…and hungry. Collects WYTCHES #1-6.
Order WYTCHES VOL 01 from the Greenlight Comics webstore