Have you finished Paper Girls, Giant Days and The Wicked + The Divine? Are you waiting on Saga to finally start up again? Is everything you're reading wrapping up? Fear not! The following graphic novels are new ongoing comic book series that we think will be the next big hitters.
SOMETHING IS KILLING THE CHILDREN
Two Volumes out with a third on the way.

Genre: Horror

When the children of Archer's Peak begin to go missing, everything seems hopeless. The few children that return alive have terrible stories-impossible details of terrifying creatures that live in the shadows. Their only hope is the arrival of a mysterious stranger, one who believes the children and claims to be the only adult who sees what they can see.  Her name is Erica Slaughter. She kills monsters. That is all she does, and she bears the cost because it must be done.
---
STAR WARS 2021
Volume one out now with Volume two on the way.

Genre: Sci-Fi
Set between The Empire Strikes Back and Return Of The Jedi. The rebel fleet is scattered following a disastrous defeat at the Battle of Hoth. Han Solo is frozen in carbonite and lost to the bounty hunter Boba Fett. And Luke Skywalker is wounded and reeling from learning the horrible truth about his past. Darth Vader did not kill Luke's father – he is Luke's father! Now Luke, Princess Leia, Lando Calrissian, Chewbacca, C-3PO and R2-D2 must fight their way back to the rest of the Rebel Alliance. But this ragtag band of freedom fighters doesn't realize they've only traded one imperial trap for another! They're about to cross paths with the captain of the Tarkin's Will: the cunning and vengeful Imperial Commander Zahra! 
---
THE ADVENTURE ZONE
Three Volumes out with a fourth on the way.

Genre: Fantasy Comedy

Once upon a time (a couple of years ago) there were these brothers who had a bunch of really successful podcasts, and they decided to do a new podcast with their dad, where they all played D&D together as a family, and lo, this new podcast was called The Adventure Zone, and verily did it get downloaded over 10 million times, and wow did it totally eat the brains of all who listened, because: It was just. That. Rad. And then did these guys team up with artist Carey Pietsch, and make a graphic novel where the weirdly sweet and brilliant but also super vulgar and honestly kind of bizarre story of The Adventure Zone got adapted into a goofy, innovative, and compelling graphic novel!
---
HI SCORE GIRL
Five Volumes out with a sixth on the way.

Genre: Manga Slice Of Life

Hi Score Girl, Rensuke Oshikiri's love letter to arcade gaming, finally comes to print! Read the manga that inspired the Netflix Original anime series! The year is 1991, and the world is on the cusp of the golden age of 2-D fighting games. And on the outskirts of town, in a shady arcade that's a second home to delinquents and businessmen, one girl descends with dignity into her seat at the game cabinet… Her name is Akira Oono, and she's about to humiliate hardcore gamer Haruo Yaguchi, who fancies himself something of an arcade king, at Street Fighter! Will Haruo ever live down losing to a girl from his class?!
---
FIRE POWER
Two Volumes out with a Third on the way.

Genre: Modern Fantasy

Owen Johnson's journey to China to learn about his birth parents eventually leads him to a mysterious Shaolin Temple. The students there study to rediscover the Fire Power, the lost art of throwing fireballs. A power they claim will be needed soon to save the world. Will Owen Johnson be the first person in a thousand years to wield the FIRE POWER?

If you like Iron Fist, you will love this.
---
CRITICAL ROLE: VOX MACHINA ORIGINS
Two Volumes out with a Third on the way.

Genre: High Fantasy

The band of adventurers known as Vox Machina will save the world. Eventually. But even they have to start somewhere. Six would-be heroes on seemingly different jobs find their paths intertwined as they investigate shady business in the swamp town of Stilben. They'll need to put their heads-and weapons-together to figure out what's going on . . . and keep from being killed in the process. From the creators of the hit show Critical Role comes Vox Machina's origin story.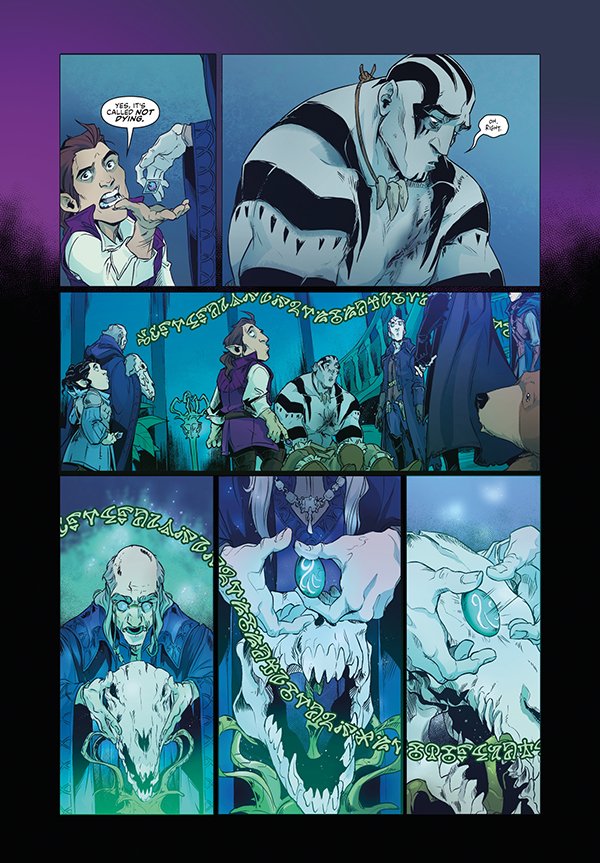 ---
FAMILY TREE
Two Volumes out with a Third on the way.

Genre: Horror

When an eight-year-old girl begins to transform into a tree, her single Mom, troubled brother, and possibly insane grandfather embark on a bizarre and heart-wrenching odyssey across the back roads of America, desperately searching for a way to cure her horrifying transformation before it's too late.
A genre-defying epic about the lengths a mother will go to keep her children safe in a world of unspeakable horrors.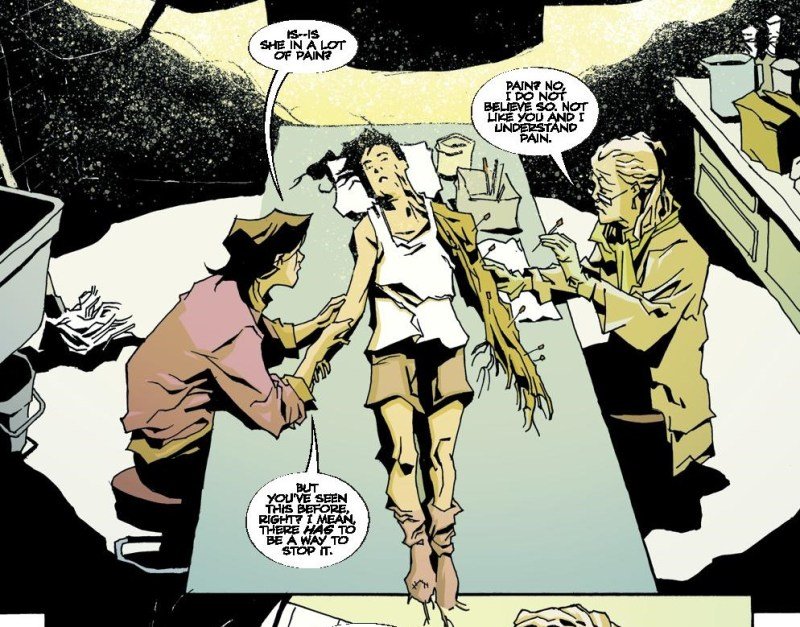 ---
HELL'S PARADISE JIGOKURAKU
Six Volumes out with a seventh on the way.

Genre: Battle Manga

Gabimaru the Hollow is on death row for crimes committed as an assassin when he's made an offer: die in prison, or travel to a mysterious island to locate the elixir of immortality for the shogun. He soon finds himself trapped on an island full of otherworldly creatures, rival criminals and ruthless executioners eager to take the head of any criminal who steps out of line.
---
NOMEN OMEN
Six Volumes out with a seventh on the way.

Genre: Urban Fantasy

No matter how fast you run, sooner or later your past will catch up with you. Becky Kumar is a daughter of three mothers and a geeky twenty-year-old from New York City who is about to cross the veil between our reality and an ancient realm of otherworldly truths. A tale of witchcraft and secrets that rewrites the rules of urban fantasy.

The art is awesome with spot colours on grey scale. It oozes style.
---
ONCE & FUTURE
Two Volumes out with a Third on the way.

Genre: Modern Fantasy

When a group of Nationalists use an ancient artifact to bring a villain from Arthurian myth back from the dead to gain power, ex-monster hunter Bridgette McGuire escapes her retirement home and pulls her unsuspecting grandson Duncan, a museum curator, into a world of magic and mysticism to defeat a legendary threat.
Explore the mysteries of the past, the complicated truths of our history and the power of family to save the day… especially if that family has secret bunkers of ancient weapons and decades of experience hunting the greatest monsters in Britain's history!
---
OBLIVION SONG
Four Volumes out with a Fifth on the way.

Genre: Sci-Fi

A decade ago, 300,000 citizens of Philadelphia were suddenly lost in Oblivion. The government made every attempt to recover them, but after many years they gave up. Nathan Cole… won't. He makes daily trips, risking his life to try and rescue those still living in the apocalyptic hellscape of Oblivion. But maybe Nathan is looking for something else. Why can't he resist the siren call of the Oblivion Song?

From the creator of The Walking Dead.
---
MOONSTRUCK
Three volumes so far.

Genre: LGBTQI+ Modern Fantasy

Werewolf barista Julie and her new girlfriend go on a date to a close-up magic show, but all heck breaks loose when the magician casts a horrible spell on their friend Chet. Now it's up to the team of mythical pals to stop the illicit illusionist before it's too late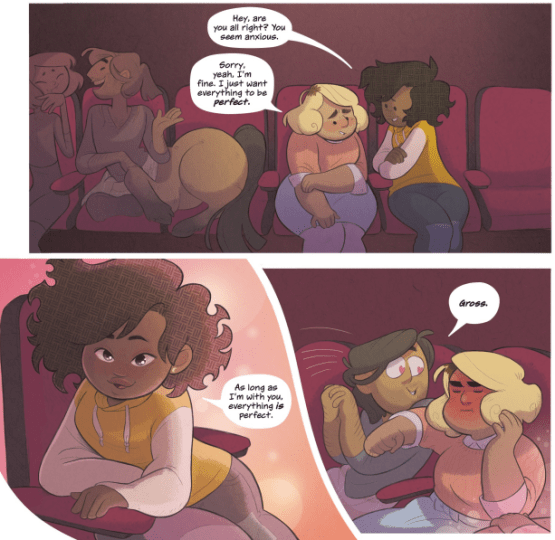 ---
GIDEON FALLS
Five Volumes out with a Sixth on the way.
Genre: Horror

A character-driven meditation on obsession, mental illness, and faith. The legend of the Black Barn-an otherworldly building alleged to have appeared and reappeared throughout history, bringing death and madness in its wake-ensnares and entwines the lives of two very different men.

This comic has some truly amazing panel layouts and ideas.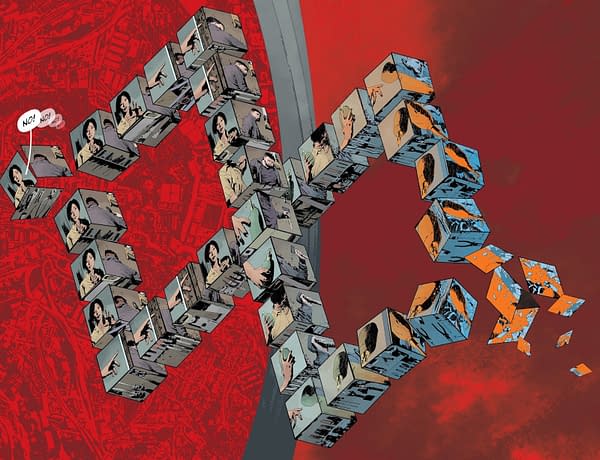 ---
DIE
Three volumes so far.

Genre: Dark Fantasy

DIE is a pitch-black fantasy where a group of forty-something adults have to deal with the returning, unearthly horror they only just survived as teenage role-players. Described as "Goth Jumanji", but that's only the tip of this critically acclaimed obsidian iceberg.
---