The end of the year is fast approaching and we felt it's time to do a Best Of The Year List. Each on of the Greenlight Comics family chose their two favorite graphic novels of the year.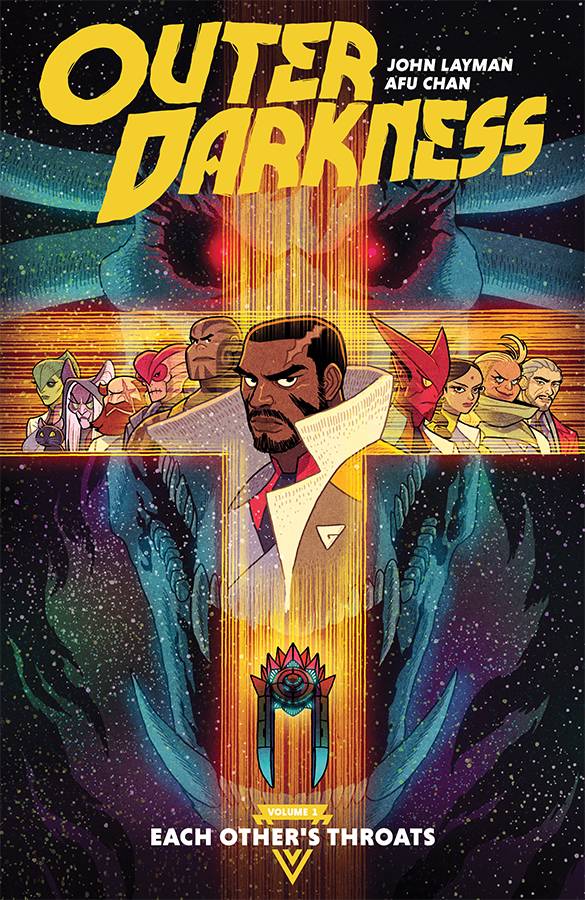 Outer Darkness Vol 01 – Dan's Pick

Sci-fi and horror collide! join Captain Joshua Rigg and his crew of the Starship Charon as they encounter demonic possessions, haunting and cosmic horror. With crew department like Exorcists and Battle Quantum Mathematicians this book rules! Oh, and the ship is powered by a God engine, which is exactly what it sounds like.
---
The Magic Order Vol 01 – Dan's Pick
Harry Potter for adults. Someone is killing off the magic order, a secret bunch of magicians operating right under our noses. This is a "who done it" story. It's got the best pay off. I slapped my knee during the big reveals. A great solid read with punch!
---
Mads is pretty happy with her life. She goes to church with her family, and minor league baseball games with her dad. She goofs off with her best friend Cat, and has thus far managed to avoid getting kissed by Adam, the boy next door. It's everything she hoped high school would be… until all of a sudden, it's not. Her dad is hiding something big―so big it could tear her family apart. And that's just the beginning of her problems: Mads is starting to figure out that she doesn't want to kiss Adam… because the only person she wants to kiss is Cat. My favourite graphic novel of 2019, it's just great comics. Relatable, emotional story of coming out and coming of age. Not unrealistically happy but not devastatingly sad, just a real read. Set in the early 2000s so a lot of the teen conversation happen over msn, it's great. It's like the writer was in my teen head.
---
Stargazing by Jen Wang – Gina's Pick
Moon is everything Christine isn't. She's confident, impulsive, artistic . . . and though they both grew up in the same Chinese-American suburb, Moon is somehow unlike anyone Christine has ever known. When Moon's family moves in next door to Christine's, Moon goes from unlikely friend to best friend―maybe even the perfect friend. The girls share their favorite music videos, paint their toenails when Christine's strict parents aren't around, and make plans to enter the school talent show together. Moon even tells Christine her deepest secret: that she sometimes has visions of celestial beings who speak to her from the stars. Who reassure her that earth isn't where she really belongs. Jen Wang is a great artist and story teller and this beautiful fictional middle grade graphic novel delves into universal themes of making friends, fitting in and being a young person. A great read for all ages and humans.
---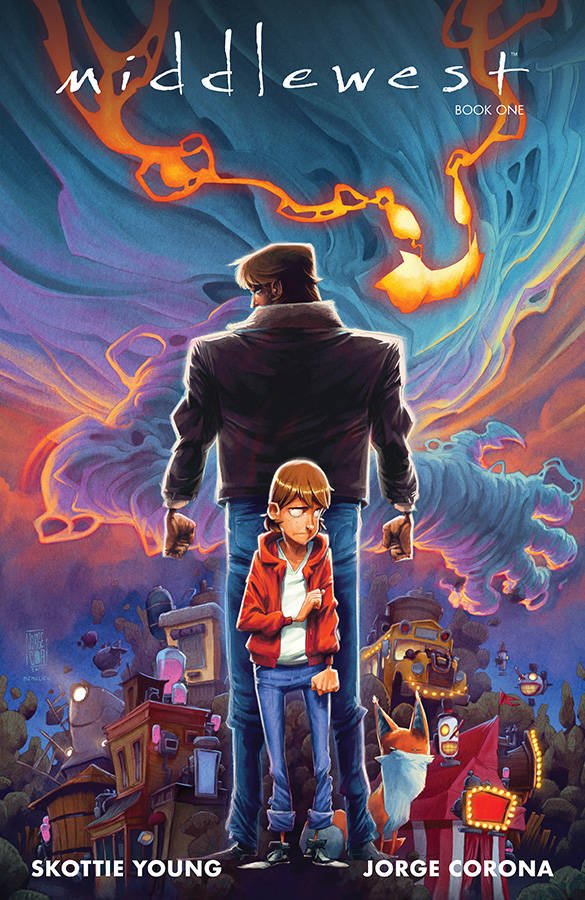 Middlewest Vol 01 – Ross' Pick
Escaping his Fathers fury – Which has manifest as a storm, Abel runs away from home. The places he goes and characters he meets are fascinating. It left me wanting to read more. Hits home pretty hard if you're had an abusive parent.
---
P.T.S.D – Ross' Pick
Based in the future, but not our future. This book is a commentary on the way we deal with veterans, metal illness and the homeless. Although that sounds like a downer, this book is actually quite enlightening and hopeful. I could look at this artwork all day.
---
An all encompassing war tale from a point of view we rarely see, female Russian soldier. The story covers a gamut of war time experiences from civilian, refugee, partisan, soldier to war hero and finally mother. The story is well researched and never seems rushed or contrived using a deliberate and natural pace, driven by well rounded characters.
---
Maggy Garrision – Mark's Pick
A British take on the noir detective story, with dialogue that crackles with energy, character and is never wasted moving the story forward. Maggy is full of snark and wit, slyly maneuvering her way from the pub stool, to the secretary desk to the detective case. Maggy fits in deftly into a world of bent cops and nice crooks.
---
If you sit beside me while I read something I enjoy, you will soon discover I am that annoying friend who will laugh, sigh and exclaim out loud in sympathy with a good story. Gina had to endure this experience while I read Bloom! It's a story about being on a personal precipice, in which change is desperately needed and sought but ultimately comes in unforeseen ways, from unexpected places. For Ari, our protagonist, change comes as a kindled love that grows as he trains Hector to be his replacement in the family bakery. It challenges everything he thought he wanted for himself, and seeing those changes unfold as he learns and grows is truly lovely. A feel-good story that is as complex and human as it is cute. It's also worth noting that many a scene takes place over rising dough and trays of fresh-baked muffins. Delicious!
---
Mister Miracle – Sarah's Pick
This one starts heavy and doesn't stop, so read it when you're feeling light enough to carry an emotional load. It is essentially an introspective slice-of-life, though being about a superhero, this comes with a juxtaposition between the commitments a costume brings and the needs of the man who wears it. There is a massive war involved, Darkseid and the anti-life equation, all of that action and drama, yet the story for me was about the relationship at the heart of it: Scott and Big Barda navigating daily life in their small apartment. I loved how the story sticks to a nine-panel layout; I love how the creative team found so many ways to vary that. I love the changes in colour, the rich primaries they used throughout, the glitch mechanism of doubt and the bizarreness of the presented "everyday." As in, it was bizarre precisely because it was ordinary in such an extraordinary context. I had a mountain of questions piling up through the early pages and was thrilled to bits to find them addressed later on. Cannot recommend this story highly enough.
---
Black Science Final Volume (Vol 09) – Nick's Pick
Rick Remender's Black Science came to an end this year and oh what an end it was. Keeping true to it's roots as a bonkers sci-fi epic / family drama the spectacle at the end of Grant Mckay's journey manages to be multiverse in scope and simultaneously deeply personal and introspective. Black Science is a fantastic series that is well worth the investment.
---
Green Lantern Vol 1 – Nick's Pick
Favourite Character (Green Lantern) plus favourite writer (Grant Morrison) is just about the best thing that happened in comics in 2019. This series has everything; crazy sci-fi, insane aliens, cosmic vampires, the end of the universe (multiverse?) sword and sorcery fantasy, multiversal doppelgangers, beautiful art and as has become standard for Grant Morrison more story per issue than many creators pack into whole arcs. This is a must buy on the concept alone but the execution elevates it to an instant classic.
---
If you wish to own any of these great reads please get in contact with the shop.