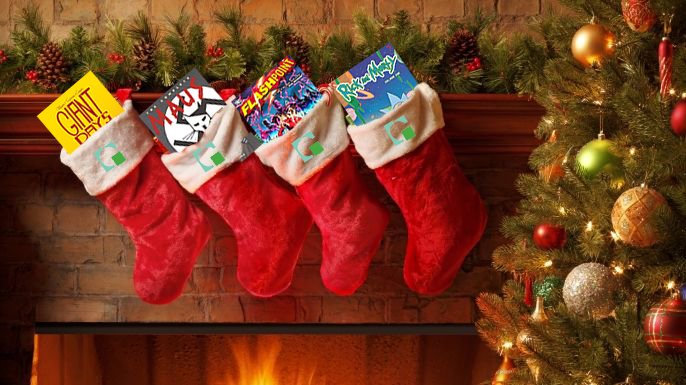 Got a human friend that's into movies, TV, reading, art or video games? Do you need to acquire an Xmas pressy for these hard to buy for humans? Fear not, GRAPHIC NOVELS are the answer! Lucky for you we have created a list of the the top 30 graphic novels organised into genre.

---
FANTASY
Klaus (hard cover)
(W) Grant Morrison (A) Dan Mora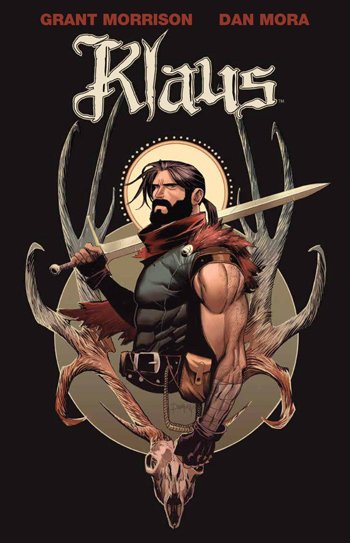 Klaus is "Santa Claus: Year One. Award-winning author Grant Morrison and artist Dan Mora revamp, reinvent, and re-imagine a classic superhero for the 21st century, drawing on Santa's roots in Viking lore and Siberian shamanism.
Montress
(W) Marjorie M. Liu (A) Sana Takeda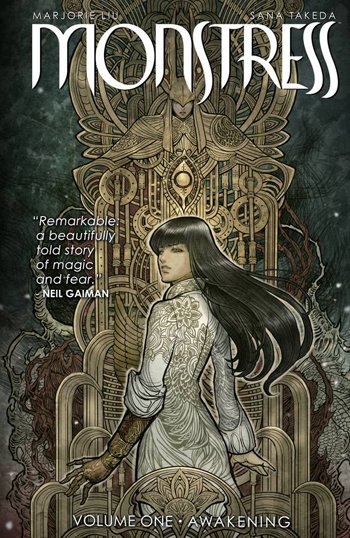 Set in an alternate matriarchal 1900's Asia, in a richly imagined world of art deco-inflected steampunk, MONSTRESS tells the story of a teenage girl who is struggling to survive the trauma of war, and who shares a mysterious psychic link with a monster of tremendous power, a connection that will transform them both.
Volume 1 and 2 available.
Head Lopper
(W/A) Andrew MacLean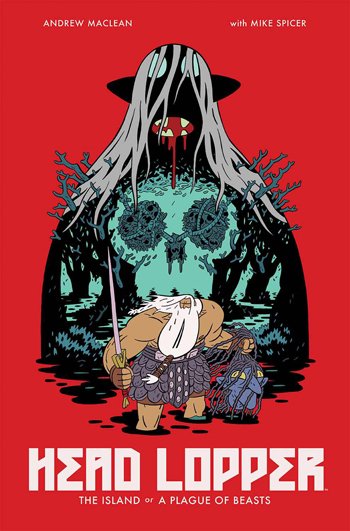 The Head Lopper, Norgal, and the nagging severed head of Agatha Blue Witch arrive on the Isle of Barra to find it overrun with beasts: minions of the Sorcerer of the Black Bog. When Queen Abigail hires Norgal and Agatha to slay the Sorcerer, our heroes trek across the island reliving the horrors of their heads-and playing right into the hands of a master manipulator.
---
SCI-FI
East Of West
(W) Jonathan Hickman (A) Nick Dragotta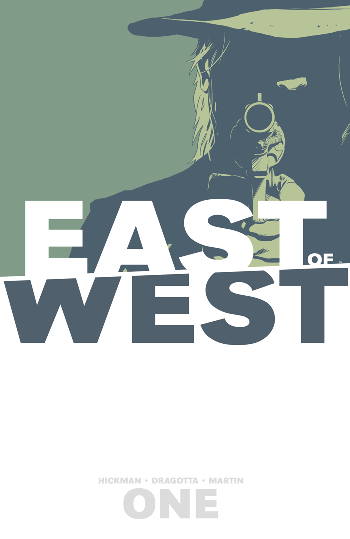 This is world. It is not the one we wanted, but it is the one we deserved. The Four Horsemen of the Apocalypse roam the Earth, signaling the End Times for humanity, and our best hope for life, lies in Death.
Volumes 1-7 available.
Akira
(W/A) Katsuhiro Otomo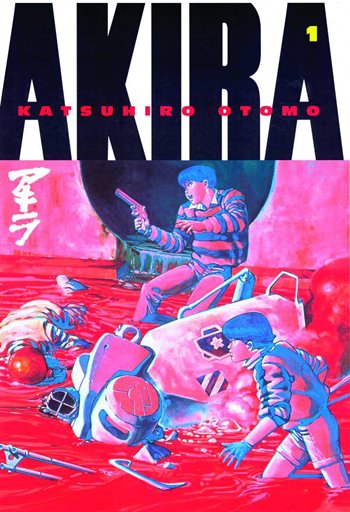 The post-apocalyptic science-fiction saga Akira, with its thought-provoking themes and kinetic artwork, introduced the world to the power of manga. Now available again, this classic adventure is ready to be discovered by a new generation of readers!
Volumes 1-6 available.
Saga
(W) Brian K. Vaughan (A) Fiona Staples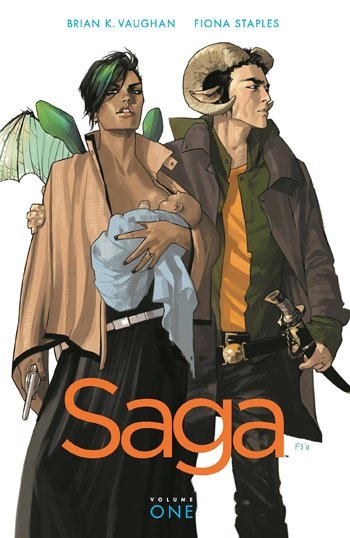 SAGA is the sweeping tale of one young family fighting to find their place in the worlds.  When two soldiers from opposite sides of a never-ending galactic war fall in love, they risk everything to bring a fragile new life into a dangerous old universe.  Fantasy and science fiction are wed like never before in a sexy, subversive drama for adults.
Volumes 1-7 available.
---
HISTORY / BIO
Maus
(W/A) Art Spiegelman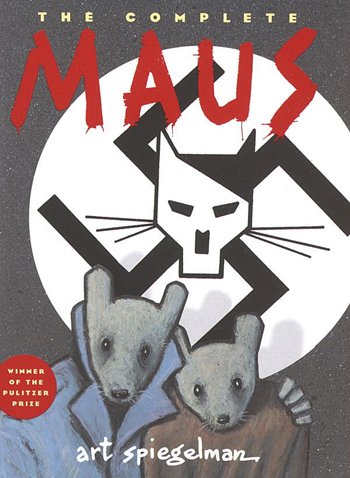 This hardcover edition was produced to coincide with the Tenth Anniversary of the publication of the first volume of Maus, presenting the entire saga together in one book, as originally envisioned by the author. The most affecting and successful narrative ever done about the Holocaust.
Rolling Blackouts
(W/A) Sarah Glidden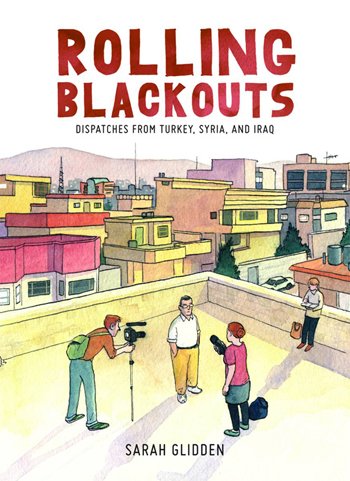 Cartoonist Sarah Glidden accompanies her two friends – reporters and founders of a journalism non-profit – as they research potential stories on the effects of the Iraq War on the Middle East and, specifically, the war's refugees. Joining the trio is a childhood friend and former Marine whose past service in Iraq adds an unexpected and sometimes unwelcome viewpoint, both to the people they come across and perhaps even themselves.  Painted in her trademark soft, muted watercolors and written with a self-effacing humor, Rolling Blackouts cements Glidden's place as one of today's most original nonfiction voices.
Showa: History Of Japan
(W/A) Shigeru Mizuki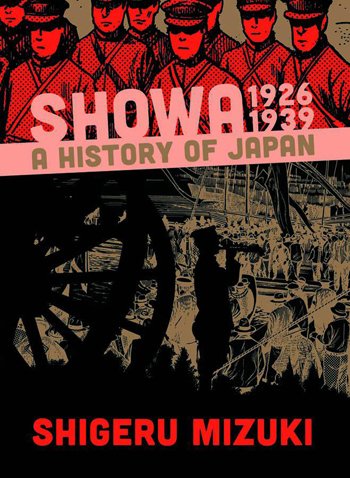 Showa: A History of Japan is the Shigeru Mizuki's meticulously researched historical portrait of twentieth-century Japan. These 560-page volumes chart Japan's national history from the decades before World War II through the war, its defeat and occupation, and rebirth alongside the personal stories of the individuals living their lives against this momentous history. With his trusty narrator Rat Man, Mizuki brings history into the realm of the personal, making it palatable, and indeed compelling, for young audiences as well as more mature readers.
Volumes 1-4 available.
---
ALTERNATIVE / INDIE
Nimona
(W/A) Noelle Stevenson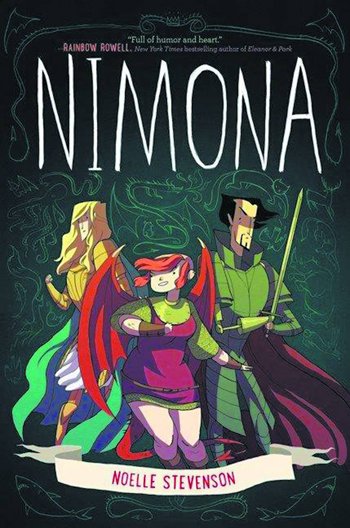 Nemeses! Dragons! Science! Symbolism! All these and more await in this brilliantly subversive, sharply irreverent epic from Noelle Stevenson. Nimona is an impulsive young shapeshifter with a knack for villainy. Lord Ballister Blackheart is a villain with a vendetta. As sidekick and supervillain, Nimona and Lord Blackheart are about to wreak some serious havoc. Their mission: prove to the kingdom that Sir Ambrosius Goldenloin and his buddies at the Institution of Law Enforcement and Heroics aren't the heroes everyone thinks they are. Featuring an exclusive epilogue not seen in the web comic, along with bonus conceptual sketches and revised pages throughout, this gorgeous full-color graphic novel has been hailed by critics and fans alike
Seconds
(W/A) Bryan Lee O'Malley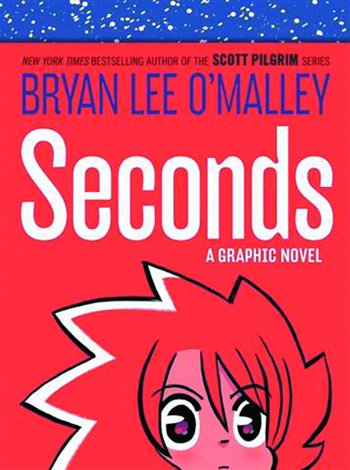 The highly anticipated new standalone full-color graphic novel from Bryan Lee O'Malley, author and artist of the hugely bestselling Scott Pilgrim graphic novel series. Seconds is a complex and novelistic standalone story about a young restaurant owner named Katie who, after being visited by a magical apparition, is given a second chance at love and to undo her wrongs. Fans new and old will love Bryan's bold and quirky style infused with his subtle, playful humor.
Giant Days
(W) John Allison (A) Lissa Treiman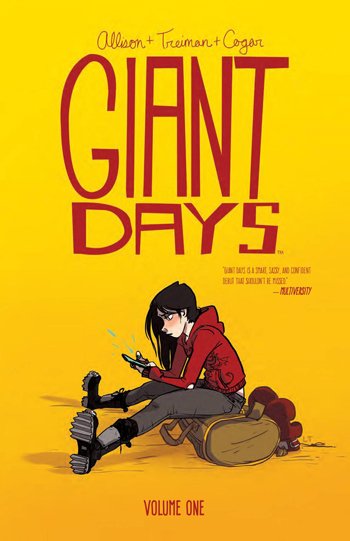 Susan, Esther, and Daisy started at university three weeks ago and became fast friends. Now, away from home for the first time, all three want to reinvent themselves. But in the face of handwringing boys, "personal experimentation," influenza, mystery mold, nuchauvinism, and the willful, unwanted intrusion of "academia," they may be lucky just to make it to spring alive.
Volumes 1-6 available.
---
CRIME
Black Monday Murders
(W) Jonathan Hickman (A) Tomm Coker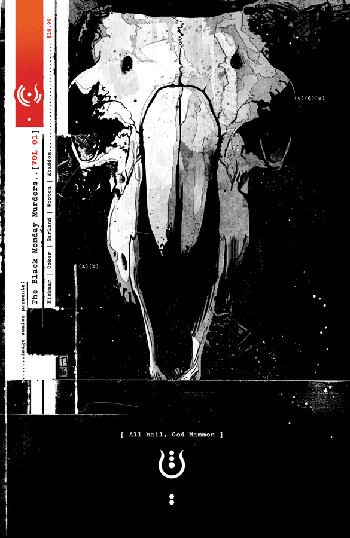 THE BLACK MONDAY MURDERS pulls the covers back on the secret world of magic lying behind the largest and oldest financial institutions in the world.
Blacksad
(W) Juan Díaz Canales (A) Juanjo Guarnido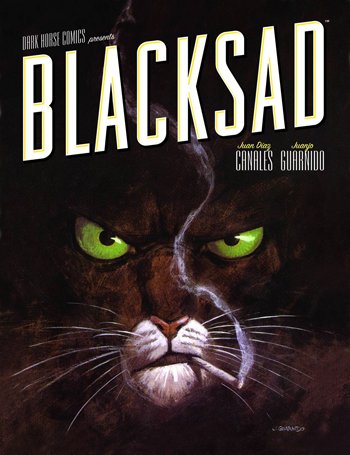 Private investigator John Blacksad is up to his feline ears in mystery, digging into the backstories behind murders, child abductions, and nuclear secrets. Guarnido's sumptuously painted pages and rich cinematic style bring the world of 1950s America to vibrant life, with Canales weaving in fascinating tales of conspiracy, racial tension, and the "red scare" Communist witch hunts of the time. Guarnido reinvents anthropomorphism in these pages, and industry colleagues no less than Will Eisner, Jim Steranko, and Tim Sale are fans!
Whether John Blacksad is falling for dangerous women or getting beaten to within an inch of his life, his stories are, simply put, unforgettable.
Volumes 1-3 available.
Briggs Land
(W) Brian Wood (A) Mack Chater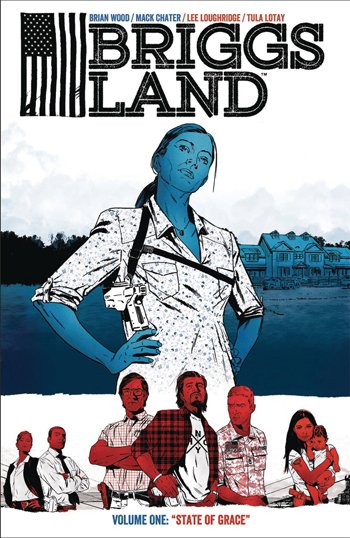 Briggs Land, nearly a hundred square miles of rural wilderness, contains the largest anti-government secessionist movement in the United States. When matriarch Grace Briggs wrests control of the operation from her incarcerated husband, she sparks a war within the community-and her immediate family-that threatens to bring the full power of the federal government down on their heads.
---
MARVEL COMICS
Old Man Logan
(W) Mark Millar (A) Steve McNiven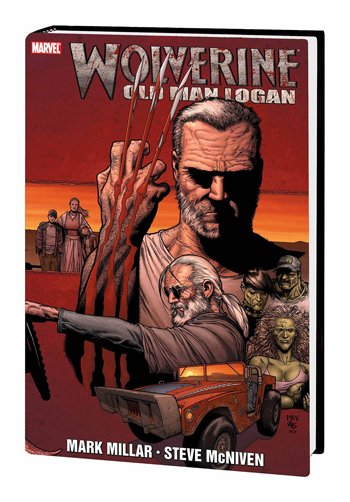 A future world savaged and sundered by super villains, the United States ain't what it used to be. In California, now a wasteland controlled by the evil Hulk Gang, the former Wolverine seeks to live in peace. He's retired, finally free from the violence of his former existence as an X-Man, and he wants to keep it that way. If only they'd let him. Now, Logan and an aged, blind Hawkeye are forced into a cross-country jaunt through villain-ruled lands, on a collision course with the worst of them all! Can Old Man Logan maintain his pacifist vow and make his last stand without doing what he does best?
Vision
(W) Tom King (A) Gabriel Hernandez Walta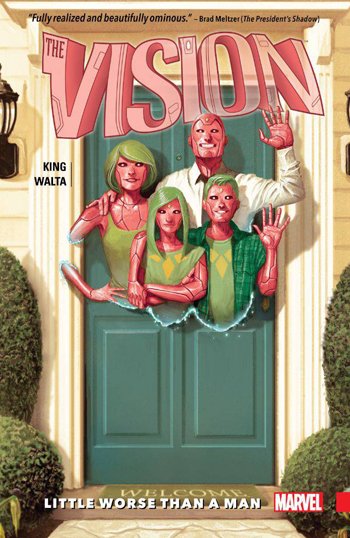 The Vision wants to be human, and what's more human than family? So he heads back to the beginning, to the laboratory where Ultron created him and molded him into a weapon. The place where he first rebelled against his given destiny, and imagined he could be more – that he could be a man. There, he builds them. A wife, Virginia. Two teenage twins, Viv and Vin. They look like him. They have his powers. They share his grandest ambition (or is that obsession?): the unrelenting need to be ordinary. Behold the Visions! They're the family next door, and they have the power to kill us all. What could possibly go wrong? Artificial hearts will be broken, bodies will not stay buried, the truth will not remain hidden, and the Vision will never be the same.
Volumes 1-2 available.
Punisher Complete Collection
(W) Garth Ennis (A) Various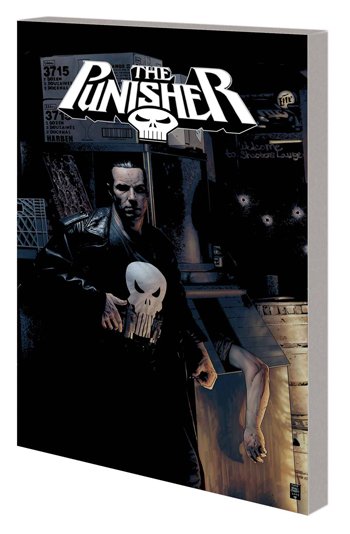 Experience the gritty and uncompromising PUNISHER MAX from the very beginning! When a mob hit killed his beloved wife and children, Frank Castle became the Punisher – an unstoppable one-man army waging war on every piece of criminal scum plaguing New York's streets. But do the Punisher's origins trace back even further? In 1971 Vietnam, Captain Castle's platoon faces a Viet Cong attack – and to survive, he must make a grim choice. Then, Punisher's old partner, Microchip, long thought to be a casualty of Castle's war, resurfaces with a startling offer! Will the Punisher play patsy for the CIA? If not, will they let him walk away? And in a story ripped from the headlines, Castle must take on rival Irish gangs when a bomb goes off in Hell's Kitchen!
Volumes 1-6 available.
---
DC COMICS
Flashpoint
(W) Geoff Johns (A) Andy Kubert & Various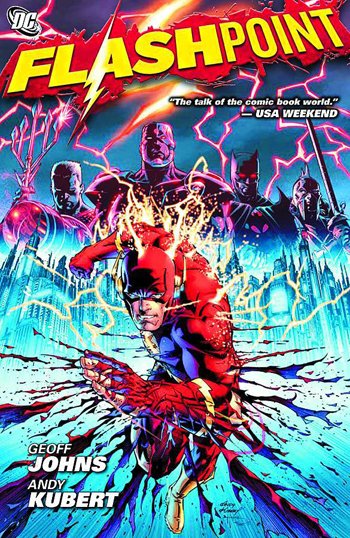 This is Flash Fact: When Barry Allen wakes at his desk, he discovers the world has changed. Family is alive, loved ones are strangers, and close friends are different, gone or worse. It's a world on the brink of a cataclysmic war – but where are Earth's Greatest Heroes to stop it?
It's a place where America's last hope is Cyborg, who hopes to gather the forces of The Outsider, The Secret 7, S!H!A!Z!A!M!, Citizen Cold and other new and familiar-yet-altered faces! It's a world that could be running out of time, if The Flash can't find the villain who altered the time line!
Injustice Year One Collection
(W) Tom Taylor (A) Bruno Redondo & Various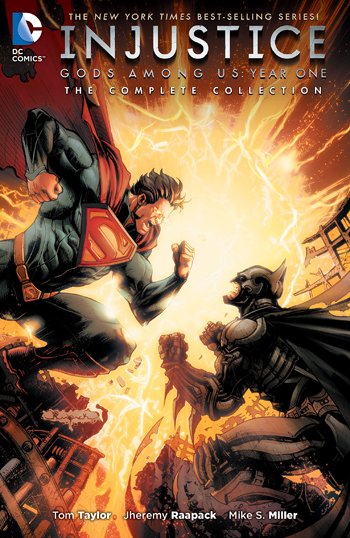 The first year of the acclaimed prequel to the video game Injustice: Gods Among Us is collected! The world is changed forever when Superman is tricked into destroying the thing he loves most. Now, the heroes of our world must decide if they are with Superman or against him.
Volumes 1-2 available.
Omega Men
(W) Tom King (A) Barnaby Bagenda & Various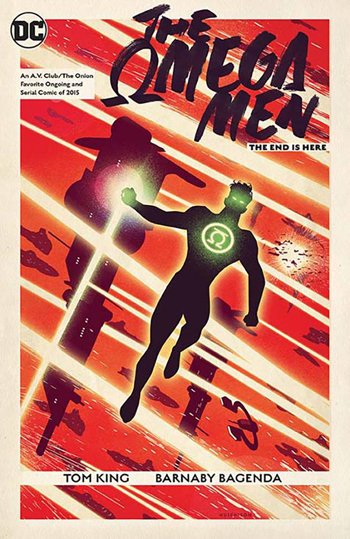 The Omega Men are back in an all-new series! They've murdered White Lantern Kyle Rayner, and now the universe wants them to pay! Who are these intergalactic criminals-and is there more to their actions than meets the eye?
---
YOUNG READERS
Amulet
(W/A/CA) Kazu Kibuishi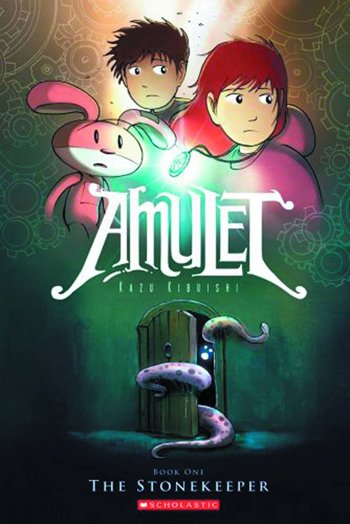 After the tragic death of their father, Emily and Navin move with their mother to the home of her deceased great-grandfather, but the strange house proves to be dangerous. Before long, a sinister creature lures the kids´ mom through a door in the basement. Em and Navin, desperate not to lose her, follow her into an underground world inhabited by demons, robots, and talking animals. Together with a small mechanical rabbit named Miskit, they face the most terrifying monster of all, and Em finally has the chance to save someone she loves.
Volumes 1-7 available.
All's Faire In Middle School
(W/A) Victoria Jamieson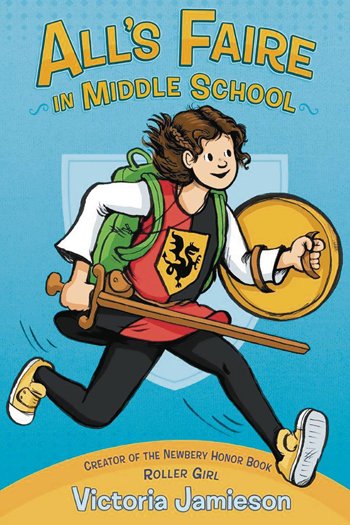 From the author of the Newbery Honor winner Roller Girl, a heartwarming graphic novel about starting middle school, surviving your embarrassing family, and life at the Renaissance Faire that's perfect for fans of Raina Telgemeier. Eleven-year-old Imogene (Impy) has grown up with two parents working at the Renaissance Faire, and she's eager to begin her own training as a squire. First, though, she'll need to prove her bravery. Luckily Impy has just the quest in mind – she'll go to public school after a life of being homeschooled! But it's not easy to act like a noble knight-in-training in middle school. Impy falls in with a group of girls who seem really nice… until they don't. For the first time, she's embarrassed of her thrift shop apparel, her family's unusual lifestyle, and their small, messy apartment. And when her new friends encourage her to do something mean, Impy goes along with it. Before long, Impy doesn't even recognize herself. Is she the dragon in her own story or the heroic knight?
Miraculous: Tales of Lady Bug and Cat Noir
(W/A) Zag Entertainment
Hawk Moth is at it again! Follow Ladybug and Cat Noir as they save Paris from Hawk Moth's akumatized citizens such as, Roger Cop, whose embodiment of the law ensures a tyrannical jusrice, the Bubbler, who wants a city of all children, and Mr. Pigeon, whose aim is a city of birds! Will Paris ever be safe from Hawk Moth and his akuma? There's only one way to find out! SPOTS ON, CLAWS OUT!
5 Volumes  available.
---
HORROR
Colder Omnibus
(W) Paul Tobin (A) Juan Ferreyra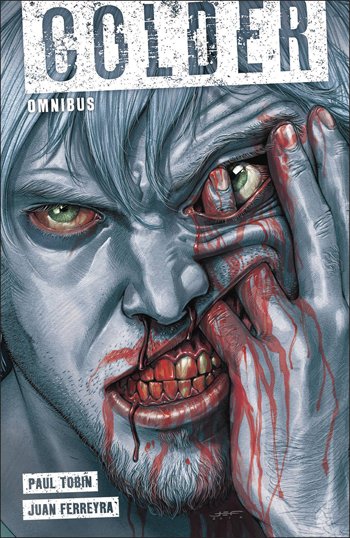 Declan Thomas, the former patient of an insane asylum that was destroyed in a fire, has the strange ability to step inside a person's madness-and sometimes cure it. He hopes to one day cure his own, but time is running out, as a demonic predator pursues him. Collects the entire Colder series.
Nailbiter
(W) Joshua Williamson (A) Mike Henderson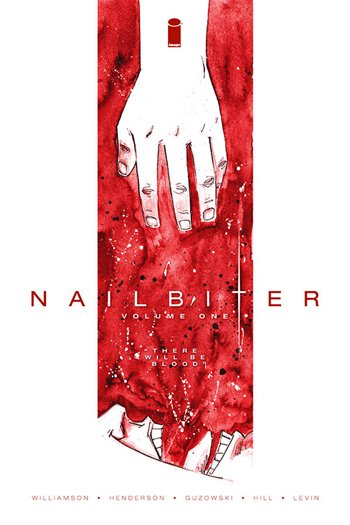 "Where do serial killers come from?" and why has Buckaroo, Oregon given birth to sixteen of the most vile serial killers in the world? NSA Agent Nicholas Finch needs to solve that mystery in order to save his friend, and he'll have to team up with the infamous Edward "Nailbiter" Warren to do it. A mystery that mixes Twin Peaks with the horror of Se7en!
Volumes 1-6 available.
Harrow County
(W) Cullen Bunn (A) Tyler Crook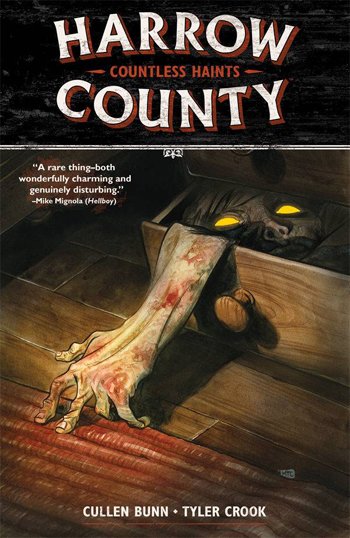 Emmy always knew that the woods surrounding her home crawled with ghosts and monsters. But on the eve of her eighteenth birthday, she learns that she is connected to these creatures – and to the land itself – in a way she never imagined.
Volumes 1-7 available.
---
MOVIES / TV / VIDEO GAMES
Rick & Morty
(W) Zac Gorman (A) CJ Cannon, Marc Ellerby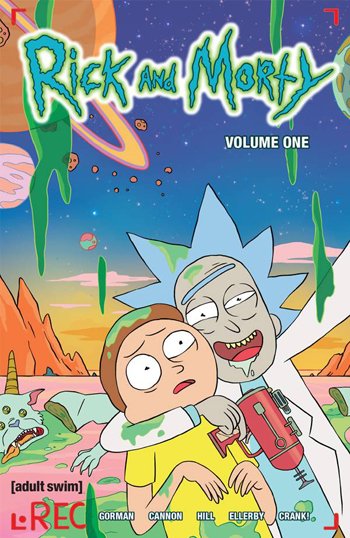 Join the excitement as depraved genius Rick Sanchez embarks on insane adventures with his awkward grandson Morty across the universe and across time. Caught in the crossfire are his teenage granddaughter Summer, his veterinary surgeon daughter Beth, and his hapless son-in-law Jerry. These are new stories from the TV show.
Volumes 1-5 available.
Overwatch Anthology (hard cover)
(W) Robert Brooks & Various (A) Bengal & Various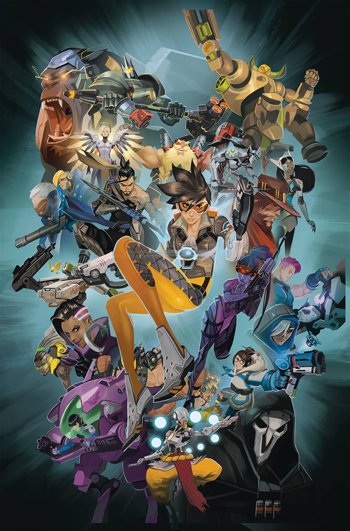 From Soldier: 76 to Ana, Tracer to Symmetra, discover the backstories behind Overwatch's most popular heroes! This hardcover anthology collects the first twelve issues of Blizzard Entertainment's digital Overwatch comics and features an all-star creative team, including Matt Burns, Robert Brooks, Micky Neilson, Nesskain, Bengal, and more. Whether you are a beginner or a Grandmaster, this anthology is an essential companion to Overwatch gameplay!
The Flintstones
(W) Mark Russell (A) Steve Pugh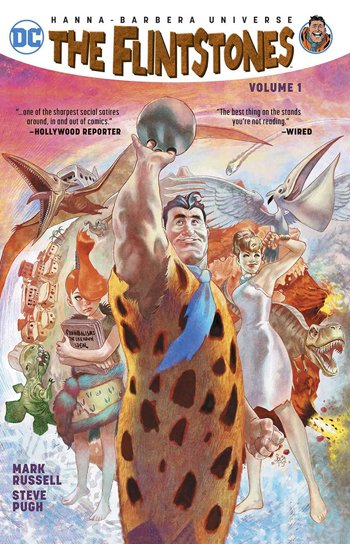 It's the Flintstones as you've never seen them before! Issues #1-6 of this new series starring the first family of Bedrock (and civilization, really) tell the story of the dawn of civilization through the eyes of Fred, Wilma, Barney, Betty and the rest of the citizens of Bedrock. Shining a light on humanity's oldest customs and institutions, writer Mark Russell blends satire with Hanna-Barbera's classic characters.
Volumes 1-2 available.