The Amazing Spider-man #1
The perfect time to jump into collecting single issue comics! A brand new ASM #1 is arriving from a new creative team to celebrate 60 years of everyones favourite webhead!
Note: Brayden here, I was honestly super close to not using the A cover, because honestly? John Romita Jr's art is so bad, I mean look at that leg! And don't even get me started on his hand. Anyway, there are some awesome variant covers that you can check out and hopefully Romita Jr is only on the first handful of issues.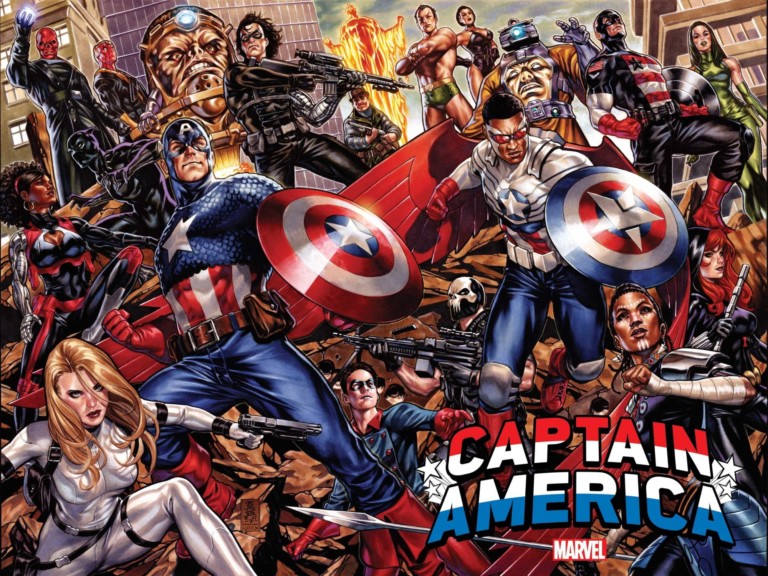 When Arnim Zola launches a catastrophic attack on New York City, he meets his match – in Sam Wilson and Steve Rogers! In the explosive battle that follows, two Captain Americas prove better than one, and Sam and Steve decide they might just keep a good thing going…
Tochi Onyebuchi (Black Panther Legends), Jackson Lanzing & Collin Kelly (Kang The Conqueror) and Mattia De Iulis (The Mighty Valkyries, Invisible Woman) kick off an incredible new Captain America saga – you won't want to miss what comes next!
With Sam Wilson taking up the shield in the MCU of course he had to be making a strong return as Cap in the comics too and I'm looking forward to finally having him back in that excellent costume with his own new shield too! The wraparound cover is great and theres solo variants too so you can pick your fav between Steve and Sam!
Wait… wasn't there an X-Men Red back in 2018 from Tom Taylor? Well yes… but now there's a brand new one! Thanks Marvel I'm sure this won't prove confusing.
This might sound like a lot to take in if you haven't been reading X-Men comics over the last couple years but hear me out, this is a Storm led mutantkind story set on Mars. Now I know that might sound random as hell but trust me it actually makes sense in current day X-Men and is actually the easier way to describe it rather than saying part of a sentient island moved to the red planet.
ANARCHY IN THE SPIDER-VERSE!
Spider-Punk gets his own series!
Hobie Brown is The Anarchic Spider-Punk — set to protect Earth-138 with his ax in hand and his chaotic band of punk rockin' heroes backing him!
Norman Osborn is dead, but will the chaos he's created be too much for Spider-Punk and gang to handle?
Feel the vibes as Cody Ziglar (Amazing Spider-Man) and Justin Mason bring you the jams when "Banned In DC" begins here! 
I mean just look at that great cover from the amazing Olivier Coipel, who if you aren't following on Instagram you should cause their art slaps.
Si Spurrier and Jan Bazaldua bring peace, love and justice to Krakoa! 
Krakoa has its laws — but does it have justice? To remain a mutant sanctuary, Krakoa must safeguard itself against those who would damage its peace or traumatize its people. The lost must be found, and the wicked must face redemption — or retribution.
It's up to the ever-soulful swashbuckler Nightcrawler to keep the spark alive and Legion to host his unique team in the psychedelic mindspace called The Altar. With Pixie on point, Juggernaut as a one-man riot squad and a host of X-favorites on the beat, the Legion of X will do anything to protect mutants' right to pursue happiness and hope. 
The gates to Otherworld are closed — and Captain Britain is trapped on the wrong side! Usurpers Merlyn and his right-hand man, King Arthur, are now in control of Lunatic Citadel. Furies the size of Sentinels raze villages to the ground in their hunt for the "witchbreed." Cutoff from Krakoa, Betsy Braddock is Otherworld's only hero — and to save her people, Betsy must recruit a round table of her own.
The Knights of X gather to restore the rightful order and rescue desperate mutants — but their quest is about to get so much bigger than that. This is the era of destiny…and the fate of Otherworld lies at the center of mutantkind's future. Don't miss this essential piece of the new Krakoa!
Graphic Novels & Collected Editions
Hulk by Donny Cates Vol 1 TP
As Al Ewing finished on 'The Immortal Hulk' and Donny Cates wrapped up his run on 'Venom', the two just straight up swapped series! Cates brings his brand of cosmic comics to Hulk with the help of the action-packed artist Ryan Ottley of 'Invincible' & 'Amazing Spider-Man' fame!
The Hulk's uncontrollable rage has reached a new level and nobody, including the Avengers, is prepared to handle it. But is it really the Hulk that people should fear, or is another factor at play? Bruce Banner thinks he finally has total control of his emerald alter ego and in fact, he might. But variables can happen at any time, and this one is something even his brilliant mind couldn't have imagined. Now, as Bruce hurtles deep into outer space on a dangerous quest, he's about to find out that the Hulk isn't alone!
Collecting Hulk (2021) #1-6 and material from Free Comic Book Day 2021 (Avengers/Hulk).
From award winning writer of '12 Years A Slave', John Ridley takes up the mantle from the amazing Ta-Nehisi Coates that sees T'Challa returning to Earth after his intergalactic travels of the last Black Panther run. 
An action-packed espionage story that will upend everything in T'Challa's life — and have ramifications for the entire Marvel Universe! Secrets from the Panther's past have come back to haunt him. Freshly returned from his travels in space, T'Challa receives an unexpected and urgent message from a Wakandan special agent. The Panther has the help of his brilliant sister, Shuri, but the assassins they face seem to always be one step ahead. Now T'Challa must race the clock not only to save his agent, but also to keep his true agenda under wraps!
Collecting Black Panther (2021) #1-5.
The latest of Marvel's crossover events is here collected in one paperback ready for you! There are also a whole bunch of spin-off ones if you want to order them too.
The story that's been building for years is finally here! Wilson Fisk has risen from Kingpin of Crime to mayor of the biggest city in America. Now he's going to bring his full criminal and political power to bear on the super heroes who call NYC home! The man who once destroyed Daredevil has targeted the Fantastic Four, Iron Man, Captain America, Spider-Man, Jessica Jones, Luke Cage and more. Fisk has an army of super villains at his command, but wait until you meet his Thunderbolts! But Mayor Fisk isn't the only one with ambitions. From the blockbuster creative team of Daredevil comes the final act in Wilson Fisk's master plan!
Collecting Devil's Reign #1-6.
Ms Marvel: Beyond The Limit TP
After an interdimensional explosion, Kamala Khan suddenly has a doppelganger to deal with! As Ms. Marvel, it's her duty to help, but something doesn't feel quite right. Kamala's powers are on the fritz, and she suspects that this new hero-in-training isn't trustworthy. And why has everything around her… turned into a Bollywood set?! Why is everyone singing?!
New York Times best-selling author Samira Ahmed brings all the flair of her young adult fiction to the always-surprising world of Ms. Marvel!
Collecting Ms Marvel: Beyond The Limit #1-5.
Jane Foster: The Saga of Valkyrie TP
Last months Marvel Previews saw 'Jane Foster: The Saga of The Mighty Thor TP' solicited and now we get the follow up as Jane Foster takes on the role of Valkyrie!
Jason Aaron's run on the Thor books is truly excellent and for anyone who is excited to see Jane take up the hammer in the MCU's upcoming 'Thor: Love & Thunder' these two complete collection paperbacks are the best way to get the whole story!
Collecting Mighty Thor (2015) #702-706, Valkyrie: Jane Foster #1-10 and material from Mighty Thor: At The Gates Of Valhalla and War Of The Realms: Omega.
Marvel Comics is proud to present its first ever queer-centered collection! An amazing assembly of creators from all walks of life unites to tackle Marvel's LGBTQIA+ icons. Plus: The wedding of Northstar and Kyle Jinadu! The honeymoon of Hulkling and Wiccan! The awesome America Chavez! The debut of Captain Aaron Fischer! And more!
Collecting Marvel's Voices: Pride, Incredible Hulk (1968) #240, Astonishing X-Men (2004) #51, King In Black: Wiccan & Hulkling, America Chavez: Made In The USA #1 and material from Marvel's Voices #1 and United States of Captain America #1.
Daredevil: Woman without Fear TP
The next pulse-pounding chapter in Chip Zdarsky's saga of New York City's Guardian Devil — now starring Elektra in the horned cowl!
She's the world's deadliest assassin, but when she took on the mantle of Daredevil, she took a vow not to kill. Now that solemn promise is about to be put to the ultimate test. Battered, bruised and with her back to the wall, can Elektra find a way to honor Matt Murdock's code? And if so, will the Woman Without Fear be strong enough to survive the unexpected consequences of mercy? Plus: Celebrate 100 issues of Elektra with a giant-size celebration full of thrills, chills, surprises and all-out ninja action!
Collecting Daredevil: Woman Without Fear #1-3 and Elektra (2022) #100.
Ghost Rider: The Return of Blaze TP
Tales of terror from the hellish world of the Ghost Rider! Since the dawn of man, she has birthed the worst of humanity's ills. Her kin call her Mama while men curse her name: Lilith! But when the thrones of every netherworld are united as one, they shall soon call her by a new name: Queen! Meanwhile, all Johnny Blaze wants is to destroy Mephisto. But when the King in Black throws the world into chaos, some of Johnny's oldest friends arrive to ask for his help. It may take everything they've got to stop Knull's madness. Maybe even…the devil himself? And as the battle for control of Hell heats up, Michael Badilino seizes his opportunity to ride again — as Vengeance!
Collecting Spirits Of Ghost Rider: Mother Of Demons, King In Black: Ghost Rider and Ghost Rider: Return Of Vengeance.
The Amazing Spider-Man: Epic Collection Vol 1 TP (NEW PRINTING)
In 1962, in the pages of a comic book slated for cancellation, Stan Lee and Steve Ditko gave birth to one of the most enduring icons in American popular culture: the Amazing Spider-Man! Turning the concept of a super hero on its head, they imbued the young, guilt-ridden Peter Parker with the fantastic powers of an arachnid and the fantastic pressures of an everyday teenager. The combination was pure magic. Now you can leap into Spider-Man's web-slinging world from the beginning — including the tragic origin that started it all; the first appearances of the Daily Bugle and J. Jonah Jameson; and the debut of classic villains including the Green Goblin, Doctor Octopus, the Sandman, the Vulture and Electro!
Collecting ASM (1963) #1-17, ASM Annual (1964) #1 and material from Amazing Fantasy (1962) #15.
If anything jumped out to you, remember to message us or let us know next time you're in the shop! You get a text the second it arrives in the shop and we place a copy aside just for you so you don't miss out!
We do these each month so keep an eye out for the next post!
Have a great month and happy reading 💚